Juicy Pub-Style Burgers
We continue onto Week 5 of College Football, which means another delicious Football bite! A tailgate just isn't a tailgate until the first hamburger is thrown on the grill. This week's football bite is one of my favorites not only during football season, but year round. One thing that I really like about this recipe is that you can either grill the hamburgers on the grill or sear on the stove and bake in the oven. That way even in the middle of a snowstorm you can have a big and juicy burger! 🙂
I'm really excited for today's game since we are finally playing our first Big 10 team (Wisconsin) of the season and it's a night game. As much as I enjoy the early season games, the real games don't start until we play another Big 10 team. 🙂 Going into tonights game, Ohio State is ranked number 4 in the nation. I'm hoping we continue our winning streak and make it 17-0. Let's go Bucks!
Juicy Pub-Style Burgers
Ingredients:
2 pounds 80 percent lean ground chuck
4 tablespoons unsalted butter, melted and cooled slightly
Salt
Ground black pepper
Vegetable oil
8 hamburger buns, toasted and buttered
Directions:
Drizzle melted butter over ground meat and add 1 teaspoon pepper. Gently toss with fork to combine. Divide meat into 8 lightly packed balls (about 4 ounces each). Gently flatten into patties 1/2 inch thick and about 4 inches in diameter. (If planning to grill, gently press center of patty down, creating a slight depression in each patty). Refrigerate patties until ready to cook. (Patties can be refrigerated, covered, for up to 1 day.)
Season 1 side of patties liberally with salt and pepper. Using spatula, flip patties and season other side.
To cook in oven: Heat oven to 300 degrees. Heat 1 teaspoon in 12-inch skillet over high heat until just smoking. Using spatula, transfer burgers to skillet and cook without moving for 2 minutes. Using spatula, flip burgers and cook for 2 minutes longer. Transfer patties to rimmed baking sheet and bake until instant-read thermometer inserted into burger registers 125 degrees for medium-rare or 130 degrees for medium, 3 to 6 minutes. Transfer burgers to plate and let rest for 5 minutes. Transfer to buns, add desired toppings, and serve.
To Grill: Scrape hot grill rack clean with wire brush. Lightly dip wadded paper towels in vegetable oil; holding wad with tongs, wipe grill rack. Grill patties, uncovered, without pressing down on them, until well seared on first side, about 3 minutes. Flip burgers with metal barbecue spatula; continue grilling about 3 minutes for rare, 3 1/2 minutes for medium-rare, or 4 minutes for medium. Serve immediately.
If you missed them, make sure to check out the rest of my College Football Bites: 
Week One: Buckeye Brownies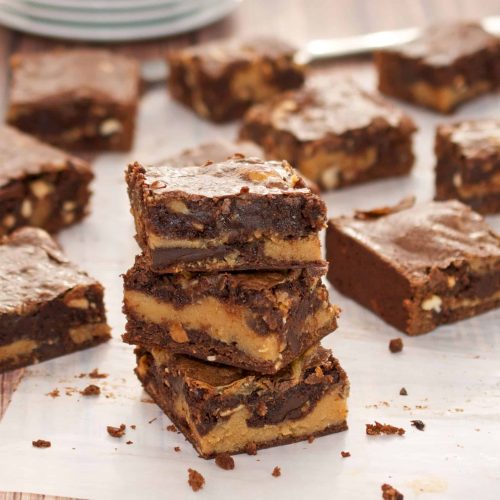 Week Two: Bean & Beef Taquitos
Week Three: Thick & Chunky Salsa
Week Four: Skyline Cheese Coney
_____________________________________
One Year Ago: Rolo Chocolate Chip Cookies
Two Years Ago: Mini Spiced Plum Galettes
Three Years Ago: Pumpkin Bread
6 Responses to "Juicy Pub-Style Burgers"
Leave a Comment