Butter pecan cake is so moist, flavorful, and simple to make. This butter pecan layer cake has three layers of luscious cake, and it has a creamy cinnamon butter frosting. It's garnished with crushed pecans too.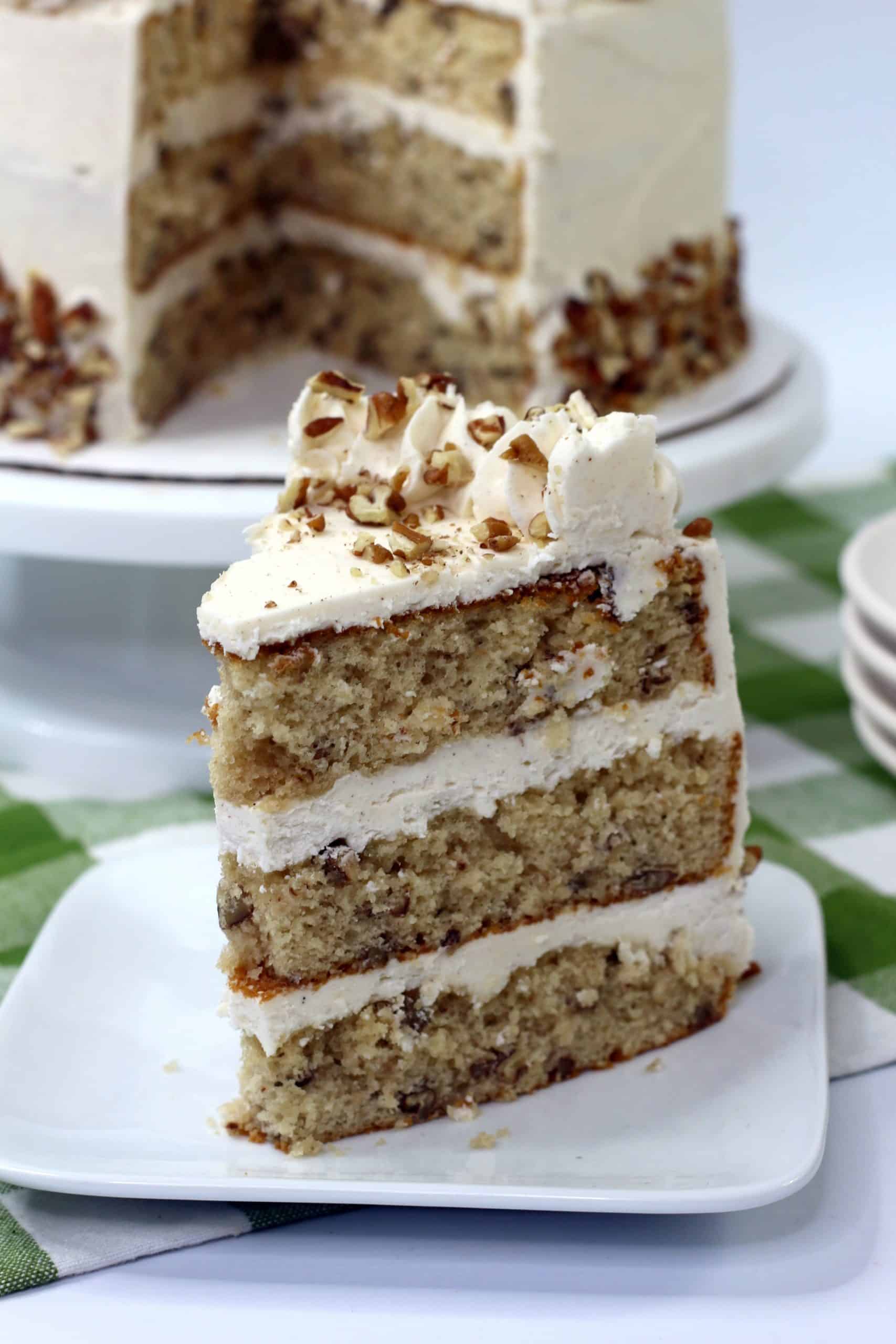 Layered Butter Pecan Cake Recipe
I am a total fanatic when it comes to anything that has nuts…especially pecans! This pecan cake recipe seriously melts in your mouth and has the perfect buttery flavor. Every bite of this praline cake is full of pecans, soft cake, and rich frosting. If you've been looking for a new go-to pecan dessert, I would add it to your list. If you've ever been to the south, you know that old-fashioned butter pecan cake is a must-have for dessert!
When I tell you that this butter pecan layer cake is great for all occasions, I mean ALL of them! Birthday parties are especially a hit because people get tired of the same old birthday cakes. Anniversaries, picnics, holiday parties, and I've been known to give them away as welcome gifts for new neighbors. The opportunities are endless when it comes to reasons to make this delicious cake.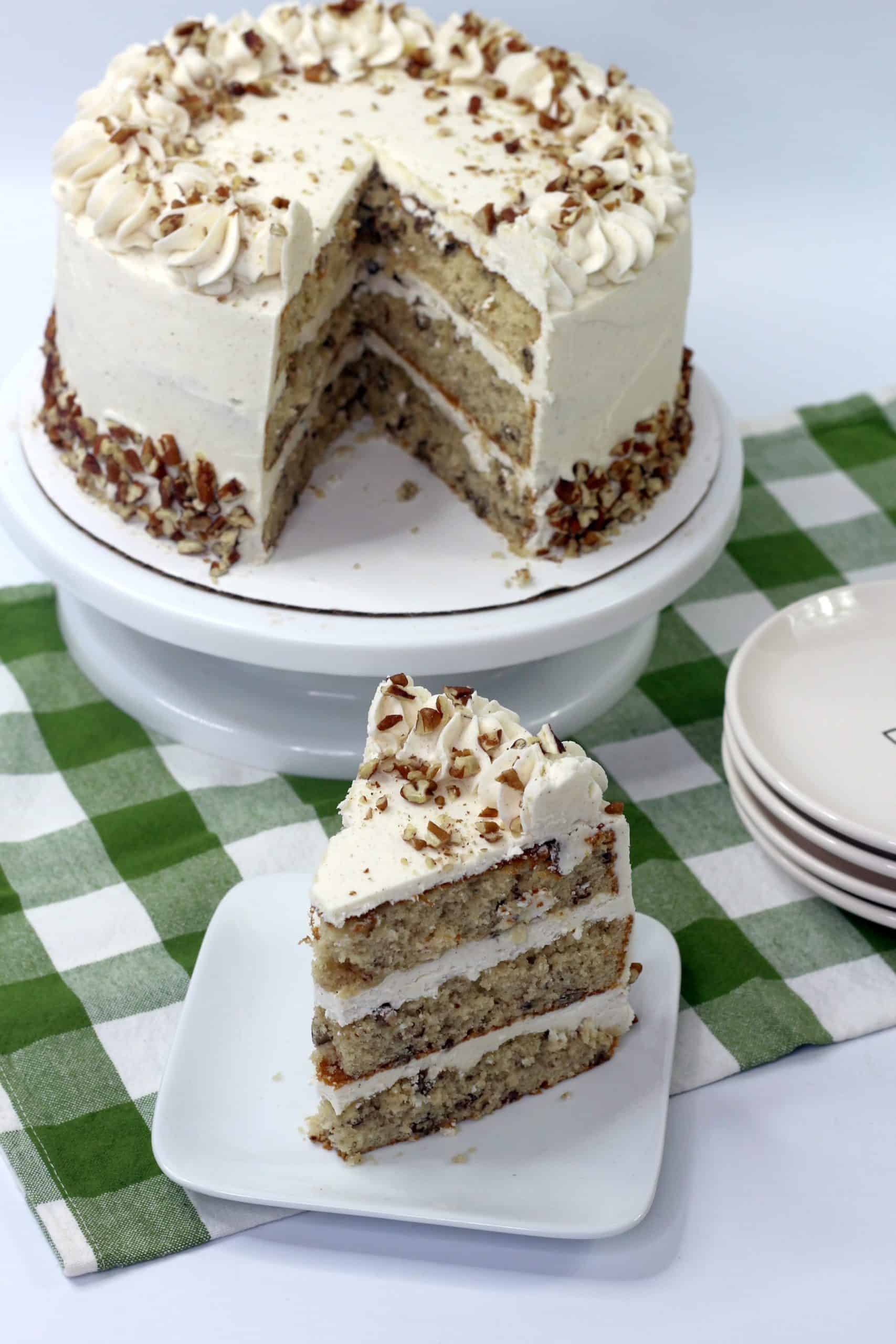 Butter Pecan Layer Cake Ingredients
Before you begin preparing this cake and the butter pecan cake frosting, it's a good idea to gather all of your ingredients. This way, you know you have everything you need before diving in! No one likes being out of something when you are halfway preparing something, especially when it's something this tasty. Due to some of the ingredients being repeats for the cake and frosting, you only actually need 12 ingredients.
Cake ingredients
Chopped pecans
Flour
Baking powder
Salt
Unsalted butter
Sugar
Eggs
Pure vanilla extract
Whole milk
Cinnamon Frosting
Unsalted butter
Pure vanilla extract
Powder sugar
Ground cinnamon
Heavy whipping cream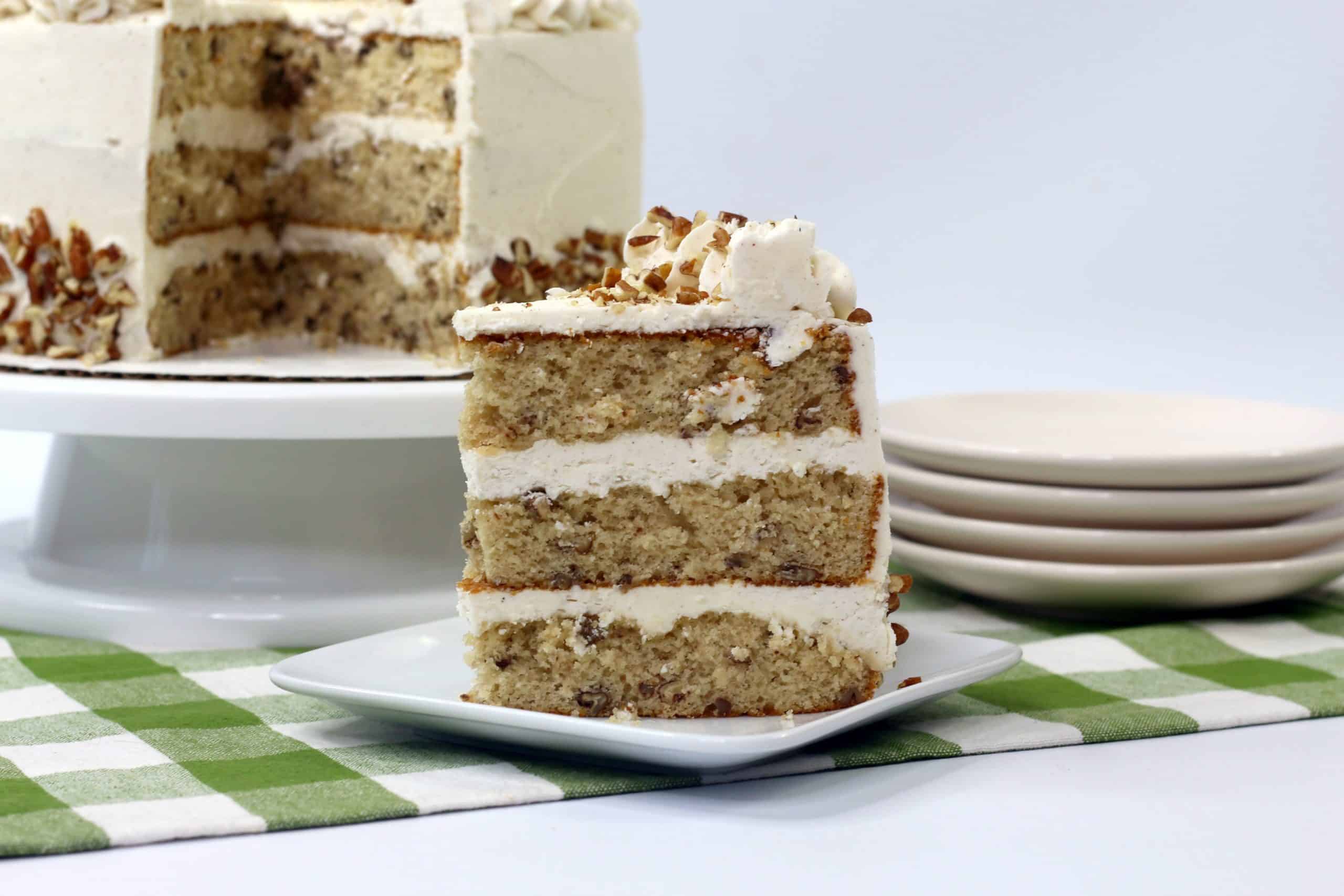 How To Make Butter Pecan Cake
Layered cakes are actually really simple to make. If you've never made one before, you might be fearful that it's difficult, but as long as you prep your pans correctly, you won't have any trouble. Time to get down to business!
First Step: Spray three 9-inch round cake pans with some non-stick baking spray — Preheat the oven to 350 degrees F.
Second Step: Using your stand mixer or a handheld mixer, beat the butter and sugar together until it becomes light and fluffy.
Third Step: Pour in the vanilla to the butter mixture and beat until it's combined. Add in milk and mix until blended.
Fourth Step: Add the eggs one at a time and beat after each one you add.
Fifth Step: Whisk together the flour, baking powder, and salt in a large bowl until they are combined.
Sixth Step: Add the flour mixture to the butter mixture gradually. Pour in a little at a time and blend, then add some more.
Seventh Step: Mix in the chopped pecans by folding them in.
Eighth Step: Pour butter pecan cake mix into the three pans evenly.
Ninth Step: Bake the cakes for 30-35 minutes.
Note: You should be able to insert a toothpick, and it comes out dry when the cakes are done.
Tenth Step: Once the cakes are done, take them out of the oven and let them cool all the way.
Eleventh Step: Use a stand mixer and beat together the butter, vanilla, heavy whipping cream, powdered sugar, and cinnamon together until they are smooth.
Twelfth Step: Use a thin blade large knife and cut off the tops of the cake, so they are even.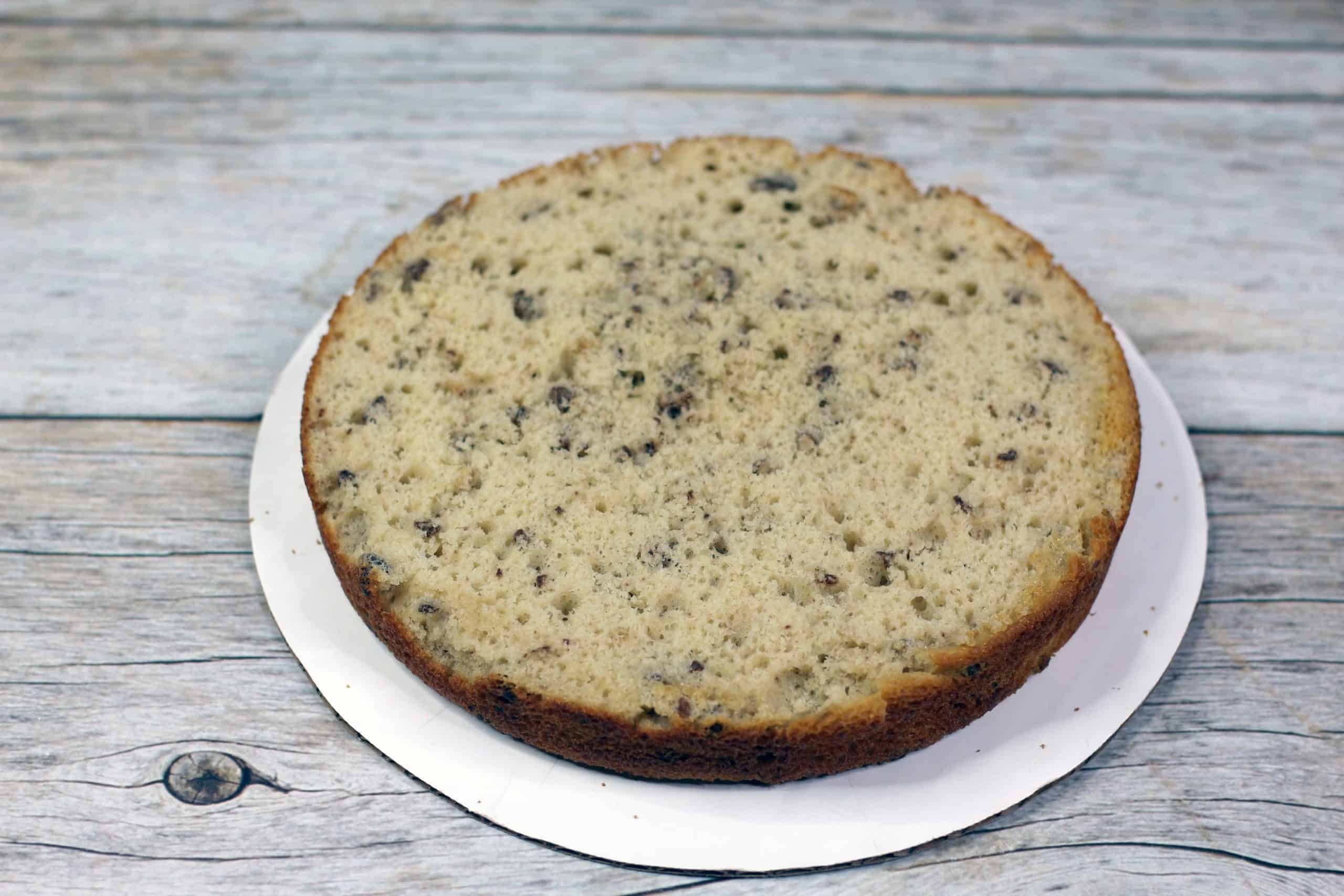 Thirteenth Step: Add one layer of cake onto a cake board and top with one cup of frosting. Smooth it out, so it's even, then add the second cake layer. And one more cup of frosting and then the final layer of cake. See the photos below.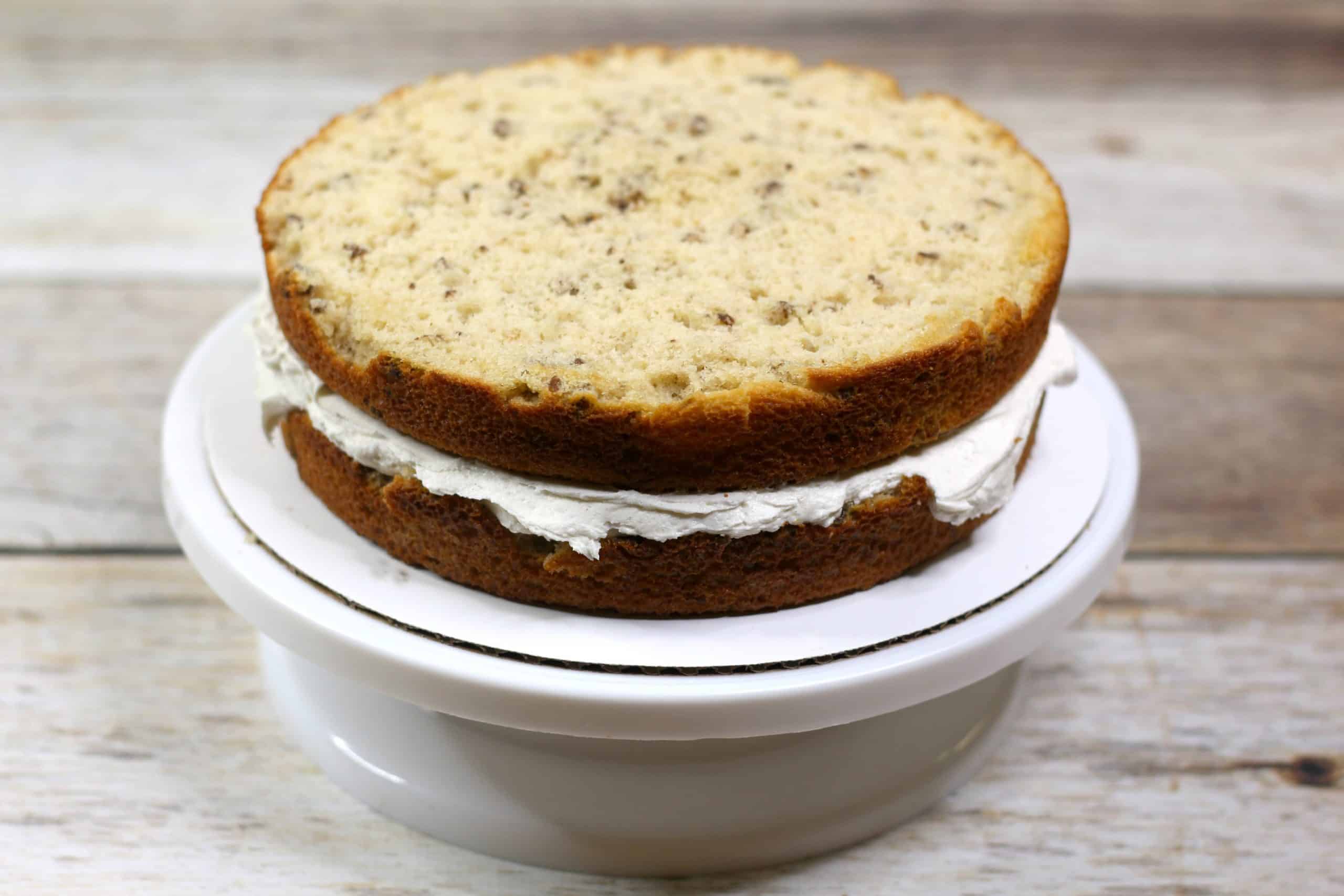 Fourteenth Step: Cover the entire cake with frosting. Then add 1/2 cup of butter pecan frosting to a large piping bag. Use a star tip and pipe dollops of frosting around the top of the cake.
Fifteenth Step: Coat the bottom of the frosted cake with chopped pecans and sprinkle some on top as the garnish.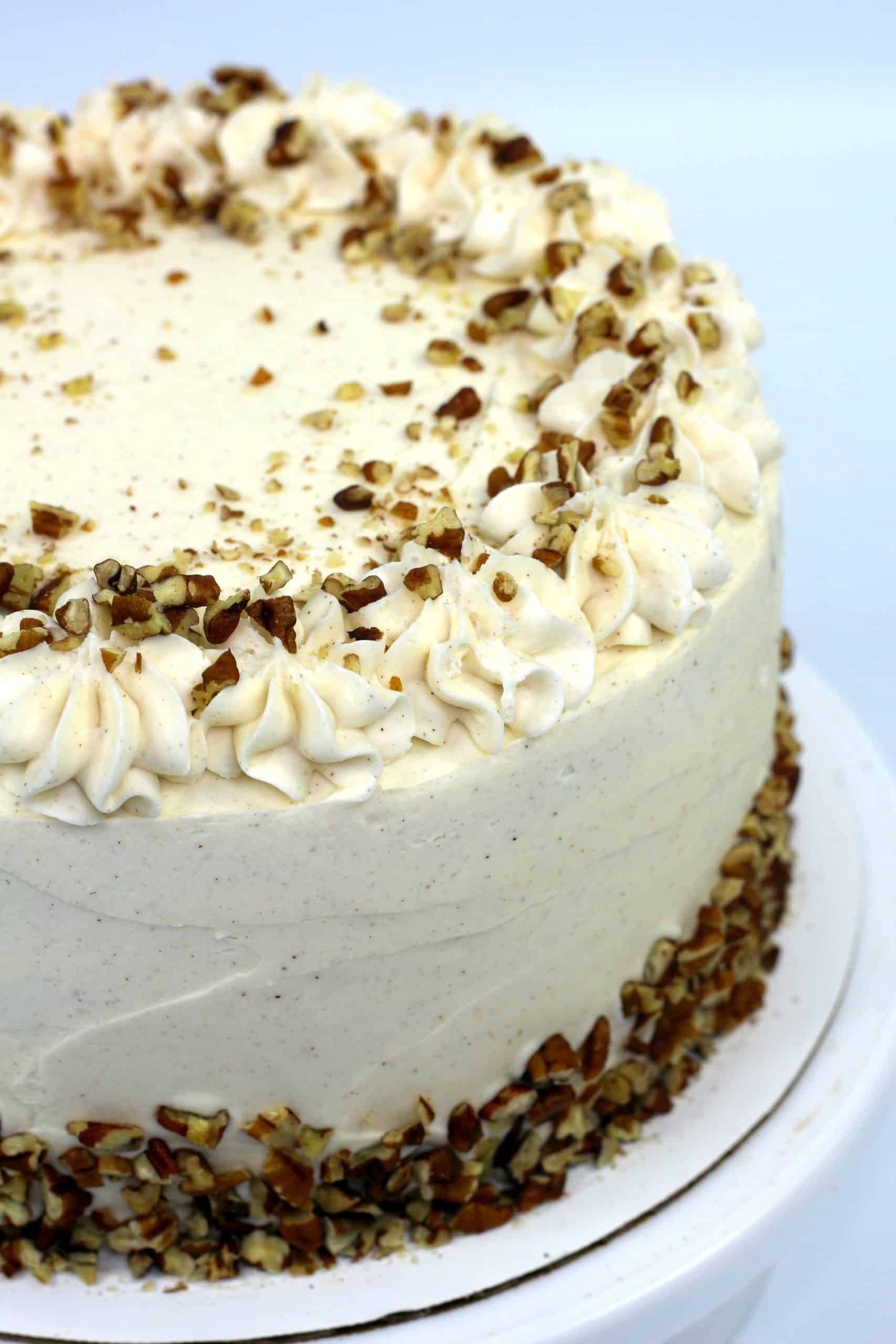 Why Did My Cake Turn Out Flat?
If you made this pecan cake recipe and it turned out flat or dry, odds are the culprit is the temperature of your oven. Ovens will naturally begin to get hotter than they are supposed to be, or sometimes they don't get hot enough. While it can be frustrating if you burn or dry out a cake, it's a reasonably easy fix.
You simply need to get a thermometer and test your oven temperature. If it's running hotter or cooler than what it should be, then make necessary adjustments.
Another reason why cakes can turn out flat is if the batter has been over stirred. When you over mix cake batter too much air bubbles form, that means as the heat up from the oven, they start popping. This leads to a dry, dense cake instead of the light, fluffy texture you are going for. So, keep in mind when mixing your batter not to overmix it.
How Do You Store This Pecan Cake Recipe?
You should keep the cake in an airtight container. It's better to keep it in the refrigerator because it will last 3-4 days or only 1-2 days at room temperature. You can even freeze the cake if you want to. Just make sure it's wrapped tightly with plastic wrap and keep it in a container with a lid. Thaw the cake on the counter or in the fridge before eating. This pecan cake tastes great when it's still cold, but not so much when it's still frozen.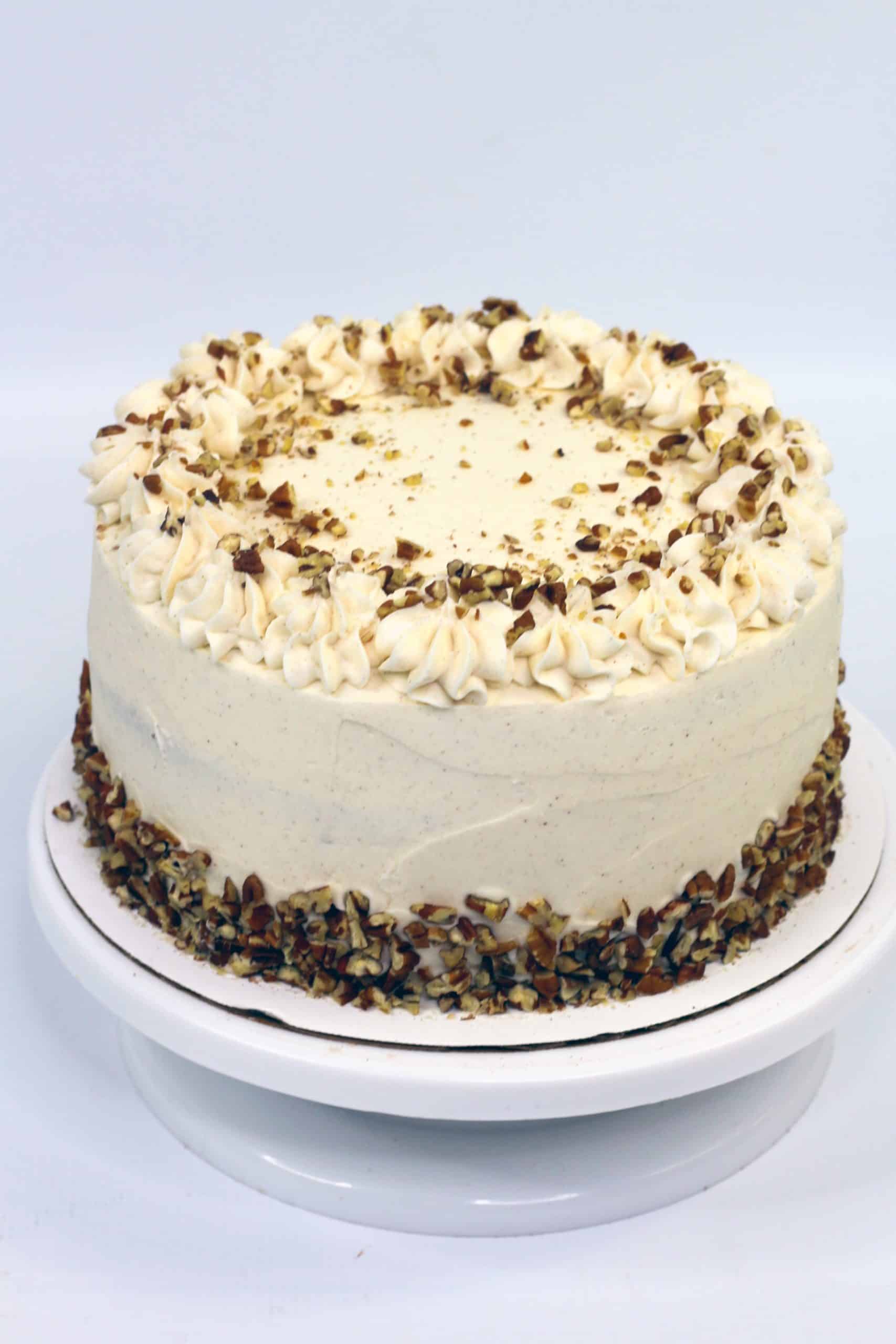 Now, time to save this recipe on Pinterest for later 🙂

Print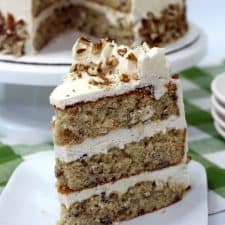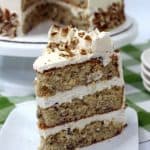 Layered Butter Pecan Cake Recipe
---
Author:

Cook Time:

35 minutes

Total Time:

35 minutes
Description
is butter pecan cake is bursting with vibrant butter pecan flavor. Butter pecan layer cake is great for all occasions and is soft and moist!
---
Scale
Ingredients
Cake ingredients
1 ⅓

C chopped pecans

4

C flour

3 tsp

baking powder

3/4 tsp

kosher salt

1 ½

C unsalted butter

3

C sugar

4

large eggs

3 tsp

pure vanilla extract

2

C whole milk
Cinnamon Frosting
2

C unsalted butter

1 tsp

pure vanilla extract

8

C powder sugar

2 tsp

ground cinnamon

5 tbsp

heavy whipping cream
---
Instructions
Preheat oven to 350 degrees and spray 3 9inch round cake pans with pam baking spray
Beat together the butter and sugar until light and fluffy
Beat in the vanilla until combined
Beat in eggs, one at a time until combined
Using a large bowl, whisk together the dry ingredients until combined
Gradually whisk in dry ingredients into the wet
Fold in the chop pecans
Divide the batter between the three pans
Bake in the oven for 30-35 minutes or until toothpick comes out clean
Allow to cool completely
Frosting directions
Beat all ingredients in a standing mixer until combined and smooth
Remove the domes off the cakes
Place 1 cake layer onto a cake board
Scoop 1 C of frosting onto the cake layer and smooth evenly
Place the second cake layer onto the first frosting layer
Scoop 1 C of frosting and smooth evenly
Place last cake layer onto the second layer of frosting
Scoop ½ C of frosting into a large piping bag with a star tip
Frost entire cake with the remaining frosting
Coat the bottom of the cake with the chopped pecans
Pipe dollops of frosting on top of the cake
Sprinkle chopped pecans on top
Cut and enjoy!
---
Category:

dessrt

Method:

oven

Cuisine:

american
Keywords: butter pecan cake
If you are on the hunt for more luscious pecan recipes, you should try some of these. They will make you moan because they taste that great.
German Chocolate Layer Cake With Coconut Pecan Frosting – This is one of the best German chocolate cakes I've ever tasted. You are in heaven, the second that coconut pecan frosting hits your lips.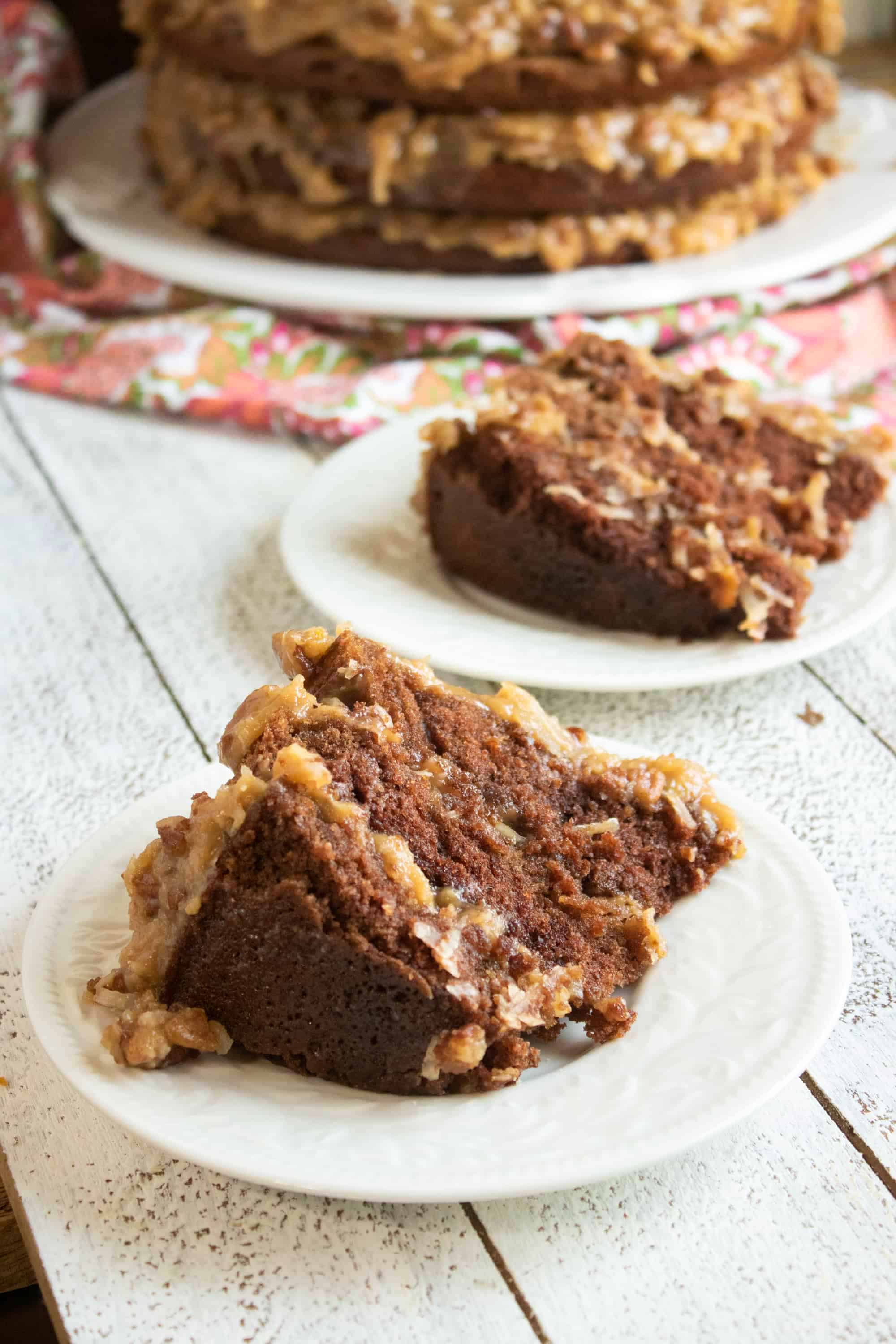 Texas Trash Buttermilk Chocolate Cake Recipe With Pecans – This cake takes right back to Texas with its big flavors! Yummy!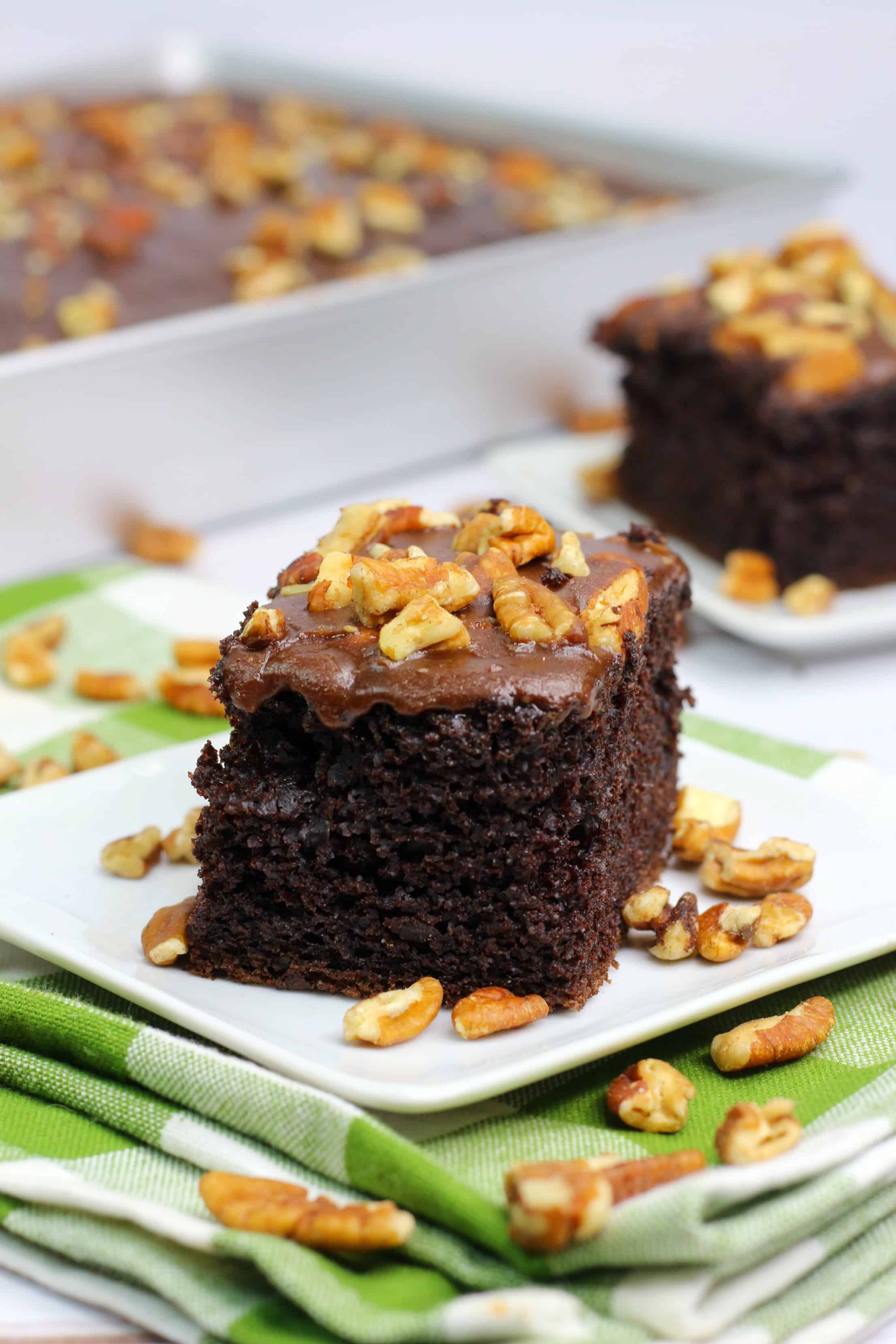 Caramel Pecan White Chocolate Fudge – Fudge is an incredible dessert for any time of year. This recipe is a reader favorite too.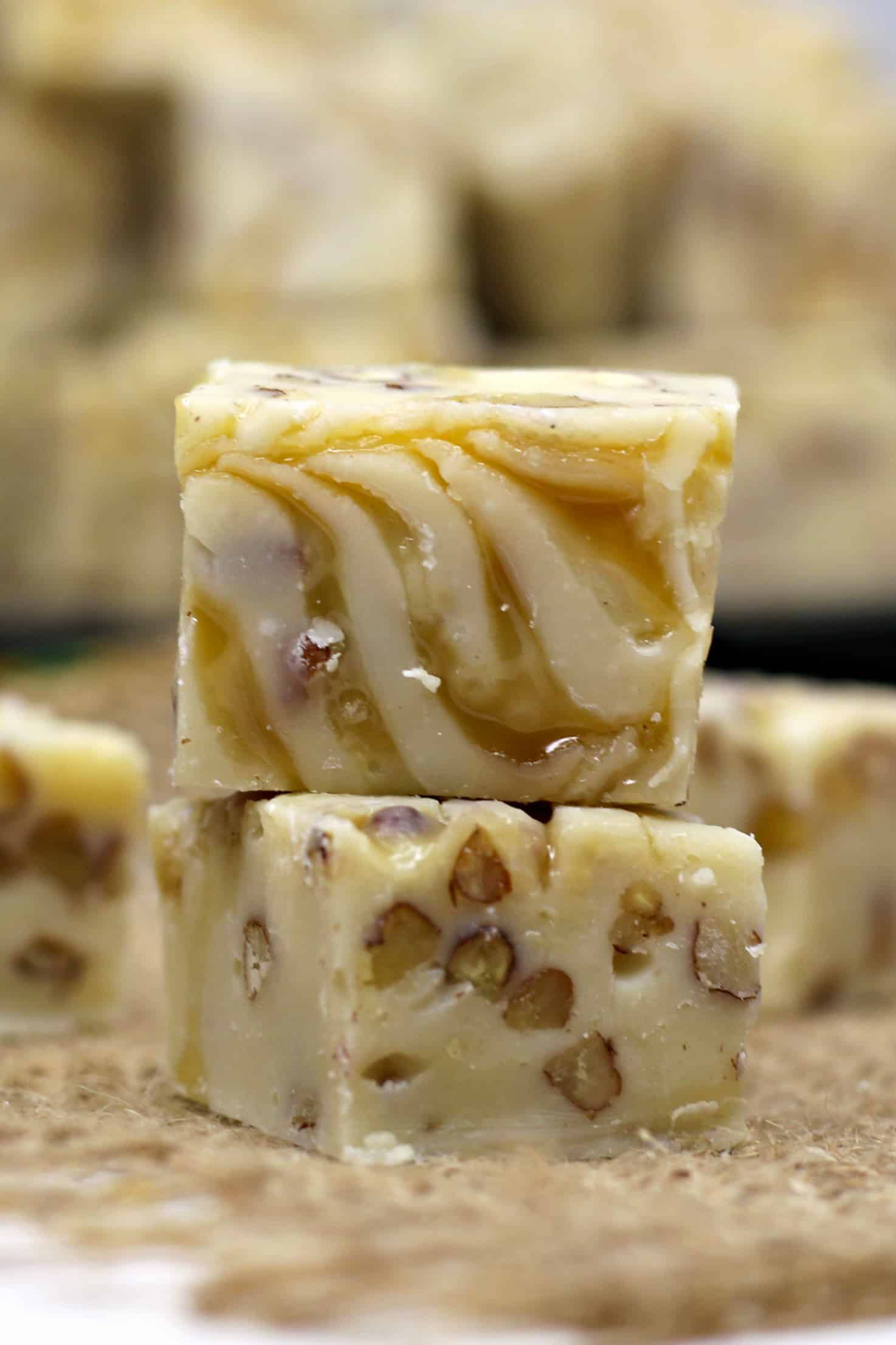 Brown Sugar Pecan Rolls Bread – You won't believe how amazing this pecan rolls bread is until you taste it!