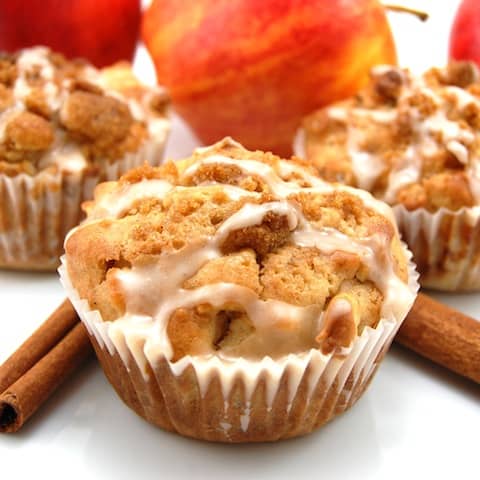 This moist and delicious apple walnut spice muffin is loaded with chunks of apple and fall spices then topped with a crumble topping and drizzled with a spice glaze. These muffins are now officially my favorite muffin ever! The apples are macerated in sugar and oil resulting in an incredibly moist muffin. I love apples. I think it must have started when I was really young and my parents had a big apple tree in the backyard. Unfortunately, I do not remember this tree but there are a dozen or more pictures of me under the tree eating a big juicy apple. This must have begun my love affair with this tasty fruit. I eat one everyday for lunch and I am always really excited this time of year for my favorite apple to make an appearance-honeycrisps! 🙂 So of course when I was trying to find a muffin recipe to make for my husband to take into work this apple muffin caught my eye. Since it is apple season and my crisper was full of apples I decided to give this one a try. I did modify it from the original recipe, adding walnuts, fall spices, a crumb topping and a spiced glaze. The result? Well look for yourself! The perfect muffin for fall? I think so!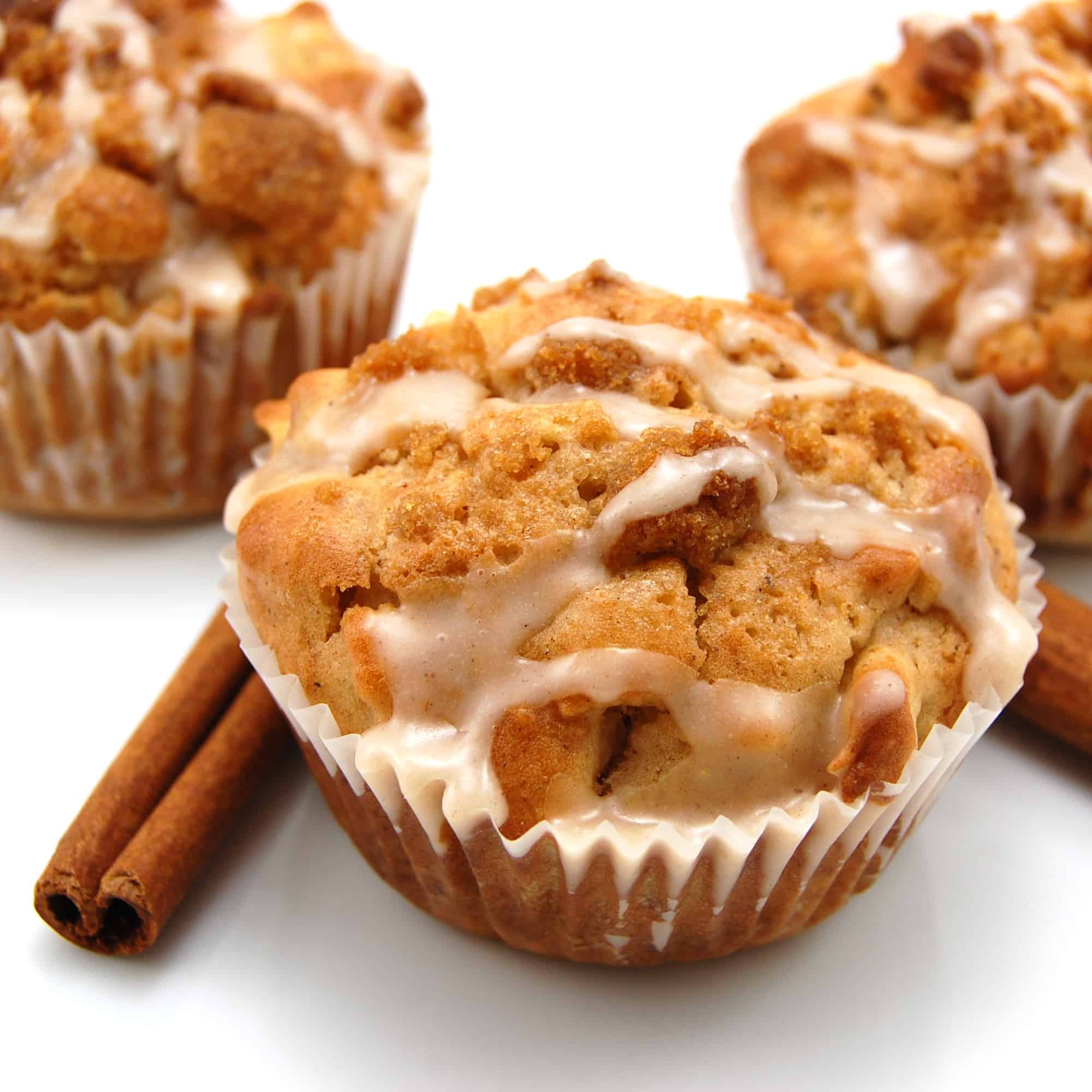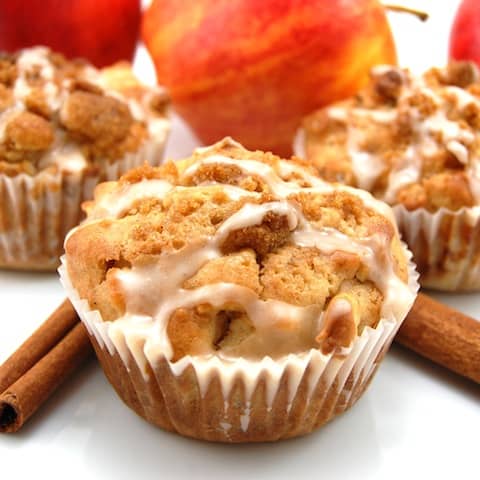 Apple Walnut Spice Muffins
Ingredients
3 medium granny smith apples, peeled, cored, and diced
1 cup white sugar
1/2 cup canola oil
2 1/4 cups all-purpose flour
1 tablespoon baking powder
1/2 teaspoon salt
1 teaspoon ground cinnamon
1/2 teaspoon nutmeg
1/4 teaspoon ginger
1/4 teaspoon cloves
3/4 cup chopped walnuts
1/2 cup milk
1 large egg, lightly beaten
1/2 teaspoon vanilla
For Crumble Topping:
1/3 cup packed brown sugar
1 tablespoon all-purpose flour
1/4 teaspoon cinnamon
1 tablespoon butter
For Spiced Glaze:
1 cup plus 3 tablespoons powdered sugar
2 tablespoons milk
1/4 teaspoon ground cinnamon
1/8 teaspoon ground nutmeg
1 pinch ground ginger
1 pinch ground cloves

Instructions
In a medium bowl, toss diced apples with sugar. Pour oil over the top, stir well, and set aside at room temperature for 45 minutes.
Adjust oven rack to middle position and heat oven to 400 degrees F. Lightly grease 12 muffin cups or line with muffin papers
In a medium bowl, whisk together flour, baking powder, salt, cinnamon, nutmeg, ginger, cloves, and walnuts. Set aside.
Stir milk, egg, and vanilla into the apple mixture until smooth. Stir in the prepared flour mixture until moistened.
Spoon the mixture into the prepared muffin pan 3/4 full.
In a small bowl, mix brown sugar, flour and cinnamon. Cut in butter until mixture is like coarse crumbs. Sprinkle over tops of mixture in muffin pan.
Bake 22-25 minutes in the preheated oven, or until a toothpick inserted in the center of a muffin comes out clean. Allow to sit 10 minutes before removing muffins from pan. Cool on a wire rack.
While the muffins are cooling, combine all of the ingredients for the spiced glaze. Drizzle over each muffin and allow the icing to dry before serving.