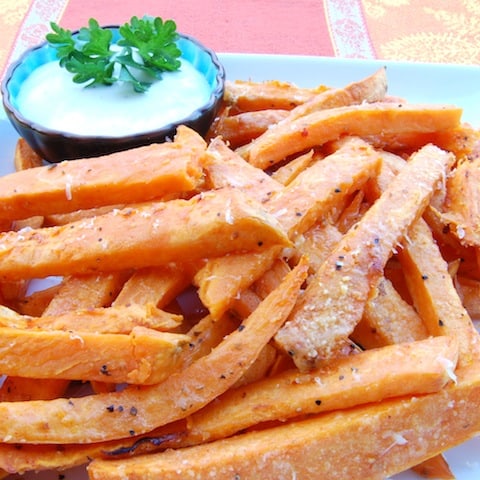 My family has been making this simple and delicious side dish for so long now I cannot even remember where we found the recipe. But I sure am glad that we did! Sweet potatoes are one of my favorite side dishes to prepare. I enjoy them mashed, baked, spicy, and sweet. If you are looking for fried, crisp, sweet potato fries then this might not be the recipe you are looking for. These savory and satisfying sweet potato fries are oven baked until tender and golden brown, so you get a healthy great tasting side dish.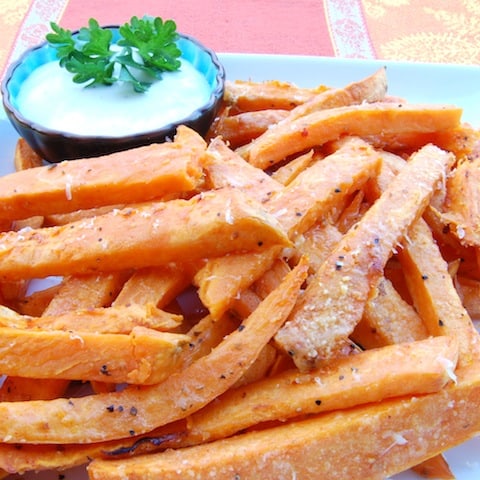 Baked Sweet Potato Fries
Ingredients
2 sweet potatoes, peeled and cut into pieces about 3 inches long and 1/2 to 3/4 inches thick
1/4 cup Italian dressing
1/4 teaspoon black pepper
1/8 teaspoon paprika
1/4 cup grated Parmesan cheese
Instructions
Preheat oven to 400 degrees F. Line a baking sheet with aluminum foil and spray with non-stick cooking spray.
In a large bowl toss together sweet potatoes, Italian dressing, black pepper, and paprika. Spread sweet potatoes in single layer on prepared baking sheet, being sure not to overcrowd. Sprinkle with grated Parmesan cheese.
Bake until sweet potatoes are tender and golden brown, turning occasionally, about 20 to 30 minutes. Try serving with ranch dressing as a dip.
Source:
Family recipe