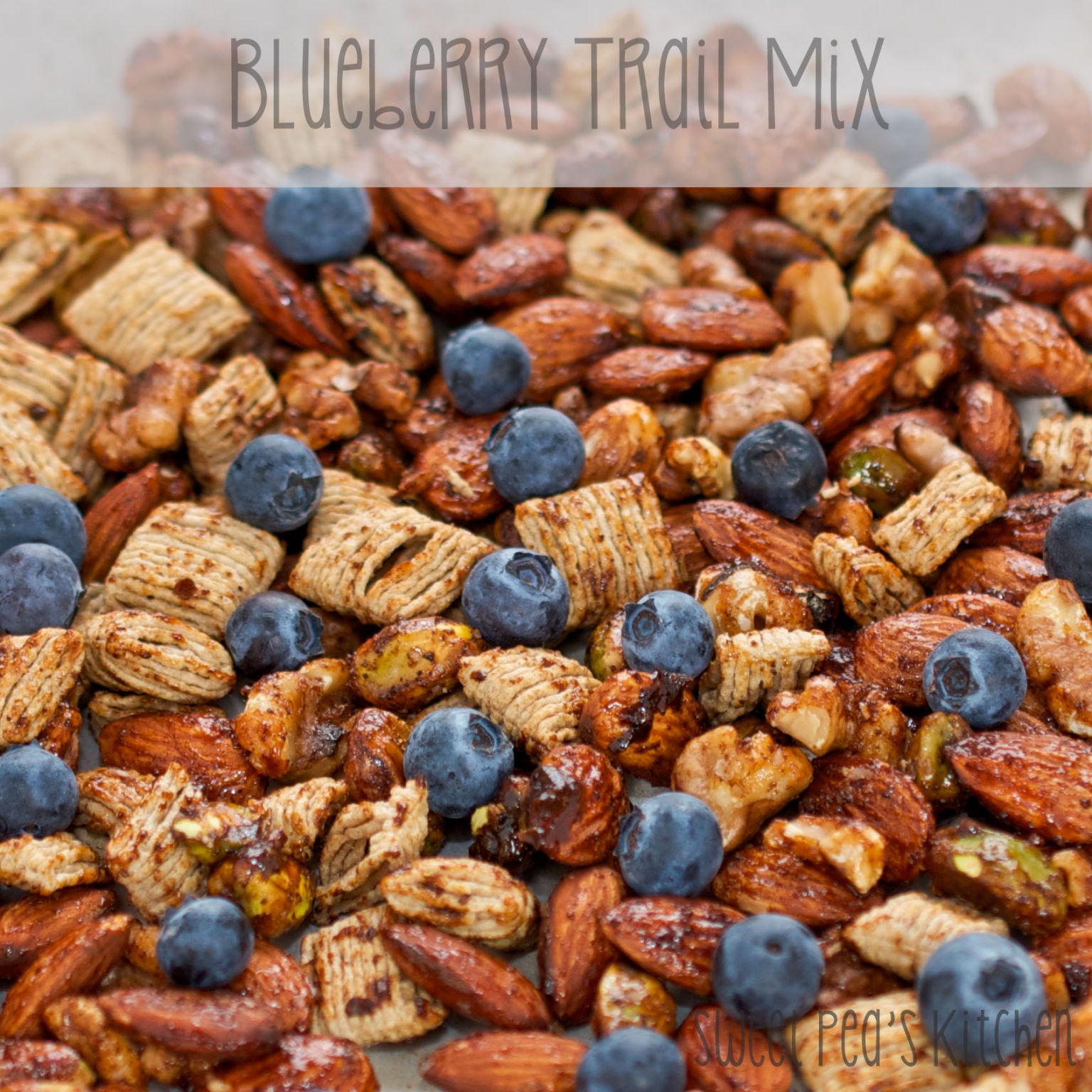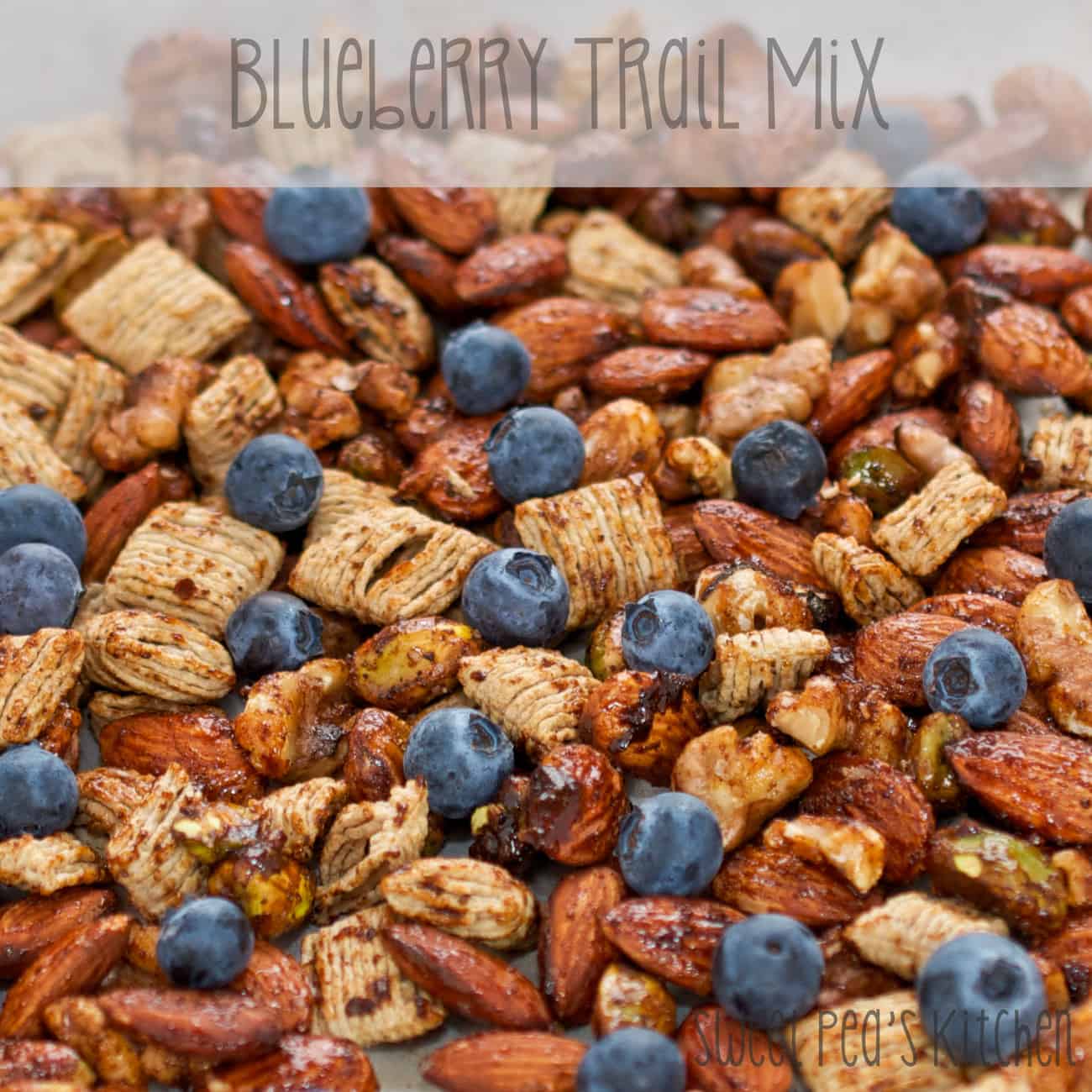 We all hit it at some point during our day-the dreaded mid-afternoon slump. The time when our tummies start to rumble and we frantically search through our drawers at work or through our pantry at home trying to find something to munch on.
We've eaten healthy foods all day and we know that we should pick healthy choices, but sometimes that bag of potato chips staring at you from behind the vending machine glass beckons.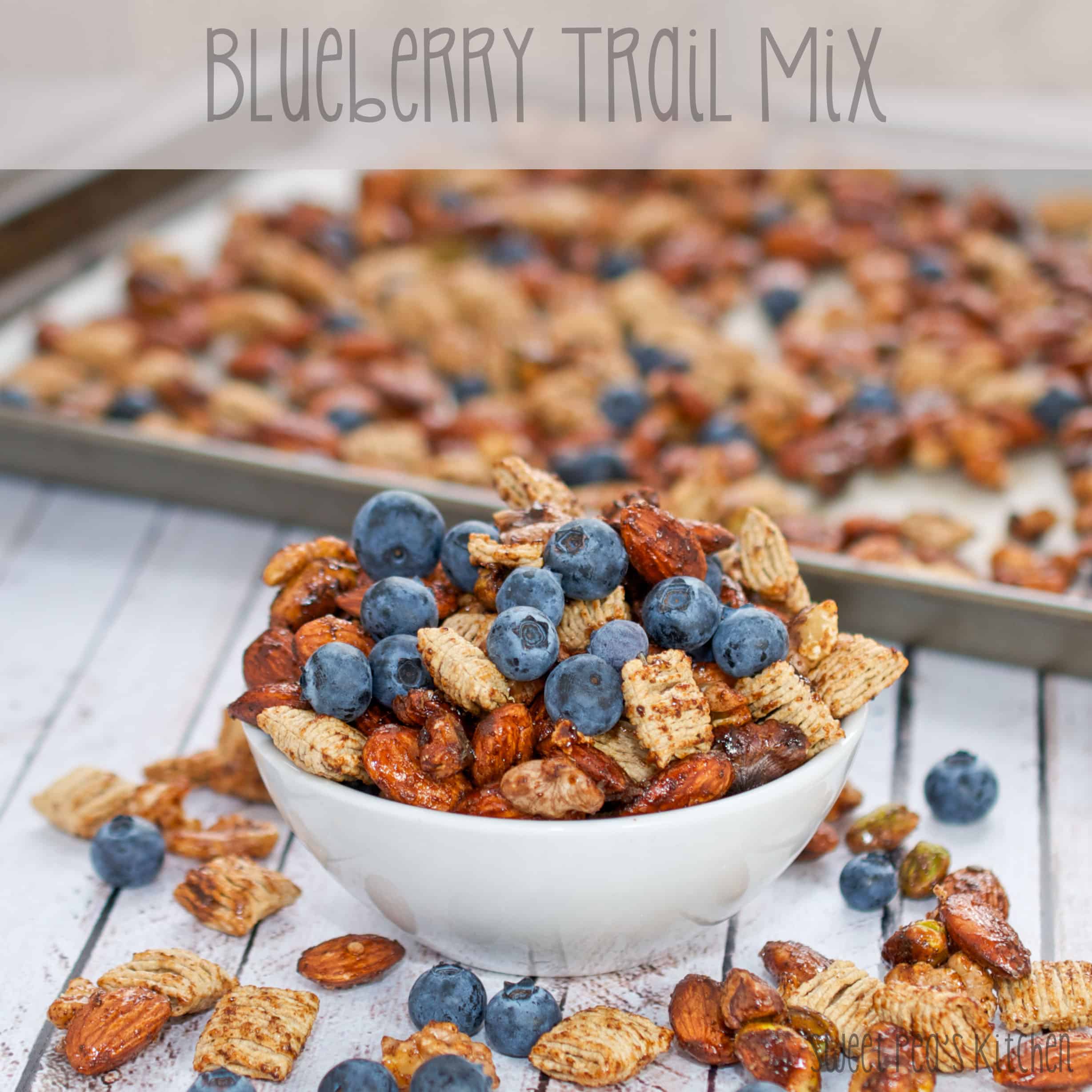 My afternoon cravings are like clockwork and start the second I put Little Sweet Pea down for his afternoon nap. Simple-to-prepare snacks are one of the best ways to curb those cravings for otherwise diet-busting snacks. This blueberry trail mix comes together in under a half an hour and can be made in large batches and kept in an airtight container for up to one week.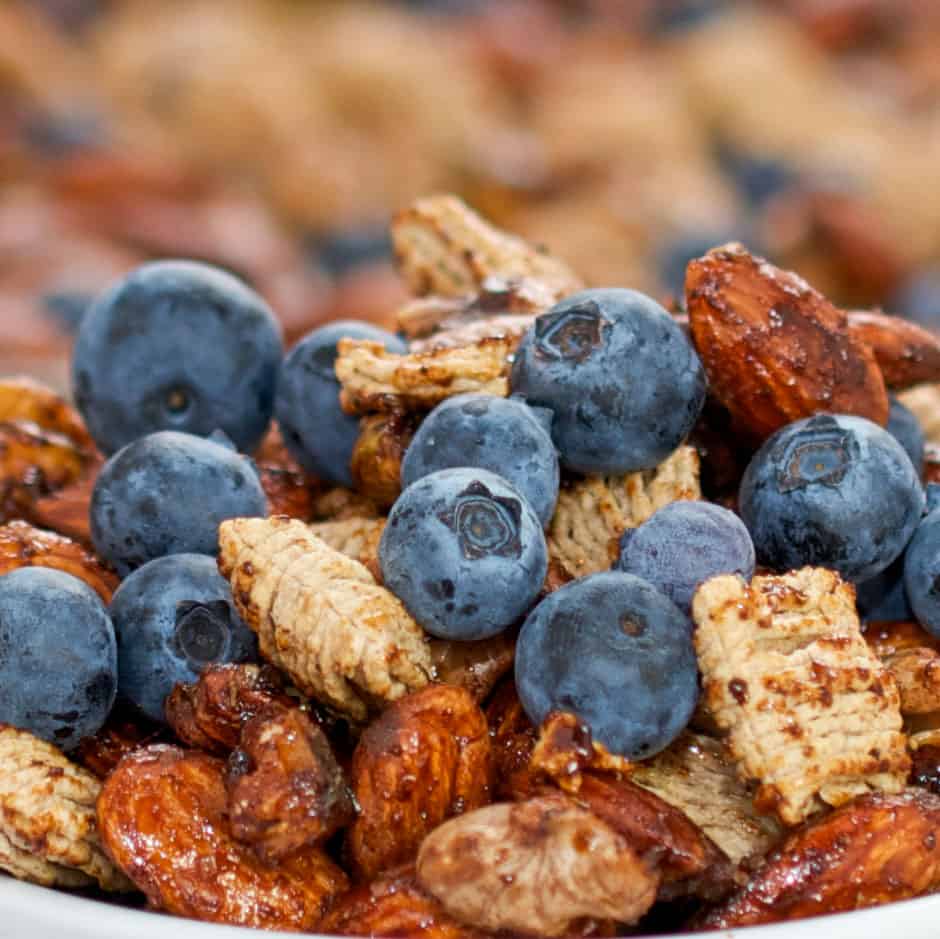 The first time I tasted this trail mix I had to make another batch right away because we devoured it so fast that I didn't have enough left to take a picture of. It's addicting, packed with plump blueberries, healthy nuts and a little bit of spiciness.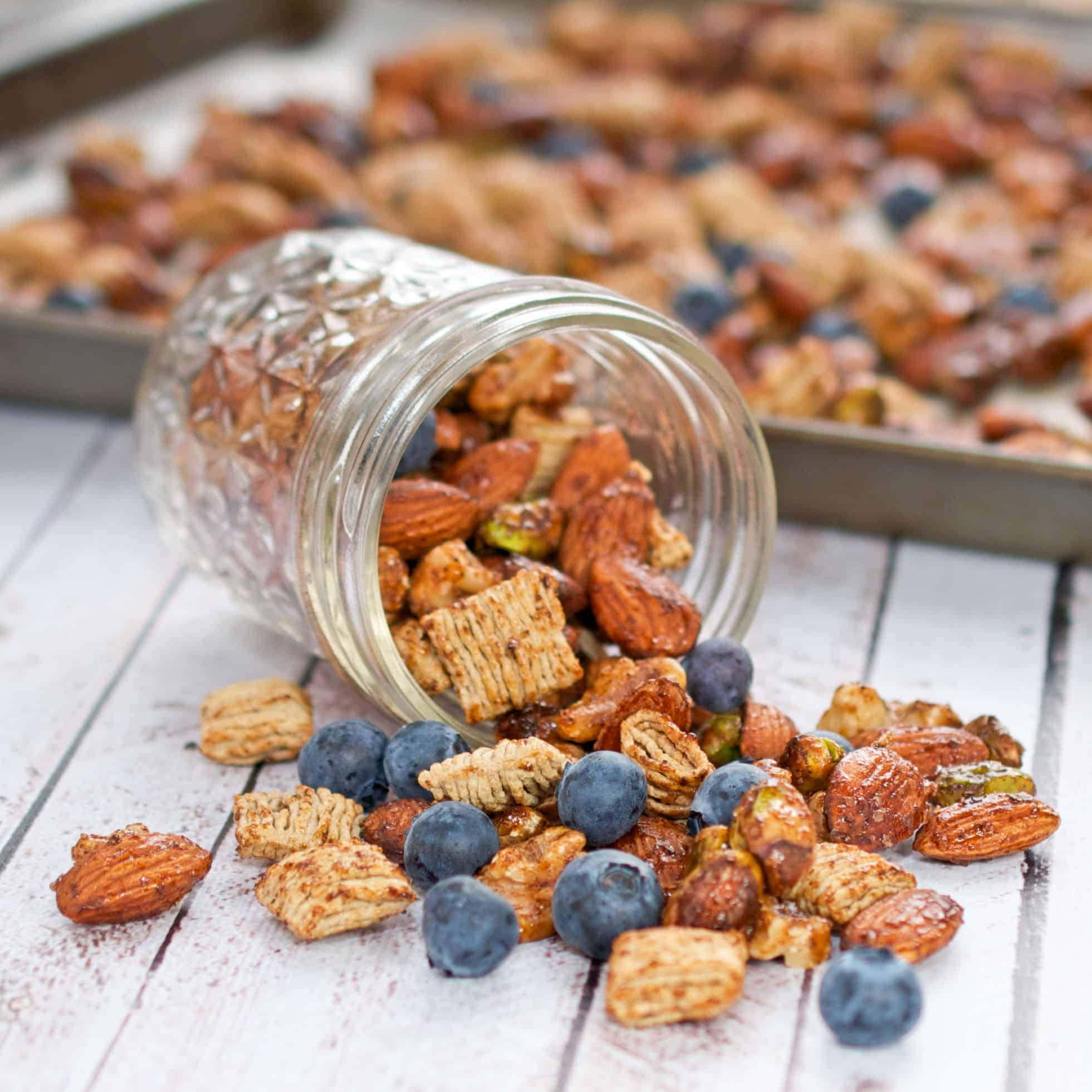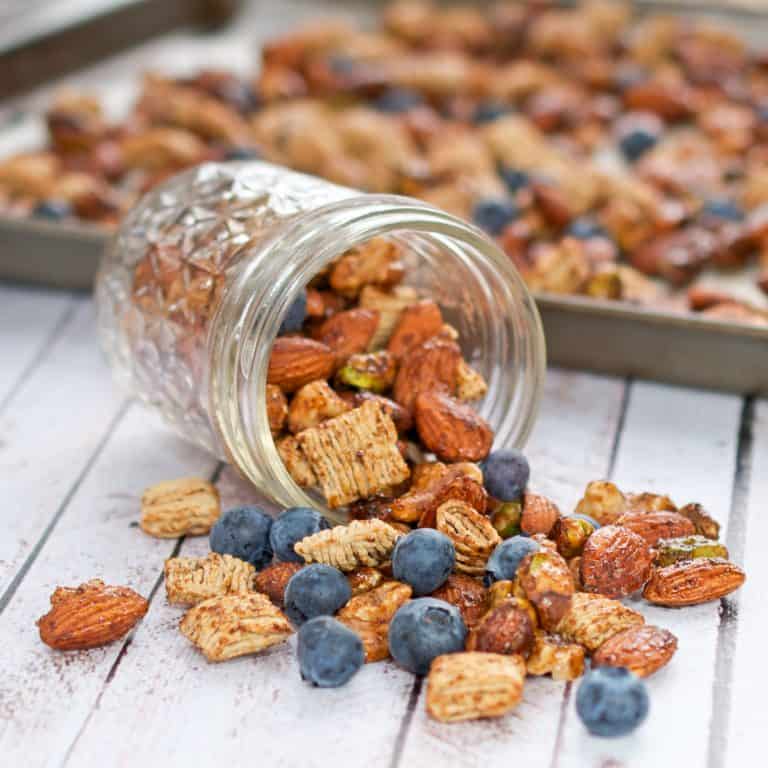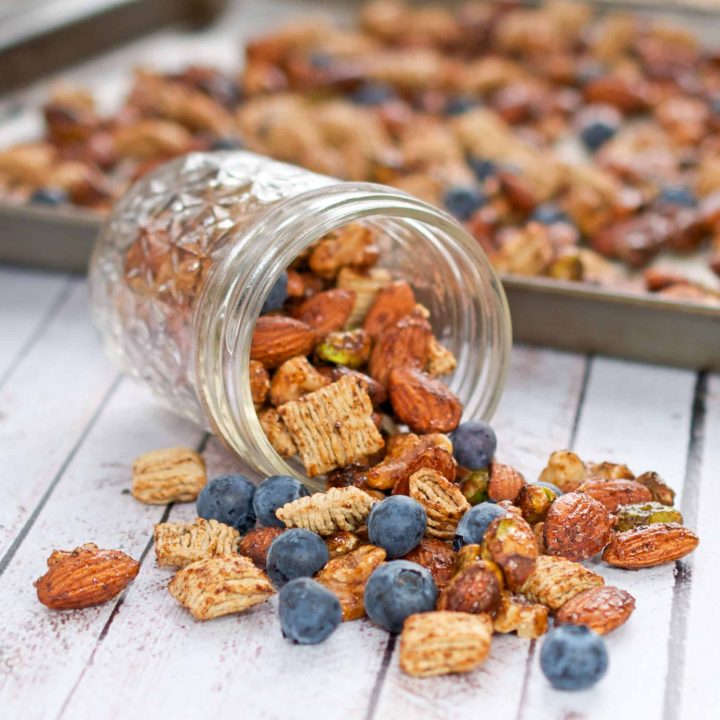 Blueberry Trail Mix
Ingredients
1 cup raw whole almonds 1/2 cup shelled walnuts 1/4 cup raw pistachios 1 1/2 tablespoons honey 1 teaspoon canola oil 1/2 teaspoon chipotle powder 1/4 teaspoon ground cayenne pepper 1/4 teaspoon ground cinnamon 1/2 teaspoon Kosher salt 1 cup your favorite cereal (I used Quaker Oatmeal Squares)

Instructions
Preheat oven to 300°F. Line a baking sheet with parchment paper.
In a large bowl, combine almonds, walnuts, and pistachios.
In a small microwaveable-safe bowl, combine honey, oil, chipotle powder, cayenne, and cinnamon. Warm mixture over in microwave for 10 second increments, stirring well after each increment, until warmed through. Pour honey mixture over nuts and stir with until thoroughly coated.
Spread mixture in a single layer on prepared baking sheet. Sprinkle with salt. Bake 20 to 25 minutes, stirring every 10 minutes, until golden brown.
Transfer warm mixture to a large bowl. Add cereal and toss to combine.
To serve, combine 1/4 cup nut mixture with 1/4 cup fresh blueberries.
Store nut mixture in an airtight container for up to 1 week.