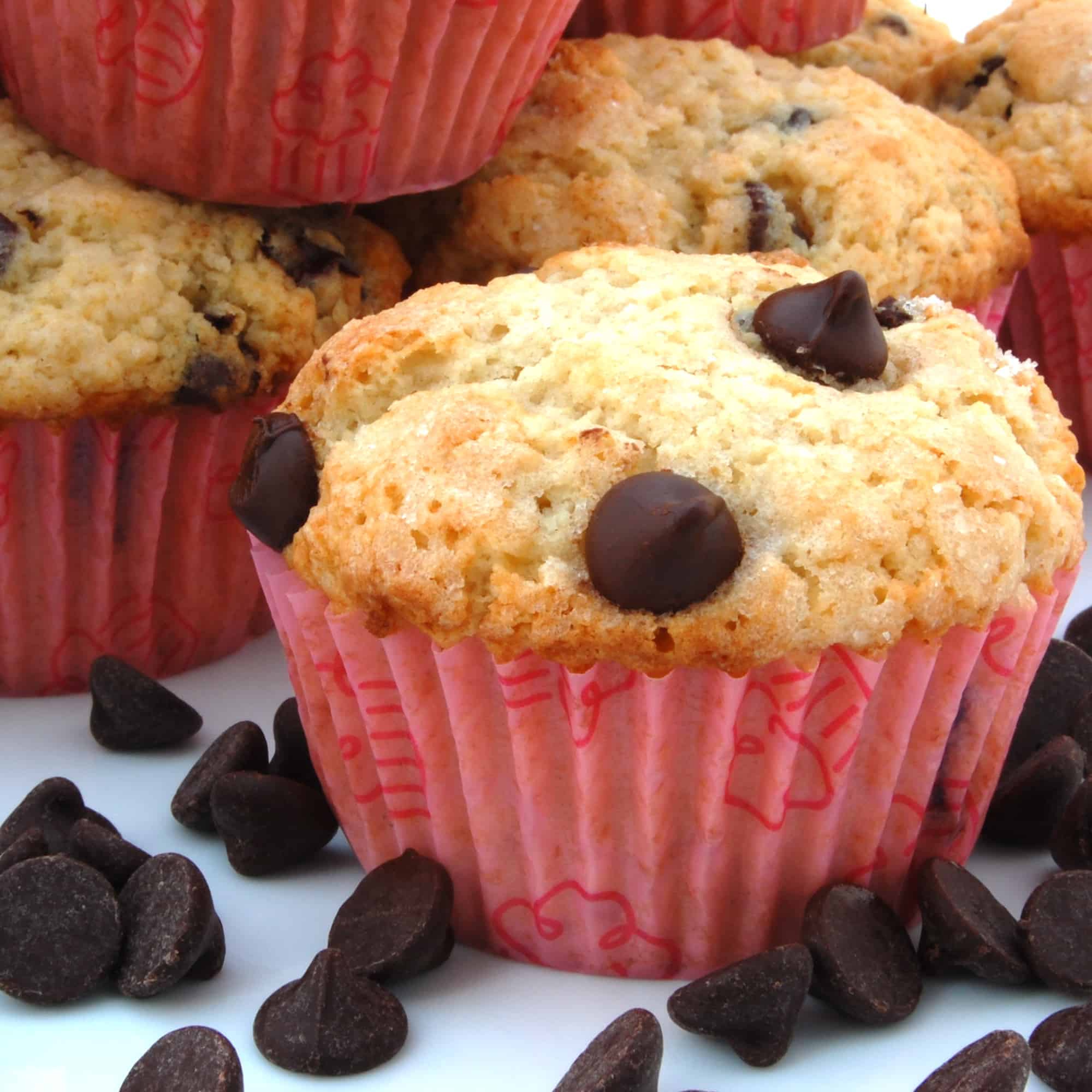 If you like chocolate chip cookies then you will love these indulgent chocolate chip muffins! They are moist, tender and exploding with rich chocolate chips.
The past couple of weeks I have been sending in muffins with my husband on Thursday mornings to share with his coworkers.
My Strawberry Chocolate Chip Muffins were such a huge hit, that my husband suggested that I make just a simple chocolate chip muffin. These muffins are so easy to make and require common ingredients that you probably have in your pantry now.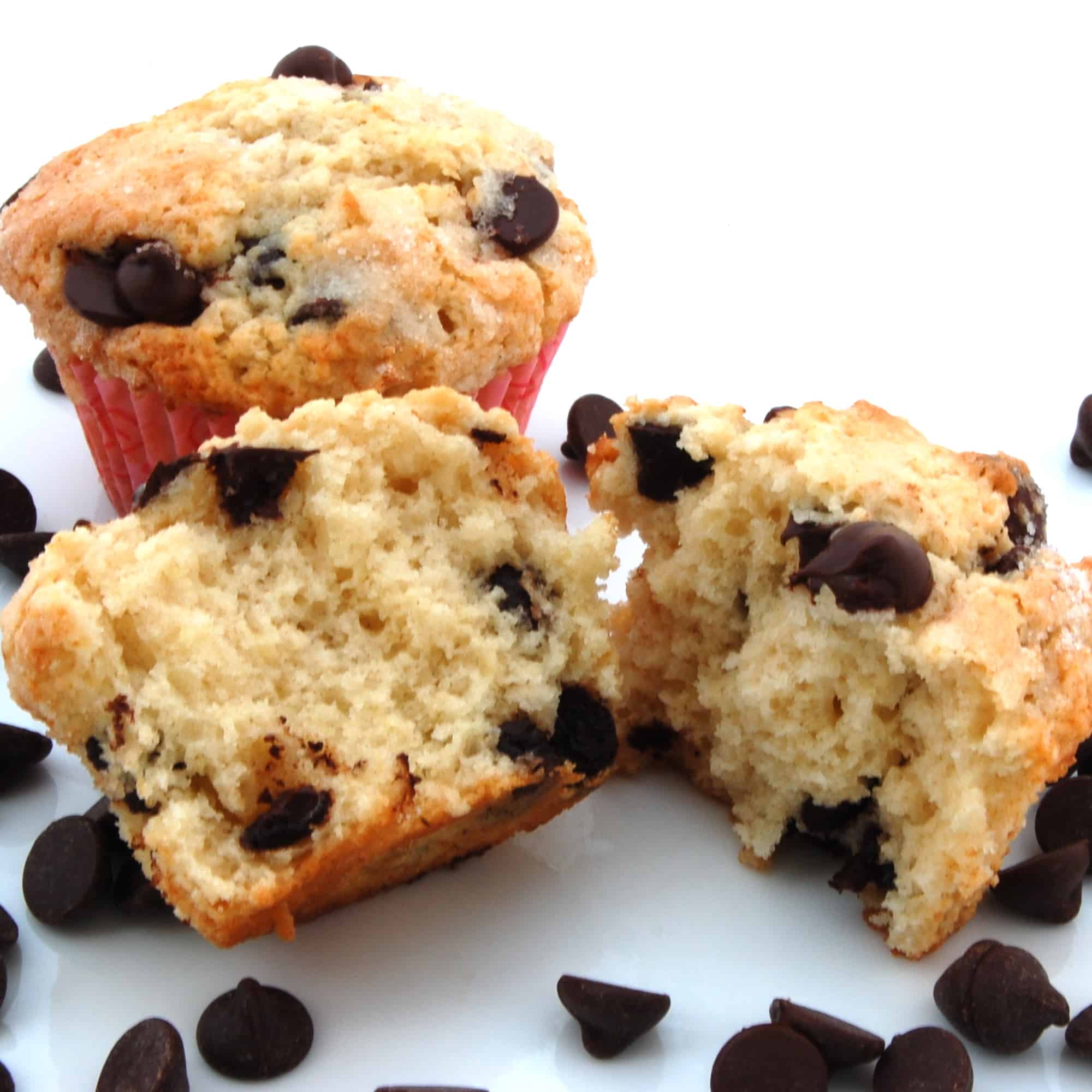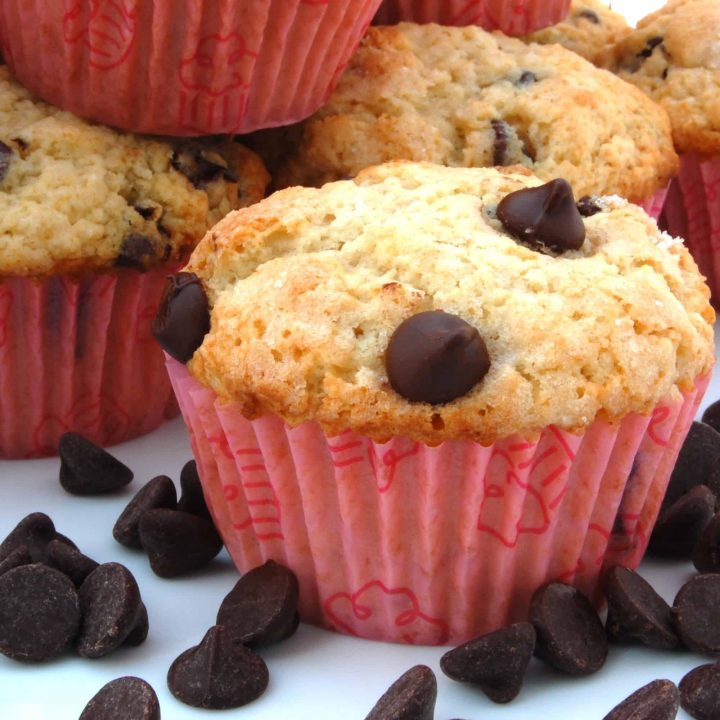 Chocolate Chip Muffins
Ingredients
2 1/2 cups all-purpose flour
3 1/2 teaspoons baking powder
1/2 teaspoon salt
1 cup semisweet chocolate chips
12 tablespoons (1 1/2 sticks) unsalted butter, at room temperature
1 cup plus 1 tablespoon sugar
2 eggs, at room temperature
1 1/2 teaspoons vanilla extract
3/4 cup milk
Instructions
Preheat oven to 350 degrees F. Lightly grease 12 muffin cups or line with papers.
In a medium bowl combine flour, baking powder, salt and chocolate chips; set aside.
In the bowl of a kitchen stand mixer, beat butter and 1 cup sugar on medium speed until creamy, about 3 minutes. Scrape down bowl with a rubber spatula.
Add eggs one at a time beating until blended. Add the vanilla and milk and beat until well blended. Scrape down the bowl with the rubber spatula.
Add flour mixture and hand stir until just blended. The batter will be thick. Do not over mix!
Fill each muffin cup with batter. Sprinkle the 1 tablespoon sugar evenly over the tops.
Bake in preheated oven for 21 to 23 minutes or until the muffins are golden brown and a toothpick inserted into the center of a muffin comes out clean. Cool in muffin pan for five minutes then transfer to wire rack to cool completely.