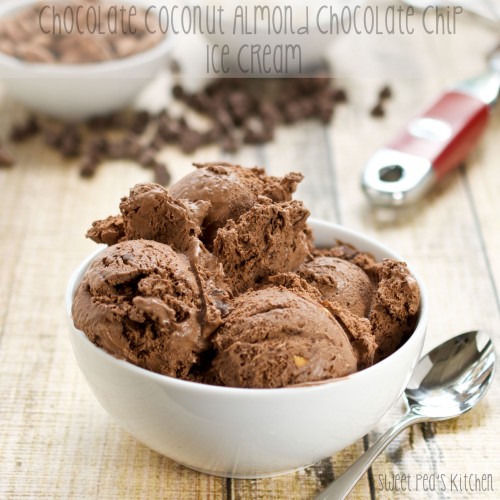 The recipe that I bring to you today is inspired by yet another Graeter's Ice Cream flavor…Chocolate Coconut Almond Chocolate Chip. Try saying that three times fast!
Pin this recipe now to remember it later
Chocolate Coconut Almond Chocolate Chip Ice Cream
Ingredients
2/3

cup

sweetened coconut flakes

1

15 ounce can coconut milk (do not use "lite")

2

teaspoons

vanilla extract

1/2

cup

granulated sugar

,

divided

5

ounces

bittersweet chocolate

,

finely chopped

3

tablespoons

unsweetened Dutch-process cocoa powder

3

ounces

semisweet chocolate

,

finely chopped

1/3

cup

roasted almonds

,

coarsely chopped
Want to save this recipe? Enter your email below and we'll send the recipe straight to your inbox!
NOTE: By saving this recipe, you agree to join our weekly recipes newsletter.
Instructions
Place the coconut in a large, heavy saucepan and set over medium-high heat. Stir the coconut until it begins to brown, about 7 minutes. Add the coconut milk, cream, vanilla extract and 1/4 cup sugar, stirring occasionally, until steam appears and the liquid is hot (175 degrees). Remove from heat. Cover and let stand for 45 minutes.

While the coconut mixture is seeping, melt the chocolate. In a medium heatproof bowl set over a pan of almost-simmering water, melt the bittersweet chocolate, stirring occasionally, until smooth. Set aside to cool.

Set a medium sized bowl over a large container of ice water.

Pour the coconut mixture through a medium-mesh strainer set over a bowl, pressing on the coconut to extract as much liquid as possible; discard the coconut. Return the liquid mixture to the same saucepan and set over medium-high heat. Add cocoa powder and cook, stirring occasionally, until steam appears and the liquid is hot (175 degrees).

Meanwhile, in a separate bowl, whisk the yolks and 1/4 cup of sugar together until smooth. Add the melted chocolate and beat until fully incorporated. Slowly whisk about 1 cup of the hot liquid mixture into the yolks to temper them. Then slowly whisk the tempered yolk mixture back into the remaining hot liquid mixture. Continue to cook the custard mixture over medium heat until it is very hot but not simmering (180-185 degrees). Immediately pour custard into bowl set in the ice bath and let cool, stirring occasionally, for about 10 minutes. Remove the custard mixture from the ice bath. Cover tightly with plastic wrap and refrigerate until very cold (40 degrees), at least 4 hours and up to 24 hours.

A few minutes before you plan to churn the ice cream, place semisweet chocolate in a medium heatproof bowl. Set bowl over saucepan containing barely simmering water; heat mixture until chocolate is melted and whisk until smooth. Stir in oil and transfer to a ziploc bag; set aside

Pour the mixture into the ice cream canister and churn following the manufacturer's instructions until the mixture resembles the consistency of thick whipped cream. Sprinkle in chopped almonds. Snip the corner of the ziploc bag that the chocolate is in, and while the machine is running, slowly drizzle the chocolate into the ice cream. After chocolate is added, continue churning until the mixture resembles soft served ice cream.

Transfer the ice cream to an airtight container. Cover the container and freeze the ice cream until it is firm, about 3 hours.

Enjoy!
Follow me on Pinterest for daily delicious recipes!
Get new recipes weekly plus our FREE ebook!