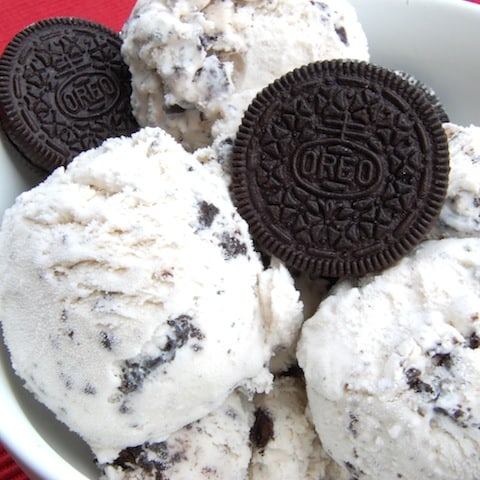 Cookies and Cream Ice Cream has been my absolute favorite flavor ever since I can remember. My favorite place to have ice cream is at Graeter's in Columbus, Ohio. They have the best cookies and cream ice cream (any ice cream for that matter) that I have tasted. Unfortunately, the closest Graeter's Ice Cream Parlor is about 2 hours away! 😦 They do sell pints of their ice cream at my local grocery store, but it is just not the same. So unable to get my favorite Cookies and Cream Ice Cream, I have been trying to recreate this rich and creamy dessert. This recipe is one that I will use whenever the craving hits! Rich and creamy vanilla ice cream loaded with Oreo cookie chunks. Mmmm…yummy!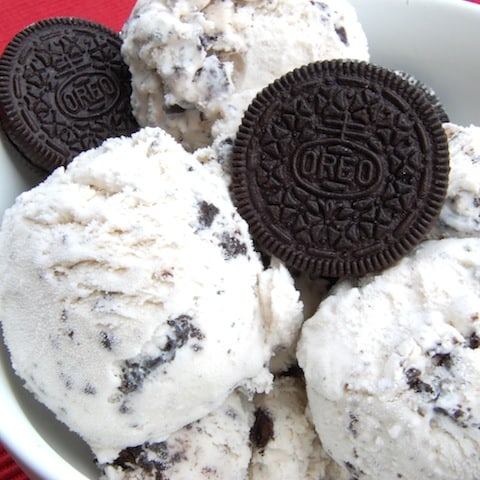 Cookies and Cream Ice Cream
Ingredients
1 cup whole milk
3/4 cup granulated sugar
pinch of salt
2 cups heavy cream
1 tablespoon vanilla extract
Oreo cookies, crushed (to taste)
Instructions
In the bowl of a stand mixer fitted with the whisk attachment, combine milk, sugar, and salt. Whisk on low speed until sugar is dissolved. Stir in heavy cream and vanilla. Cover and refrigerate 1 to 2 hours or overnight.
Pour mixture into ice cream maker and let mix until thickened, about 20 minutes. When 5 minutes are left, add crushed Oreo cookies. The ice cream will have a soft, creamy texture. If a firmer consistency is desired, transfer sorbet to an airtight container and place in freezer for 2 hours.