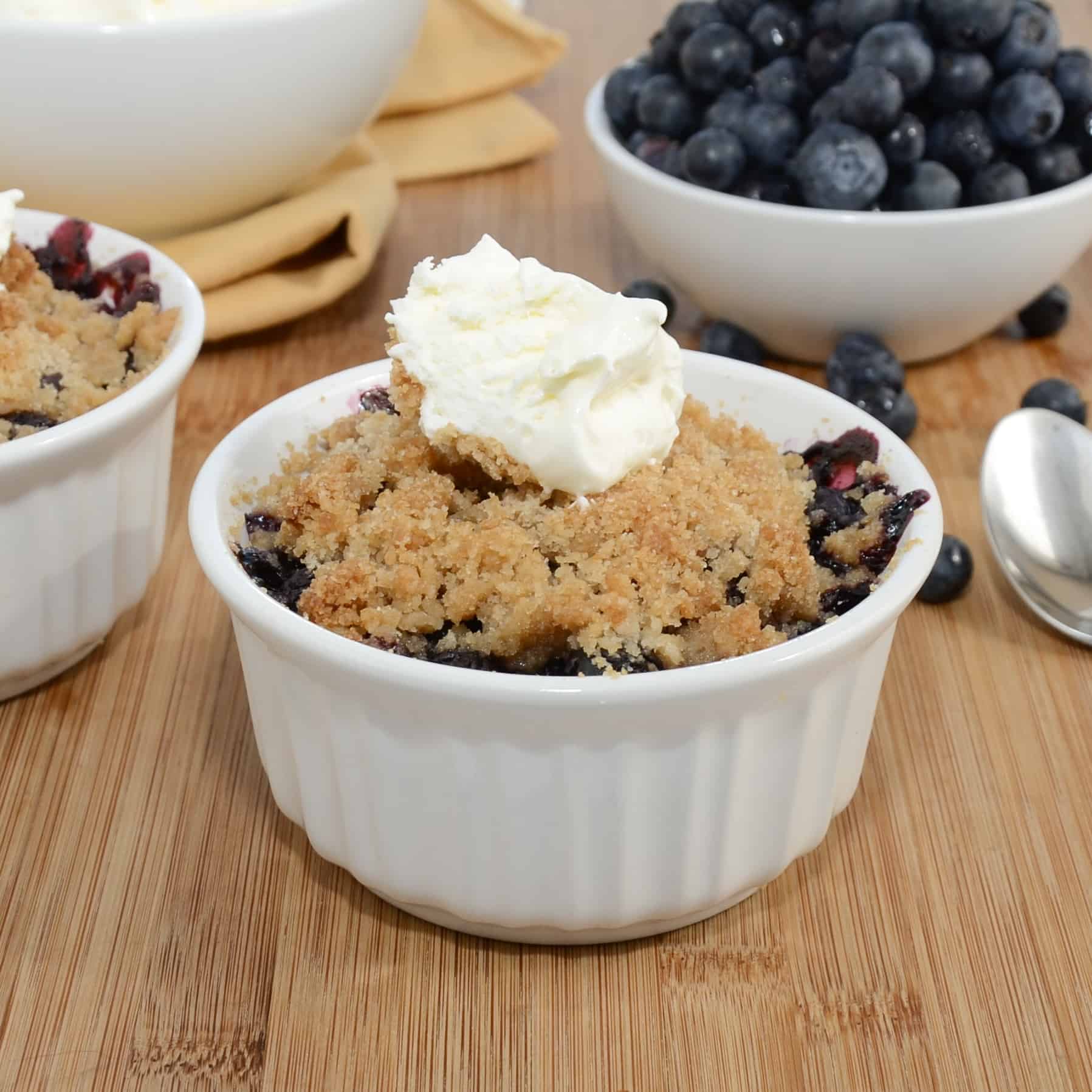 I can't even begin to tell you how excited I am that summer produce season is upon us. This weekend our local farmers markets open for the season. I have been waiting for this day since they closed back in October. Tomatoes, corn, melons, zucchini, cherries, and peaches are just a few things that I am looking forward to snatching up over the next few months. I am especially excited for the summer berries to start popping up! I stash summer berries like a squirrel stashes nuts. It's a bit embarrassing!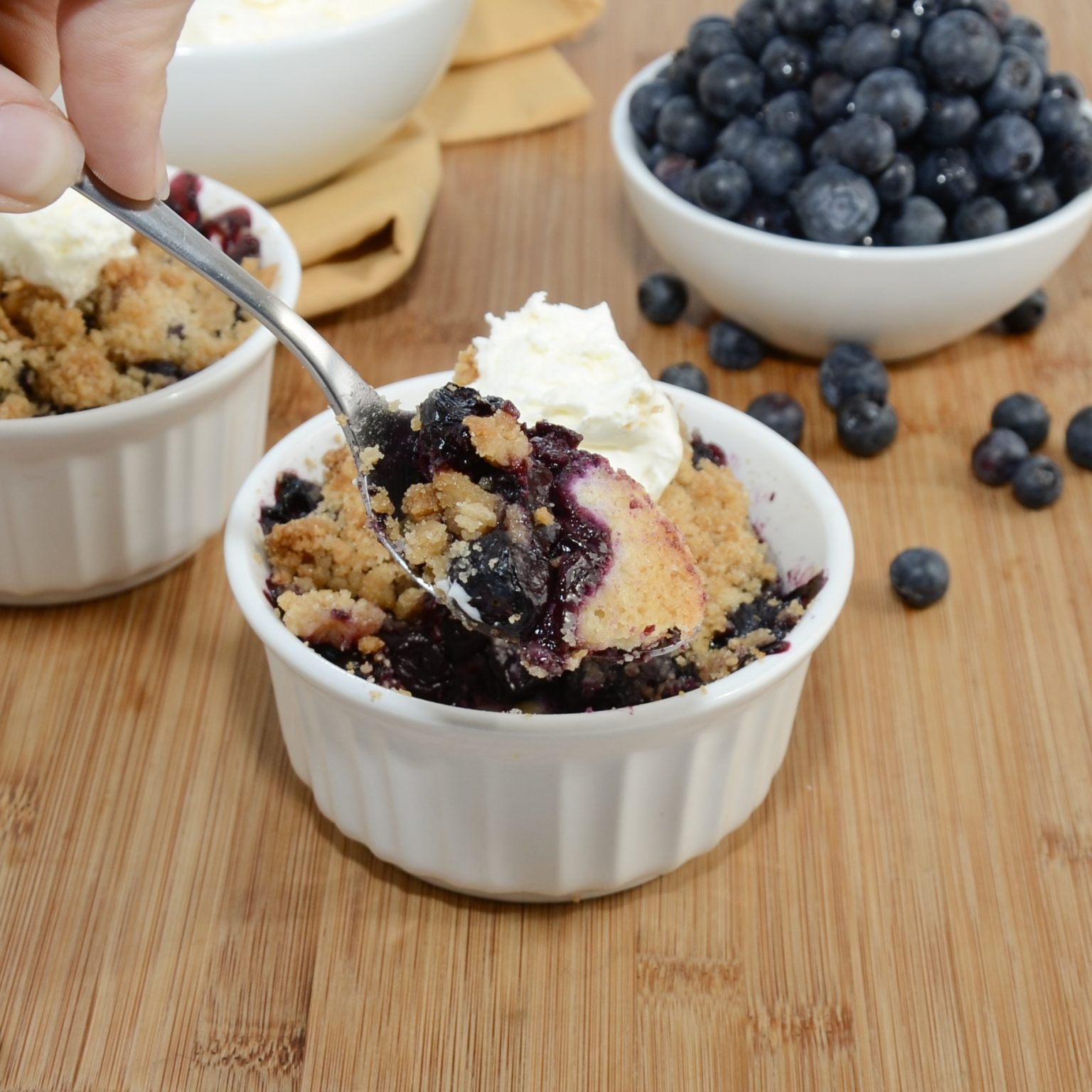 Let's just say we are never running low. 😉 Besides eating them out of hand and throwing the berries into desserts, I like to freeze them to use in smoothies and milkshakes throughout the summer. One of my favorite recipes to make during berry season is a Blueberry Buckle. It is great for a weekend breakfast or topped with whipped cream for dessert. I love that this recipe is baked in ramekins so that everyone gets their own little blueberry buckle.
Individual single layer cakes dotted with plump blueberries, crumbly streusel topping and a dollop of creamy cream cheese whipped cream. Make this delicious dessert all summer long by substituting your favorite summer berries.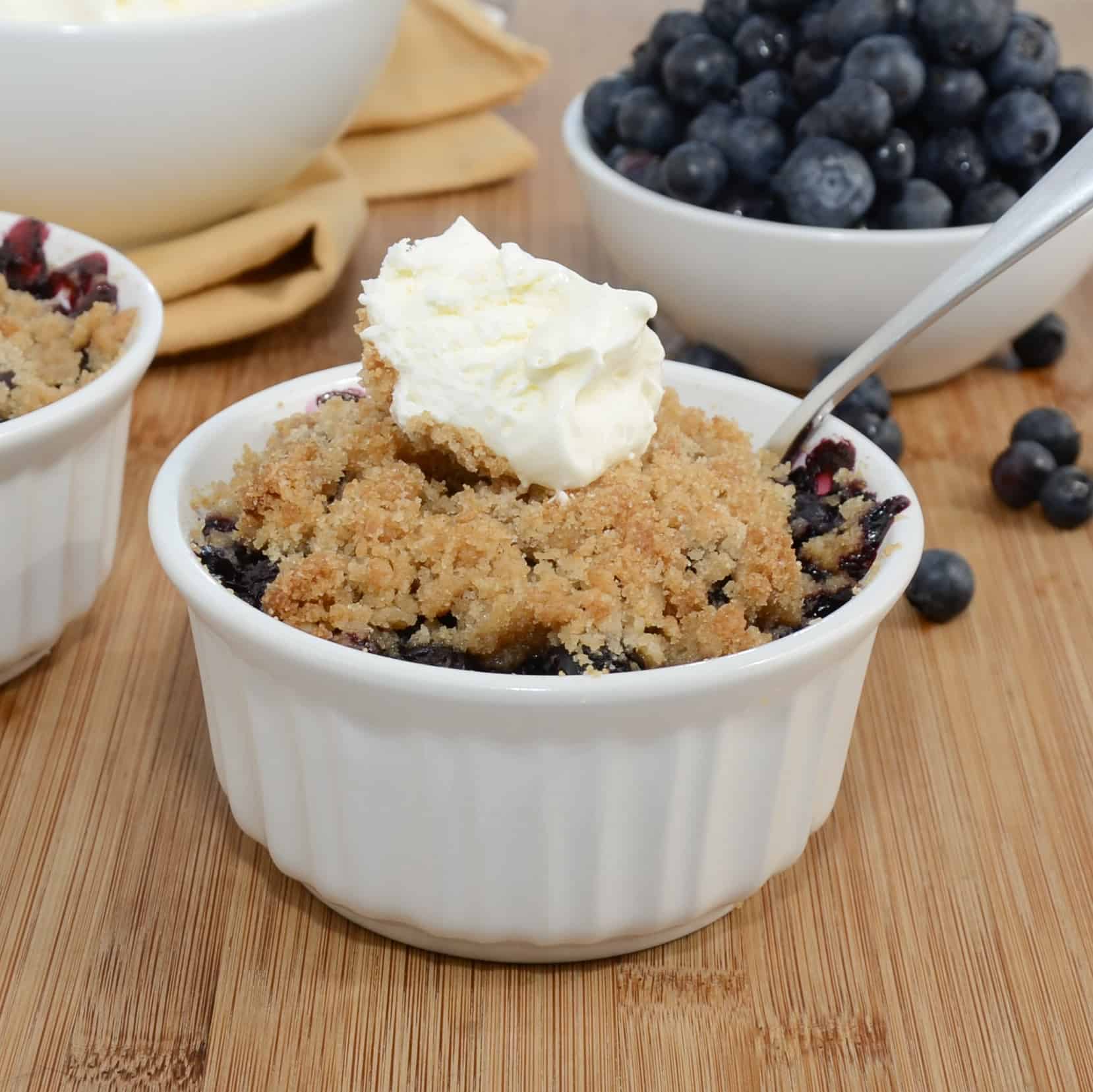 Source: inspired by Joy of Baking, recipe adapted from Cook's Illustrated, July 2005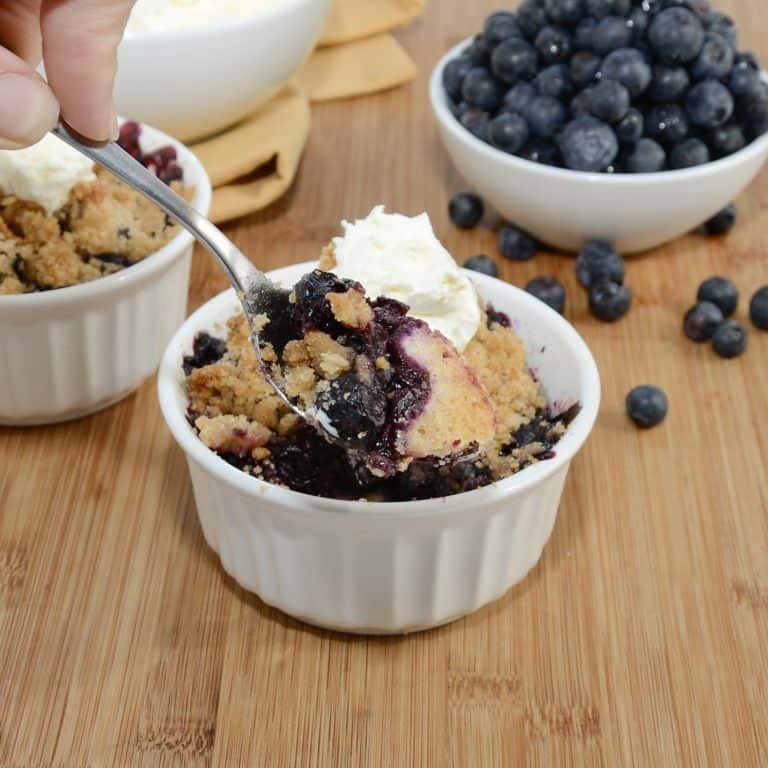 Individual Blueberry Buckles
Yield:
8-8 ounce servings
Ingredients
For the Streusel:
1/2 cup unbleached all-purpose flour (2 ½ ounces)
1/2 cup packed light brown sugar (3 ½ ounces)
2 tablespoons granulated sugar
1/4 teaspoon ground cinnamon
pinch table salt
4 tablespoons unsalted butter (1/2 stick), cut into 8 pieces, softened but still cool
For the Cake:
1 ½ cups unbleached all-purpose flour ( 7 ½ ounces)
1 ½ teaspoons baking powder
10 tablespoons unsalted butter (1 ¼ stick), softened but still cool
2/3 cup granulated sugar (about 4 ¾ ounces)
1/2 teaspoon table salt
1/2 teaspoon grated lemon zest
1 ½ teaspoons vanilla extract
2 large eggs, room temperature
4 cups fresh blueberries (about 20 ounces)
For the Cream Cheese Whipped Cream:
4 ounces cream cheese
1/3 cup confectioners' sugar
pinch table salt
1/2 teaspoon vanilla extract
1 cup heavy cream
Instructions
For the streusel: In the bowl of a stand mixer fitted with the paddle attachment, combine flour, sugars, cinnamon, and salt on low speed until well combined and no large brown sugar lumps remain, about 45 seconds. Add butter and mix on low until mixture resembles wet sand and no large butter pieces remain, about 2 1/2 minutes. Transfer streusel to small bowl;set aside.
For the cake: Heat oven to 350 degrees. Spray eight-8 ounce (240 ml) ramekins with nonstick cooking spray.
In a small bowl, whisk together the flour and baking powder; set aside.
In the bowl of a stand mixer fitted with the paddle attachment, cream butter, sugar, salt, and lemon zest at medium-high speed until light and fluffy, about 3 minutes; using rubber spatula, scrape down bowl. Beat in vanilla until combined, about 30 seconds. With mixer running at medium speed, add eggs one at a time; beat until partially incorporated, then scrape down bowl and continue to beat until fully incorporated. With mixer running on low speed, gradually add flour mixture; beat until flour is almost fully incorporated, about 20 seconds. Disengage bowl from mixer; stir batter with rubber spatula, scraping bottom and sides of bowl, until no flour pockets remain and batter is homogenous; batter will be very heavy and thick.
Spread about 1/4 cup of batter into the bottom of each ramekin, smoothing the tops. Evenly divide the blueberries between the ramekins. Squeeze a handful of streusel in hand to form a large cohesive clump; break up clump with fingers and sprinkle streusel evenly over one ramekin. Repeat with remaining streusel.
Place the ramekins on a baking sheet and bake until deep golden brown and toothpick or wooden skewer inserted into center of each ramekin comes out clean, about 30 to 35 minutes. Cool on wire rack 15 to 20 minutes.
While the buckles are cooling, make the whipped cream. In bowl of a stand mixer fitted with whisk attachment, whisk cream cheese, confectioners' sugar, and salt at medium-high speed until light and fluffy, 1-2 minutes, scraping down bowl with rubber spatula as needed. Add vanilla and beat at medium speed until combined, about 30 seconds; scrape down bowl. With machine running at low speed, add heavy cream in slow steady stream; when almost fully combined, increase speed to medium-high and beat until mixture holds soft peaks when whisk is lifted, another 1-2 minutes, scraping down bowl as needed. Top each buckle with a dollop of whipped cream.
Source: inspired by Joy of Baking, recipe adapted from Cook's Illustrated, July 2005