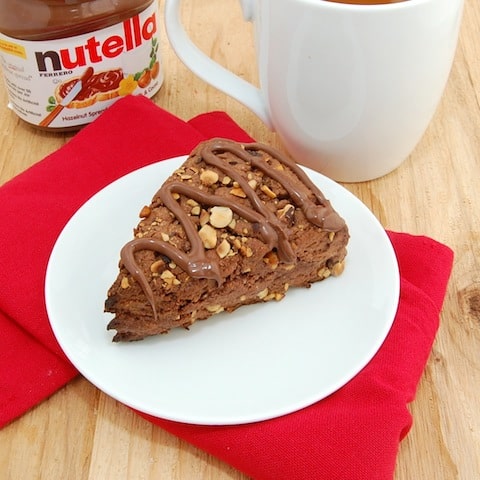 If you are one of the few people who haven't tried Nutella yet, you really need to stop what you are doing and run out and pick up a jar. Actually, you might want to pick up two jars! One for baking these scones and one to spoon directly out of the jar and into your mouth! 😉 When I spotted this recipe in my Baked Explorations cookbook I knew that these were going to make an appearance on our Christmas breakfast table. Delicious dark chocolate scones studded with hazelnuts and swirled with Nutella inside and out.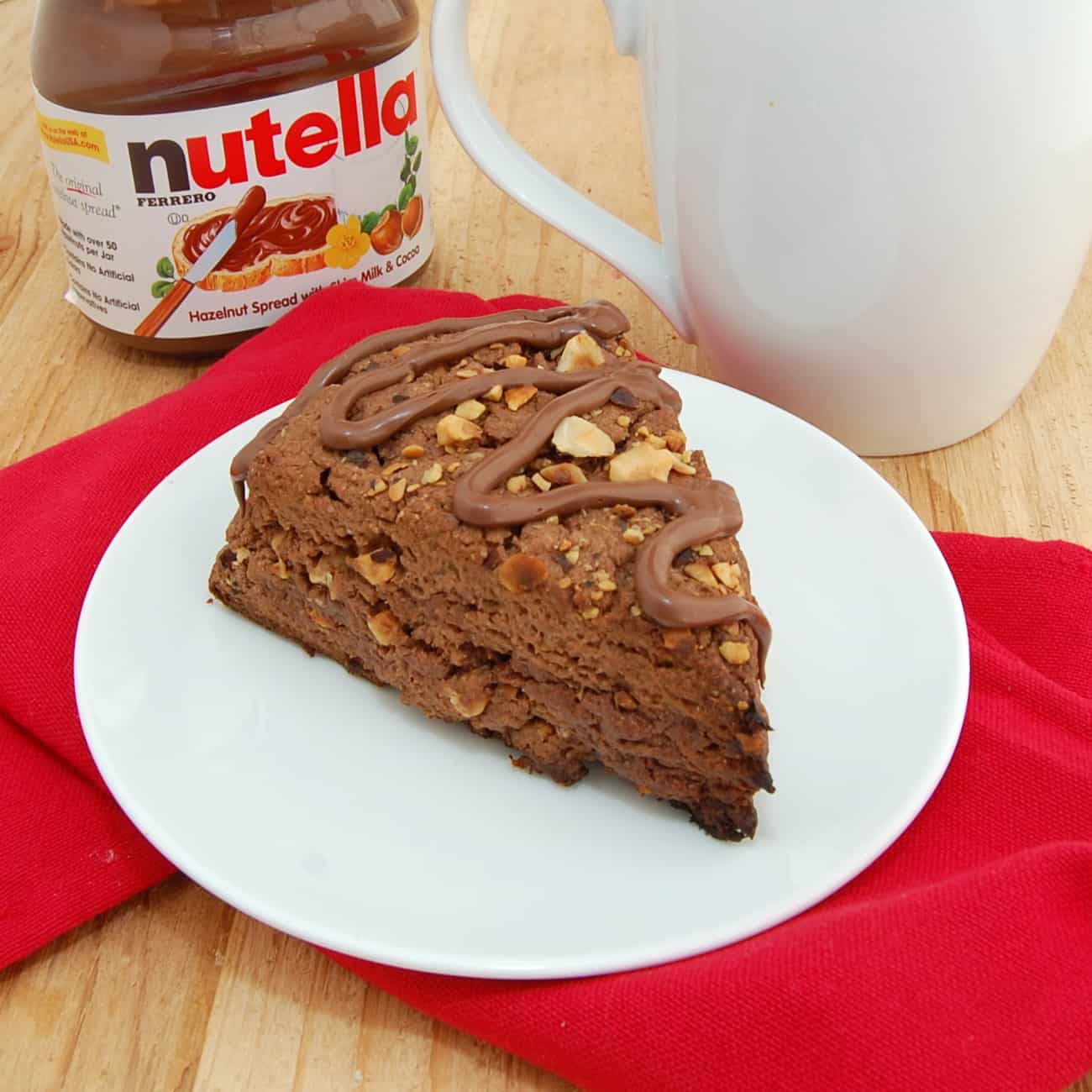 These scones are simple to make and so delicious. If you haven't made too many scones before, the biggest thing to remember is not to overwork the dough. Too much kneading equals a tough scone.
Scones do require a bit of practice to get the texture right. You don't want the dough to be smooth and pliable. You only want to work the dough until it comes together. Once you master how to make moist, delicious scones you will find yourself making them all the time. Happy Holidays everyone! 😀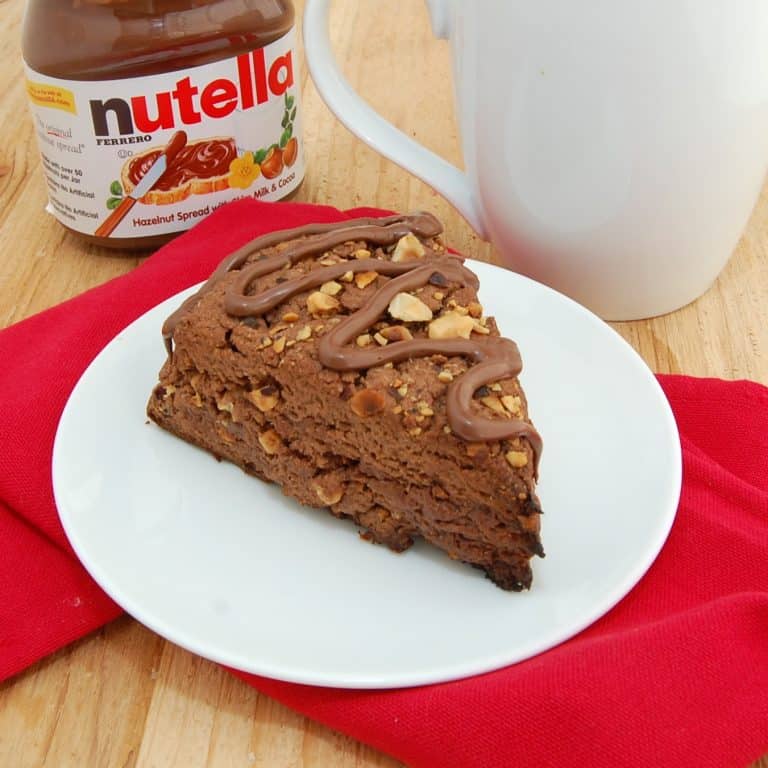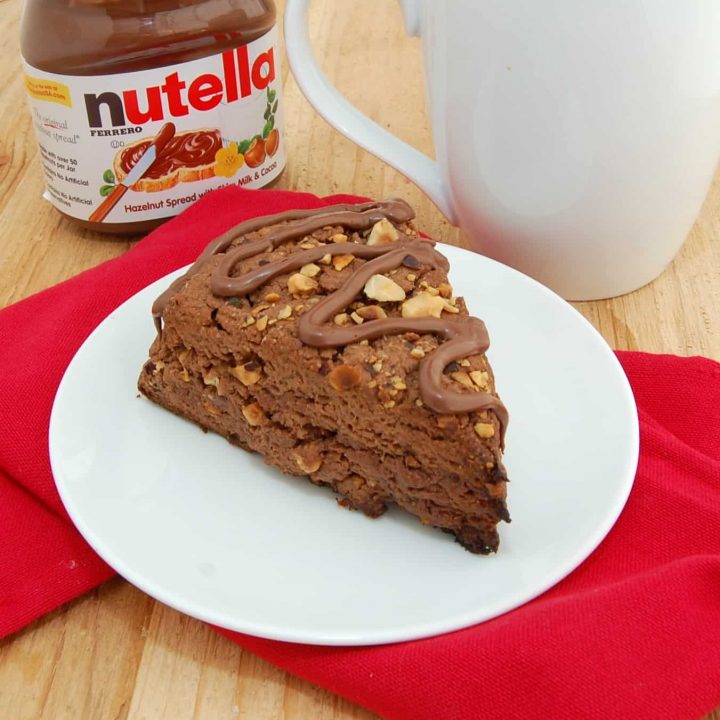 Nutella Scones
Ingredients
2 cups unbleached all-purpose flour
1/4 cup granulated sugar
1/4 cup dark sweetened cocoa powder
1 tablespoon baking powder
1/2 teaspoon salt
6 tablespoons (3/4 stick) cold unsalted butter, cut into chunks
1 large egg
1/2 cup heavy cream
3/4 cup toasted hazelnuts, coarsely chopped
1/2 cup Nutella
Instructions
Preheat the oven to 375 degrees F. Line baking sheet with parchment paper.
Place flour, sugar, cocoa powder, baking powder, and salt in the bowl of a food processor fitted with a metal blade. Process with six 1-second pulses.
Remove cover of food processor and sprinkle the butter evenly over the dry ingredients. Cover and process with 12 1-second pulses. Transfer contents to a large bowl.
In a medium bowl, whisk together the egg and cream. Stir into the flour mixture just until moistened. Add the toasted hazelnuts and knead gently to incorporate. Knead the dough by hand 6 to 8 times (do not overprocess or scones will be tough).
Flatten the dough into a rectangle approximately 6 by 12 inches and spread 1/4 cup of the Nutella on top in a criss-cross pattern.
Roll the dough up to make a cylinder about 6 inches long, turn it on its end, and gently flatten it into a disk about 1 3/4 inches high. Do not overwork the dough.
Cut the dough into 6 or 8 wedges and place them on the prepared baking sheet.
Bake the scones for 18-20 minutes, rotating the baking sheet halfway through, or until a toothpick inserted into the center of a scone comes out clean. Transfer the scones to a wire rack to cool completely. Place the baking sheet with the parchment still on it underneath the rack.
Heat the remaining 1/4 cup Nutella in a microwave until pourable, about 10 seconds on high. Pierce the tops of the scones a few times with a fork. Use a spoon ( or two spoons-one to scoop, one to scrape) to drip the warm Nutella in a zigzag pattern over the tops of the hot scones. Transfer them to a refrigerator to set for 5 minutes, then serve immediately.
Source: Baked Explorations