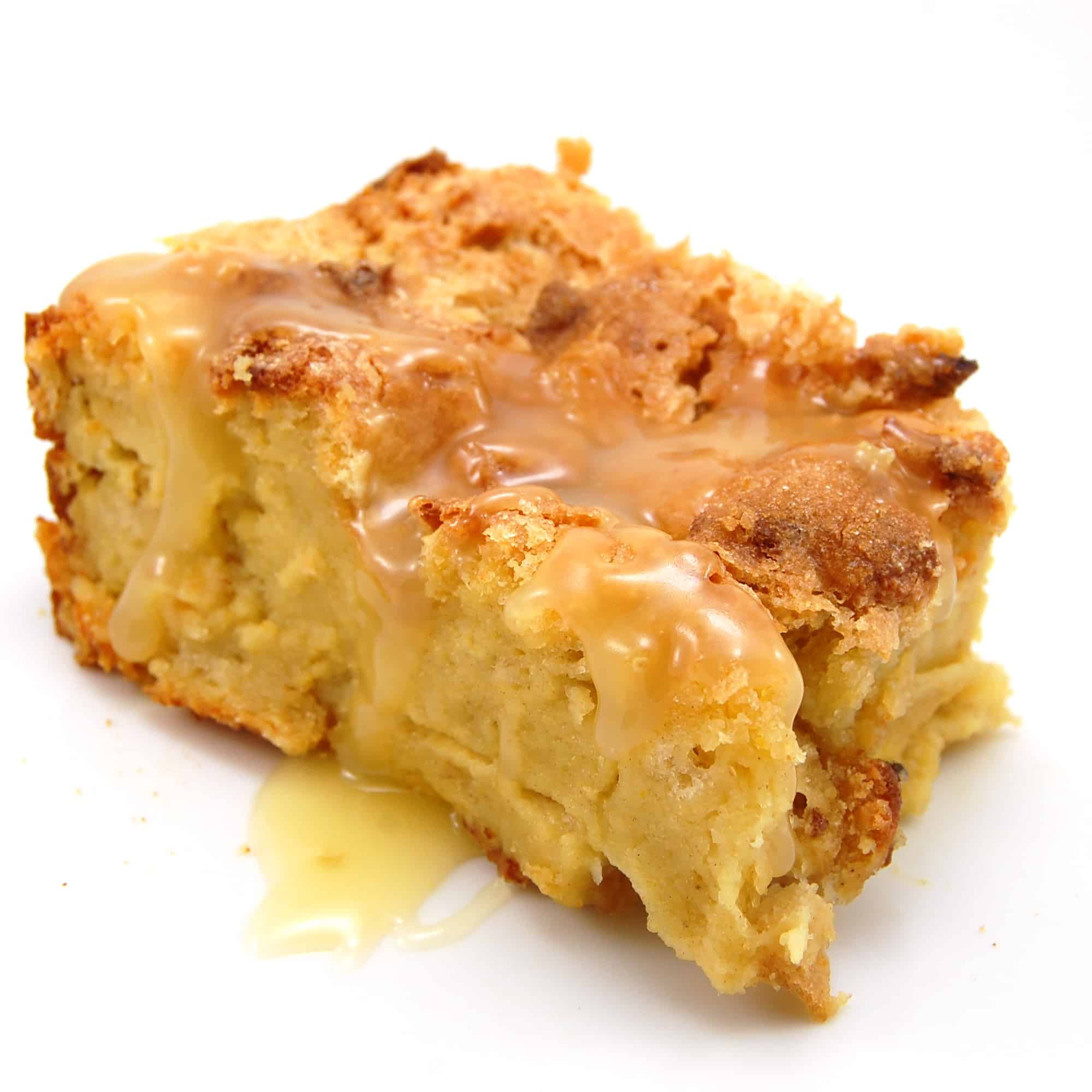 Warm, moist, bread pudding with a caramelized crisp and chewy crust flavored with orange and almond. My husbands birthday was yesterday and instead of choosing a typical birthday cake he wanted me to make his all time favorite dessert-bread pudding. Whenever we order dessert to share at a restaurant it is always between cheesecake (my favorite) and bread pudding (Andrew's favorite). To be honest, I do not typically enjoy bread pudding, however, when I took my first bite of this amazing orange and almond flavored bread pudding I immediately became a fan. 🙂 The longer you soak the bread in the rich and creamy milk mixture the better the flavor of the pudding. It is suggested to bake this bread pudding in a water bath to prevent it from burning, curdling, or drying out. Serve warm with carmel sauce and a scoop of vanilla ice cream.
Pin this recipe now to remember it later
Orange-Almond Bread Pudding
Ingredients
1/2

cup

sugar

,

plus more for sprinkling

1/2

teaspoon

vanilla extract

1/4

teaspoon

almond extract

1

tablespoon

orange flavored liqueur such as Triple Sec

,

Grand Marnier or Contreau

1

large egg white

,

at room temperature

7

ounces

almond paste

,

crumbled

1

loaf

,

1 pound of firm-textured white bread, cut into 1/2″ slices

1/4

teaspoon

vanilla extract
Want to save this recipe? Enter your email below and we'll send the recipe straight to your inbox!
NOTE: By saving this recipe, you agree to join our weekly recipes newsletter.
Instructions
In a medium saucepan, warm milk, heavy cream, orange zest and 1/2 cup of sugar to 110 degrees; Stirring often to dissolve the sugar. Remove from heat, cover, and let steep for one hour.

After one hour, reheat the cream mixture until it's very warm (110 degrees). In a medium bowl, whisk the yolks then gradually whisk in the warm milk-cream mixture, whisking constantly to prevent eggs from cooking. Whisk in the vanilla extract, almond extract, orange liqueur, and cinnamon. Pour mixture through a strainer into another bowl to remove orange zest. Set aside.

Butter a shallow 2-quart baking dish or souffle mold.

In a small bowl, beat the egg whites and almond paste until smooth. Spread a spoonful of almond paste over one side of a slice of bread, then place the slice in the prepared baking dish, almond paste side down. Continue spreading paste on bread, and layering slices into the dish. Pour the milk-egg yolk mixture over the bread and gently press down, submerging the layers in the liquid.

Cover with plastic wrap and place in the refrigerator at least an hour or overnight, pressing down occasionally to make sure the top layers of bread are soaked through.

Preheat oven to 350°F. If you've put the bread pudding in the fridge, allow it to come to room temperature before baking by placing it on the counter for at least an hour.

Sprinkle the top of the bread pudding liberally with sugar. Set the baking dish in a water bath by setting it in a large roasting pan, and then filling the roaster with water until it is halfway up the sides of the pudding's baking dish.

Bake until pudding is puffed up in the center and the top is brown, about 1 hour.

Let cool until warm.

While bread pudding is cooling make carmel sauce by melting the butter in a large sauce pan. Add sugar and cook, stirring occasionally until sugar begins to caramelize, then turns dark amber in color and begins to foam. Remove from heat and stir in heavy cream until smooth. Add vanilla and salt. Let cool to warm. Pour over individual slices of bread pudding and serve.

Serve warm, drizzled with caramel sauce.
Follow me on Pinterest for daily delicious recipes!
Get new recipes weekly plus our FREE ebook!