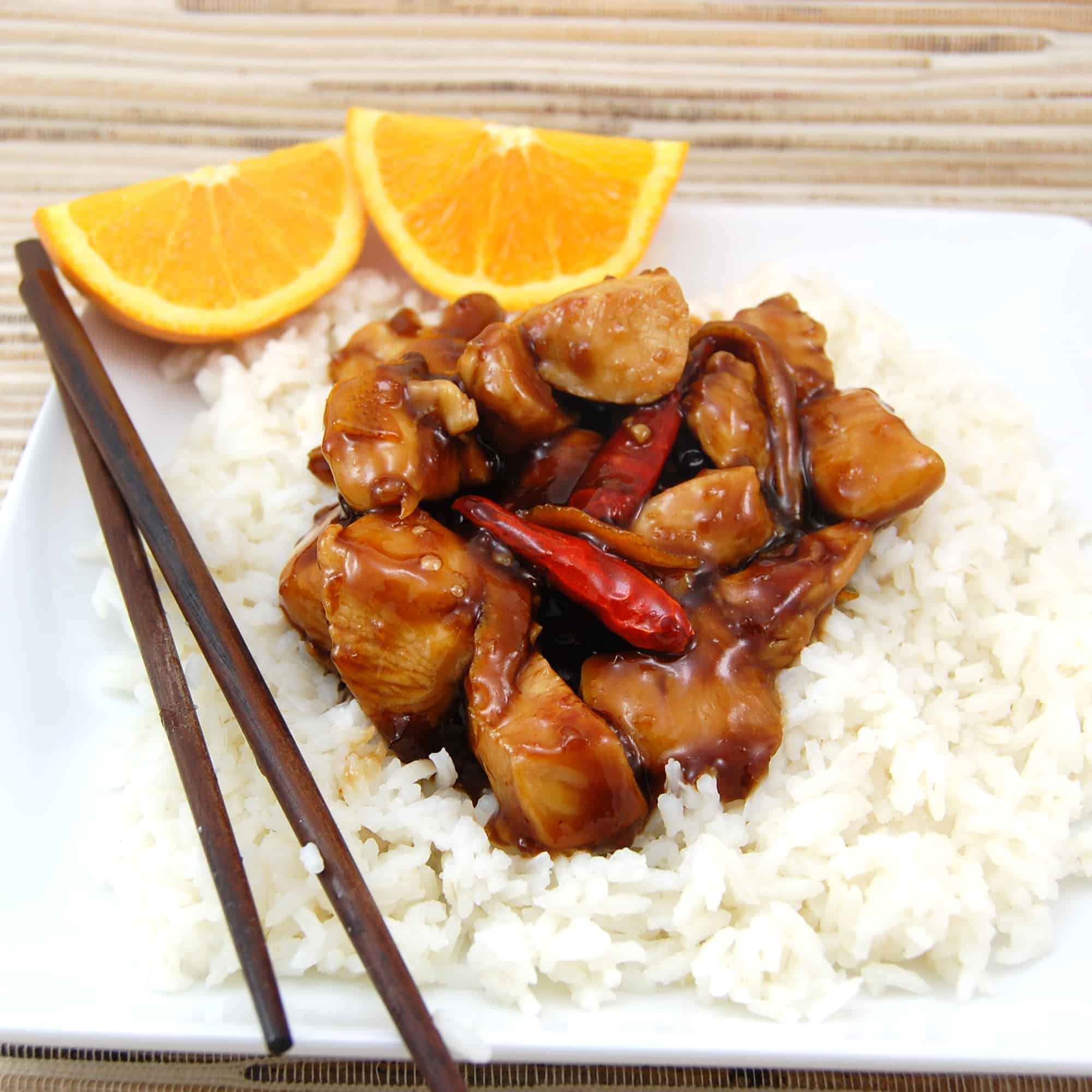 Orange chicken stir fried in a thick sweet and spicy orange glaze is destined to be your answer to Chinese takeout. It's healthier and more delicious than many Chinese restaurants that I have been to. About a month ago, I saw this recipe on food gawker and immediately bookmarked it. I love Chinese food, however, many times the chinese food you find at restaurants or take out places are deep fried. Like I have said before, I do enjoy the occasional deep fried food, but I would prefer a healthier take out choice. This dish made me almost fall out of my chair when I took the first bite. It was absolutely amazing, so much so that I would have to say it is my new favorite dish! No joke, the thick sweet and spicy orange glaze was so flavorful my husband was upset when it was all gone. Since it was just the two of us I halved this recipe, but after we devoured it, we both agreed that we should have doubled it!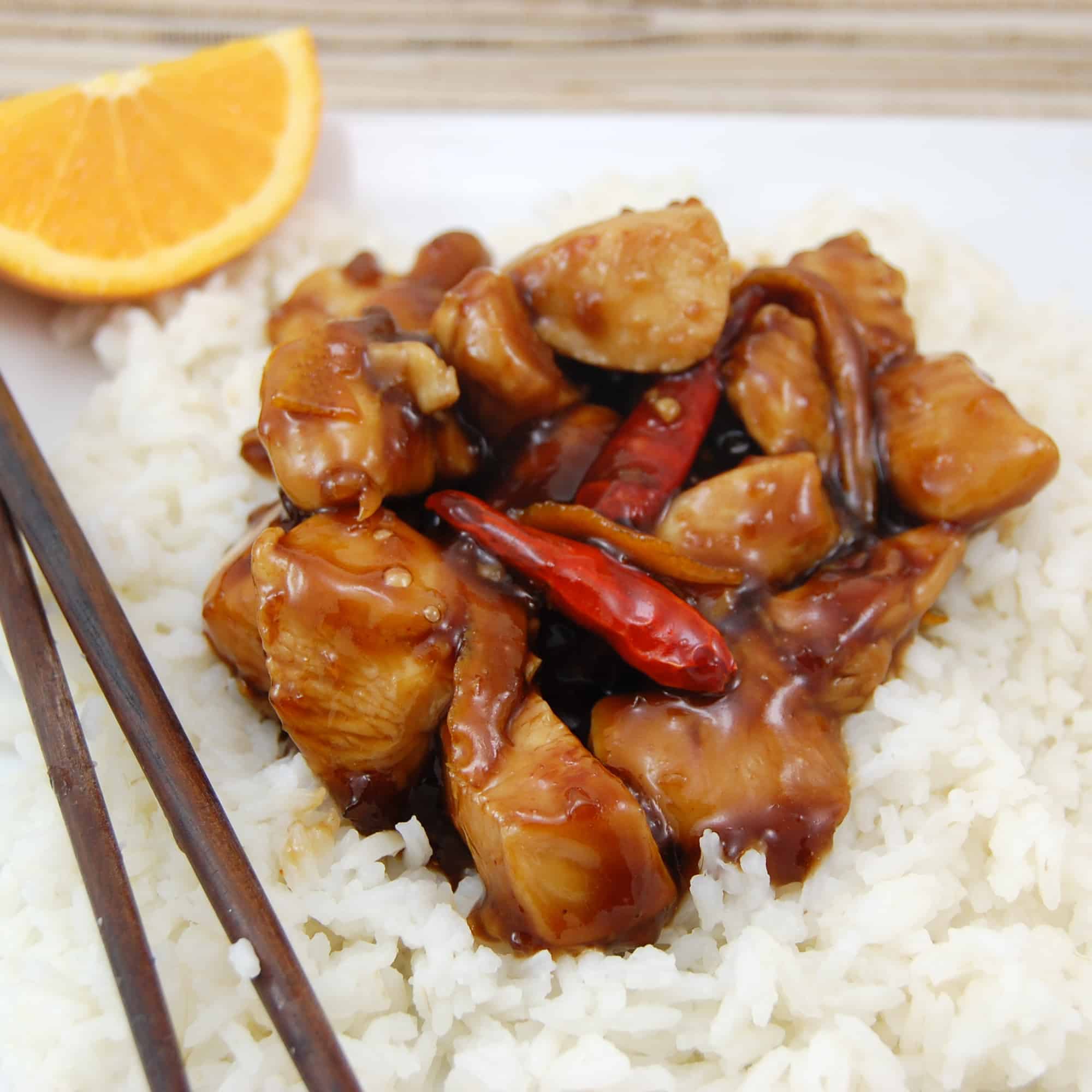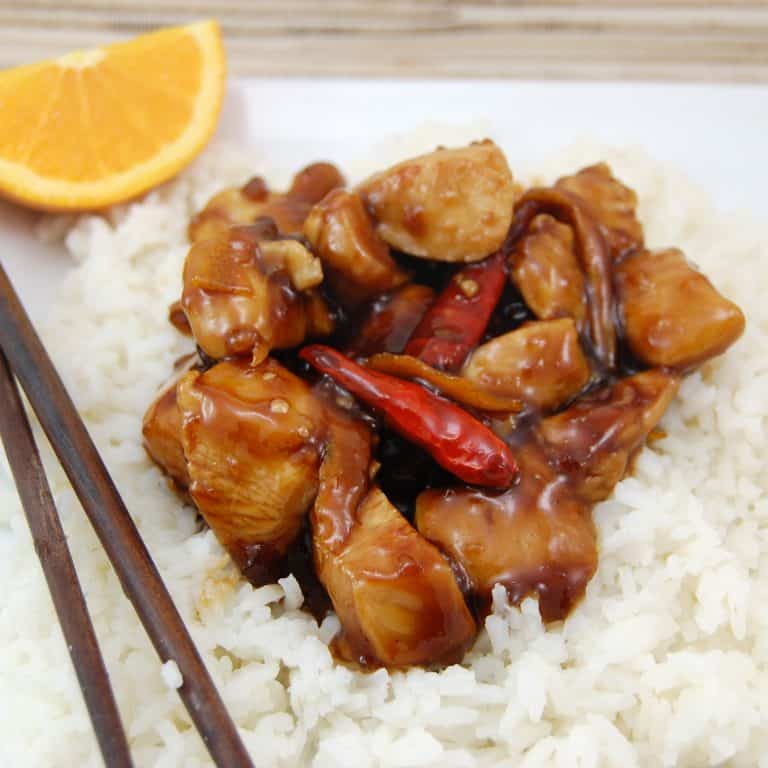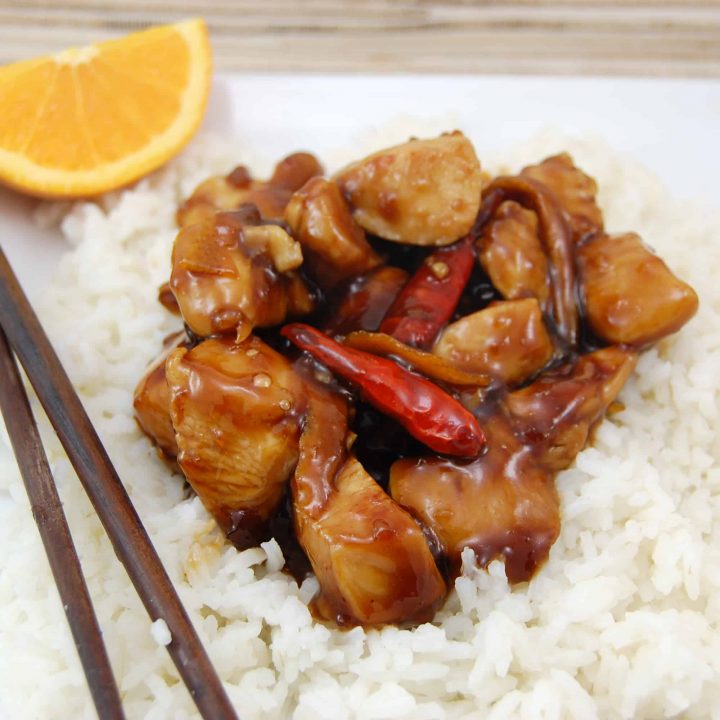 Orange Chicken
Ingredients
3/4 cup low-sodium chicken broth
3/4 cup freshly squeezed orange juice
1 1/2 teaspoon finely grated orange zest
6 tablespoons white vinegar
1/4 cup soy sauce
1/2 cup dark brown sugar
3 cloves garlic, minced
1 tablespoon fresh ginger, grated
1/4 teaspoon cayenne pepper
1 1/2 pounds boneless chicken thighs or breasts, cut into bite-sized pieces
1 tablespoon plus 2 teaspoon cornstarch
2 tablespoon cold water
8 small whole dried red chiles (optional)
8 thin strips orange peel
1 tablespoon peanut oil
Instructions
Place the chicken in a 1-gallon zipper-lock bag; set aside. In a large bowl, whisk together the chicken broth, orange juice, grated zest, vinegar, soy sauce, brown sugar, garlic, ginger, and cayenne until the sugar is fully dissolved. Measure out 3/4 cup of the mixture and pour into the bag with the chicken. Refrigerate 60 minutes.
While the chicken is marinading, in a large saucepan, bring the remaining orange juice mixture to a boil over high heat. In a small bowl, stir together the cornstarch and water until combined and add to the sauce. Reduce heat and simmer, stirring occasionally, until thick and translucent, about 1 minute. Remove from heat and stir in the orange peel and chiles; set aside.
Heat peanut oil in a wok or large heavy skillet over medium-high heat. Saute chicken until browned and cooked through; remove from heat and set aside. Reheat the sauce over medium heat until simmer, about 2 minutes. Add the chicken and gently toss until evenly coated and heated through. Serve over rice.
Source:
adapted from
Smells Like Home
originally from
America's Test Kitchen