This is one of my favorite bundt cake recipes. It's both easy and delicious and looks beautiful on any dessert table!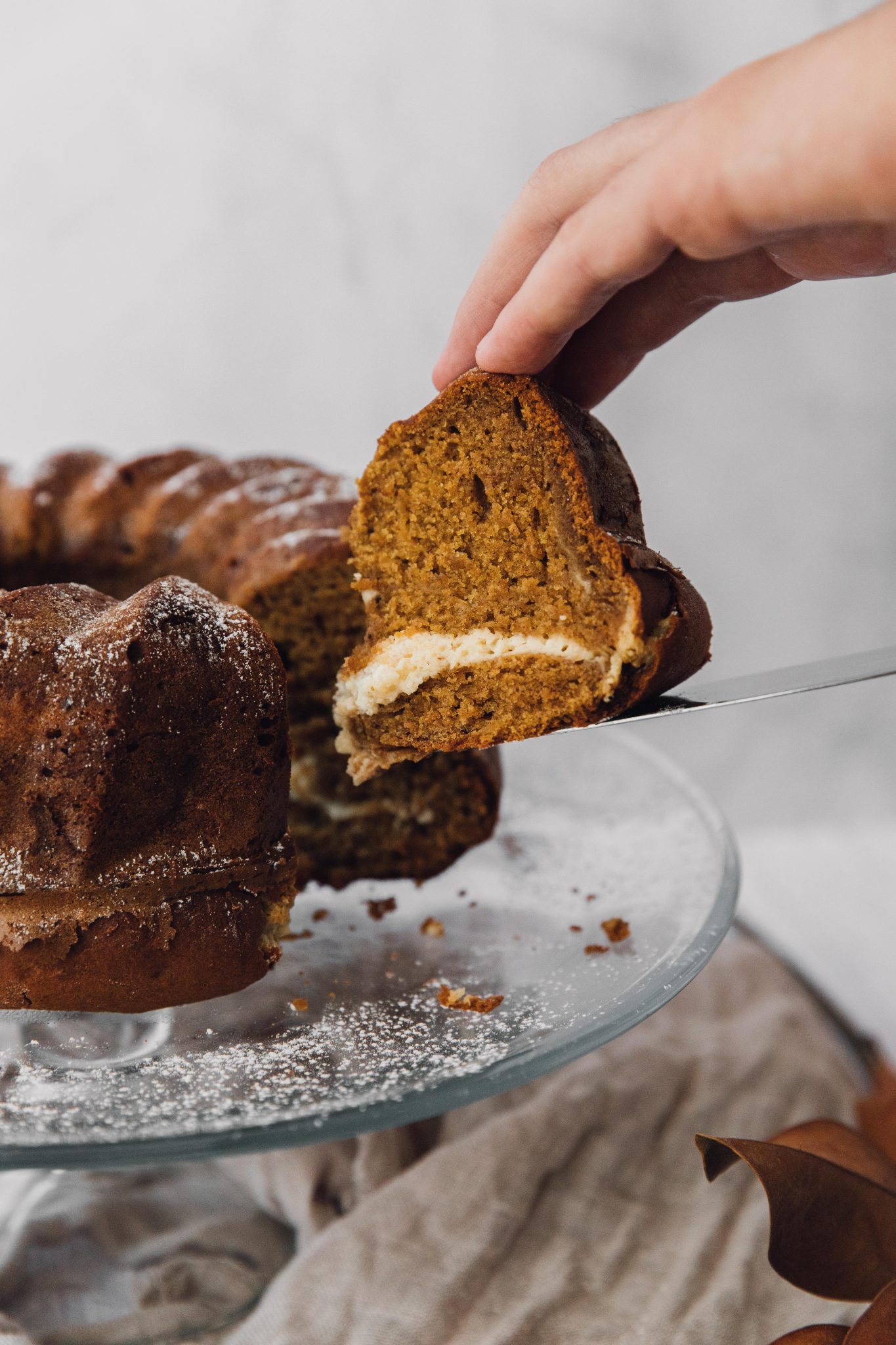 Bundt cake recipes are actually some of my favorite recipes to make when preparing desserts that will be on display because they naturally look so pretty and so good!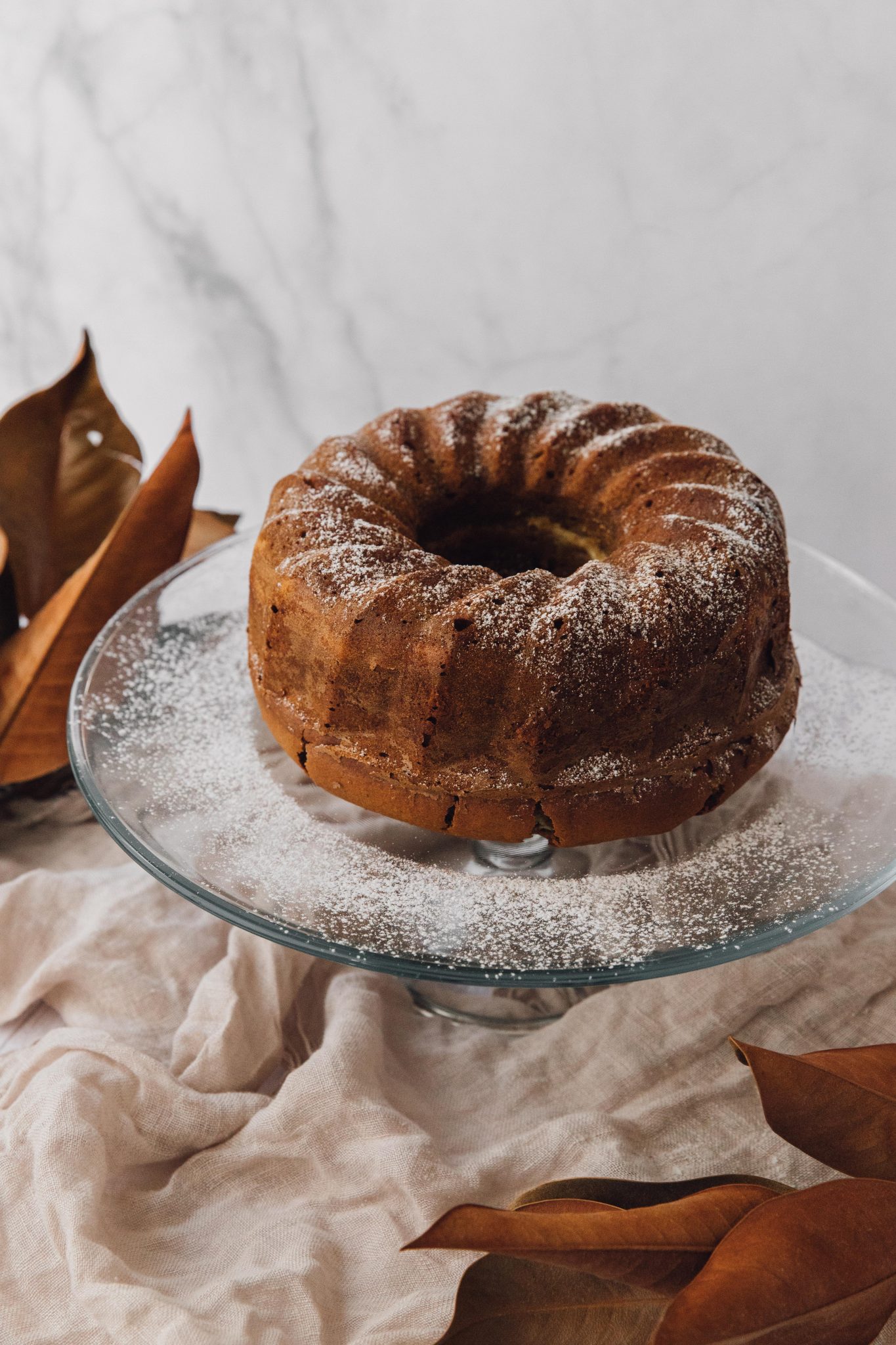 SO GOOD!!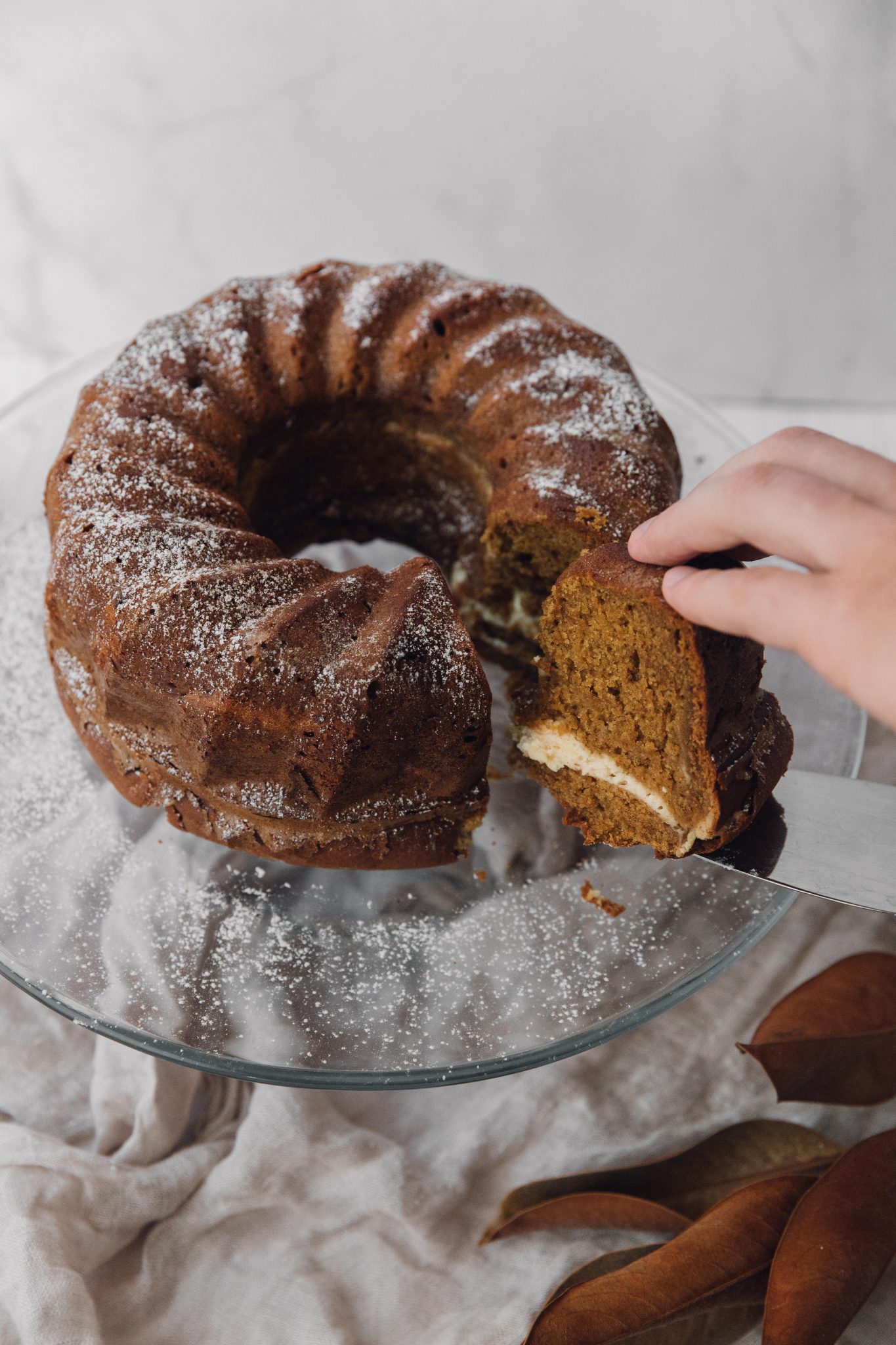 Ingredients :
Pumpkin Cake:
2 3/4 cups all-purpose flour
2 teaspoons baking soda
2 teaspoons ground cinnamon
3/4 teaspoon ground cloves
1/2 teaspoon salt
1/2 teaspoon ground ginger
1/2 teaspoon ground nutmeg
1/2 teaspoon ground allspice
1 (15 ounce) can pumpkin puree
1 cup packed dark brown sugar
1/2 cup butter, melted and cooled
1/4 cup sour cream
3/4 cup maple syrup
1/4 cup heavy cream
4 eggs
1 teaspoon vanilla extract
Cream Cheese Filling:
1 1/2 (8 ounce) packages cream cheese, softened
1/4 cup white sugar
1 egg
1/2 teaspoon vanilla extract
How to make Pumpkin Cake with Cream Cheese Filling: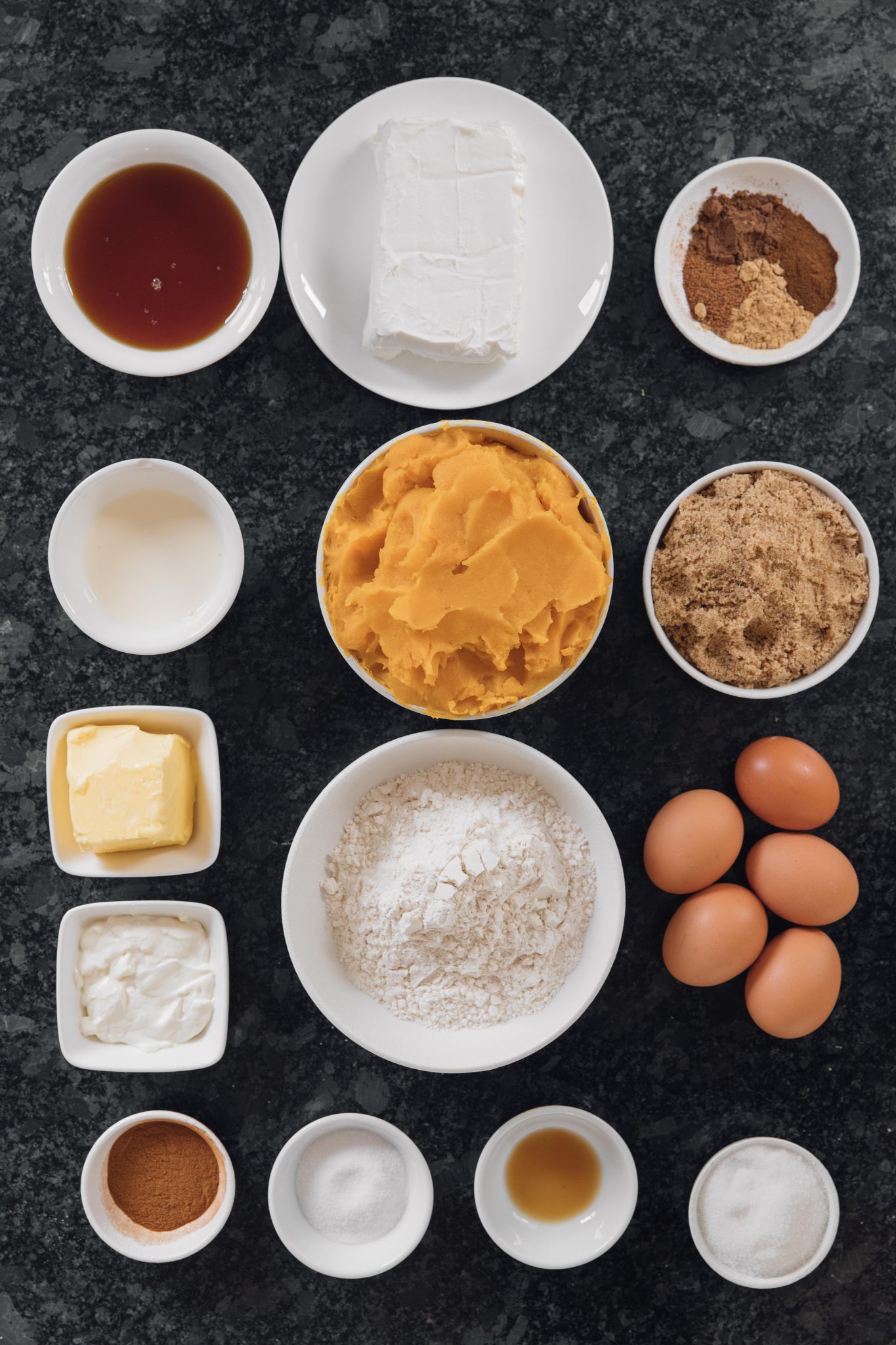 Step 1. Preheat the oven to 350 degrees F (175 degrees C). Generously grease a 12-cup fluted tube pan (such as Bundt(R)).
Step 2. Whisk flour, baking soda, cinnamon, cloves, salt, ginger, nutmeg, and allspice together in a large bowl. Set aside.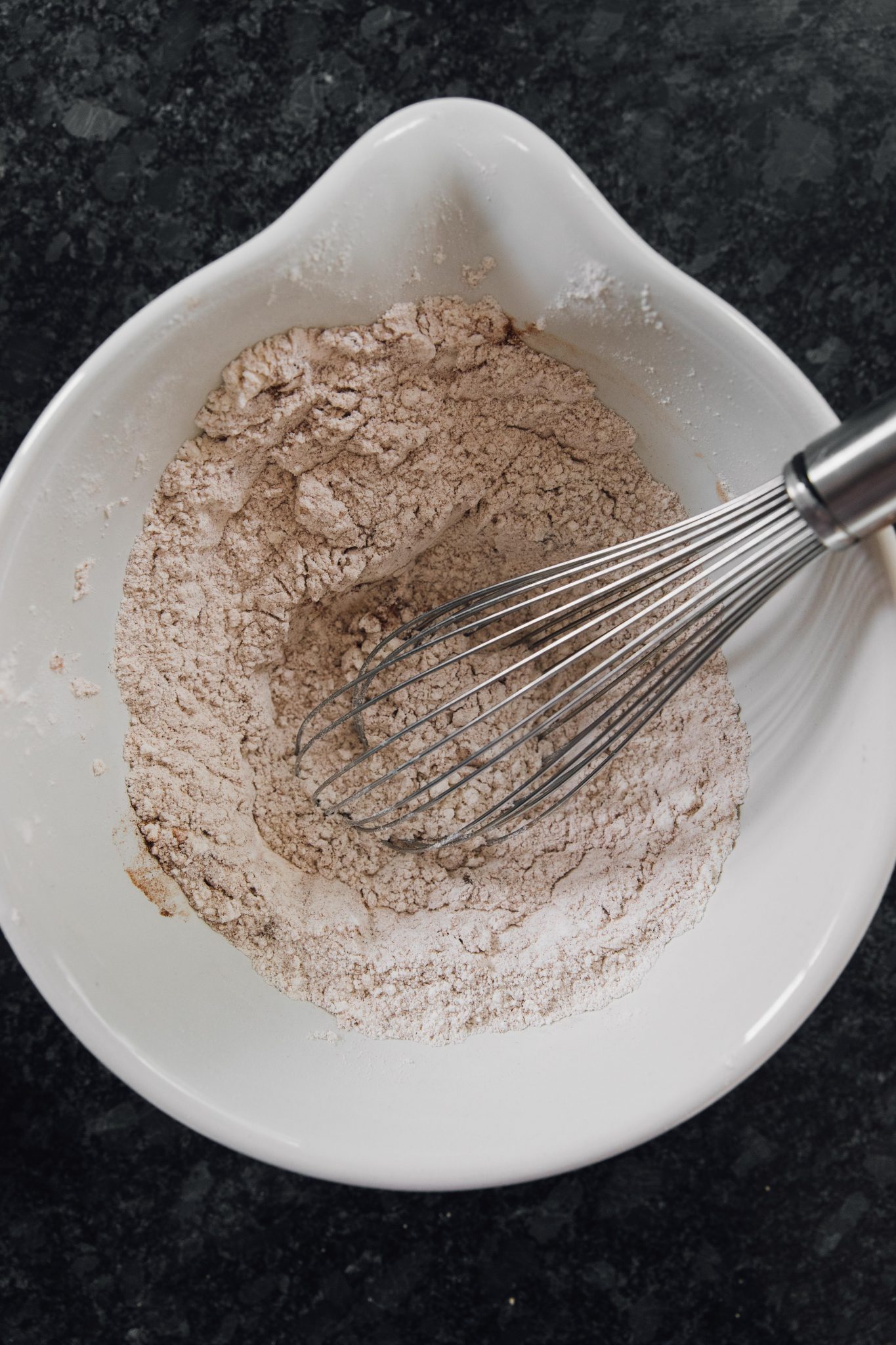 Step 3. Whisk pumpkin, brown sugar, and butter together in a separate large bowl until combined. Whisk in sour cream until no lumps remain. Add maple syrup, heavy cream, eggs, and vanilla extract and whisk until completely incorporated.
Step 4. Add flour mixture gradually to pumpkin mixture until just combined, most lumps are gone, and the batter is thick, being careful not to overmix.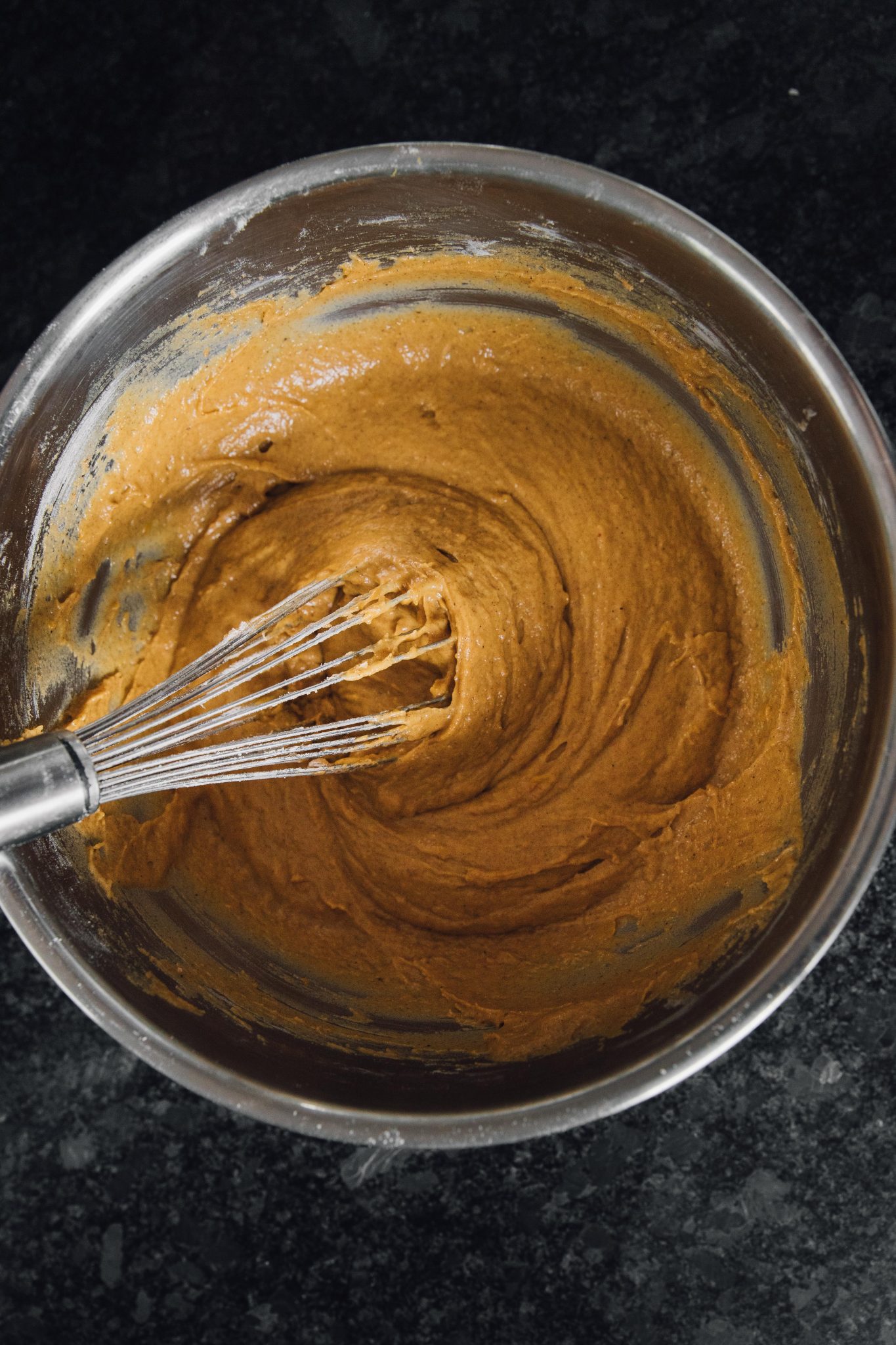 Step 5. Beat cream cheese in a medium bowl using an electric mixer on medium-high speed until smooth. Mix in sugar, egg, and vanilla extract at medium-high speed until thoroughly combined and the filling mixture is smooth.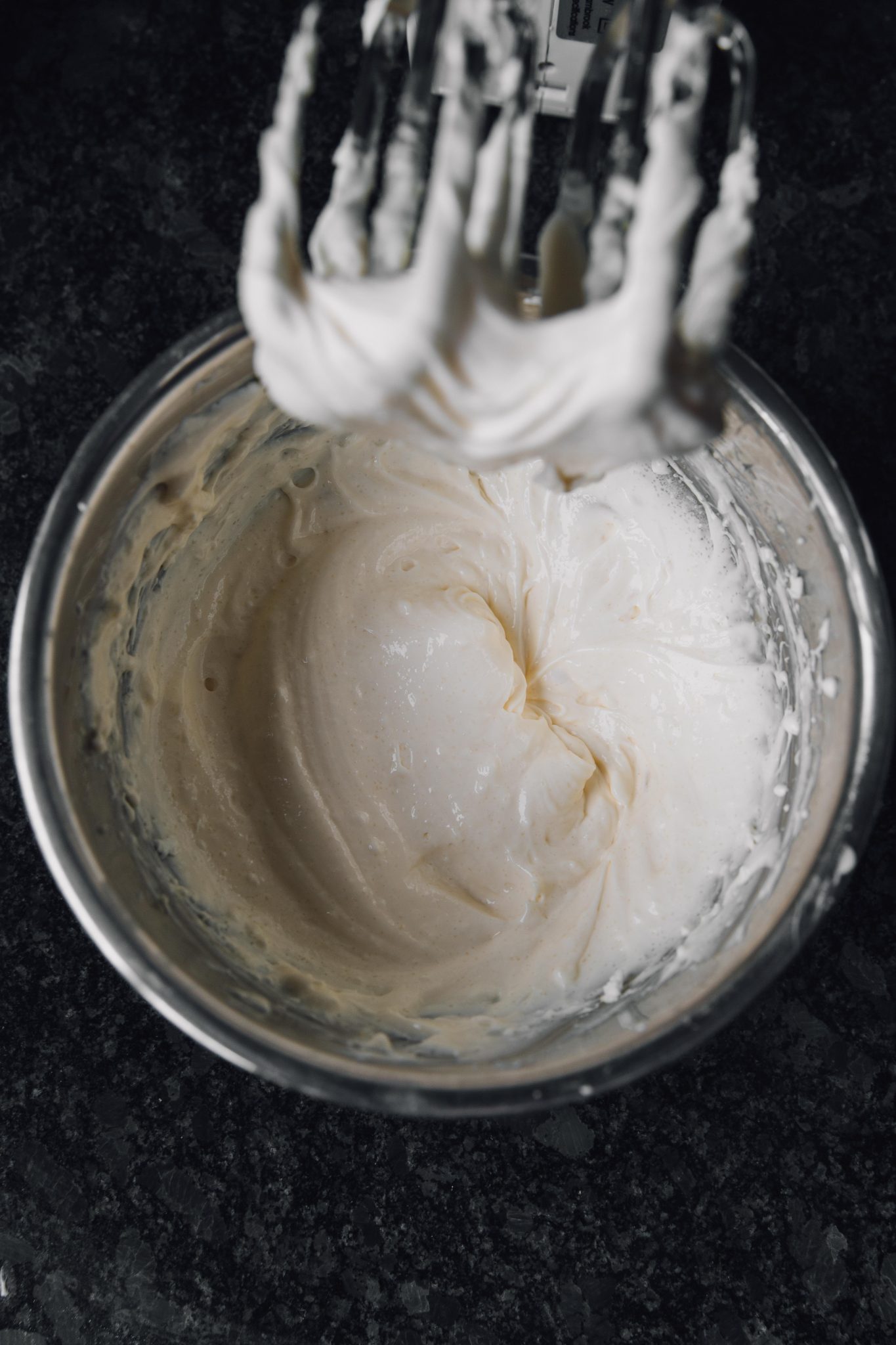 Step 6. Pour 1/2 of the cake batter into the prepared pan. Spoon filling over batter, trying to avoid touching the side or center column of the pan. Pour remaining cake batter over filling and smooth gently using a spatula.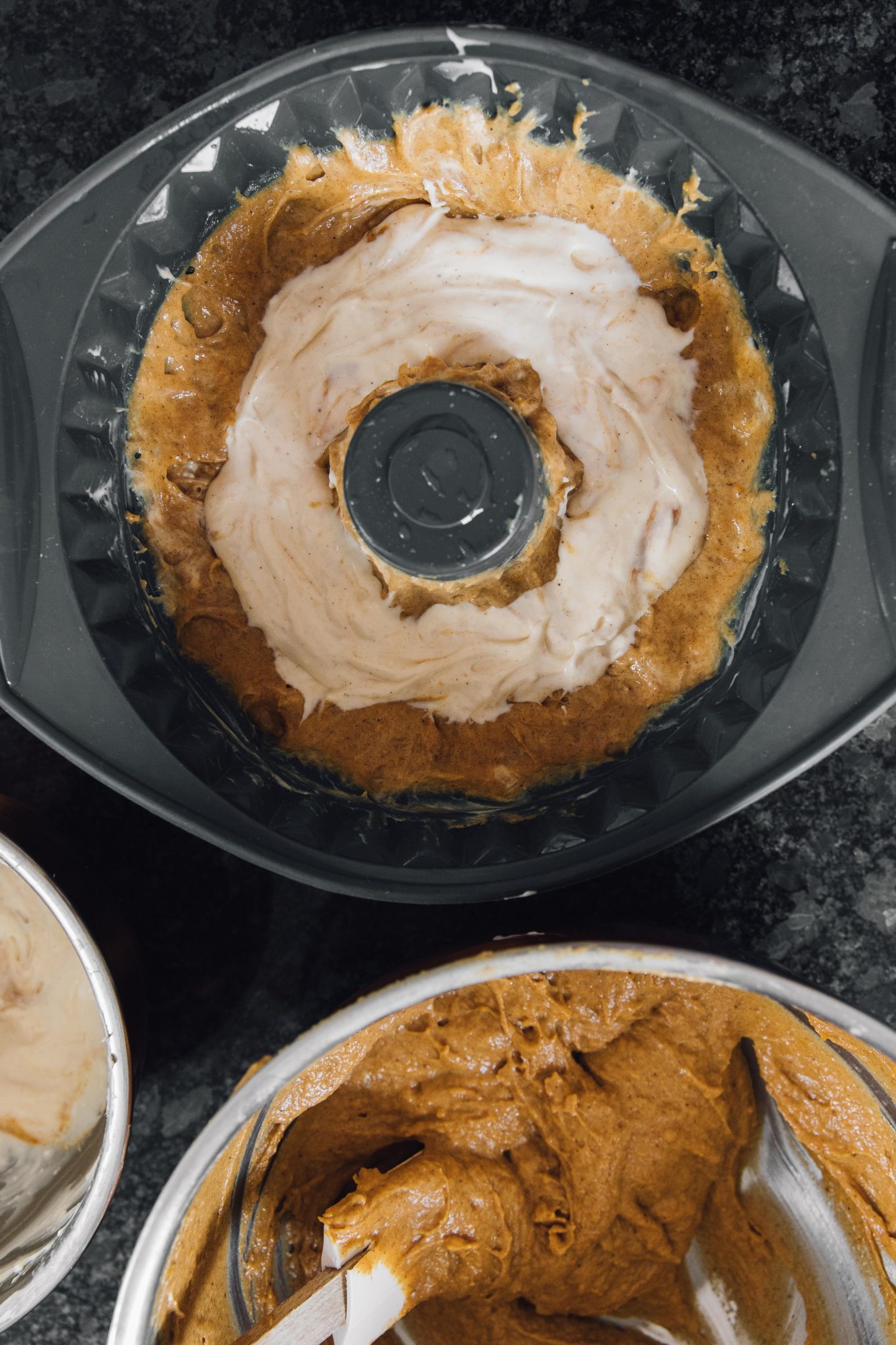 Step 7. Bake in the preheated oven until a bamboo skewer inserted into the center of the cake comes out fairly clean, with only a few moist crumbs, 55 to 65 minutes. Let cake cool for about 30 minutes before inverting onto a wire rack to cool completely before serving.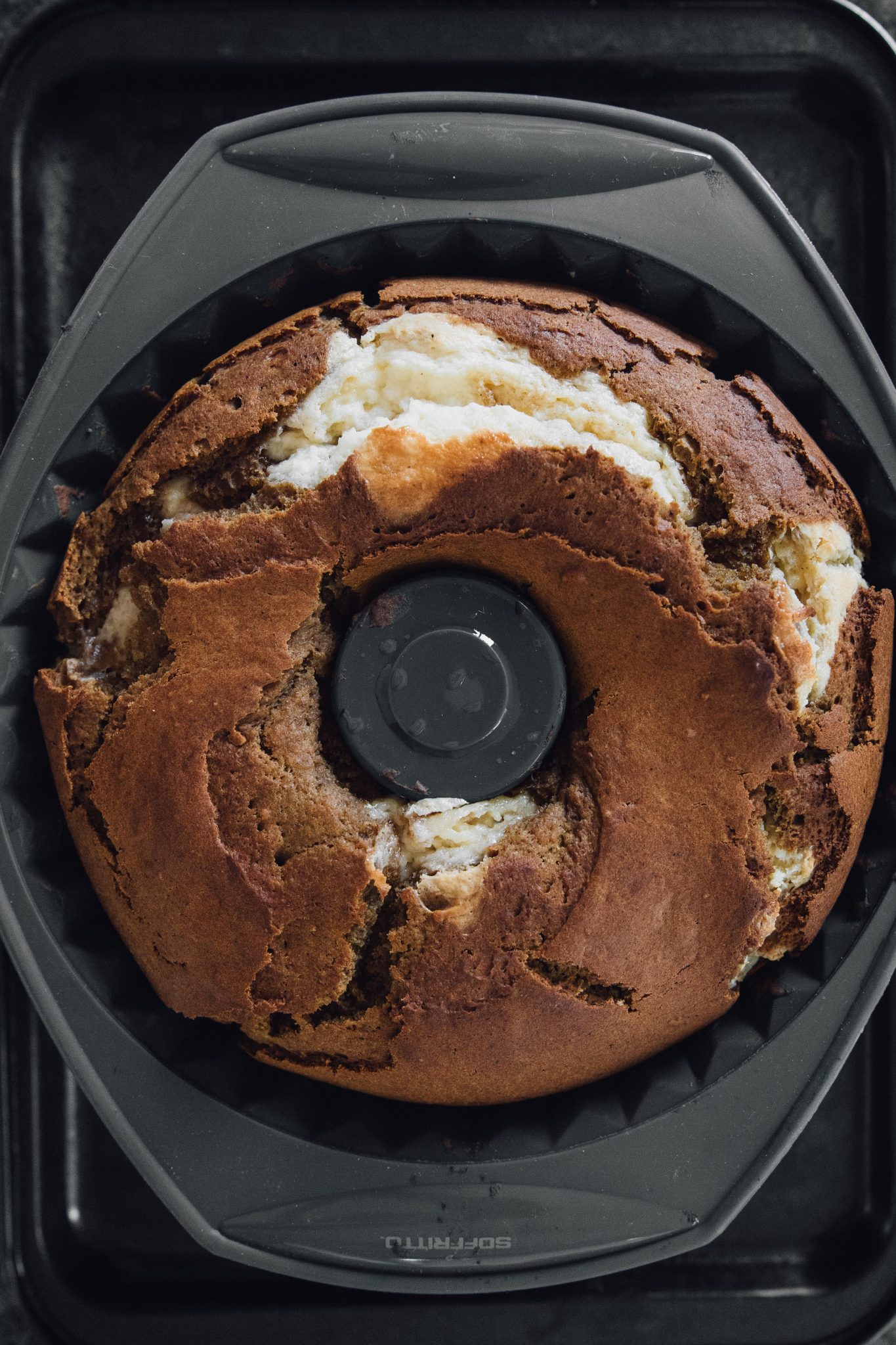 Enjoy!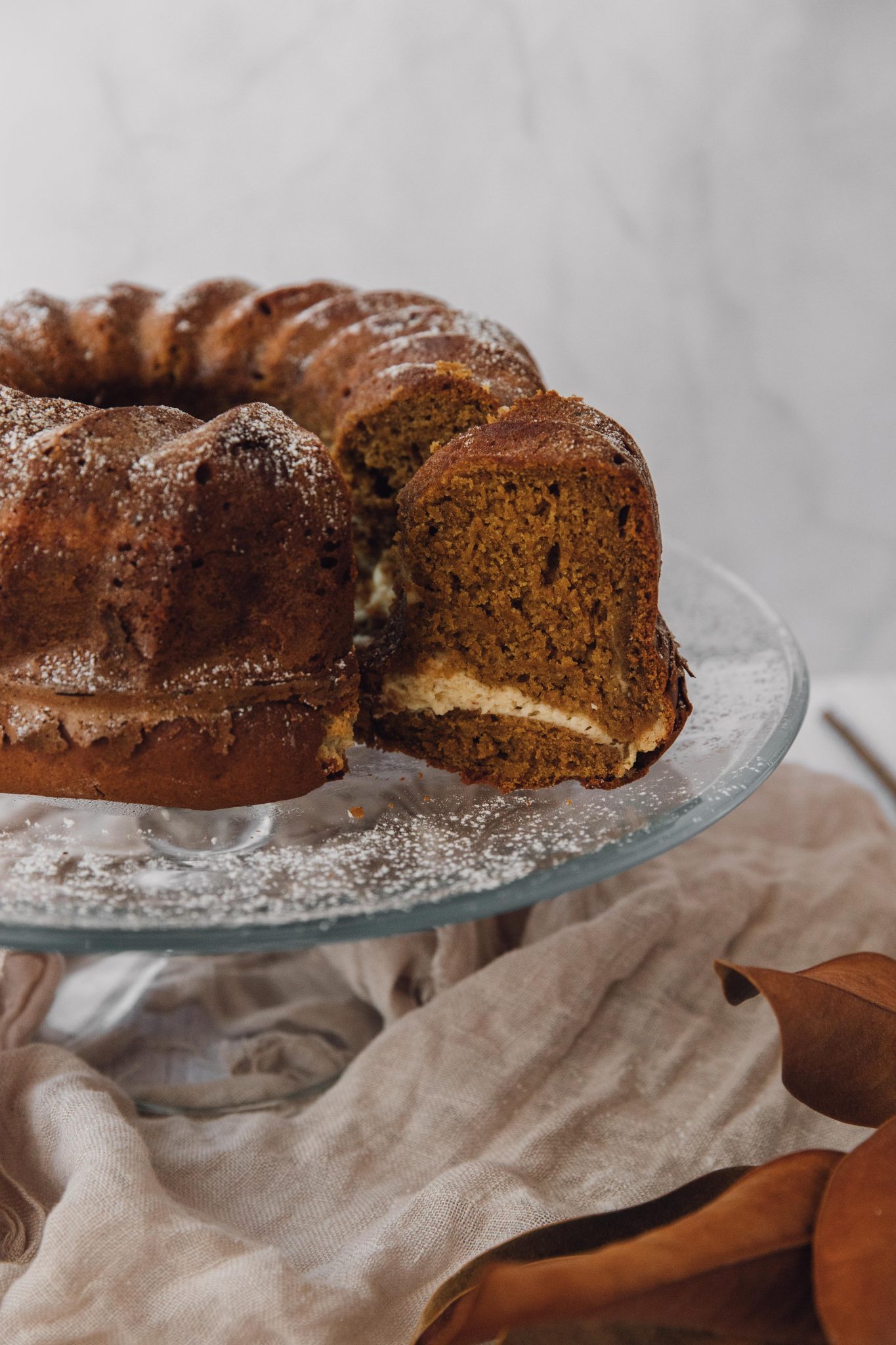 Now, remember to save this recipe on Pinterest for later 🙂
Pumpkin Cake with Cream Cheese Filling
Total Time:
1 hour
15 minutes
Ingredients
Pumpkin Cake :
2 3/4 cups all-purpose flour
2 teaspoons baking soda
2 teaspoons ground cinnamon
3/4 teaspoon ground cloves
1/2 teaspoon salt
1/2 teaspoon ground ginger
1/2 teaspoon ground nutmeg
1/2 teaspoon ground allspice
1 (15 ounce) can pumpkin puree
1 cup packed dark brown sugar
1/2 cup butter, melted and cooled
1/4 cup sour cream
3/4 cup maple syrup
1/4 cup heavy cream
4 eggs
1 teaspoon vanilla extract
Cream Cheese Filling :
1 1/2 (8 ounce) packages cream cheese, softened
1/4 cup white sugar
1 egg
1/2 teaspoon vanilla extract
Instructions
Preheat the oven to 350 degrees F (175 degrees C). Generously grease a 12-cup fluted tube pan (such as Bundt(R)).
Whisk flour, baking soda, cinnamon, cloves, salt, ginger, nutmeg, and allspice together in a large bowl. Set aside.
Whisk pumpkin, brown sugar, and butter together in a separate large bowl until combined. Whisk in sour cream until no lumps remain. Add maple syrup, heavy cream, eggs, and vanilla extract and whisk until completely incorporated.
Add flour mixture gradually to pumpkin mixture until just combined, most lumps are gone, and the batter is thick, being careful not to overmix.
Beat cream cheese in a medium bowl using an electric mixer on medium-high speed until smooth. Mix in sugar, egg, and vanilla extract at medium-high speed until thoroughly combined and the filling mixture is smooth.
Pour 1/2 of the cake batter into the prepared pan. Spoon filling over batter, trying to avoid touching the side or center column of the pan. Pour remaining cake batter over filling and smooth gently using a spatula.
Bake in the preheated oven until a bamboo skewer inserted into the center of the cake comes out fairly clean, with only a few moist crumbs, 55 to 65 minutes. Let the cake cool for about 30 minutes before inverting onto a wire rack to cool completely before serving
Nutrition Information:
Yield:

12
Serving Size:

1
Amount Per Serving:
Calories:

409
Total Fat:

15g
Saturated Fat:

8g
Trans Fat:

0g
Unsaturated Fat:

6g
Cholesterol:

112mg
Sodium:

430mg
Carbohydrates:

62g
Net Carbohydrates:

0g
Fiber:

2g
Sugar:

36g
Sugar Alcohols:

0g
Protein:

7g