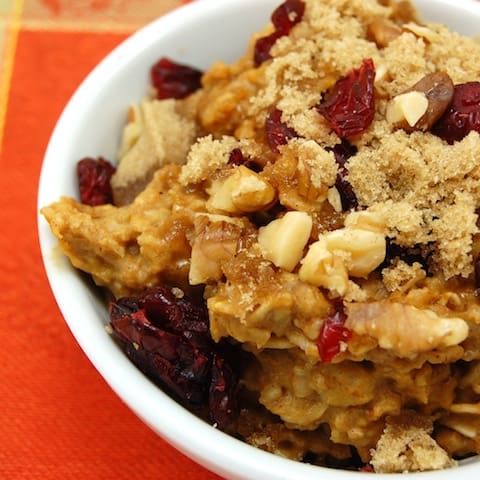 It is no secret that I love breakfast! I don't know how some people can skip breakfast completely! I could eat breakfast for dinner and be satisfied. One of my favorite breakfast meals is oatmeal. I eat oatmeal every weekday morning, it is fast, easy, and very healthy. Blueberry oatmeal and banana oatmeal are my favorite, but since fall has arrived I have been looking for a more seasonal flavor. I tried this oatmeal for the first time this past weekend and fell in love. Hearty oatmeal spiced with cinnamon, cloves, and pureed pumpkin, topped with walnuts, cranberries and a sprinkling of brown sugar. This pumpkin oatmeal is the perfect way to start your day!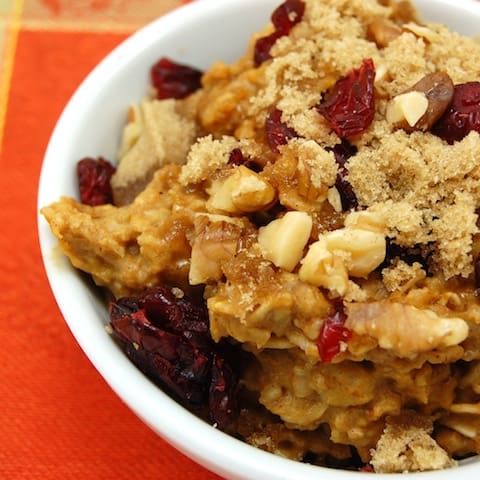 Pumpkin Oatmeal
Ingredients
2 cup milk
1/8 teaspoon of salt
1 cup old-fashioned oats
1 teaspoon cinnamon
1/2 teaspoon pumpkin pie spice
1/8 teaspoon cloves
1/2 cup canned pumpkin
2 tablespoon dried cranberries
2 tablespoon chopped walnuts
2 tablespoon brown sugar
1 tablespoon butter
Instructions
In a medium sauce pan, bring milk and salt to a boil. Stir in the oats reduce heat to low and cook for 3 minutes. Add the cinnamon, pumpkin pie spice, cloves, and pumpkin, cook 2 to 3 minutes or until desired consistency.
Divide oatmeal into two bowls. Top each bowl of oatmeal with dried cranberries, walnuts, brown sugar, and 1/2 tablespoon butter.
Source:
adapted from
Dishing Up Delights