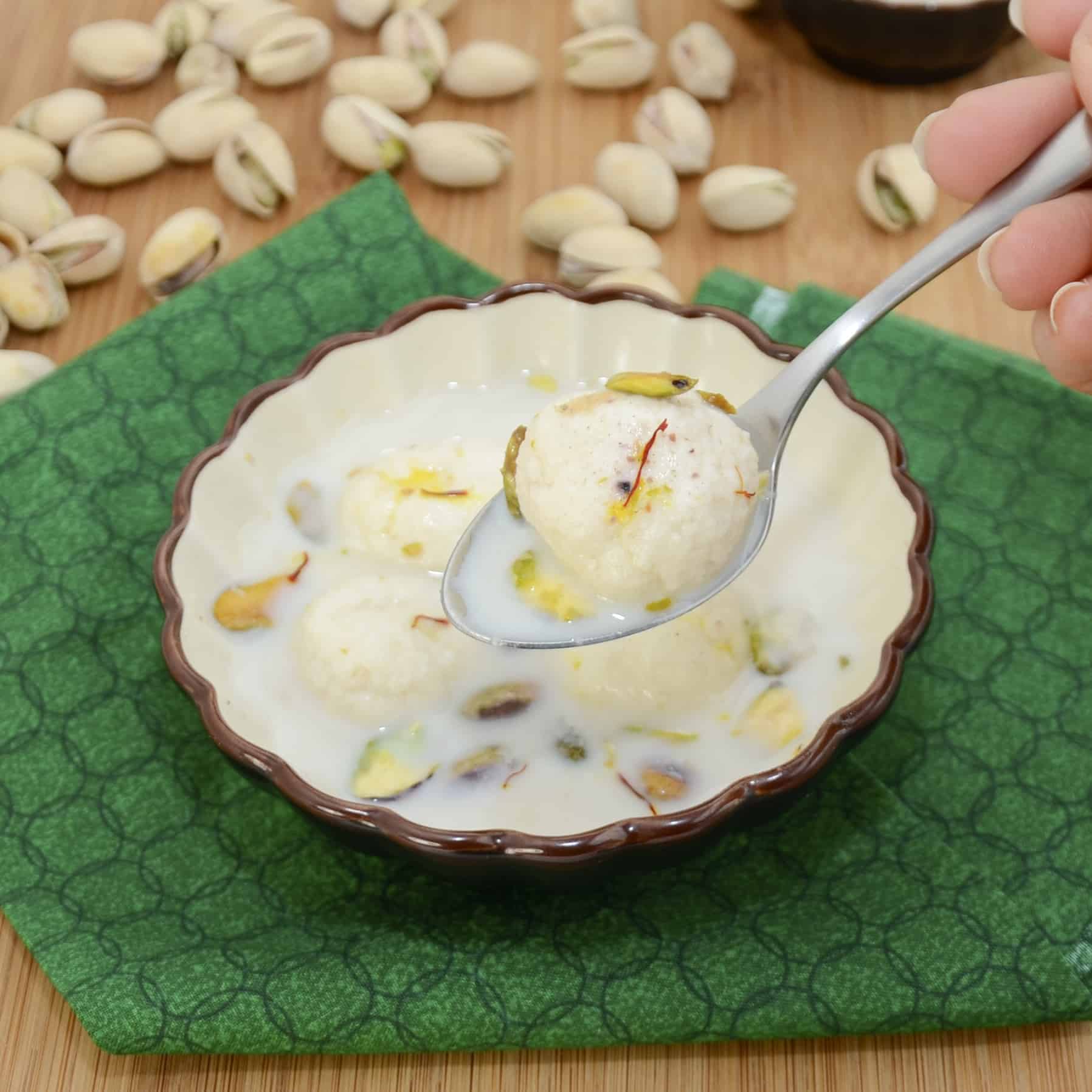 The past month or so Andrew and I have been in the mood to host dinner parties at our house. Last month we hosted a Mexican night and had some delicious homemade margaritas, chicken enchiladas, mexican rice and caramel flan. This month we decided on an Indian Cuisine night. Indian food has to be my favorite type of ethnic food so I was really excited to plan the menu. We served chicken tikka masala, garlic naan, samosas, and my favorite Indian dessert Gulab Jamun. As we were planning the menu, Andrew and I couldn't agree on which Indian dessert to serve our guests. Of course I wanted to make the gulab jamun, but Andrew insisted that we needed to have his absolute favorite Indian dessert, ras malai. He decided to take it upon himself to make the ras malai from scratch.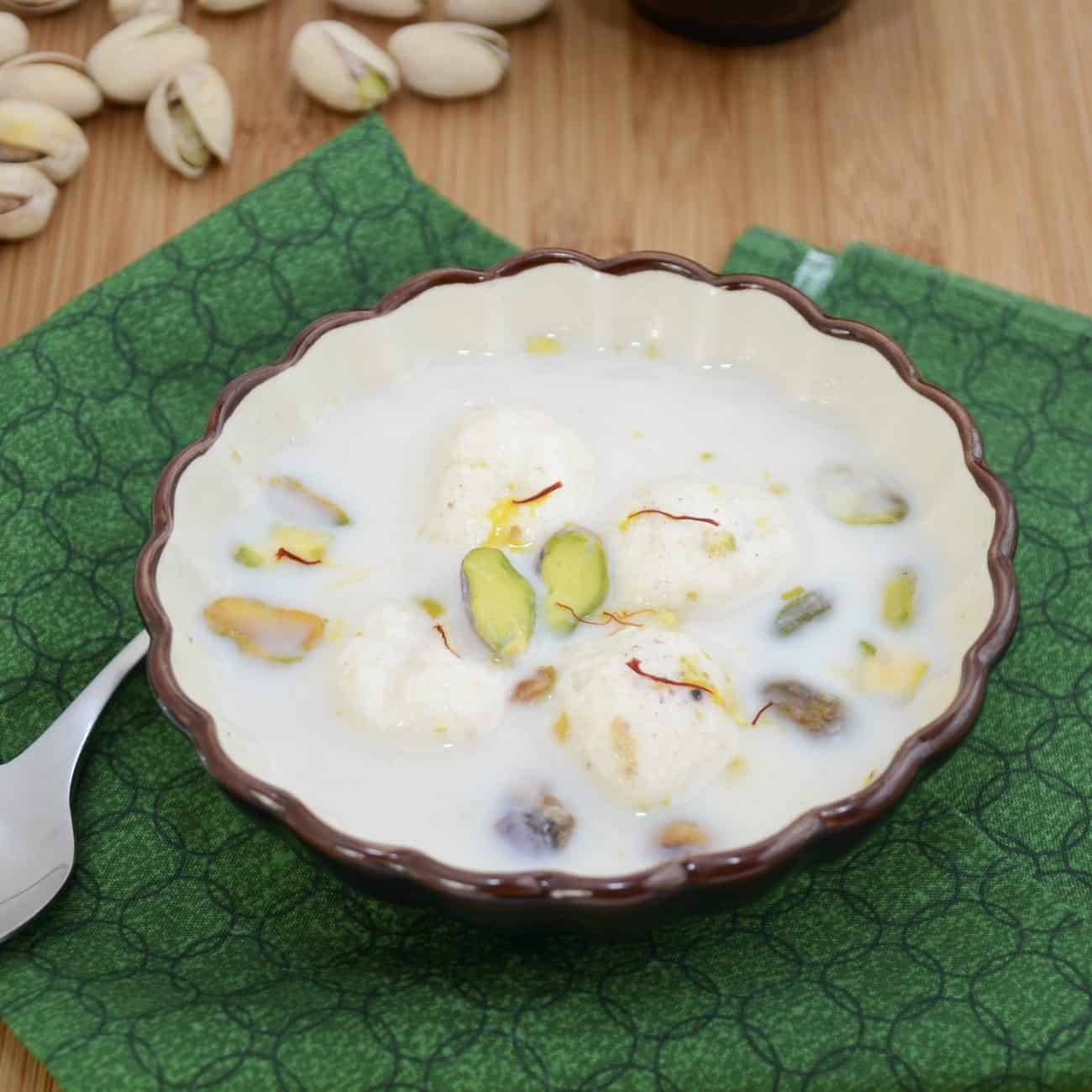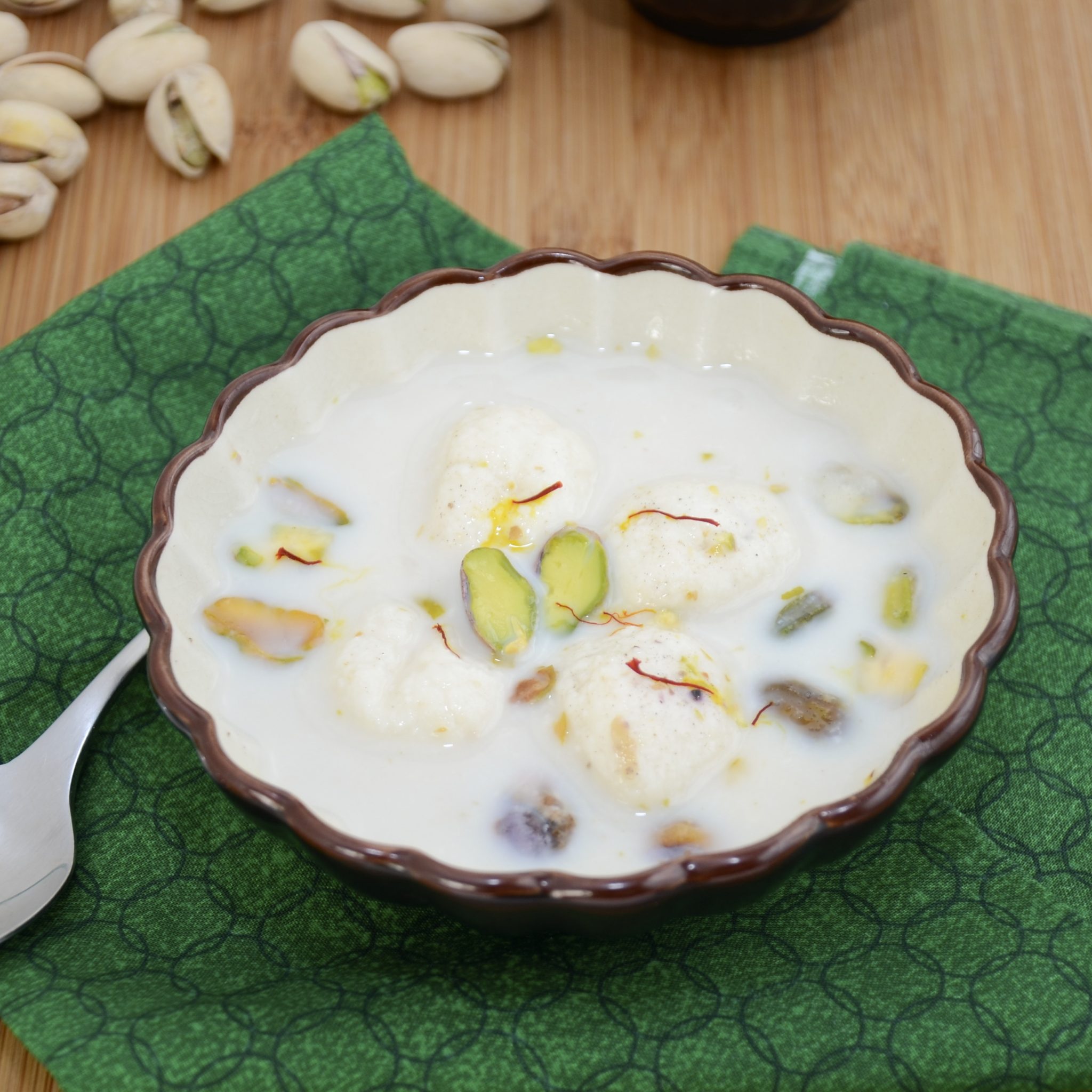 If you remember from a few months ago, my birthday cake was the first dessert I had ever seen this man make. I guess that little cake was all it took! If you have never tried Ras Malai before, you are missing out on an incredible dessert. It is made from a homemade cheese called paneer. The paneer is rolled into small balls and cooked in a sugar-water before being added to a thick and creamy sweetened milk sauce. The paneer balls and milk sauce are then thoroughly chilled before serving. This is a great make ahead dessert, a sprinkle with a few crushed nuts and you are ready to serve. 🙂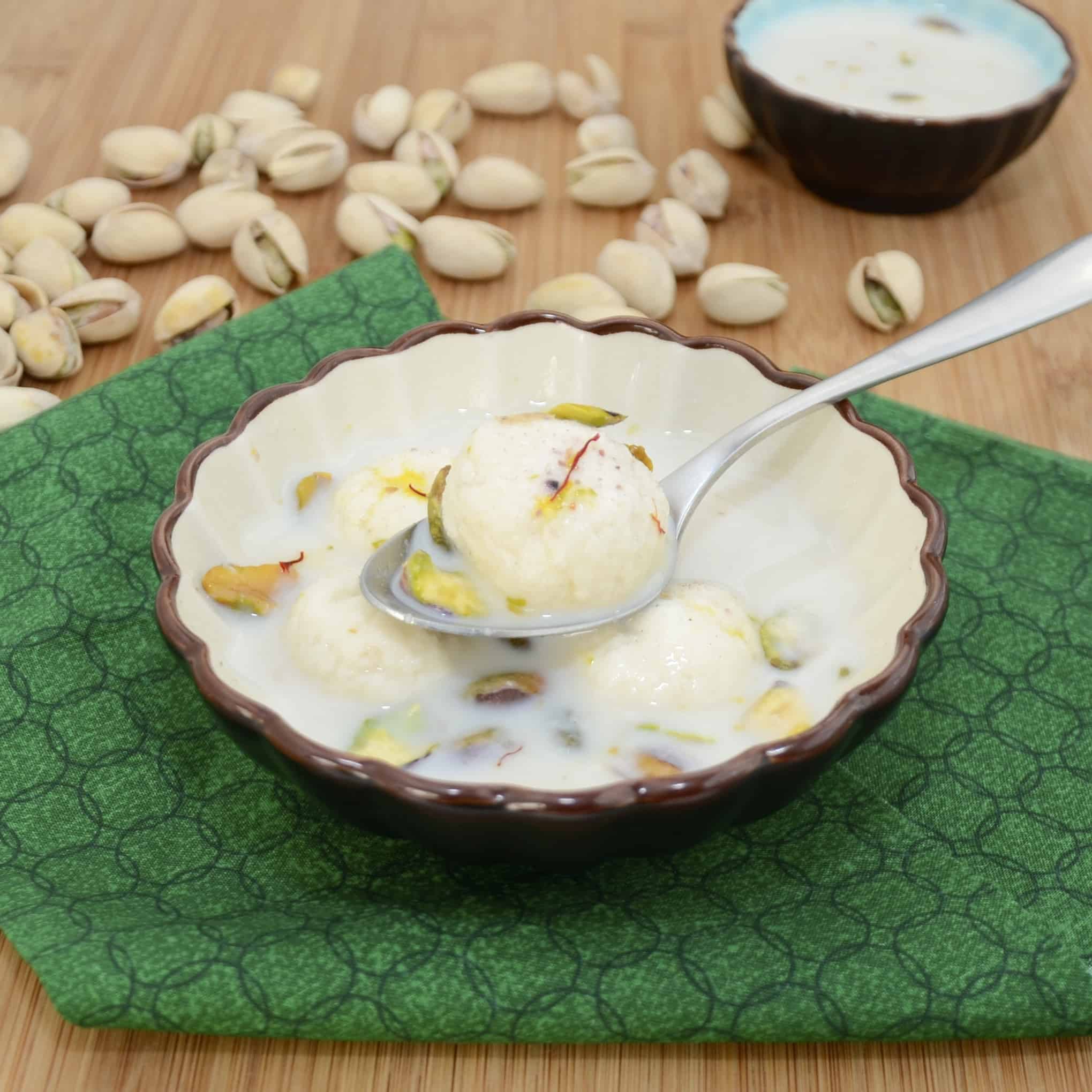 Pin this recipe now to remember it later
Ingredients
For the Paneer:
1

pinch

of green cardamom powder
For the Sauce:
2

pinches

of green cardamom powder

2 to 3

tablespoons

of finely chopped pistachios

,

cashews or almonds
Want to save this recipe? Enter your email below and we'll send the recipe straight to your inbox!
NOTE: By saving this recipe, you agree to join our weekly recipes newsletter.
Instructions
In a small bowl, combine ½ cup of hot water and the lemon juice.

In a large saucepan over medium heat bring milk to a boil, stirring frequently. When the milk begins to boil, stirring gently, slowly add the lemon juice mixture. The curd will start to separate from the whey, turn off the heat.

Once the milk fat has separated from the whey, drain the whey using a fine mesh strainer lined with cheesecloth.

Wrap the curd tightly in cheesecloth and rinse under cold water. Squeeze the excess water out of the whey. To check to see if you have removed enough water, take a small piece of the curd and rub it between your fingers to make a smooth, firm ball. If it is too crumbly and will not form into a ball, gradually add water to the mixture until you achieve the desired consistency.

Once the curd is at the correct consistency, transfer to a clean work surface and knead until paneer forms into a smooth, soft dough (paneer).

Divide the paneer into 12 equal portions and roll into smooth balls.

In a large saucepan over medium-high heat bring the sugar, cardamom and water to a boil. Reduce heat to a simmer and add the paneer balls. Cover the saucepan and simmer, stirring occasionally, until balls double and size and are a little spongy in texture, about 30 minutes.

While the paneer balls are simmering, make the sauce. In a large saucepan over medium heat bring milk to a boil. Reduce to medium low and simmer, stirring frequently, until milk is reduced to 2 cups. Keep a measuring cup nearby so you can check the progress. Add the sugar and saffron threads and cook for 2 minutes.

Gently squeeze the sugar syrup out of the cooked paneer balls and add them to the milk mixture and cook, stirring gently, for 3 minutes. Add the chopped nuts. Remove from heat and add the green cardamom powder. Chill for at least 4 hours before serving. Serve cold.
Follow me on Pinterest for daily delicious recipes!
Source: adapted from USMasala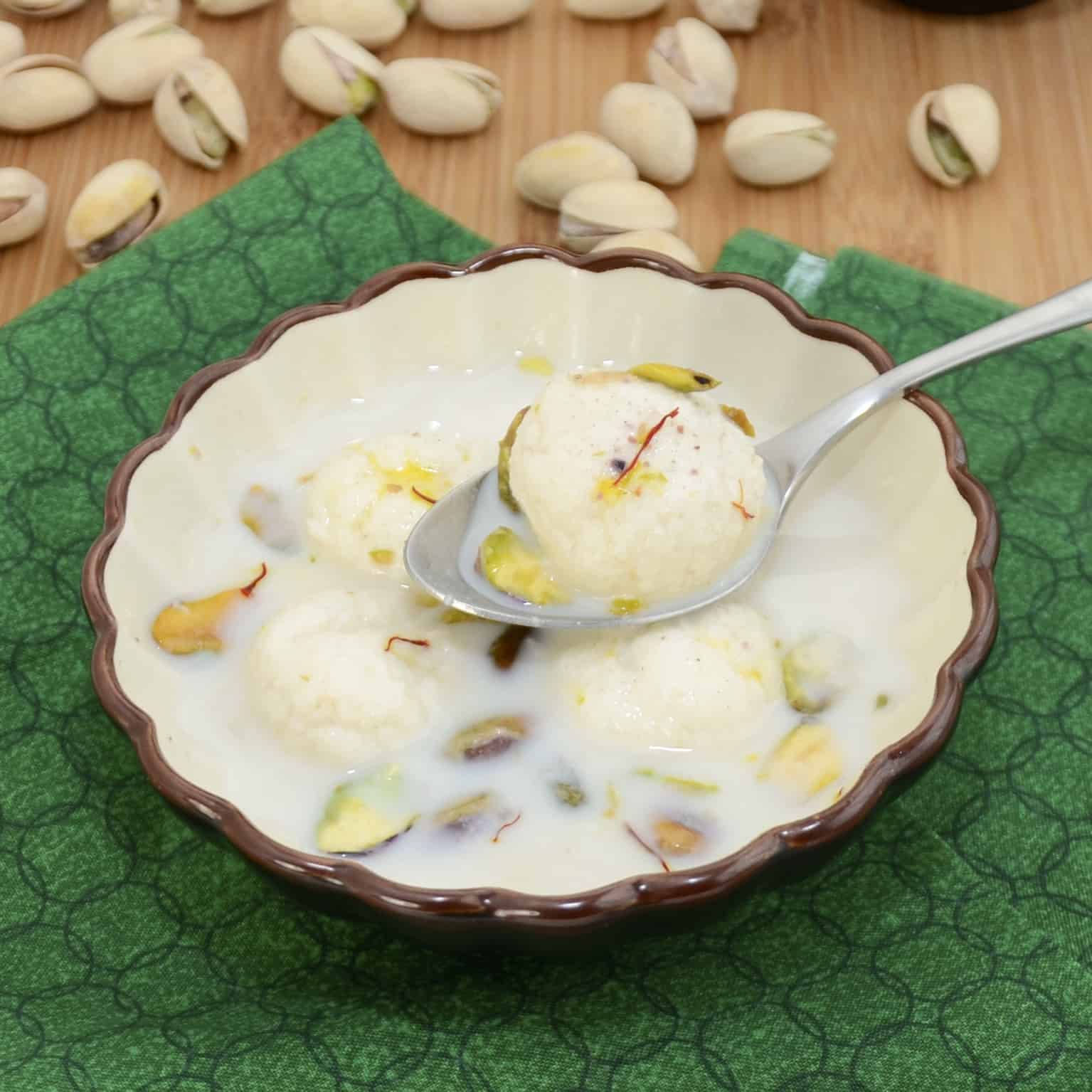 Get new recipes weekly plus our FREE ebook!