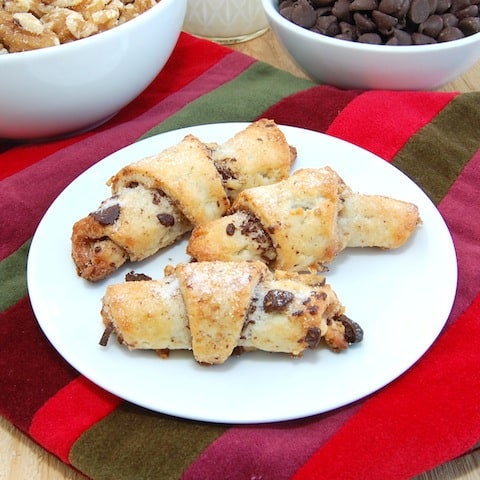 These cookies are a buttery and rich Hanukkah tradition that are simple to make and absolutely delicious. A cream cheese and sour cream dough is rolled around sweet a rich filling of mini chocolate chips and walnuts. This was the first time that I have made rugelach and it definitely won't be the last.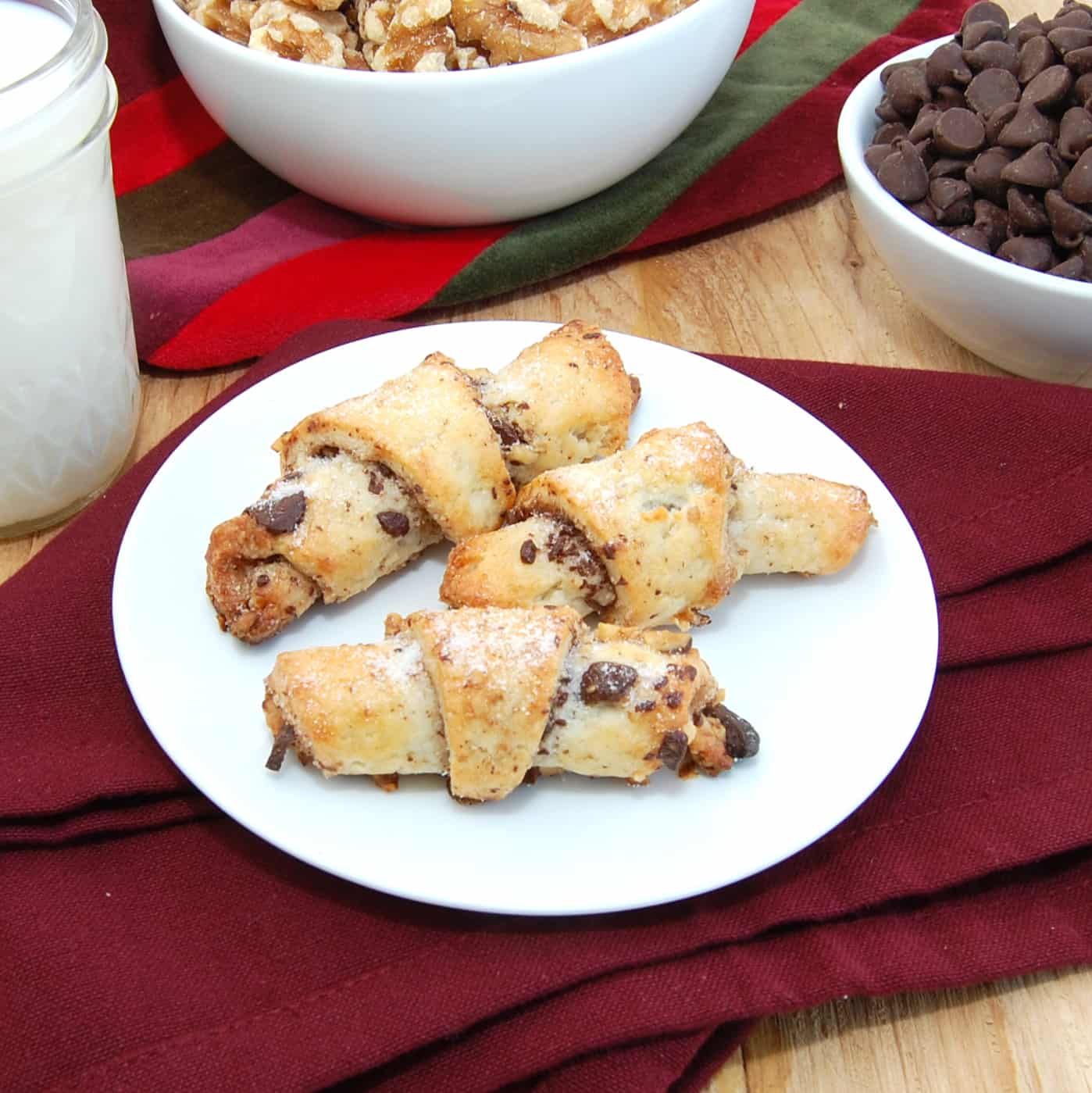 These popular crescent-shaped cookies can be filled with anything from raspberry jam to cinnamon and sugar or chocolate and nuts. Of course I chose the chocolate and nuts, but I am looking forward to trying the jam filled ones next.
The secret to their flaky and delicate texture is freezing the dough before adding the filling. These little cookies didn't last 10 minutes on the cookie plate after coming out of the oven. Surprise your loved ones this Hanukkah season with a festive batch of crescent cookies.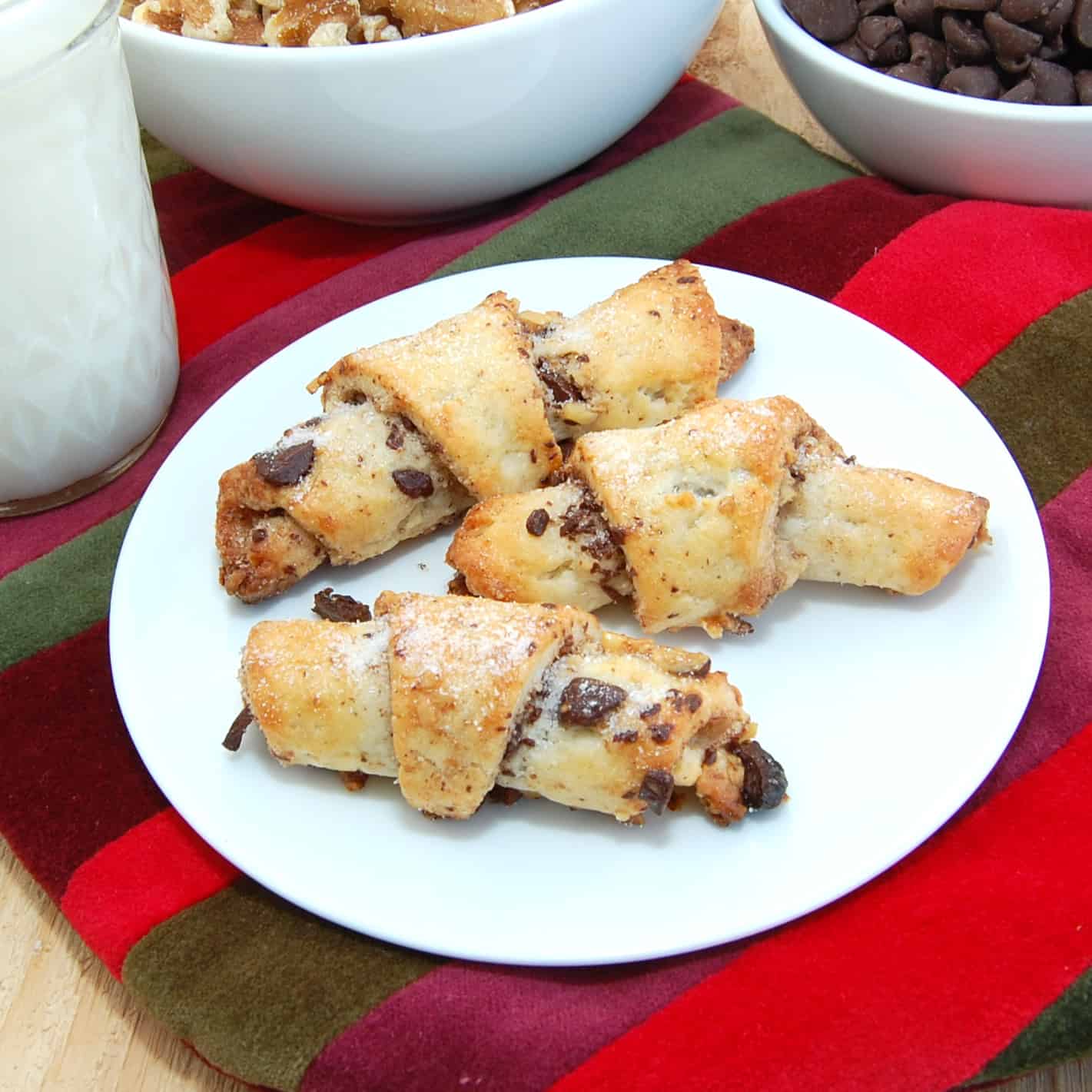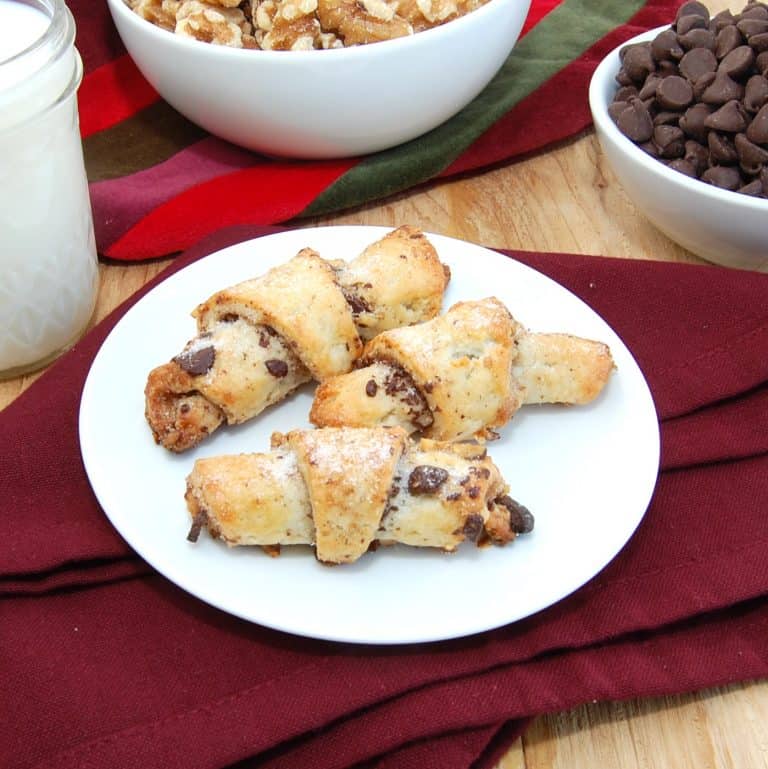 Rugelach with Chocolate Walnut Filling
Prep Time:
1 hour
15 minutes
Total Time:
1 hour
38 minutes
These popular crescent-shaped cookies can be filled with anything from raspberry jam to cinnamon and sugar or chocolate and nuts.
Ingredients
For the Cream Cheese and Sour Cream Dough:
2 1/4 cups all-purpose flour
1 1/2 tablespoons granulated sugar
1/4 teaspoon salt
1/2 pound unsalted butter (2 sticks), chilled and cut into 1/4-inch pieces
8 ounces cream cheese, chilled and cut into 1/2-inch chunks
2 tablespoons sour cream
For the Chocolate Walnut Filling:
1 cup granulated sugar
1 tablespoon ground cinnamon
1 cup semisweet chocolate minichips
2 1/4 cups walnuts, chopped very fine
For the Egg Yolk -and- Milk Glaze:
2 large egg yolks
2 tablespoons milk

Instructions
In the bowl of a food processor fitted with the metal blade, pulse flour, sugar, and salt. Scatter the butter and cream cheese pieces over the flour mixture. Add the sour cream and pulse until dough comes together in small, uneven pebbles the size of cottage cheese curds, about sixteen 1-second pulses. Turn mixture onto a work surface and press into 9-inch-by-6-inch log, divide log into four equal portions. Press each quarter into a round, flat disk about 4 1/2 inches in diameter. Place each disk between two pieces of plastic wrap and roll it into an 8 1/2-inch disk. Leave in the plastic wrap and stack on top of each other on a large plate; freeze 30 minutes (or up to 1 month if stored in zipper-lock freezer bag).
Mix sugar and cinnamon in small bowl; set aside.
Working with one dough round, remove from freezer and spread 1/4 cup minichips, 2 tablespoons cinnamon sugar, and 1/2 cup walnuts, in that order, over dough; pat down gently with fingers. Cut dough round into eight wedges. Roll each wedge into crescent shape and place at 2-inch intervals on parchment paper-lined heavy rimmed baking pans. Freeze crescents at least 15 minutes. (Frozen crescents, if well-wrapped, can be frozen in a zipper-lock bag up to 6 weeks.) Repeat with remaining dough rounds.
Heat oven to 375 degrees F. Whisk egg yolks and milk in small bowl until smooth. Brush top and sides of frozen crescents with egg-milk mixture. Bake crescents, turning baking pans from front to back and top to bottom halfway through baking time, until pale gold and slightly puffy, 21 to 23 minutes. Immediately sprinkle each cookie with a teaspoon cinnamon sugar; using thin-bladed spatula carefully transfer hot, fragile cookies to cooling rack.
Nutrition Information:
Yield:

32
Serving Size:

1
Amount Per Serving:
Calories:

224
Total Fat:

16g
Saturated Fat:

7g
Trans Fat:

0g
Unsaturated Fat:

8g
Cholesterol:

40mg
Sodium:

46mg
Carbohydrates:

19g
Net Carbohydrates:

0g
Fiber:

1g
Sugar:

10g
Sugar Alcohols:

0g
Protein:

3g