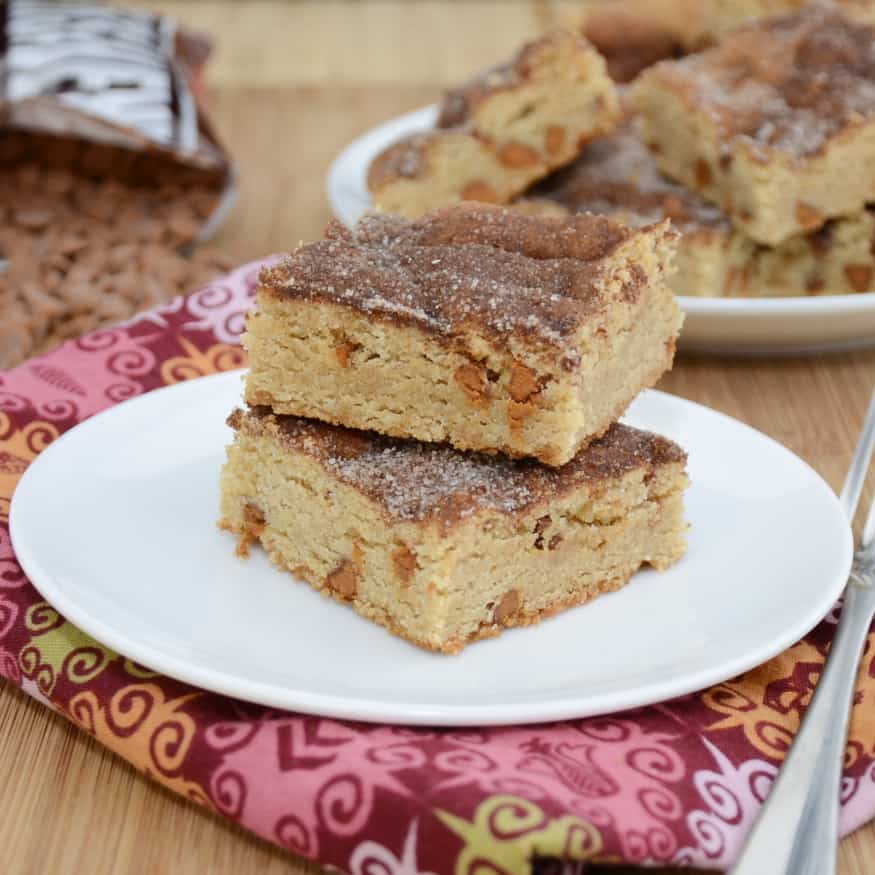 As I was trying to decide what to make the other day, I stood in my pantry looking at a bag of half eaten cinnamon chips that were just begging me to use them. I know I have professed my love of these little chips a few times over the past few months, but if you haven't picked yourself up a bag yet, you really need to!
Instead of eating the entire bag of cinnamon chips by the handfuls like I wanted to do, I decided that I needed to find a recipe that I could throw them in. Anything cinnamony that could use an extra kick-that's when I stumbled upon a recipe for these snickerdoodle blondies. I am a big fan of all things snickerdoodle-muffins, cupcakes, cookies-you name it, I love it!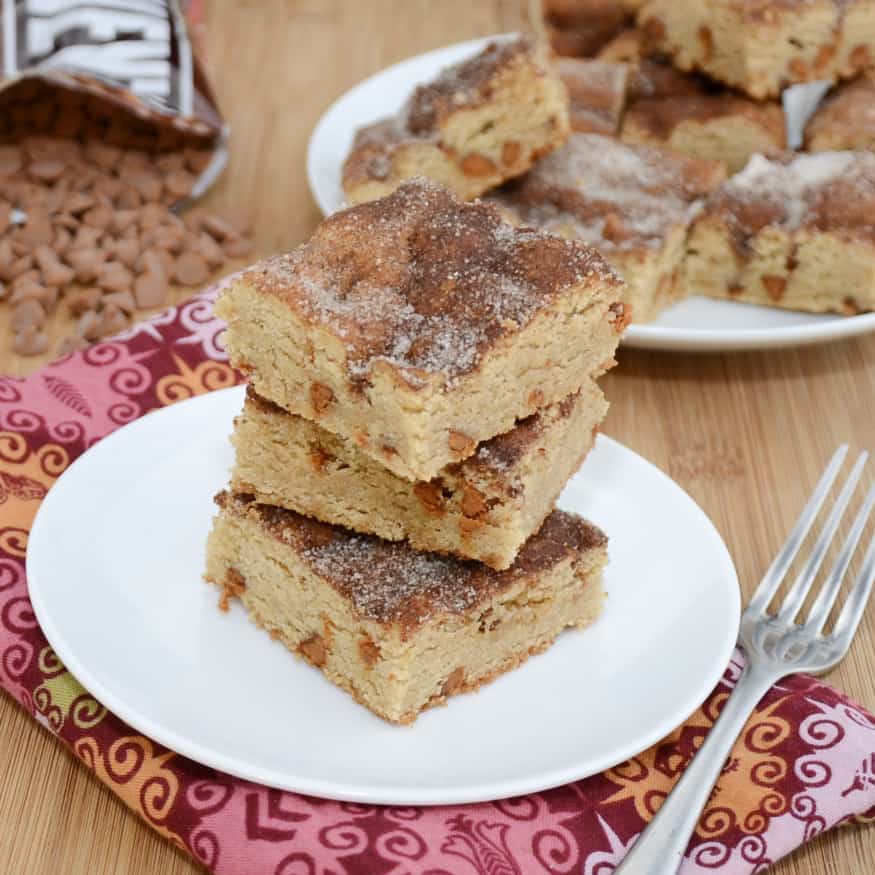 I knew I had to give these blondies a whirl. The only bad thing about these blondies are that they are really easy to make. Like so super easy I would have no problem baking these guys at 2 in the morning then devouring the entire pan while my husband sleeps easy…yeah. Ten minutes and these guys are in the oven baking up an incredibly intoxicating aroma that is guaranteed to wake anyone within a 50 foot radius of your house. And don't worry too much if you can't find the elusive cinnamon chips, they taste just as great without them. Serve with a cup of piping hot chai tea and you will be in cinnamon heaven in no time! 😀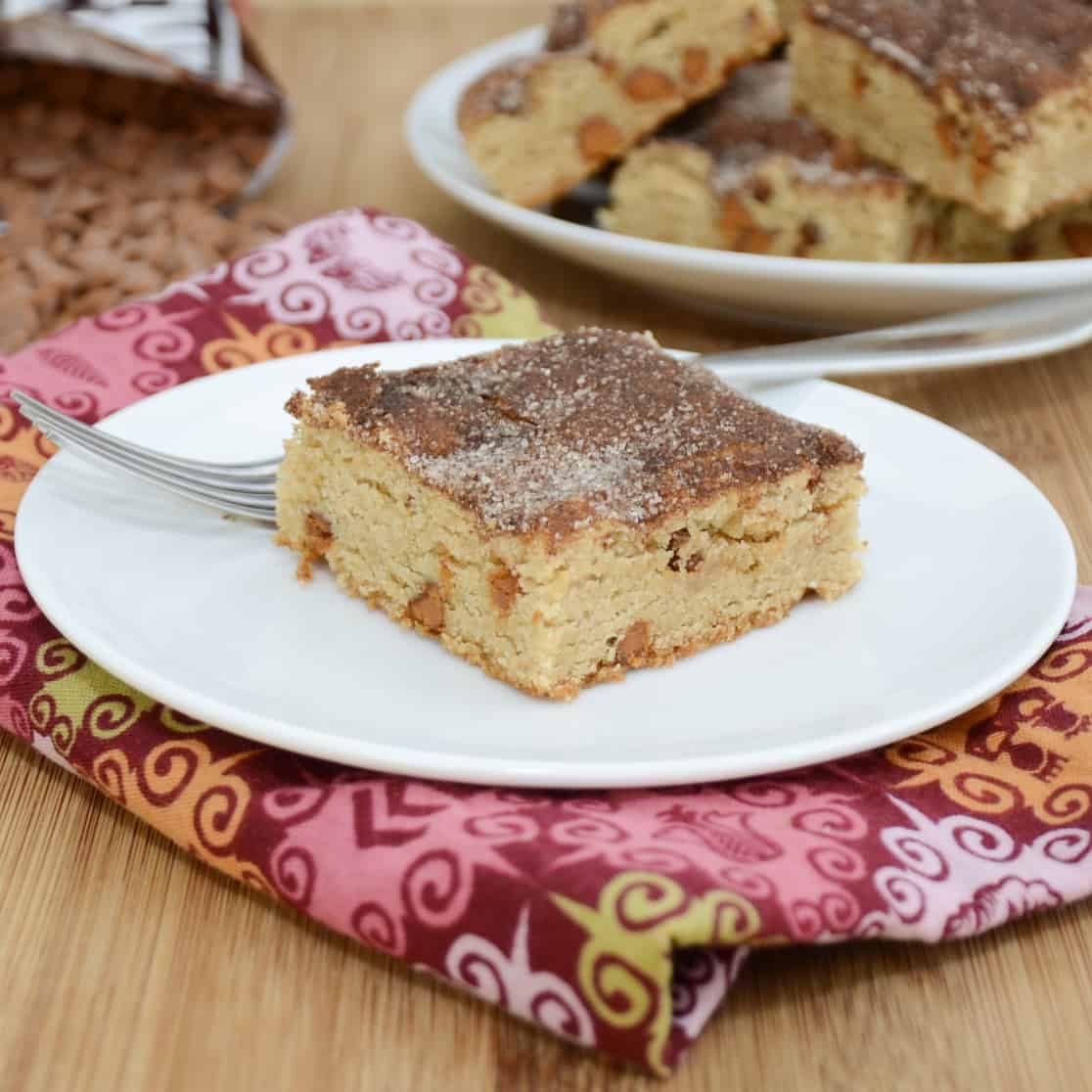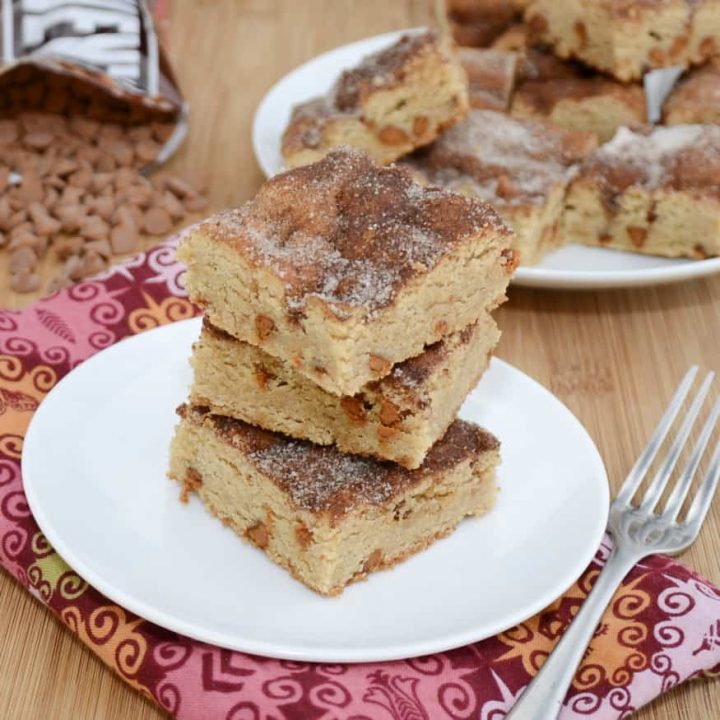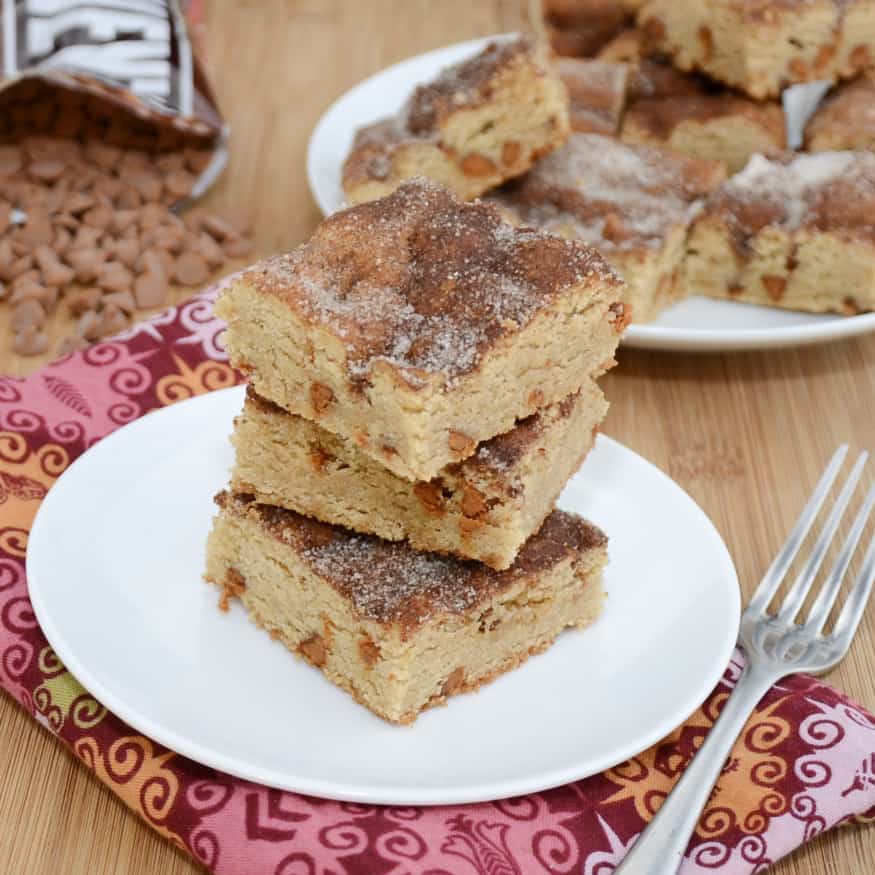 Snickerdoodle Blondies
Ingredients
For the Blondies:
2 2/3 cups all-purpose flour
2 teaspoons baking powder
1 teaspoon salt
1 teaspoon cinnamon
1/4 teaspoon ground nutmeg
2 cups packed light brown sugar
1 cup (8 ounces) unsalted butter, at room temperature
2 eggs
1 tablespoon vanilla extract
1 cup cinnamon chips
For the Topping:
2 tablespoons granulated sugar
2 teaspoons cinnamon
1/8 teaspoon nutmeg
Instructions
Preheat oven to 350F. Butter the bottom and sides of a 9×13 inch metal baking pan. Put a long piece of parchment paper in the bottom of the pan, letting the parchment extend up two sides of the pan and overhang slightly on both ends. Place another piece of parchment paper in the same manner, perpendicular to the first sheet. (This will make it easy to remove the bars from the pan after they have baked.)
In a medium bowl whisk together the flour, baking powder, salt, cinnamon and nutmeg; set aside.
In the bowl of a stand mixer fitted with the paddle attachment, beat together the butter and brown sugar on medium speed until light and fluffy, about 5 minutes. Add the eggs one at a time, and then the vanilla. Beat, scraping the bowl, until thoroughly combined. On low speed, gradually add the flour mixture until just combined. Give the dough a final stir with a spatula or wooden spoon to make sure the flour is incorporated. Fold in cinnamon chips
Transfer the batter to prepared pan; using spatula, spread batter into corners of pan and smooth surface (batter will be thick).
To make the topping, in a small bowl combine the granulated sugar, cinnamon, and nutmeg; sprinkle evenly over the top of the batter.
Bake for 25-30 minutes or until the surface springs back when gently pressed. Transfer pan to wire rack to cool completely. Using parchment overhang, lift brownies from pan and cut into 2-inch squares. Store in an airtight container at room temperature.
Nutrition Information:
Yield:

24
Serving Size:

1
Amount Per Serving:
Calories:

125
Total Fat:

1g
Saturated Fat:

0g
Trans Fat:

0g
Unsaturated Fat:

0g
Cholesterol:

17mg
Sodium:

143mg
Carbohydrates:

27g
Net Carbohydrates:

0g
Fiber:

1g
Sugar:

16g
Sugar Alcohols:

0g
Protein:

2g