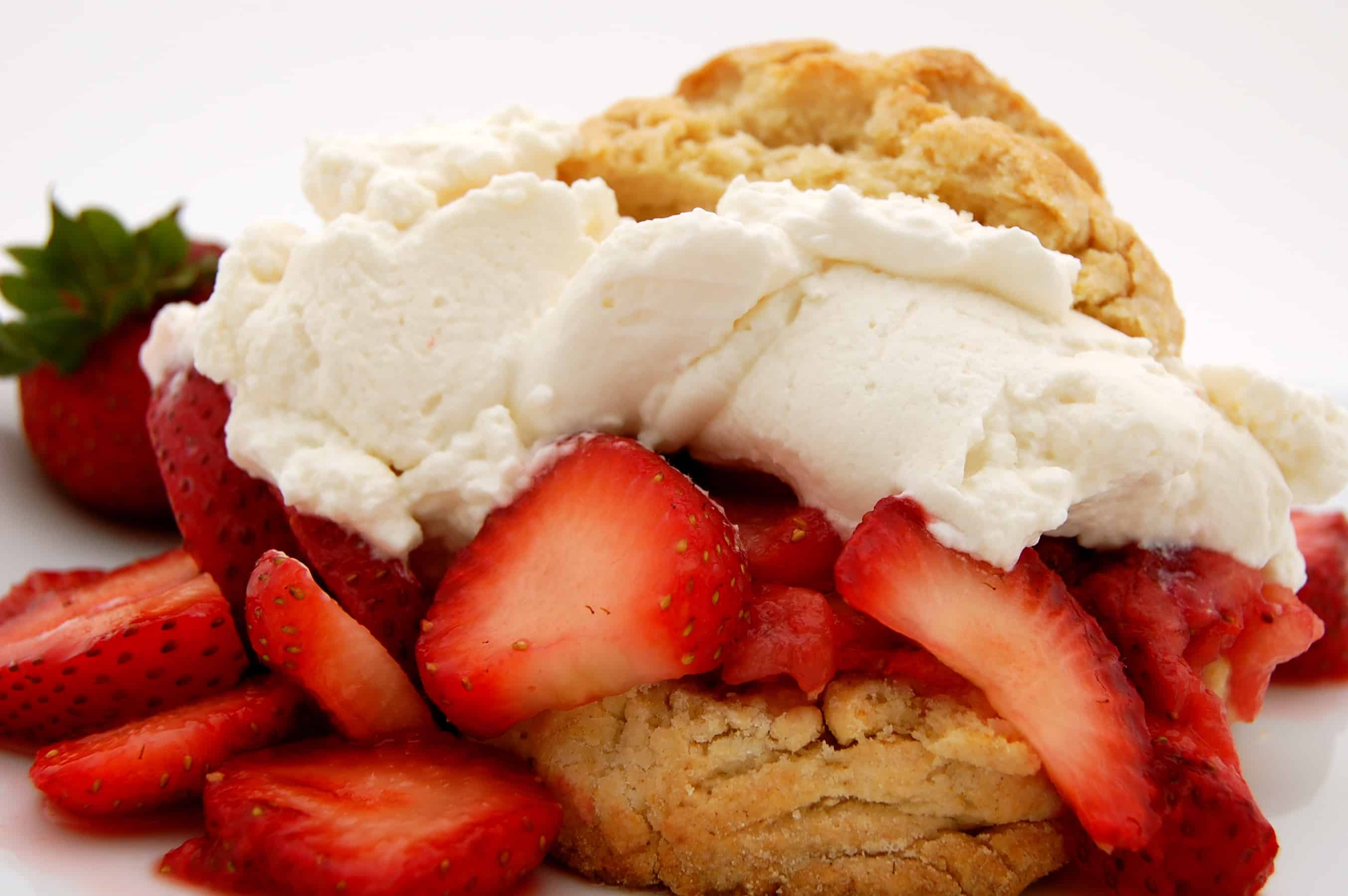 Strawberry shortcake…the perfect summer dessert! As I was walking past all of the yummy seasonal fruit at the grocery store this weekend I saw a bunch of yellow foam like disks sitting next to the display of strawberries. There was a sign next to it with the words "strawberry shortcake" written in bright chalk. I looked at the luscious strawberries and then down at the pitiful pre-made shortcake cups. Strawberry shortcake sounded wonderful, however, those pre-made cups did not. It was at that moment that I picked up the strawberries and decided that I was going to make my own strawberry shortcake-biscuits and all! This recipe is so easy to make you will be asking yourself, did I really use to buy those things? A perfect cream biscuit topped with strawberries and heavenly whipped cream…does it get any better than this?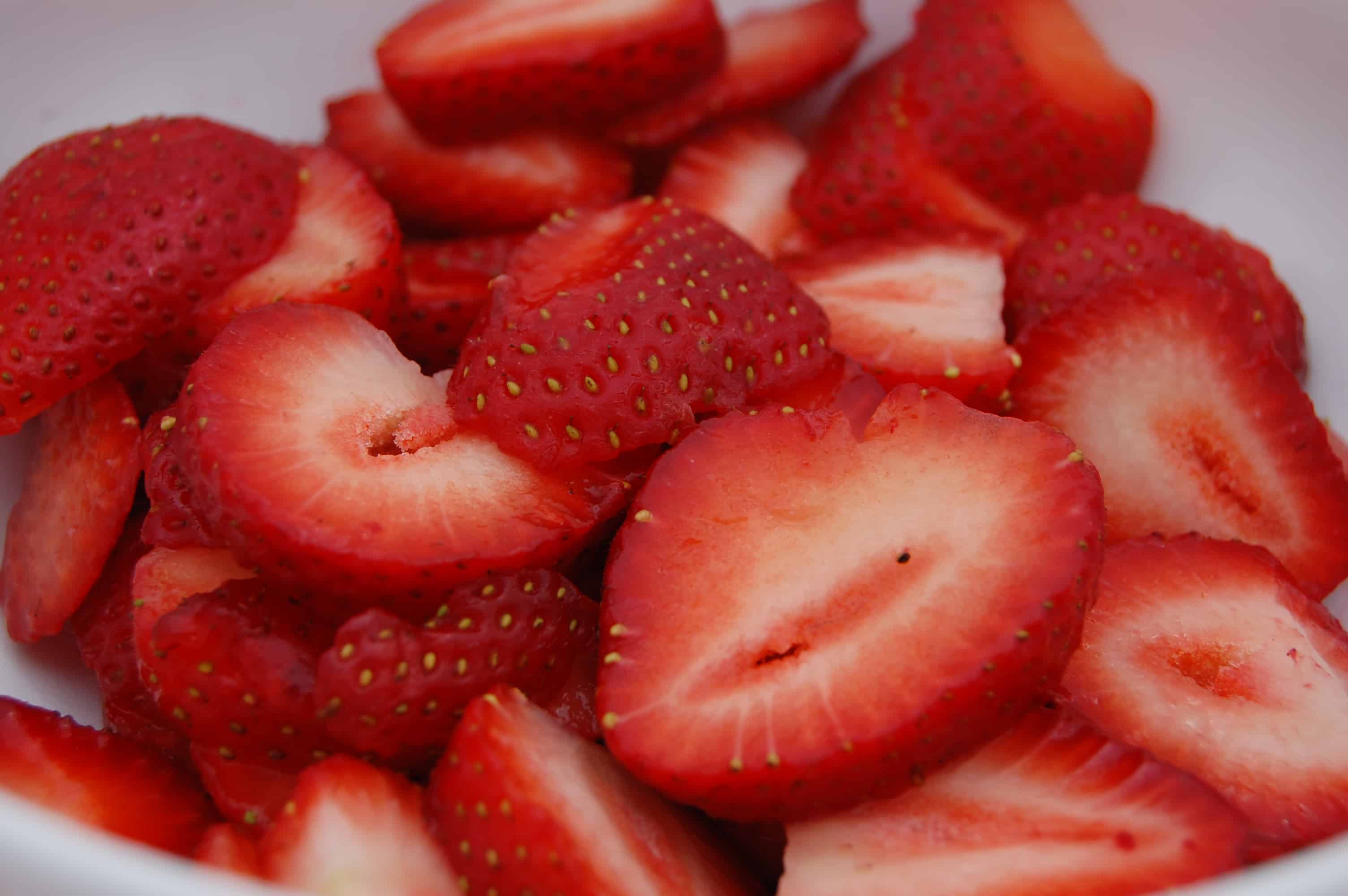 Pin this recipe now to remember it later
Ingredients
2 cups all-purpose flour 1/4 cup granulated white sugar 2 teaspoons baking powder 1/8 teaspoon salt 1/3 cup cold unsalted butter 1 large egg, lightly beaten 1 teaspoon pure vanilla extract 1/2 cup heavy whipping cream Egg Wash: 1 large egg, lightly beaten 1 tablespoon heavy whipping cream Filling: 2 pounds fresh strawberries, hulled and sliced 1/4 cup – 1/3 cup granulated white sugar (or to taste) Whipped Cream: 1 cup heavy whipping cream 1/2 teaspoon pure vanilla extract 1 tablespoon granulated white sugar
1/4

cup

granulated white sugar

2

teaspoons

baking powder

1/3

cup

cold unsalted butter

1

large egg

,

lightly beaten

1

teaspoon

pure vanilla extract

1/2

cup

heavy whipping cream
Egg Wash:
1

large egg

,

lightly beaten

1

tablespoon

heavy whipping cream
Filling:
2

pounds

fresh strawberries

,

hulled and sliced

1/4

cup

– 1/3 cup granulated white sugar

,

or to taste
Whipped Cream:
1

cup

heavy whipping cream

1/2

teaspoon

pure vanilla extract

1

tablespoon

granulated white sugar
Instructions
Preheat oven to 400° and place rack in middle of oven. Line a baking sheet with parchment paper.

In a large bowl, whisk together flour, sugar, baking powder, and salt. Cut the butter into small pieces and blend into the flour mixture with a pastry blender or two knives. The mixture should look like coarse crumbs.

In a small bowl, whisk together the egg, cream and vanilla extract. Add to the flour mixture, mixing just until the dough comes together. Do not over mix the dough.

Transfer to a lightly floured surface and knead dough gently four or five times and then pat or roll the dough into a circle that is about 7 inches round and about 1 inch thick. With a 3 inch round cookie cutter, cut out rounds and place the biscuits on the baking sheet. Make an egg wash of one lightly beaten egg mixed with 1 tablespoon heavy cream and brush the tops of the biscuits with this mixture.

Bake in preheated oven for 15 – 20 minutes or until golden brown. Transfer to a wire rack to cool.

For the filling, wash and slice strawberries. Place one-third of the strawberries in a large bowl and crush them with a potato masher or fork. Add the remaining sliced strawberries and sugar to the bowl. Set aside at room temperature for about 30 to 60 minutes.

For the whipped cream, In a large mixing bowl place the whipping cream, vanilla extract, and sugar; stir to combine. Cover and chill the bowl and beaters in the refrigerator for at least 30 minutes. When chilled, beat the mixture until stiff peaks form.

To serve, cut the scones in half and place the bottom half of the scone on a plate. Top with some of the strawberries and whipped cream. Place the top half of the scone on the strawberries. Top with whipped cream and a few more strawberries. If there is any juice from the strawberries, drizzle a little over the top of the biscuit. Enjoy!
Follow me on Pinterest for daily delicious recipes!
Source:
adapted from
Joy of Baking
Get new recipes weekly plus our FREE ebook!