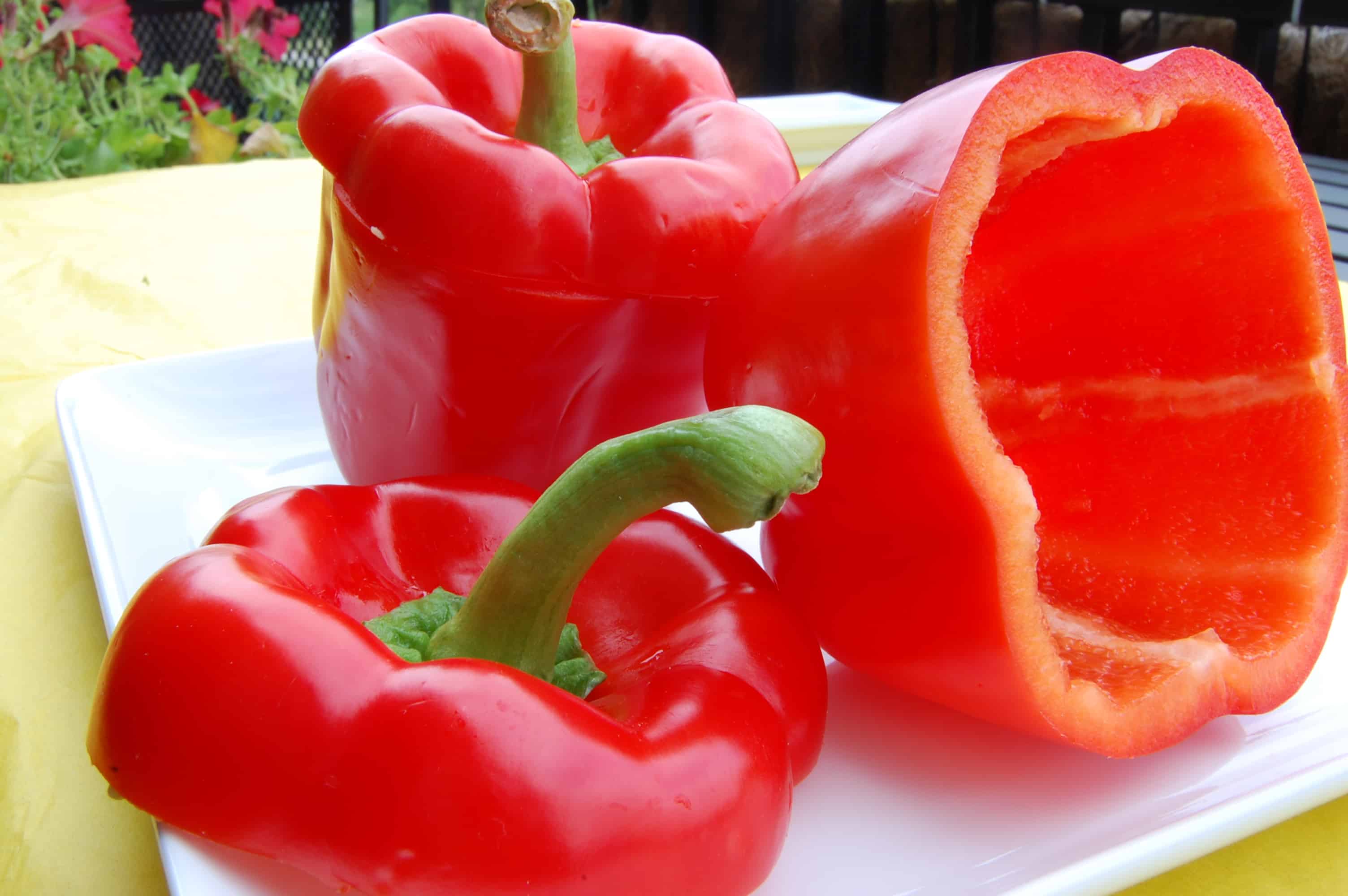 Stuffed bell peppers are a wonderful lite main dish or they can also be served as a side dish. My husband was looking through one of my new cookbooks and when he turned to this recipe he said "you have to make these tonight!"
He went on to explain that his grandmother use to make these frequently and they were one of his favorite dishes that she would make. Wow, I have to say, with that in mind I was a bit hesitant. Was I going to make them as great as she did?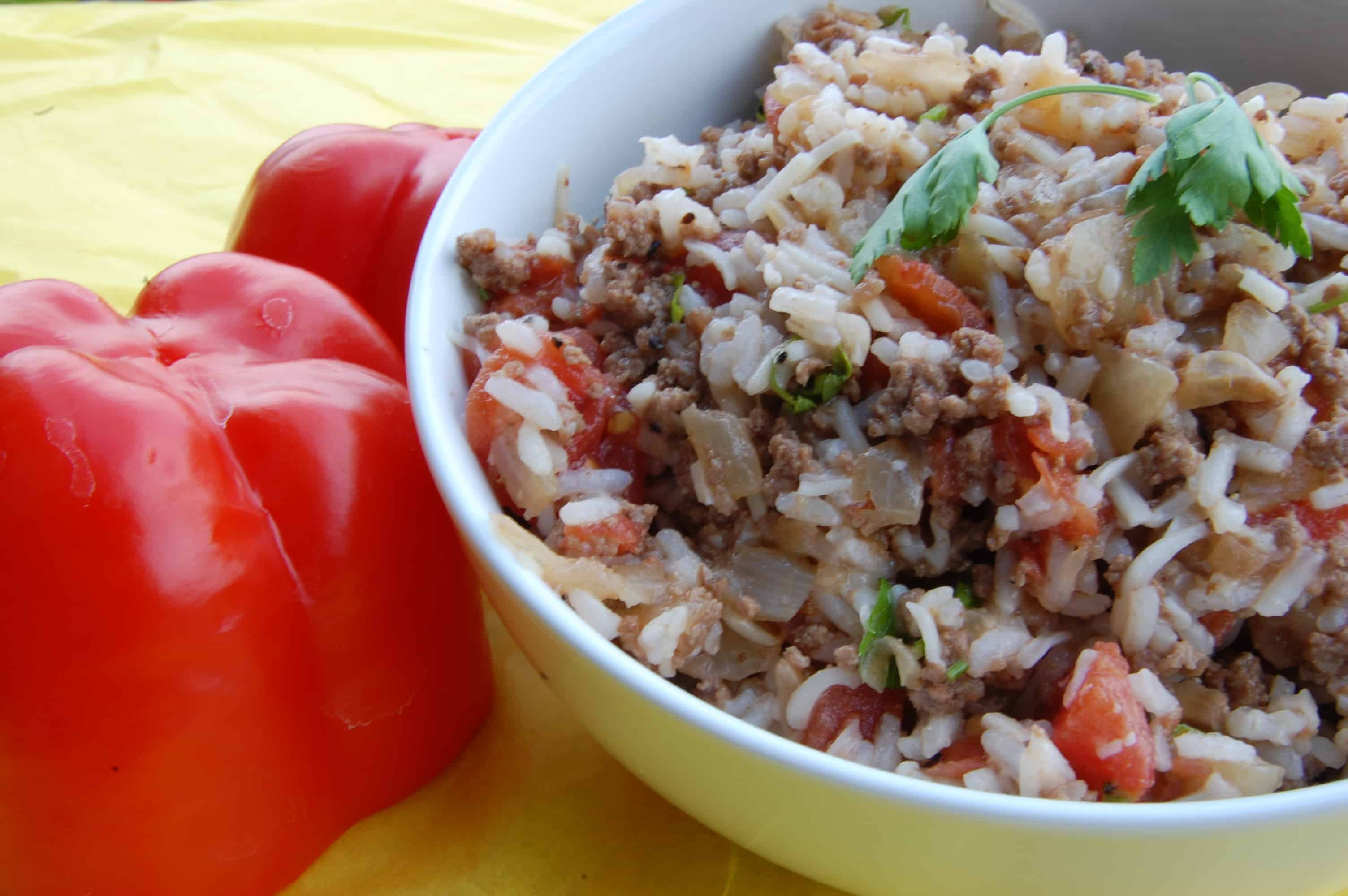 I had never made a stuffed bell pepper before, but I was excited to see how they would turn out. As the ground beef and garlic were sautéing on the stove, my mouth began to water…the mixture was so fragrant. When we sat down for our first bite I had very high hopes that I had recreated a special childhood memory for my husband. I could tell from the smile on his face that I had! 🙂
If you are looking for a quick and easy midweek meal give this recipe a try, they are simple yet very satisfying.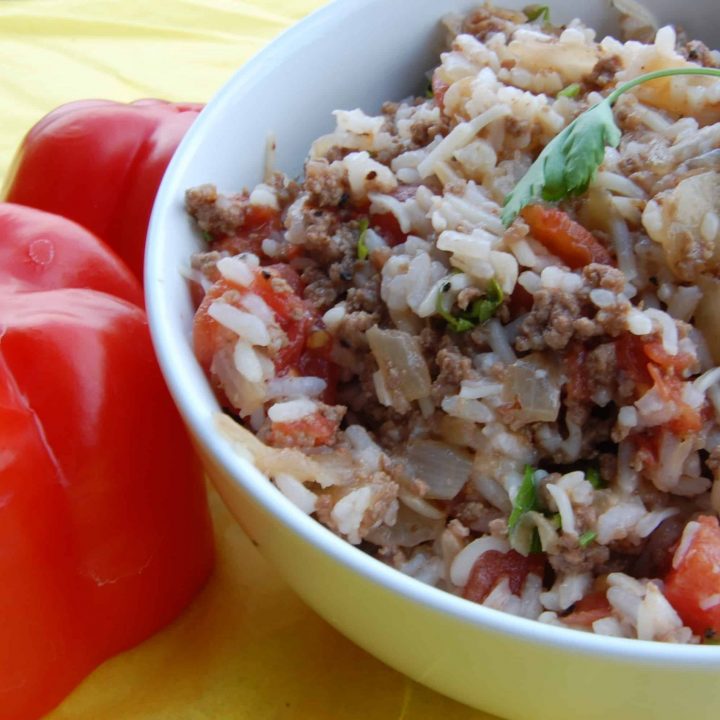 Stuffed Bell Peppers
Ingredients
1 tablespoon salt
4 medium red, yellow, or orange bell peppers (6 ounces each), 1/2 inch trimmed off tops, cores and seeds discarded
1/2 cup long-grain white rice
1 1/2 tablespoons olive oil
1 medium onion, finely chopped
12 ounces ground beef (ground chuck is best)
3 medium garlic cloves, minced
1 (14.5 ounce) can diced tomatoes, drained, 1/4 cup juice reserved
5 ounces Monterey Jack cheese, shredded (about 1 1/4 cups)
2 tablespoons chopped fresh parsley leaves
ground black pepper
1/4 cup ketchup
Instructions
Bring 4 quarts of water to a boil in a large stock pot or dutch oven over high heat. Add salt and bell peppers. Cook 3 minutes, or until peppers just begin to soften. Using a slotted spoon, remove the peppers from the pot, drain off excess water, and place them cut-side up on paper towels. Return the water to a boil; add rice and boil 13 minutes or until tender. Drain rice and transfer to a large bowl; set aside.
Adjust oven rack to the middle position and heat oven to 350 degrees.
Heat the oil in a 12-inch skillet over medium heat until shimmering. Add onions and cook stirring occasionally until softened and beginning to brown, about 5 minutes. Add ground beef and cook until no longer pink, about 4 minutes. Add garlic and cook 30 seconds, or until fragrant. Transfer the mixture to the bowl with the rice and stir in tomatoes, 1 cup of cheese, parsley, and salt and pepper to taste.
Stir the tomato juice and ketchup together in a small bowl.
Place the peppers cut-side up in a 9-inch square baking dish. Divide the filling evenly among the peppers. Spoon 2 tablespoons of the ketchup mixture over each filled pepper and sprinkle each with 1 tablespoon of the remaining cheese. Bake 25 to 30 minutes, until cheese is browned and the filling is heated through. Serve immediately.