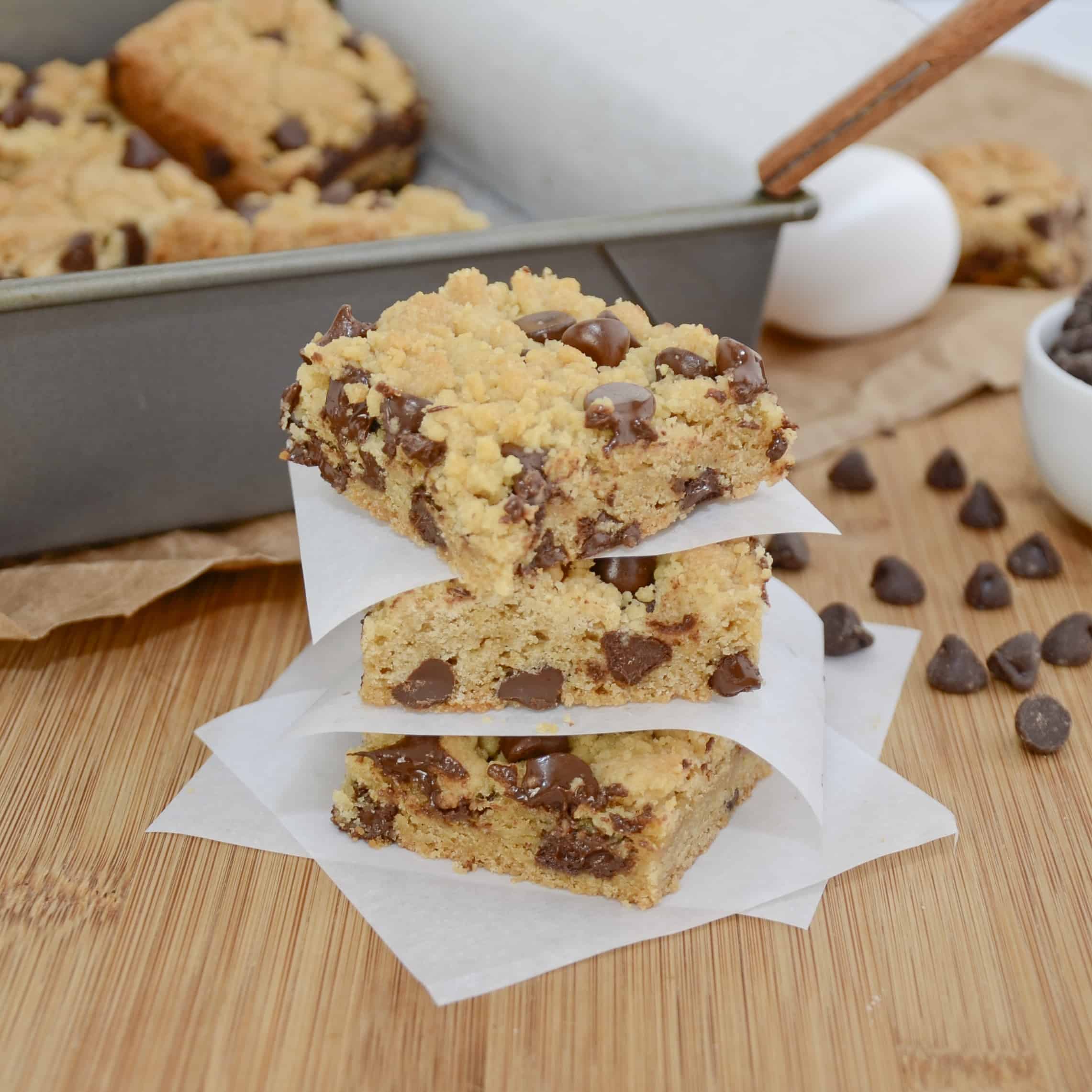 If you're looking for a recipe to satisfy your cookie cravings with minimal time and effort, look no further! These thick and chewy cookie bars loaded with gooey chocolate chips are sure to satisfy any cookie craving.
These bar cookies are super easy to make; just mix, bake and cut! No waiting for the butter to soften, no chilling of the dough, no rolling the dough into balls…nope these cookies are as easy as they are fool-proof!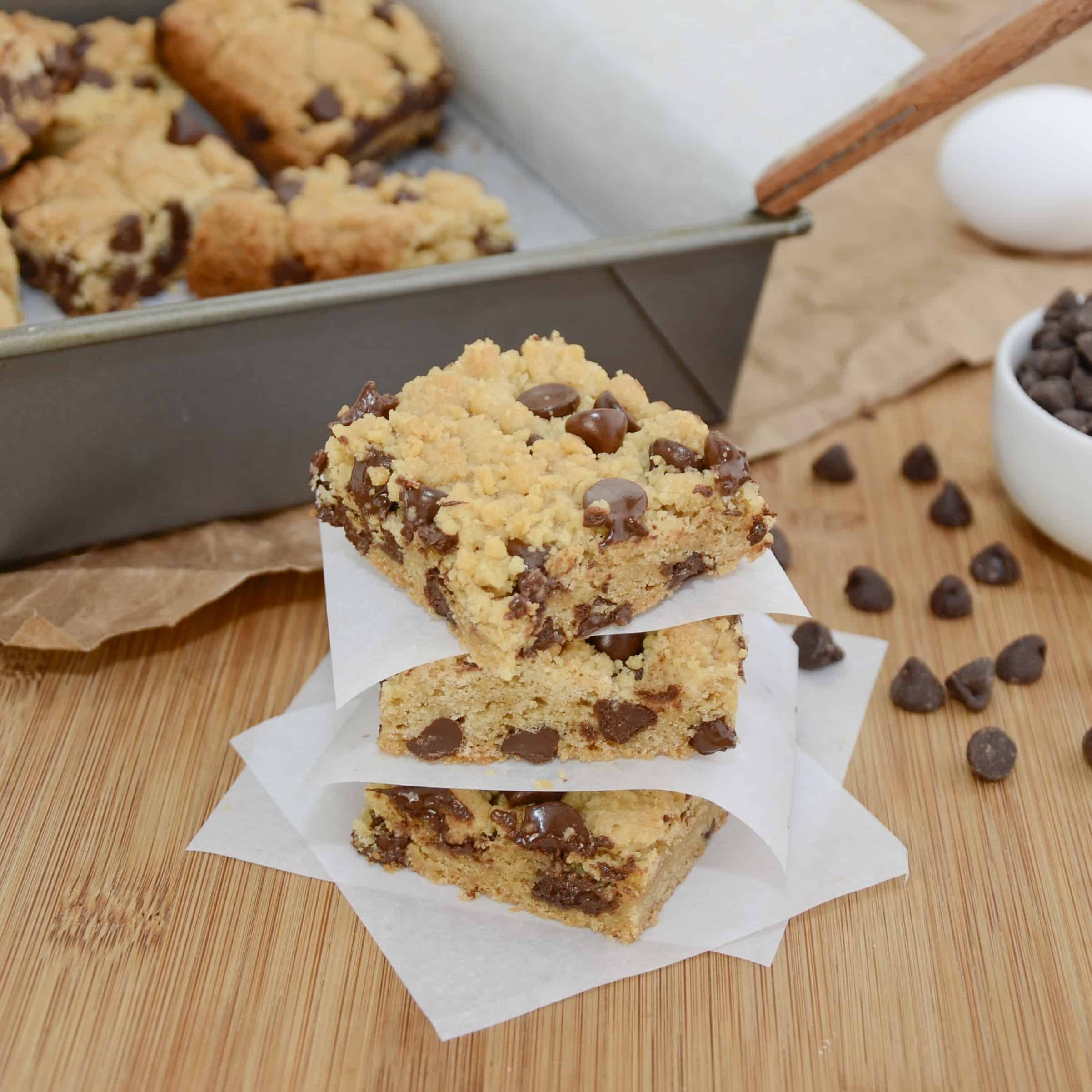 By using melted butter in the batter, not only does it speed up the process so you can be devouring these babies faster, it's also the secret to their incredibly chewy texture.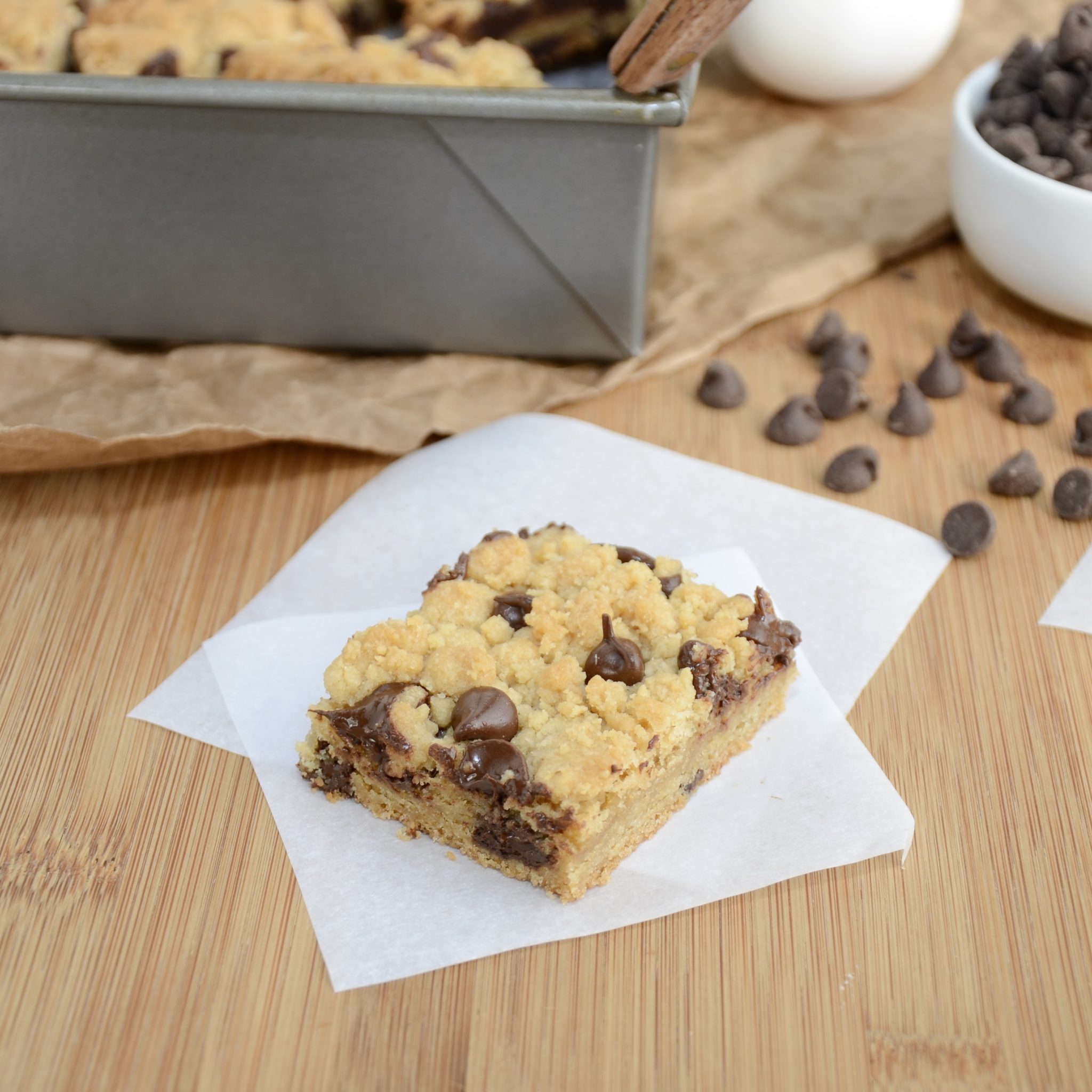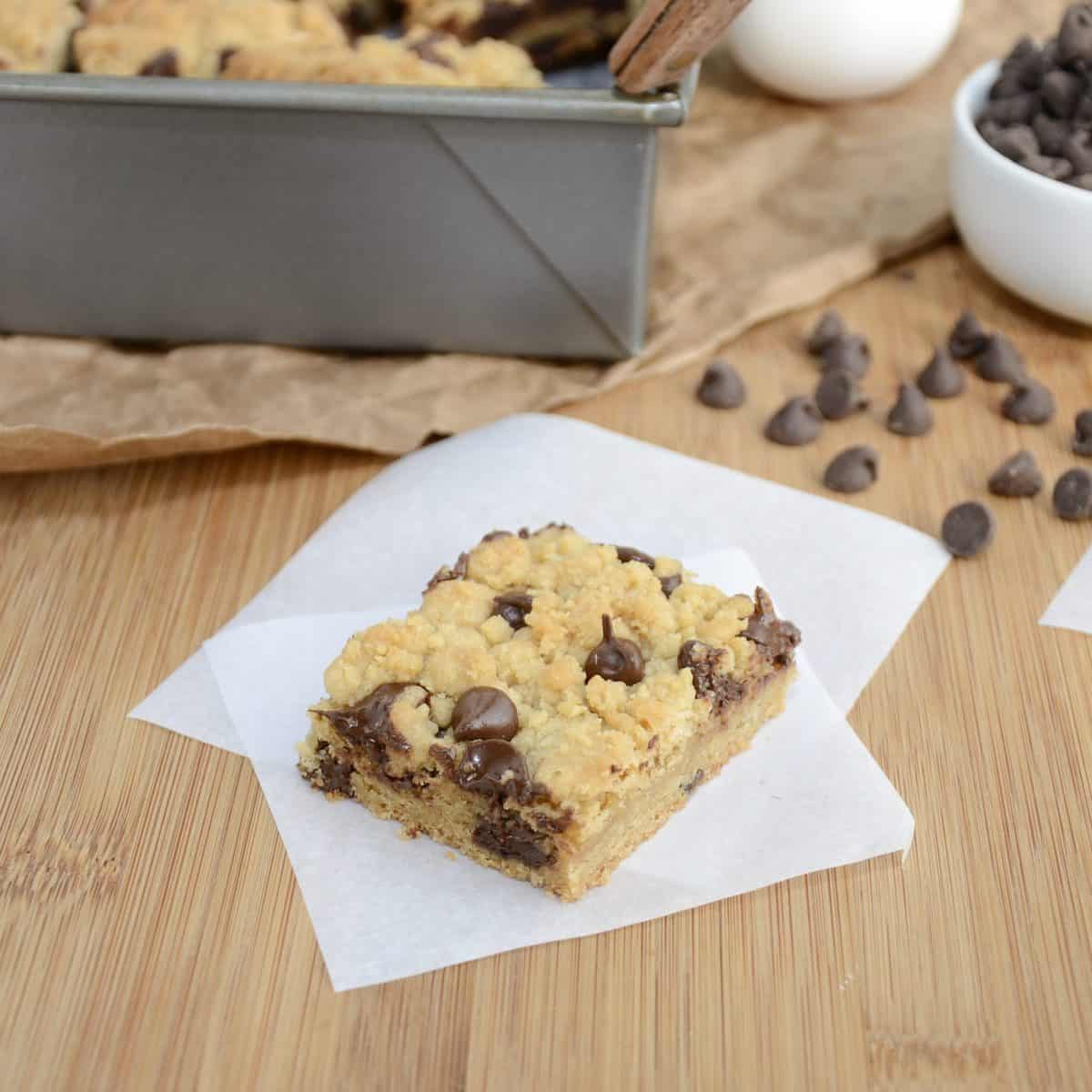 I used all chocolate chips in these bars, but feel free to substitute white, milk chocolate, or peanut butter chips for the semi-sweet chips. You can even throw in some nuts, raisins, or shredded coconut if you want to get crazy! 😉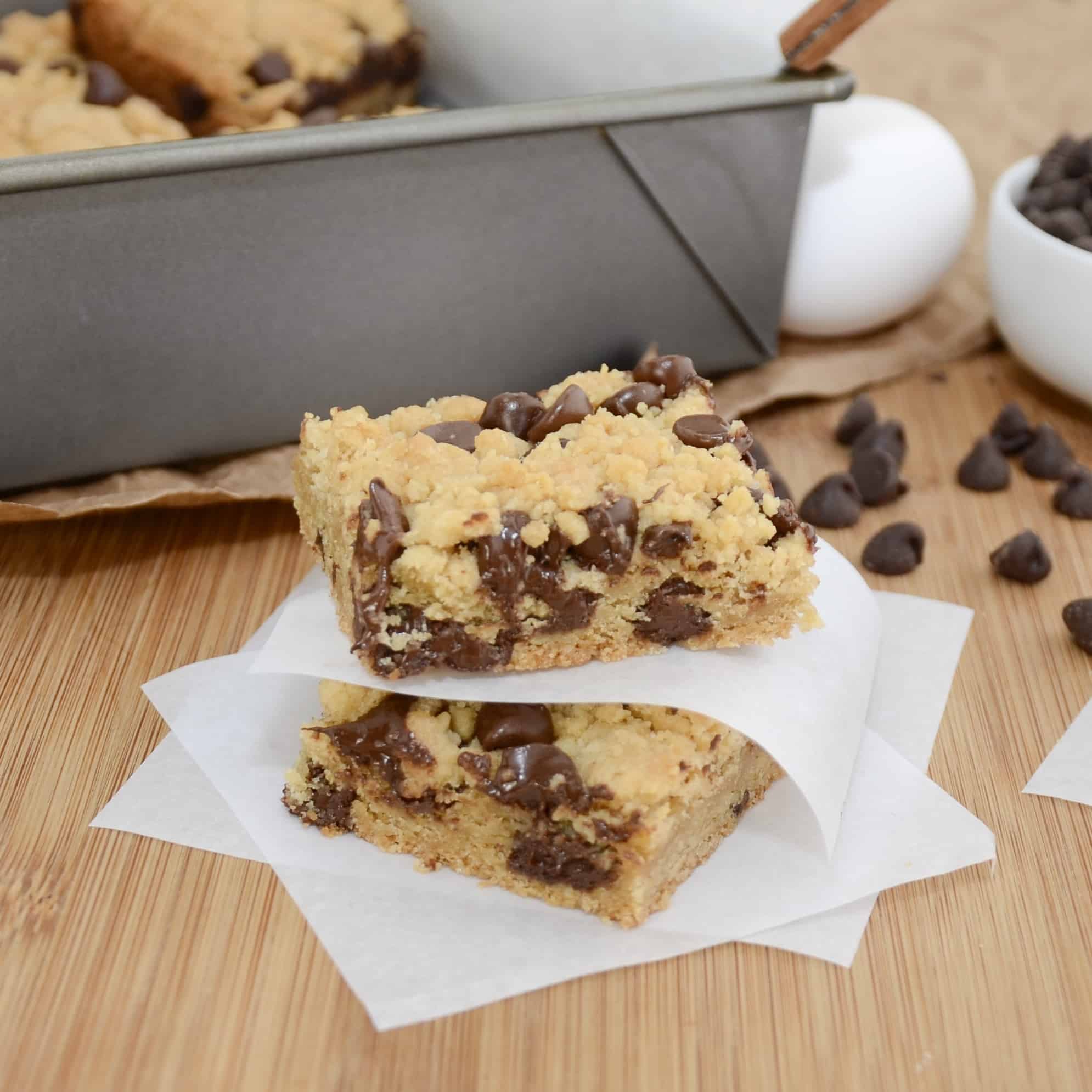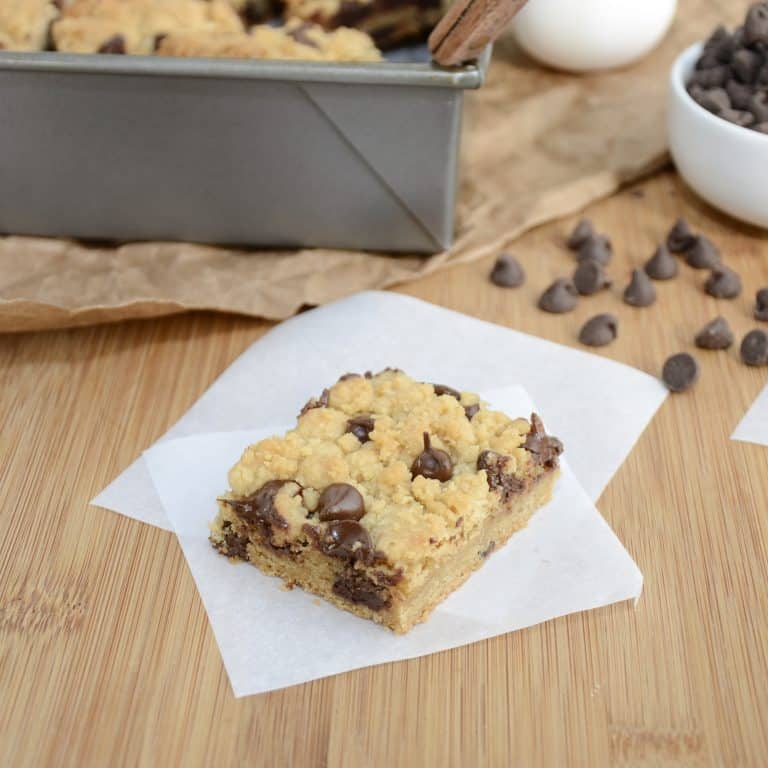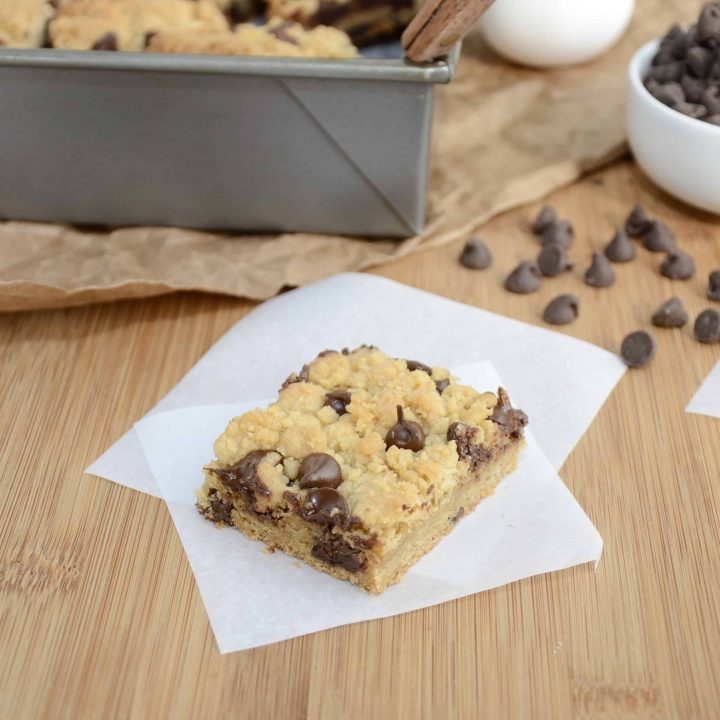 Thick and Chewy Chocolate Chip Cookie Bars
Yield:
24 (2-inch) square cookies
Ingredients
2 ⅛ cups all-purpose flour (10 1/2 ounces)
1/2 teaspoon table salt
1/2 teaspoon baking soda
12 tablespoons unsalted butter (1 1/2 sticks), melted and cooled slightly
1 cup light brown sugar (7 ounces)
1/2 cup granulated sugar (3 1/2 ounces)
1 large egg
1 large egg yolk
2 teaspoons vanilla extract
2 cups semi sweet chocolate chips
Instructions
Heat oven to 325 degrees F. Butter the bottom and sides of a 9×13 inch metal baking pan. Put a long piece of parchment paper in the bottom of the pan, letting the parchment extend up two sides of the pan and overhang slightly on both ends. Place another piece of parchment paper in the same manner, perpendicular to the first sheet. (This will make it easy to remove the bars from the pan after they have baked.) Butter the parchment.
In a medium bowl, whisk together flour, salt, and baking soda; set aside.
In a large bowl, whisk together melted butter and sugars until combined. Add egg, egg yolk, and vanilla and mix well. Using a rubber spatula, fold dry ingredients into egg mixture until just combined. Fold in chocolate chips. Transfer to prepared baking pan and smooth the top with a spatula.
Bake until top is light golden brown, slightly firm to the touch, and edges start pulling away from sides of pan, 27 to 30 minutes. Cool on wire rack to room temperature. Remove bars from pan by lifting parchment overhang and transfer to cutting board. Cut into 2-inch squares and serve.