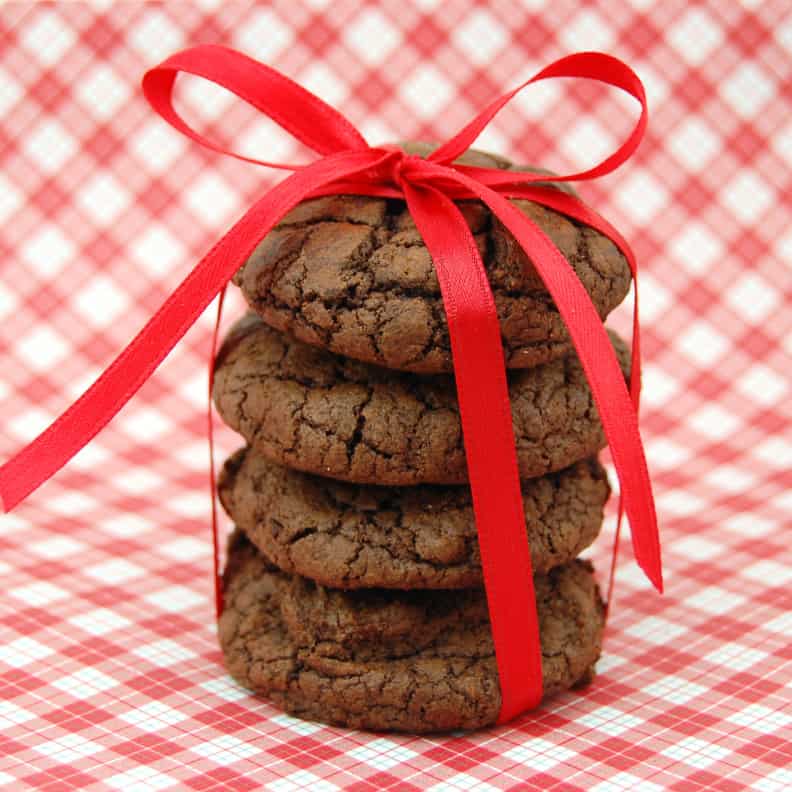 Thick and chewy double chocolate cookies are the perfect homemade gift for Valentines day. The first bite of this incredibly decadent cookie will have you reaching for more. These cookies are what we crave-warm from the oven, soft, chewy and rich! Pair these ooey-gooey cookies with a glass of milk and they will soon become one of your favorites.
Since Valentines day falls on a Monday this year, my husband Andrew and I are celebrating tonight. Every year Andrew surprises me on where we go to dinner. He just tells me what time the reservations are for. Last year we went to one of my favorite restaurants in Indianapolis, Meridian Restaurant and Bar. The food there is incredible and the desserts-don't get me started! 🙂 I am excited to see what plans Andrew has for us tonight. What are your plans this Valentines Day?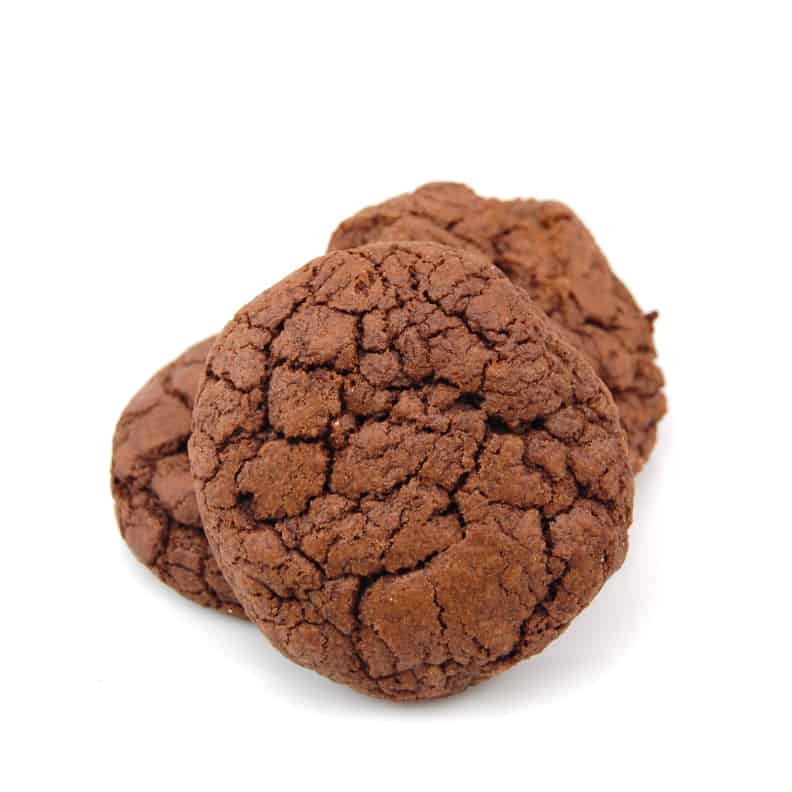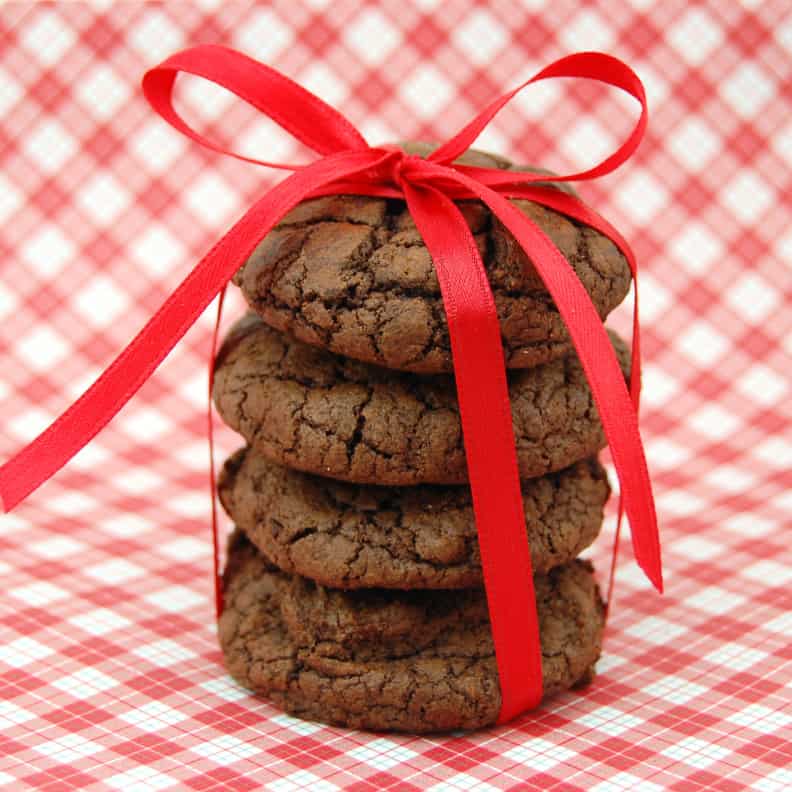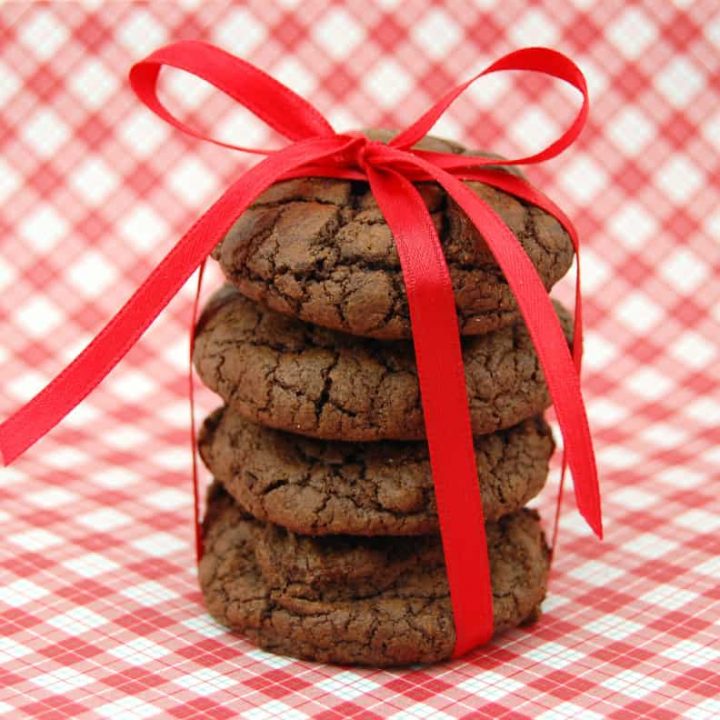 Thick and Chewy Double Chocolate Cookies
Ingredients
2 cups unbleached all-purpose flour
1/2 cup Dutch-processed cocoa powder
2 teaspoons baking powder
1/2 teaspoon salt
16 ounces semisweet chocolate, chopped
4 large eggs
2 teaspoons vanilla extract
2 teaspoons instant coffee or espresso powder
10 tablespoons unsalted butter (1 1/4 sticks), softened but still firm
1 1/2 cups light brown sugar
1/2 cup granulated sugar
Instructions
In a medium bowl, sift together flour, cocoa, baking powder, and salt; set aside. In a medium heatproof bowl set over pan of almost-simmering water, melt chocolate, stirring once or twice, until smooth; remove from heat. In a small bowl, beat eggs and vanilla lightly with fork, sprinkle espresso powder over to dissolve, and set aside.
In bowl of standing mixer fitted with paddle attachment, beat butter at medium speed until smooth and creamy, about 5 seconds. Beat in sugars until combined, about 45 seconds; mixture will look granular. Reduce speed to low and gradually beat in egg mixture until incorporated, about 45 seconds. Add chocolate in steady stream and beat until combined, about 40 seconds. Scrape bottom and sides of bowl with rubber spatula. With mixer at low speed, add flour mixture and mix until combined, about 40 seconds. Do not overbeat. Cover with plastic wrap and let stand at room temperature until consistency is scoopable and fudgelike, about 30 minutes.
Heat oven to 350 degrees. Line baking sheets with parchment paper. Using a 1 ¾ inch diameter ice cream scoop, drop dough onto parchment-lined baking sheets spacing 1 1/2-inches between each.
Bake cookies until edges have just begun to set but centers are still very soft, about 10 minutes, turning cookie sheets from front to back and switching from top to bottom racks halfway through baking.
Cool cookies on sheets about 10 minutes, slide parchment with cookies onto wire rack and cool to room temperature; remove with wide metal spatula.