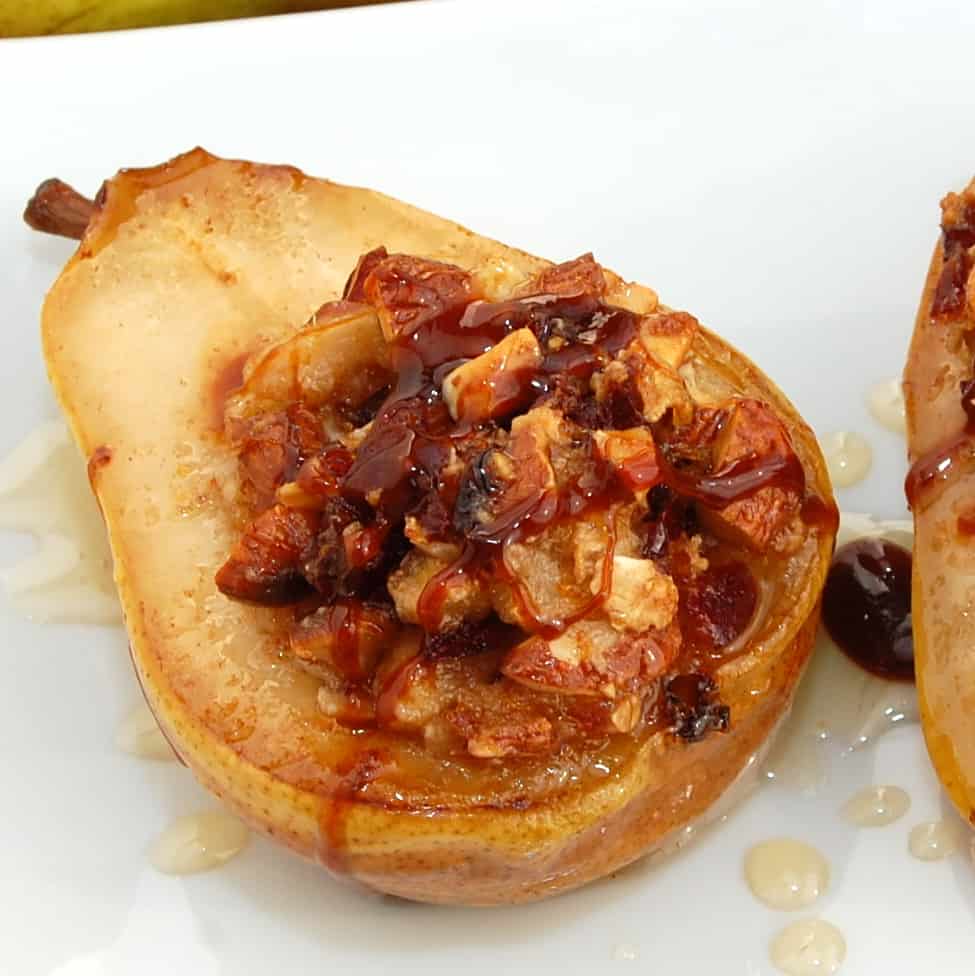 I spotted some first of the season pears at the grocery store over the weekend and went a little crazy. That happens to me a lot, huh? 🙂 Let me introduce you to quite possibly one of the easiest desserts you will ever make. Warm and tender pears filled with an incredible oatmeal almond crisp. Top with a dab of homemade whipped cream or go all out and pair with a scoop of vanilla ice cream. This dessert requires surprisingly little effort, but your guests will never know.
You can even prepare the streusel up to two days in advance, stirring in the pecans and chopped pears just before baking.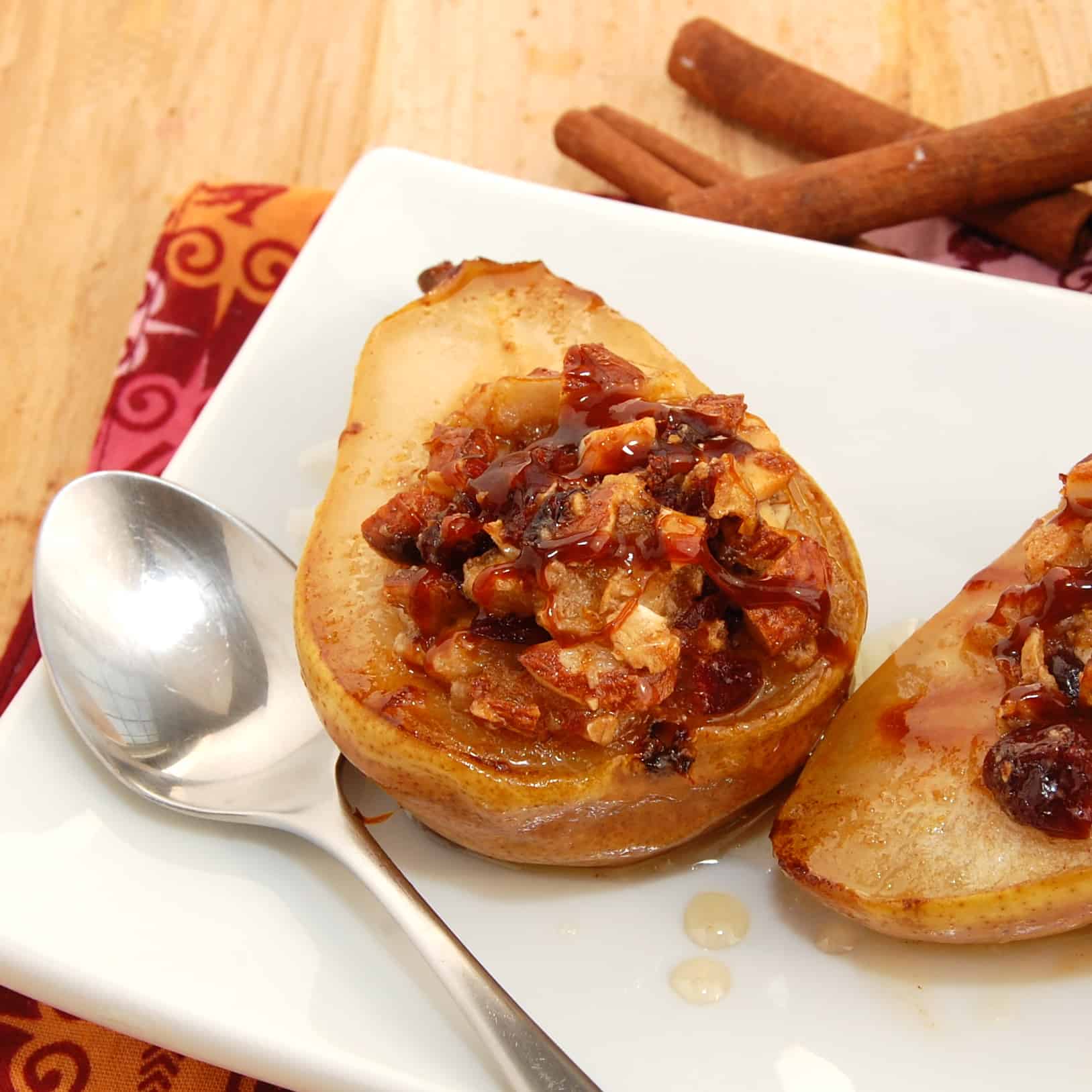 My parents have a pear tree in their backyard that I absolutely love. This time of year the tree is filled with pears just waiting to be picked. Unfortunately they live about seven hours away from me and I just can't go in their backyard and pick some. Growing up I would always get so excited when my dad would pick those delicious pears. It was always a race to pick the pears before the birds and squirrels would devour them. The pears were ready to pick when they just begin to change to a yellowish-green. If you waited for the pear to fully ripen on the tree it was never as good. So we would pick them and let them fully ripen off the tree.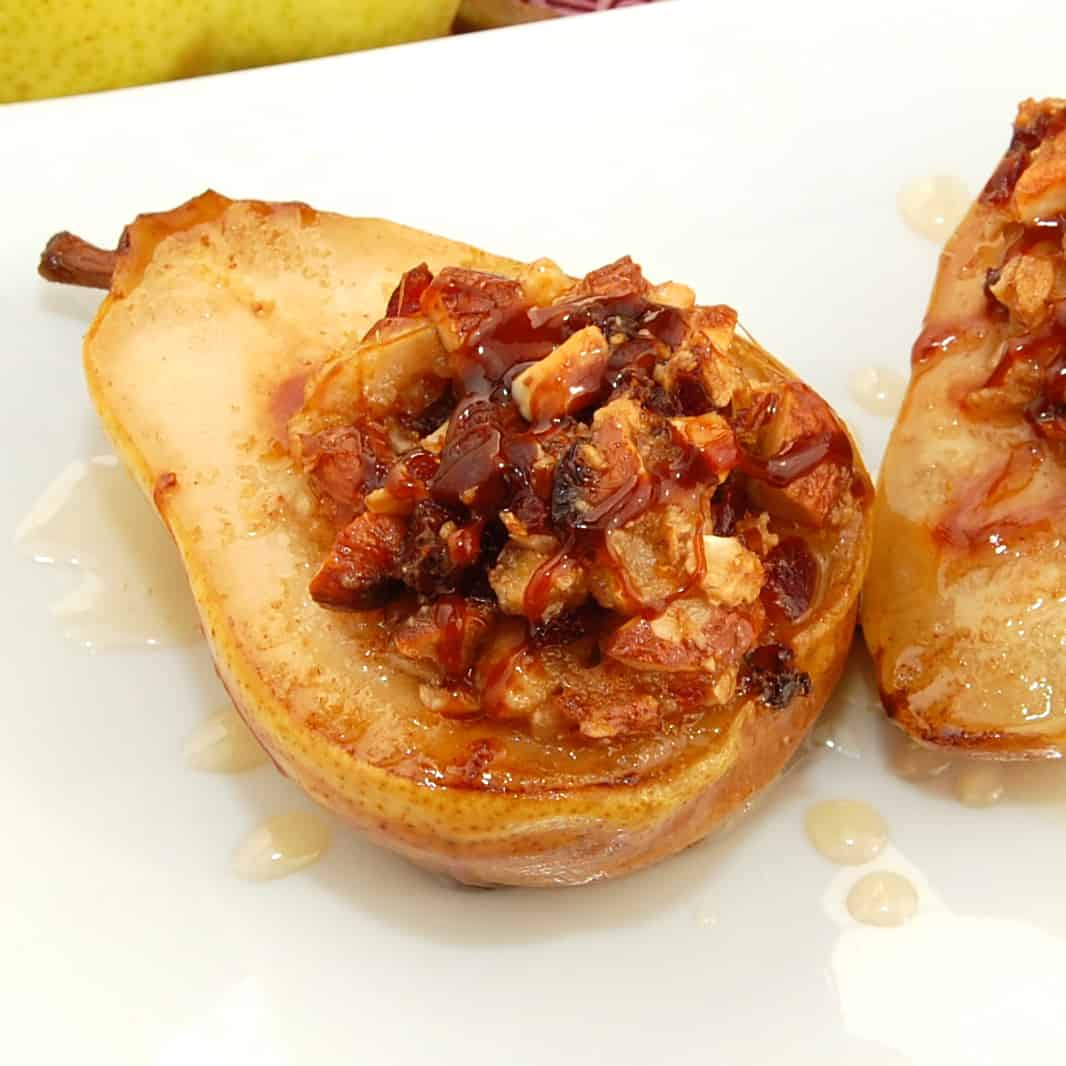 Every year my dad makes a delicious pear jam that tastes incredible smeared on a freshly baked buttermilk biscuit. For the rest of the pears that we did not eat out of hand or make into jam we would cook and bake with. Baked pears, poached pears, dried pear slices…you name it…we made it! 😀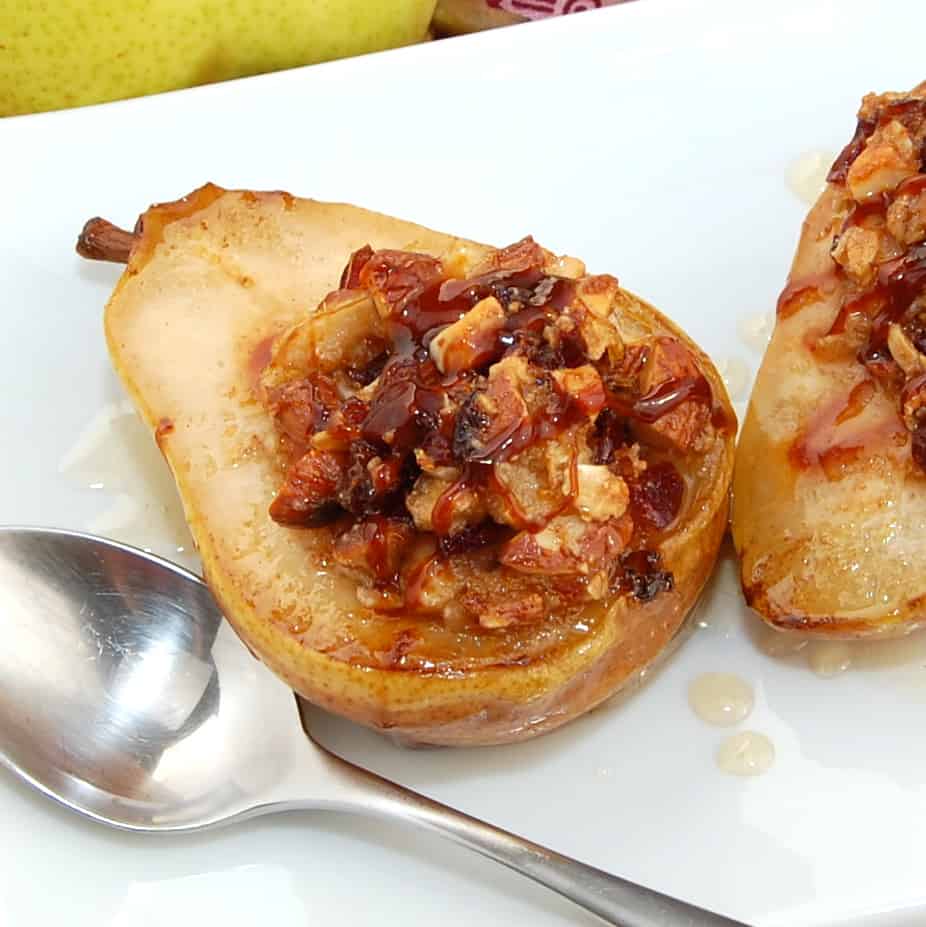 Pin this recipe now to remember it later
Ingredients
7

large

,

about 6 ounces each pears

6

tablespoons

unsalted butter

,

softened

1/4

cup

packed brown sugar

1/3

cup

dried cranberries

,

coarsely chopped

1/3

cup

coarsely chopped almonds

,

toasted

3

tablespoons

old-fashioned rolled oats

1

teaspoon

finely grated zest from 1 orange

1/2

teaspoon

ground cinnamon

1/3

cup

plus 2 tablespoons apple cider
Want to save this recipe? Enter your email below and we'll send the recipe straight to your inbox!
NOTE: By saving this recipe, you agree to join our weekly recipes newsletter.
Instructions
Adjust oven rack to middle position and heat oven to 375 degrees. Peel, core, and cut 1 pear into 1/4-inch dice. Combine 5 tablespoons of butter, brown sugar, cranberries, pecans, oats, orange zest, cinnamon, diced pear, and salt in large bowl; set aside.

Slice remaining pears lengthwise into halves. With a small sharp paring knife and a spoon remove the core and seeds from each pear, leaving a round well for the filling.

Melt remaining tablespoon butter in 12-inch nonstick ovensafe skillet over medium heat. Once foaming subsides, add pears, cut side down, and cook until cut surface is golden brown, about 3 minutes. Flip pears, reduce heat to low, and divide the filling among the pears, mounding it on top of the indentation. Add maple syrup and 1/3 cup cider to skillet. Transfer skillet to oven, and bake until skewer inserted into pears meets little resistance, 35 to 40 minutes, basting every 10 minutes with maple syrup mixture in skillet.

Transfer pears to serving platter. Stir up to 2 tablespoons remaining cider into sauce in skillet to adjust consistency. Pour sauce over pears and serve.
Follow me on Pinterest for daily delicious recipes!
Source: adapted from the Baked Apples recipe from Cook's Illustrated, January 2010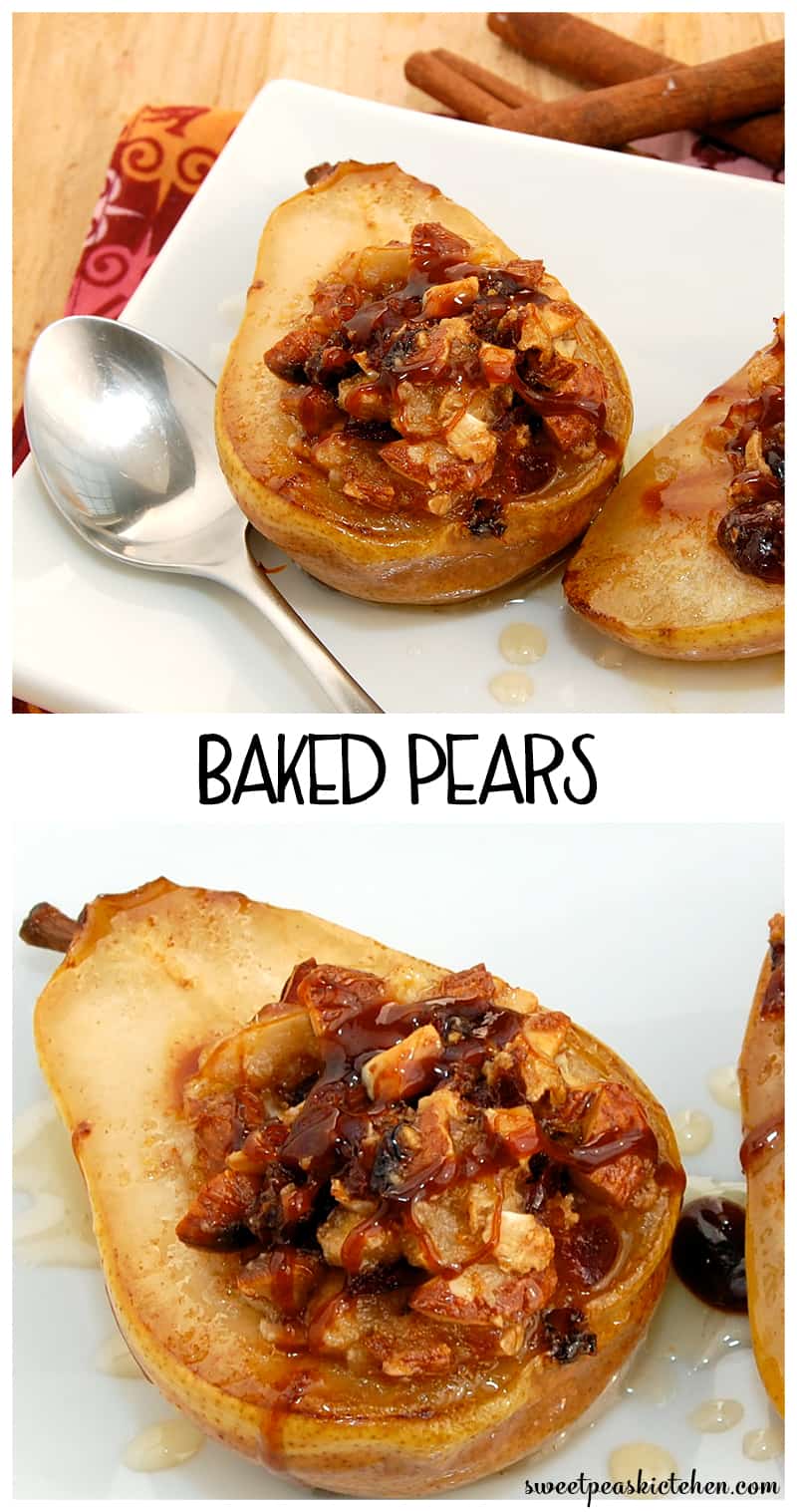 Get new recipes weekly plus our FREE ebook!