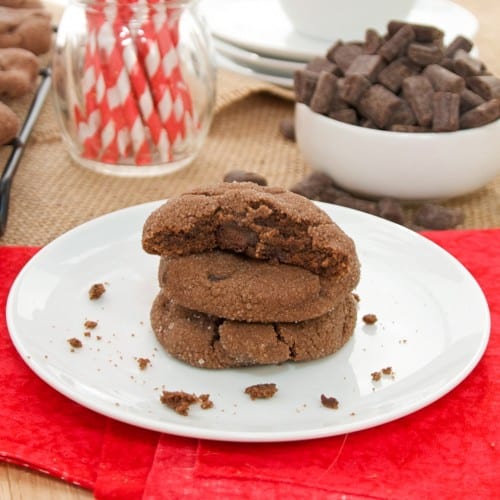 Double Chocolate Brownie Cookies are the sweet treat you have been craving! They are rich, fudgy, and full of lots of chocolate. You will get chopped pecans, yummy chocolate, and espresso powder every time you make these beautiful popular homemade cookies.
Scroll to bottom for printable recipe card.
Double Chocolate Brownie Cookies
Well, we made it through one more work week and the whole month of January…that calls for a celebration if you ask me! These cookies have been taunting me ever since I laid eyes on the recipe a few weeks ago. A cookie that tastes like a brownie? Count me in! Even if you are still sticking to your new year's resolution to eat healthier, you have to give these babies a try! After all, it's all about moderation, right?
These ooey, gooey Double-Chocolate Brownie Bites are what dreams are made of. Crisp edges, tender centers, and a rich, fudgy flavor. Serve warm from the oven with a tall glass of milk.
I seriously am happy to make this brownie cookie recipe any time of year. We will even include them in a Christmas Cookie exchange we have in our community too. Plus, I have also been known to make a few batches to give out to neighbors and friends as holiday gifts. I have never had a complaint because everyone loves them so much.
Why Did My Cookies Fall Flat
If you end up with flat cookies, you aren't alone. We have all been there a time or two, but the good news is there is an easy solution.
When preparing the cookie batter, you can add up to 2 tablespoons of additional flour. This should help keep them from flattening too much.
Additionally, be sure not to overmix the batter or overbake the cookies. Both can cause issues with flavor as well as texture and shape of the cookies.
Another important thing you can try is to keep the batter in the fridge until you are ready to make each batch of cookies. This will help keep them from spreading.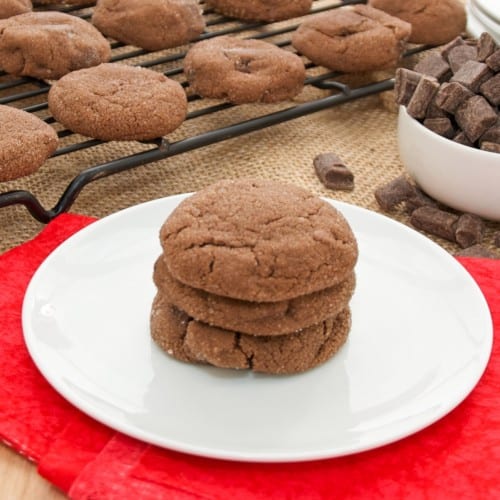 Best Chocolate To Use For Cookies
No matter what chocolate you use, it's VITAL to use high-quality chocolate. That will give you the very best results every time. Cheap chocolate tastes like it's cheap and will lessen the flavor of the double chocolate cookies.
Another thing I recommend is using a Dutch-Press cocoa powder instead of regular. It's a deeper and richer flavor and goes very well with the other ingredients in these cookies.
Storing Leftover Brownie Cookies
After you are done baking the brownie cookies, give them plenty of time to cool down. Once they have cooled, you can put them in a food container. Make sure the lid fits snug, and no air can get to them. Keep them in the pantry, on the counter, or in the fridge. They will last up to five days. Never put them in direct sunlight or where they can be hit with steam or heat. They will go bad quickly if you do.
Can I Double This Recipe
Of course! Each batch makes around 3 dozen cookies, depending on how big you make them. You can easily make additional batches to feed as many peoples as you wish. I always assume most people are going to eat at least 2 cookies per serving.
Do These Cookies Freeze
Yep! These are some of my favorite cookies to freeze. They are wonderful for meal prepping or making ahead of time to have for the holiday hustle and bustle. After you are done baking the cookies, and they have cooled, put them in a single layer, so they aren't touching on a baking sheet. Put the baking sheet in the freezer for 1-2 hours or until they are pretty frozen. After they have frozen, go ahead and put them in a freezer bag or container. Then they won't stick to each other, and you can quickly grab what you need. Thaw on the counter for a few minutes before eating. Don't forget to mark on the bag what they are and the date they were made.
Ingredients
All-purpose flour
Dutch-process cocoa powder
Baking soda
Coarse salt
Unsalted butter softened
Packed dark-brown sugar
Honey
Vanilla extract
Semisweet chocolate chunks
Granulated sugar
How to Make Brownie Cookies
First Step: Get the baking sheets prepared by adding parchment paper to each one. Preheat the oven to 325 degrees F. Set the pans aside for now.
Second Step: Using a medium bowl, mix the all purpose flour, baking soda, salt, and cocoa powder together with a whisk. Once incorporated, set aside.
Third Step: Cream together the brown sugar and the butter in a stand mixer. Use medium speed to mix until they are light and fluffy. If needed, use a spatula to scrape the bowl down.
Fourth Step: Drizzle the honey and vanilla into the butter mixture. Beat at medium speed until it's combined. Sprinkle in the dry ingredients slowly and beat at low speed. Don't overmix and stop when they are just combined.
Fifth Step: Use a rubber spatula to fold in the chunks of chocolate. Take rounded tablespoons of brownie cookie batter and put them on the baking sheet. Make sure they aren't touching and bake for 8-10 minutes. The tops of the cookies will begin to crack and set up when they are done.
Sixth Step: Allow the cookies to set on teh baking pan for at least 2 minutes before removing. Once they have set, go ahead and remove them with a metal spatula. Put the cookies onto a wire rack and let them cool down to room temperature. Enjoy!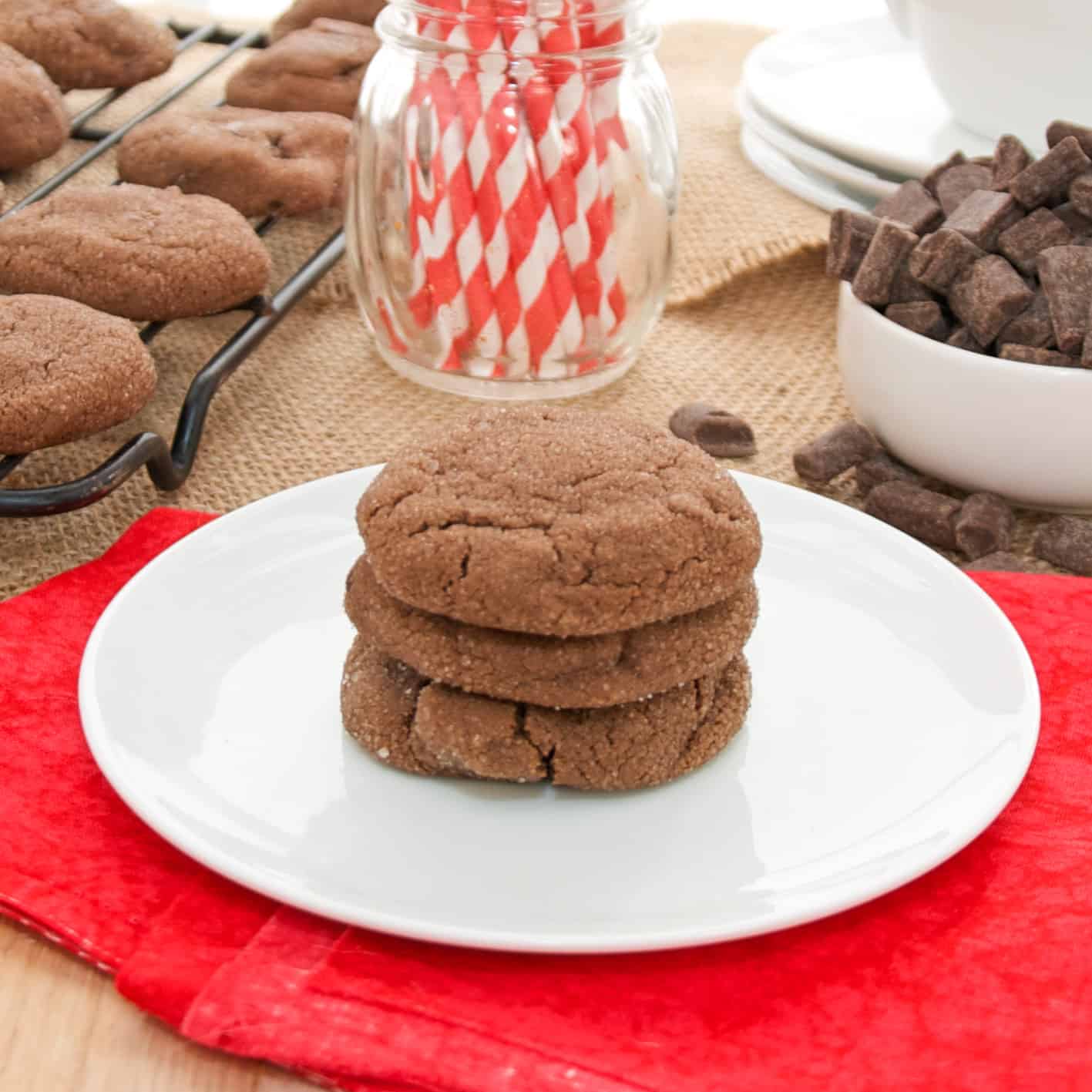 Look no further! I have the best cookie recipes for you ever. Let's take a look:
Pin this recipe now to remember it later
Double-Chocolate Brownie Bites
Servings:
3
dozen cookies
Ingredients
1 1/2

cups

all-purpose flour

1/4

cup

Dutch-process cocoa powder

1

stick unsalted butter

,

softened

1/2

cup

packed dark-brown sugar

1

teaspoon

vanilla extract

1 1/2

cups

7 ounces semisweet chocolate chunks
Want to save this recipe? Enter your email below and we'll send the recipe straight to your inbox!
NOTE: By saving this recipe, you agree to join our weekly recipes newsletter.
Instructions
Heat oven to 325 degrees F. Line two baking sheets with parchment paper; set aside.
In a medium bowl, whisk together flour, cocoa powder, baking soda, and salt; set aside.
In the bowl of a stand mixer fitted with a paddle attachment, cream the butter and the brown sugar at medium speed until light and fluffy, about 2 minutes. Scrape down the sides of the bowl with a rubber spatula as needed. Add the honey and vanilla and beat at medium speed until combined, about 30 seconds. Add the dry ingredients and beat at low speed until just combined, about 30 seconds, scraping down the bowl as needed. Fold in chocolate chunks.
Drop by rounded tablespoons onto prepared baking sheets and bake for 8-10 minutes or until tops are cracking and cookies are just set. Cool the cookies on the baking sheets about 2 minutes; using a wide metal spatula, transfer the cookies to a wire rack and cool to room temperature.
Follow me on Pinterest for daily delicious recipes!
Get new recipes weekly plus our FREE ebook!