Celebrate Easter Sunday with these delectable Carrot Cake Whoopie Pies! All the spiciness and cream cheese frosting of the classic layered Carrot Cake in a portable and easy to make the recipe.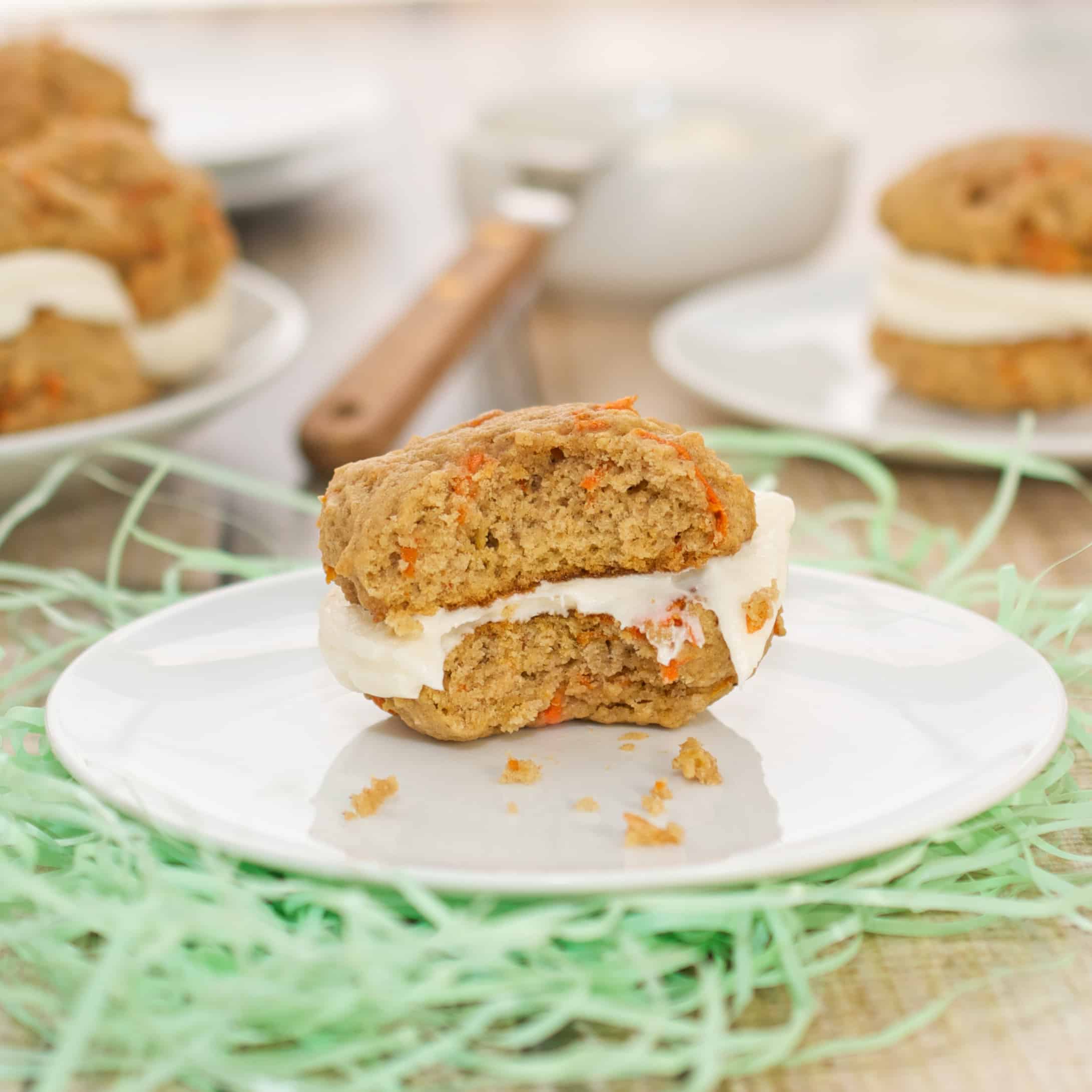 Let's face it, a fancy layered carrot cake can take hours to make, while these whoopie pies take a fraction of the time and they taste just like the real thing! Whoopie pies take the best parts of the cake and squish them into one delicious easy to eat sandwich :).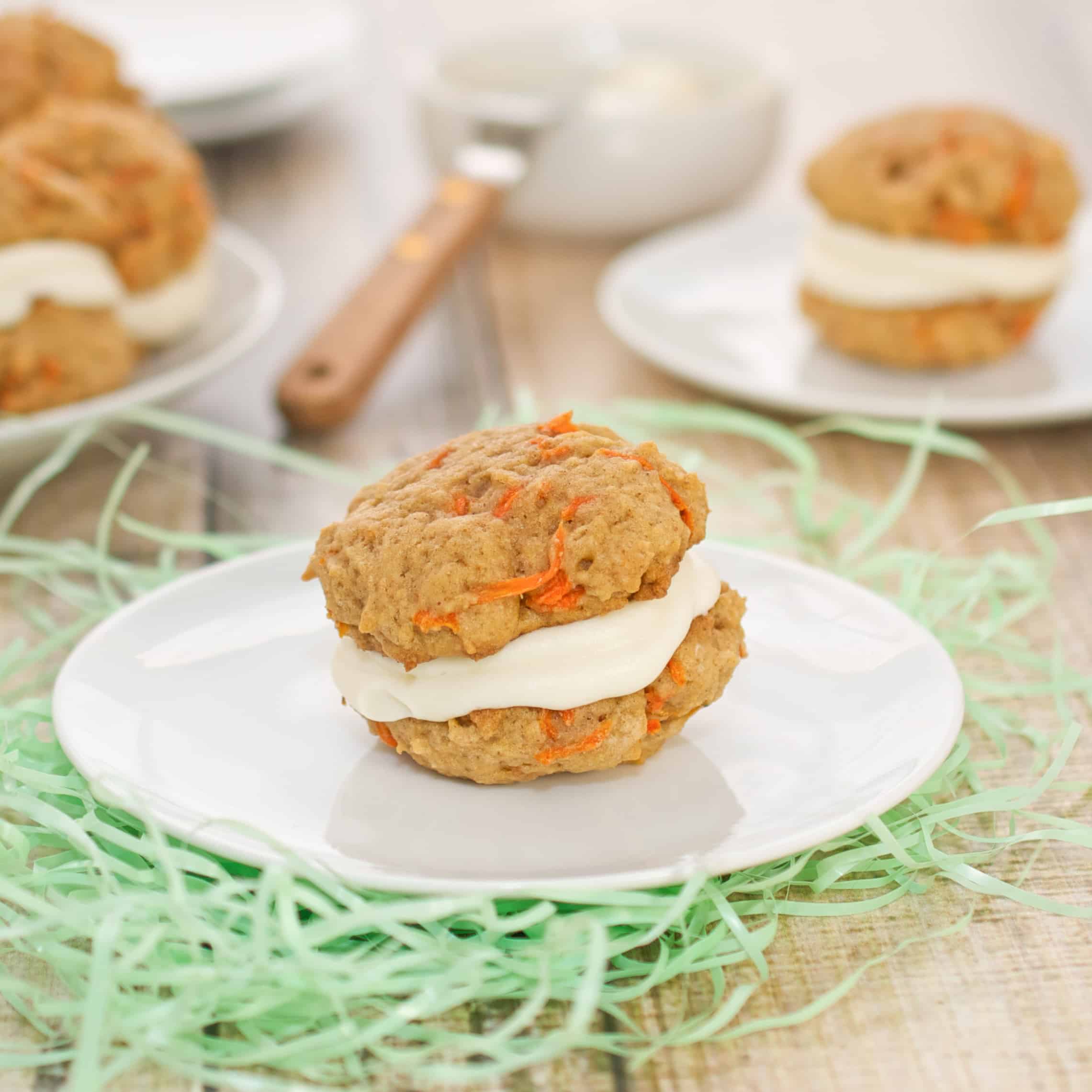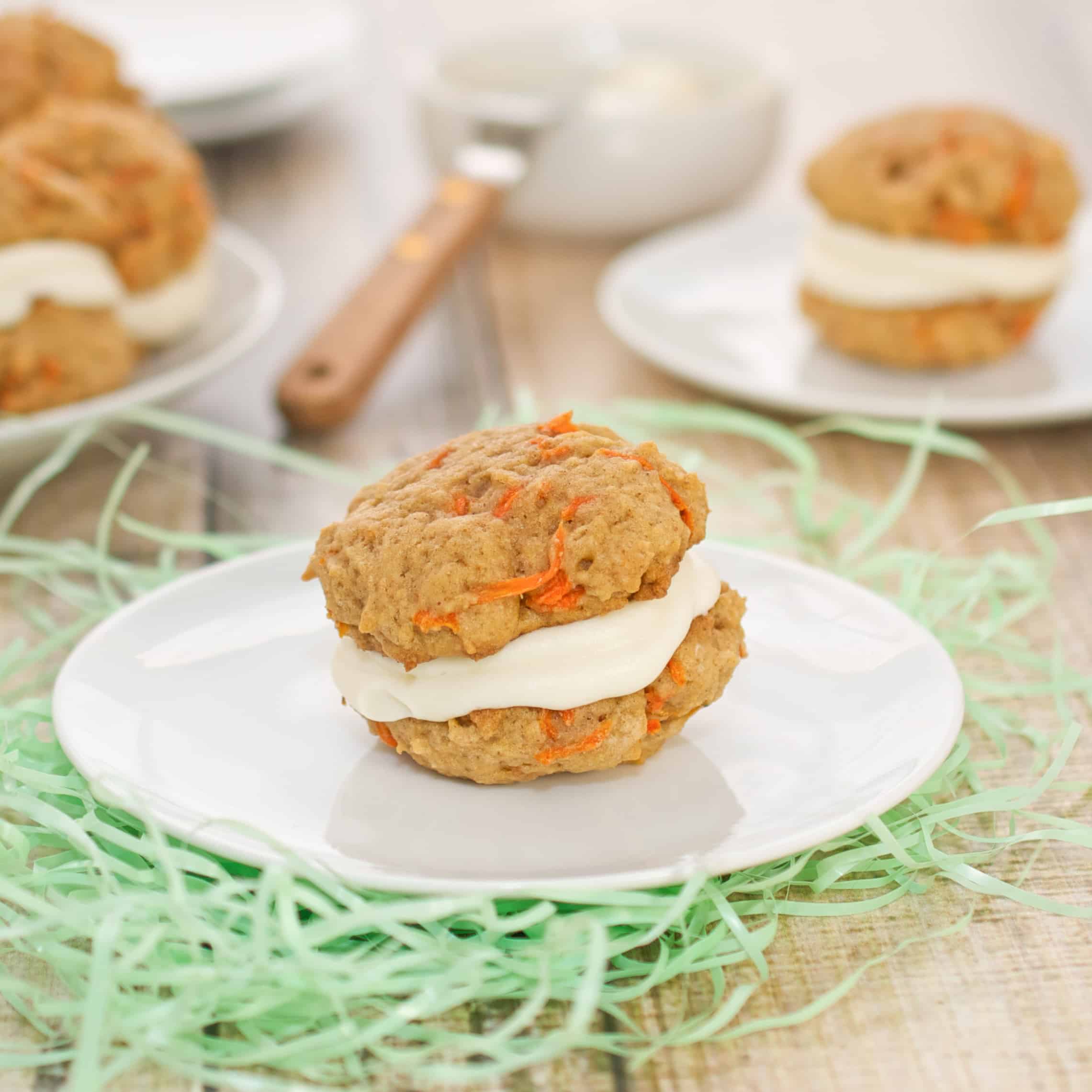 Carrot Cake Whoopie Pies
Prep Time:
1 hour
15 minutes
Total Time:
1 hour
25 minutes
Ingredients
For the Whoopie Pies:
2 cups all-purpose flour 1 teaspoon baking powder 1 1/2 teaspoons baking soda 1 teaspoon ground cinnamon pinch ground black pepper 1/2 teaspoon ground nutmeg 1 teaspoon ground cardamom 1 teaspoon ground ginger 1/8 teaspoon ground cloves 1/2 teaspoon salt 8 tablespoons (1/2 cup) unsalted butter, at room temperature 1/2 cup packed light brown sugar 1/2 cup granulated sugar 2 large eggs 1 teaspoon vanilla extract 1/2 pound medium carrots (3 to 4 carrots), peeled
For the Filling:
8 tablespoons (1 stick) unsalted butter, at room temperature 6 oz cream cheese, softened 2 cups confectioners' sugar, sifted 1/4 plus 1/8 teaspoon vanilla extract
Instructions
In a large bowl, whisk together flour, baking powder, baking soda, cinnamon, black pepper, nutmeg, cardamom, ginger, cloves, and salt in large bowl; set aside.
Using the large holes of box grater or in a food processor fitted with the shredding disk, shred carrots (you should have 1 1/2 cups); transfer carrots to bowl and set aside.
In the bowl of a stand mixer fitted with the paddle attachment, cream the butter and both sugars on medium speed until light and fluffy, about 4-5 minutes. Scrape down the sides of the bowl then add the eggs, one at a time, beating well after each addition. Mix in the vanilla. Add the dry ingredients and beat just until combined. Turn off mixer and stir in carrots and dry ingredients by hand until incorporated and no streaks of flour remain.
Transfer batter to the refrigerator and chill for at least 1 hour.
Position a rack in the center of the oven and preheat to 350°. Line two baking sheets with parchment paper.
Drop by tablespoons of batter onto the prepared baking sheets at least 2 inches apart.
Bake one sheet at a time for about 10 minutes each, or until the rounds spring back when pressed gently. Remove from the oven and let the cakes cool in the pan for 5 minutes before transferring them to a rack to cool completely.
To make the filling: In the bowl of a stand mixer fitted with the paddle attachment, beat together the butter, cream cheese and powdered sugar until light and fluffy, about 3-5 minutes. Add vanilla and beat until combined.
Using a knife or spoon, spread the filling onto the flat side of a cooled cake. Top with another cake, flat side down. Repeat with the remaining cakes and serve.
Notes
Leftovers should be stored in the refrigerator. For optimal results, allow to return to room temperature before serving.
Pin this recipe on Pinterest for later 🙂