This Red, White, and Blue Whoopie Pie Recipe is festive for all your events! These cake mix whoopie pies are made with cake-like cookies sandwiched with a smooth sweet cream cheese filling.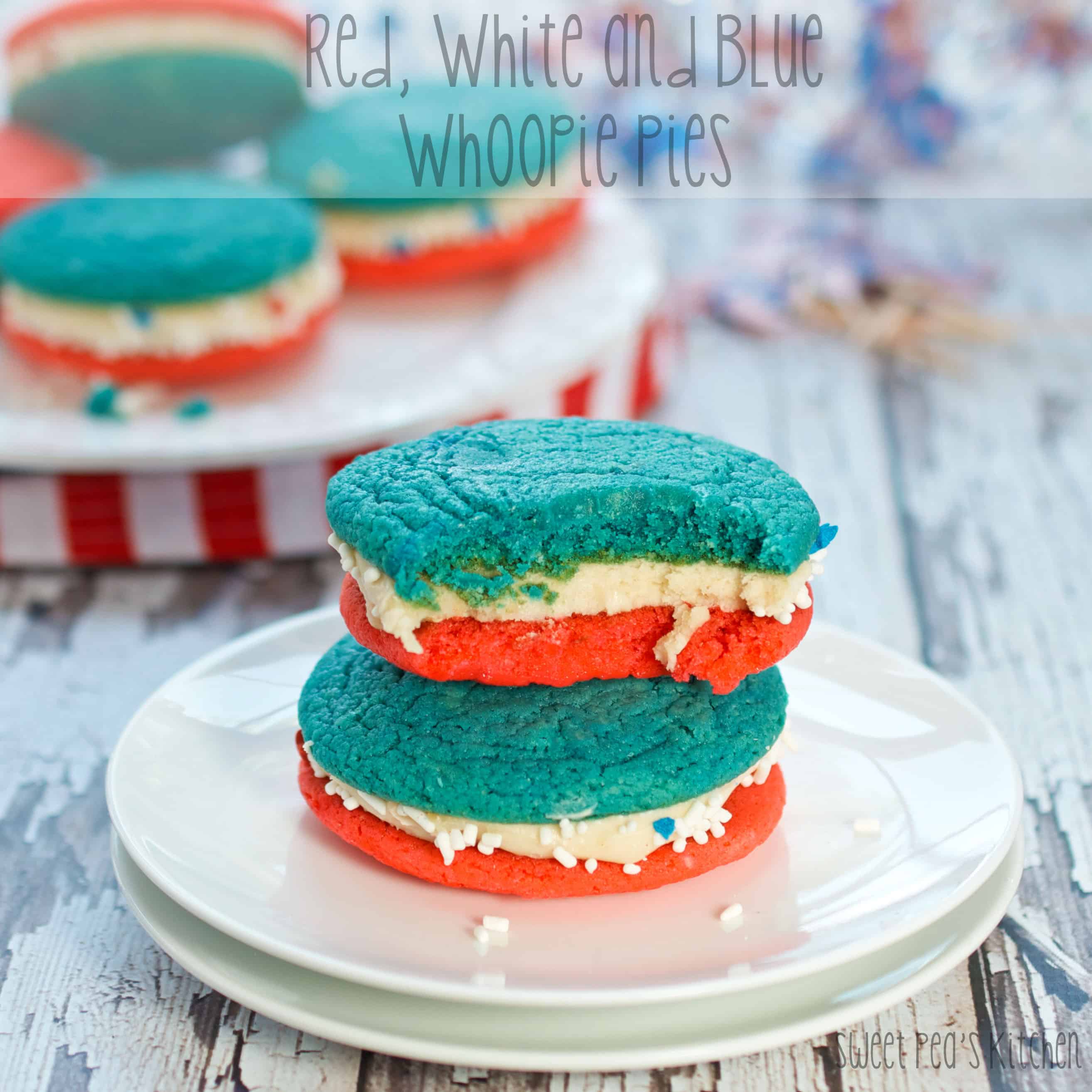 Scroll to bottom for printable recipe card.
Red, White and Blue Whoopie Pie Recipe
As soon as you taste these homemade whoopie pies, you will be ready for more. They are easy and look stunning too. Add them to your dessert menu for summer barbecues, potlucks, and even dinner parties. One thing is for sure; when you serve whoopie cookies, they will disappear as quickly as you set them out.
Whoopie Pie Recipe Ingredients
You only need 9 ingredients to make these homemade whoopie pies! You'll be amazed by how easy they are and the fact that they taste like a million bucks. It's hard to control yourself to eat just one! Take a look at the ingredients you will be needing to make these whoopie pie cookies:
For the Cookies:
Box white cake mix – I prefer a white cake mix, but you could use other flavors like yellow if you want!
Box of instant vanilla pudding mix – Adding some vanilla pudding to the cake mix makes it extra moist and flavorful.
Unsalted butter – Use butter that has been softened. It's best if you could set it out ahead of time, but you could also soften it in the microwave by heating it for 15 seconds at a time until it's soft but not melted.
Eggs – Use eggs that are at room temperature for the best results.
Red and blue food coloring – Food coloring is how you get the gorgeous patriotic hues you are looking for.
Red, white, and blue sprinkles – Go wild with sprinkles and use all sorts of fun and playful ones.
For the Filling:
Cream cheese – Use soft cream cheese, so it's easy to mix with the other ingredients. To soften cream cheese, set it on the counter or warm in the microwave for 15-20 seconds.
Powdered sugar – This is where you get all that yummy sweetness in the homemade frosting.
Vanilla extract – Add a little vanilla extract to enhance the flavor of the filling.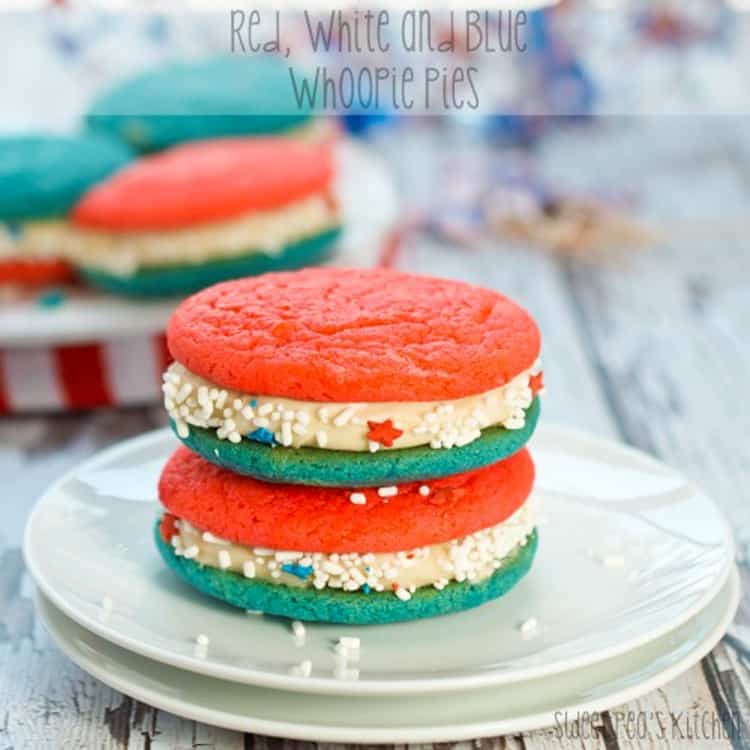 How To Make Whoopie Pies
When you first look at this whoopie pie recipe, you would think that they are tons and tons of work. Thankfully, that couldn't be further from the truth. Check out these simple steps so you can make them soon!
First Step: Put the oven rack in the center of the oven. Preheat it to 350 degrees F. and line two baking sheets with parchment paper to get started.
Second Step: Using a stand mixer with the paddle attachment, mix the cake mix and the vanilla pudding. Put the butter and eggs in the cake mixture and beat until combined.
NOTE: The batter will be really thick, this is normal.
Third Step: Divide the batter in half into two bowls. Add the blue food coloring to one bowl and mix. Put the red food coloring in the second bowl. Make sure there are no streaks, and the color is well mixed.
Fourth Step: Using a 1 tablespoon-sized cookie scoop, add the dough to the prepared cookie sheets. Make sure to keep the dough balls at least 2 inches apart to make room for spreading.
Fifth Step: Bake the cookies for 10 minutes or until the cookies spring back if you lightly touch them. It's important to only bake one pan at a time. Remove the baking sheet from the oven and let cool for 3 minutes. Transfer the cookies from the pan to a wire rack.
Sixth Step: Prepare the filling while the cookies are cooling. Use the paddle attachment in your stand mixture and beat together the powdered sugar and softened cream cheese. Pour in the vanilla and mix a little longer.
Seventh Step: Spread the filling on the flat side of the cooled cookies with a knife or spoon. Add another cookie piece and sprinkle the edges with sprinkles. Continue repeating this process until all the cookies are paired and have frosting. Refrigerate them until they are ready to serve.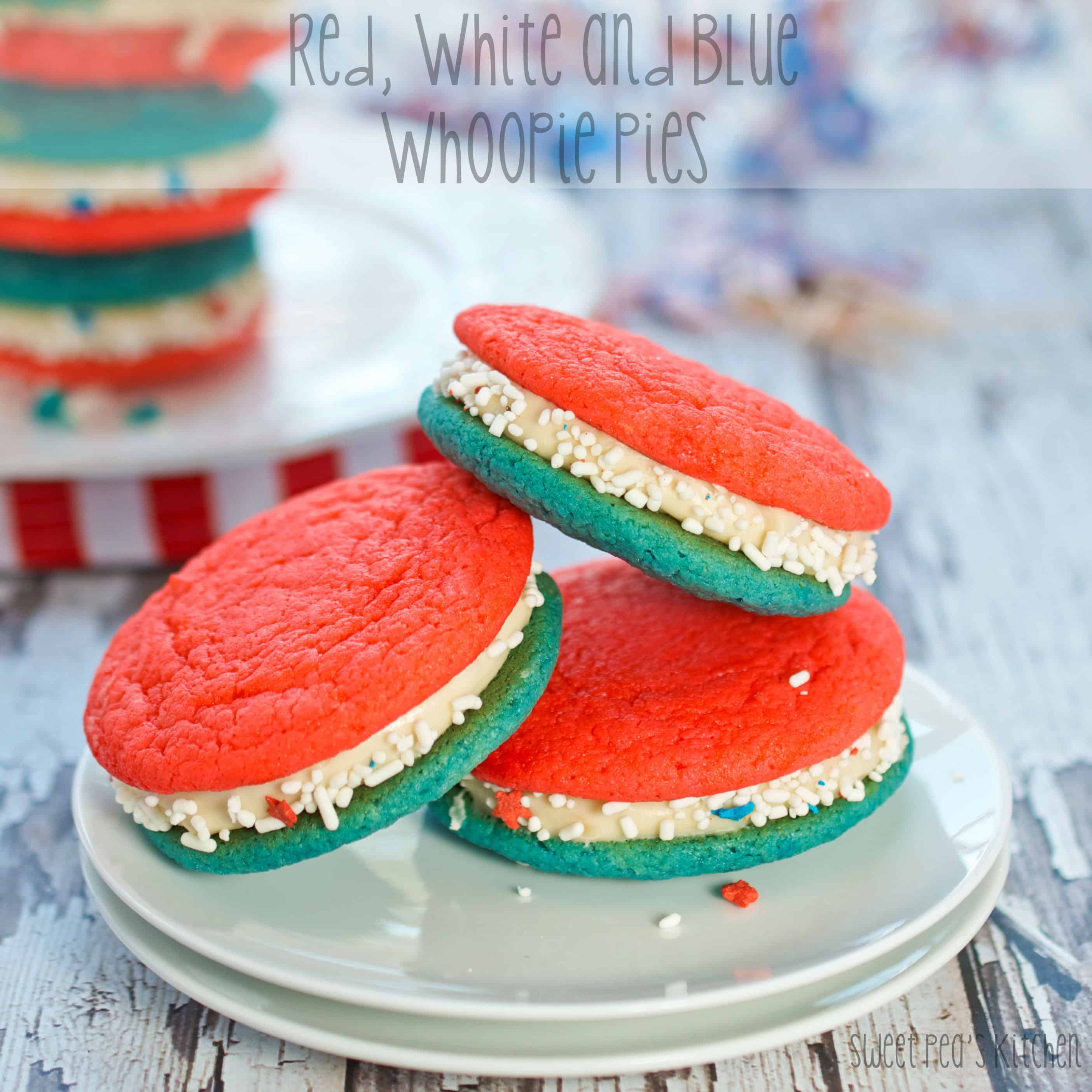 Why Are My Whoppie Cookies Hard?
If you ended up with hard whoopie cookies, it's most likely due to baking them too long. It's important to remove them as soon as you think they are done, and they will finish baking on the sheet once it's removed from the oven. Otherwise, they will end up hard and not a soft cake-like cookie.
Another reason why the homemade whoopie pies can get hard is that the batter gets overmixed. You don't need to mix it forever! Just long enough to get all the ingredients combined, and that's it. As you keep stirring, you add air bubbles to the mix, and as they bake, they pop, and it results in a dense cookie.
How Do You Store Cake Mix Whoopie Pies?
For best results, you should always store the homemade whoopie pies in the refrigerator. Due to the cream cheese frosting, it's not a good idea to let the whoopie cookies sit out longer than 2 hours at a time. You can remove them from the fridge so they can warm up a little right before serving.
The cake mix whoopie pies will last anywhere from 3-5 days in the fridge. It's important to keep them airtight and away from foods that have a strong odor.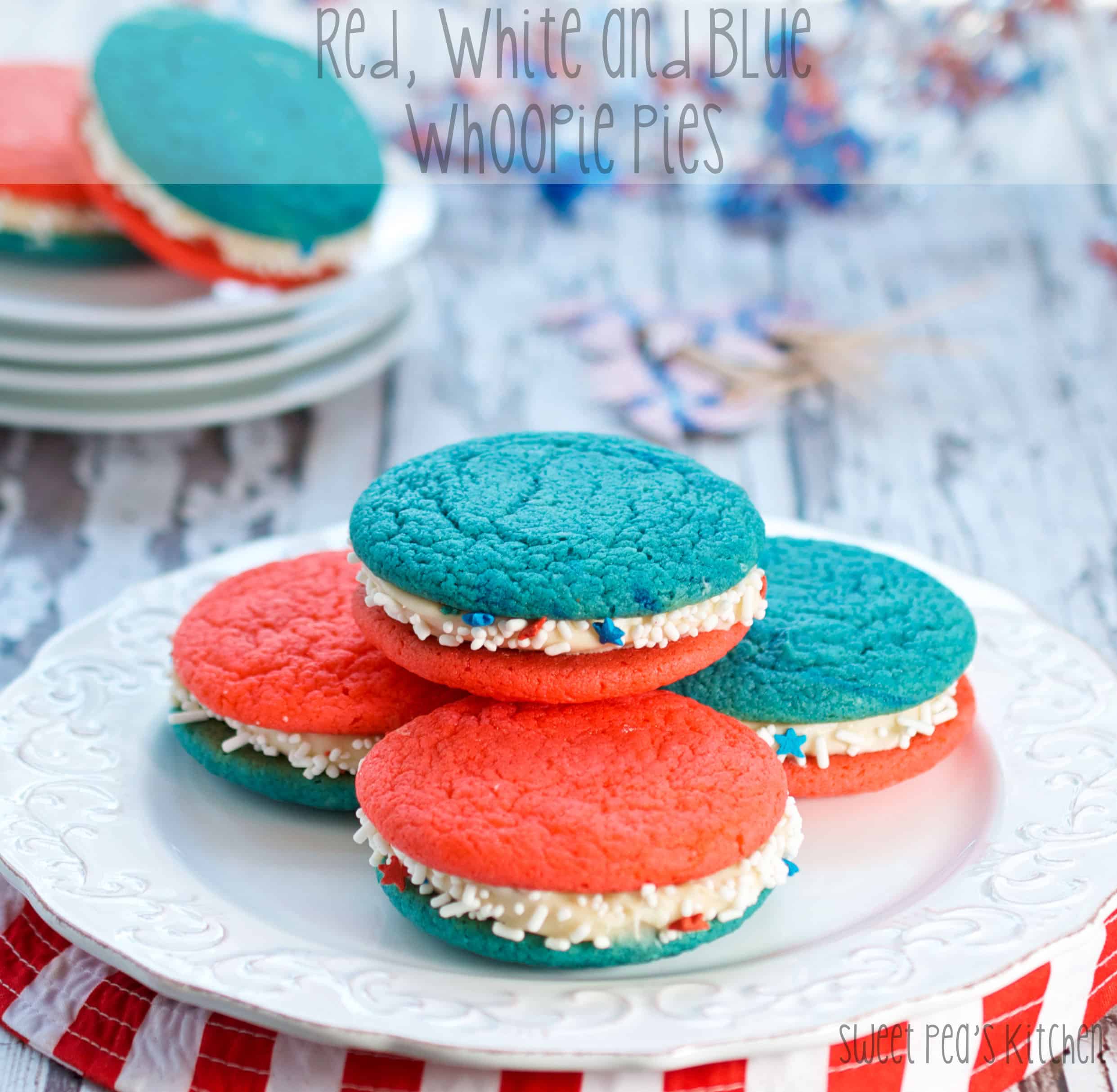 Can I Freeze This Red, White, And Blue Whoopie Pie Recipe?
Yes, you can freeze these whoopie pie cookies. Flash freeze them on a baking sheet for 2 hours, then place them in a freezer bag. They make great snacks and are easy to grab on the go. Defrost for a little bit before eating.
If you love desserts as much as I do, you're going to want to taste these yummy treats:
Now, remember to save this recipe on Pinterest for later 🙂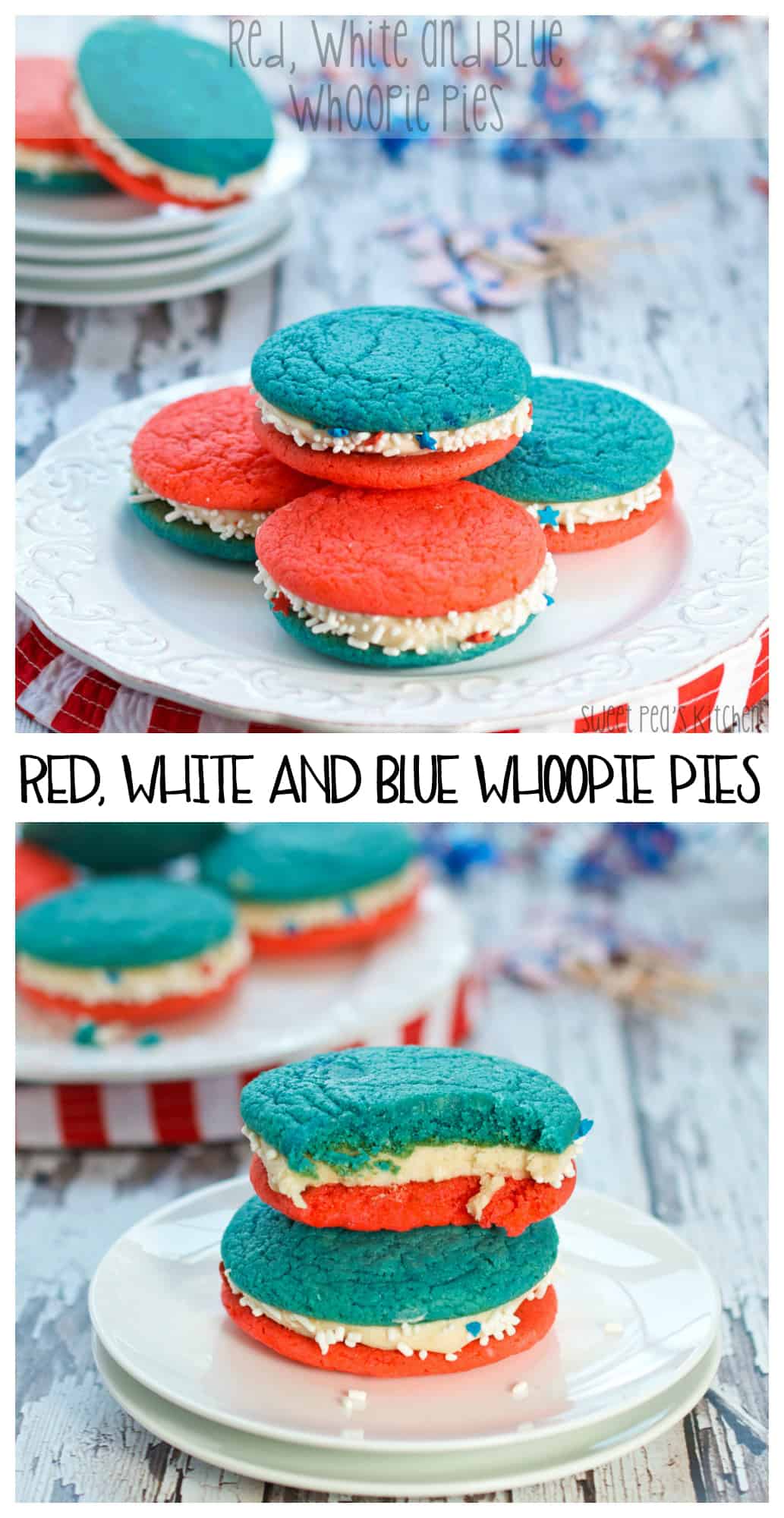 Pin this recipe now to remember it later
Red, White and Blue Whoopie Pies
This Red, White, and Blue Whoopie Pie Recipe is festive, flavorful, and EASY! 9 ingredients is all you need for these cake mix whoopie pies.
Ingredients
For the Cookies:
1

small

,

3.4 oz box instant vanilla pudding mix

8

tablespoons

1/2 cup unsalted butter, softened

2

large eggs

,

room temperature

Red and Blue food coloring

Red

,

white, and blue sprinkles
For the Filling:
8

ounces

cream cheese

,

softened

4

teaspoons

vanilla extract
Want to save this recipe? Enter your email below and we'll send the recipe straight to your inbox!
NOTE: By saving this recipe, you agree to join our weekly recipes newsletter.
Instructions
Position a rack in the center of the oven and preheat to 350°. Line two baking sheets with parchment paper.

In the bowl of a stand mixer fitted with the paddle attachment, combine cake mix and vanilla pudding. Add the butter and eggs; beat until combined. Dough will be thick.

Divide the batter in half. Color one half blue, and the other half red, mixing until one solid color with no streaks.

Drop by tablespoons of batter onto the prepared baking sheets at least 2 inches apart.

Bake one sheet at a time for about 10 minutes each, or until the rounds spring back when pressed gently. Remove from the oven and let the cakes cool in the baking sheet for 3 minutes before transferring them to a rack to cool completely.

To make the filling: In the bowl of a stand mixer fitted with the paddle attachment, beat together the cream cheese and powdered sugar until light and fluffy, about 3-5 minutes. Add vanilla and beat until combined.

Using a knife or spoon, spread the filling onto the flat side of a cooled cake. Top with another cake, flat side down. Sprinkle edges of the frosting with sprinkles. Repeat with remaining cookies. Store in an airtight container and keep refrigerated until ready to serve. Allow to return to room temperature before serving.
Follow me on Pinterest for daily delicious recipes!
I have a great feeling that you're going to be hooked on this poke cake! Take a look at some of my other delicious cake recipes for you to try:
Best Easy Red Velvet Poke Cake – I love the look and flavor of this stunning red velvet cake. It's always a hit!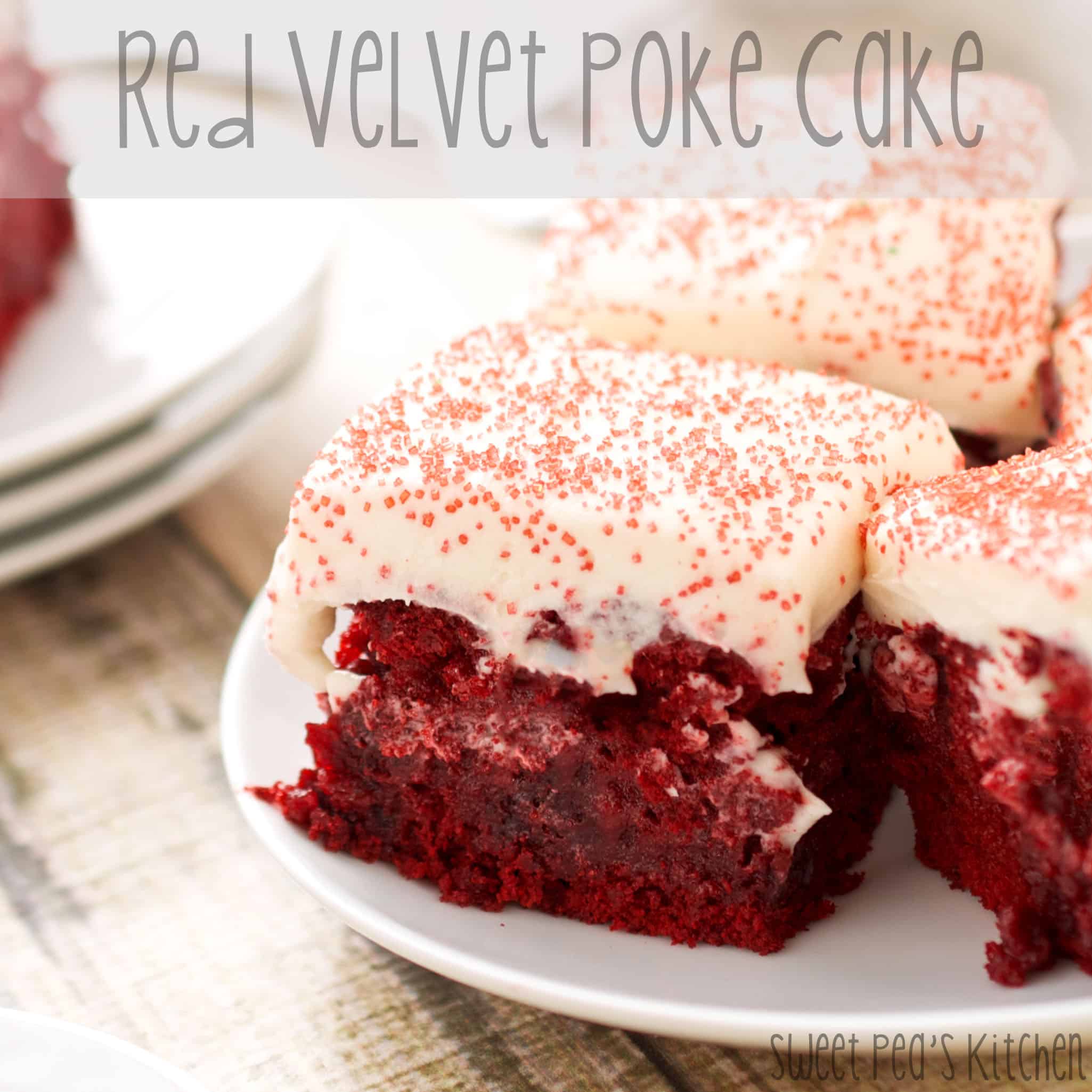 Caramel Cream Cheese Pumpkin Poke Cake – If you want a truly decadent dessert, this one should be at the top of your list. Mercy, it's good!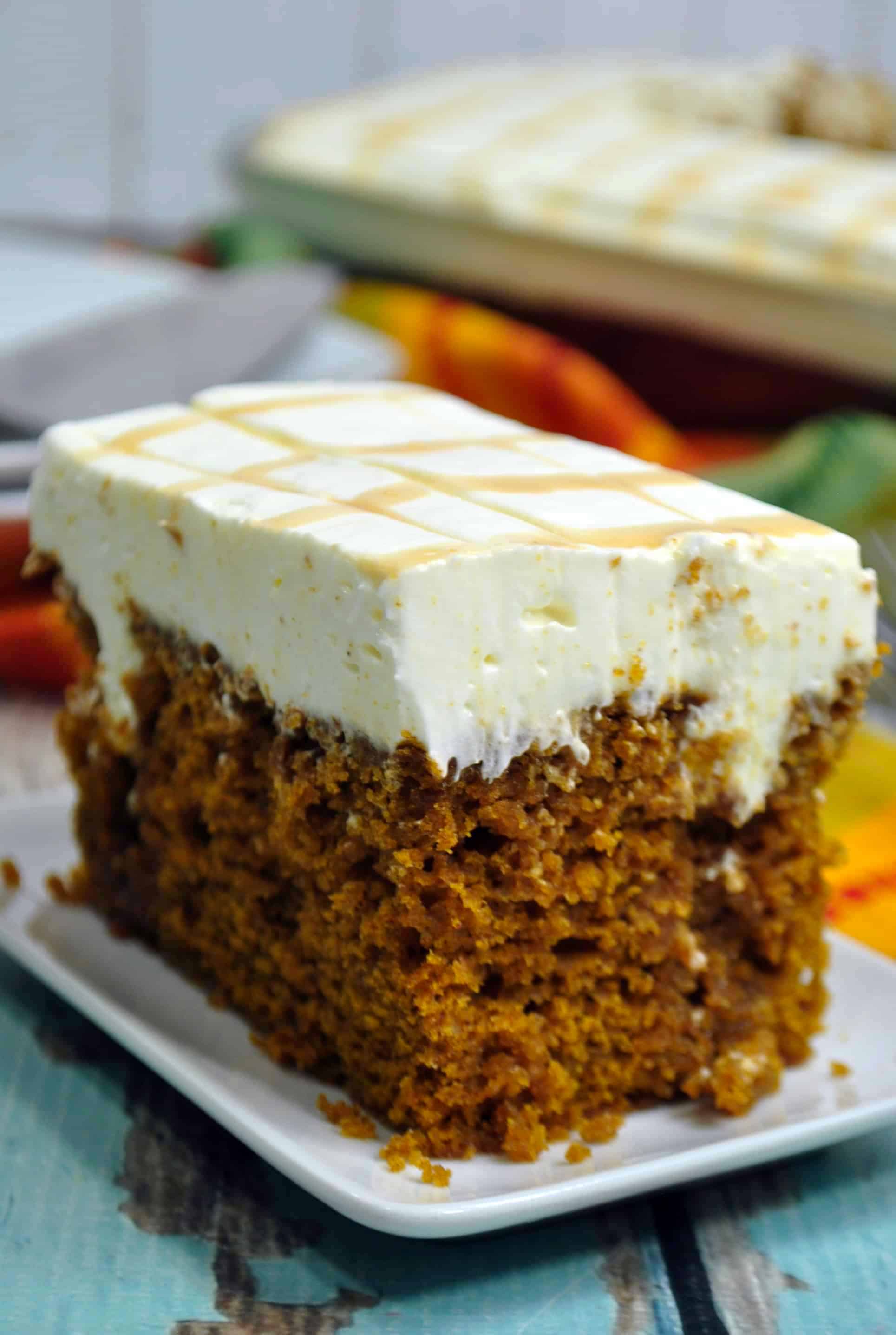 German Chocolate Layer Cake With Coconut Pecan Frosting – Make this for your next potluck and watch it disappear before your eyes!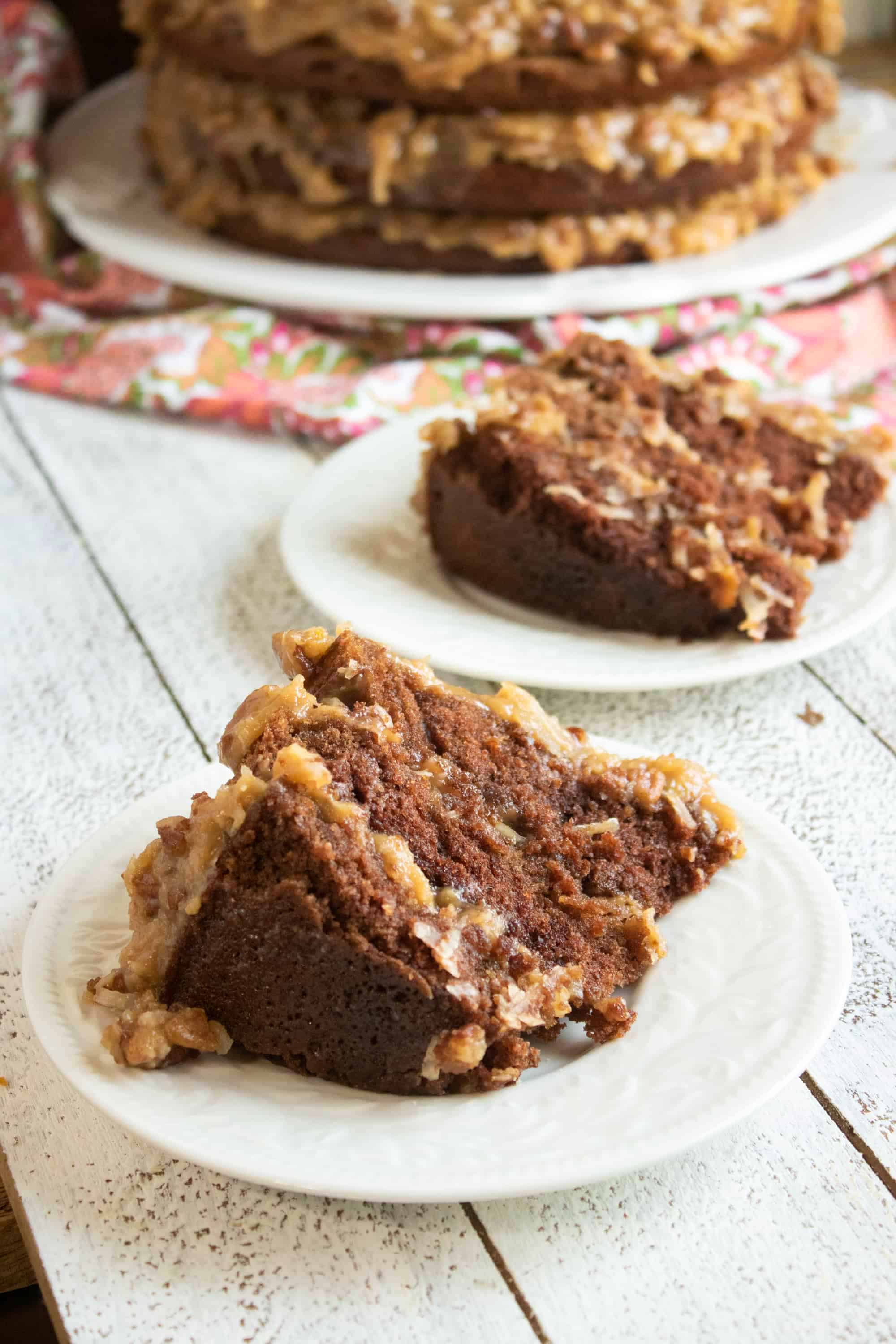 Three Layer Apple Spice Cake Recipe – There is nothing more delicious than a cake with lots of spice. This one is a reader favorite too.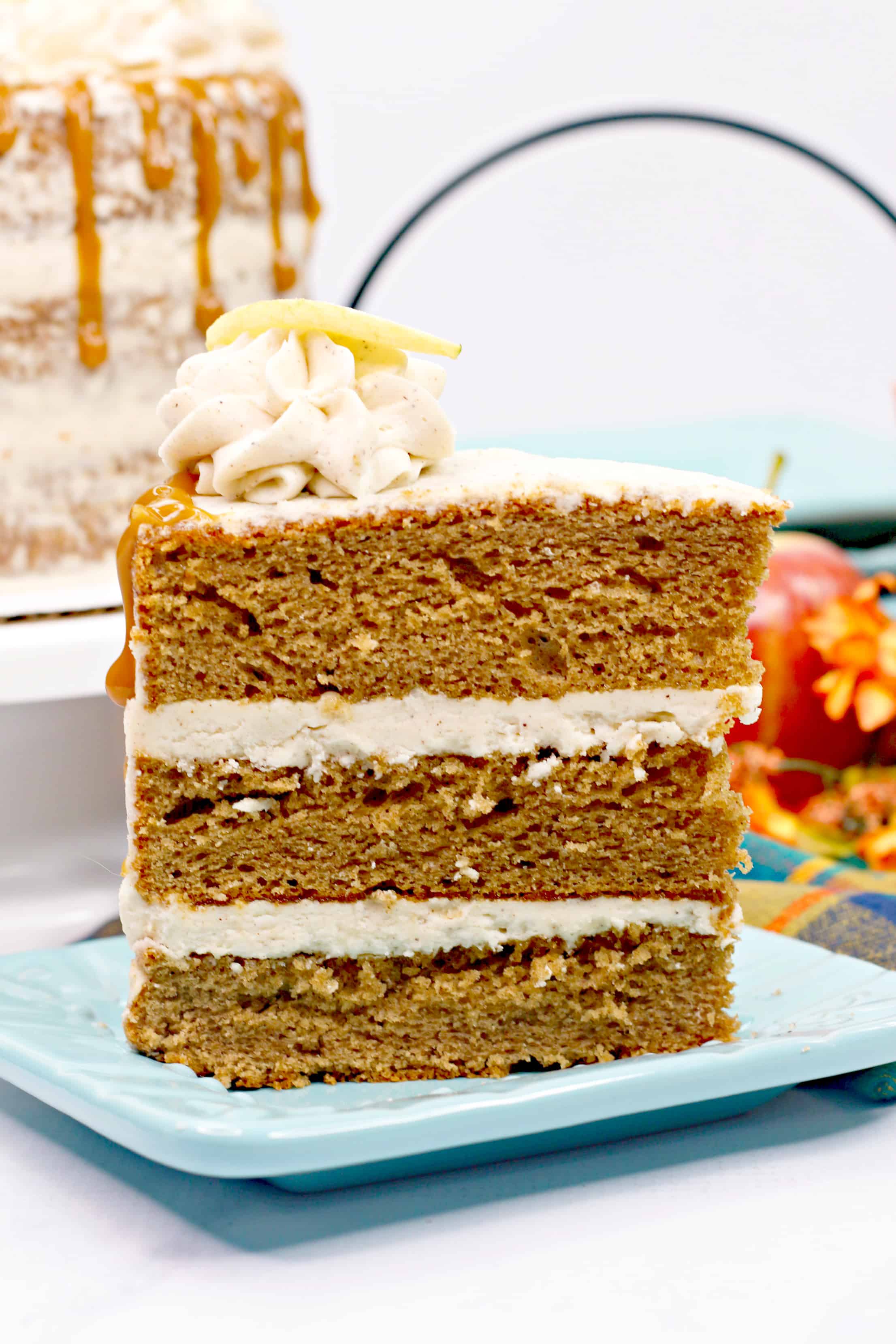 Get new recipes weekly plus our FREE ebook!