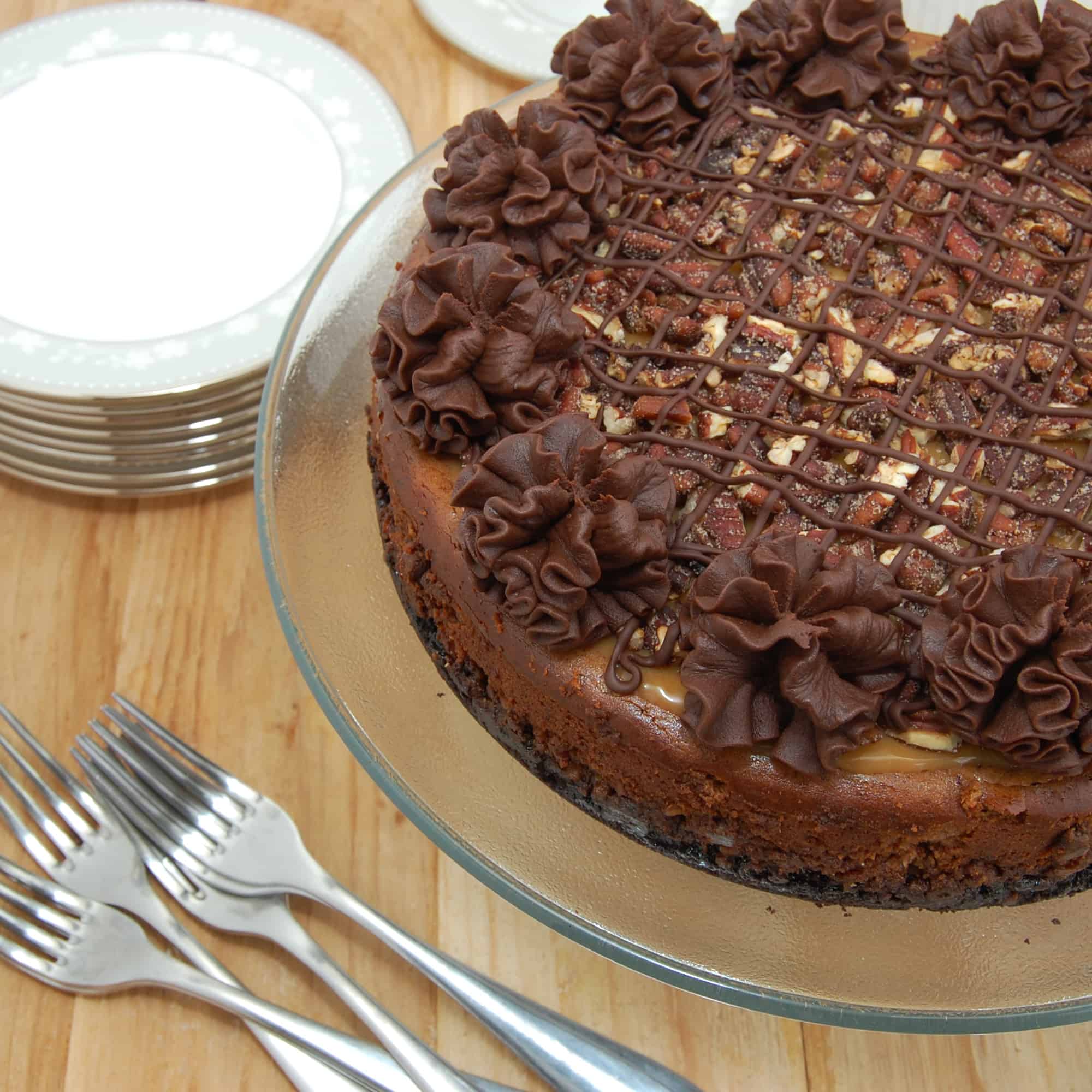 This cheesecake is inspired by those delicious Turtle candies you see around the holiday season.
This time of year I always start to crave those turtle candies. Every Christmas growing up I could count on a box of turtles being hidden in my stocking. I would tear into the box devouring a few before I would even get to the gifts. This cheesecake is the ideal dessert for anyone who loves those turtle candies as much as I do.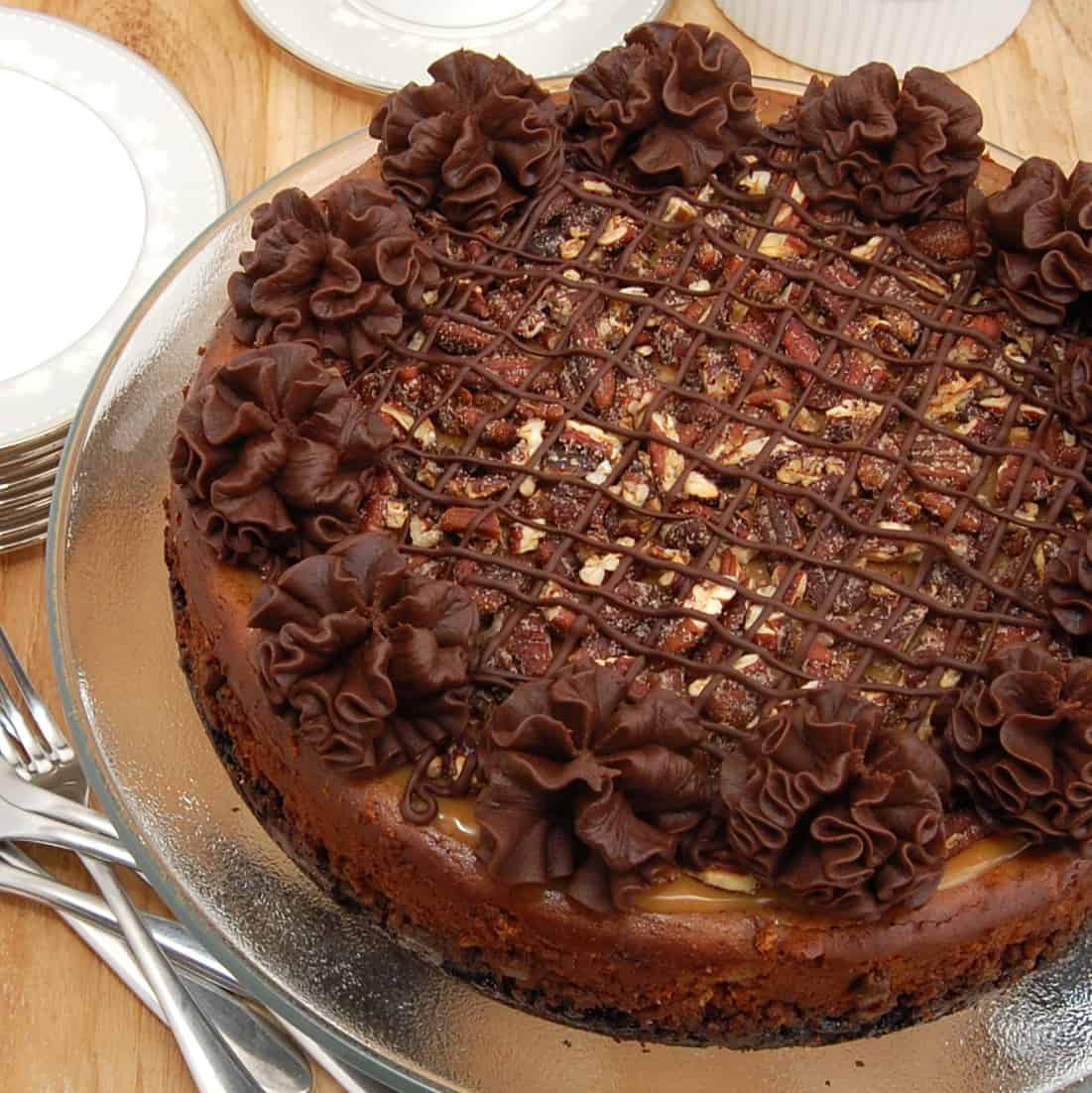 Rich chocolate cheesecake on top of an Oreo pecan caramel crust topped with carmel sauce, pecans, chocolate drizzle and chocolate frosting. A slice of this smooth, creamy and rich cheesecake is the perfect way to celebrate the holiday season.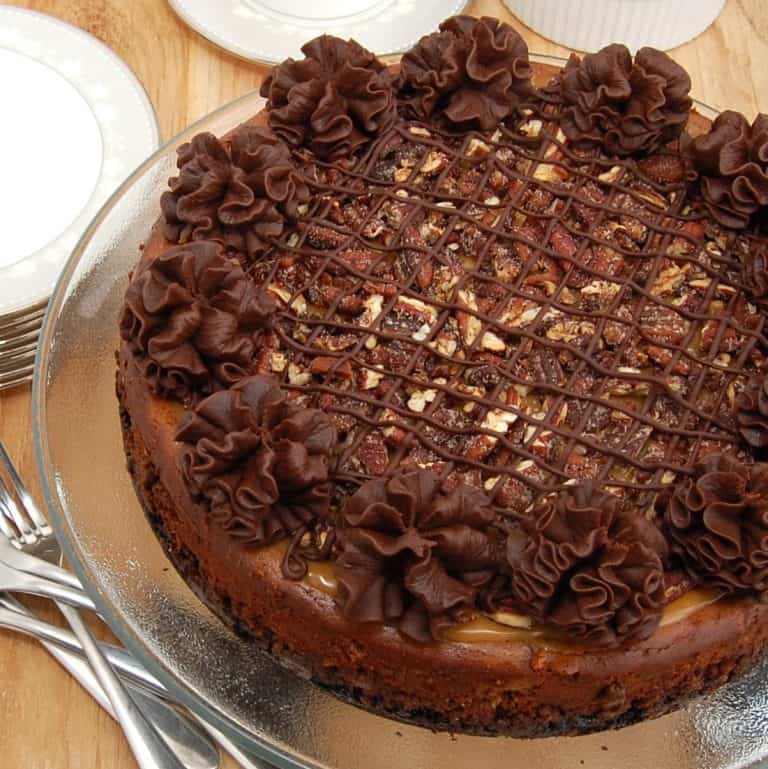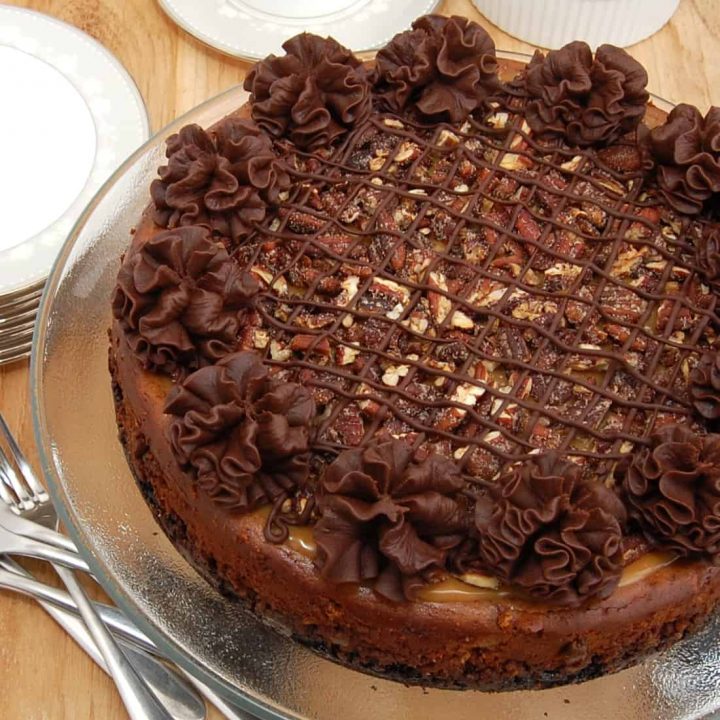 Chocolate Turtle Cheesecake
Total Time:
6 hours
50 minutes
Ingredients
For the Crust:
2 cups crushed Oreo cookies (about 24 cookies)
2 tablespoons unsalted butter, melted
1 (14 ounce) package individually wrapped caramels
1 (5 ounce) can evaporated milk
1 cup chopped pecans
For the Filing:
1/2 cup semisweet chocolate chips
2 (8 ounce) packages cream cheese, softened
1/2 cup white sugar
1 teaspoon vanilla extract
2 eggs
For the Chocolate Icing:
8 ounces bittersweet or semisweet chocolate, finely chopped
2 tablespoons light corn syrup
3 tablespoons unsalted butter
1 cup heavy cream
Instructions
Preheat oven to 350 degrees F.
In the bowl of a food processor fitted with the metal blade, process Oreos into fine crumbs. With the machine running, drizzle melted butter and process until combined and butter is evenly divided. Press into the bottom of a 9 inch spring-form pan.
In a heavy saucepan over low heat, melt the caramels with the evaporated milk. Heat and stir frequently until smooth. Set aside some caramel sauce for drizzling over the cooled cheesecake (about ⅓ cup). Pour remaining caramel sauce into crust, and top with pecans, pressing into the caramel. Put in refrigerator for 1/2 hour.
While the crust is in the chilling, make the filling. In a heatproof bowl, melt chocolate in microwave for 30-second bursts until smooth; set aside to cool slightly.
In the bowl of a stand mixer fitted with the paddle attachment, beat cream cheese, sugar and vanilla until smooth. Add eggs one at a time, mixing well after each addition. With the mixer on low, pour in the melted chocolate, beating until combined. Pour the chocolate batter over the oreo/pecan crust.
Bake in preheated oven for 40 to 50 minutes, or until filling is set. Loosen cake from the edges of pan, but do not remove rim until cooled to prevent the top from cracking. Chill in refrigerator for at least 4 hours, or overnight. Pour reserved caramel sauce over the cheesecake, top with pecans, and drizzle with melted chocolate.
To make the chocolate icing, place chopped chocolate, corn syrup and butter in a heatproof bowl; set aside.
In a small saucepan over high heat, heat the cream until it just begins to boil. Remove from heat and pour over the chocolate. Let stand one minute, then stir until smooth. Place in refrigerator until it is chilled enough to pipe. Transfer to a pastry bag fitted with a decorative tip and pipe frosting along the edge of cheesecake. Cut and serve.