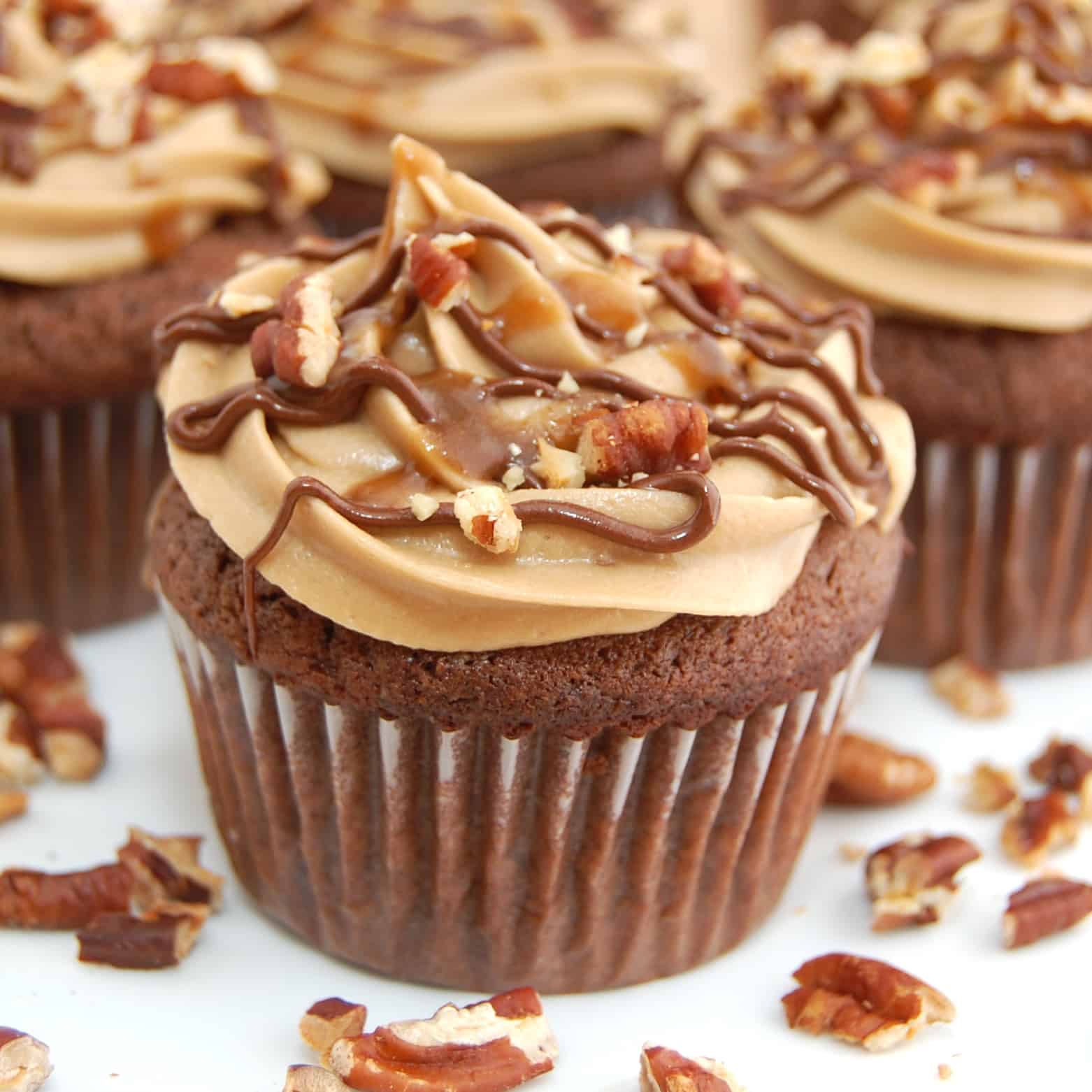 One of my all time favorite candies have to be Turtles. Those Nutty pecans and creamy caramel candies dipped in chocolate can't be beat.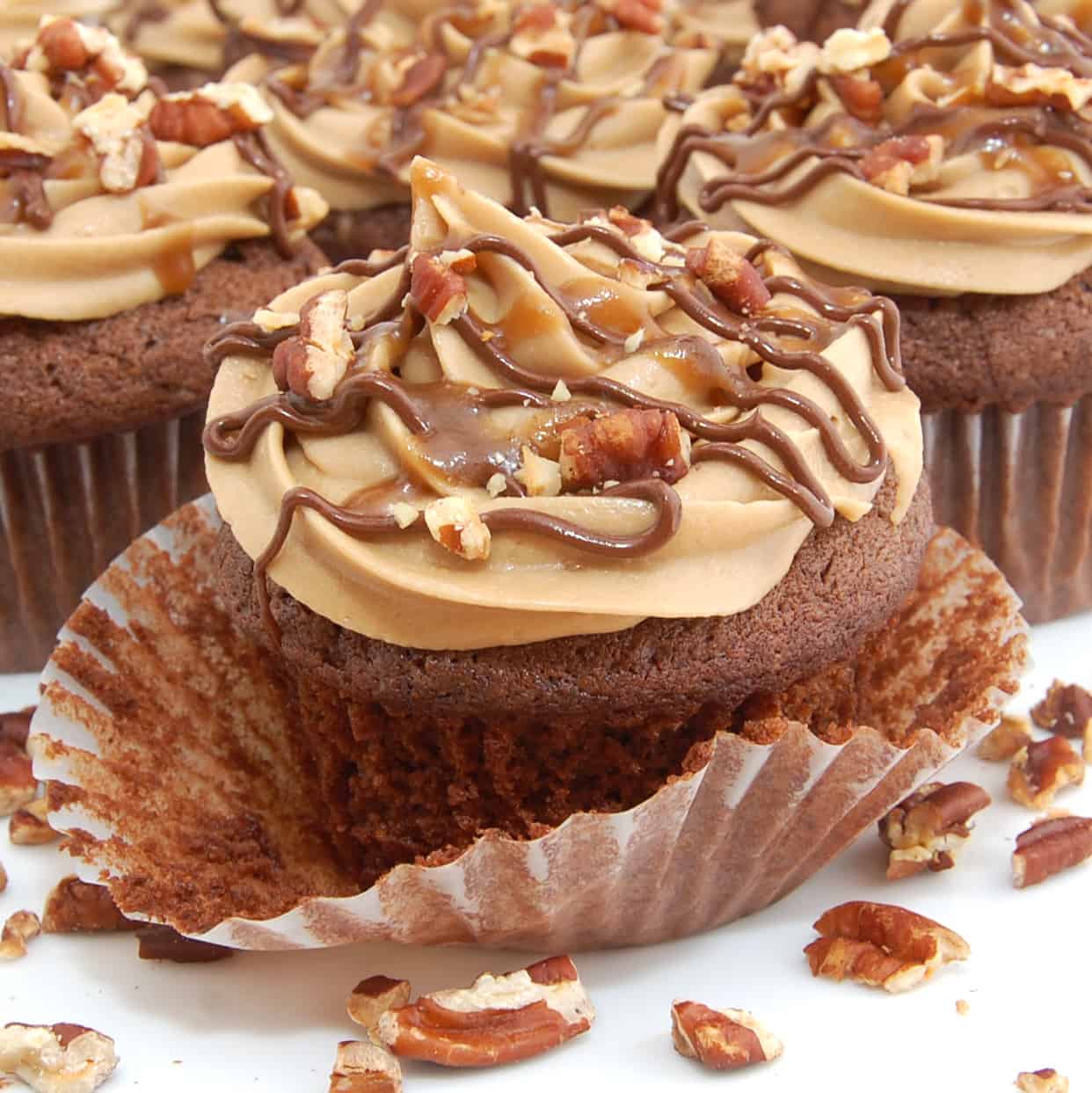 Growing up I could always count on a box of turtles being hidden in my Christmas stocking. It was torture knowing that the turtles were in the stocking but not being able to touch them until Christmas morning. When December 25th arrived I would race into our living room and devour a couple of candies before opening gifts. Who cares if it was only eight in the morning…I thought they were the perfect breakfast! 😀 These cupcakes are inspired by those delicious turtle candies.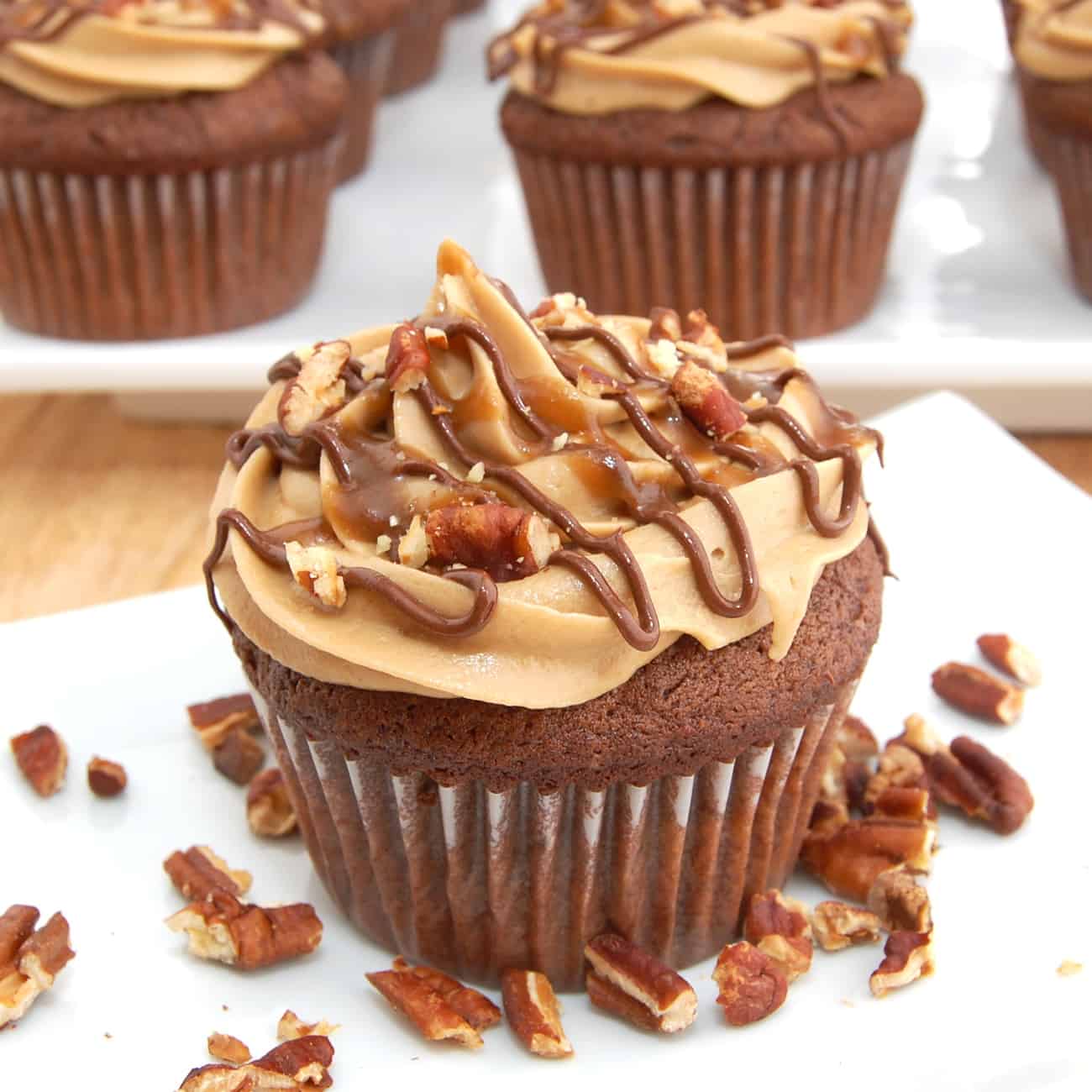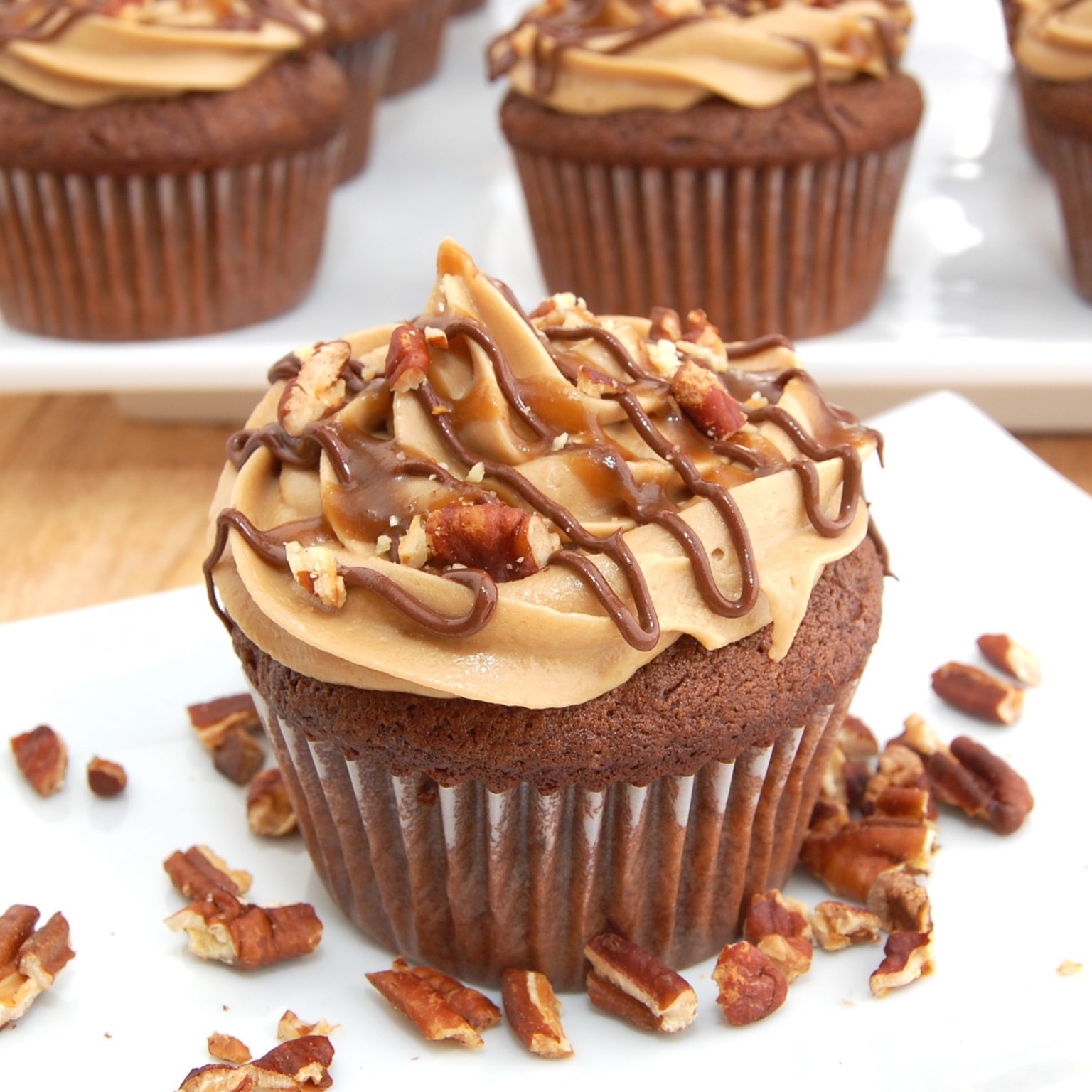 Rich chocolate cupcakes filled with a creamy caramel and pecan filling and topped with a caramel frosting, drizzled with caramel and chocolate and sprinkled with roasted pecans. If that doesn't get your mouthwatering…I don't know what will! 😉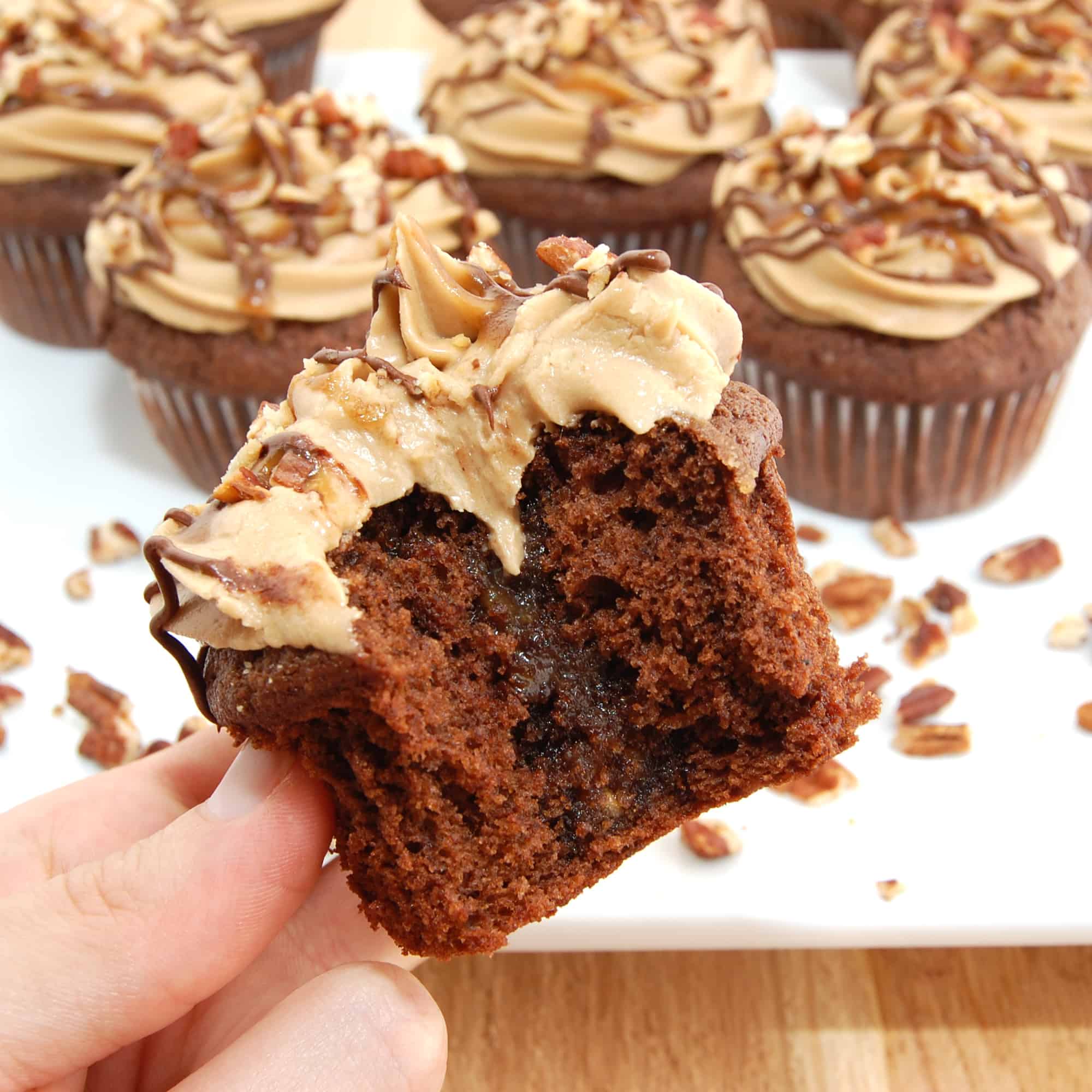 Steps: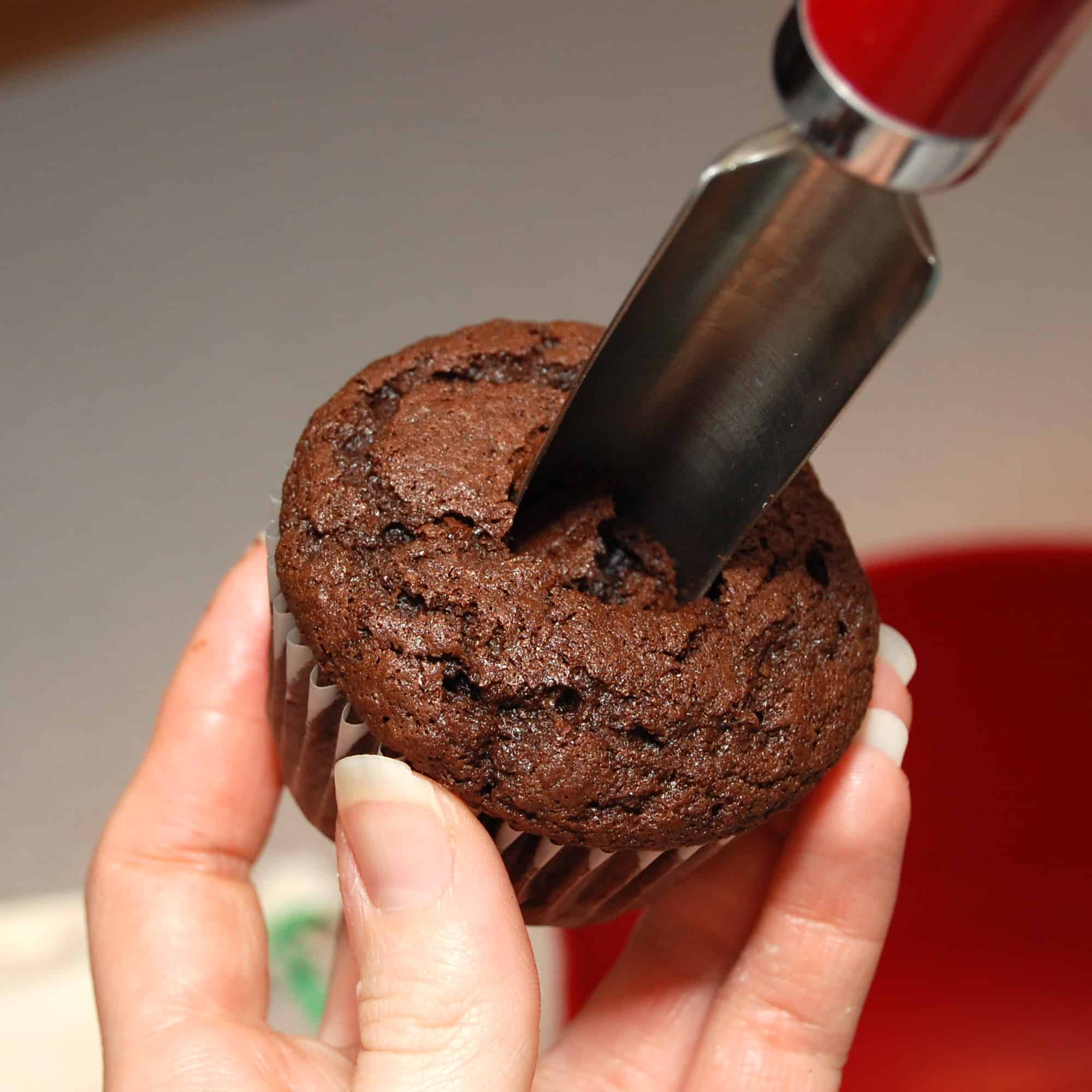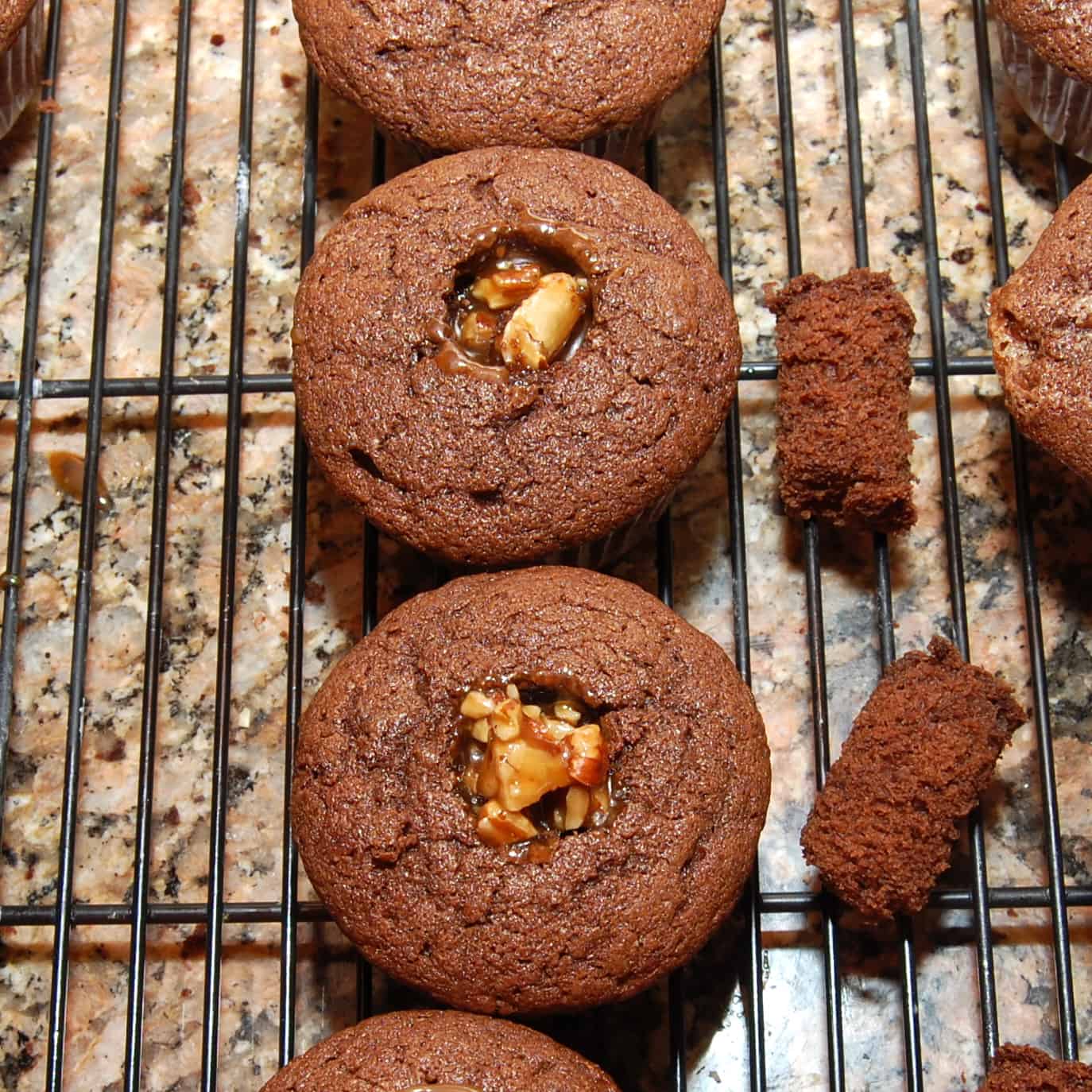 Pin this recipe now to remember it later
Chocolate Turtle Cupcakes
Ingredients
For the Cupcakes:
6

ounces

unsweetened chocolate

,

melted

1

cup

2 sticks unsalted butter, softened

1

cup

firmly packed light brown sugar

4

large eggs

,

at room temperature

1

teaspoon

vanilla extract
For the Caramel Filling:
3

cups

packed dark brown sugar

3

teaspoons

vanilla extract
For the Caramel Frosting:
4 ½ to 6

cups

powdered sugar

1/4

cup

milk chocolate chips
Want to save this recipe? Enter your email below and we'll send the recipe straight to your inbox!
NOTE: By saving this recipe, you agree to join our weekly recipes newsletter.
Instructions
To make the cupcakes, preheat the oven to 350˚ F. Line two muffin pans with paper liners.

Place chocolate in a medium heatproof bow. Set bowl over saucepan containing barely simmering water; heat mixture chocolate is melted and whisk until smooth. Set aside to cool slightly.

In a small bowl, sift together the flour and baking soda. Set aside.

In the bowl of a stand mixer fitted with the paddle attachment, cream together butter and sugars on medium-high speed until light and fluffy, about 3 minutes.

Add eggs one at a time, beating thoroughly after each addition. Add the chocolate, mixing until well incorporated.

Reduce the mixer to low speed and add the flour mixture in 3 batches, alternating with the buttermilk and vanilla, starting and ending with flour. Mix until just incorporated, do not over-beat.

Divide the batter evenly among muffin pan cups. Bake 20-25 minutes or until toothpick inserted into center of cupcakes comes out clean.Transfer cupcakes to a wire rack and allow to cool completely before filling with caramel.

To make the caramel sauce, melt the butter in a heavy-bottomed saucepan over medium heat. Stir in the salt and brown sugar and heat the mixture to boiling, stirring constantly. Cook over low heat for 2 minutes, until the sugar is totally dissolved. Stir in the milk and return to a boil, stirring constantly. Remove the pan from the heat and stir in vanilla. Cool to lukewarm, about 30-40 minutes, stirring occasionally.

Spread the 1 cup of pecans onto a baking sheet and place in preheated oven 5-7 minutes until fragrant. Shake the baking sheet halfway through baking so the nuts will toast evenly. Remove nuts from oven and set aside to cool completely.

Once cupcakes have cooled, use a paring knife or apple corer to cut out a small circle in the center of each cupcake. Remove the core and trim leaving the core just big enough to be used to plug the hole once it is filled.

To make the cupcake filling, in a medium bowl, combine 3/4 cup chopped pecans and 1/2 cup of the cooled caramel sauce and mix to coat. Drop a spoonful of the filling mixture into each cupcake.

Once the filling is in place, place the trimmed core of the cupcake back in place.

Reserve three tablespoons of caramel sauce for drizzling over frosted cupcakes.

To make the frosting, transfer remaining caramel sauce to the bowl of a stand mixer fitted with the paddle attachment. Add the powdered sugar and beat on medium-high speed until light and fluffy, about 3-4 minutes. Adjust consistency with a little more milk or powdered sugar, if necessary.

Heat chocolate chips in microwave for about 30 seconds or until drizzling consistency.

Transfer the frosting to a pastry bag fitted with a decorative tip. Pipe a spiral of icing, beginning at the outer edge and working inward. Drizzle the frosted cupcakes with the reserved three tablespoons of caramel sauce, melted chocolate and garnish with remaining 1/4 cup toasted pecans.
Follow me on Pinterest for daily delicious recipes!
Source: Cupcakes from Baker's Royale, originally from More From Magnolia. Caramel Filling and Frosting from Sugar Duchess, originally from KAF Baker's Companion.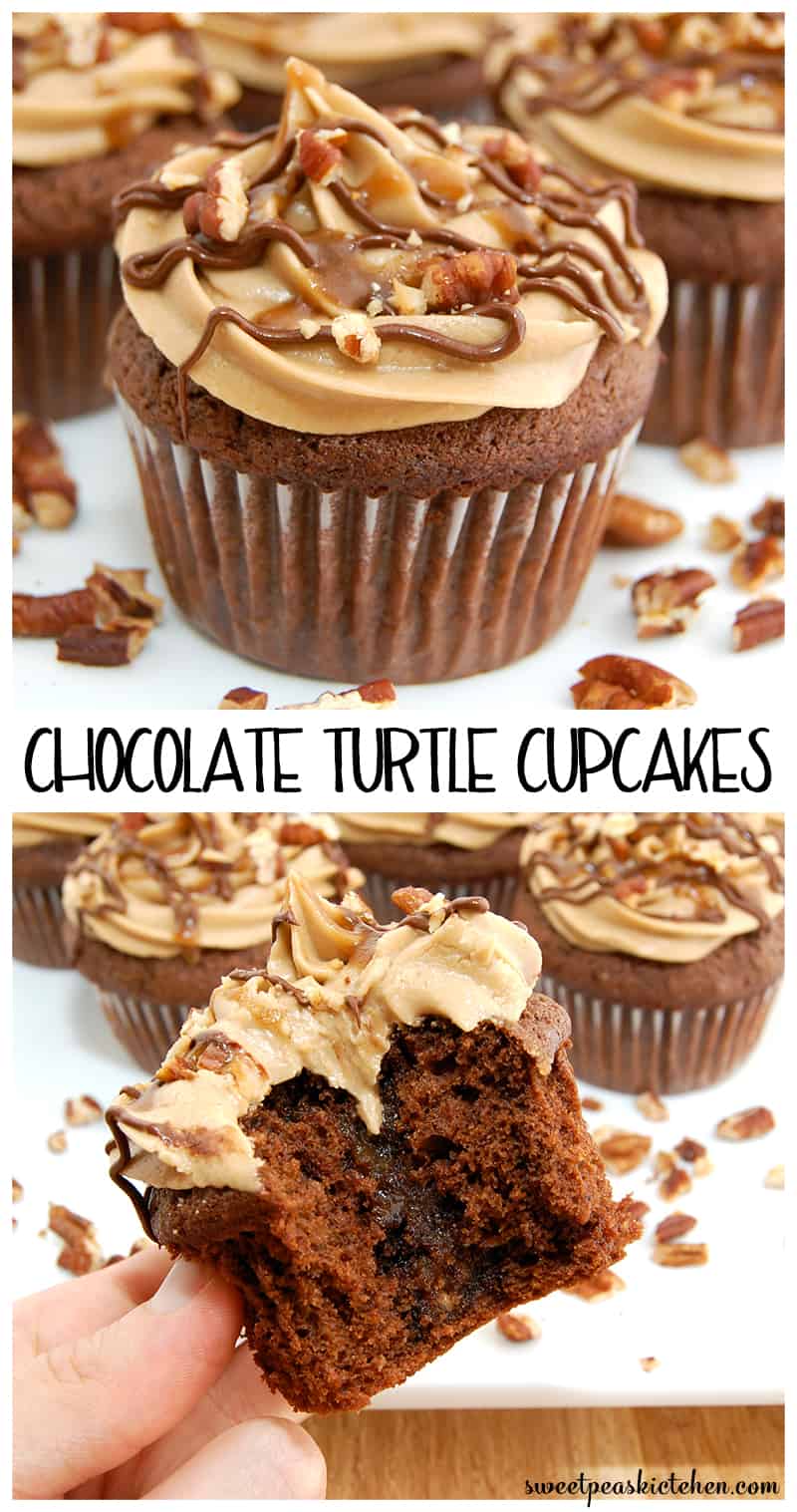 Get new recipes weekly plus our FREE ebook!