Moist and tender scones exploding with plump raisins and toasted oats, sprinkled with sugar and drizzled with a maple powdered sugar glaze. These scones are perfect with a hot cup of joe or tea on a chilly fall morning. You can freeze these unbaked scones and enjoy hot from the oven scones any day of the week. Just freeze on a baking sheet until firm, tightly wrap in plastic wrap and place in a ziploc freezer bag. When you are ready to bake just pop them into the oven straight from the freezer.
No need to thaw, just add a few more minutes to the baking time. It's the perfect time of year to enjoy these wholesome and delicious oatmeal scones, so what are you waiting for?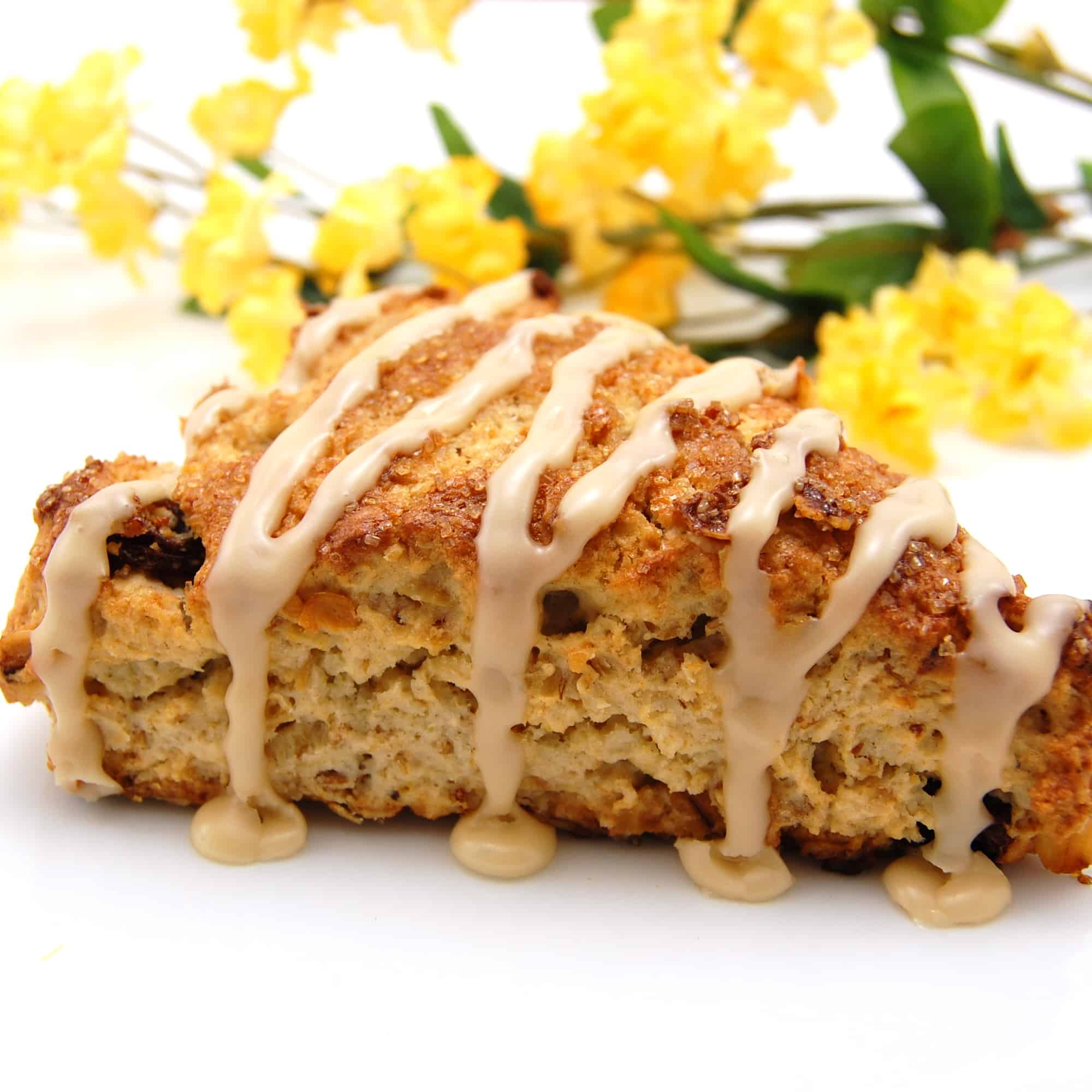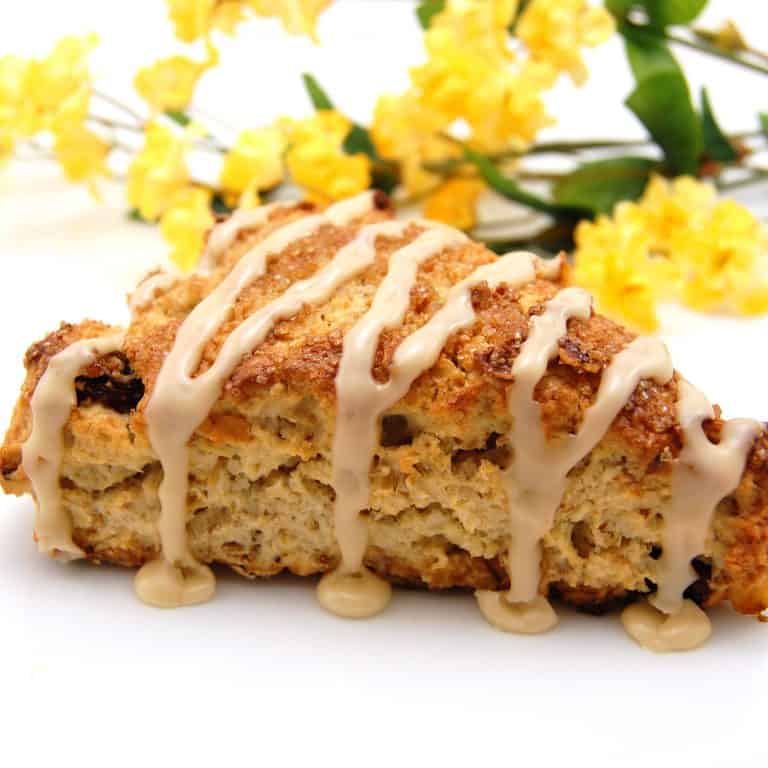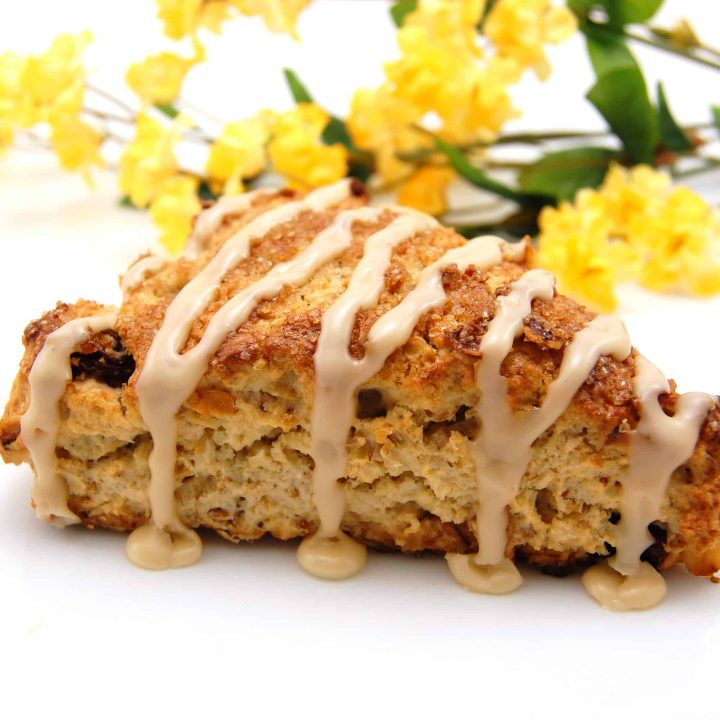 Cinnamon Raisin Oatmeal Scones
Ingredients
1 1/2 cups rolled old-fashioned rolled oats or quick oats
1/4 cup whole milk
1/4 cup heavy cream
1 large egg
1 1/2 cups unbleached all-purpose flour
1/3 cup sugar
2 teaspoons baking powder
1/2 teaspoon salt
1/2 teaspoon ground cinnamon
10 tablespoons (1 1/4 sticks) cold unsalted butter, cut into 1/4-inch cubes
1/2 cup raisins
1 tablespoon turbinado sugar
3 tablespoons maple syrup
1/2 cup confectioners' sugar

Instructions
Preheat oven to 375 F. Spread oats evenly on a rimmed baking sheet and toast in the oven until lightly browned, about 7 to 9 minutes. Shake the pan occasionally to prevent oats from browning too much. Let cool on a wire rack; when the oats have cooled, measure out 2 tablespoons (for dusting the work surface) and set aside.
Increase the oven temperature to 450 F. Line a baking sheet with parchment paper. Whisk the milk, cream and egg together in a large measuring cup until incorporated. Remove 1 tablespoon to a small bowl and reserve for glazing.
In the bowl of a stand mixer fitted with fit the paddle attachment, stir together the flour, sugar, baking powder, salt and cinnamon. Add the butter and toss with a fork to coat with the flour mixture. Mix on medium-low speed until the texture resembles coarse cornmeal, with the butter pieces no larger than small peas. Add the cooled oats and raisins and stir until combined.Fold in the milk mixture with a rubber spatula until the dough begins to form. Use your hands to gently knead the mixture until the bowl forms a cohesive mass.
Dust the counter with half of the reserved oats, turn the dough out onto the work surface and dust the top with the remaining oats. Pat the dough into a 7-inch circle, about 1-inch thick. Cut the dough into 8 evenly sized wedges and place on prepared baking sheet, about 2 inches apart.
Brush the scones with the reserved milk mixture and sprinkle lightly with turbinado sugar. Bake until golden brown, 12 to 14 minutes. Cool scones on the baking sheet on a wire rack for 5 minutes, then remove scones to a wire rack to cool completely.
While the scones are cooling, make the maple powdered sugar glaze by mixing the powdered sugar and maple syrup together until smooth. When scones are cool, drizzle over each scone and allow the icing to dry before serving (about an hour).