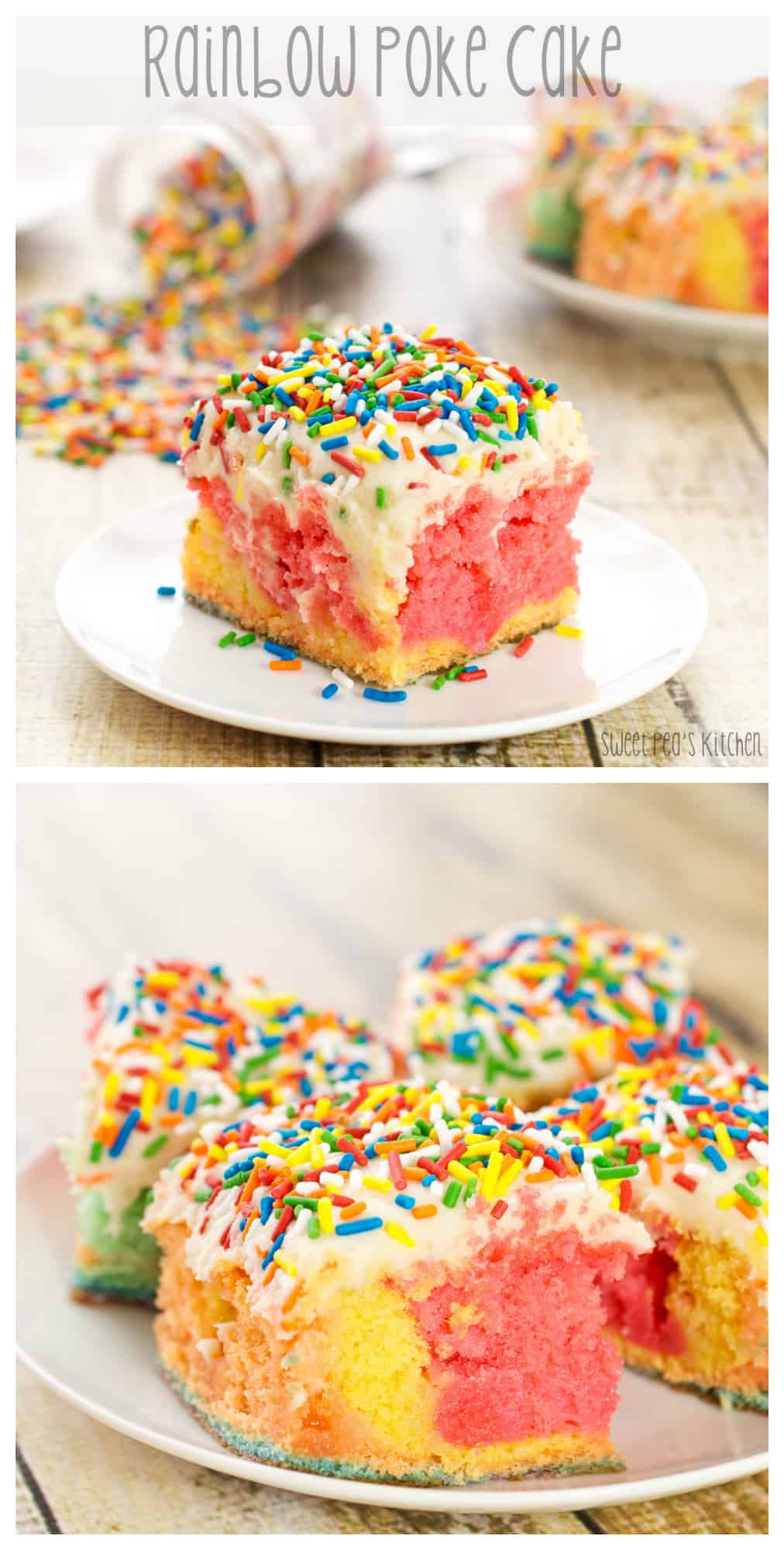 Why eat a boring cake when you can enjoy a piece of this gorgeous rainbow poke cake recipe? This easy poke cake is so moist and tastes fantastic. Plus, you can serve it for birthday parties, anniversaries, and other holidays depending on what you are celebrating! You can even customize this vanilla poke cake easily.
Scroll to bottom for printable recipe card.
Easy Rainbow Poke Cake Recipe
When you eat a piece of this vanilla poke cake, you'll be hooked immediately. As you already know, I love all sorts of cakes, but poke cakes are so much fun. It's impossible not to be smiling when you are eating this easy poke cake recipe.
What Is A Poke Cake?
A poke cake is a dessert that is made with baked cake and has had holes poked into it once it's done baking. After you poke the holes, you pour in some type of sweet filling. Some poke cakes use fruit that's been pureed, chocolate, caramel, or even pudding!
My vanilla poke cake has condensed milk as the filling, and it's truly divine. You'll have to try it for yourself to see, though!
Rainbow Poke Cake Ingredients
Most of the ingredients for this vanilla poke cake with rainbows you probably already have around your kitchen. Take a look at what you need to make the best poke cake recipe ever!
For the Cake
Cake flour – You will get the best texture and rise by using cake flour when making this poke cake recipe.
Whole milk – The milk should be at room temperature for this poke cake recipe.
Egg whites – Let the eggs rest at room temperature until they aren't so cold before using.
Almond extract – I can't get enough of the flavor of almond extract in cakes. It's just so delicious and adds so much character.
Vanilla extract – If you aren't a fan of almond extract, you can omit it and double the vanilla instead.
Granulated sugar – You'll get the right amount of sweetness in this poke cake.
Baking powder – Using baking powder will allow the cake to rise properly.
Salt – A little bit of salt is a great way to enhance the flavors in the cake.
Unsalted butter – The butter should be soft but not warm. You don't want to use hot or melted butter for this cake recipe.
Food Color Gel – Use any colors you want to make this cake. I love purple, blue, orange, red, green, and yellow, but anything would work.
For the Drizzle & Topping
Sweetened condensed milk – Adding the sweetened condensed milk takes this cake from ordinary to extraordinary!
Rainbow Sprinkles – Use your favorite sprinkles to add lots of playful and vibrant colors.
For the Frosting
Butter – For the frosting, the butter should be room temperature. You can microwave it if needed at 30-second intervals. Just don't melt it.
Cream cheese – Just like the butter, the cream cheese needs to be room temperature for the best results.
Powdered sugar – This frosting is perfectly sweet and flavorful and calls for the perfect amount of powdered sugar.
Vanilla extract – Add a touch of vanilla extract for some extra yumminess. If you are feeling daring, you could do half vanilla and half almond extract.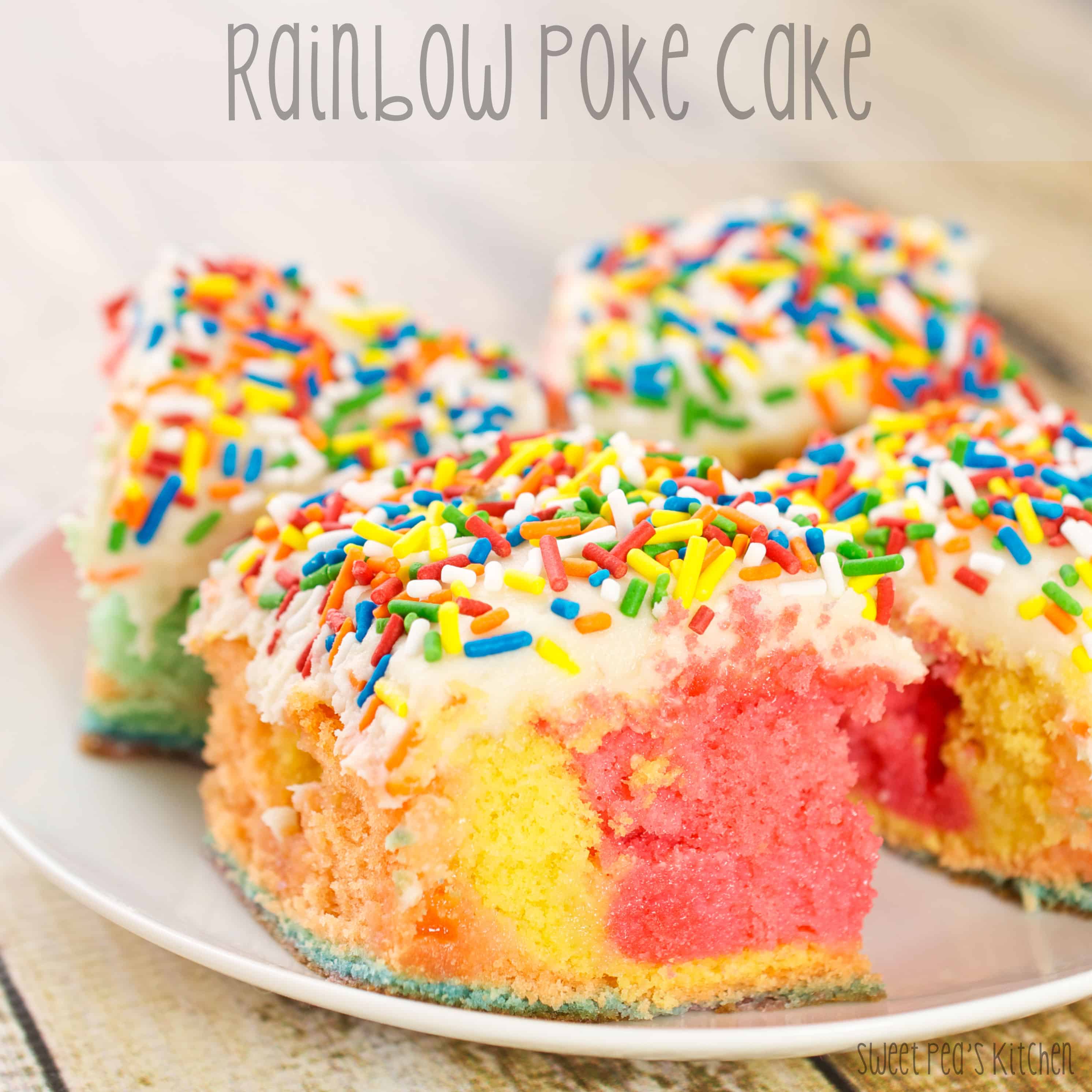 How To Make A Poke Cake
I know when you first look at this rainbow cake recipe, you may think that it's complicated, but it truly isn't. Trust me, even if it was hard to make, it would be worth it. Okay, time to get started with the good stuff:
First Step: After preheating the oven to 350 degrees F., get a 9×13 inch metal pan and butter the bottom and sides. Add a piece of parchment paper and let it overhang up the sides, so you can easily remove the rainbow cake from the pan. Grease the parchment paper with butter.
Second Step: Combine the milk, egg whites, vanilla extract, and almond extract with a fork until well blended.
Third Step: Using a stand mixer and the paddle attachment combine the cake flour, sugar, baking powder, and salt on low speed. Add the butter to the bowl and continue beating on low speed until it looks like moist crumbles, and there are no powdery streaks.
Fourth Step: Add the milk mixture except for 1/2 cup to the flour mixture. Beat for 1 1/2 minutes at medium speed. Pour in the rest of the milk mixture and beat for an additional 30 seconds. Scrape the bowl and beat for 20 more seconds.
Fifth Step: Put 1/2 cup batter into separate mixing bowls. You'll want about 6 bowls, so you have one for every color. Add food colorings to each bowl, red, orange, yellow, green, blue, and purple. Pour the colored batters into the prepared baking pan.
NOTE: Do not swirl the colored batters together, or it will end up brown. Just pour them in, and that's good.
Sixth Step: Bake the cake for 25-30 minutes. The center should not be jiggly, and you should be able to put in a toothpick and remove it without batter sticking to the toothpick.
Seventh Step: Take the colorful cake out of the oven and begin poking holes all over it. Use a wooden spoon, fork, or skewer for best results.
Eighth Step: Pour the sweetened condensed milk all over the top of the cake, so it gets in the holes. Let it rest and cool before adding the frosting.
Ninth Step: Put the cream cheese and butter in your stand mixer and beat until fluffy. It should take around three minutes. Pour in the powdered sugar and vanilla and continue beating until it's nice and fluffy.
Tenth Step: Add your favorite sprinkles on top of the cake and serve!
Do I Have To Use Cake Flour?
For best results, this rainbow sprinkle cake is best when you use cake flour. If you don't have cake flour, you can make your own by using 2 cups of all-purpose flour and 1/4 cup of cornstarch. The point of the cake flour is to make it raise and become extra fluffy and light. Just using plain all-purpose flour is great for many other recipes, but it won't turn out as well with this rainbow cake recipe.
How Do You Store This Poke Cake?
Due to the butter and cream cheese, this colorful cake needs to go in the refrigerator and be kept airtight. It will last from 5-7 days in the fridge. Never let the cake set out longer than 2 hours at a time, or it will start to spoil, and bacteria will start to grow even if you can't see it.
You'll know if the rainbow poke cake has started to go bad if it develops a strange odor. Plus, it may develop mold or become very watery or dried out. Don't eat it if you notice anything seems to be off.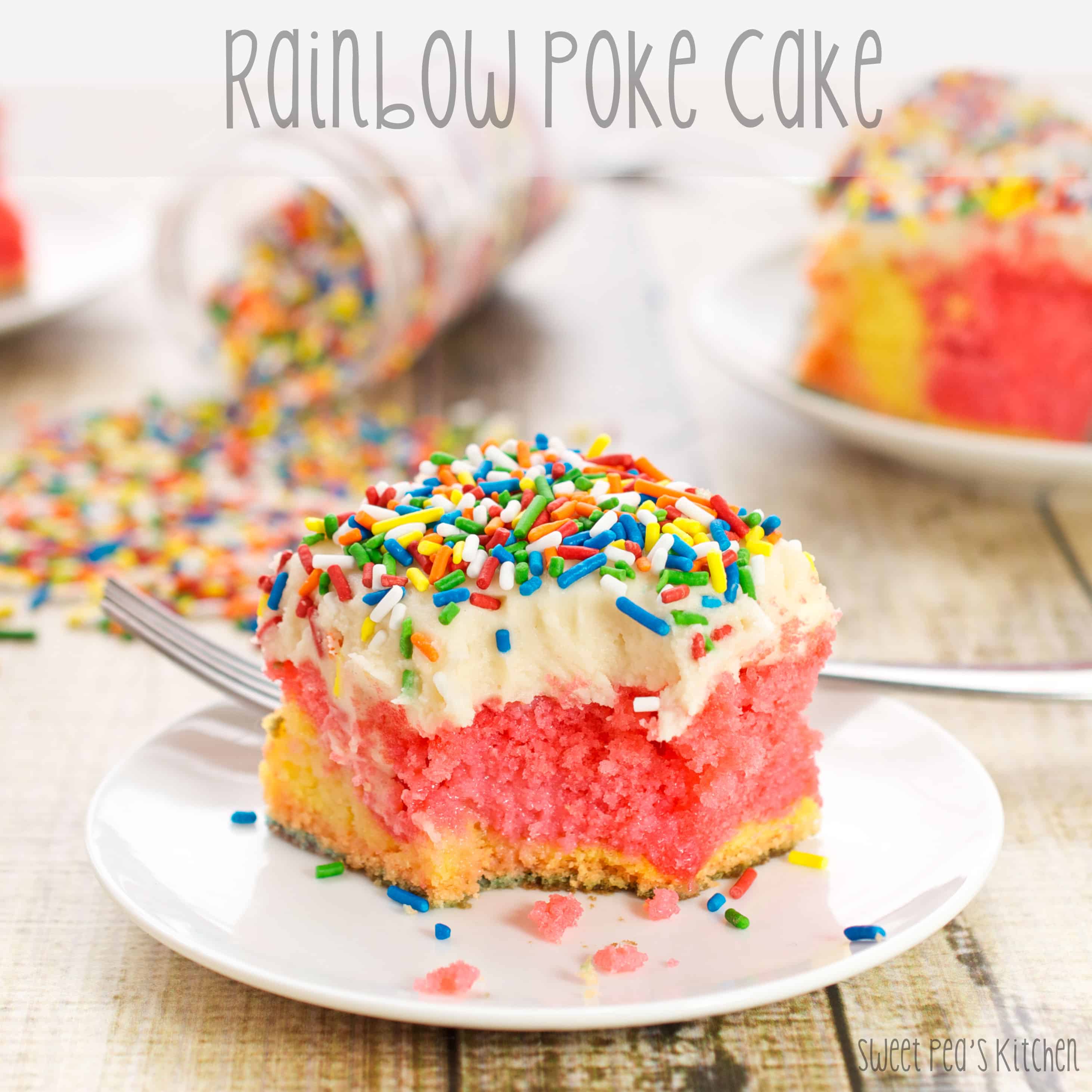 Now, remember to save this recipe on Pinterest for later 🙂

Pin this recipe now to remember it later
Easy Rainbow Poke Cake Recipe
This rainbow poke cake recipe is so EASY to make and looks gorgeous! This vanilla poke cake is great for parties too. It's the best poke cake recipe ever!
Ingredients
For the Cake:
1

cup

+ 2 tablespoons whole milk

,

at room temperature

6

large egg whites

,

3/4 cup, at room temperature

2

teaspoons

almond extract

1

teaspoons

vanilla extract

1 1/2

cups

+ 2 tablespoons granulated sugar

4

teaspoons

baking powder

12

tablespoons

unsalted butter

,

softened but still cool
For the Drizzle:
1

12-ounce can sweetened condensed milk
For the Frosting:
8

ounces

butter

,

at room temperature

8

ounces

cream cheese

,

at room temperature

4 1/4

cups

powdered sugar

2

tablespoons

vanilla extract
Want to save this recipe? Enter your email below and we'll send the recipe straight to your inbox!
NOTE: By saving this recipe, you agree to join our weekly recipes newsletter.
Instructions
Preheat oven to 350 degrees. Butter the bottom and sides of a 9x13 inch metal baking pan. Put a long piece of parchment paper in the bottom of the pan, letting the parchment extend up two sides of the pan and overhang slightly on both ends. (This will make it easy to remove the cake from the pan) Butter the parchment.

In a 2-cup glass measure, combine milk, egg whites, and extracts and mix with fork until blended. In the bowl of a stand mixer fitted with the paddle attachment, on low speed combine cake flour, sugar, baking powder, and salt. Add butter and continue beating at slow speed until mixture resembles moist crumbs, with no powdery streaks remaining.

Add all but 1/2 cup of milk mixture to crumbs and beat at medium speed for 1½ minutes. Add remaining 1/2 cup of milk mixture and beat 30 seconds more. Stop mixer and scrape sides of bowl. Return mixer to medium speed and beat 20 seconds longer.

Pour a scant 1/2 cup of the batter into six separate mixing bowls. Mix in food colorings (red, orange, yellow, green, blue, and purple). Pour each bowl of batter into the prepared pan (pour each one right into the center of the pan, one on top of the other). Don't swirl the batter. Bake 25 to 30 minutes or until toothpick inserted in the center comes out clean.

Remove the cake from the oven and immediately poke holes all over the top of the cake. You can use the end of a wooden spoon, a skewer, the tines of a fork, etc. Slowly pour the can of condensed milk all over the top of the cake, making sure to drizzle it evenly all over the top. Allow the cake to cool completely before frosting.

To make the Frosting: Place butter and cream cheese in the bowl of a stand mixer fitted with the paddle attachment. Beat until fluffy, about 3 minutes. Add powdered sugar and vanilla. Beat until light and fluffy, scraping the bowl as necessary.

Spread the frosting evenly over the top of the cake and sprinkle with rainbow sprinkles. Store leftovers in an airtight container in the refrigerator for up to 1 week.
Follow me on Pinterest for daily delicious recipes!
I have a great feeling that you're going to be hooked on this poke cake! Take a look at some of my other delicious cake recipes for you to try:
Best Easy Red Velvet Poke Cake – I love the look and flavor of this stunning red velvet cake. It's always a hit!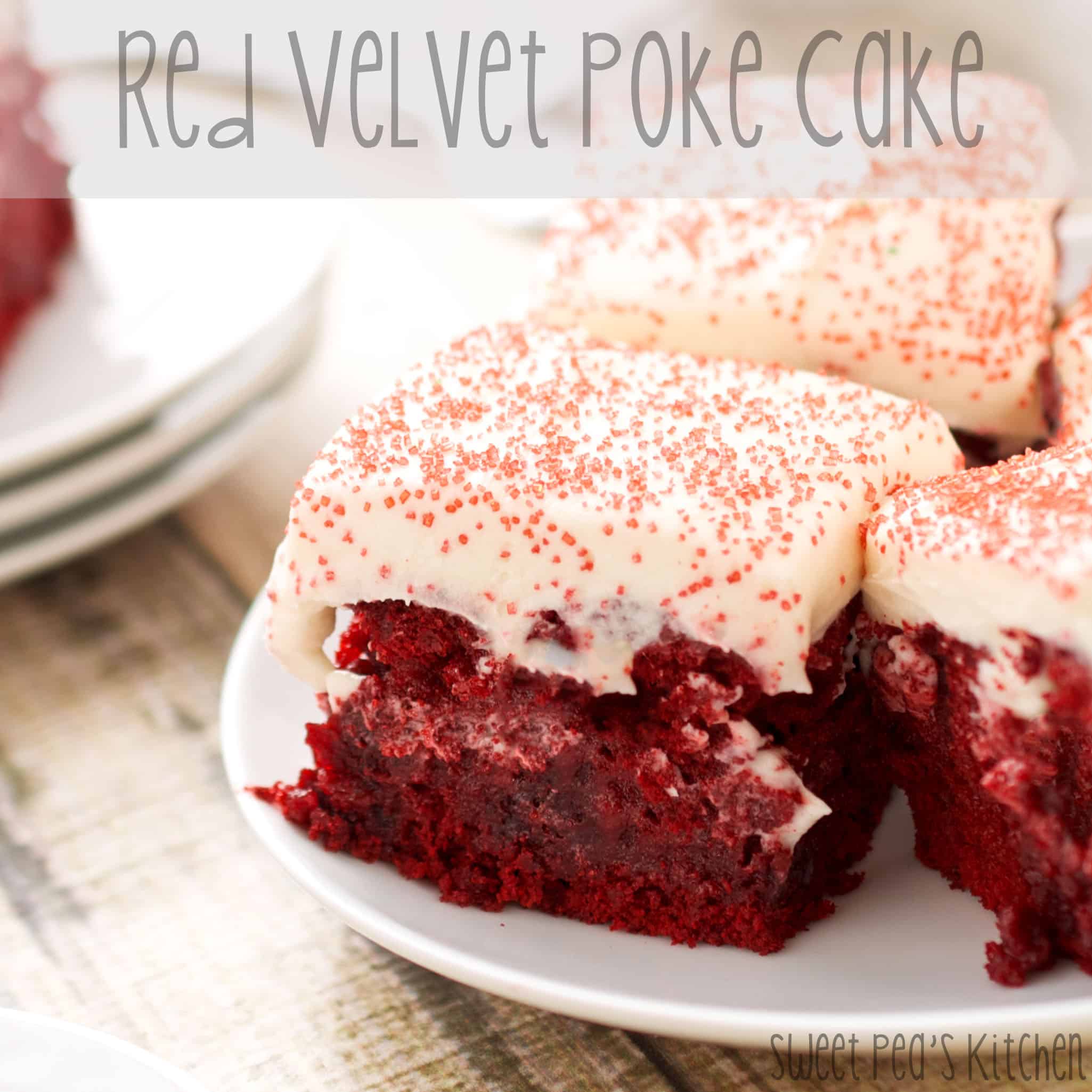 Caramel Cream Cheese Pumpkin Poke Cake – If you want a truly decadent dessert, this one should be at the top of your list. Mercy, it's good!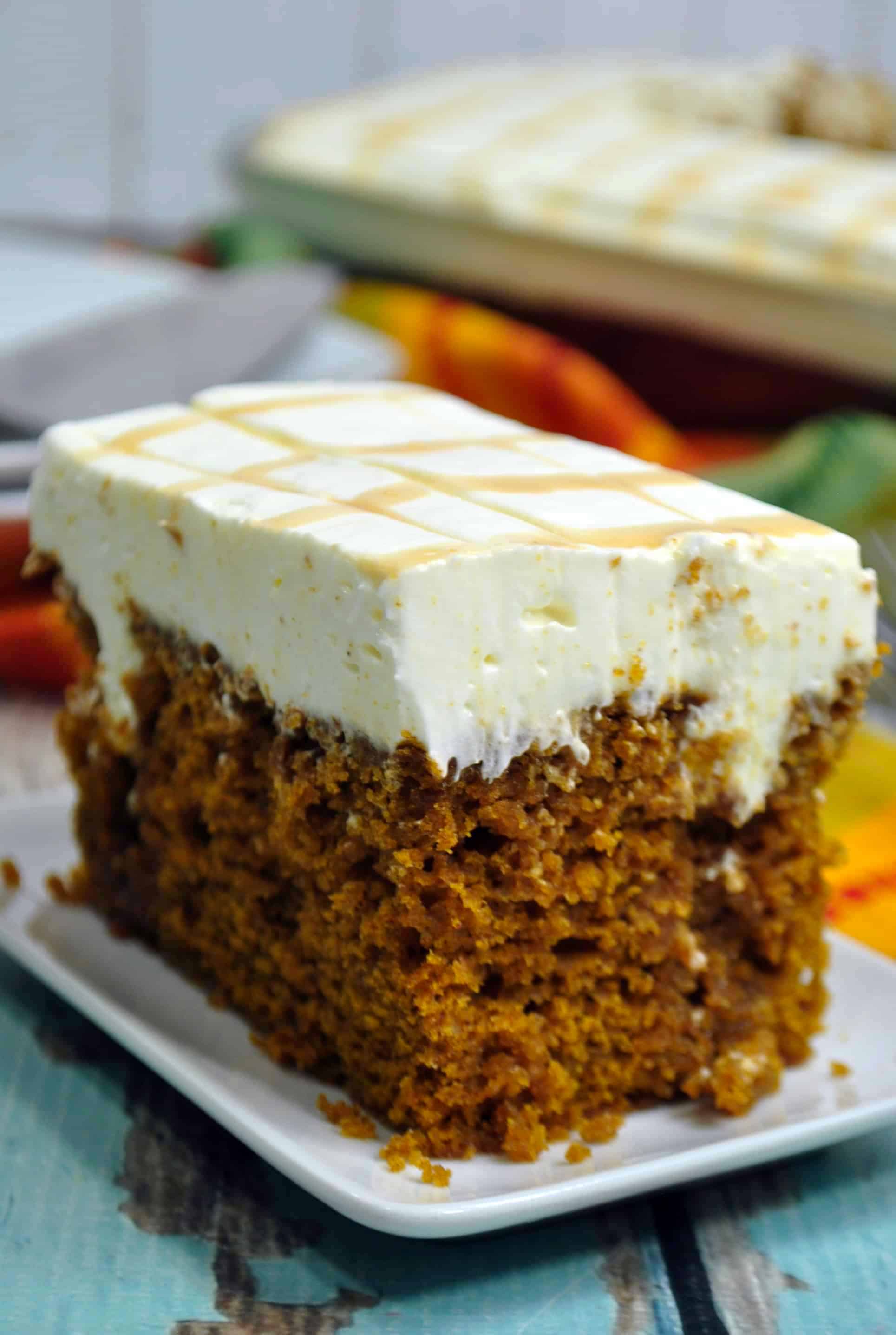 German Chocolate Layer Cake With Coconut Pecan Frosting – Make this for your next potluck and watch it disappear before your eyes!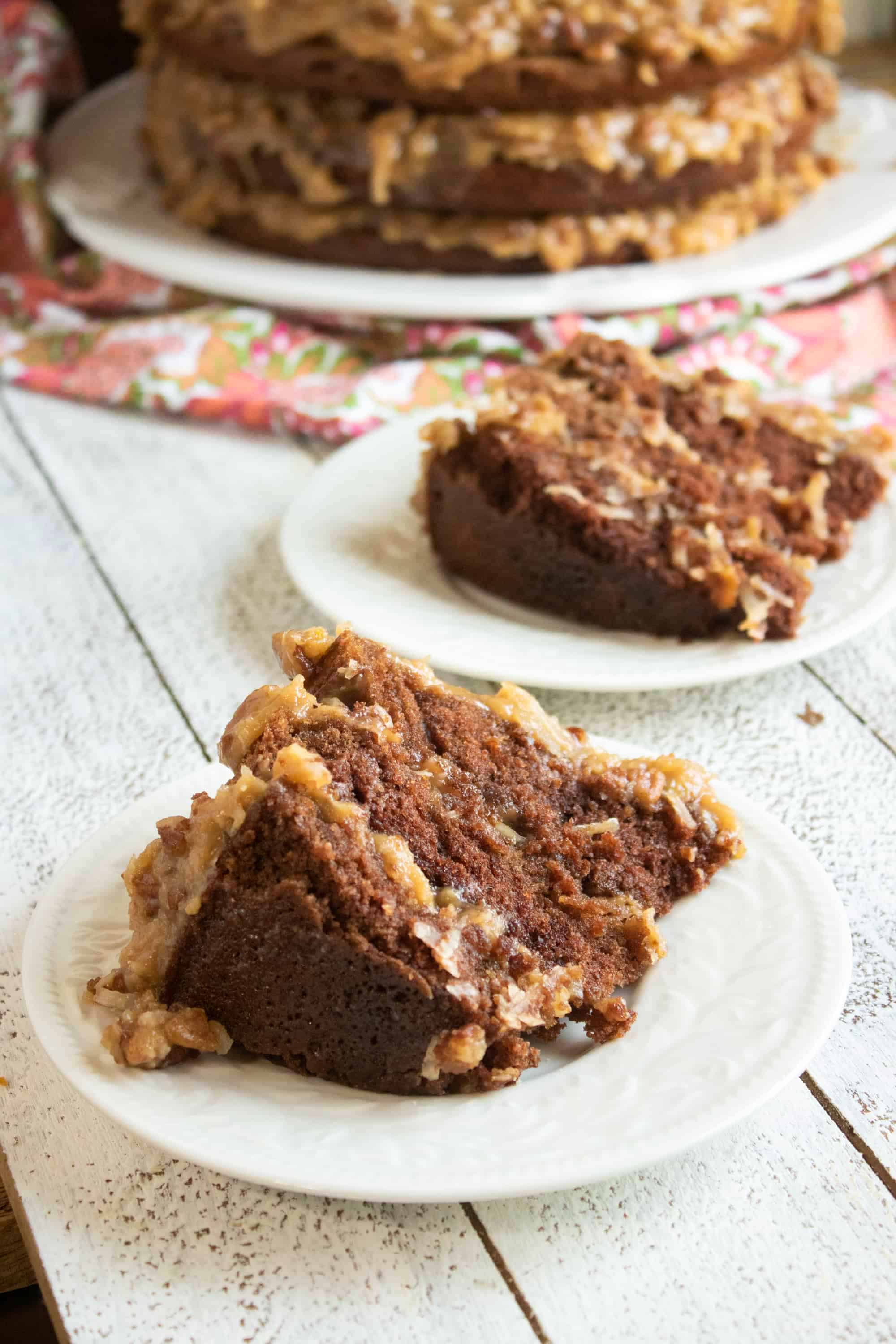 Three Layer Apple Spice Cake Recipe – There is nothing more delicious than a cake with lots of spice. This one is a reader favorite too.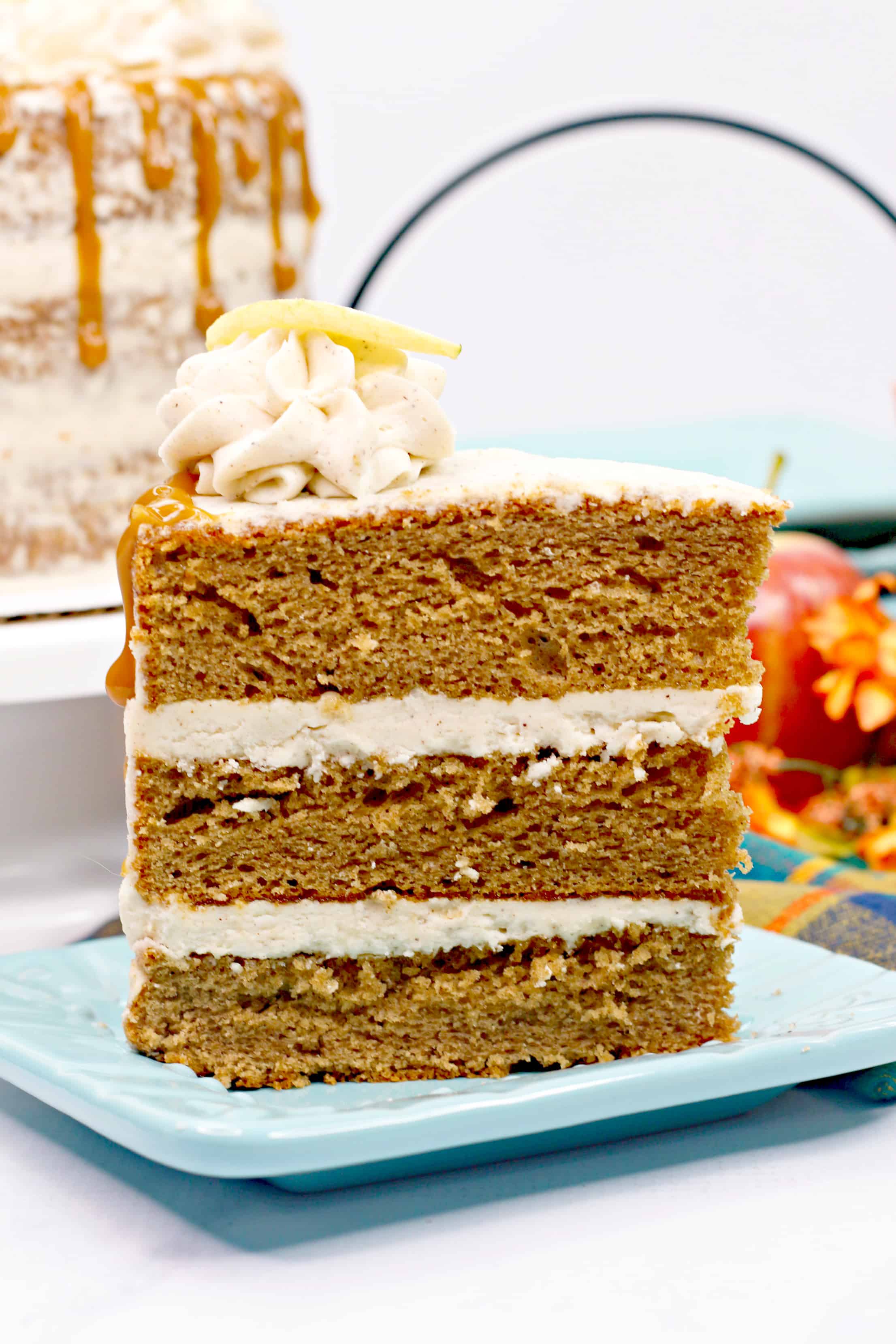 Get new recipes weekly plus our FREE ebook!