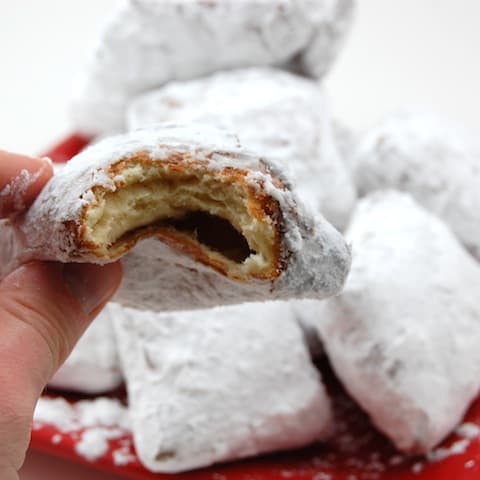 Traditional New Orleans style Beignets under a cloud of powered sugar. I love traditional New Orleans style food even though I have never visited. My mom grew up in Lake Charles Louisiana, about 3 hours away from New Orleans. She still has a chalk drawing of herself that she got during Mardi Gras that hangs in the second bedroom of their house. When I was about 10 years old our family drove down to visit family in Alabama, while we were there my parents decided to drive to Lake Charles and look at my mom's house she lived in and her old high school. My dad said that we were going to drive to New Orleans and stay a night or two.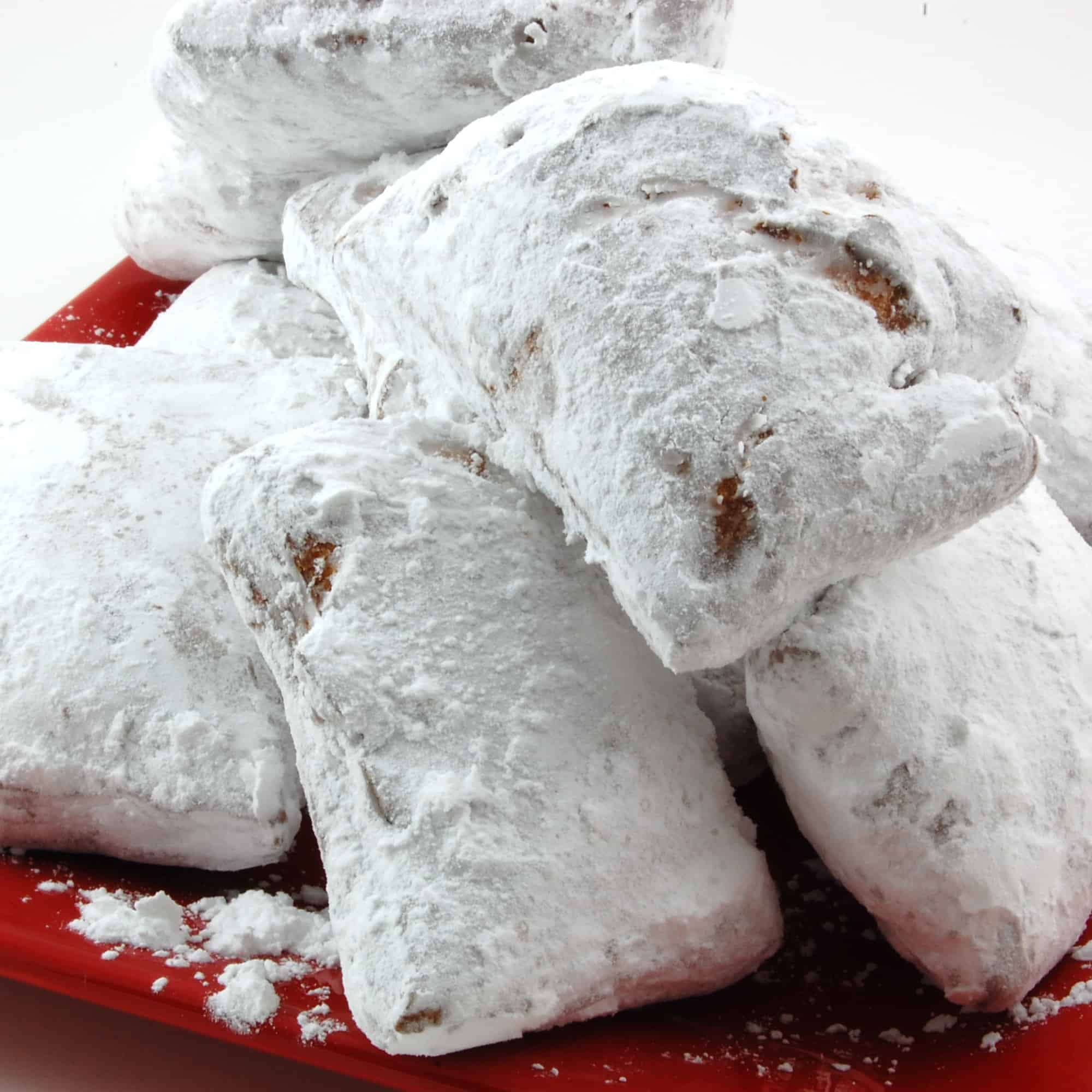 I was so excited that we were going to New Orleans, I had never been there before but I had always heard stories about it. When we finally arrived in New Orleans, I had my face plastered to the car window. I was so excited! However, as soon as we arrived in New Orleans, we left! It was during a Saints game so traffic was at a stand still. I remember us missing our turn into our hotel and my dad being so irritated that he refused to stay! He tried to make up for it by taking us to Gulfport Mississippi to spend a few days at the beach. I still remember that trip and how much I wanted to visit New Orleans. I am sad to say that I have been many places around the world, but I have never made it to New Orleans. Hopefully someday…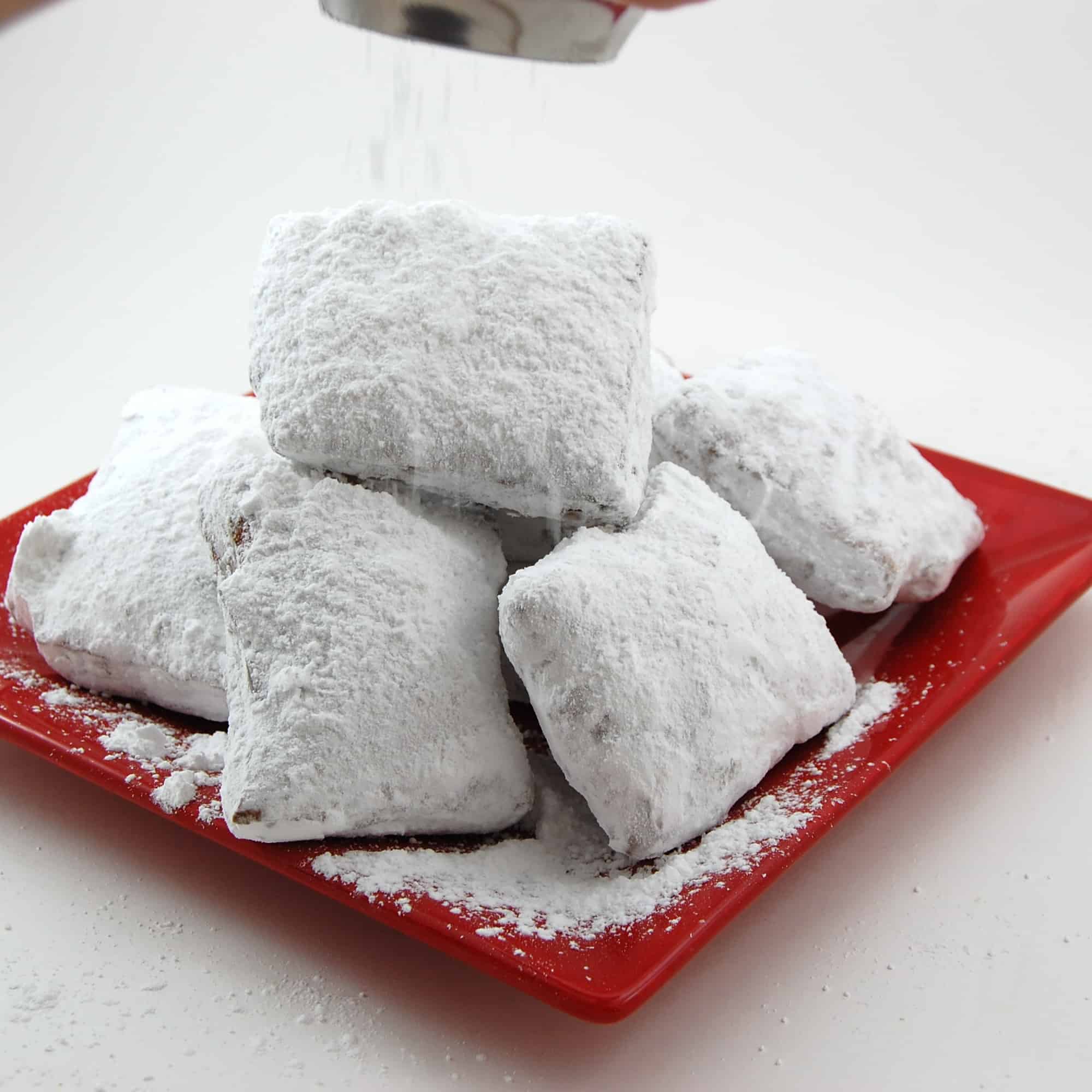 So what gave me the craving of these amazing beignets? I have been training for a marathon for the past couple of weeks and towards the very end of one of my long runs I was getting really tired. Suddenly the Jimmy Buffett song "I will Play for Gumbo" came on my iPod. I knew immediately I was going to make beignets when I got home! It helped me push through those last 3 miles of my 12 mile training run. The second I bit into the fluffy, sweet, powered sugary beignet I was in heaven! All I needed was a cafe au lait and I was set!
Step 1.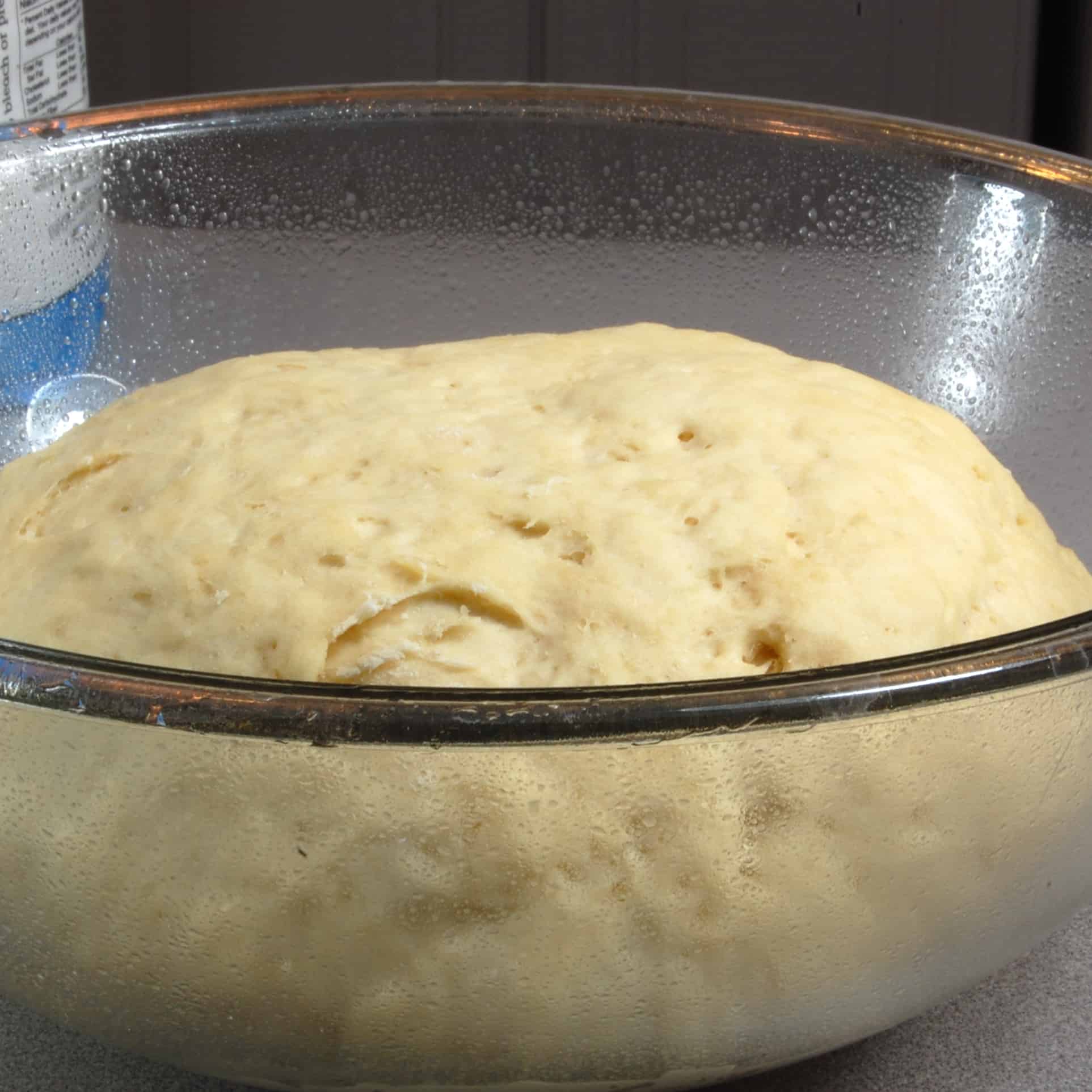 Step 2.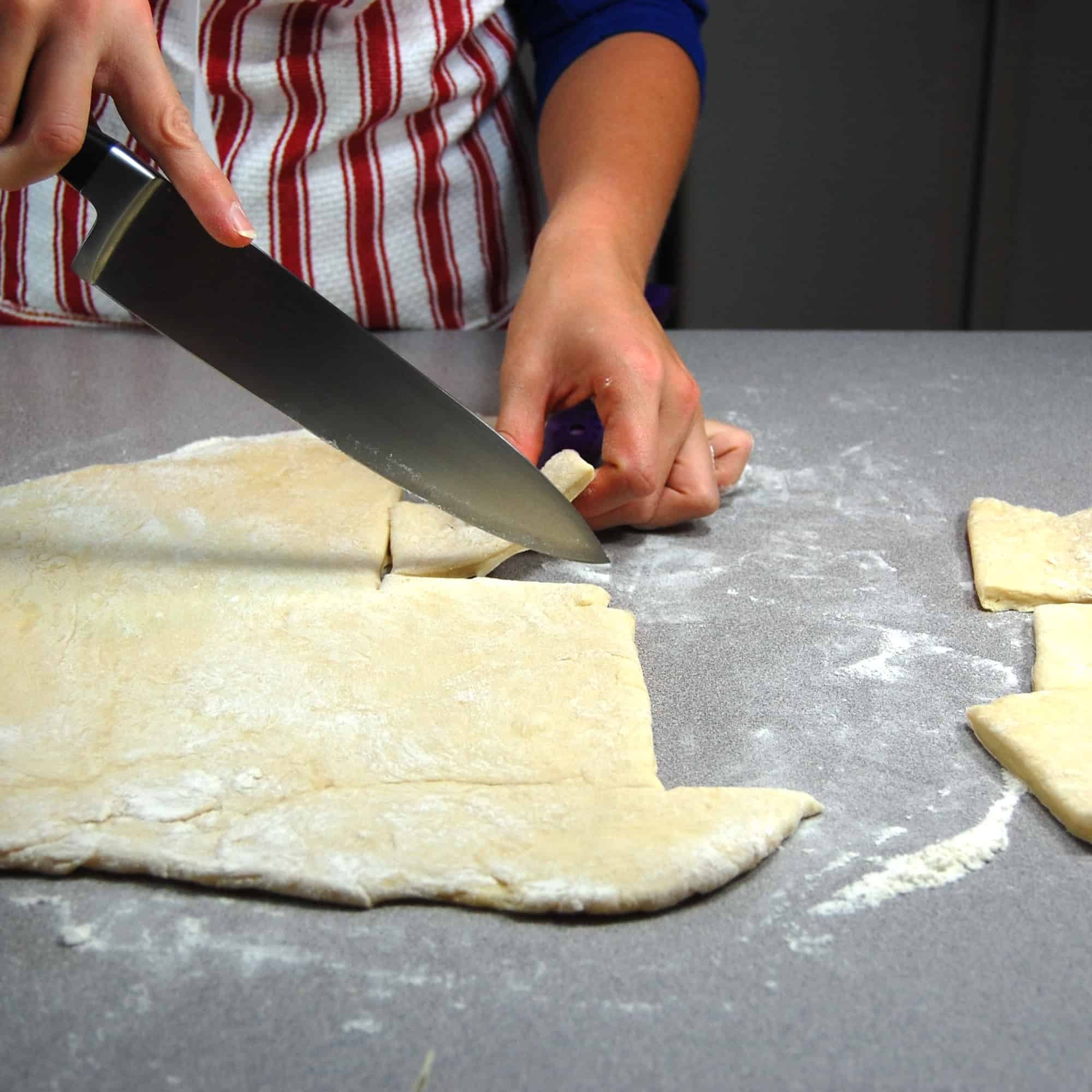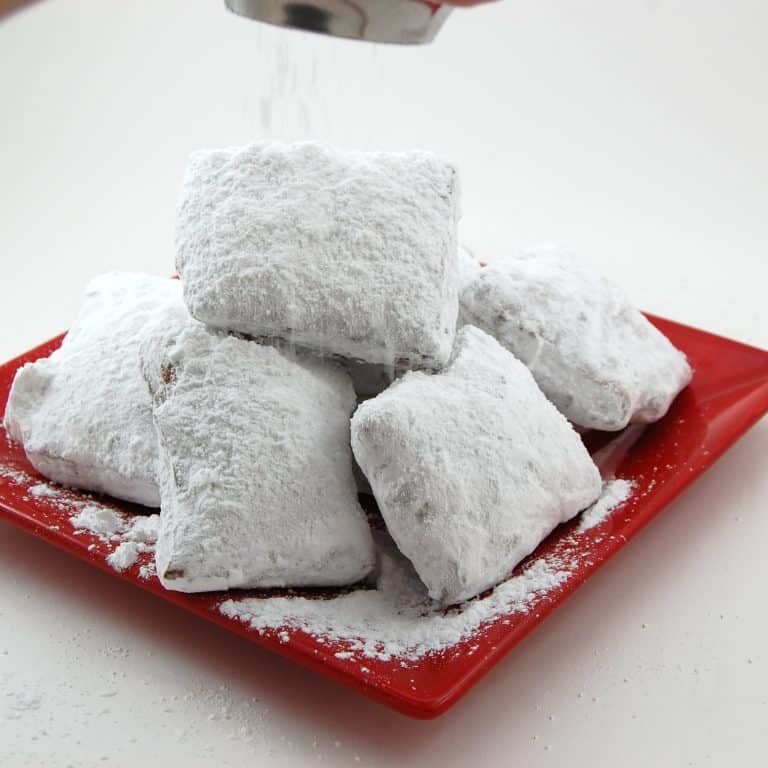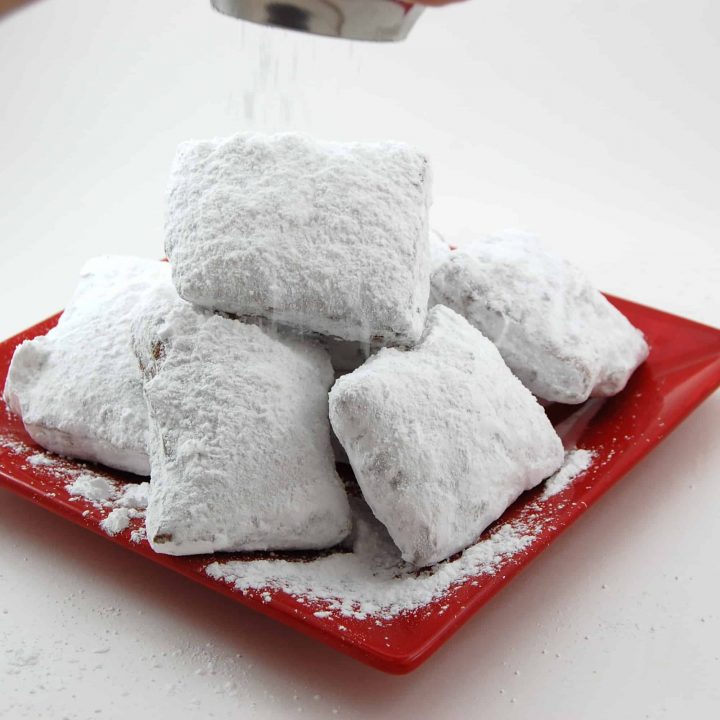 French Quarter Beignets
Ingredients
1 1/2 cups lukewarm water (110 degrees F)
1/2 cup granulated sugar
1 envelope active dry yeast
2 eggs, slightly beaten
1 1/4 teaspoons salt
1 cup evaporated milk
7 cups bread flour
1/4 cup shortening
Nonstick spray
Oil, for deep-frying
3 cups confectioners' sugar
Instructions
In a large bowl, mix water, sugar, and yeast and let sit for 10 minutes.
In a small bowl, beat the eggs, salt and evaporated milk together. Mix egg mixture to the yeast mixture. In a separate bowl, measure out the bread flour. Add 3 cups of the flour to the yeast mixture and stir to combine. Add the shortening and continue to stir while adding the remaining flour.
Remove dough from the bowl, place onto a lightly floured surface and knead until smooth. Spray a large bowl with nonstick spray. Put dough into the bowl and cover with plastic wrap or a towel. Let rise in a warm place for at least 2 hours.
Add the confectioners' sugar to a paper or plastic bag and set aside.
In a heavy saucepan that is at least 5 inches deep, heat 2 inches of oil over medium heat until it registers 360°F on thermometer.
Roll the dough out to about 1/4-inch thickness and cut into 2 1/2 inch squares.
Deep-fry, flipping constantly, until they become a golden color. After beignets are fried, drain them for a few seconds on paper towels, and then toss them into the bag of confectioners' sugar. Hold bag closed and shake to coat evenly. Serve Warm.