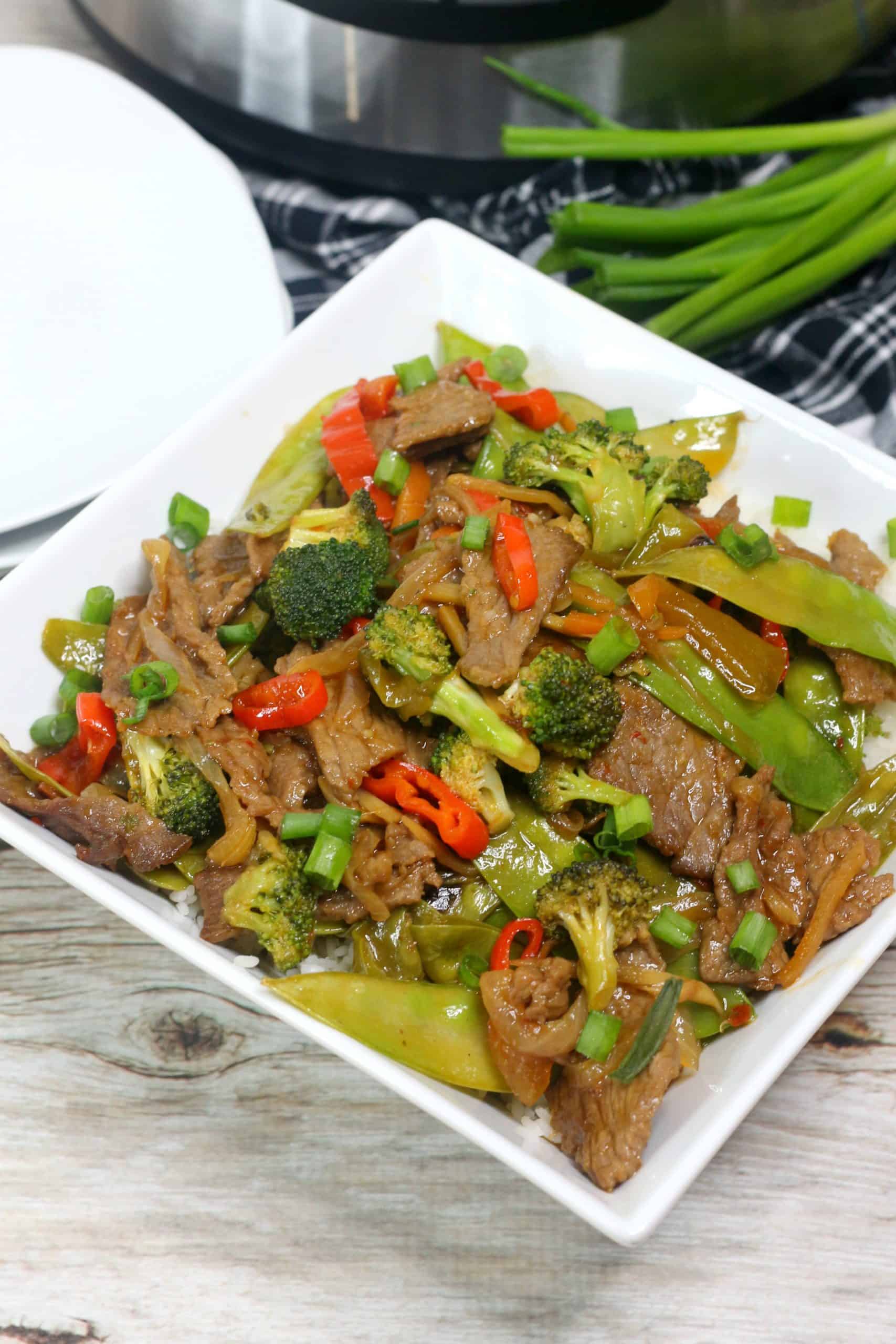 Instant Pot Chinese Beef is so delicious it will make you drool as soon as the aroma fills the room. The flavor is something that you won't forget anytime soon. If you love eating at your local Chinese restaurant, you will be pleased that you can quickly and easily make this recipe at home with little work involved.
Scroll to bottom for printable recipe card.
Instant Pot Chinese Beef
Do you ever get a craving for Chinese food, but you don't want to put on clothes and leave the house? This happens to me often, so I decided I should come up with my own Chinese beef recipe, so I don't have to eat it at a restaurant. You guys! This is one of the best Chinese beef dishes I have ever sunk my teeth into. Its incredible beef that is seasoned beautifully and is filled with tons of healthy veggies is a dream come true. Serve it on a bed of fluffy rice and with some egg rolls, and you have a meal made in heaven.
There are two things that make me love this Chinese beef recipe even more than just how awesome it tastes. First, is that you can quickly make it in your pressure cooker. This machine is a life changer, and you can take a meal that is mediocre and bring it to the next level. Cooking food in the Instant Pot allows all those seasonings and ingredients to truly combine, and the result is mindblowing good.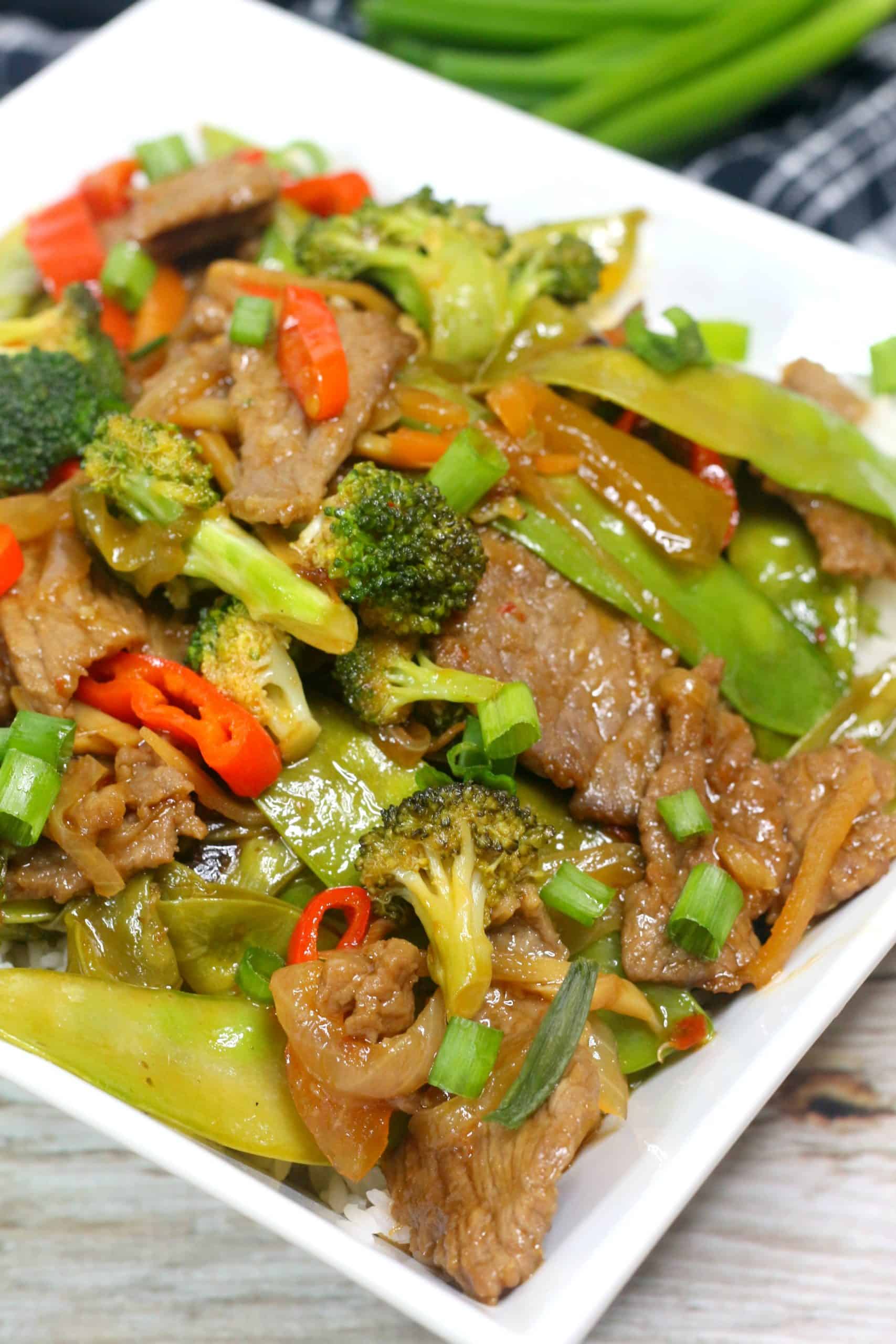 The second reason I prefer this method to anything I can buy at a Chinese restaurant is that I can control what goes into it. Think about it, why do you think food tastes so much different (and in some cases better) when you dine out! The meals are loaded with sodium, saturated fats, and who knows what else just to pump up the flavor. Once you start making food at home, you'll find that you can make food that tastes so much better and is way healthier too.
What is the Best Cut of Beef for This Recipe?
The best cut of beef for this Chinese beef recipe is the flank steak. I love using flank steak because it's not the most expensive cut of meat, and it tastes great too. When you buy inexpensive cuts of beef, you can end up with a tough and dry steak if you overcook it. The beauty of using the pressure cooker to cook the steak is that it actually tenderizes it as it cooks. You don't have to worry about a hard and less than a delicious piece of meat.
If you don't have flank steak, you could also use skirt steak as an option. Top sirloin is another option that would also work well for this recipe. If you have other cuts of beef that you have tried and like with this recipe, let us know!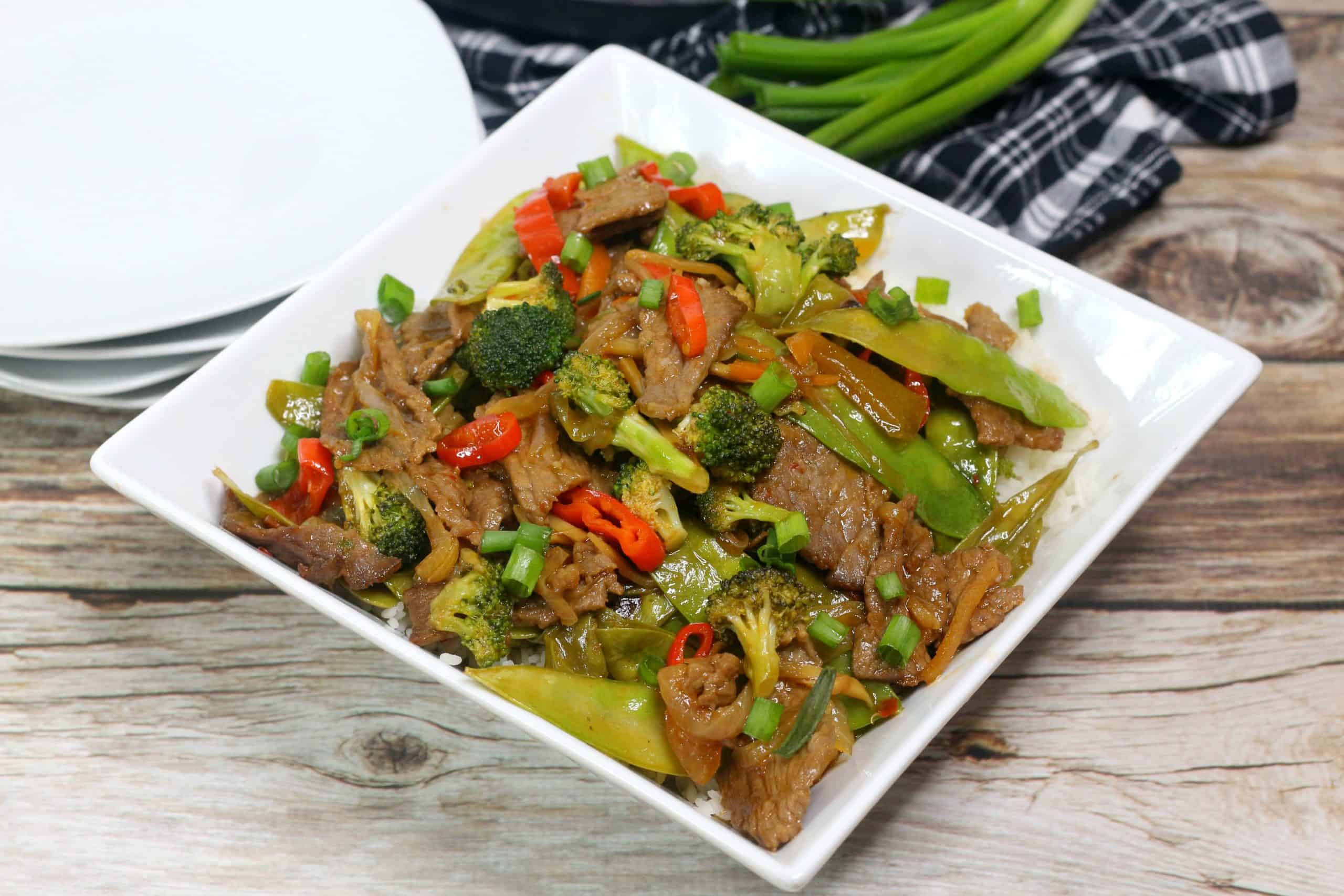 Can I Add Different Vegetables to This Chinese Beef?
Yes, of course, you can add additional vegetables to this Chinese beef recipe. Onions, water chestnuts, mushrooms, potatoes, and anything else you like are fine to add to this recipe. Green beans and asparagus are also lovely options too. Try it however you like, and you can't go wrong!
Can I Add Hot Peppers to This Beef Recipe?
Yes, if you prefer a little bit of heat in your Chinese beef, go ahead and add some hot peppers. Slice up some jalapenos and toss them in with the other veggies and let them cook. Or use fresh jalapenos as a garnish on top after it has cooked. You can also add some red pepper flakes and cayenne pepper to the sauce if you want it a little hotter. Don't do too much, so it's not overwhelming, but a little bit is great!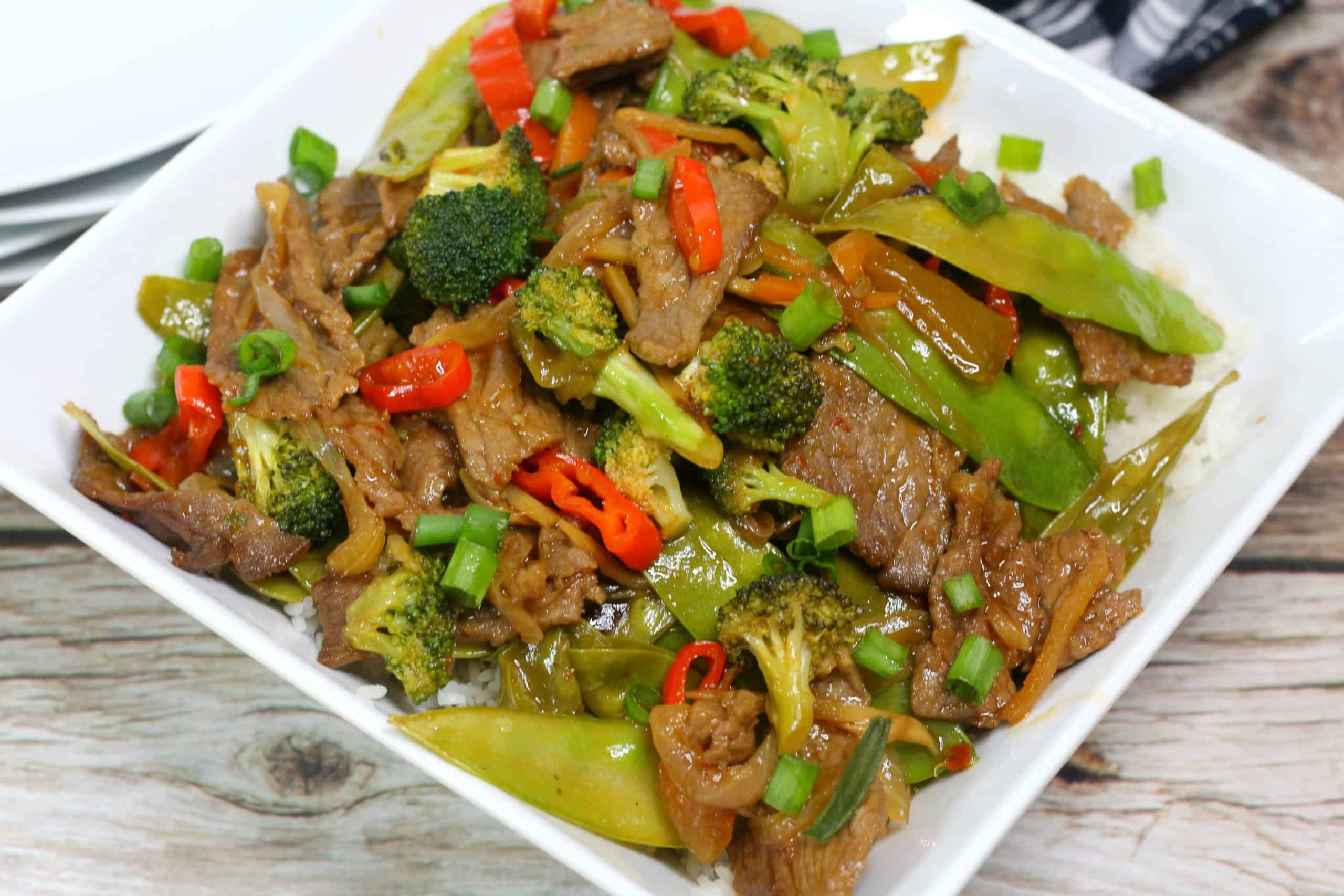 Ingredients
You'll be happy to know that the ingredients are pretty simple and flavorful. Feel free to adjust veggies or style of steak based on your preferences.
Flank steak
Broccoli
Mini red peppers
Onion sliced thinly
Fresh snow peas
Green onions sliced for garnish
Sauce:
Minced garlic
Soy sauce
Sesame oil
Beef broth
Brown sugar
Cornstarch
Side Dish:
How to Make Chinese Beef in the Instant Pot
In just 35 minutes, you can be enjoying this amazing meal idea. Dinner just got a lot easier and more flavorful! Let's get started so you can make your own soon.
First Step: Mix together the soy sauce, sesame oil, minced garlic, beef broth, and brown sugar into a small bowl. Use a whisk to mix together.
Second Step: Place the sliced steak in the Instant Pot insert and pour the sauce on top.
Third Step: Close the lid of the Instant Pot and make sure the vent is in the sealed position.
Fourth Step: Manually cook for 10 minutes.
Fifth Step: After 10 minutes is up, do a natural release for 10 minutes, then a quick release to remove the pressure.
Sixth Step: Take the steak out of the Instant Pot and set it aside.
Seventh Step: Turn the pressure cooker to the saute setting and whisk in the cornstarch. Whisk it constantly until it has thickened.
Eighth Step: Return the beef back in the pressure cooker and stir.
Ninth Step: Put the broccoli in the Instant Pot and stir until it's warm.
Tenth Step: Serve over a bed of steamed basmati rice.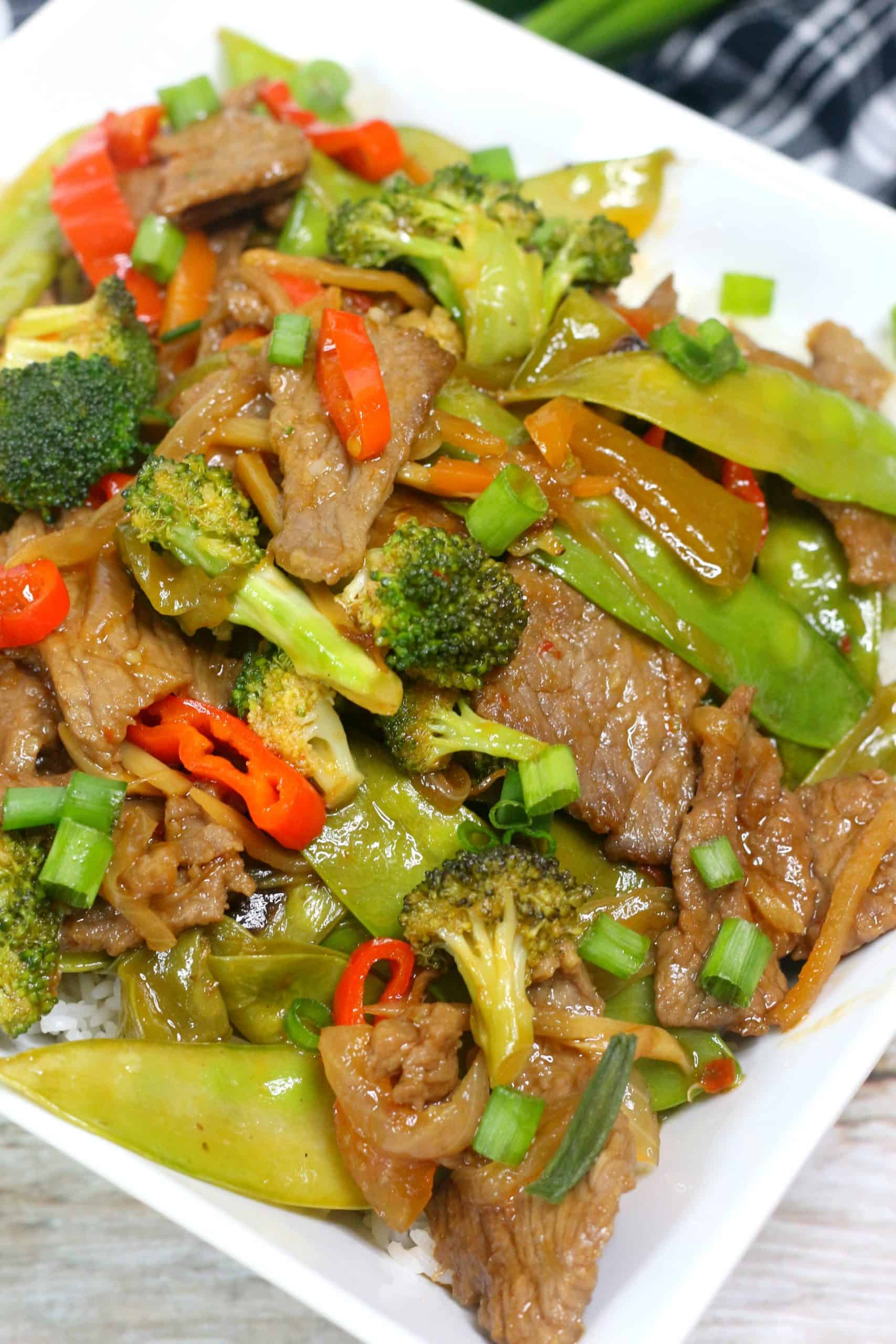 Now, remember to save this recipe on Pinterest for later 🙂

Pin this recipe now to remember it later
Instant Pot Chinese Beef
Instant Pot Chinese Beef is so delicious it will make you drool as soon as the aroma fills the room. The flavor is something that you won't forget anytime soon.
Ingredients
4

cups

chopped

,

small broccoli

½

cup

sliced mini red peppers

Green onions sliced for garnish
Want to save this recipe? Enter your email below and we'll send the recipe straight to your inbox!
NOTE: By saving this recipe, you agree to join our weekly recipes newsletter.
Instructions
Combine the sauce ingredients garlic, soy sauce, sesame oil, beef broth and brown sugar together in a small bowl & whisk.

Add your sliced steak to the Instant Pot then add your sauce mixture.

Close the Instant Pot lid, close the seal.

Cook on manual for 10 minutes.

Natural release for 10 minutes & then do a quick release.

Remove beef from pot & set aside.

Turn off the Instant pot & then turn it on to saute

Whisk in cornstarch & stir until sauce thickens.

Add the beef back in & stir.

Add in steamed broccoli.

Serve over rice.
Follow me on Pinterest for daily delicious recipes!
If you are wanting to find some more scrumptious dinner ideas, you've come to the right place. Check out all these flavorful meal ideas, and you can up your dinner cooking game!
Baked Sweet And Sour Chicken – This recipe for baked sweet and sour chicken is so darn easy! It tastes amazing the first time you make and is lovely for leftovers too. Try it, and you'll be in love.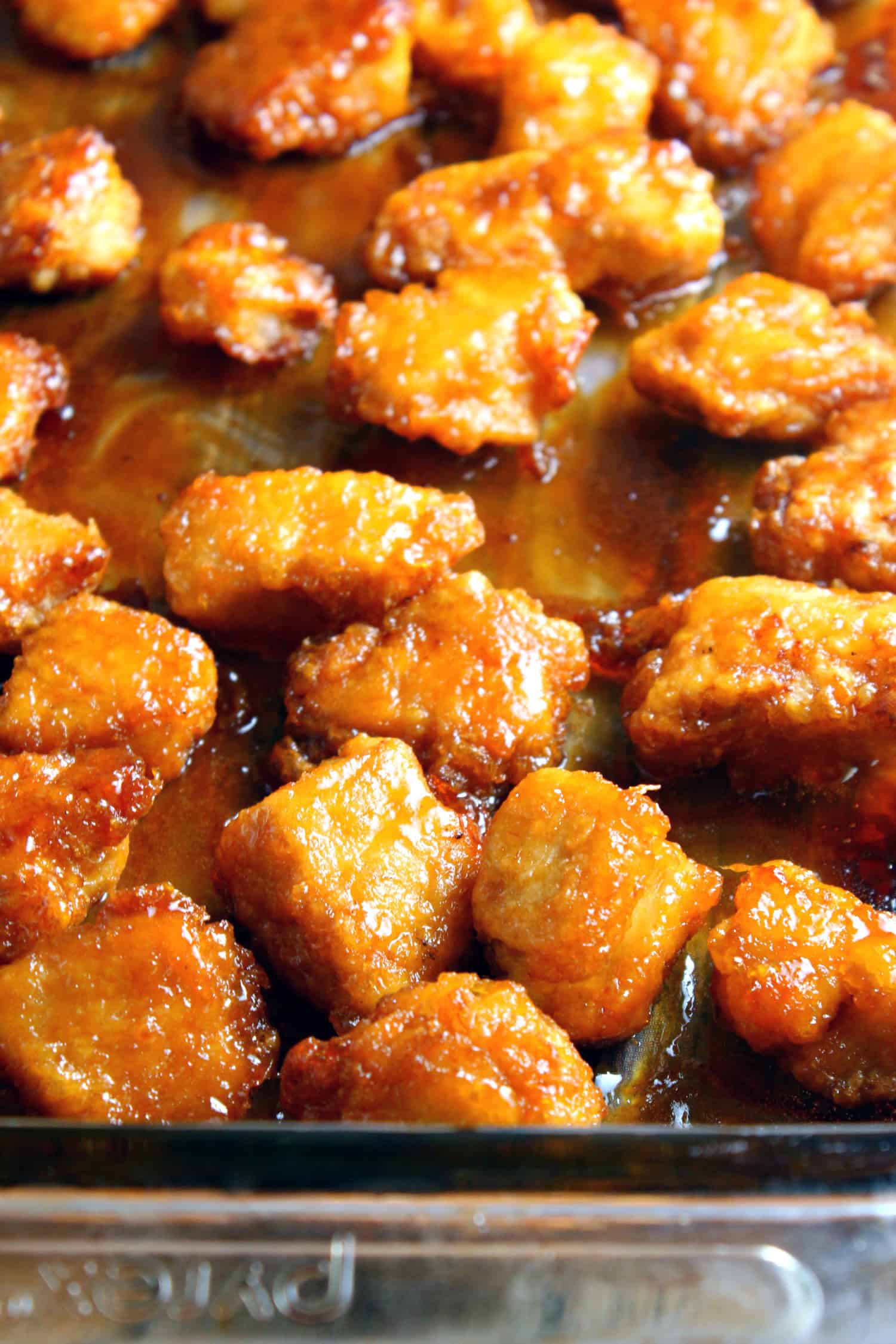 Instant Pot Cashew Chicken – Another great idea for using your pressure cooker. You are going to be so glad you started using your Instant Pot so much to make all these yummy meals.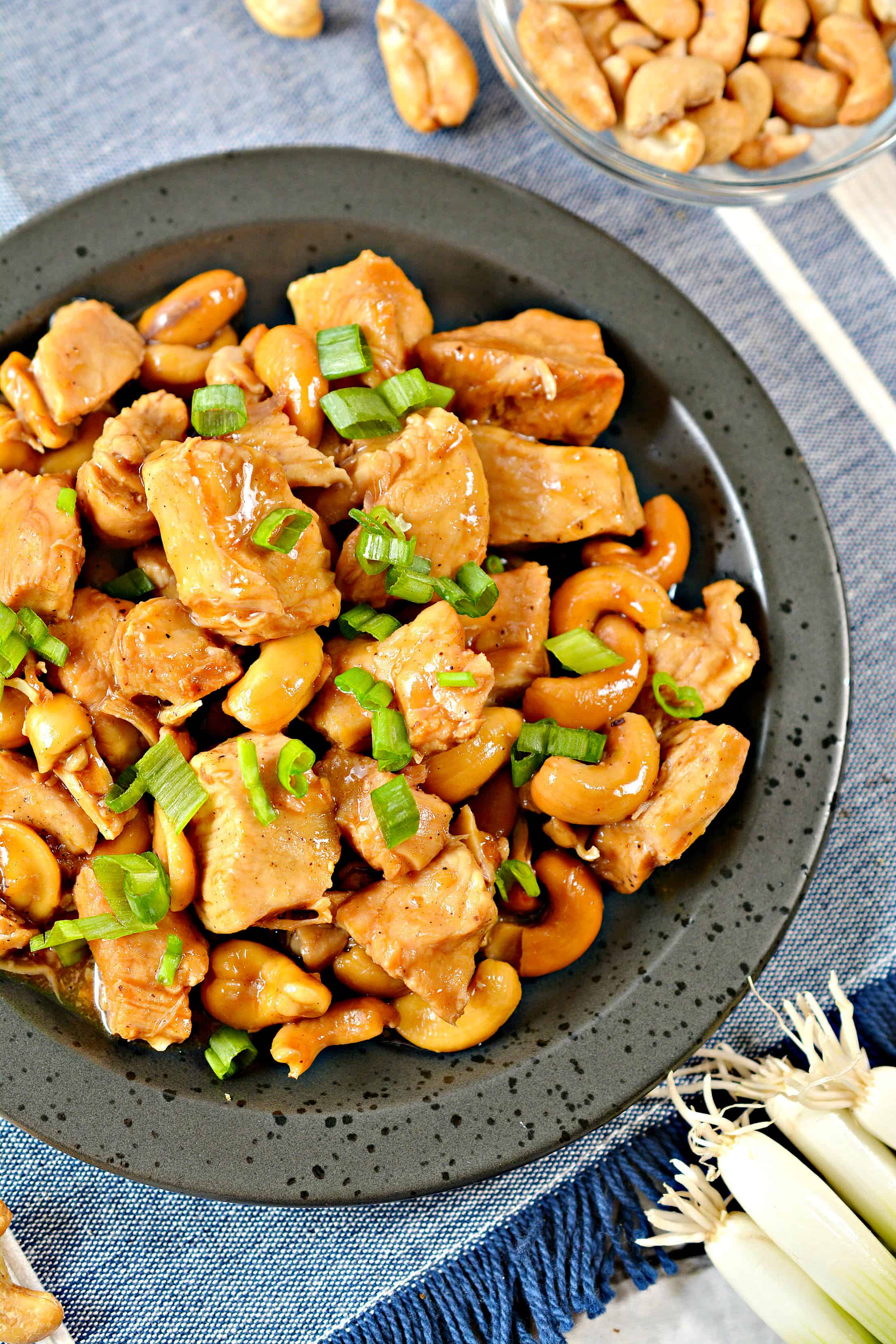 Instant Pot Orange Chicken – The tanginess is unforgettable in this tasty orange chicken recipe. You can use your Instant Pot, so it's really quick and painless to make too.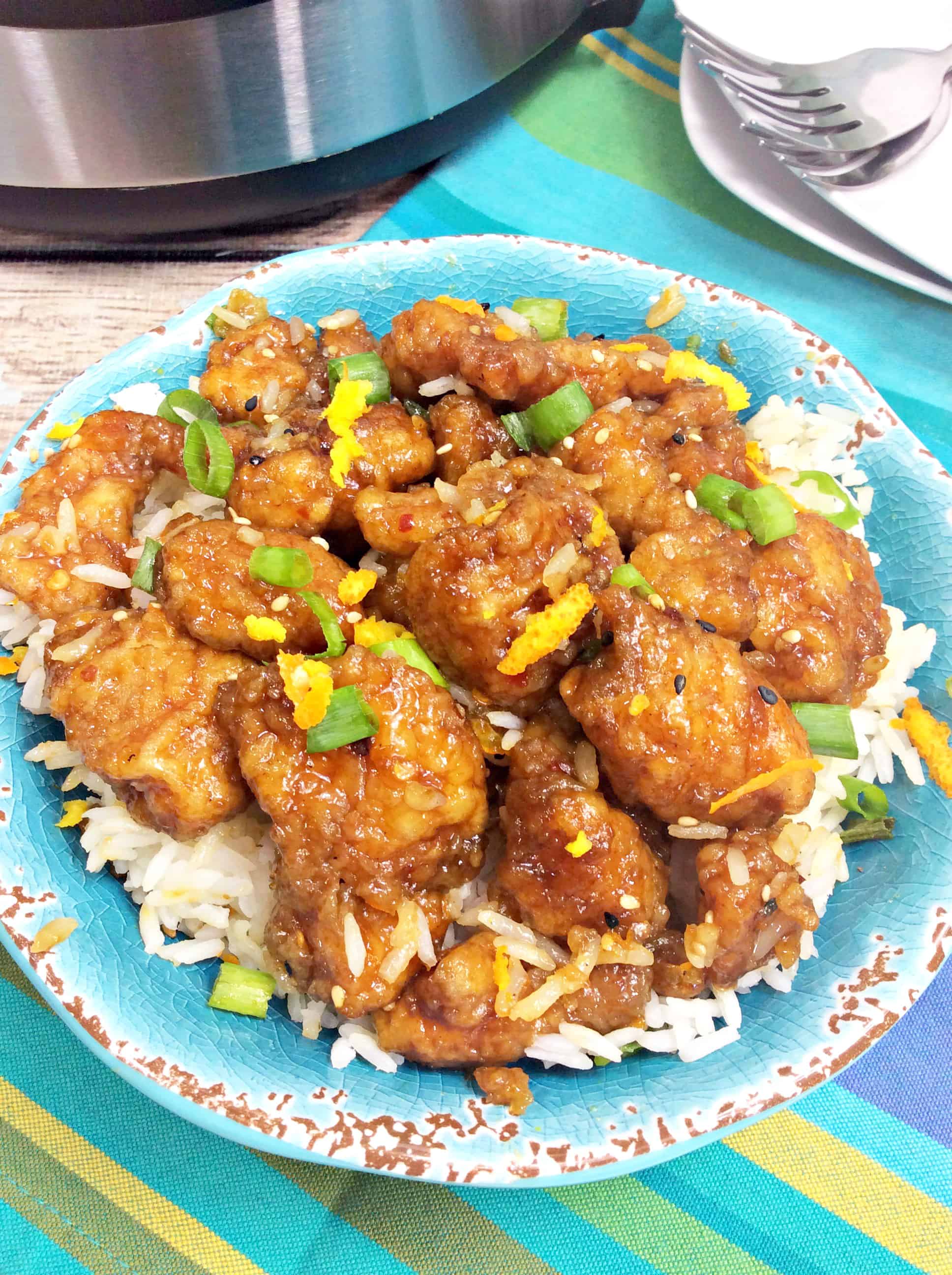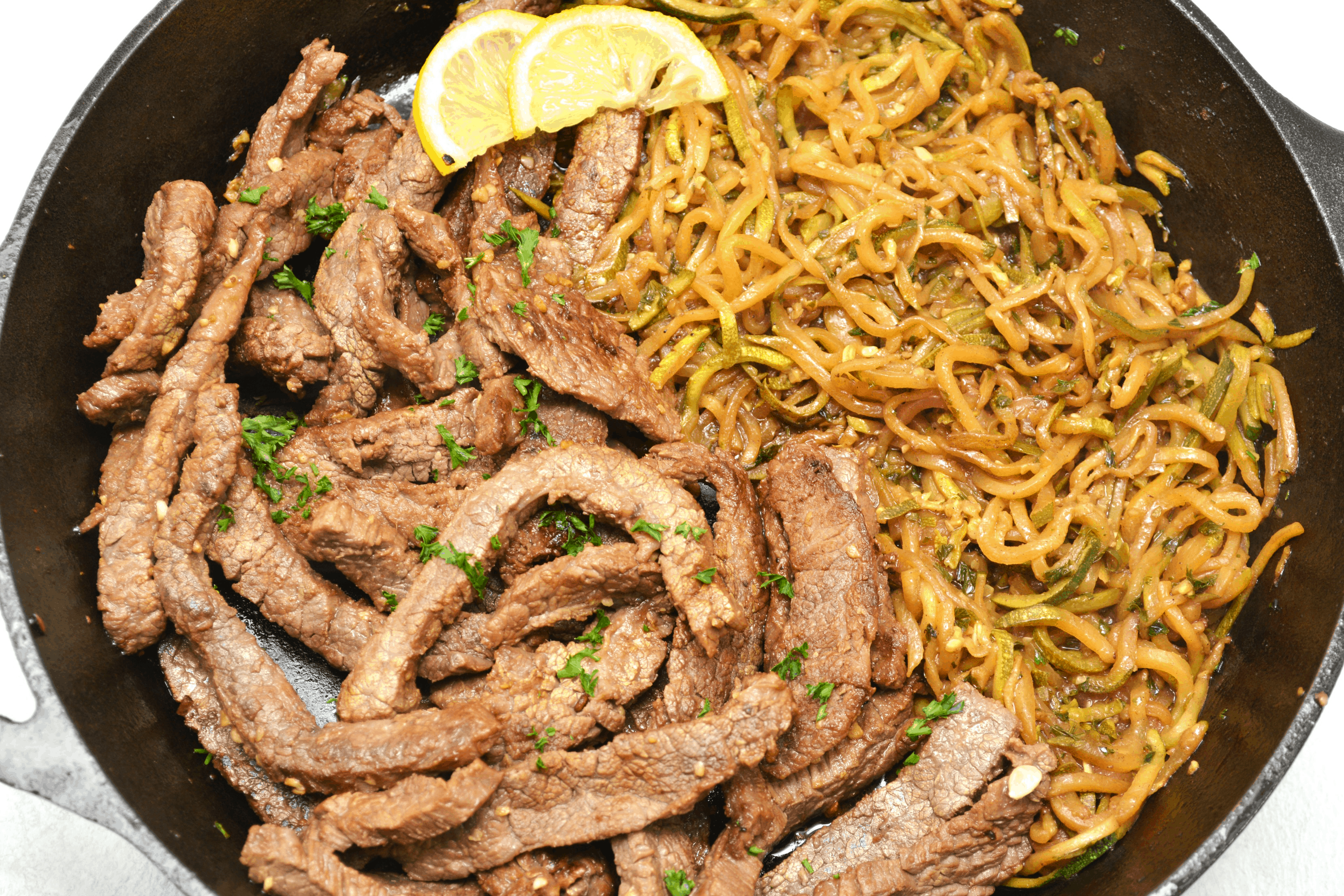 Get new recipes weekly plus our FREE ebook!