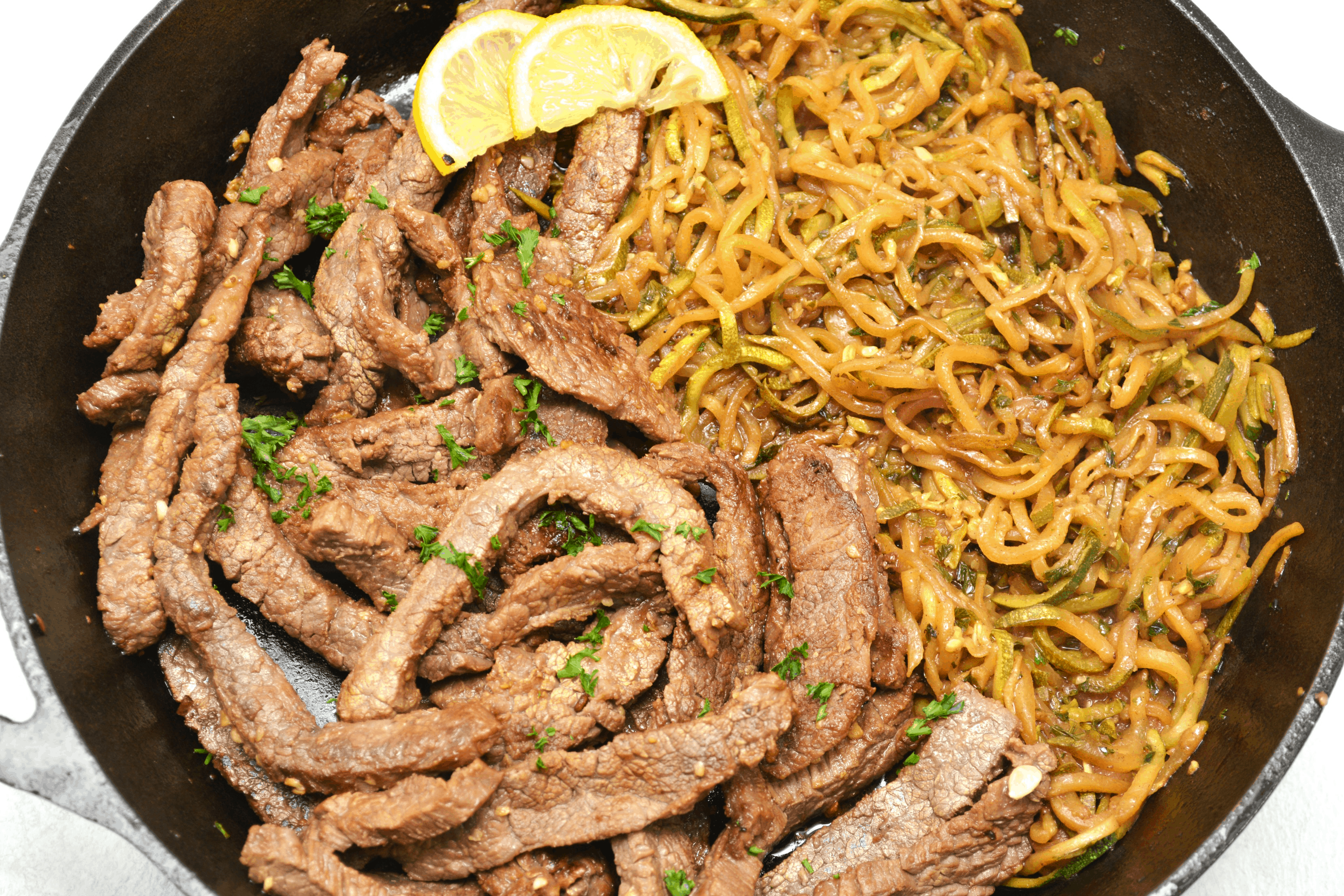 Garlic Butter Steak with Zucchini Noodles is about to become you're favorite low-carb, easy "melt in your mouth" dinner recipe! It has quickly become one of my go-to steak recipes because it is so amazing!
Do you know those recipes that just make your mouth water when you think about them? The ones that are so good you'd make them for dinner every week if you could get away with it. That's this Lemon Garlic Butter Steak with Zucchini Noodles for me.
I love everything about this pan seared steak because it's tender, flavorful, healthy, and quick and easy! Plus, it's "melt in your mouth" good! Seriously. I think I may be in love with this garlic butter steak. Or if you are a fan of chicken, try my Garlic Butter Chicken with Parmesan Cauliflower Rice!
I am confident you are going to be impressed with the garlic butter steak bites as soon as the juicy flavor hits your tongue.
Don't miss this fantastic recipe for Asian Zucchini Noodles!
Scroll to bottom for printable recipe card.
Here's How to make Garlic Butter Steak with Zucchini Noodles:
Now, this Lemon Garlic Butter Steak with Zucchini Noodles is a bit of a stir-fry twist on traditional garlic butter steak. Garlic butter steak is a traditional grilled flank steak topped with garlic butter. For this recipe, we've taken that concept, sliced up the flank steak while keeping that fantastic flavor, and used zucchini noodles to turn it into a complete meal. It's not REALLY stirfry, though the addition of soy sauce on the noodles does make it seem that way.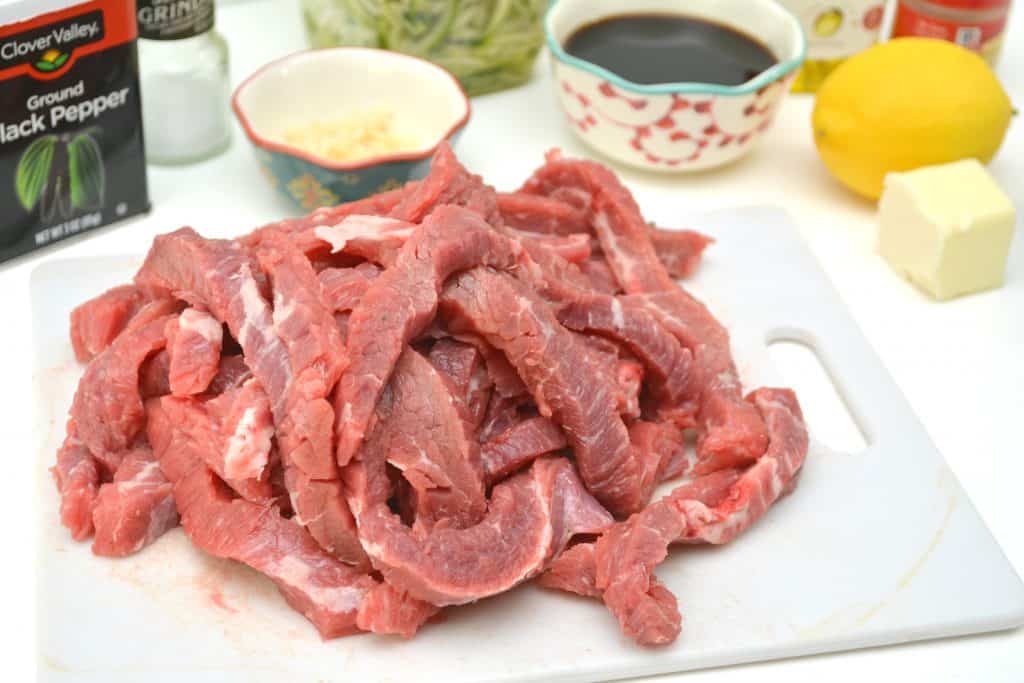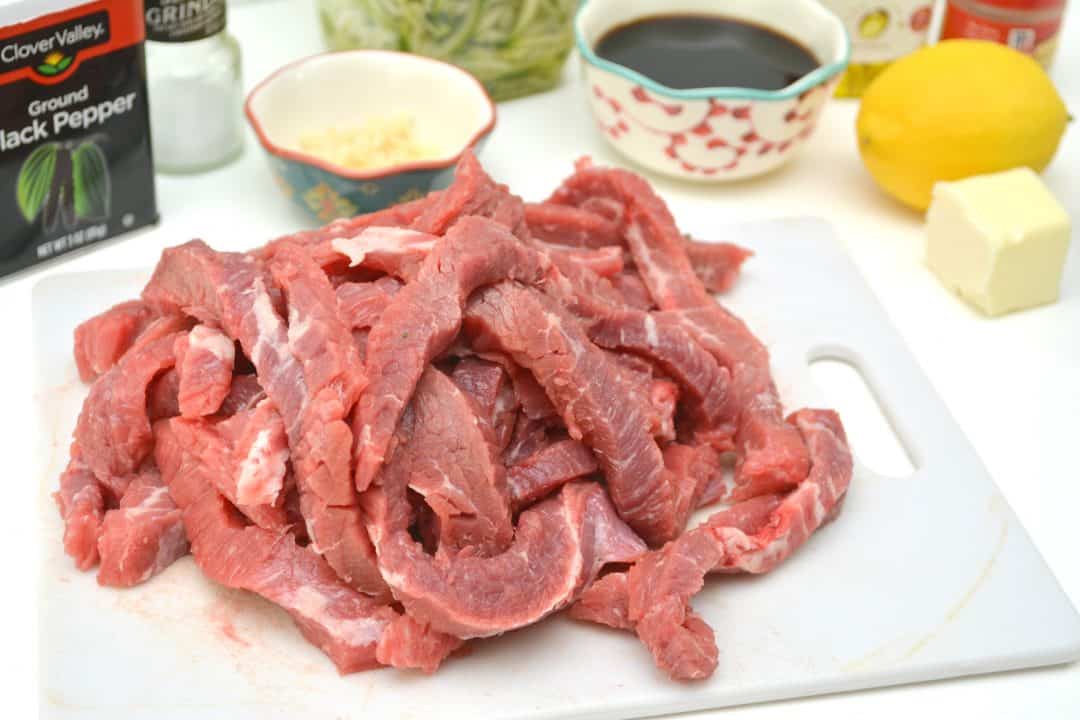 Thinly slice the flank steak into strips.
Tip: When cutting the steak, be sure to cut against the grain and keep all pieces as close to the same size as possible so that everything cooks evenly.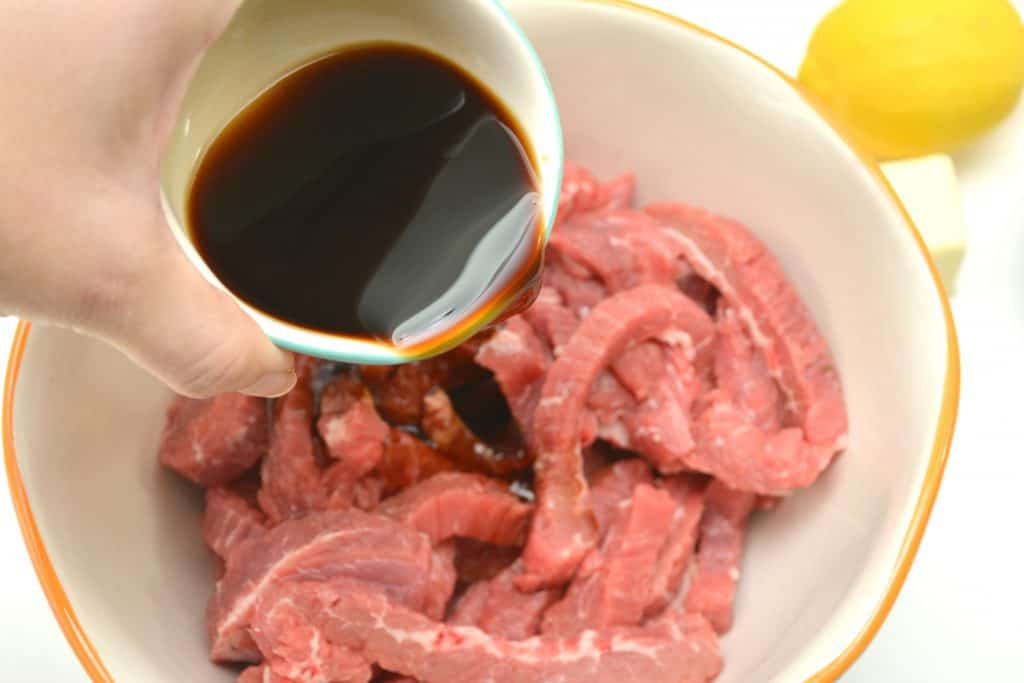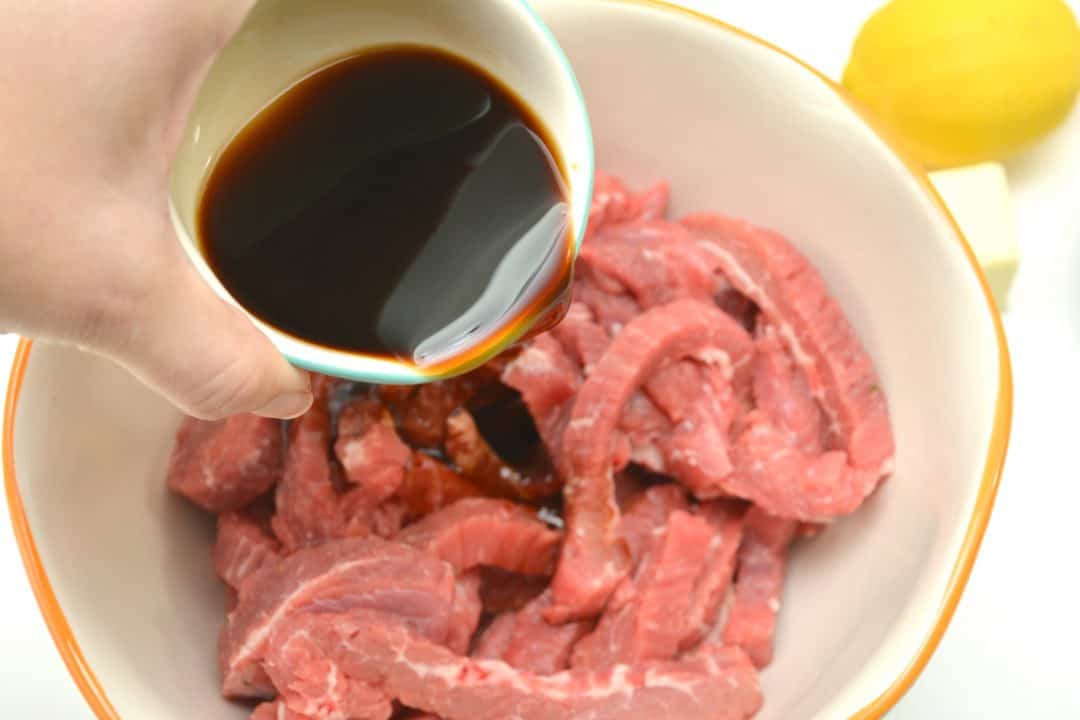 Drizzle in the soy sauce and squeeze and zest one lemon over the flank steak. This will help tenderize the meat and enhance the yummy flavors.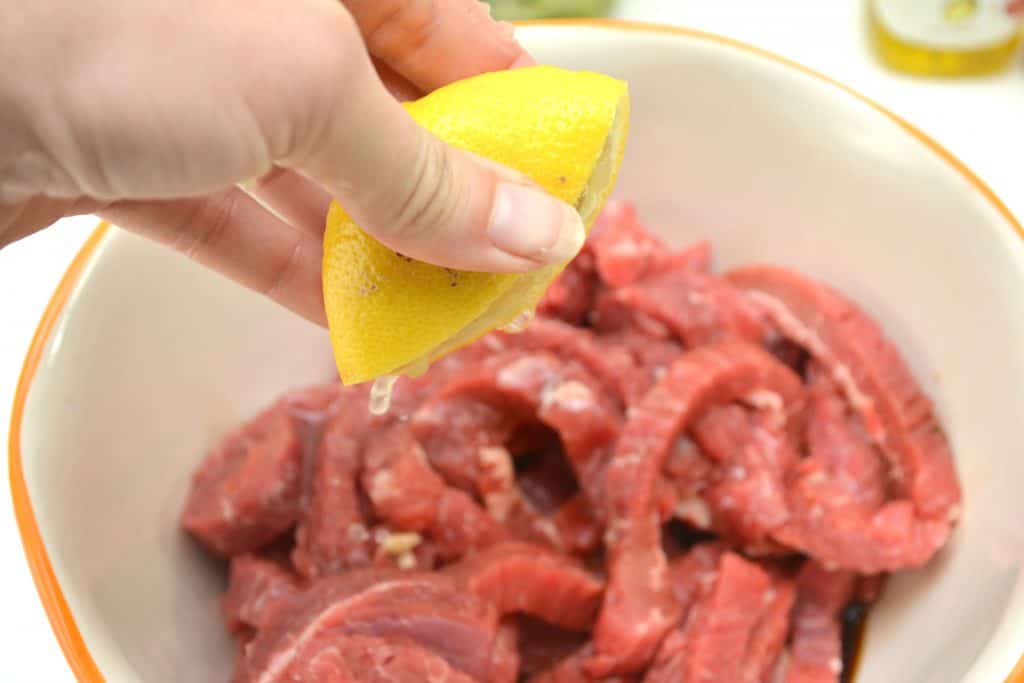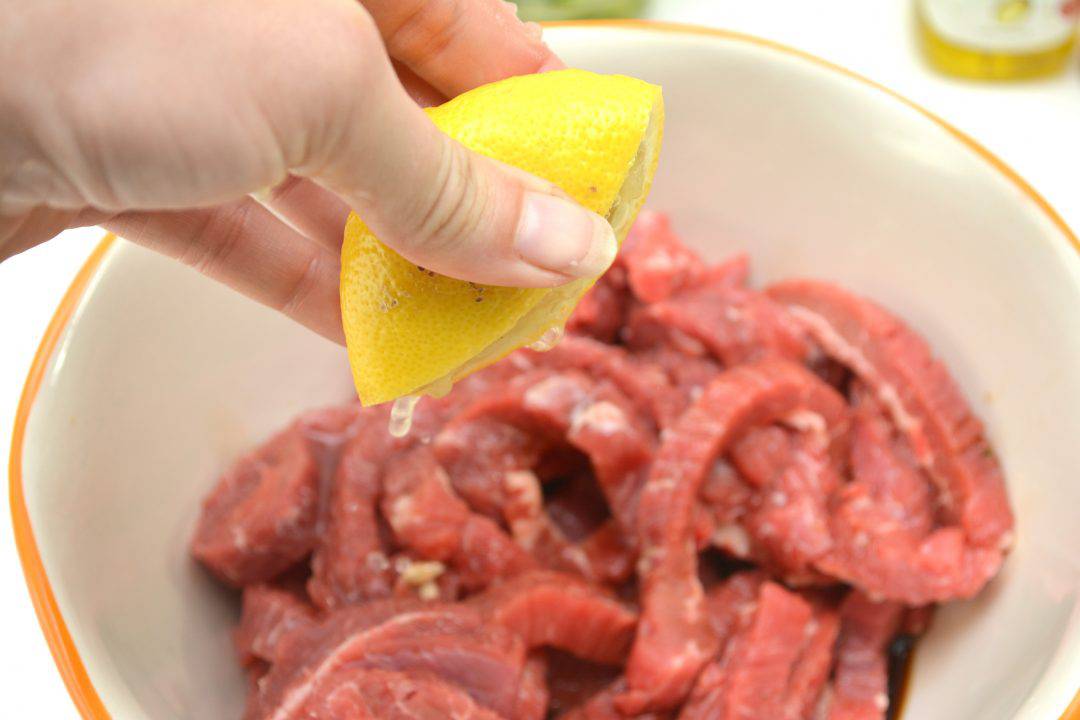 Pour olive oil to the steak. Let marinade for 30 minutes.
Tip: And be sure to leave time in your dinner prep for it to properly marinade – the flavors need time to absorb into the steak. I promise you will be glad you didn't skip this step!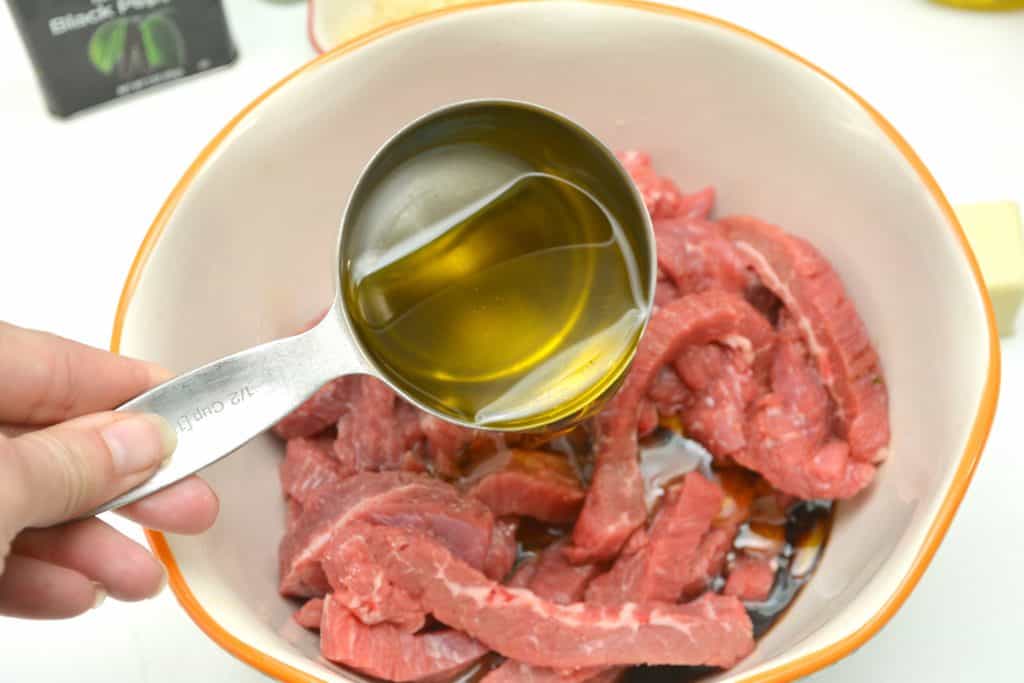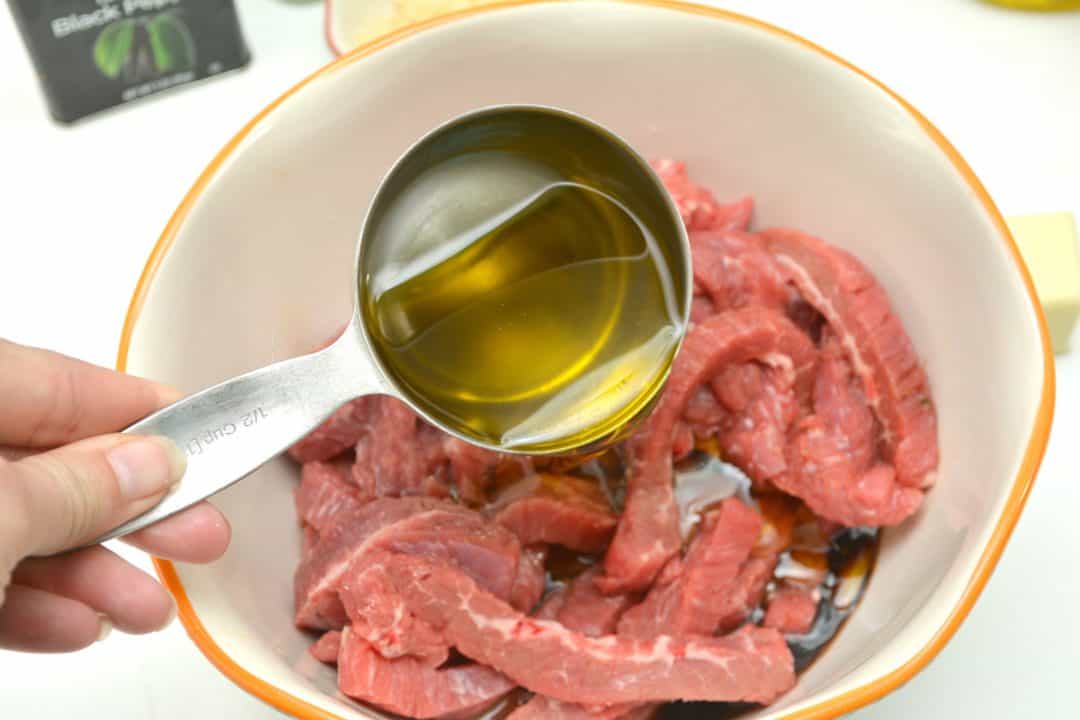 Cook steak in olive oil, make sure to turn it often to ensure it's cooking evenly.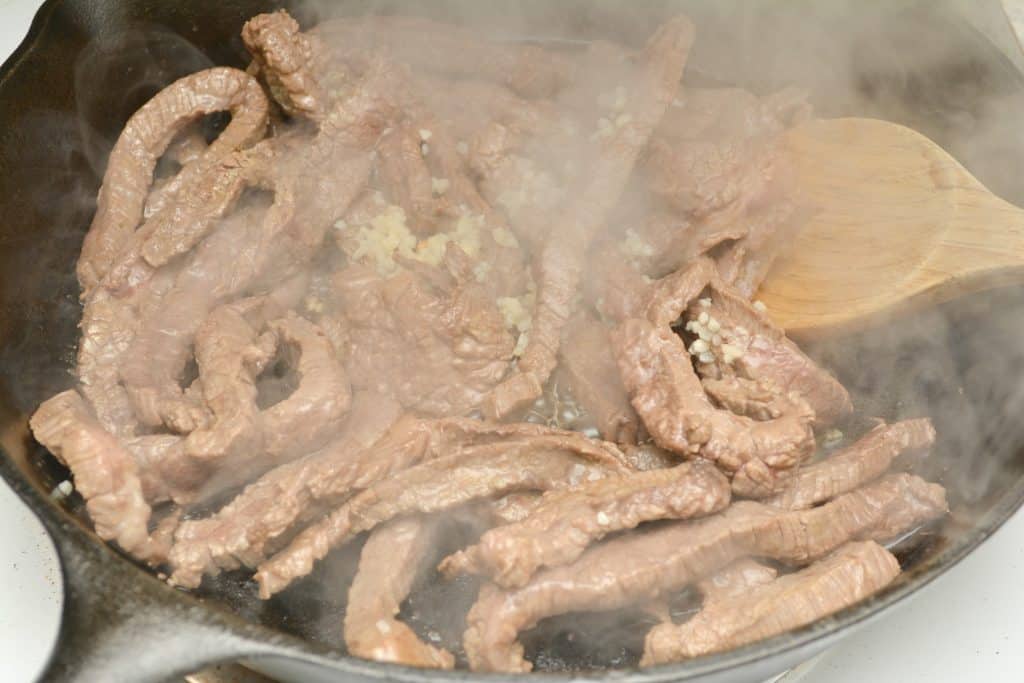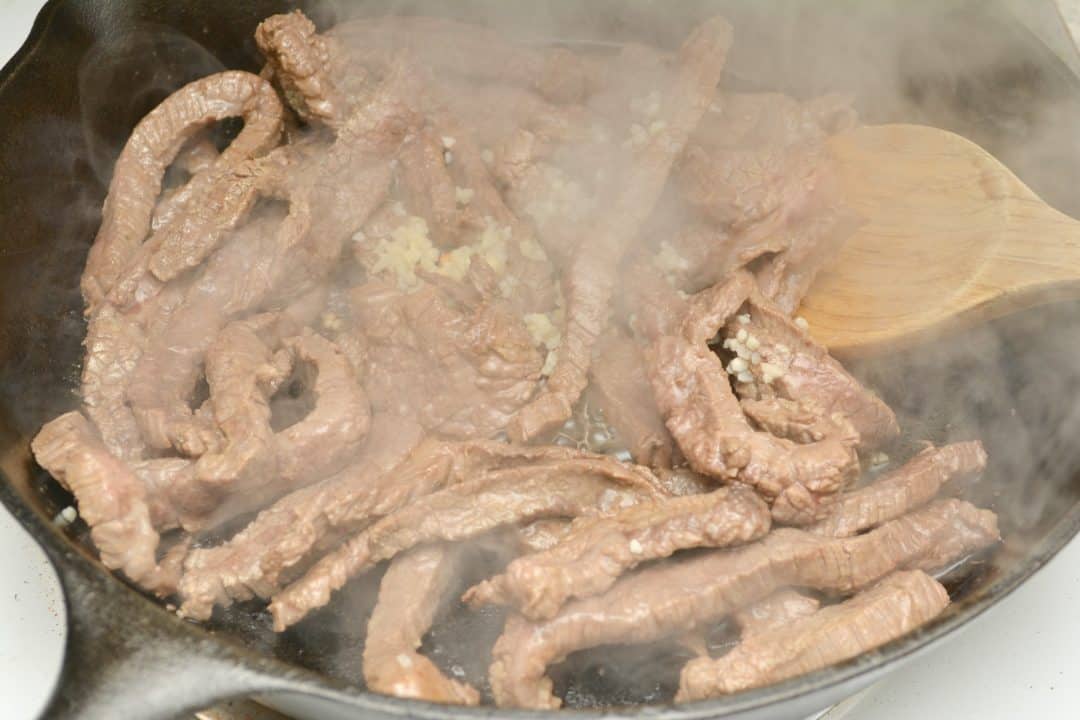 Add garlic and butter to the pan after the steak has finished cooking.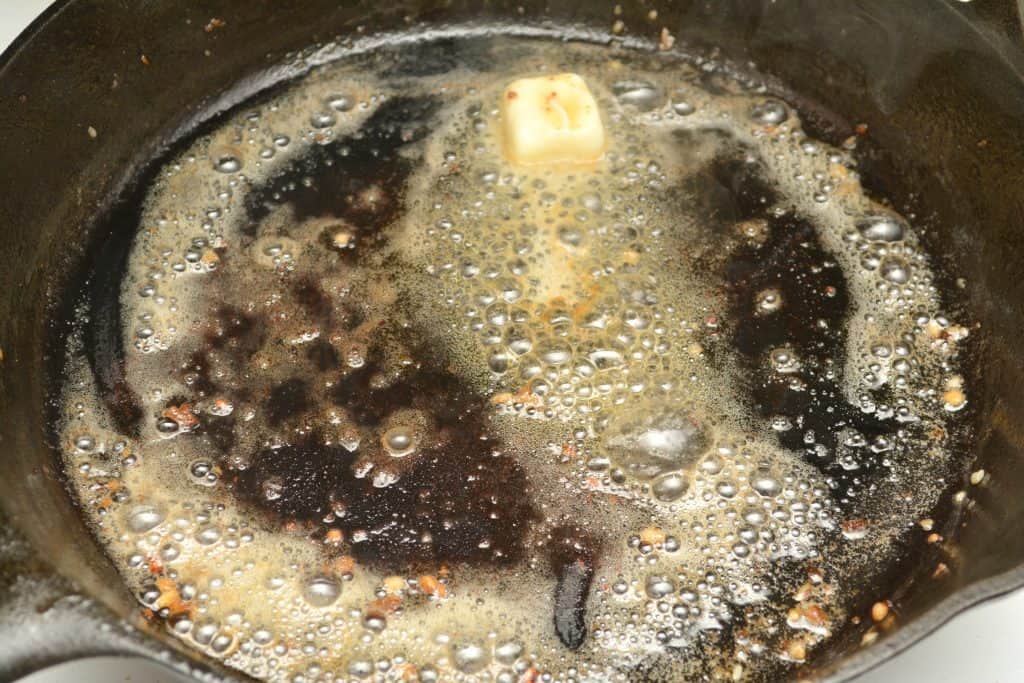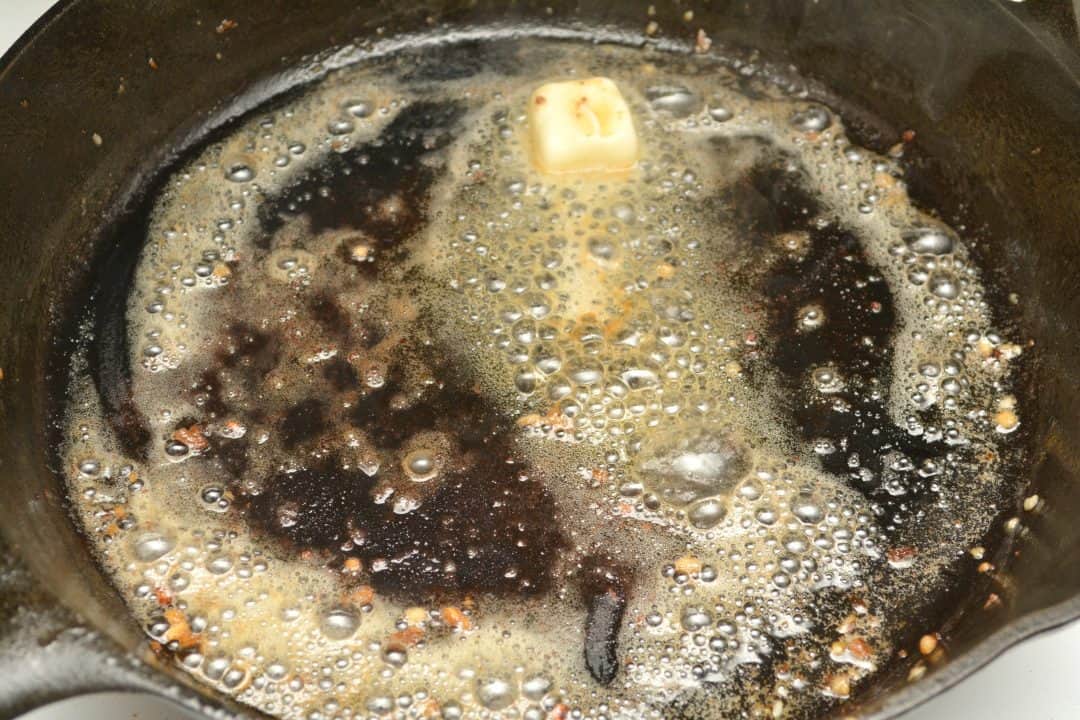 Begin cooking zucchini noodles. Typically, the sauteed zucchini noodles take around 3-7 minutes to cook. They are done when they are cooked to your liking. I prefer them to be a little more firm, so they don't turn to mush.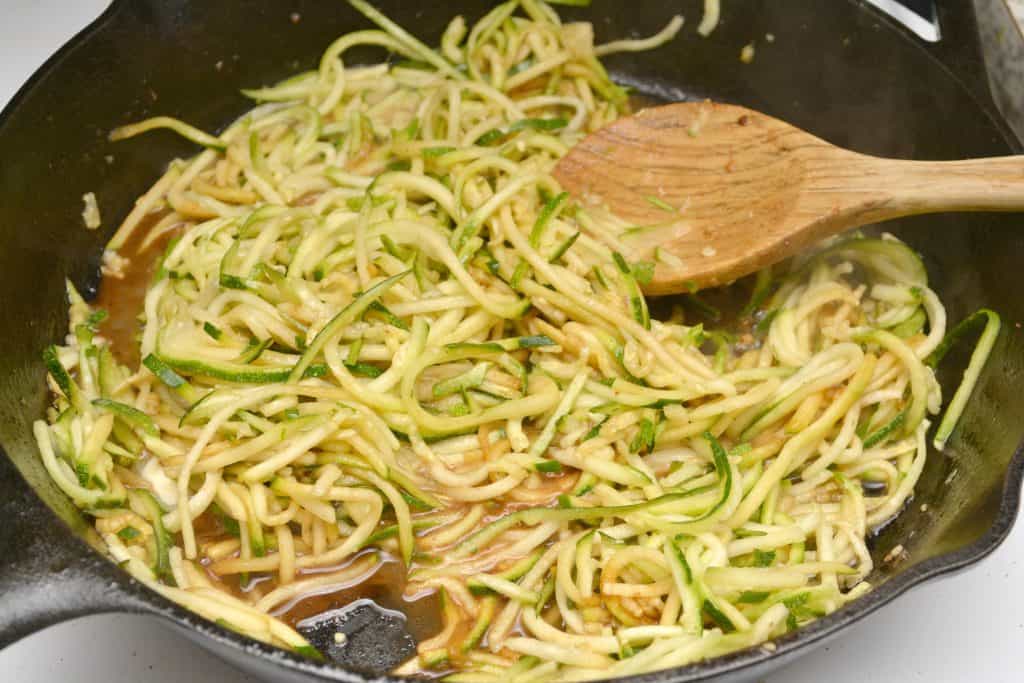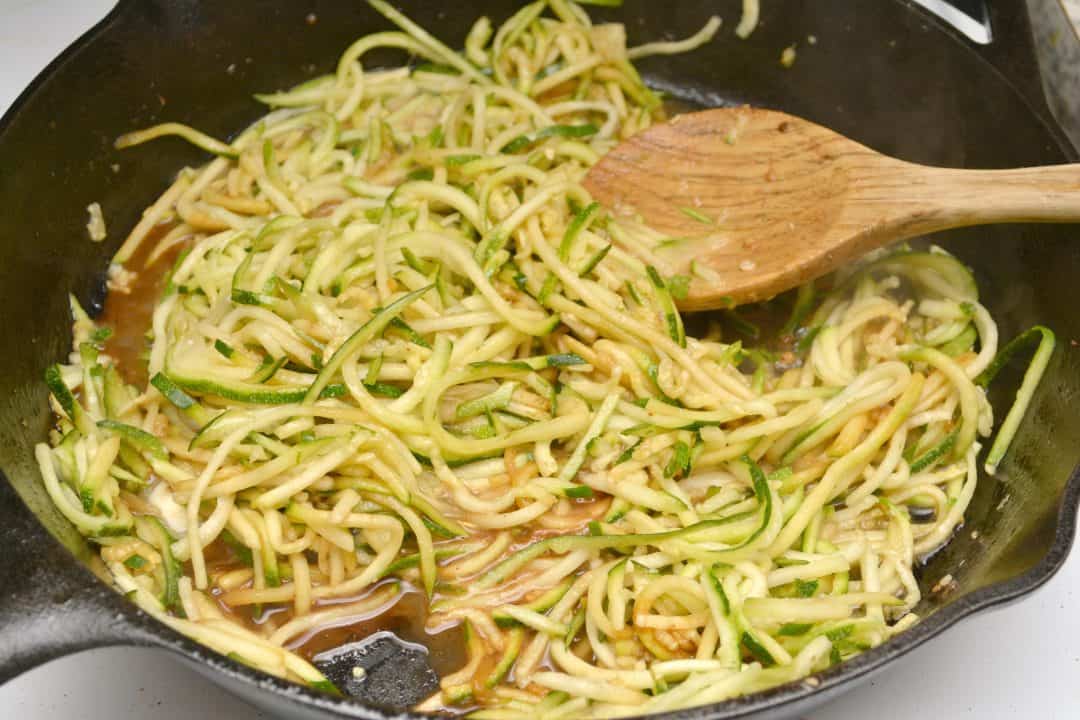 Squeeze and zest lemon to the noodles.
Add in ground black & red pepper to the garlic zucchini noodles.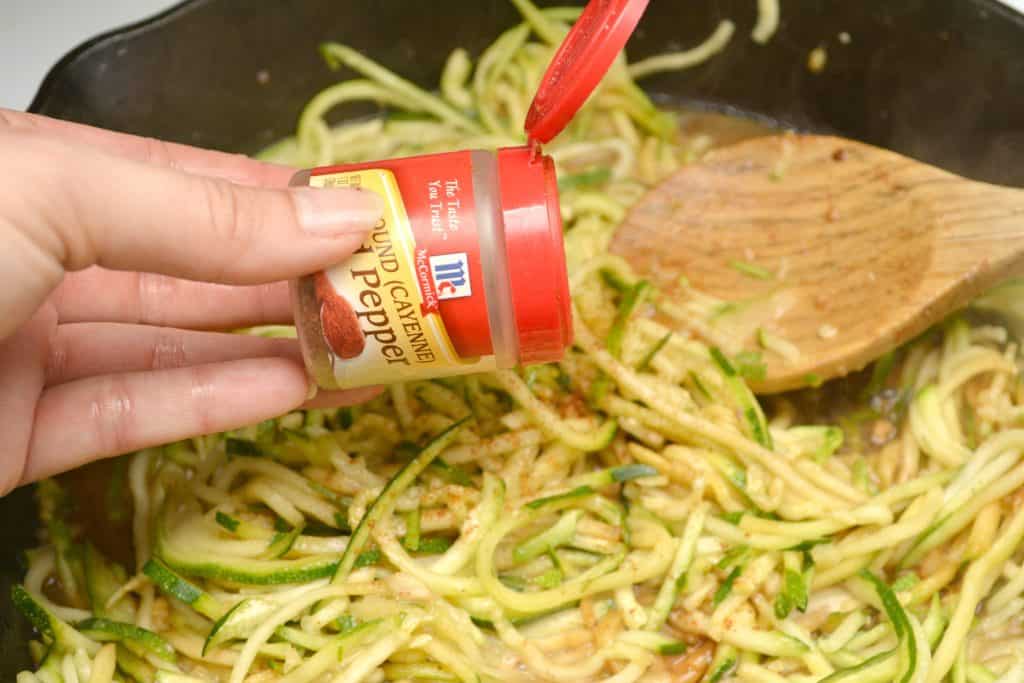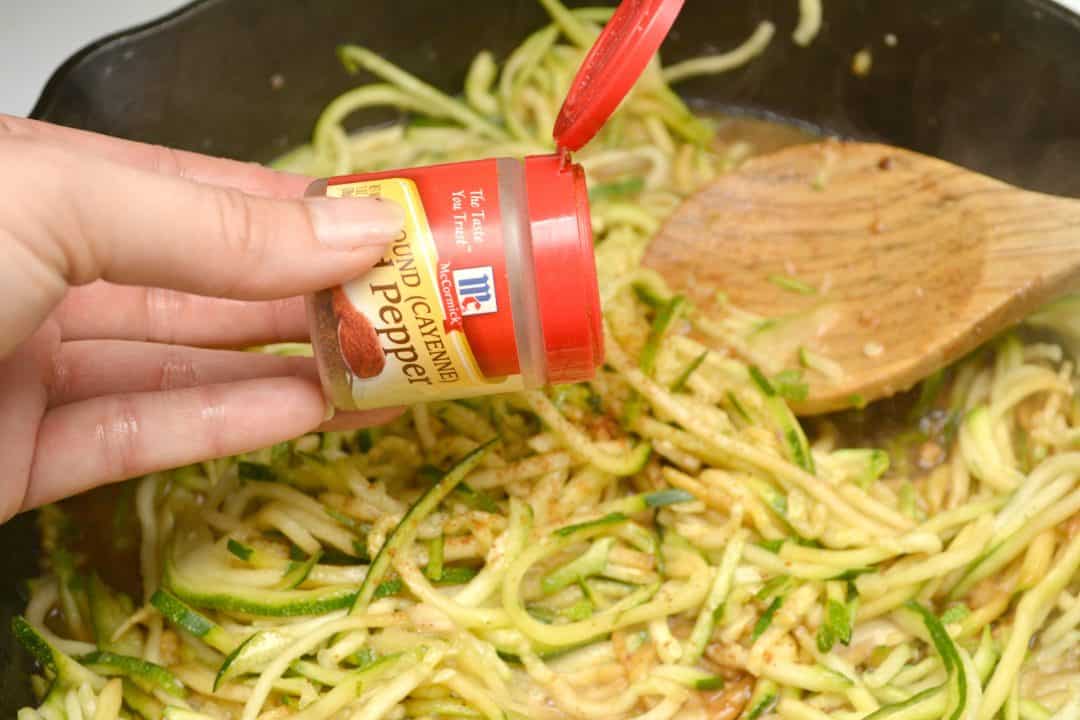 Add the remaining steak marinade to the stir fry zucchini noodles.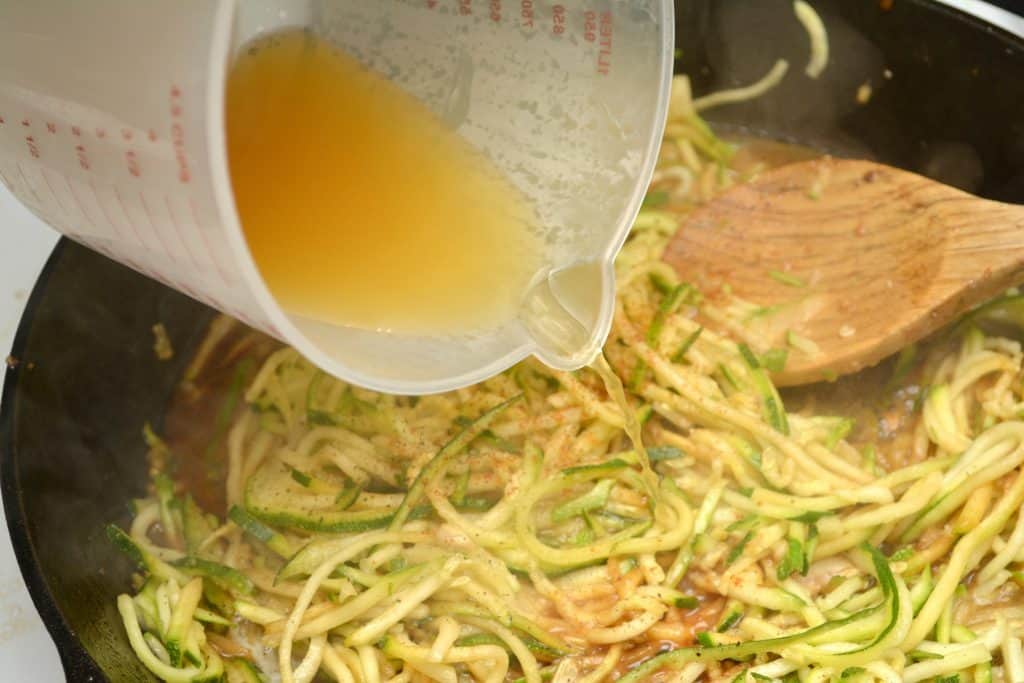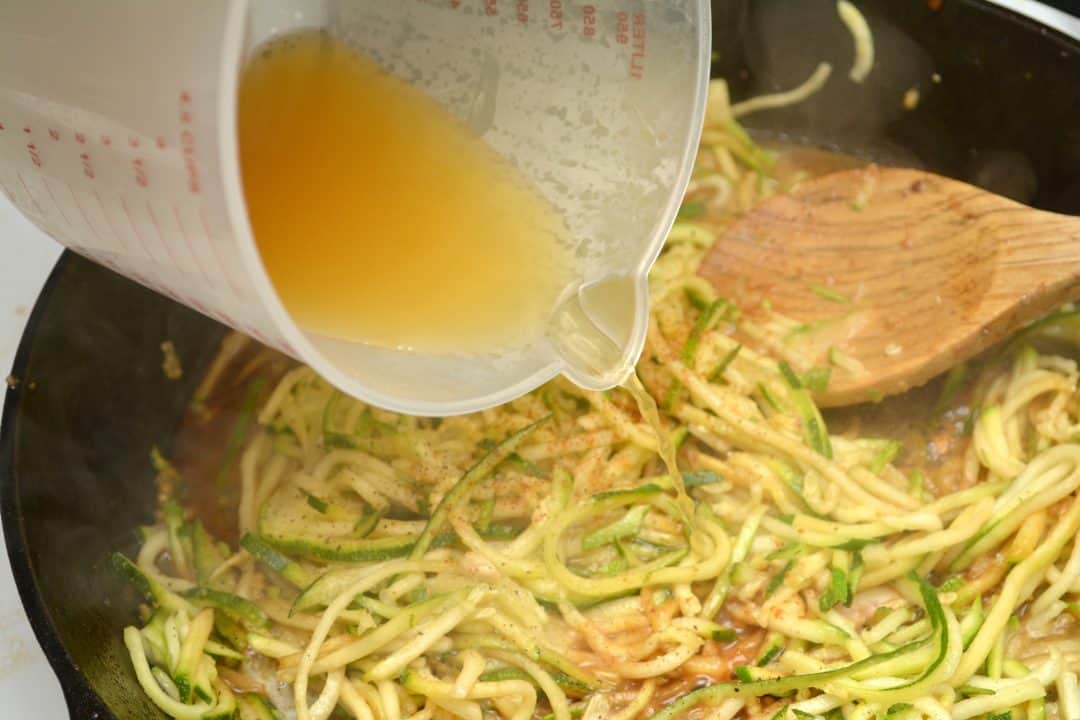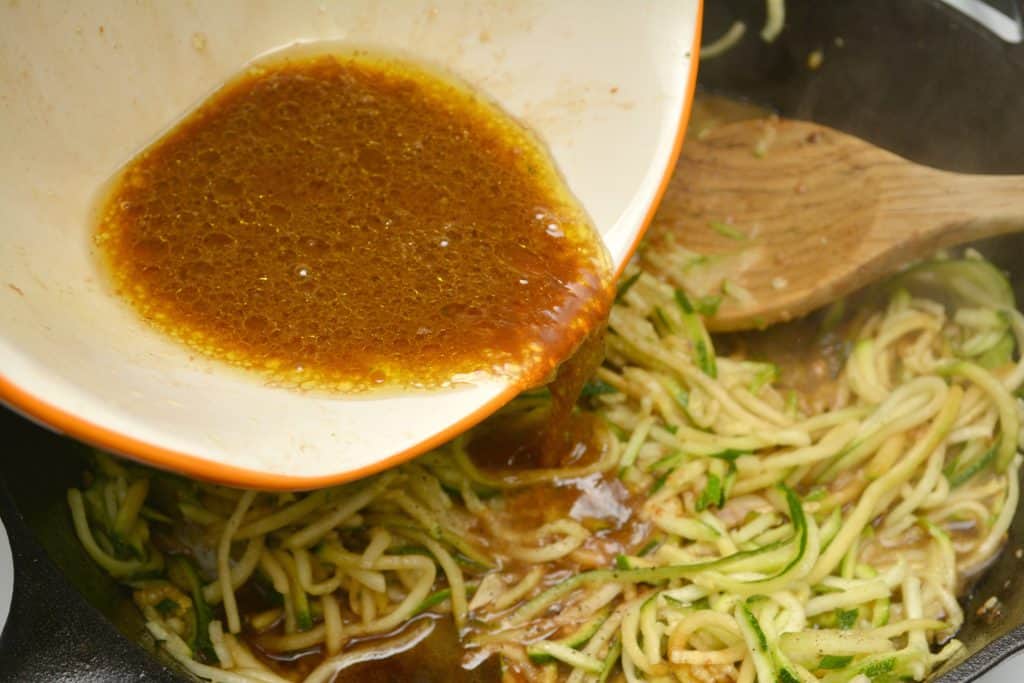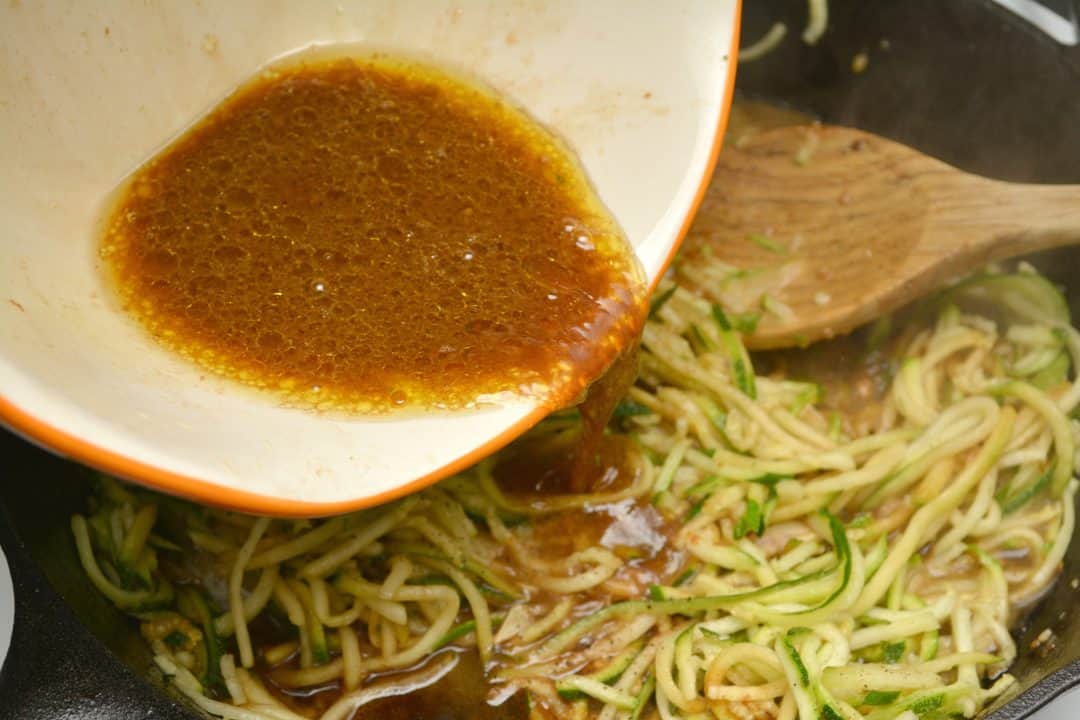 Now it's time to put some fresh herbs to the pan. The herbs will really make this garlic herb steak even more flavorful, so don't skip this step.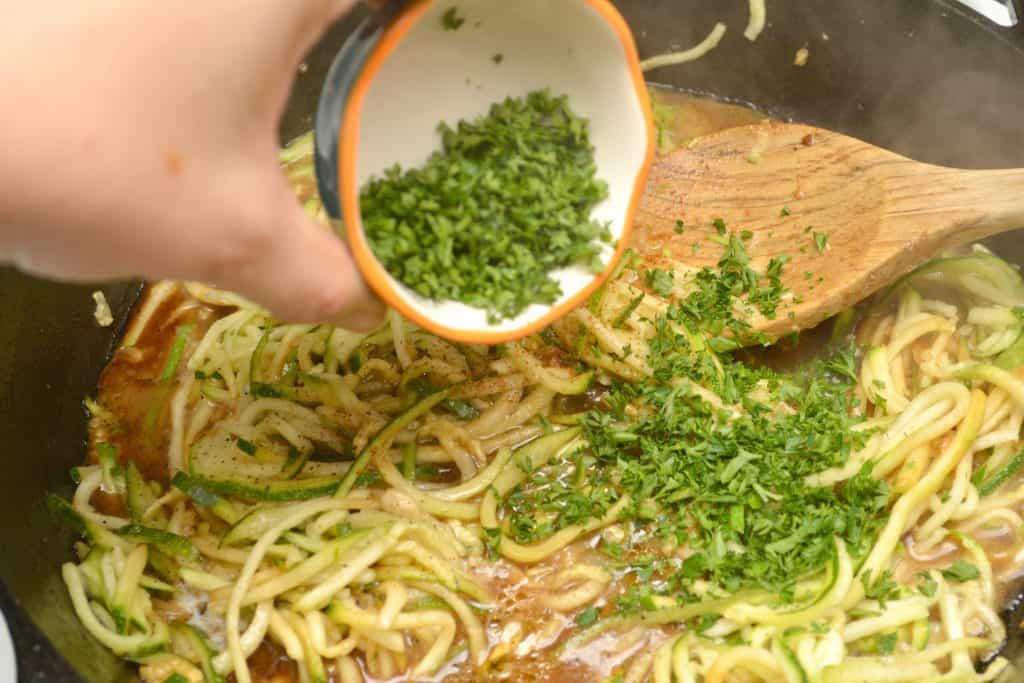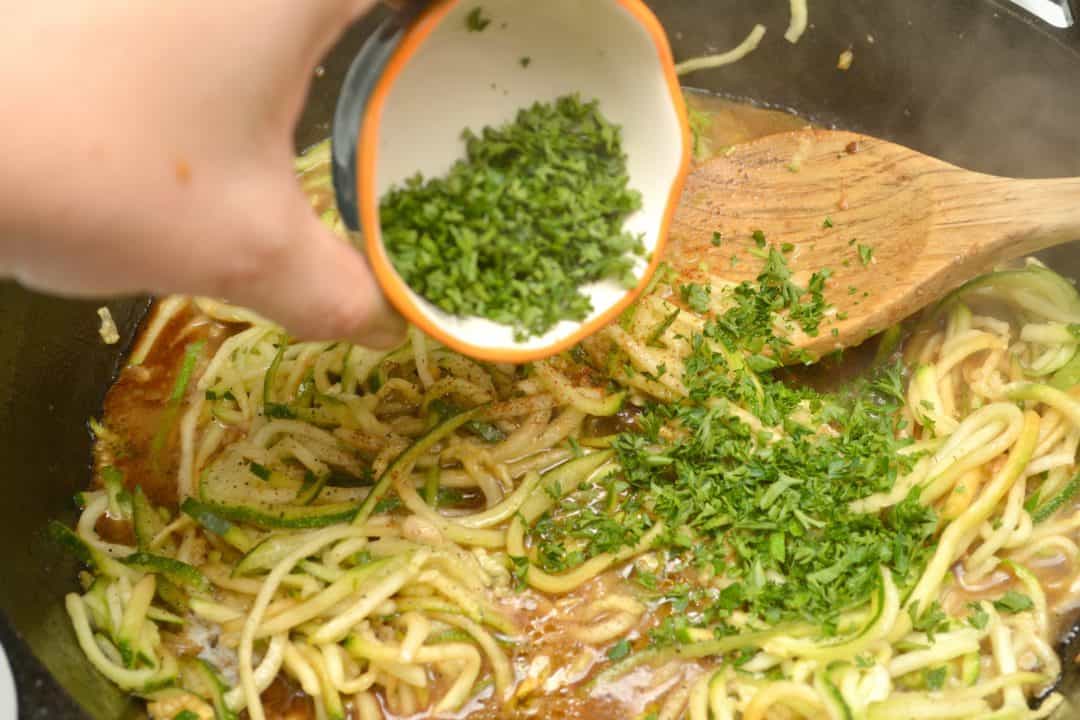 Put the steak back to the pan.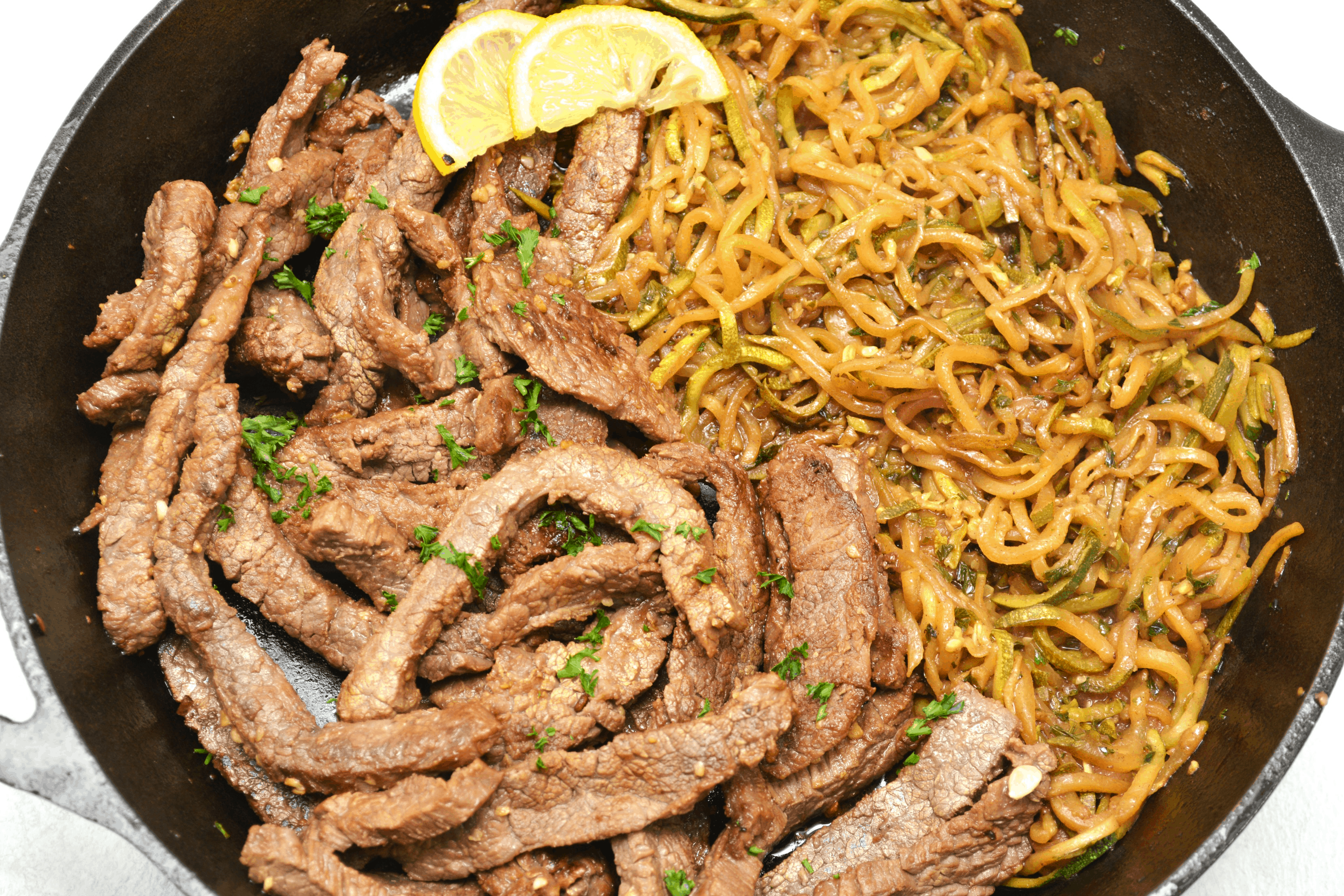 Garnish the pan seared steak with lemon and serve. Enjoy!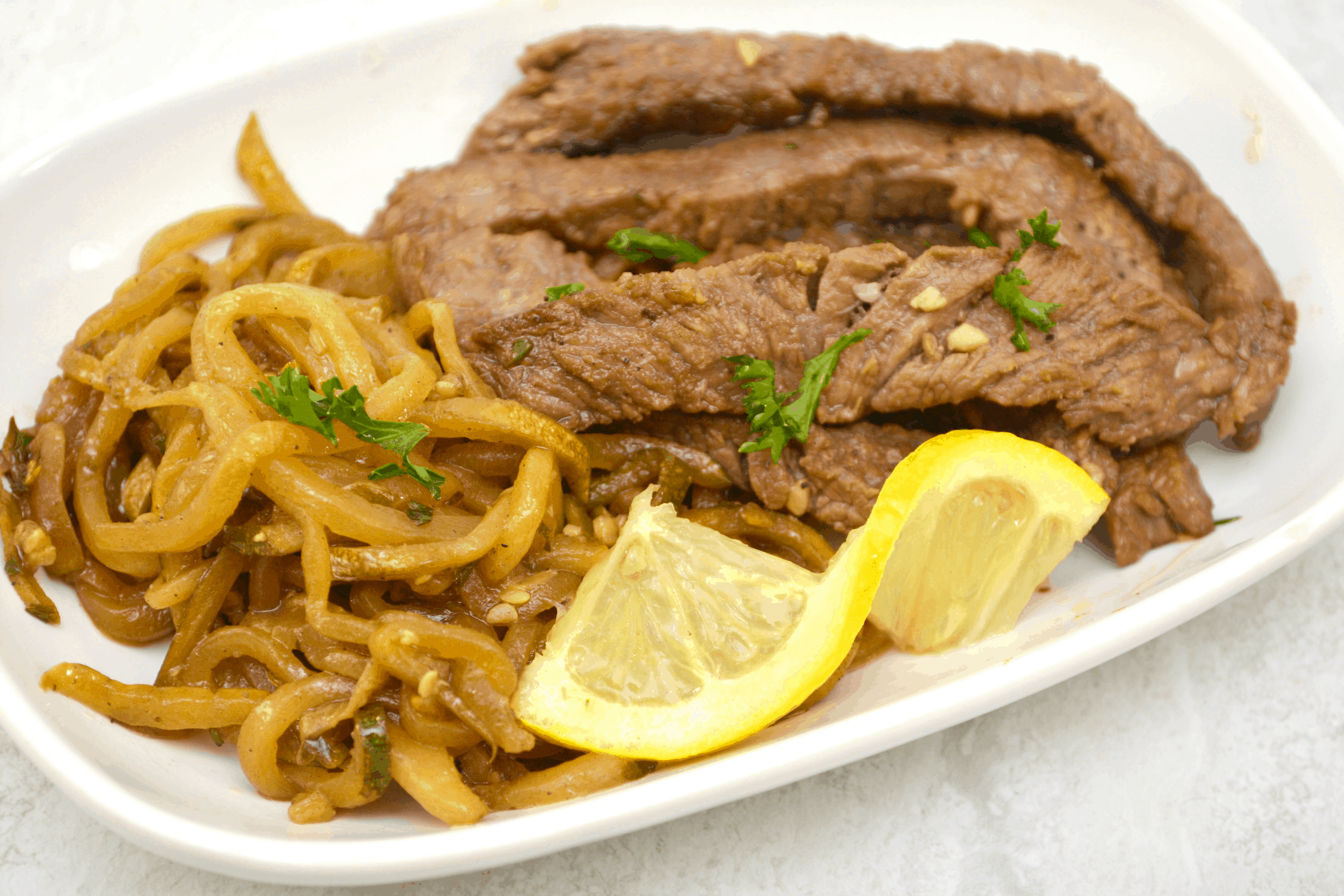 What Are Zucchini Noodles?
Let's just talk about zucchini noodles (zoodles) for a minute. Zoodles are one low carb health food trend that I was pretty "meh" about at first. I love my carbs and pasta, so I was immediately hesitant and wary of replacing my beloved noodles with a vegetable.
I'm still not completely sold on the idea, but I can tell you that in this recipe, it works. The texture, the flavor, everything about the zucchini noodles makes this dinner delicious. I may not be swapping out pasta for zoodles the next time I make spaghetti, but for some reason, maybe it's the texture, zucchini noodles just work in this stirfry-like dish.
Do Zucchini Noodles Keep Overnight?
Yes, absolutely! Simply spiral the noodles as you usually would and place them in a storage container. You can use glass or plastic. Add a paper towel to the bowl to help absorb the moisture from the zucchini and place in the fridge for 2-3 days.
They are perfect for meal prepping. If you are planning to make lemon garlic butter steak ahead of time, you can marinade it the night before as well as make the spiral the zucchini noodle pasta ahead too.
This way all you have to do is cook it, which will make your life easier on those busy nights.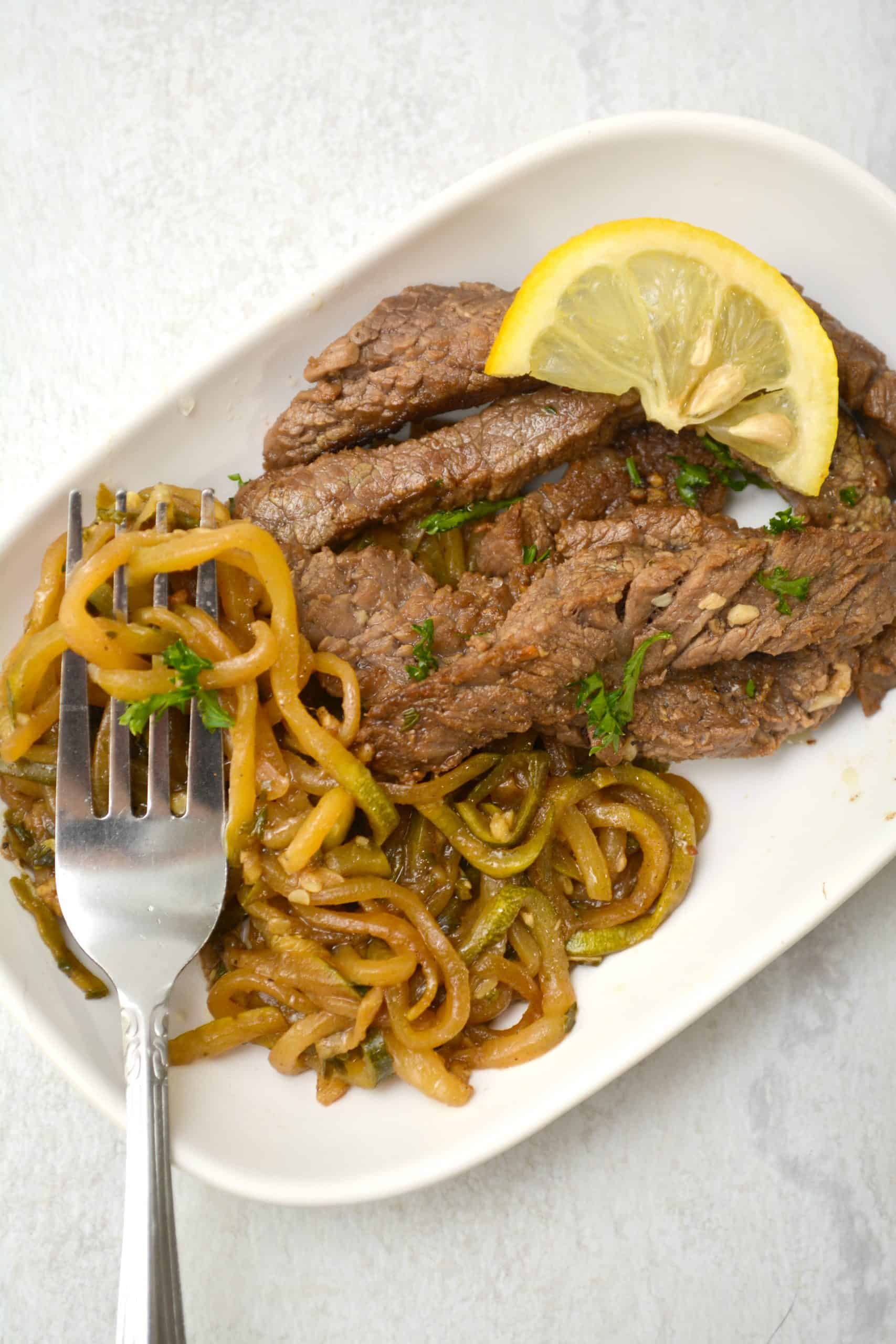 How Do You Make Steak Tender?
Yes, you can always buy the most expensive cuts of meat, but you can save loads of money by using cuts that are much less expensive. There are several ways you can make steak tender. If you are in a rush, the garlic steak will probably come out tough and not as appealing. Here are some ideas to help you have juicy, tender steak:
Tenderize flank steak by pounding it down with a mallet. Tenderizing it makes it easier to cut too.
Cook it low and slow. Never rush the roasted flank steak!
Salt is your best friend when tenderizing the flank steak. Using salt will draw moisture that is inside the steak out. This will create a brine, and the flank steak will become a deeper red color when it is working.
Use marinade! Not only will it taste better, but it makes the garlic butter steak nice and tender. When using marinade (no matter what the recipe is), use one that is acidic. Lemon, lime, and other citrus fruits will help break down the meat proteins resulting in softer meat.
Allow the marinated beef flank steak time to sit a room temperature before cooking. Doing so will allow the steak to cook evenly.
Should I Season Steak Overnight?
If time allows you to season the steak overnight, then, by all means, the answer is yes! If you simply don't have time to do that, don't worry at all! You can simply marinate 30 minutes before cooking, and you will be good. The longer it has to allow the juices and salt to marinate, the juicier it is going to be.
What Can I Substitute For Flank Steak?
If you don't have a flank steak or it is out of stock at the grocery store, you can substitute it with a few other options. There are several choices of steak that will give you the same results for this garlic butter steak with zucchini noodles recipe.
Skirt Steak – While skirt steak is a chewy and tougher piece of meat, you can tenderize it to fit this garlic butter steak recipe perfectly. Just don't skip tenderizing because it won't be very appealing if you do.
Flatiron – It's pretty easy to substitute flatiron for flank steak! Just follow the steps I gave you and you won't even notice the difference.
Hanger – This cut of steak is becoming more popular as time goes on. If you find yourself with some and aren't sure what to do with it, use it in this garlic butter steak recipe, and you will be delighted!
Sirloin – You can't go wrong adding in some bite-sized sirloin because it is so amazing! Cook as directed in the instructions and you are in for an extra juicy treat.
Lemon Garlic Butter Steak with Zucchini Noodles Variations
Everything about this lemon garlic butter steak with zucchini noodles is utterly divine! Sometimes I like to throw in additional ingredients so they don't go bad or if I am feeling something a little bit different. I thought I would share some of my go-to ideas with you.
Parmesan – Sprinkle a little bit of parmesan on top of the garlic steak recipe, and you will be in food heaven!
Carrots – Add some shredded carrots when you cook the zucchini noodles. It adds an extra sweetness that is so yummy!
Mushrooms – The give the lemon garlic butter steak with zucchini noodles recipe an earthy flavor that is out of this world.
Sriracha – If you like a little bit of extra heat in your meals, then add in a tablespoon of sriracha to make it extra firey.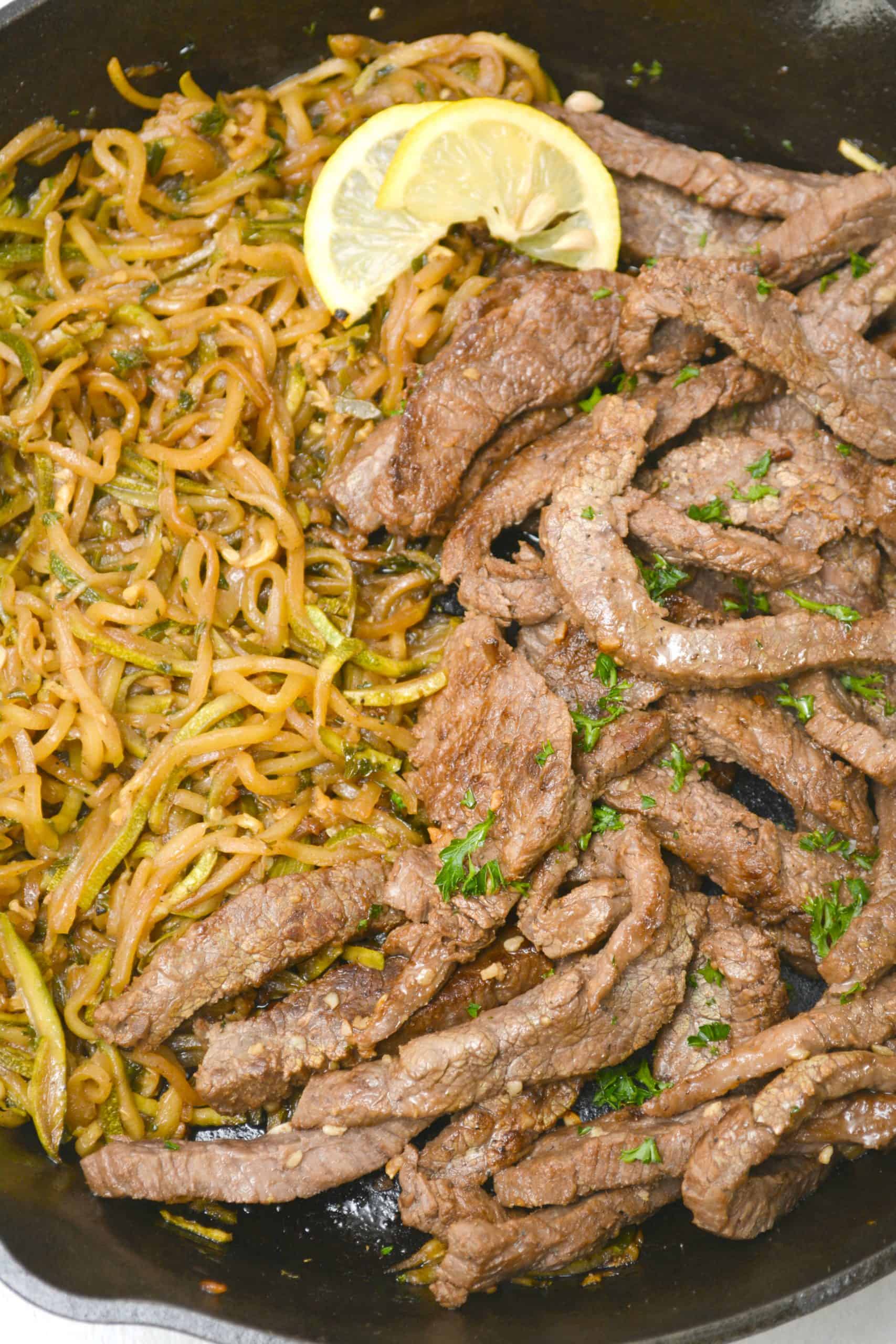 How Long Can You Keep Cooked Garlic Butter Steak?
If you have leftover garlic butter steak with zucchini noodles, you can save it in the fridge for 3-4 days. It is important always to store leftovers in an airtight container to prevent early aging and the food taking on other flavors in the refrigerator.
Mold, odors or any other apparent signs it has gone bad mean that bacteria has begun growing and it's time to throw the leftover steak out.
You can also freeze garlic steak bites and sauteed zucchini for 10-12 months. This is perfect for those days when you need a quick grab and go lunch or dinner without the fuss of having to cook it.
How Do I Reheat Garlic Butter Steak?
The easiest way to reheat garlic butter steak is to toss it into a skillet with a little bit of olive oil. I typically warm it up with medium heat and stir it often. Once it is hot, then you are ready to serve it. The best part garlic steak recipe is that it's delicious as leftovers.
What Should I Serve With Steak?
The wonderful thing about serving steak is that you can serve it with tons of recipes. Here are some of the best ideas to serve with garlic herb steak:
Green Beans – There isn't anything much better than some cooked fresh green beans! So tasty and easy.
Salad – A garden, Caesar, or veggie salad would all go perfectly with this steak and garlic recipe.
Turnips – I can't get enough of these oven-roasted turnips and love to serve them with steak because they are a match made in heaven!
Dinner Rolls – I don't think you could ever go wrong with warm, fresh bread! Yum!
Potatoes – Let's face it, potatoes go with pretty much everything! I prefer to roast them in the oven, but you could also fry them on the pan with a little bit of olive oil.
Pin this delicious Garlic Butter Steak with Zucchini Noodles for later: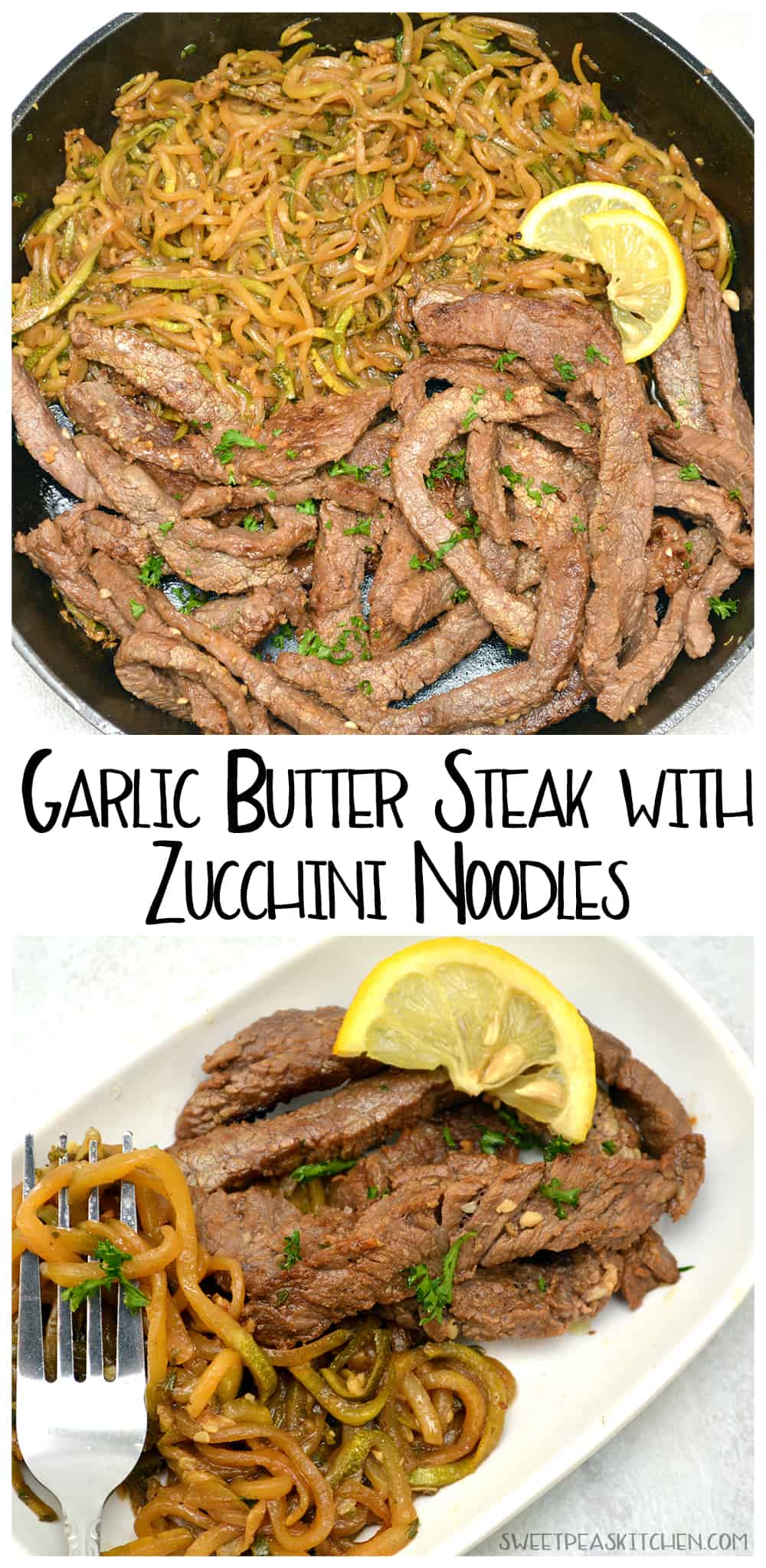 Pin this recipe now to remember it later
Garlic Butter Steak with Zucchini Noodles
Garlic Butter Steak with Zucchini Noodles is about to become your favorite low-carb, easy "melt in your mouth" dinner recipe!
Ingredients
4

Cloves

of Garlic minced

Pinch

of red pepper flakes
Want to save this recipe? Enter your email below and we'll send the recipe straight to your inbox!
NOTE: By saving this recipe, you agree to join our weekly recipes newsletter.
Instructions
Slice the flank steak into thin strips. Flank steak is easier to slice when going against the grain.

Place the sliced steak in a large bowl and add in a ⅓ cup of soy sauce.

Squeeze in the juice from one lemon, and grate in the zest from the skin of that same lemon.

Add in ½ cup of olive oil.

Let the steak soak in the marinade in the fridge for at least 30 minutes.

After the steak has marinated, add 2 tablespoons of olive oil to a skillet over medium-high heat. Once heated, cook the steak in an even layer for a few minutes stirring often. Save the remaining marinade.

Add in 4 cloves of minced garlic, and cook the steak for a few minutes more. Remove the steak from the skillet, and keep it warm.

To the same skillet you just cooked the steak in, add 2 tablespoons of butter.

Once the butter has melted, add in the zucchini noodles.

Squeeze in ¼ c. of fresh lemon juice.

Sprinkle in salt, pepper and a pinch of red pepper flakes to taste.

Pour in ¼ c. of chicken broth.

Add in some of the remaining marinade from the steak.

Toss in ¼ cup of chopped parsley. Stir all of the ingredients together, and cook the zucchini noodles over medium heat for several minutes until most of the liquid has absorbed, and the noodles have reached the desired consistency.

Add the steak back to the skillet, and serve with wedges of fresh cut lemon.
Nutrition
Follow me on Pinterest for daily delicious recipes!
Check these recipes for your next delight dinner:
Steak Bites with Garlic Butter – Can be served a complete meal or serve as steak bites appetizers.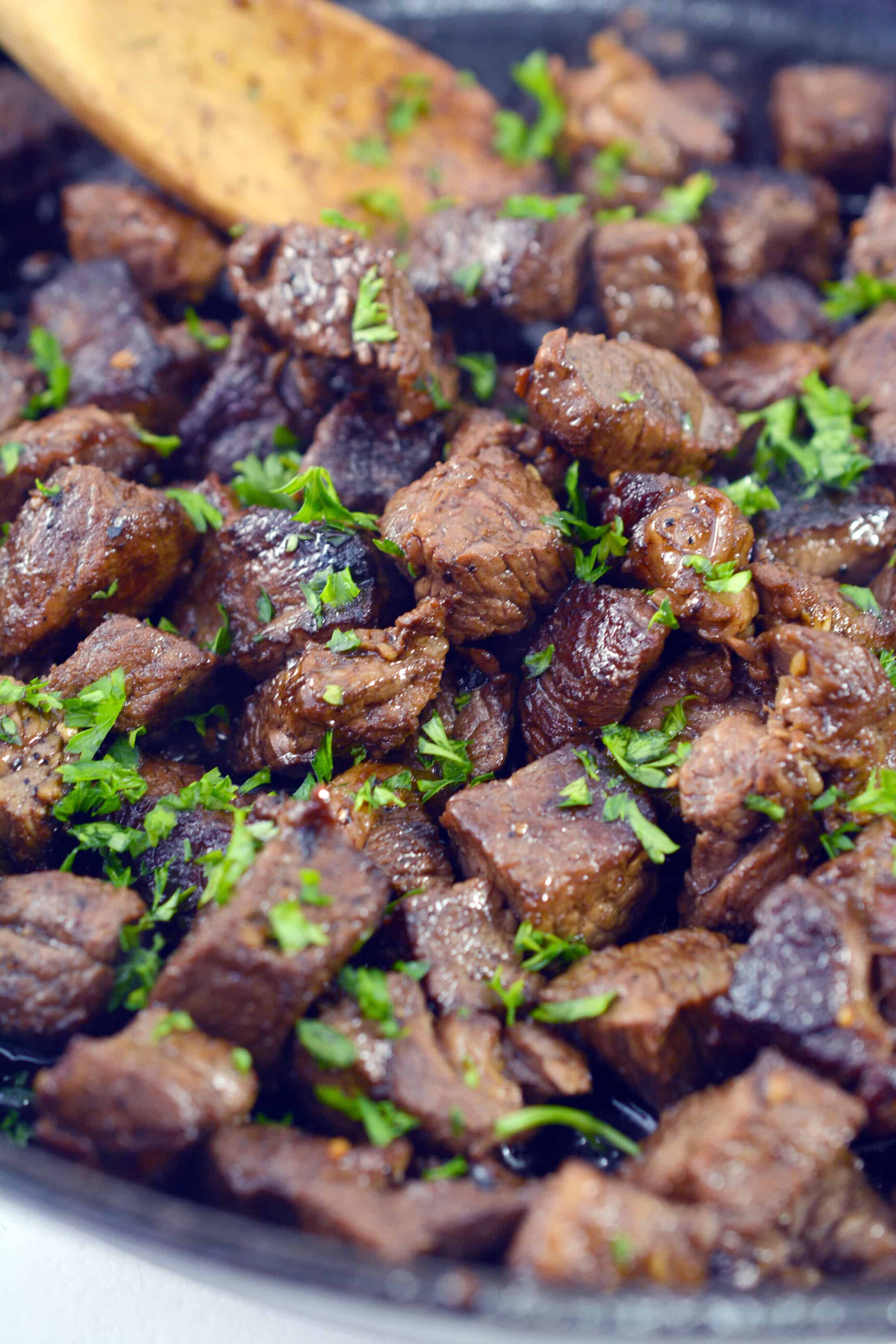 Baked Sweet and Sour Chicken – A homemade, healthier version of your favorite Chinese takeout dish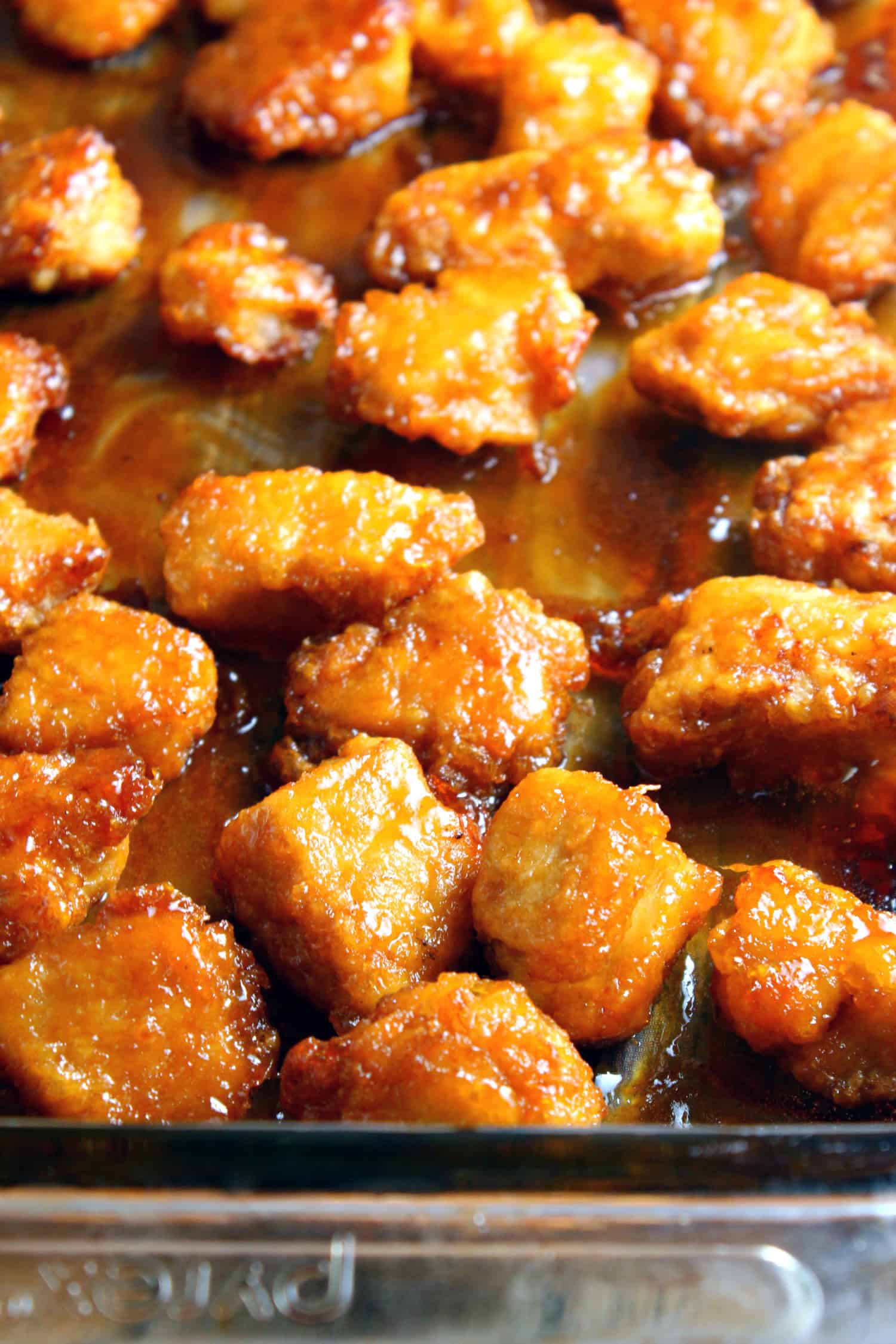 Seared Ribeye Steak With Red Wine Pan Gravy – This recipe for the Perfect Seared Ribeye Steak with Red Wine Pan Gravy will show you how to make the best ribeye steak you've ever had.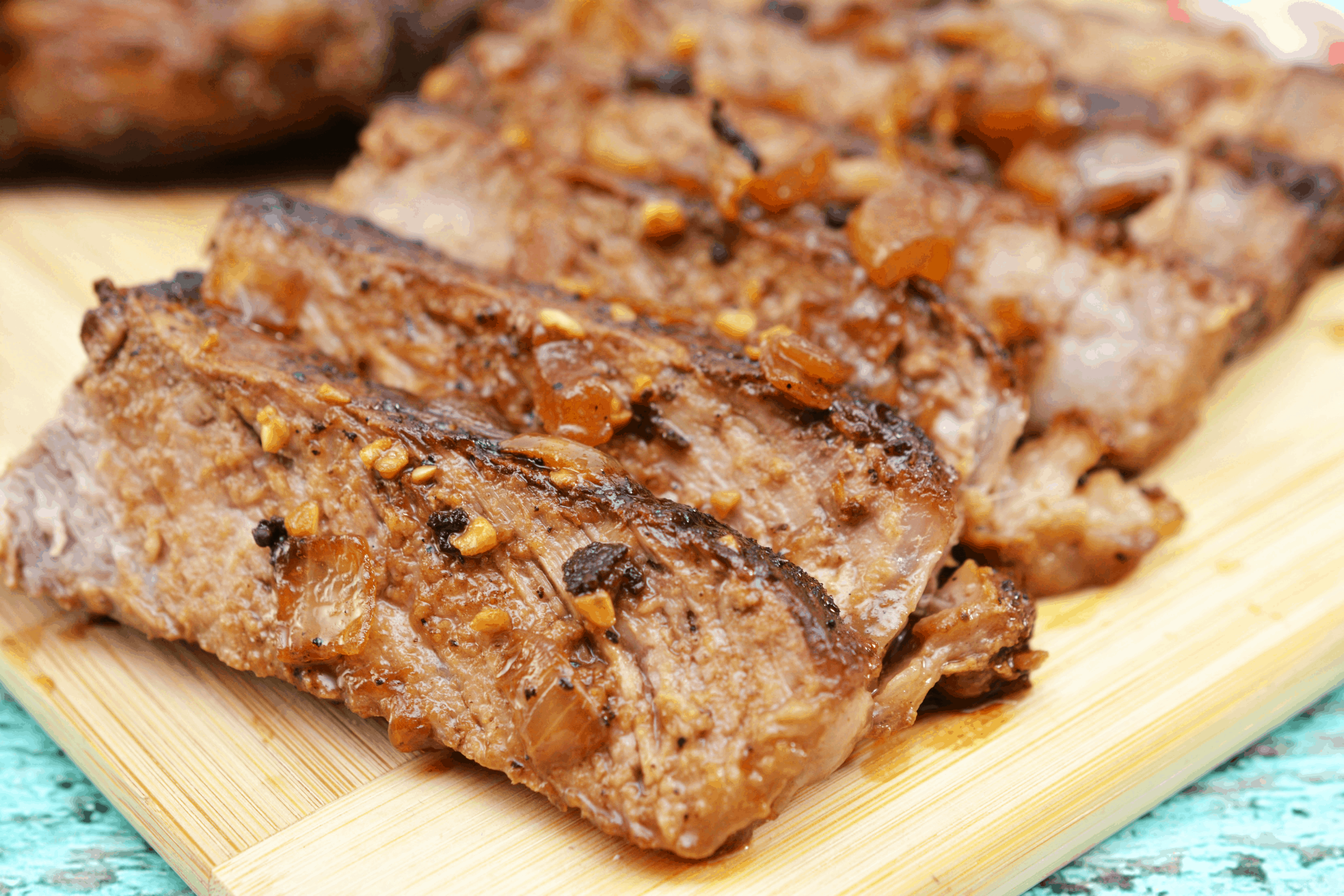 Get new recipes weekly plus our FREE ebook!