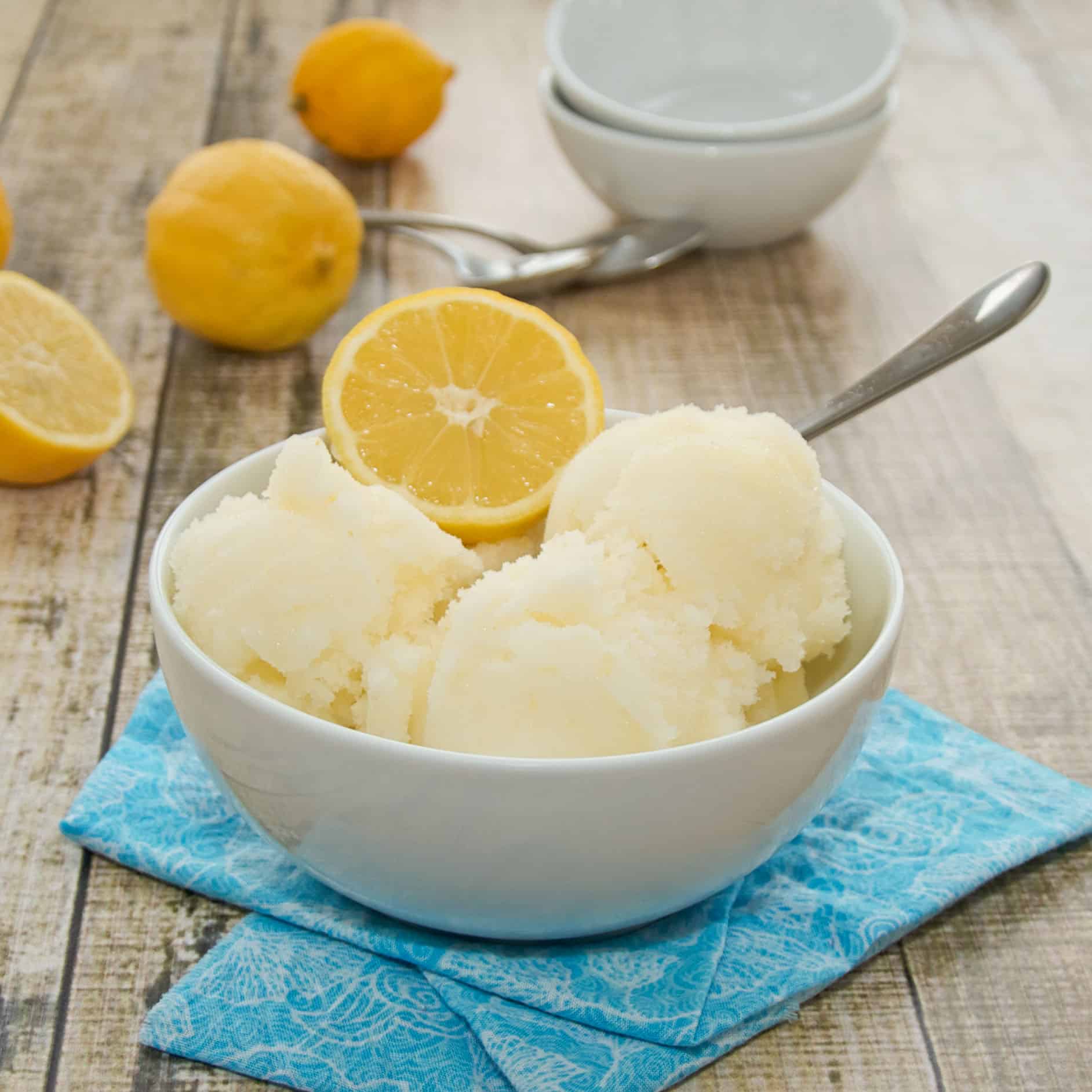 Cool and creamy Lemon Sorbet is the best dessert for any occasion. Serve this grown up simple lemon dessert at your next party, backyard barbecue, or dinner with friends. Its incredible flavor will rock your world and tantalize your taste buds.
Scroll to bottom for printable recipe card.
Lemon Sorbet
Nothing says hurry up summertime more than a crisp and refreshing scoop of homemade lemon sorbet. Smooth and creamy with just the perfect amount of tart. This recipe reminds of of a childhood favorite of mine…Lemon Chills! Growing up, I was addicted to Lemon Chills. A.dict.ed! 😀 Summer just wasn't summer until that first taste of frozen lemonade hit your tongue. Even though they were so ridiculously overpriced…I had to have one!
This recipe is the grown up version of the Lemon Chill. No longer do you need to visit an amusement park and stand in line for that bright yellow cup of deliciousness. Crisp and refreshing, any time of the year, this sorbet is certain to become an instant favorite in your house.
How to Grate Fresh Lemon
Zesting a fresh lemon is actually pretty simple. If you've never done it before, don't worry at all! You will be able to do it in a breeze. Okay, first, you need to get a Microplane. Then you will take the fresh lemon and rub the lemon back and forth over the Microplane. This will remove the lemon peel, and that is where you get the lemon zest.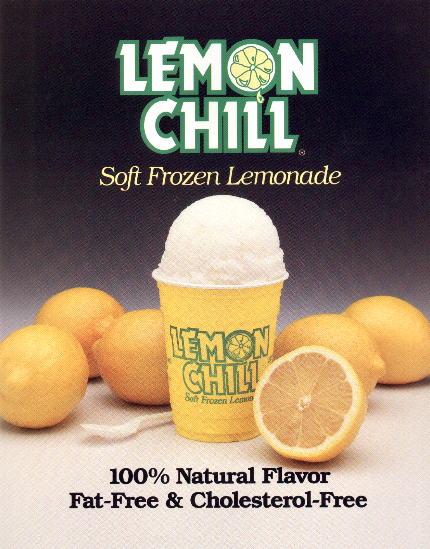 Tips for Making Lemon Sorbet
You need to invest in a good quality food processor or blender to make the sorbet. You can't really get the quality you are looking for without it.
Feel free to swap out the vodka for different alcohols. Tequila, rum, or even an orange-flavored liqueur would be good.
You could exchange the lemon and lemon juice for oranges or limes. Both would give you a love sorbet that everyone will love. Something else that is fun is to make all three flavors and give everyone one scoop of each. The fruits go so perfectly together.
Whatever you do, don't skip freezing the sorbet so it can finish setting up. Otherwise, it will end up too watery and not very appealing.
You can even swap the fruit for berries like blueberries, strawberries, or raspberries too. Go wild on flavor combinations to see what you love the most.
How to Store Lemon Sorbet
It's best to store the sorbet in a container that is completely airtight. It needs to be stored in the coldest area of your freezer. Keeping it frozen solid is so important to allow it to age well. If you keep it in the door of your freezer, it will lightly defrost every time you open the door. That's why it's so important to avoid placing it in the freezer door. The homemade lemon sorbet will typically last in the freezer for 1-2 months without any issues. When you are ready to eat it, set the container of the lemon sorbet on the counter for 10 minutes or so and scoop it out and enjoy it!
Will The Sorbet Freeze Solid?
The lemon sorbet with alcohol will freeze fairly solid. However, it won't be overwhelmingly solid most of the time because of the vodka. The vodka keeps it from turning super thick and hard. If you do have trouble with it being too hard, you can add it to your blender and add a little bit more lemon juice, vodka, or water to add some moisture. Blend until it's smooth and devour it.
Ingredients
It's amazing to me that you seriously only need 6 ingredients to make this homemade lemon sorbet. The way it tastes, you would think that it has tons of stuff in it to make it that good, but it doesn't.
White granulated sugar
Grated lemon zest
Pinch salt
Water
Fresh lemon juice, about 3 lemons
Vodka
How to Make Lemon Sorbet
I couldn't be happier to share this lemon sorbet recipe with you. I think you love it as much as we do and will be so glad you took the plunge to make it. Don't worry; it's so easy to make you will want to make all sorts of versions of it.
First Step: Begin by getting a food processor and combine the salt, lemon zest, and sugar together. Once you complete around 15 pulses, you can add in the lemon juice, water, and vodka to the mix. Continue to mix for one minute or so or until the sugar has completely dissolved. Then pour the sorbet mixture into a large bowl. You will need to either add a tight fitting lid or cover it tightly with a piece of plastic wrap. Then put in the fridge for 4-24 hours or until it's around 40 degrees and super cold.
Second Step: Pour the lemon sorbet mixture into your ice cream maker. You will need to follow the directions according to the manufacturer's directions. The lemon sorbet needs to be mixed until it is the texture of a soft-serve ice cream.
Third Step: Remove the lemon sorbet from the ice cream machine and put it in a container that's airtight. Freeze until it's firm, and then you can dig in.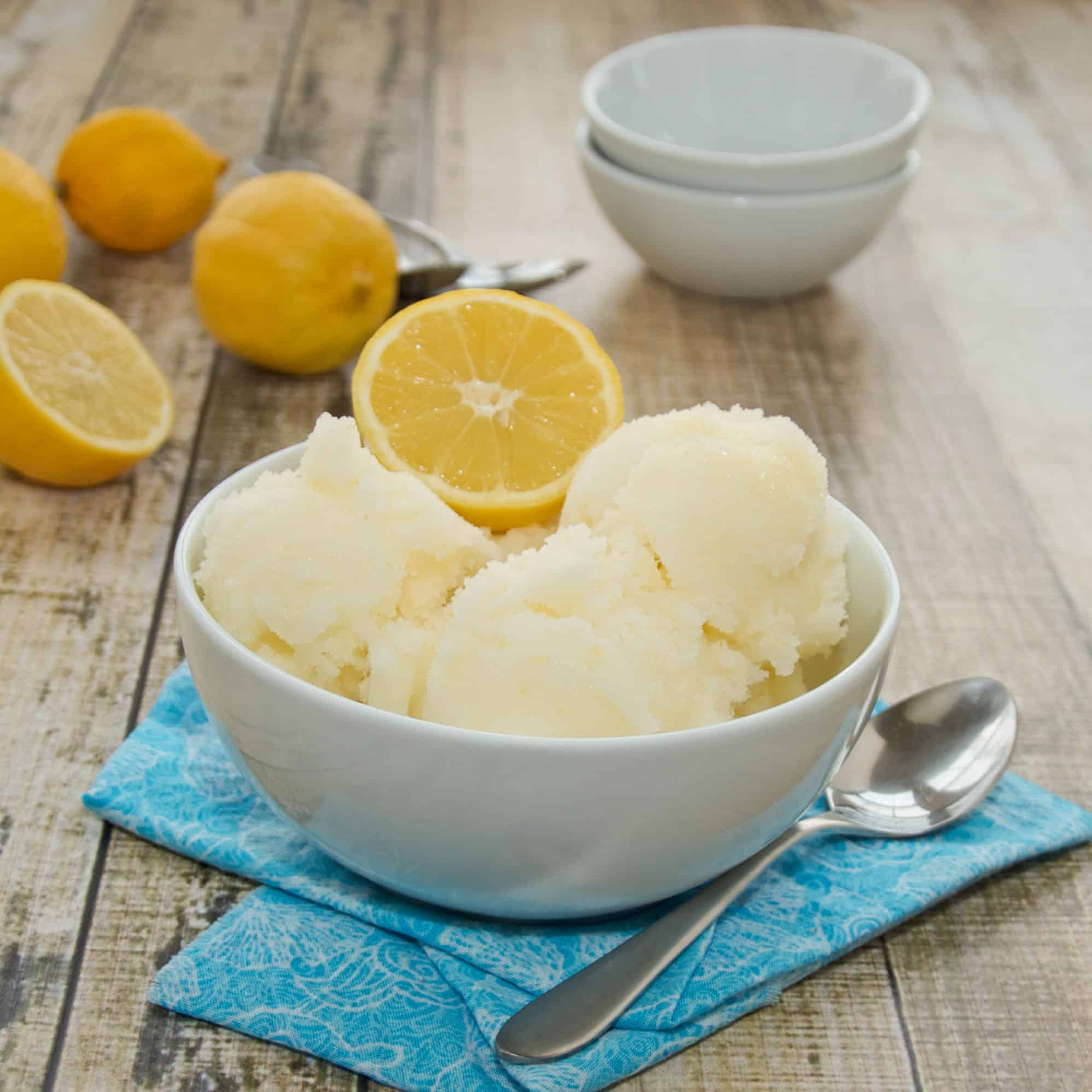 I know a lot of people only eat ice cream and cold treats in the summer, but I am one of those people who will eat it year-round. Check out these tasty cold desserts to enjoy whenever you are in the mood for them.
Pin this recipe now to remember it later
Lemon Sorbet
Smooth and creamy Lemon Sorbet.
Ingredients
1 1/4

cups

granulated sugar

2

teaspoons

grated lemon zest

1/2

cup

fresh lemon juice

,

about 3 lemons
Want to save this recipe? Enter your email below and we'll send the recipe straight to your inbox!
NOTE: By saving this recipe, you agree to join our weekly recipes newsletter.
Instructions
In the work bowl of a food processor, pulse the sugar, zest, and salt together until combined, about 15 pulses. With the machine running, pour the remaining ingredients through the feed tube and continue to process until the sugar is dissolved, about 1 minute. Transfer the mixture into a large bowl, cover tightly with plastic wrap and refrigerate until very cold (40 degrees), at least 4 hours and up to 24 hours.
Pour the mixture into the ice cream canister and churn following the manufacturer's instructions until the mixture resembles the consistency of soft served ice cream.
Transfer the sorbet to an airtight container. Cover the container and freeze the ice cream until it is firm, about 3 hours.
Follow me on Pinterest for daily delicious recipes!
Get new recipes weekly plus our FREE ebook!