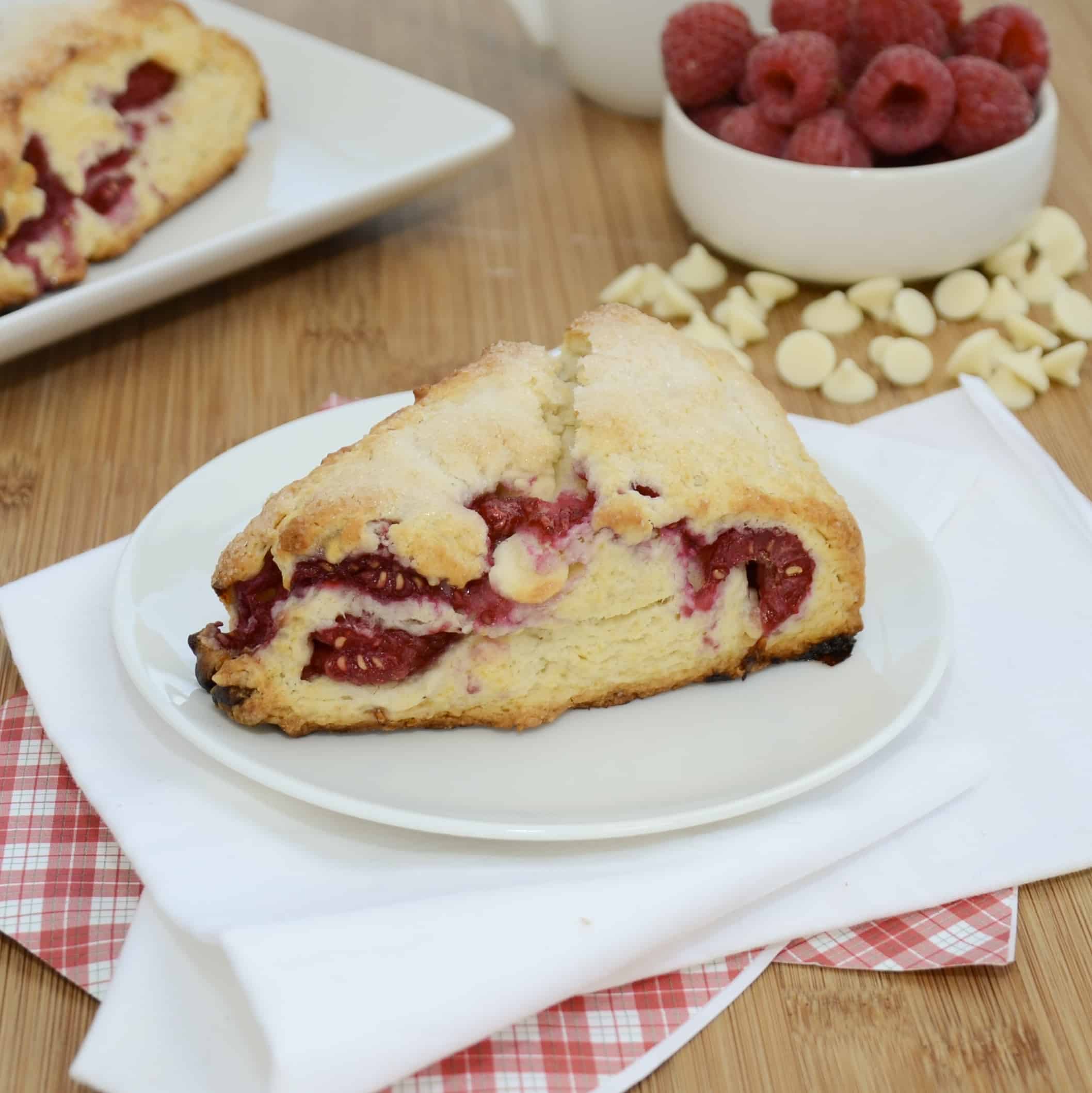 Raspberry White Chocolate Scones are calling your name. These show-stopping raspberry scones are amazing for breakfast. Make these homemade scones for meal prepping or whenever you are making breakfast or brunch.
Scroll to bottom for printable recipe card.
Raspberry White Chocolate Scones
If you have been following my blog for a while, you know that I love breakfast food, especially scones! They are easy to grab when you are running out the door to work, and they make a great addition to a Sunday brunch. Don't have fresh raspberries? No worries, you can use frozen; just throw them into the batter and shape! No need to thaw! 🙂 As with all scone recipes, it is important to work the dough as little as possible—work quickly and knead and fold the dough only the number of times called for.
The butter should be frozen solid before placing it in the food processor. In hot or humid environments, chill the flour mixture and work bowls before use. These scones freeze beautifully, so you can enjoy fresh from the oven scones any time of the day. Just freeze the scones on a baking sheet until firm, tightly wrap in plastic wrap, and place in a ziplock freezer bag. When you are ready to bake, just pop them into the oven straight from the freezer. No need to thaw; just add a few more minutes to the baking time.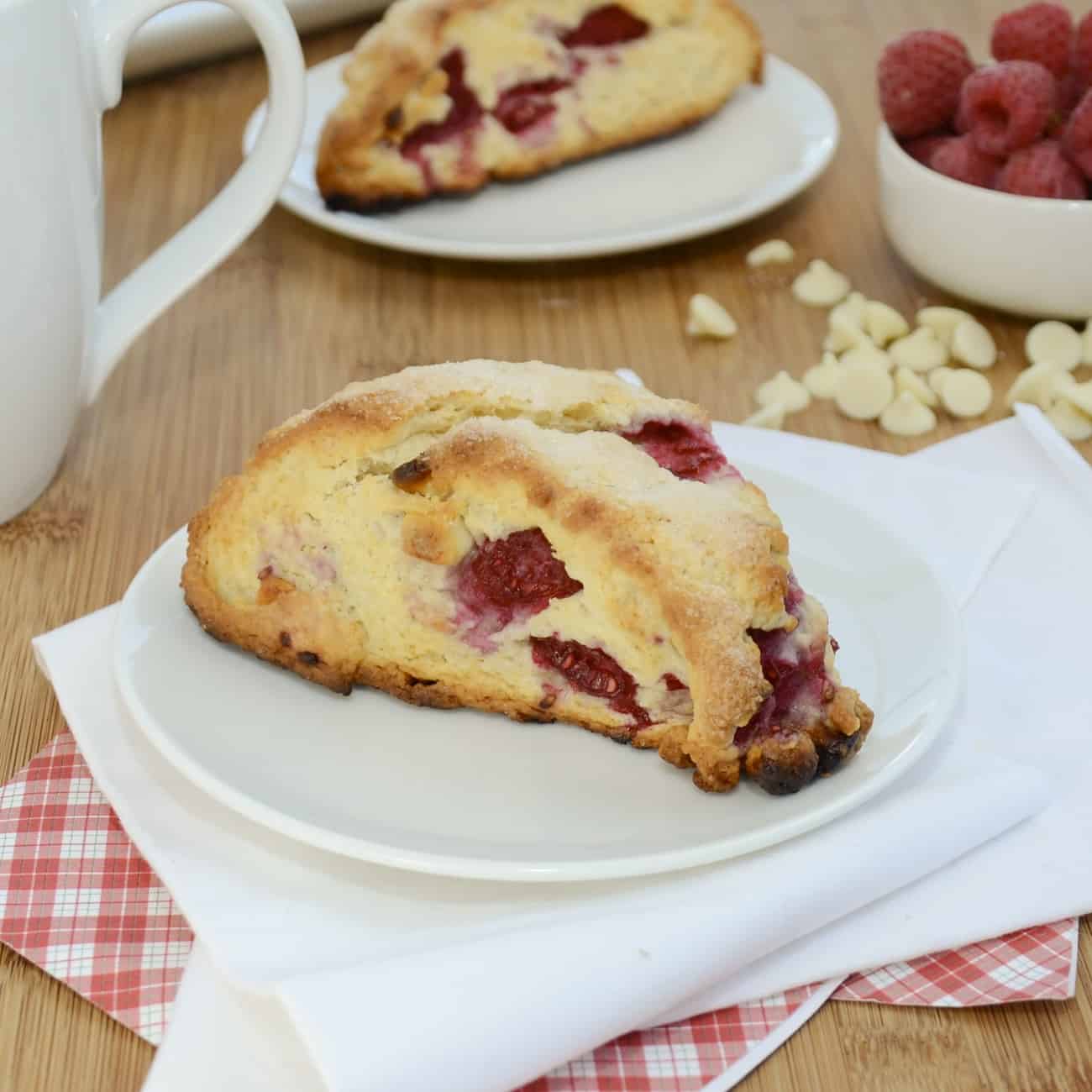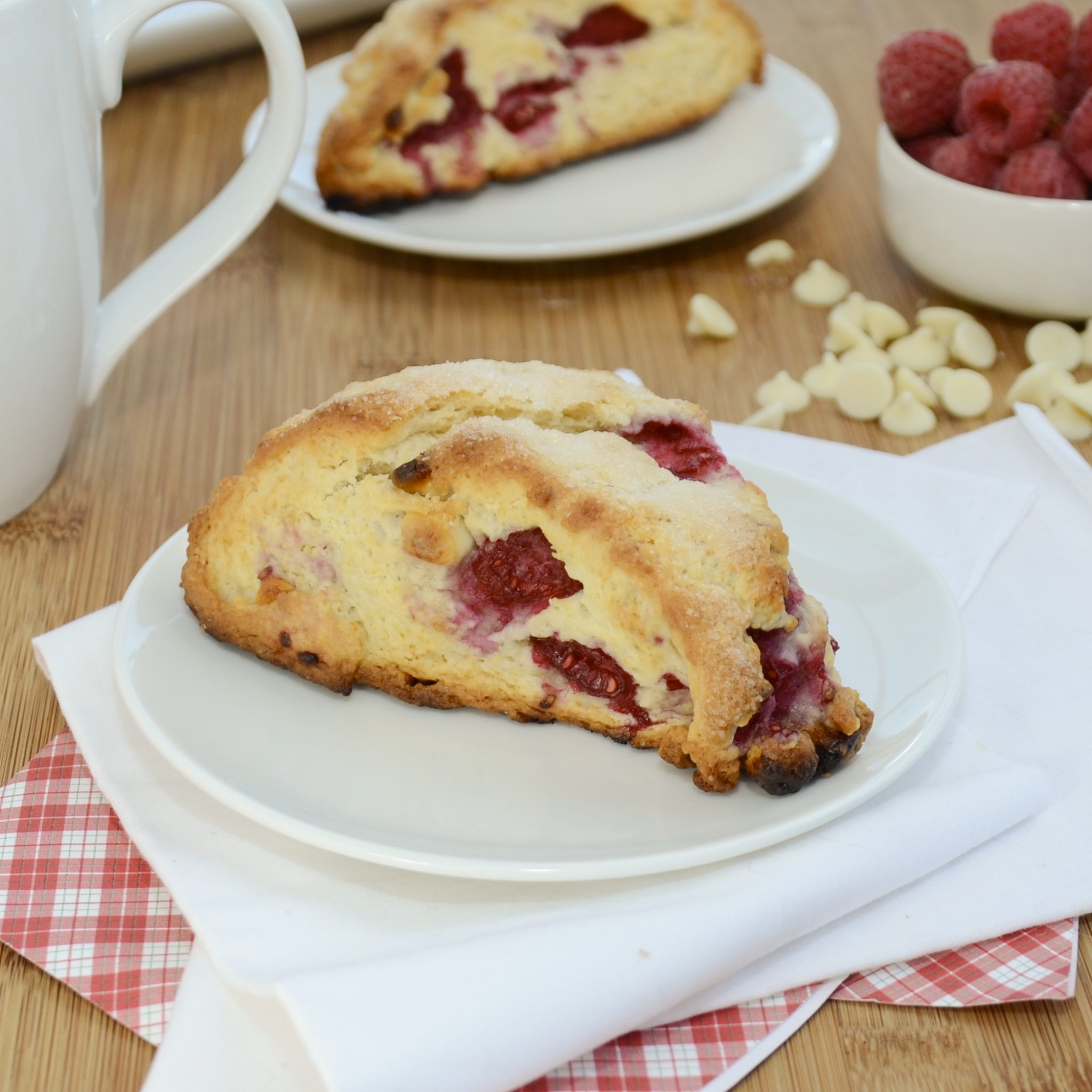 Can I Use Frozen Fruit
Yes, using frozen scones is a great idea, especially when you can't get the fruit in season. We will sometimes swap out the fresh raspberries for frozen raspberries, and they are just as delicious and give you a great result.
Can I Put A Glaze On Top of My Scones
Yep! Whip up your favorite glaze recipe and drizzle on top if you want. You can also melt some white, semi-sweet, or dark chocolate and drizzle it on top. Any of those ideas will give you an incredible result and leave you begging for more.
How to Shape And Slice Scones
There are several ways to slice scones, but more often than not, I like to make them in the shape of triangles. Sometimes I will use a biscuit cutter and shape them into a circle. Do whatever you like best and what fits your needs, and you can't go wrong. I do recommend using a sharp knife to ensure it is able to cut through your scone dough.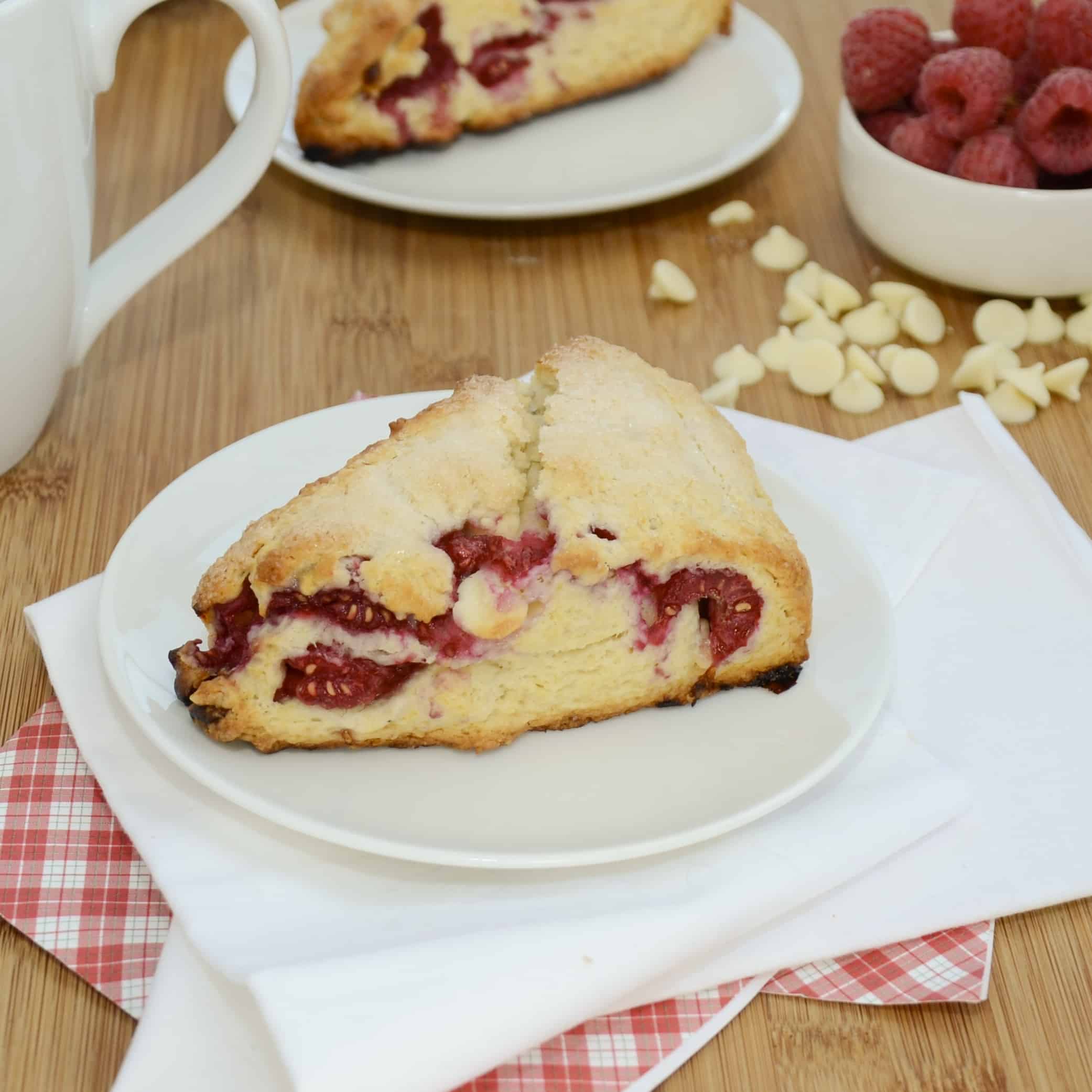 Do Raspberry Scones Need To Be Stored In The Fridge
No, you can store the scones at room temperature as long as they are kept airtight. They will last around 3 days. You can also store them in the freezer if you can't eat them within three days. Again, they will need to be airtight, and you can defrost them on the counter before serving. Sometimes I like to reheat them in the microwave for a few minutes.
Ingredients
Whole milk
Sour cream
Unbleached all-purpose flour
Sugar
Baking powder
Baking soda
Table salt
Grated lemon zest
Unsalted butter, frozen, cut into ½ inch pieces.
Fresh raspberries
White chocolate chips
Unsalted butter, melted
How to Make Raspberry Scones
First Step: Adjust the oven rack so it's in the middle position of your oven. Turn it to 425 degrees and put the raspberries in the freezer.
Second Step: Combine the milk and sour cream in a bowl with a whisk. Refrigerate until you are ready to use it.
Third Step: Use your food processor and combine the flour, sugar, baking powder, baking soda, salt, and lemon zest together until well combined. Then add in the butter and use a fork to ensure all of the pieces are covered. Pulse it to make the butter mixture look like coarse cornmeal. Place the mixture inside of a large mixing bowl.
Fourth Step: Pour the milk into the flour mixture. Use a rubber spatula until it's combined. Then take the spatula and move the dough to a countertop or work surface that's been coated in flour. Add some more flour to the dough. Using hand that have been dipped in flour, knead the scone dough 6-8 times or until it holds together in a ball.
Fifth Step: Roll out the scone dough into a 12 inch square. Then fold it into thirds like you would a business letter. Take a bench scraper and release any dough that sticks. Fold it again so it is in a 4 inch square. Put the dough on a plate and freeze for 5 minutes.
Sixth Step: Put the dough back onto the work surface and roll it out into a 12 inch square. Then add the raspberries and white chocolate all over the dough. Push the raspberries down into the dough. Roll the dough into a long tight log. Place it so the seam is down and press it out into a 12 x 4 inch rectangle. Take a sharp knife and cut rectangles.
Seventh Step: Take the melted butter and brush the tops of all the scones. Then add the sugar on top and bake for 18-25 minutes or until they are golden brown. Place them on a wire rack to cool for 10 minutes then serve.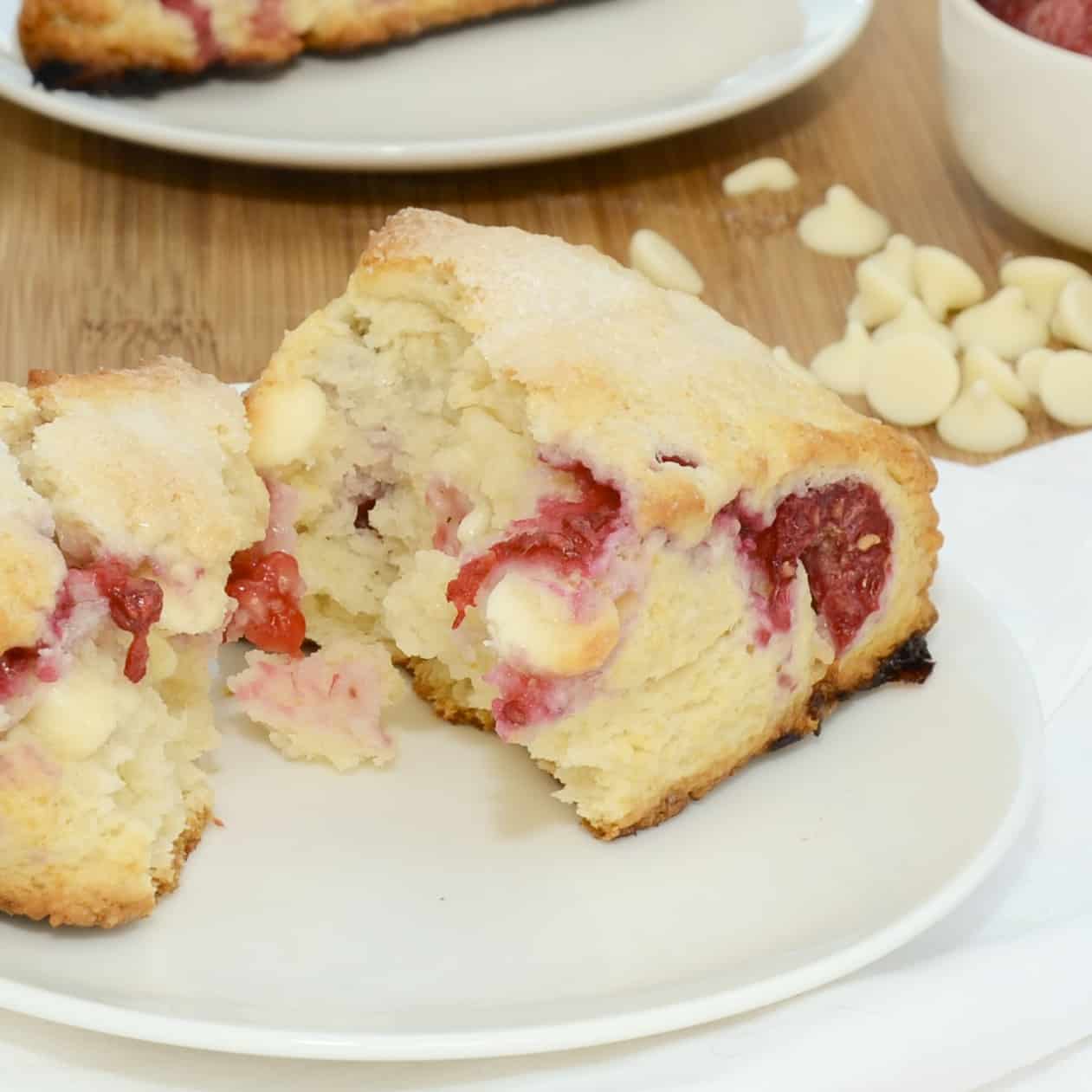 Try out some of my other yummy scone recipes. They are wonderful if you are hosting a baby shower, needing brunch, or want a tasty breakfast for the holidays.
Pin this recipe now to remember it later
Raspberry White Chocolate Scones
Ingredients
2

cups

unbleached all-purpose flour

,

10 ounces, plus additional for work surface

1/2

cup

sugar

,

3 1/2 ounces, plus 1 tablespoon for sprinkling

2

teaspoons

baking powder

1

teaspoon

grated lemon zest

8

tablespoons

unsalted butter

,

frozen, cut into ½ inch pieces

1 ½

cups

fresh raspberries

,

about 7 1/2 ounces

1/3

cup

white chocolate chips

2

tablespoons

unsalted butter

,

melted
Want to save this recipe? Enter your email below and we'll send the recipe straight to your inbox!
NOTE: By saving this recipe, you agree to join our weekly recipes newsletter.
Instructions
Adjust oven rack to middle position and heat oven to 425 degrees. Place raspberries in freezer until needed.

Whisk together milk and sour cream in a medium bowl; refrigerate until needed.

In the bowl of a food processor fitted with the metal blade, pulse flour, ½ cup sugar, baking powder, baking soda, salt and lemon zest until combined, about five 1-second pulses. Add butter and toss with a fork to cover in flour mixture. Pulse until mixture looks like coarse cornmeal flecked with pea-sized bits of butter, about 10 to 12 pulses. Transfer mixture to a large mixing bowl.

Add milk mixture to flour mixture; fold with spatula until just combined. With rubber spatula, transfer dough to liberally floured work surface. Dust surface of dough with flour; with floured hands, knead dough 6 to 8 times, until it just holds together in ragged ball, adding flour as needed to prevent sticking.

Roll dough into an approximate 12-inch square. Fold dough into thirds like a business letter, using bench scraper to release dough if it sticks to countertop. Lift short ends of dough and fold into thirds again to form approximate 4-inch square. Transfer dough to plate lightly dusted with flour and chill in freezer 5 minutes.

Transfer dough to floured work surface and roll into approximate 12-inch square again. Sprinkle raspberries and white chocolate evenly over surface of dough, then press down so they are slightly embedded in dough. Using bench scraper, loosen dough from work surface. Roll dough, pressing to form tight log. Lay seam-side down and press log into 12 by 4-inch rectangle. Using sharp, floured knife, cut rectangle crosswise into 4 equal rectangles. Cut each rectangle diagonally to form 2 triangles and transfer to parchment-lined baking sheet.

Brush tops with melted butter and sprinkle with remaining tablespoon sugar. Bake until tops and bottoms are golden brown, 18 to 25 minutes. Transfer to wire rack and let cool 10 minutes before serving.
Follow me on Pinterest for daily delicious recipes!
Get new recipes weekly plus our FREE ebook!