Buckeye Brownies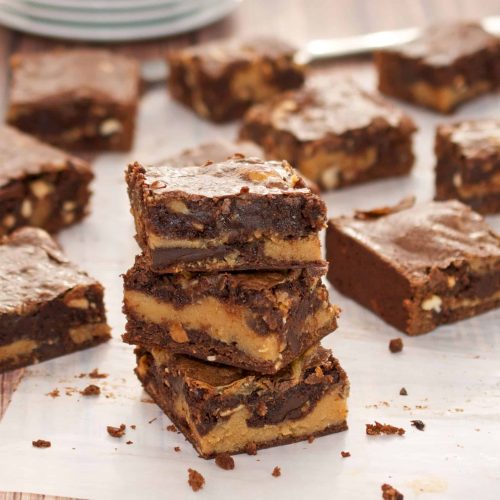 Today marks one of my favorite days of the year…the kickoff to the college football season! I'm more excited than ever for this season. The Buckeyes are coming off a 12-0 season, ranked No.2 in preseason polls and widely expected to contend for the national championship! It's going to be a good season! 😀
Andrew and I were born and raised in Columbus, Ohio so needless to say, we both bleed scarlet and grey. With Andrew being an Ohio State alumni and attending Ohio State University for Medical School we never miss a game. Saturdays are dedicated to football. We've been counting down to college football season since last November and I am so excited that it is finally here! Since we live in Peoria, Illinois we can't make it back to Columbus to see the Buckeyes play as much as we wish. But every football Saturday we fly our Buckeye flag, wear our jerseys and buckeye beads and watch the Buckeyes pull off a win.
To kickoff the college football season and my first Football Bite of the season, I made these decadent buckeye brownies. These brownies are absolutely incredible-fudgy in the middle and chewy on the outside with a shiny, crackly top. And let's not forget about that peanut butter swirl! So rich, so chocolatey, so irresistible!
If you're planning some tailgating parties this college football season, check out my Football Bites recipes each week. The past two seasons I featured a football bite for each week of the college football season. Just in case you missed them, here are my Football Bites from the last two seasons:
Buckeye Brownies
Ingredients:
For the Brownies:
1/3 cup Dutch-processed cocoa
1 1/2teaspoons instant espresso (optional)
1/2 cup plus 2 tablespoons boiling water
2 ounces unsweetened chocolate, finely chopped
4 tablespoons (1/2 stick) unsalted butter, melted
1/2 cup plus 2 tablespoons vegetable oil
2 large eggs
2 large egg yolks
2 teaspoons vanilla extract
2 1/2 cups (17 1/2 ounces) sugar
1 3/4 cups (8 3/4 ounces) unbleached all-purpose flour
3/4 teaspoon table salt
6 ounces bittersweet chocolate, cut into 1/2-inch pieces
3/4 cup coarsely chopped peanuts
For the Peanut Butter Layer:
1 (14 oz) can sweetened condensed milk)
1/2 cup peanut butter
Directions:
Preheat oven to 350F. Butter the bottom and sides of a 9×13 inch metal baking pan. Put a long piece of parchment paper in the bottom of the pan, letting the parchment extend up two sides of the pan and overhang slightly on both ends. Place another piece of parchment paper in the same manner, perpendicular to the first sheet. (This will make it easy to remove the bars from the pan after they have baked.) Butter the parchment.
In a large bowl, whisk cocoa, espresso powder, and boiling water together in large bowl until smooth. Add unsweetened chocolate and whisk until chocolate is melted. Whisk in melted butter and oil. Add eggs, yolks, and vanilla and continue to whisk until smooth and homogeneous. Whisk in sugar until fully incorporated. Add flour and salt and mix with rubber spatula until combined. Fold bittersweet chocolate and peanuts.
Spread half of brownie batter into the prepared baking dish.
In a medium bowl combine peanut butter and sweetened condensed milk with whisk. Pour mixture over brownie batter.
Drop the remaining brownie batter in 8 dollops over peanut butter layer in the pan. Swirl in with a knife or spatula.
Bake until toothpick inserted halfway between edge and center comes out with just a few moist crumbs attached, 30 to 35 minutes. Transfer pan to wire rack and cool 1½ hours.
Using parchment overhang, lift brownies from pan. Return brownies to wire rack and let cool completely, about 1 hour. Cut into 2-inch squares and serve.
One Year Ago: College Football Bites Roundup 

Two Years Ago: Chocolate Nutella Scotcheroos
Three Years Ago: Southeast Asian Fried Rice
19 Responses to "Buckeye Brownies"
Pingback: Friday Favorites
Leave a Comment