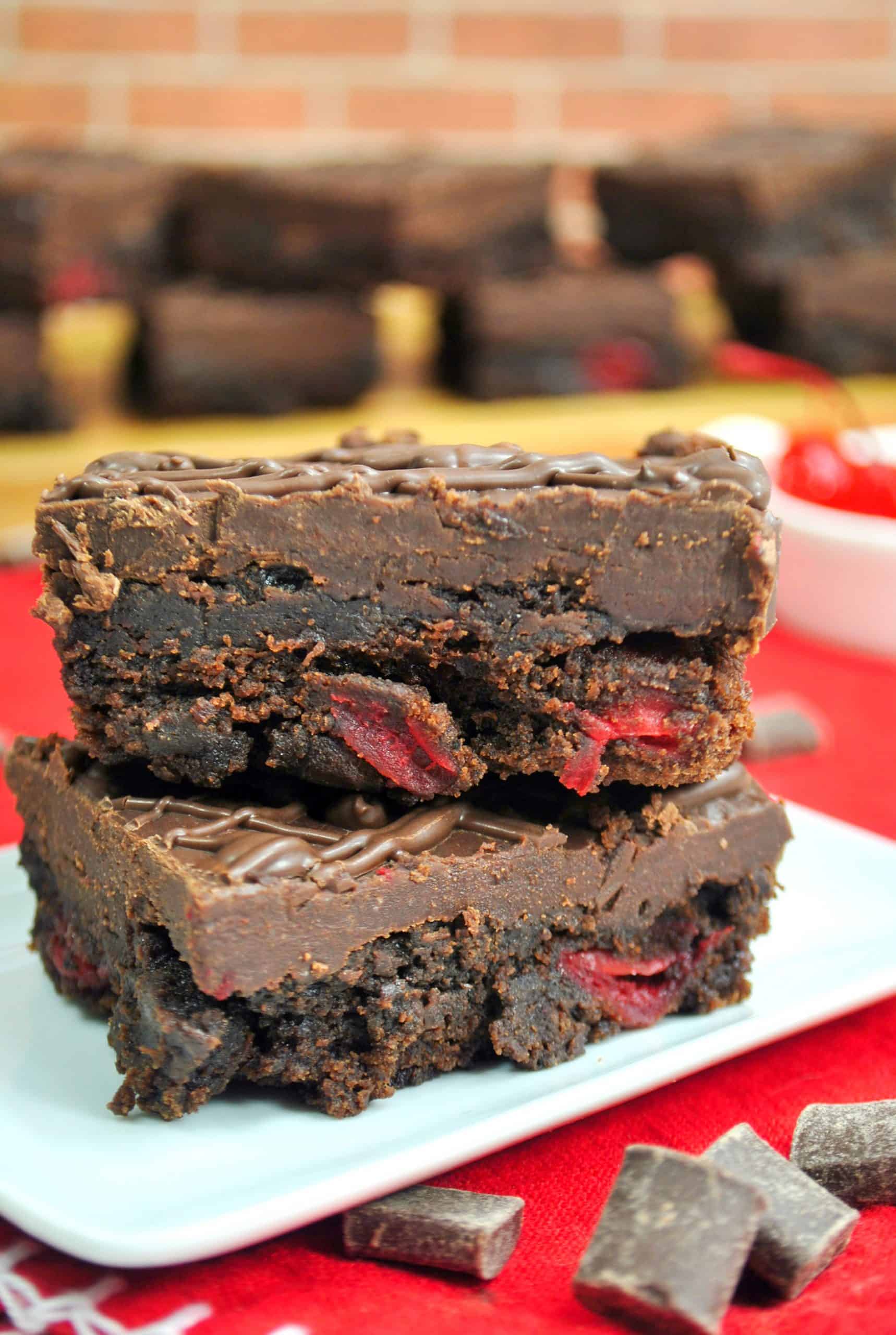 These black forest brownies will knock the socks off of any chocolate lover! Rich and decadent, these delicious cherry brownies from scratch are much easier to make than their delightful flavor would have you assume!
If I had one word to describe this cherry brownie recipe, it would be indulgent. Though they are surprisingly easy to make, they taste like a true melt-in-your-mouth treat from the bakery. I have to stop myself from making these each week – they're that good!
Plus, you really just need brownie mix and cherry pie filling to make this fantastic dessert. There are a few other ingredients, but you probably have them on hand anyway!
Scroll to bottom for printable recipe card.
How To Make Black Forest Brownies
You will be amazed by how easy it is to make this cherry brownie recipe. Give cherry brownies a try because you are going to fall in love and your taste buds are going to be doing a little dance.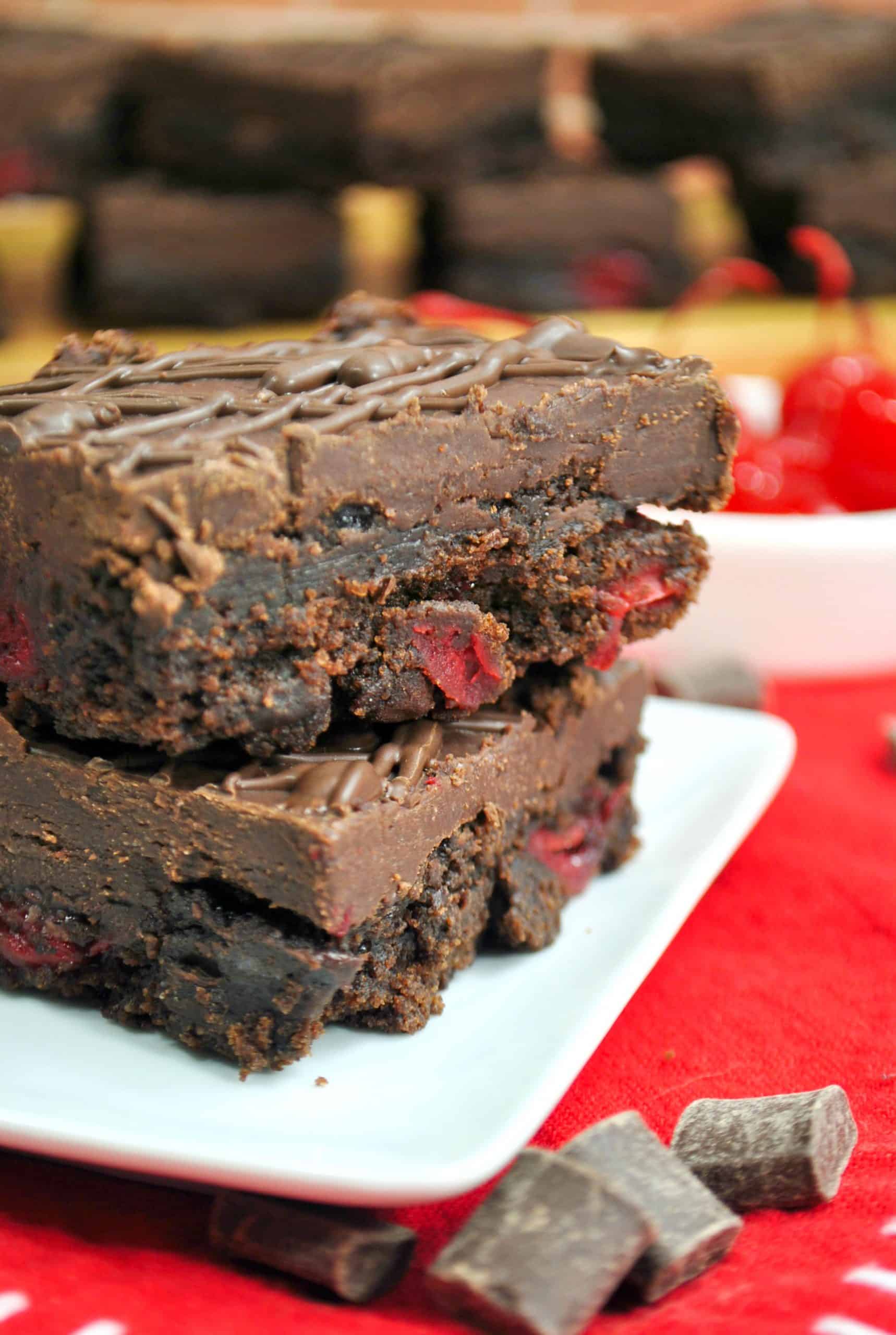 First Step: Preheat the oven and line a cake pan with parchment paper.
Second Step: Next, melt the butter in the microwave. Add sugar, eggs, vanilla, cocoa powder, flour, salt and baking powder to the butter. While using an electric mixer, gently mix the ingredients together.
NOTE: Add the ingredients to the butter one at a time.
Third Step: Sprinkle in the mini chocolate chips and cherries from the pie filling.
NOTE: When adding cherries, take special care not to get much of the pie filling itself, just the cherries. It works to tap the fork on the side of the can so the jam falls off.
Fourth Step: Pour brownie mix into a baking dish and bake for 30 minutes. Once it has finished cooking, allow it to completely cool on the counter.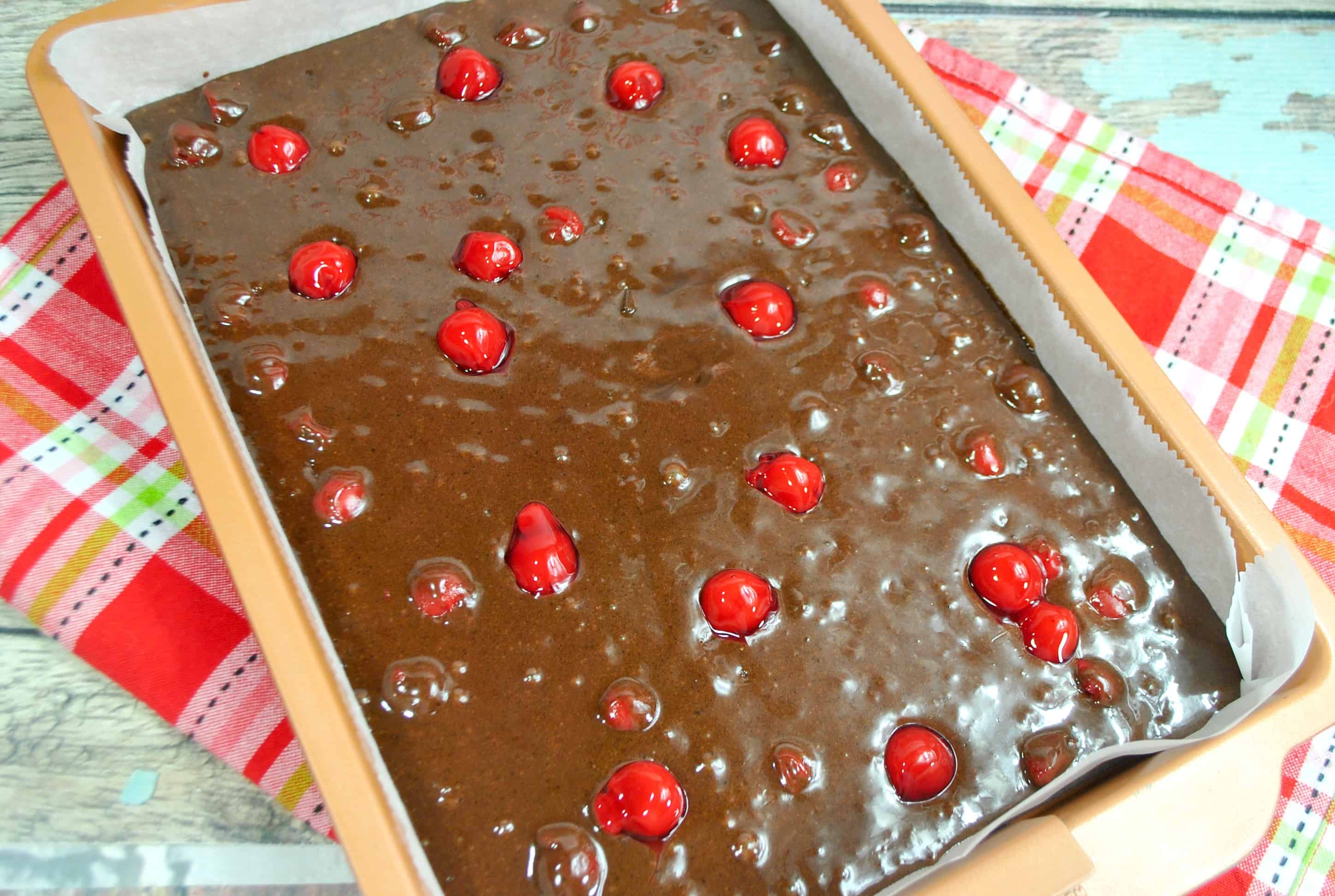 Fifth Step: Begin making the chocolate ganache by combining chocolate chips and heaving whipping cream in a microwave-safe bowl.
Sixth Step: Start melting the chocolate and heavy cream 30-seconds at a time. When it begins melting, stir because it will help continue to melt the chocolate.
Seventh Step: Pour chocolate ganache onto cooled brownies. Save some of the ganache, by placing it in a piping bag.
Eight Step: Let the ganache sit for 20 minutes to harden up. Then drizzle onto brownies.
Black Forest Brownies Variations
When you indulge by enjoying the best black forest brownies recipe, you will be thrilled to know you can do even more with it than what the recipe calls for. Try any and all of these ideas to enhance this brownie mix and cherry pie filling creation.
Nuts – Toss in some macadamia, pecans, walnuts, cashews, or almonds into the brownie mix. I recommend 1/2 – 1 cup of the nuts of your choice for this cherry brownie recipe.
White Chocolate – Often times white chocolate gets forgotten about, but it goes so well with cherries you should try it. Either add some white chocolate chips to the batter or add it to the heavy whipping cream.
Red Candy Melts – Drizzle red candy melts on top of the cooked cherry brownies. They add gorgeous color!
Dark Chocolate Shavings – I think all desserts look better with a few chocolate shavings. This really is the best black forest brownies recipe ever!
Egg Substitute For Brownies
If you have an aversion or allergy to eggs, you will be glad to know that you can make some adjustments to omit them. For every egg the recipe calls for (4 in this case), you would need to replace the egg with 1/4 cup of pureed fruit. Bananas, applesauce, and prunes are good choices. Additionally, you can use buttermilk or yogurt as a replacement also. The texture of the cherry brownies will be a little more cake-like, but they will still be flavorful and decadent.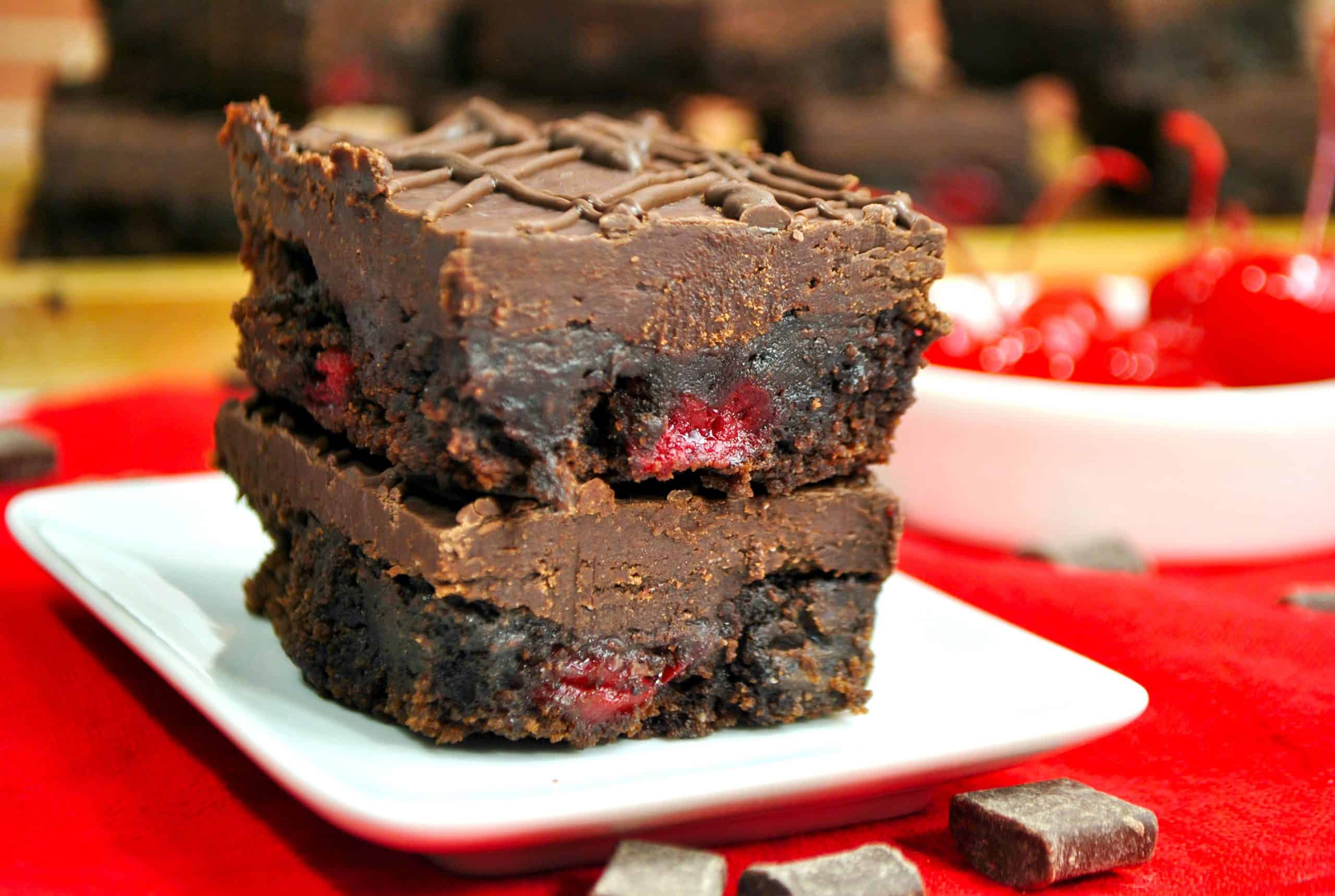 How To Cut Brownies
I know that it's hard not to get excited when the best black forest brownies recipe is finally finished baking, and you just want to dig in right away. If you aren't serving them to others and you wish to sneak a bite, then go ahead. But did you know there is a right way to cut brownies? It is much easier to get even and straight cuts when you use a plastic knife to do the work. The critical step that many people forget is that you need to wipe off the blade after each brownie. Otherwise, brownie particles will stick to the knife and will attract other pieces that will stick too. Then you end up with a disaster on your hands. When they are done baking, take a knife and gently go along edges, so they don't stick. Allow the brownies to cool for a couple of hours before cutting.
Can I Make Black Forest Brownies With Store-Bought Brownie Mix?
Yes, you can use a store-bought brownie mix for this cherry brownie recipe. It's easy to make the switch by simply by following the directions on the box and omitting the ingredients except for the chocolate chips, cherries, and ganache. Continue to bake the cherry brownies as directed in the instructions.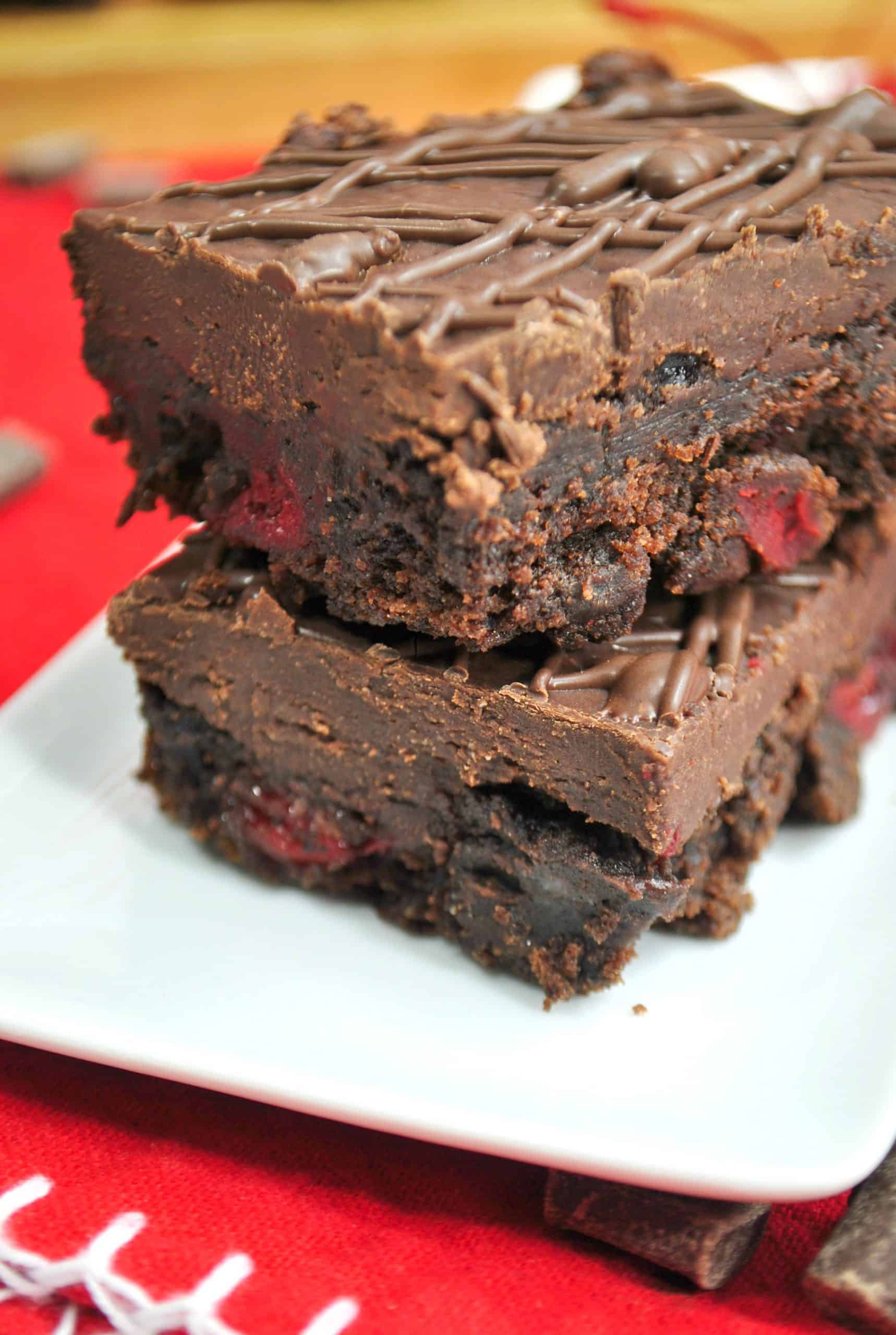 How Do You Store Black Forest Brownies?
You can store the black forest brownies on the counter or in the fridge. I recommend the fridge because they taste really great when they are cold. Plus these chocolate cherry brownies will last 4-5 days in the refrigerator without any issues. The cherry bliss brownies only last 2-3 days on the counter or in the pantry.
Can I Freeze This Cherry Brownie Recipe?
Yes, you can freeze this cherry brownie recipe! I find the best way to freeze brownies and other baked goods is to wrap them in individual sized portions with cling wrap. Then toss them in a larger airtight container. By storing the cherry brownies this way, you are protecting them from getting freezer burnt, smashed, or taking on other flavors in the freezer.
When you are ready to serve the brownies, you can set them on the counter for a couple of hours or in the fridge overnight. They will thaw out reasonably quickly and even taste good when they are still a little bit frozen.
Can I Use Fresh Cherries To Make Black Forest Brownies?
Technically you can use fresh cherries, however, when I make the best black forest brownies recipe I prefer the pie filling. Even though you don't really use the jelly portion of the pie filling, that syrupy flavor is what makes the black forest brownie dessert amazing. It adds an element of flavor and texture that you aren't going to get with fresh cherries. I recommend if you want to include fresh cherries, you use them as a garnish to keep the black forest brownies the right consistency and flavor.
When To Serve Black Forest Brownies
You can serve black forest brownies for all of your events or just for yourself! Here are some of the places we take these brownies and there is never a crumb leftover:
Community Events
Birthday Parties
Dinner Parties
Backyard Barbecues
Reunions
Potlucks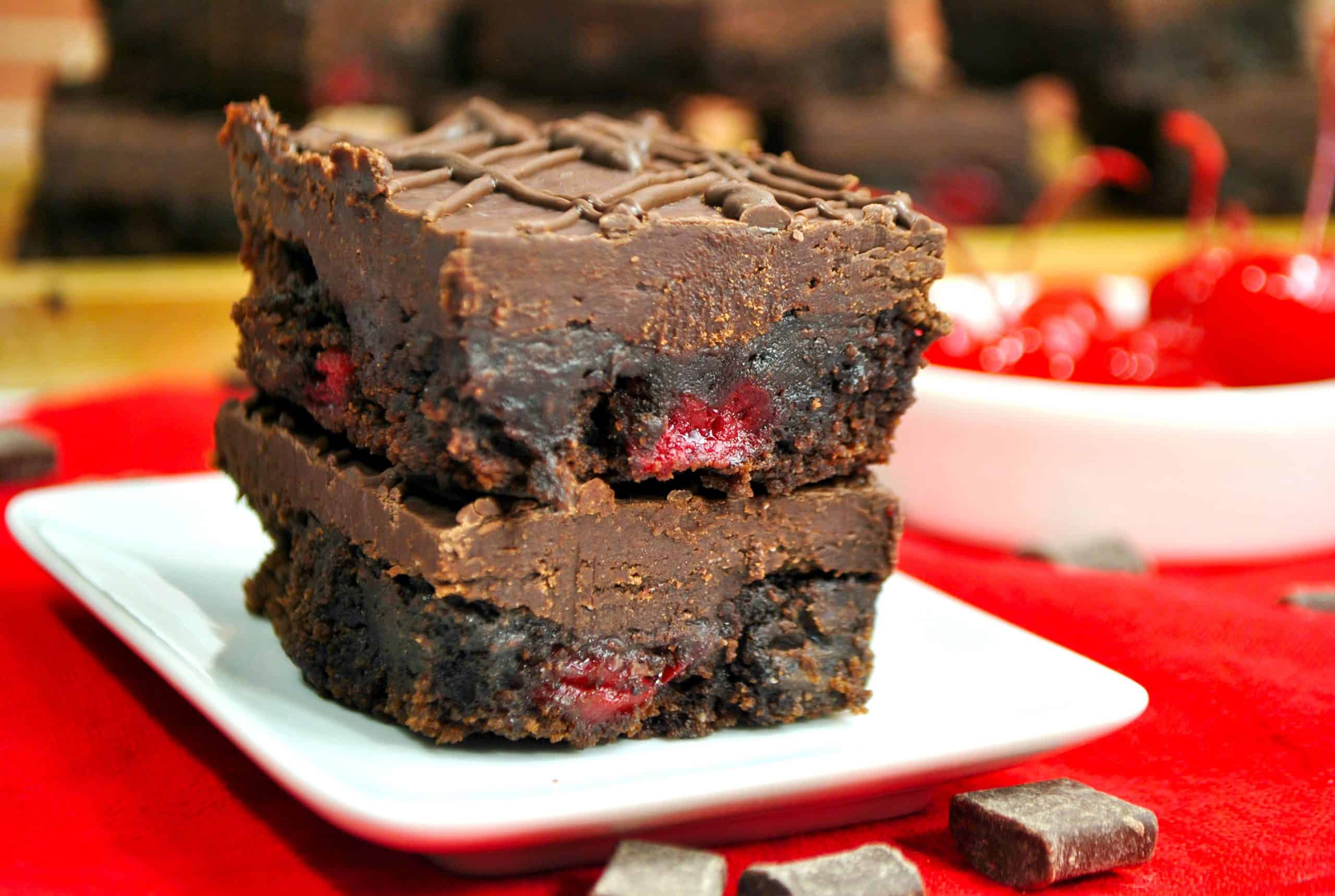 Pin This Yummy Black Forest Brownies recipe for later:

Pin this recipe now to remember it later
Black Forest Brownies Recipe
These Black Forest Brownies will knock the socks off from any chocolate lover! Rich and indulgent, these delicious Black Forest Brownies from scratch are much easier to make than their delightful flavor would have you assume!
Ingredients
1

C

sweet

,

unsalted sweet cream butter (room temp)

1/2

C

mini chocolate chips

1

can of Cherry Pie Filling

,

drained
Rich Chocolate Ganache:
1 1/2

C

semi-sweet chocolate chips plus some for topping

3/4

C

heavy whipping cream
Want to save this recipe? Enter your email below and we'll send the recipe straight to your inbox!
NOTE: By saving this recipe, you agree to join our weekly recipes newsletter.
Instructions
Preheat oven to 350 degrees.

Line a 9×13 pan with parchment paper.

Melt butter in the microwave.

Remove from the microwave.

Add ingredients one at a time.

Add the sugar, eggs, vanilla, cocoa powder, flour, salt, and baking powder.

Using your electric mixer incorporate the above ingredients.

Fold in the mini chocolate chips

Using a fork, lift some cherries out of the pie filling and tap the edge of the bowl. You dont want any of the jam from the filling to get into your brownie mix

add the cherries into the brownie mix and mix until combined

Pour brownie mix into prepared baking dish

Add a few more cherries on top of the batter

Bake in the oven for 30 minutes or until a toothpick comes out clean

Allow to cool on the counter completely
Chocolate Ganache Directions:
Using a medium microwave-safe bowl, combine the chocolate chips, and heavy whipping cream


Place into the microwave on increments of 30 seconds until the chocolate chips start to melt

Use a whisk and whisk until chocolate is completely melted and the ganache starts to appear thick


Scoop some ganache into a piping bag to use later.

Pour the remaining ganache onto the cooled brownies

Allow for the ganache to harden for 20 minutes

Cut the tip off the piping bag and drizzle onto the brownies

Cut and enjoy!
Nutrition
Serving:
12
g
|
Calories:
394
kcal
Follow me on Pinterest for daily delicious recipes!
Want More Sweets?
Cherry Cheesecake Brownies – Cherry brownies are a tasty twist on a classic brownie.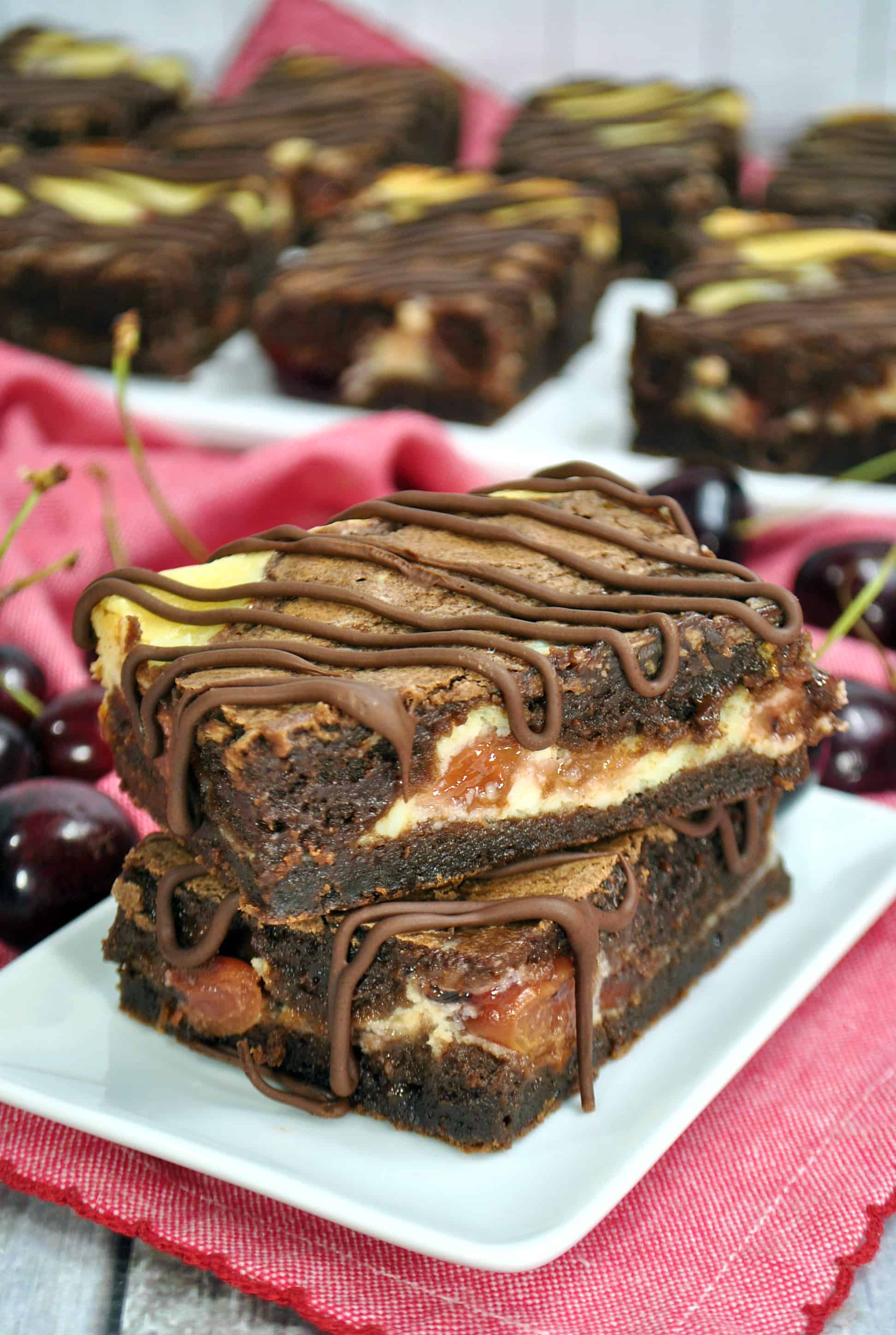 Fried Nutella Dumplings – Made with only 3 ingredients, these dessert dumplings are guaranteed to be a hit!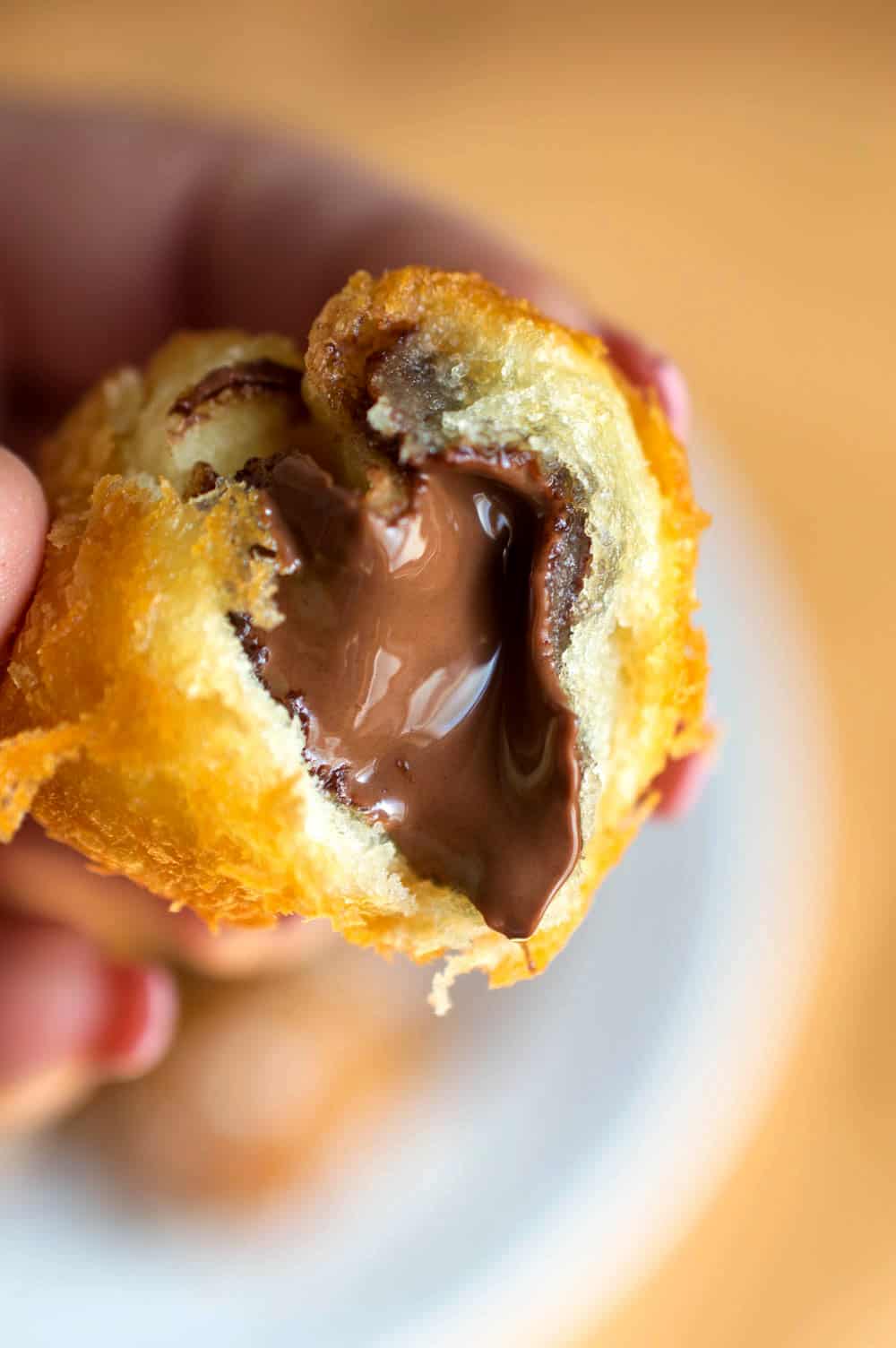 Cherry Dr. Pepper Cake – It's a hit with kids and adults alike and, bonus; it's so easy to make!
Get new recipes weekly plus our FREE ebook!