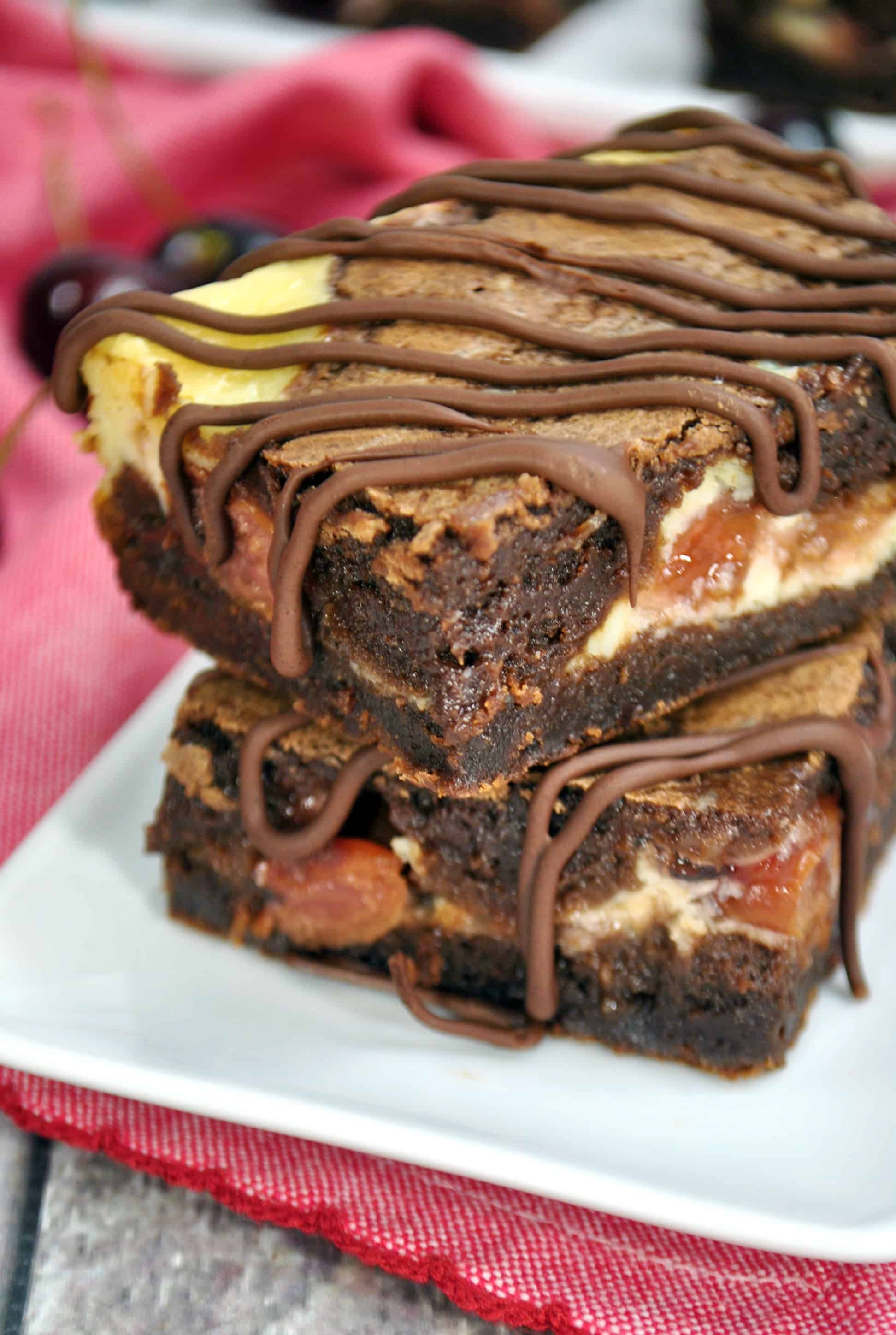 What's a better dessert – cheesecake or brownies? With these easy Cherry Cheesecake Brownies, you don't have to choose! Cherry brownies are a tasty twist on a classic brownie.
It's no secret that dessert is my favorite course for any meal. Brownies, cookies, cakes, cheesecakes, doughnuts…I love them all. But, I have a particular fondness for brownies (like these Black Forest Brownies I made the other day) and cheesecakes.
This Cherry Cheesecake Brownies recipe is the perfect combination of my two favorite desserts – cheesecakes and brownies – meaning I no longer have to choose between the two.
And – these are really easy Cherry Cheesecake Brownies! Honestly, I think this recipe is way easier than making actual cheesecake. It's faster, there are far fewer ingredients than in traditional cheesecake, and the beloved flavor is still there. Win-win-win.
Scroll to bottom for printable recipe card.
Cherry Cheesecake Brownies
The brownie layer of these Cherry Cheesecake Brownies is a deliciously rich and fudgy brownie. It's part of what makes this dessert so decadent.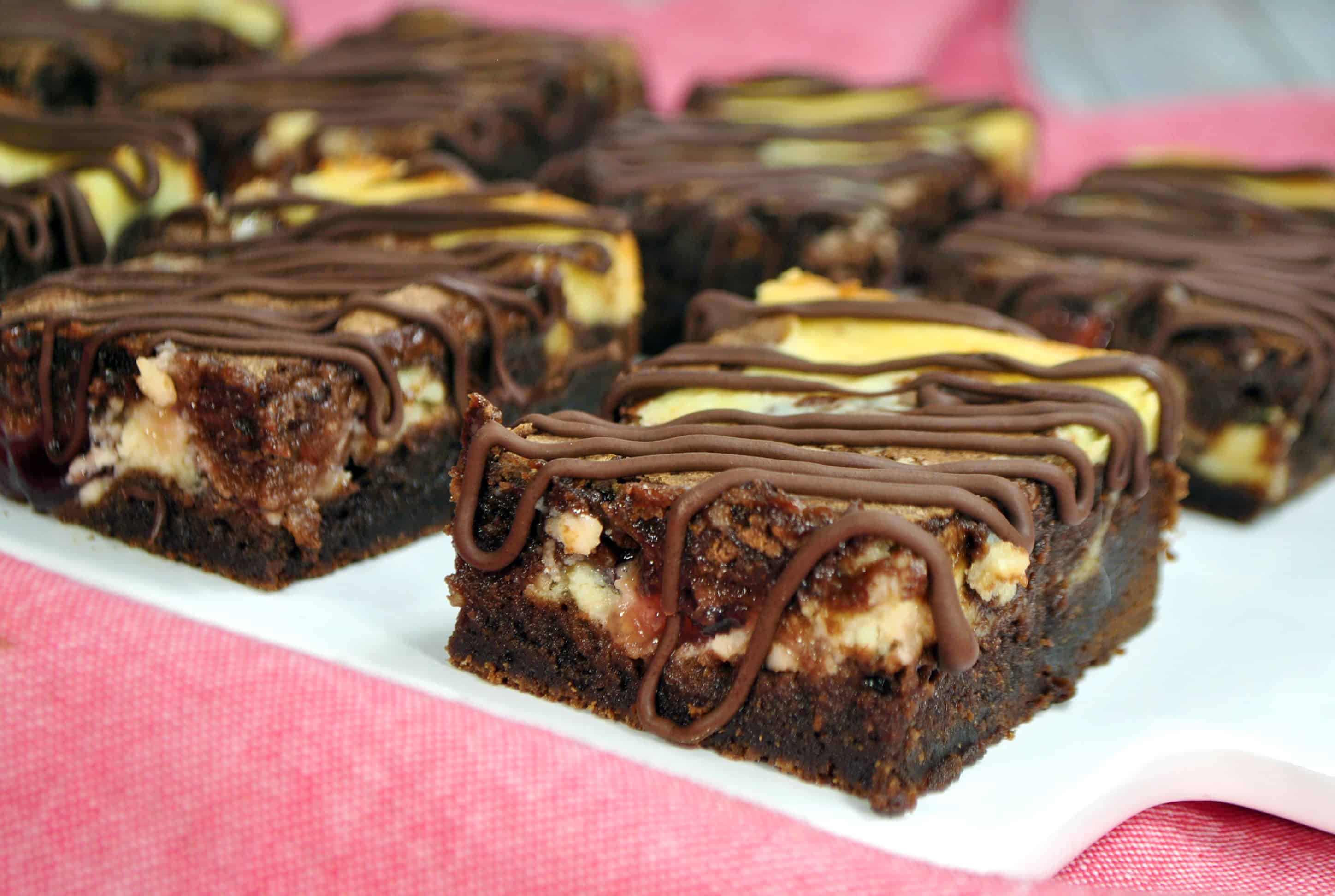 If I had to describe this Cherry Cheesecake Brownie recipe in one word, that's what it would be – decadent. Rich, fudgy brownies topped with cheesecake and cherry pie filling. What could honestly be better than that?!
Everyone – barring the few cherry haters of the world – loves these cheesecake brownies. I think they've become my favorite dessert to make. They're surprisingly easy to make too and a bit fun. If you're baking with kids, letting them swirl the cheesecake or cherry pie filling is a fun way to get them involved! There really isn't anything more fun than making cheesecake swirl brownies!
Cheesecake Brownies
The layers of cheesecake and cherry pie filling are swirled, so you never know what you're getting in each bite – sometimes it's cheesecake and brownie, sometimes it's cherry, sometimes it's all three. But I promise every bite is delicious!
I love to serve this Cherry Cheesecake Brownies recipe as frequently as I can, which means it gets made nearly anytime we have guests over, or I'm in charge of supplying dessert for a gathering. However, these brownies are especially perfect for the holidays. The cherry pie swirl makes them look so pretty and festive. They definitely look more challenging to make than they really are! No one will believe just how quick and easy they are to make.
Cherry Cheesecake Brownies do need to refrigerate for several hours before serving, which makes them a great dessert to make ahead of time. I like to make them in the morning if we'll be eating them in the evening.
Craving More Sweets
How To Make Chocolate Cherry Cheesecake Brownies
I'm thrilled to share how to make chocolate cherry cheesecake brownies because they are a household favorite. I know once you try them, they will be a hit with your family too. Here are the steps you need to take to make these easy cheesecake brownies: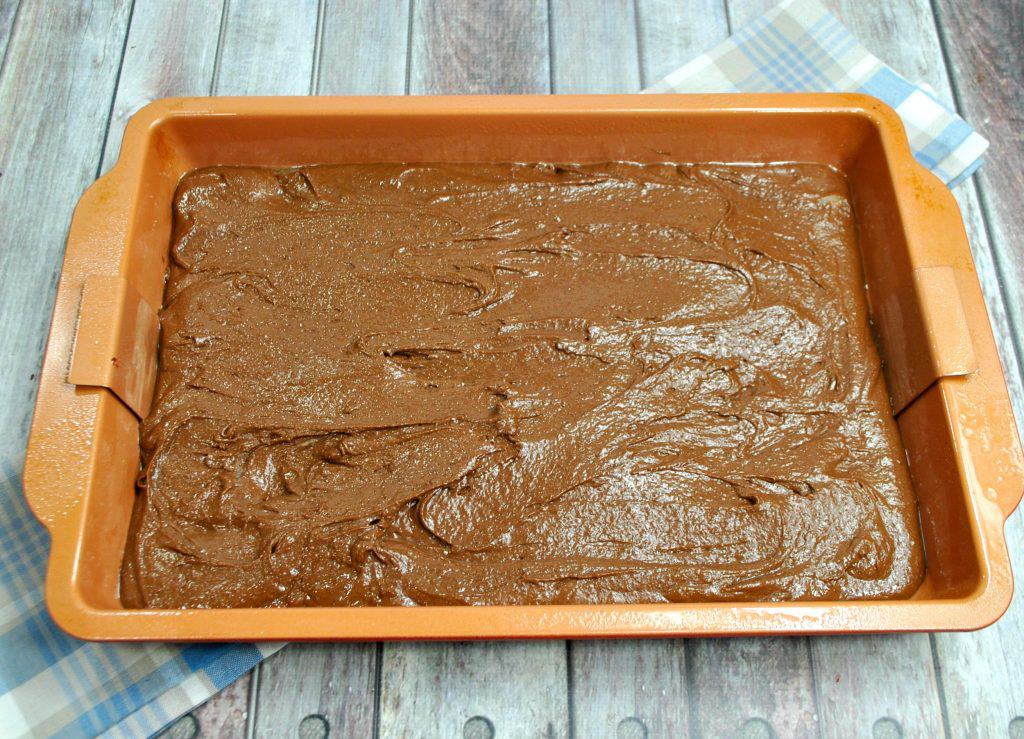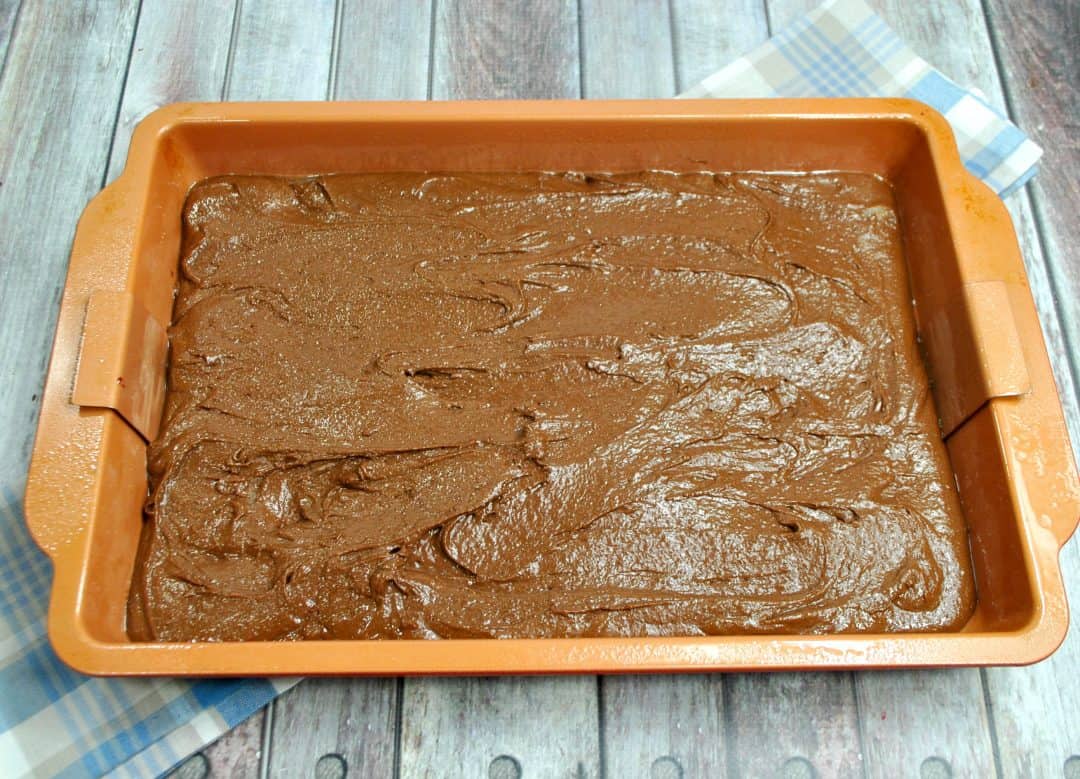 Step 1: Prep the pan by lining it with parchment paper.
Step2: Preparing the brownie batter according to instructions. Spread half of the mixture in the bottom of a pan.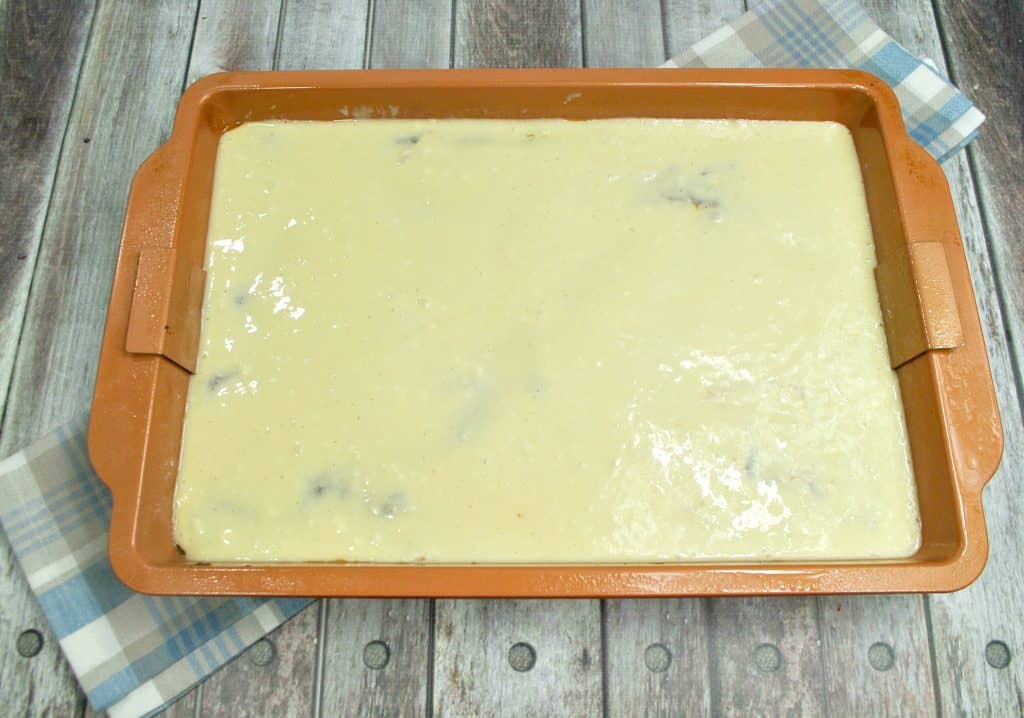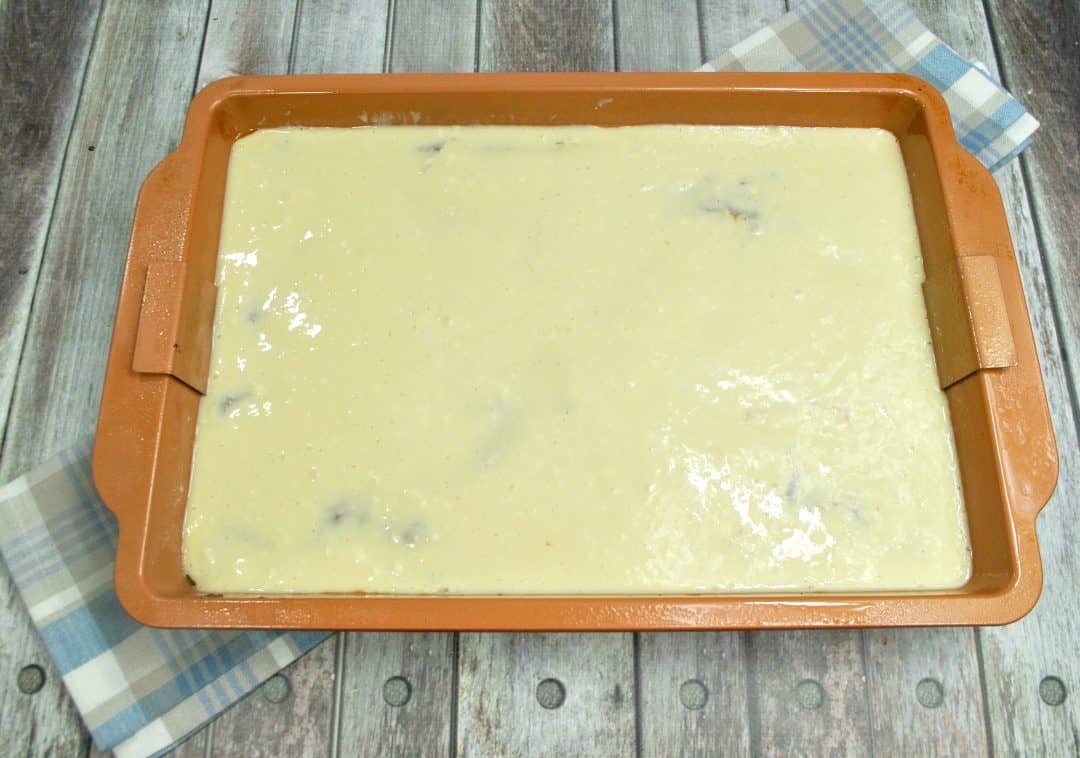 Step 3: Prepare the cheesecake filling. Gently spread half over the brownie batter. Add cherry pie filling and swirl the mixture with a butter knife or spatula. (This is the part the kids love to help with)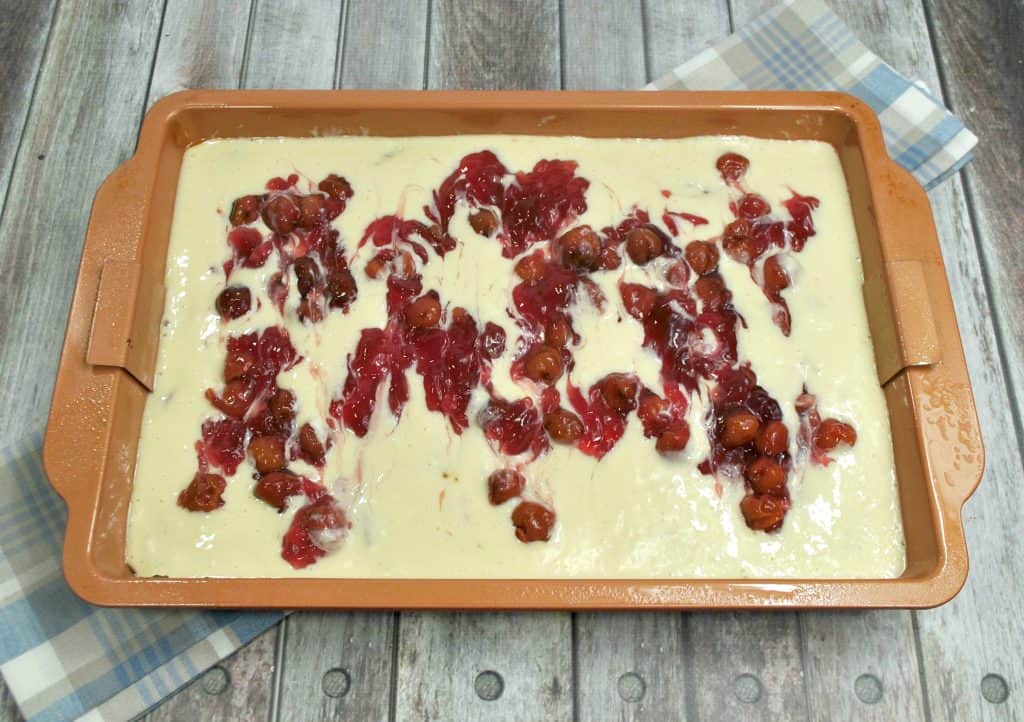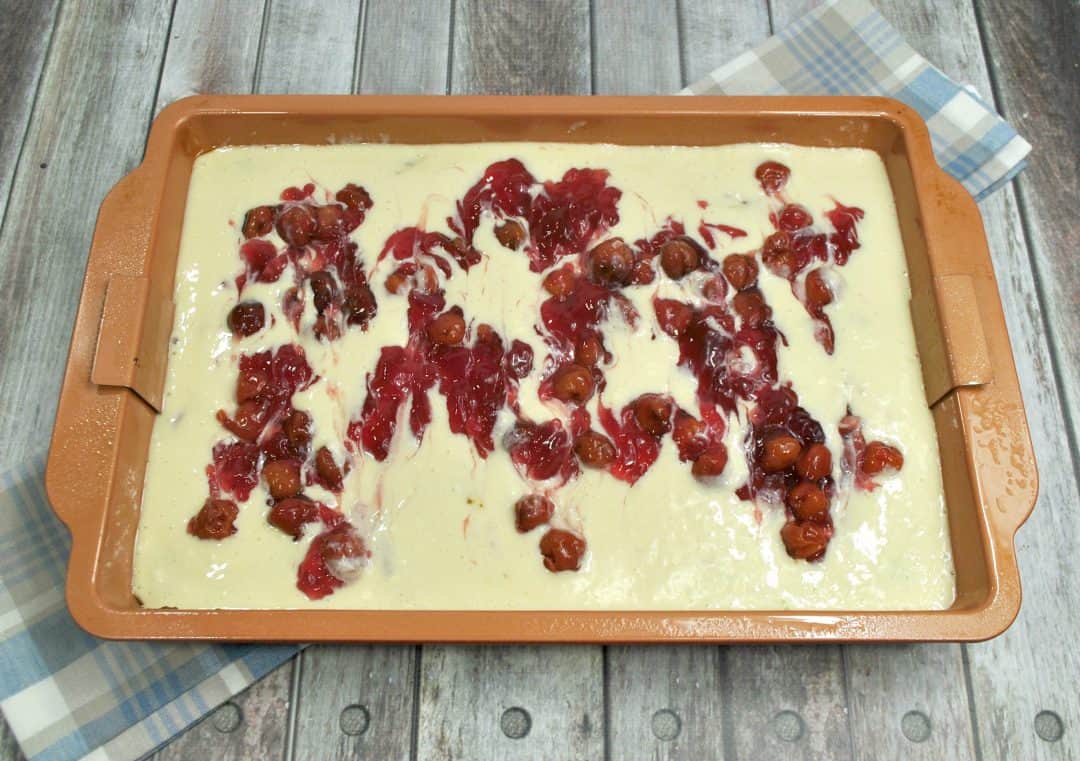 Step 4: Spread the remaining half of the brownie batter on top. Bake for approximately 35 minutes or until you insert a toothpick and it comes out clean.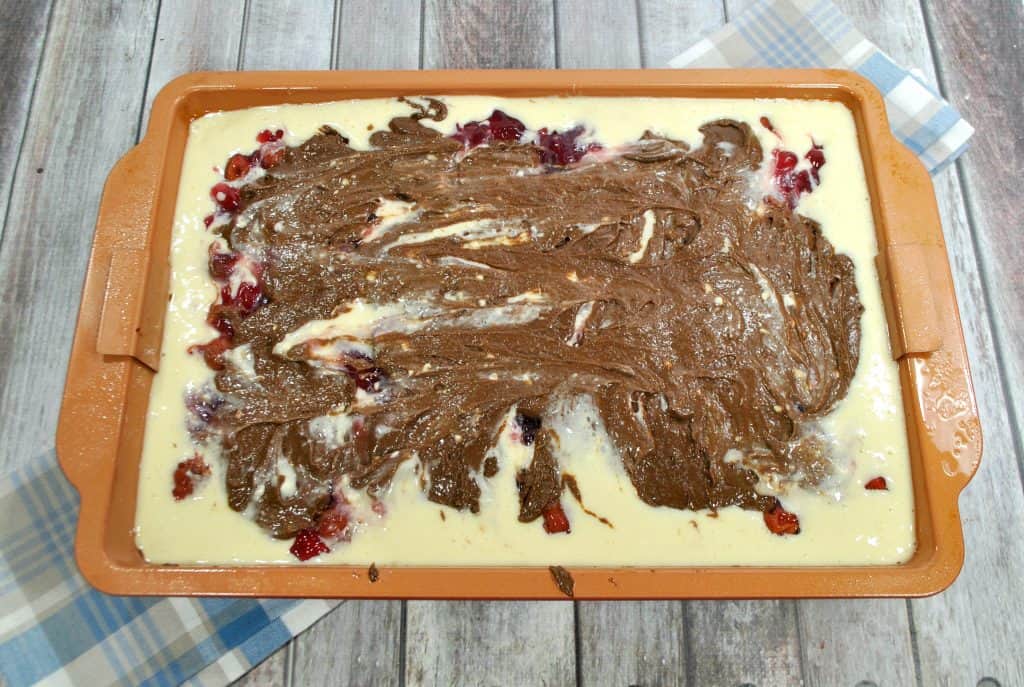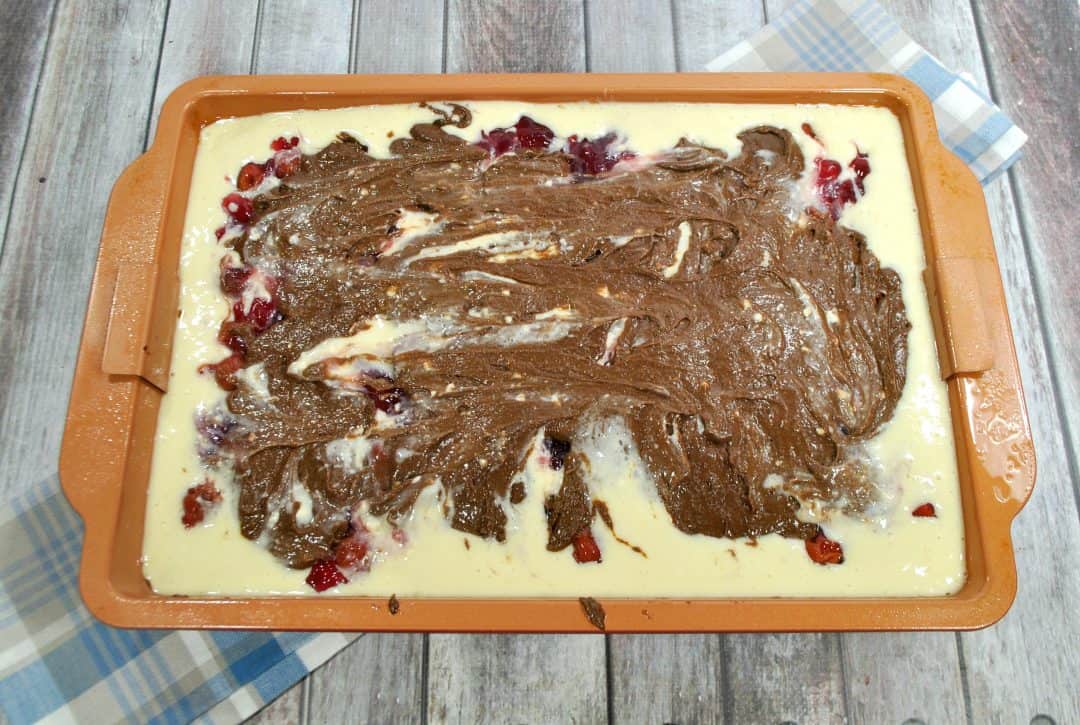 Easy Cherry Brownies Variations
I love to change up my recipes from time to time and add a few extra ingredients that I have on hand. I also like to change things completely! Don't be afraid to make this recipe your own by a few adjustments. Here are some of my favorite ideas:
White Chocolate – Drizzle some white chocolate all over the top after it has cooled. Holy yum!
Dark Chocolate – Okay, you might be sensing a theme here, but I love chocolate, what can I say? Plus, it makes these cheesecake brownies even more delicious.
Nuts – Sprinkle a few crushed almonds, pecans or walnuts on top of the easy cheesecake brownies after you take it out of the oven. You could even mix a few in the brownie mix. Nuts add a nice crunch!
Sprinkles – It looks especially helpful if you are planning to serve these homemade cheesecake brownies to a crowd. They can't resist how adorable they look.
Cherries – In case you don't have enough cherries, you can garnish with a cherry on each cheesecake brownie.
Ice Cream – Serve the cherry brownies with a scoop of vanilla ice cream for a magical experience for your taste buds!
Strawberries – Go crazy, but replacing the cherry pie filling with strawberry pie filling. Seriously, so divine you won't be able to get enough of them!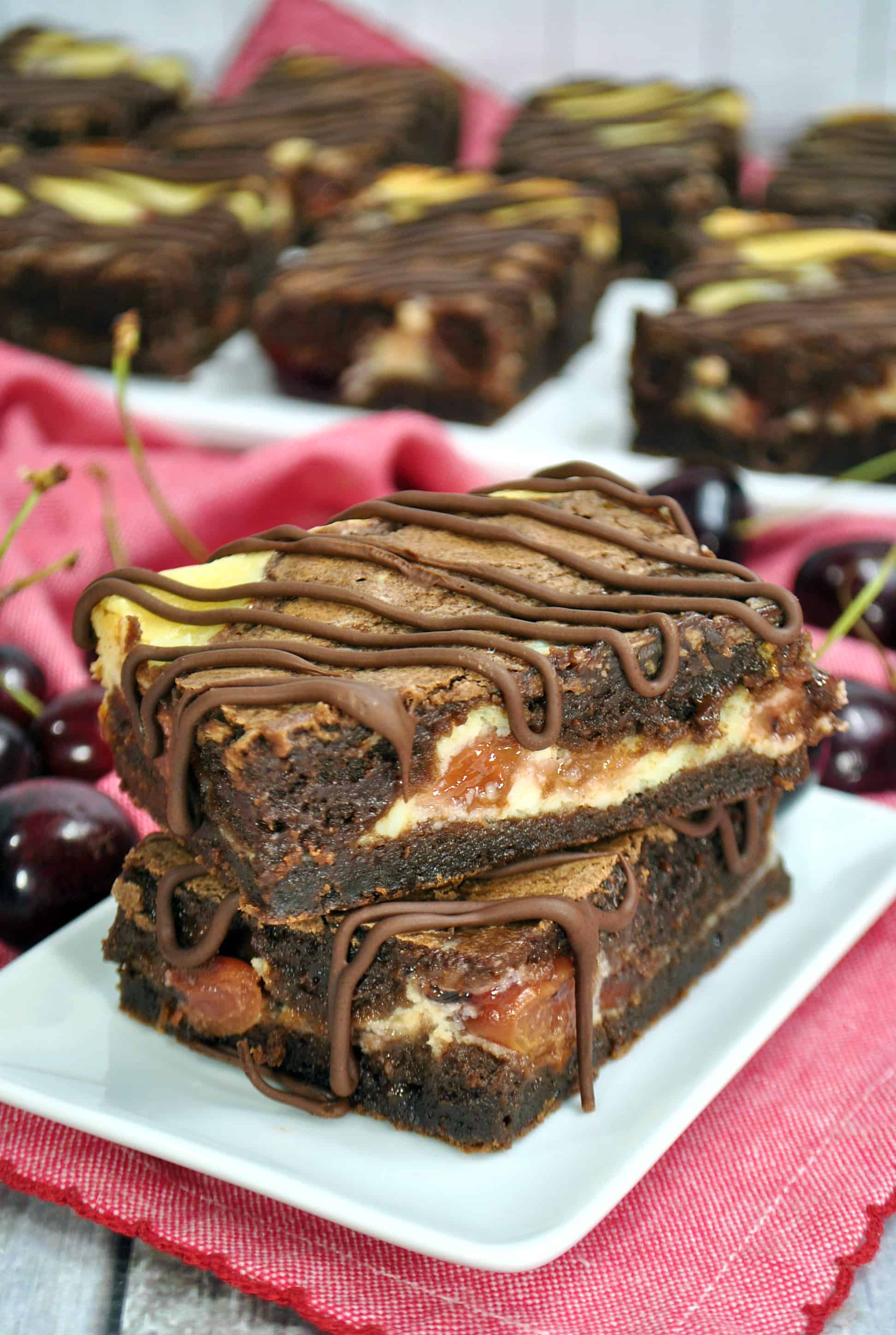 Do Cheesecake Brownies Have To Be Refrigerated?
There is some controversy on the subject of whether or not cheesecake brownies should be refrigerated. In my opinion, I prefer to refrigerate them. First of all, they taste phenomenal when they are ice cold. Additionally, I can't imagine the texture and flavor of warm cooked cream cheese. I'm not interested in that or all.
I wouldn't eat anything with cream cheese in it that has been sitting out for longer than six hours. It's just not worth the risk. Not to mention the flavor isn't going to be near as appealing.
The cherry cheesecake brownies will last up to a week in the fridge. If the cherry cream cheese brownies start to go bad, then you will begin to notice the cheesecake part will start to dry out. Odds are it will begin to smell bad and possibly develop mold. If there is a question, toss it and don't eat it.
Can I Freeze Cheesecake Brownies?
Yes, you can freeze cheesecake brownies, and they do great when frozen. Store them in an airtight freezer-safe container for up to 2 months. The chocolate cherry cheesecake brownies technically will last a little longer than two months in the freezer, but they will lose some of their texture and flavor.
To thaw the easy cheesecake brownies, toss them in the fridge for a few hours then they are ready to eat. And if you want to be really crazy, you can eat them while they are mostly frozen.
How Do You Cut Brownies?
When cutting these chocolate cherry cheesecake brownies, there are a couple of options. You could use a knife that has a warm blade, and it will effortlessly glide through the brownies. Another option is to use a plastic knife, so the brownies don't stick to the knife. The best way for these cherry brownies is to cut them once they are cold. We have all been there at some point or another when you cut a batch of brownies, and they turn out disastrous. I don't' think you will have much trouble with this brownie cheesecake recipe.
Why Do My Brownies Get Hard?
Brownies can get hard due to a few different reasons. The number one reason is that your oven is probably cooking hotter than what you think. Verify the oven temperature periodically to see if you notice an issue. If you do, simply adjust the temperature you turn it onto when baking.
Keep an eye on the baking time. You should check on the cheesecake brownies to see if they are done a little earlier than what the instructions say just because altitudes and oven temps can affect recipes. If you notice they smell really good, they might be done already.
Don't use dark colored pans when making baked goods. They tend to cook faster and then you can end up with hard, unappetizing brownies and no one wants that!
How To Make Brownies Chewy
There is nothing more amazing than chewy cheesecake brownies. Everyone has their own preferences, but if the brownies are nice and chewy I am happy! To make the cherry brownies chewy, I always take them out of the oven a couple of minutes before they are finished cooking.
Also, refrigerating them for a while before devouring them will help with keeping them soft, moist, and chewy. This actually works for any recipe, not just cherry cheesecake brownies.
Can I Make This Brownie Cheesecake Recipe In Muffin Tins?
Yes, absolutely! These delicious chocolate cherry cheesecake brownies are ideal for making in muffin tins. If you are having a baby shower, birthday party, or even wedding reception serving the cheesecake brownies in muffin tins are a great idea. The options are endless, really!
If you make the cherry cheesecake brownies in a muffin tin, you can follow the recipe as instructed. However, you will need to adjust the cooking time. Because you are making such smaller portions, they will take a lot less time to bake. I would start checking them around 15 minutes.
How Long Should Cheesecake Cool Before Going In The Fridge?
It's essential to let the cherry cream cheese brownies cool until they reach room temperature. Then you can put them in the refrigerator. You don't want to place them in the fridge too soon because the heat from being in the oven paired with covering the cherry brownies up is going to result in a mess. You would get a lot of condensation, which will lead to less than flavorful brownies. Plus, they tend to become slimy and have a weird texture.
Enjoy!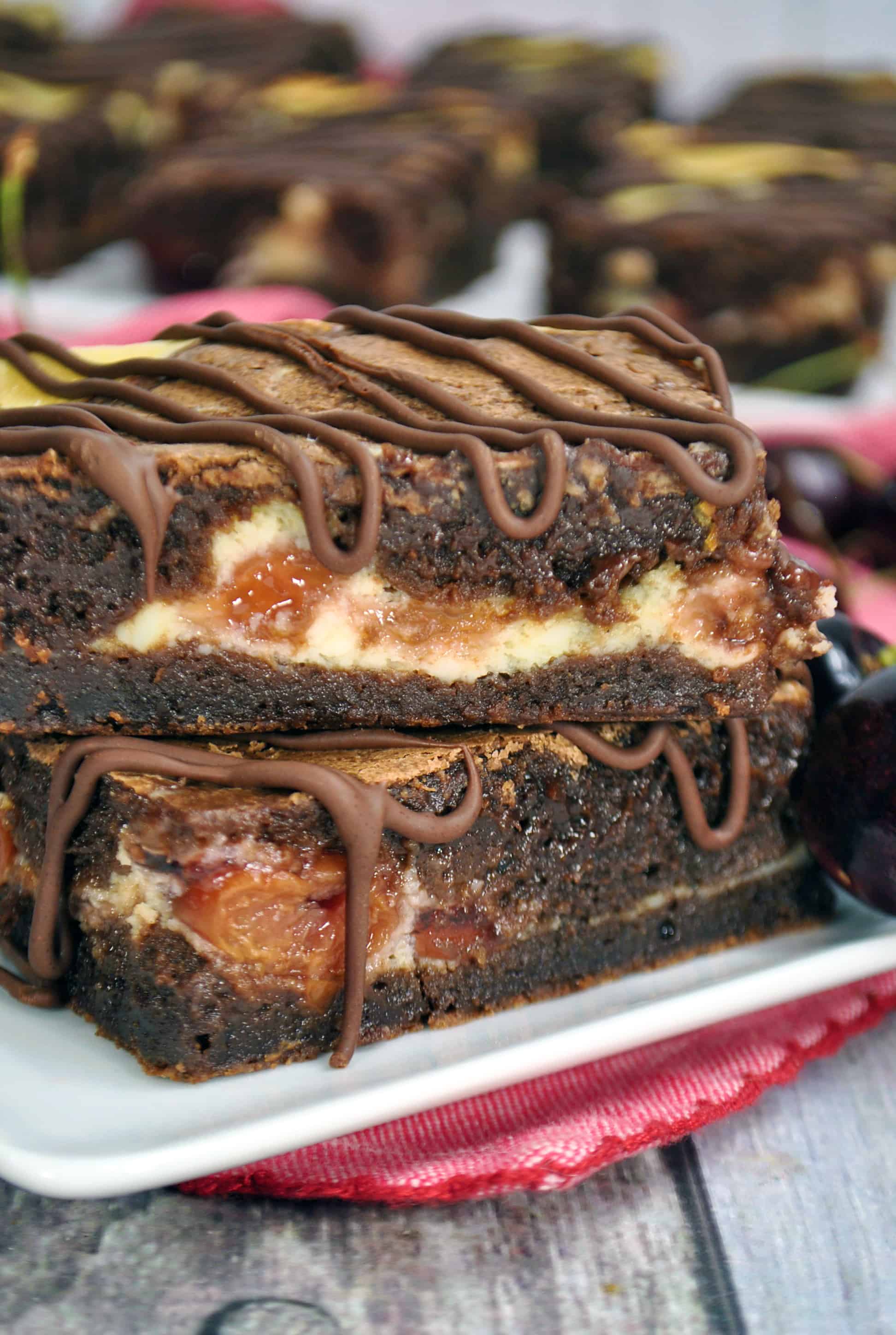 Now, remember to save this recipe on Pinterest for later!

Pin this recipe now to remember it later
Cherry Cheesecake Brownies
What's a better dessert – cheesecake or brownies? With these easy Cherry Cheesecake Brownies, you don't have to choose!
Ingredients
Brownie Ingredients:
1

C

melted unsalted butter

,

cooled slightly
Cherry Cheesecake Filling Ingredients:
8

oz

cream cheese

,

room temp

1/2

can cherry pie filling

,

21-ounce can
Want to save this recipe? Enter your email below and we'll send the recipe straight to your inbox!
NOTE: By saving this recipe, you agree to join our weekly recipes newsletter.
Instructions
Preheat oven to 350 degrees.

Line pan with parchment paper. (9 X13" pan)

In a large bowl with your electric mixer, beat the butter and sugar together until light and fluffy.

Add the vanilla and eggs to the butter mixture.

Mix well to combine.

Whisk the flour, cocoa, and salt together.

Add the flour mixture to the butter mixture.

Mix until combined.

Scoop 1/2 of the batter into the prepared pan.

Spread about half of this into the pan.

Set aside.
Cherry Cheesecake Filling Directions:
Using the electric mixer beat the cream cheese, egg, vanilla, and sugar together until light and fluffy.

Spoon the cream cheese mixer on top of the brownie batter.

Gently spread this over the brownie batter.

Scoop dollops of the cherry pie filling on top of the cheesecake layer.

Gently spread the cherry pie filling.

Scoop the rest of the brownie batter on top of the cherry pie layer.

Gently spread the brownie batter.

Bake at 350 degrees.

Bake for 35 minutes.

Allow to cool to room temp.

Chill in the refrigerator for several hours before cutting.

ENJOY!!
Follow me on Pinterest for daily delicious recipes!
Have you ever tried cherry cheesecake brownies?
Truffle Peanut Butter Brownies – If you love peanut butter and chocolate together, you need to try this peanut butter brownies recipe.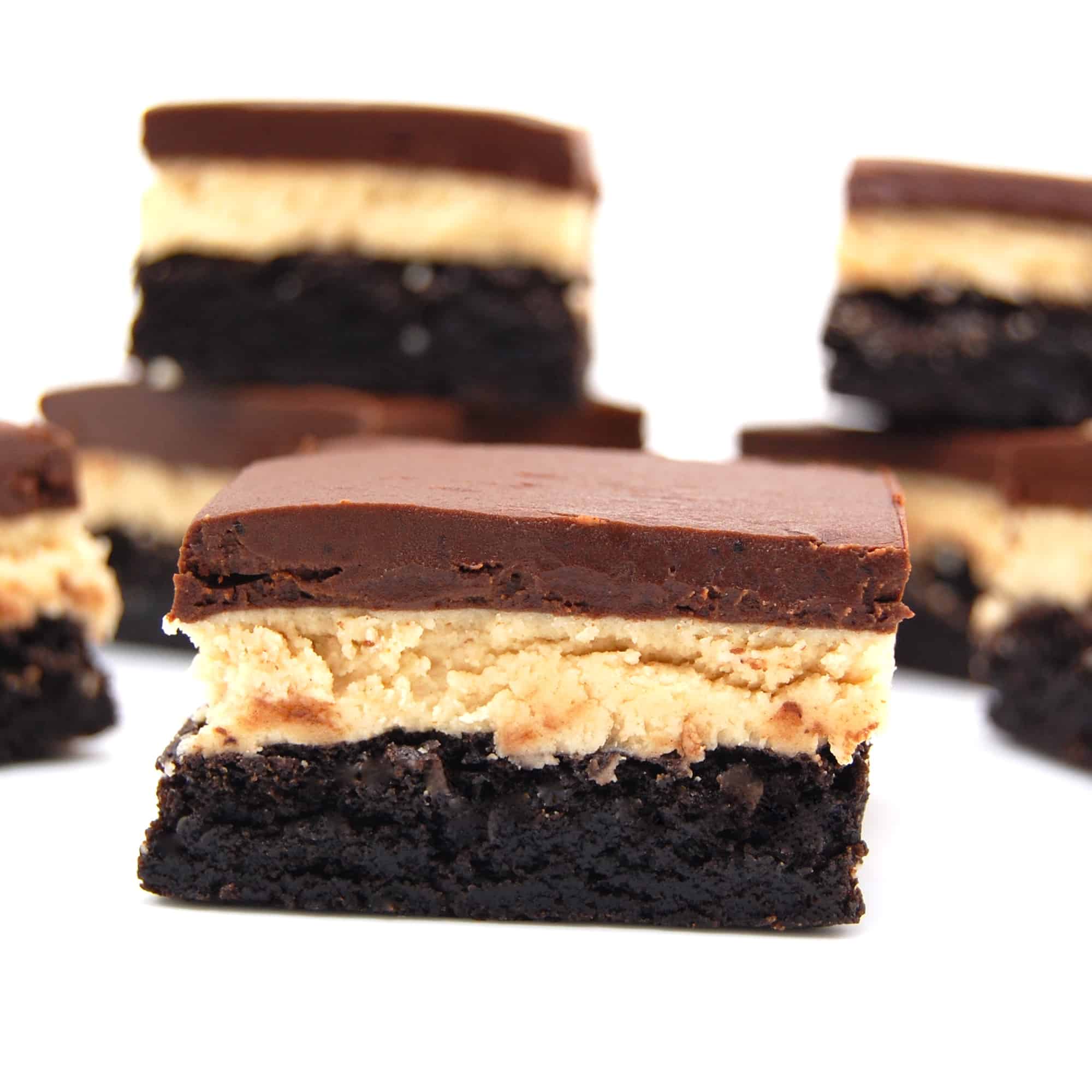 Crown Royal Cherry Brownies Balls – This is the best chocolate truffles that you will ever taste.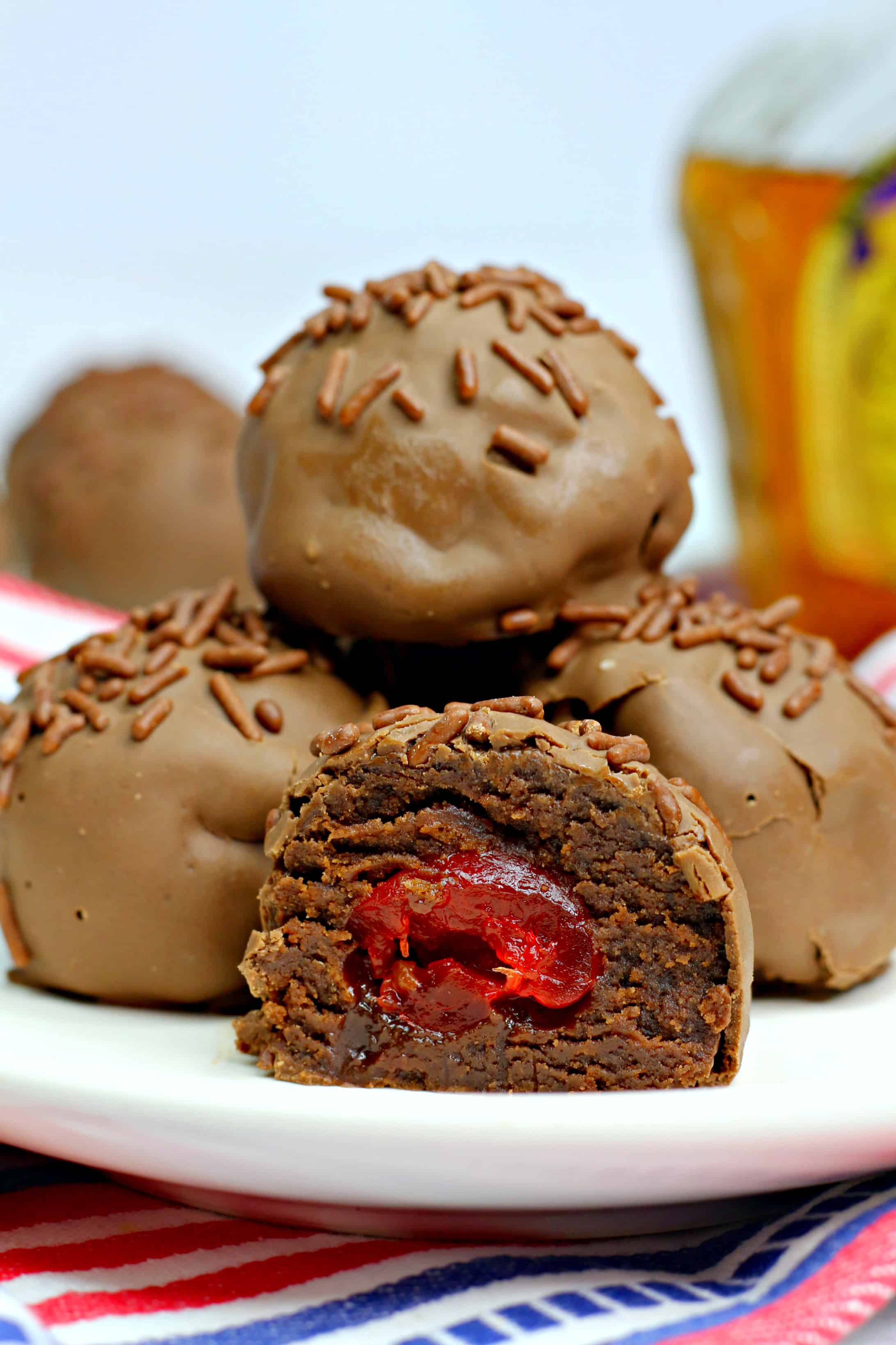 Easy Homemade Fudgy Swirl Brownies Recipe – These indulgent fudgy swirl brownies are impressive, delicious, and simple to make.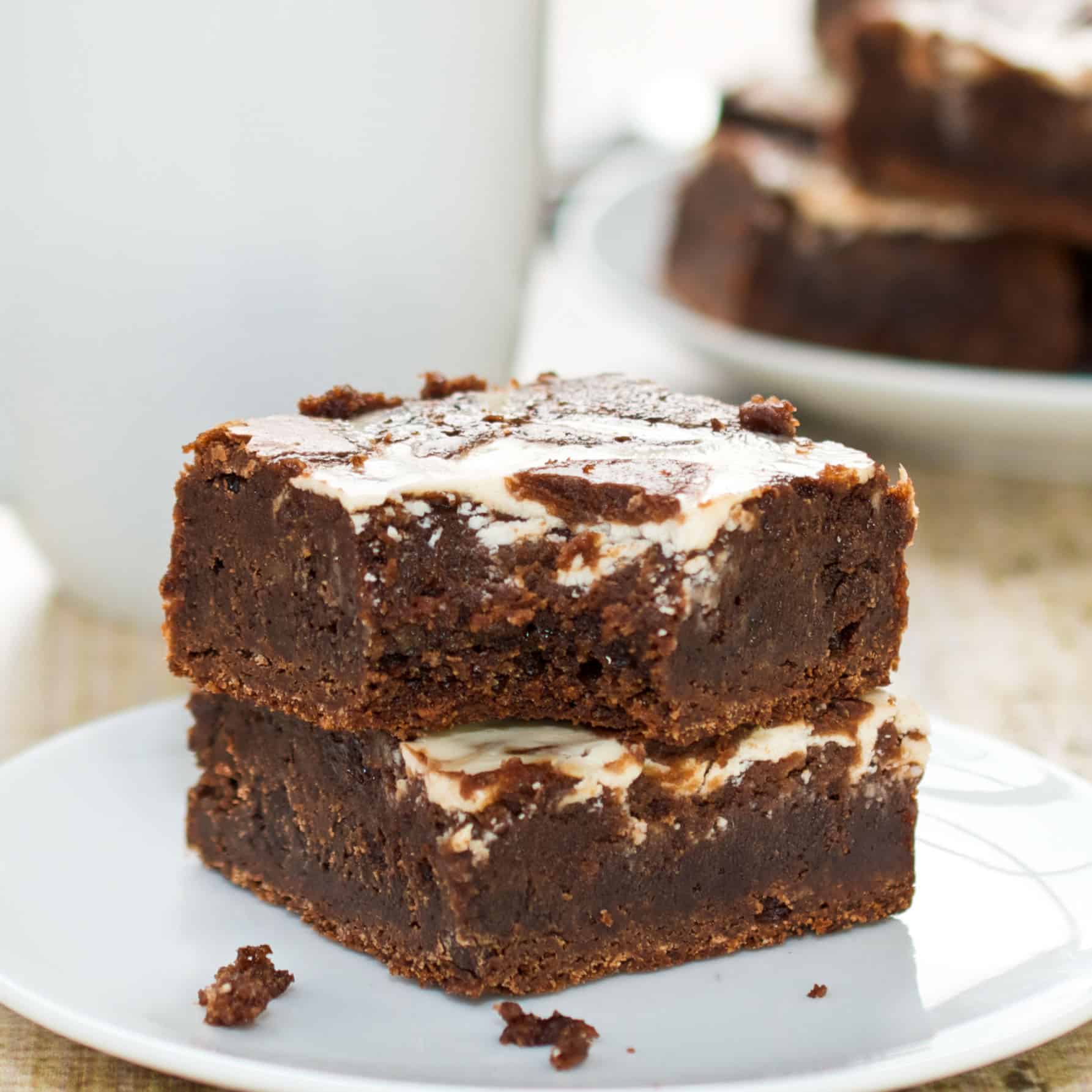 Blueberry Lemon Brownies – These Blueberry Lemon Brownies are zingy, tart and perfect for your next summer cookout!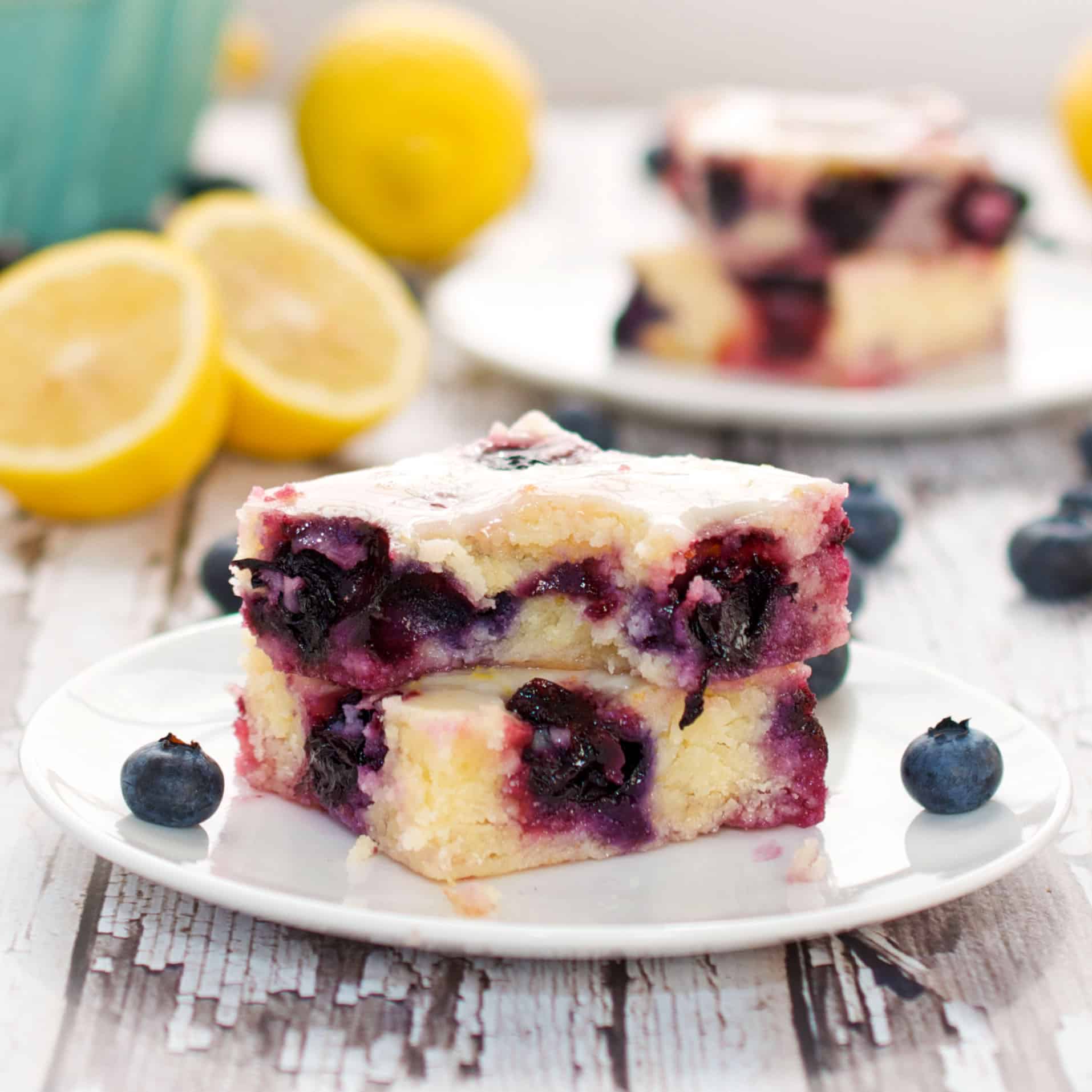 Get new recipes weekly plus our FREE ebook!