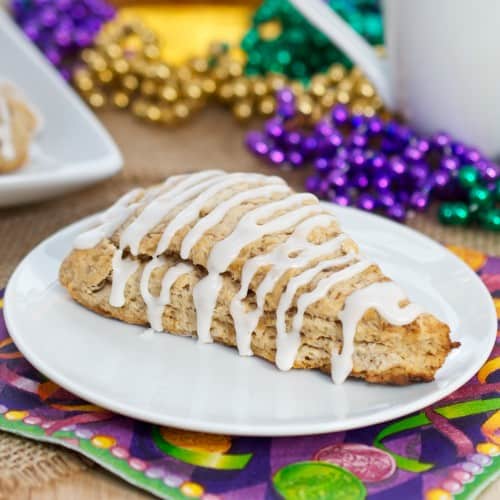 Bananas Foster Scones are some of the best breakfast food you could ever eat. Each bite of these banana scones leaves you yearning for another. This homemade banana scone recipe is one for the books, so keep it nearby in case you need it.
Scroll to bottom for printable recipe card.
Bananas Foster Scones
In honor of Fat Tuesday coming up next week, here's a portable breakfast friendly spin on the popular New Orleans dessert! Tender scones packed with caramelized banana chunks and drizzled with a delicious rum spiced glaze….need I say more?
Bananas Foster has always been one of my favorite desserts. How could you not like a dessert that is set on fire and still tastes great!
If you're nervous about setting a small fire in your kitchen, there's no need to worry; this recipe does not require flambéing the bananas. Instead, the bananas are cooked in a bubbling skillet of brown sugar and cinnamon before being added to the batter, giving the scones an incredible caramel flavor.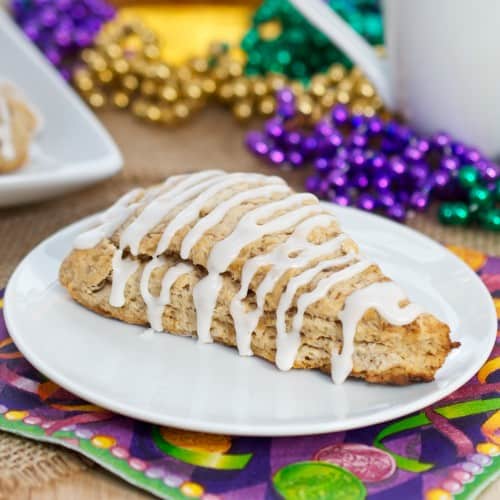 What Is Bananas Foster
Bananas Foster was created by a man named Richard Foster. he was on the crime commission in New Orleans, and his goal was to help clean up the French Quarter.
It's typically made with butter, cinnamon, rum, and lots of bananas that will impress anyone when you set it on fire. Don't worry, my recipe for this banana dessert doesn't require any fire.
How to Shape Scones
You will need to shape the banana foster scones into a circle of dough. Once it's in a circle (it doesn't need to be perfect), then you will take a pizza cutter or a super sharp knife and cut it into triangles. It's a very easy way to make these banana scones.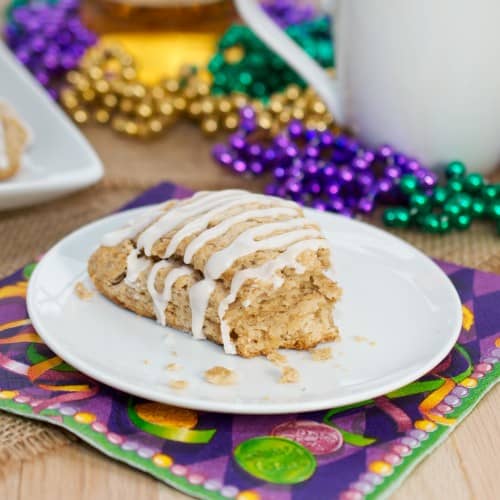 Why Is My Scone Crumbly
Most of the time, when scones end up crumbly, it's because they were overmixed. When the dough is mixed too much, it can develop air pockets, and as it bakes and they pop, it leaves an unflattering result.
You should also make sure to measure all the ingredients properly. That is the best way to ensure that they will turn out well. Adding too much flour can result in crumbly banana foster scones as well.
How to Store Leftover Scones
Keep leftover banana scones in an airtight container. They should be fine at room temperature for up to 5 days. Typically, they taste best when they are first baked, but they are also good leftover. You can toss them in the microwave for 15-20 seconds or so if you want them warmed up before serving.
Can You Freeze Scones
As with many of my scone recipes, these freeze beautifully. Just freeze the unbaked scones on a baking sheet until firm, tightly wrap in plastic wrap, and place in a Ziploc freezer bag. When ready to bake, just pop into the oven straight from the freezer; no need to thaw….just add a few more minutes to the baking time. 😀
Ingredients
Unsalted butter, divided
Packed dark brown sugar
Ground cinnamon
Lemon zest
Ripe bananas
Unbleached all-purpose flour
Baking powder
Salt
Ground cinnamon
Heavy cream
Powdered sugar
Dark rum
How to Make Banana Foster Scones
First Step: Get a heavy-bottomed skillet and melt 2 tablespoons of butter in it. After it's melted, add in the cinnamon, lemon zest, and brown sugar. Stir well to dissolve the sugar. This typically takes around 1 minute. Be sure not to turn up the heat too high, or you will see that the butter and sugar begin to separate.
Second Step: Add in the bananas and use a spoon to add sauce over each of the bananas. Cook until the bananas have become glossy and have a golden color on the bottom. This will usually take around 1 1/2 minutes. Turn the bananas over and keep cooking until they become very soft, but you don't want them to be mushy or falling apart. Usually, another 1 1/2 minutes works well. Remove the bananas from the heat and discard teh piece of lemon zest. Mash the bananas and set them aside to cool all the way. You should end up with around 1/2 cups.
Third Step: Heat up the oven to 425 degrees F and line a baking sheet with some parchment paper. Set it aside for later.
Fourth Step: Using your stand mixer that has the paddle attachment, mix in the flour, salt, cinnamon, and baking powder. Mix in 5 tablespoons of the cold butter and toss with a fork. Coat all the butter pieces with the flour mixture. Mix using low speed until the mixture looks a lot like a very coarse cornmeal.
Fifth Step: Combine the banana mixture along with some heavy cream in a separate bowl. Add in teh wet ingredients to the flour mixture and form it into a dough ball. Using floured hands, press the dough into a dough ball that is around 8 inches around. Then take a sharp knife or a pizza cutter and slice the scones into 8 wedges.
Sixth Step: Put the scone wedges on the baking sheet that has been prepared. Bake the pan of scones for 12-15 minutes or until you see that the scones are a light golden brown color. Move the scones to a wire rack and let them cold down for 10 minutes before adding the homemade glaze.
Seventh Step: Combien teh powdered sugar and the rum together in a small bowl. use a whisk and mix until they are smooth and creamy. Drizzle the homemade glaze over the top of the scones and serve them.
Enjoy!
Now, remember to save this recipe on Pinterest for later 🙂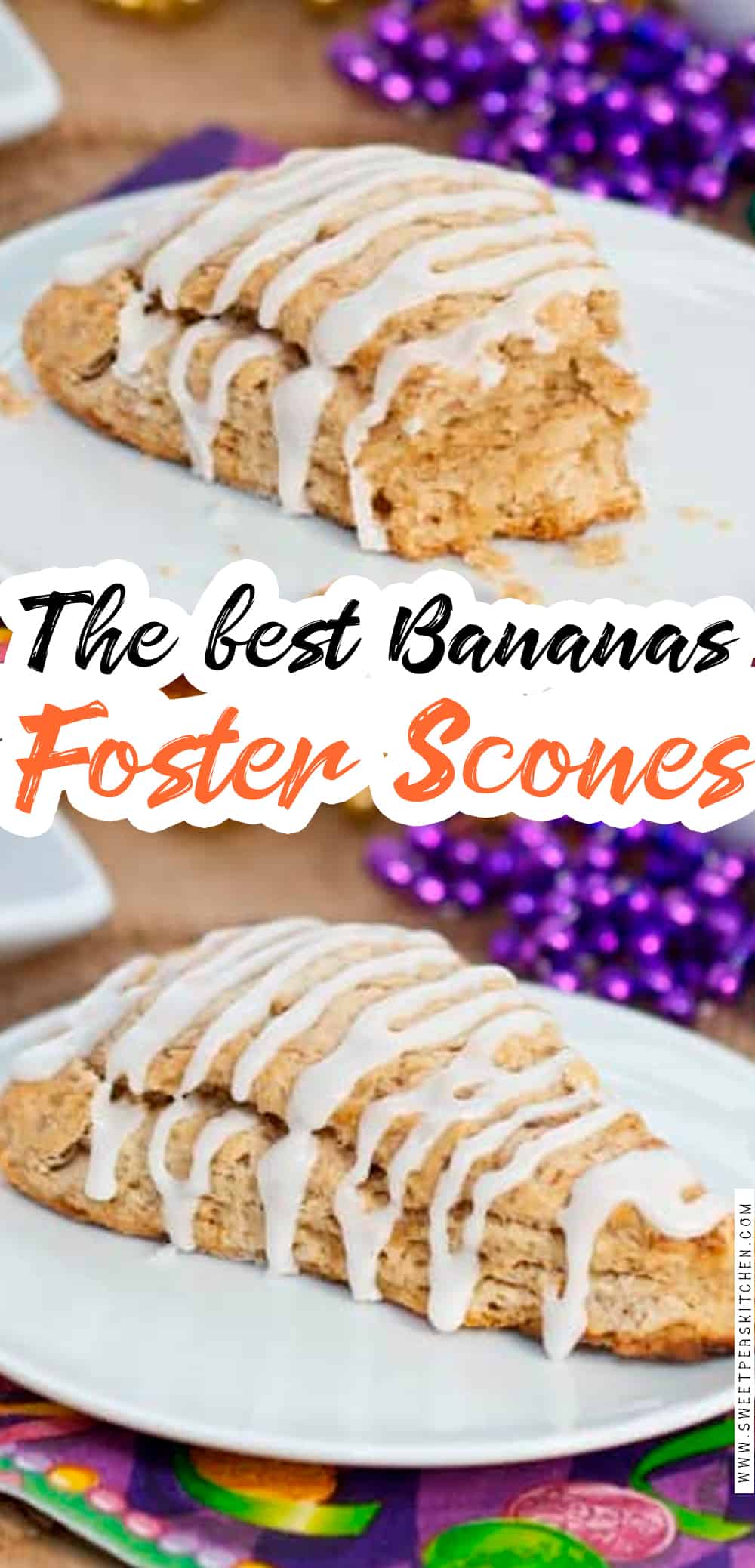 Pin this recipe now to remember it later
Bananas Foster Scones
Bananas Foster Scones are some of the best breakfast food you could ever eat. Each bite of these banana scones leaves you yearning for another. This homemade banana scone recipe is one for the books, so keep it nearby in case you need it.
Ingredients
2

tablespoons

unsalted butter

,

divided

1/4

cup

packed dark brown sugar

1/8

teaspoon

ground cinnamon

1

strip lemon zest

,

1 inch long by about 1/2 inch wide

1

large

,

firm, ripe bananas, peeled and halved lengthwise and then halved crosswise

2

cups

unbleached all-purpose flour

1

tablespoon

baking powder

1/2

teaspoon

ground cinnamon

5

tablespoons

cold unsalted butter

,

cut into 1/4-inch cubes

1

cup

plus 3 tablespoons powdered sugar
Want to save this recipe? Enter your email below and we'll send the recipe straight to your inbox!
NOTE: By saving this recipe, you agree to join our weekly recipes newsletter.
Instructions
Melt 2 tablespoons butter in a heavy-bottomed 12-inch skillet over medium heat.

Add the brown sugar, cinnamon, and lemon zest; stir to dissolve the sugar, about 1 minute. (If the heat is too high, the butter and sugar will separate instead of combining to form a sauce.)

Add the bananas and spoon some sauce over each piece. Cook until the bananas are glossy and golden on the bottom, about 1 1/2 minutes. Turn the bananas and continue cooking until very soft but not mushy or falling apart, about 1 1/2 minutes longer. Remove from heat, discard the lemon zest, mash the bananas and set aside to cool completely (you should have about ½ cup).

Preheat the oven to 425 degrees F. Line a baking sheet with parchment paper; set aside.

In the bowl of a stand mixer fitted with the paddle attachment, stir together the flour, baking powder, salt, and cinnamon. Add the 5 tablespoons of cold butter and toss with a fork to coat with the flour mixture. Mix on medium-low speed until the texture resembles coarse cornmeal, with the butter pieces no larger than small peas.

In a separate bowl, whisk together the banana mixture and heavy cream. Fold wet ingredients into dry ingredients and form the dough into a ball. With lightly floured hands press dough into a 8-inch round. With a sharp knife or pizza cutter, cut the dough into 8 wedges.

Place wedges on the prepared baking sheet and bake in preheated oven 12 to 15 minutes or until tops of scones are a light brown. Transfer to a wire rack for at least 10 minutes before glazing.

While the scones are cooling, make rum glaze. In a small bowl whisk together powdered sugar and rum until smooth. Drizzle glaze over scones and serve.
Nutrition
Serving:
1
g
|
Calories:
359
kcal
|
Carbohydrates:
38
g
|
Protein:
4
g
|
Fat:
21
g
|
Saturated Fat:
13
g
|
Polyunsaturated Fat:
7
g
|
Cholesterol:
60
mg
|
Sodium:
327
mg
|
Fiber:
1
g
|
Sugar:
11
g
Follow me on Pinterest for daily delicious recipes!
I am starving for a batch of scones! I'm guessing you feel the same as I do. Here are some of our favorite scone recipes that you should try.
Pumpkin Scones – When fall weather hits, it makes sense to crave everything that is pumpkin flavored. These pumpkin scones are the BOMB!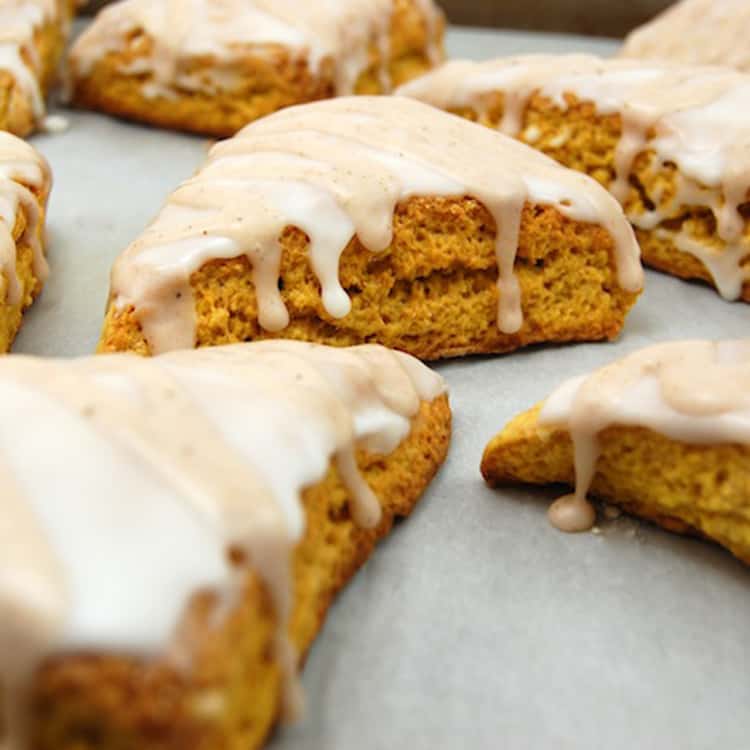 Authentic Irish Scones – These aren't your typical scones, and I am certain you are going to love every morsel.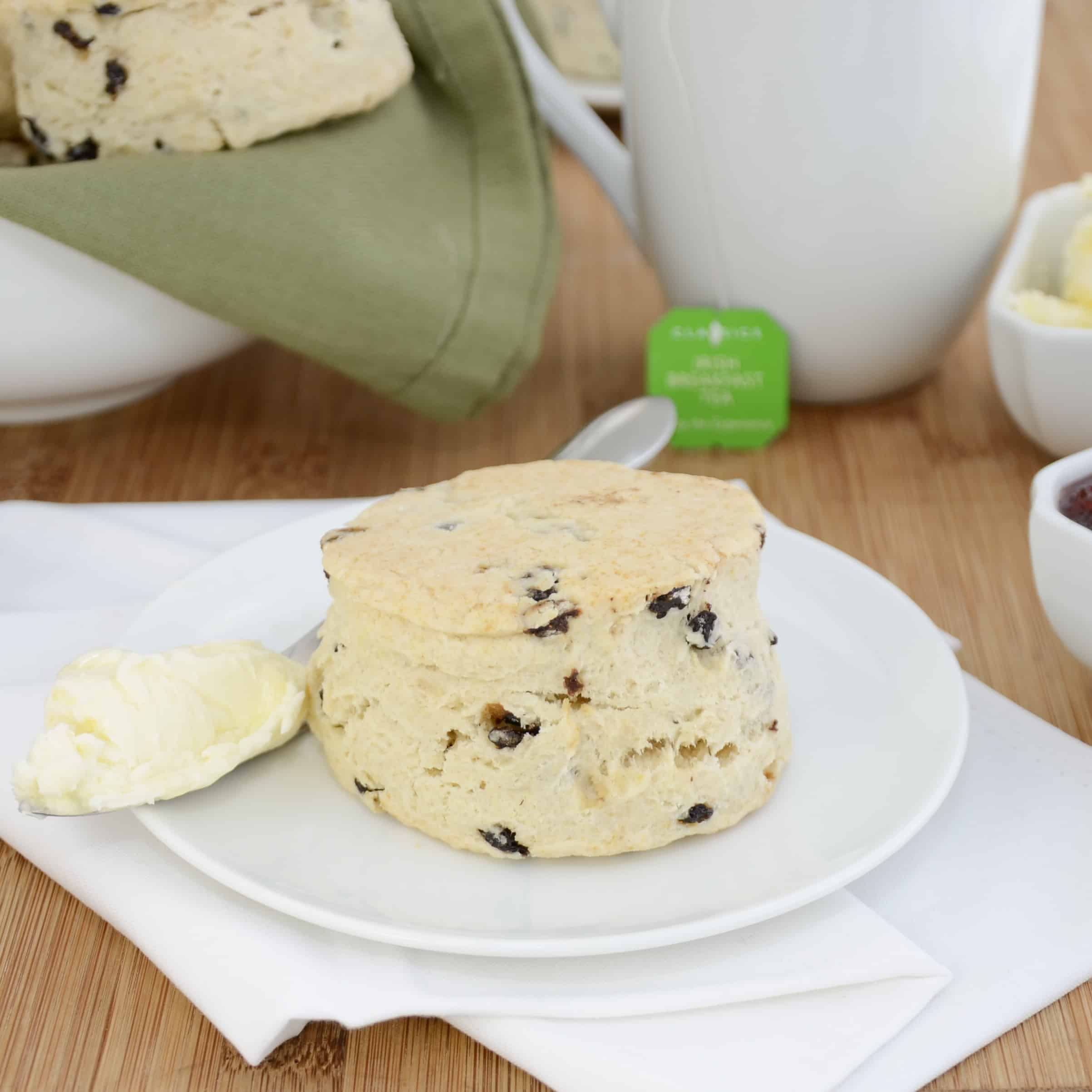 Dark Chocolate Raspberry Scones – These brilliant colored and flavored scones, you can't help but be impressed.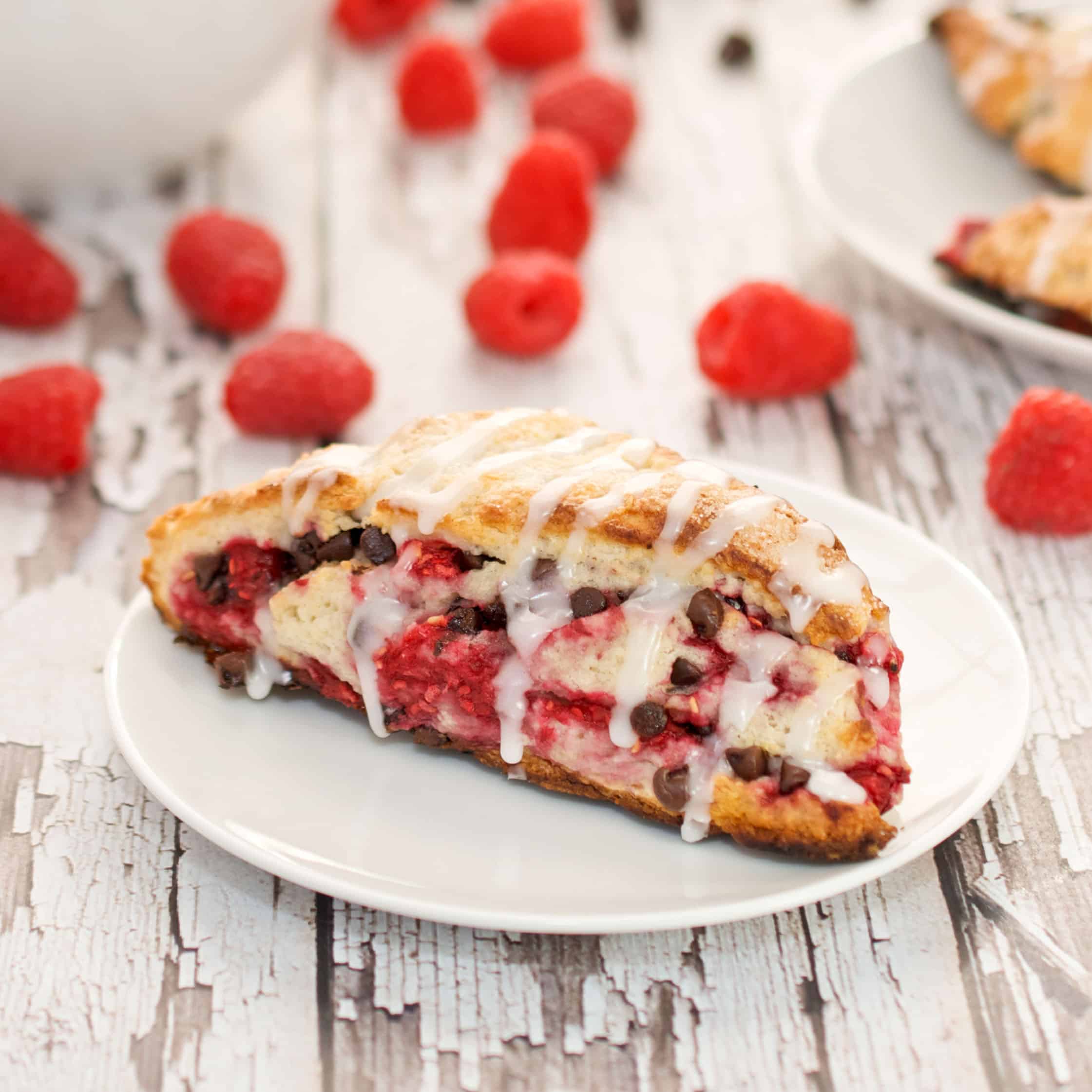 Nutella Scones – We are pretty much in love with anything that involves Nutella. You really need to taste these scones.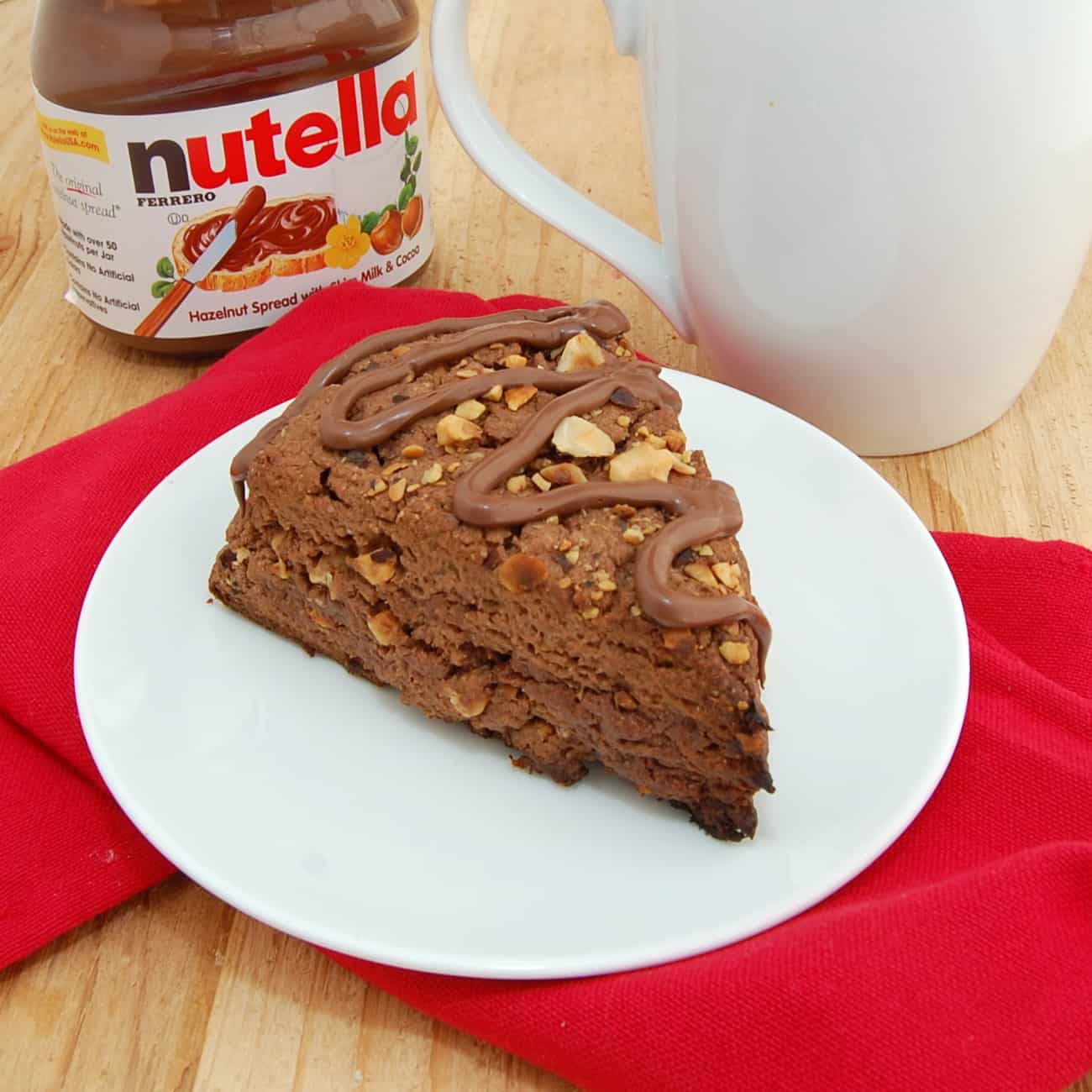 Get new recipes weekly plus our FREE ebook!