This Cherry Dr. Pepper Cake is a sweet but tart cake with delicious cherry frosting and a splash of Dr. Pepper flavor. It's a hit with kids and adults alike and, bonus; it's so easy to make!
Cherry Dr. Pepper was one of my favorite beverages as a child. It was my go-to soda choice, even though soda was a rare treat, and today I still love popping open a can here and there (though I do try to refrain from making it a regular habit).
As I do with most things that I love, I started experimenting with ways I could bring my beloved Dr. Pepper flavor into the kitchen. And from that, this Cherry Dr. Pepper Cake was born. What glorious creation it has been! Moist chocolate cake with maraschino cherries and Dr. Pepper is beyond amazing.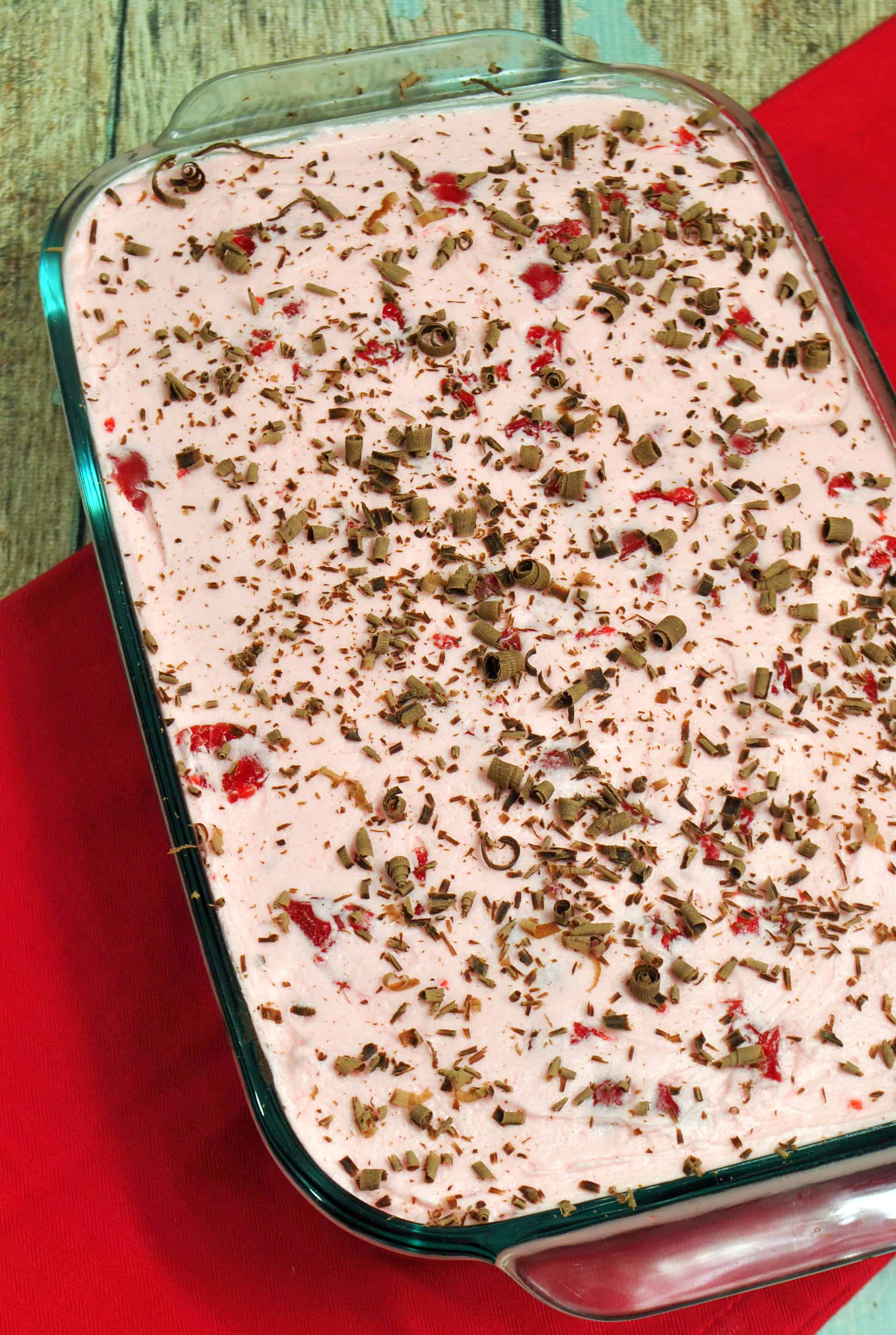 Scroll to bottom for printable recipe card.
Cherry Dr. Pepper Cake
Why cherry? Well, Dr. Pepper obviously has a cherry flavor, but cherry Dr. Pepper Cake is just so much better than regular, in my opinion. I also chose to incorporate cherries into this cake to give it a bit of texture and even more flavor than the soda. After all, it's not like I could include an entire bottle of Dr. Pepper….or if I did, this wouldn't be much of a cake….more like mush on a plate.
Anyway, I decided to not only top this Cherry Dr. Pepper Cake with a delicious, homemade cherry frosting but to add cherries to the actual cake batter as well. I love it because you never know when you're going to get a bite of real cherry each time you bite into a slice of this cake. It's like a treasure hunt for both flavor and texture.
As you may imagine, Cherry Dr. Pepper Cake has been a huge hit. Everyone I serve it to, from small children to adults, go nuts about having one of their favorite beverages in cake form. And not only is it in cake form, but it's also in a cake with chocolate! What gets better than that?!
Decadent Chocolate Cherry Dr. Pepper Cake
While the cake is super moist and delightful, the real star of the show is the creamy cherry frosting! It's sweet and loaded with yummy flavors that you really can't get enough of. I could almost eat the frosting by itself with a spoon! The homemade cherry frosting on this Dr. Pepper Cake is so simple to make! It uses the juice from the jar of cherries, combined with other simple ingredients, for a sweet but tart topping to the dessert. I top the entire thing with chocolate shavings and more cherries to bring it all together.
I used fudgy dark chocolate cake mix in this Cherry Dr. Pepper Cake because I think dark chocolate and cherries just go better together than regular chocolate cake. I love the flavor of dark chocolate and cherries and the texture of the fudgy cake mix with the soda.
The best thing about this cake is that even if someone is not a Dr. Pepper fan, they'll probably still love it because it's not an overpowering flavor. Chocolate tends to do that to people!
How To Make Cherry Dr. Pepper Cake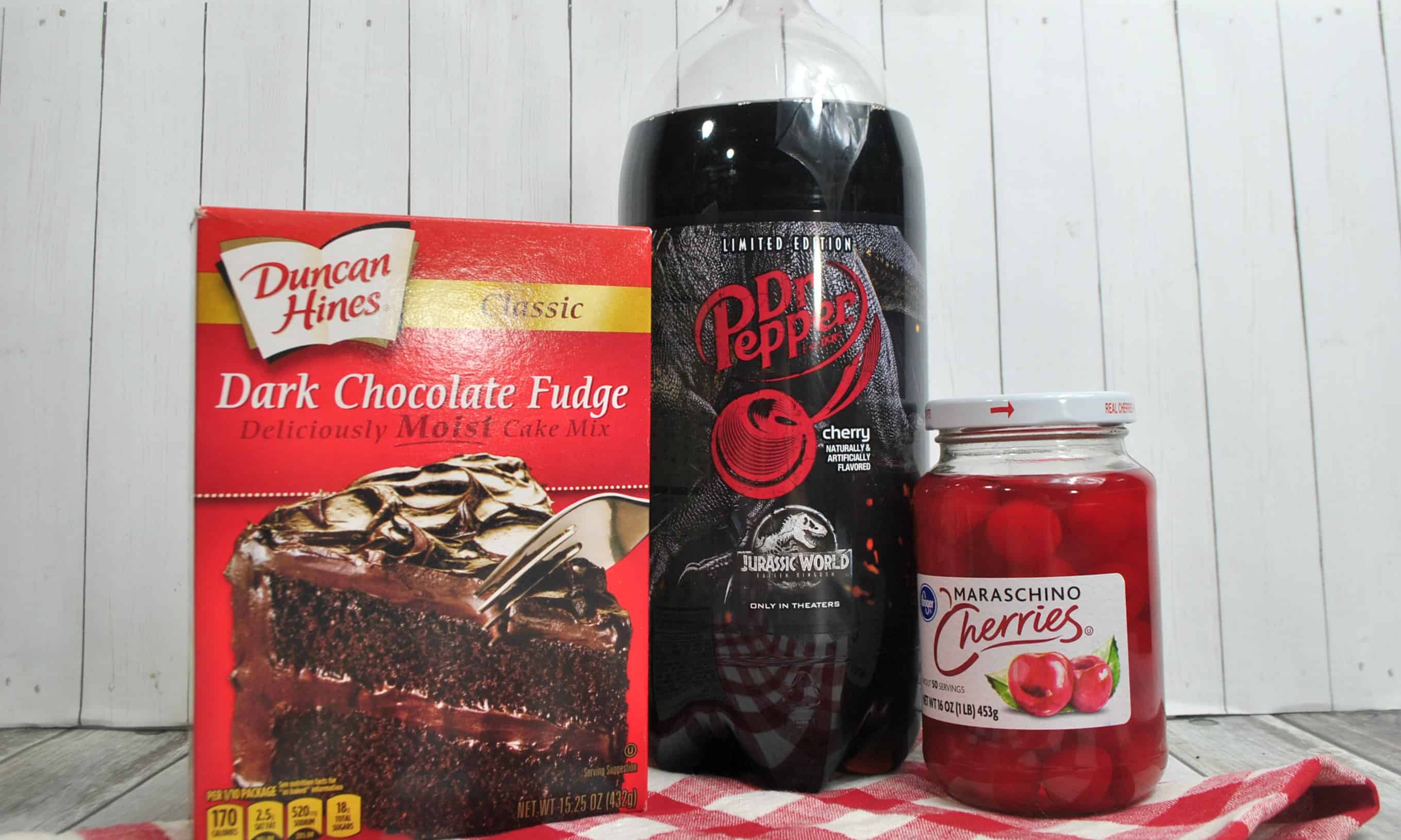 To make outrageous cherry Dr. Pepper Cake, begin by mixing chocolate cake mix and Dr. Pepper with a hand mixer. I personally used a dark chocolate fudge cake for this recipe because I love the richness of the cake paired with Dr. Pepper and cherries.
TIP: Don't overmix the batter because it will cause air bubbles to form, and the result is a dense cake, and you want it to be light and fluffy.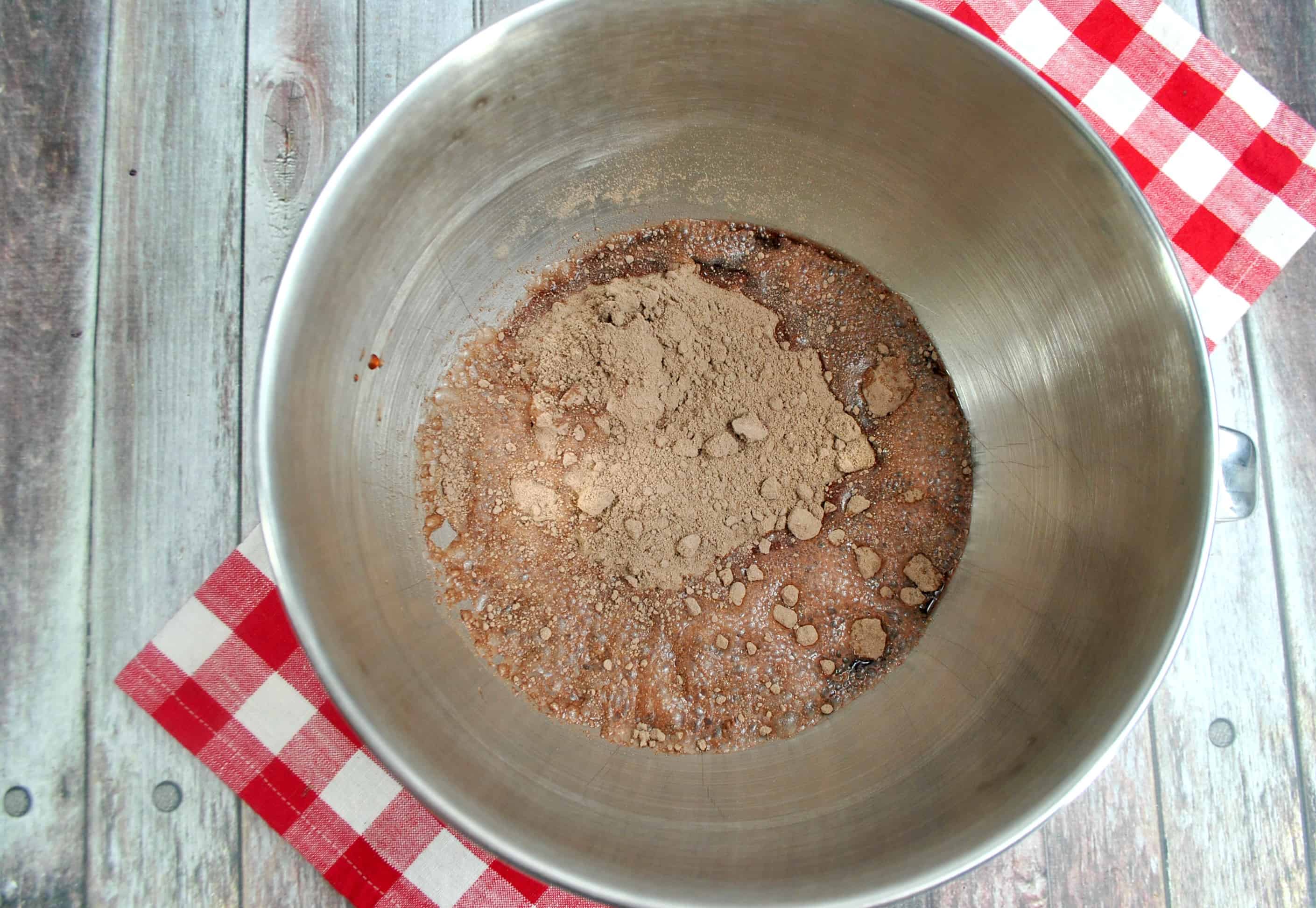 Gently fold in the cherries, cut in half. Be sure to keep some to the side for the frosting. Pour batter into a greased baking pan and cook for around 25-30 minutes.
To check if the chocolate dump cake is done, insert a toothpick in the center, and if it comes out clean, it's done. The edges will also slightly pull away from the pan too. You can even lightly touch the top of the cake, and if it leaves an imprint, it needs to cook a little longer.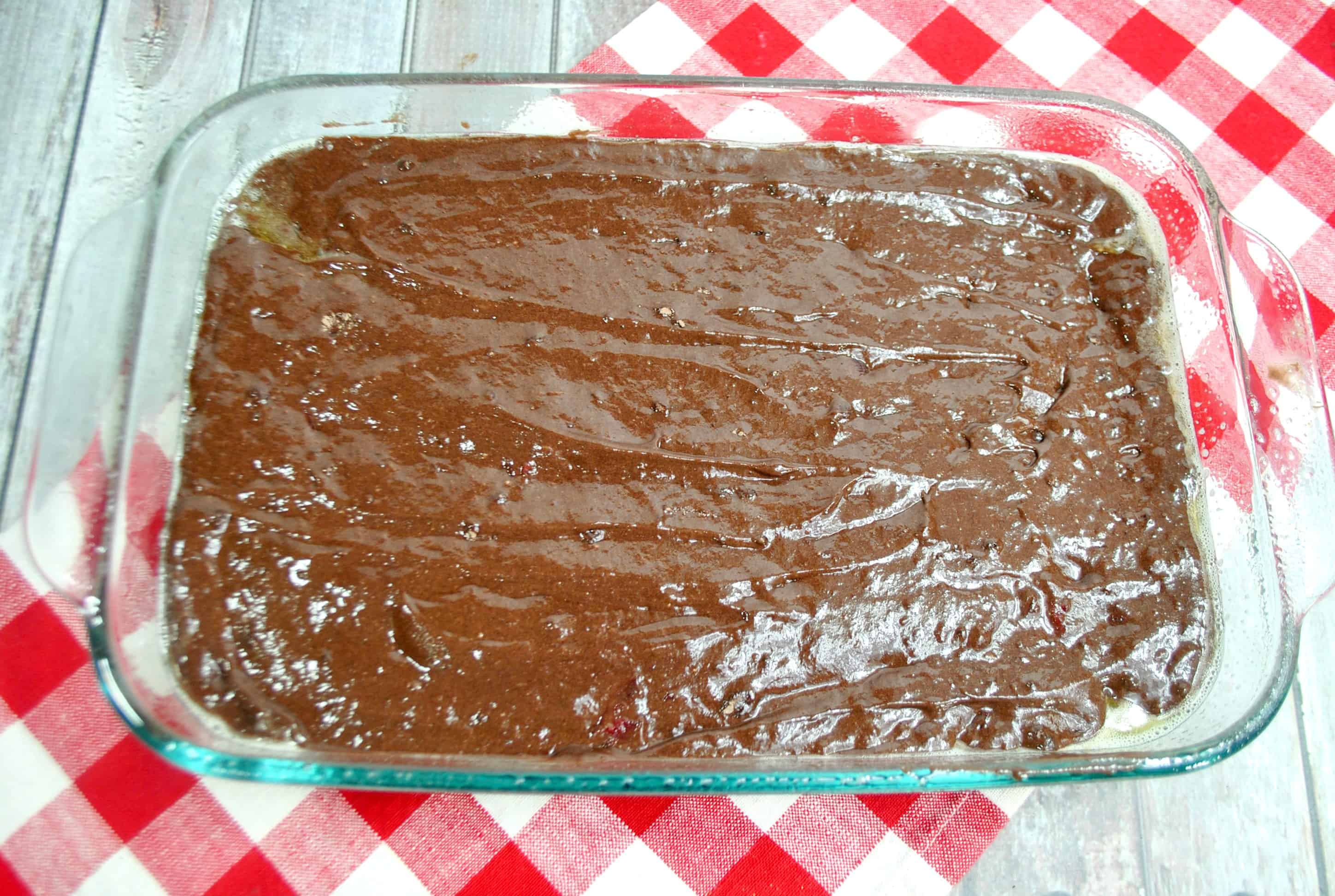 To make the delicious cherry frosting, cream butter, cherry juice, and powdered sugar together. Spread on the cooled cherry Dr. Pepper Cake.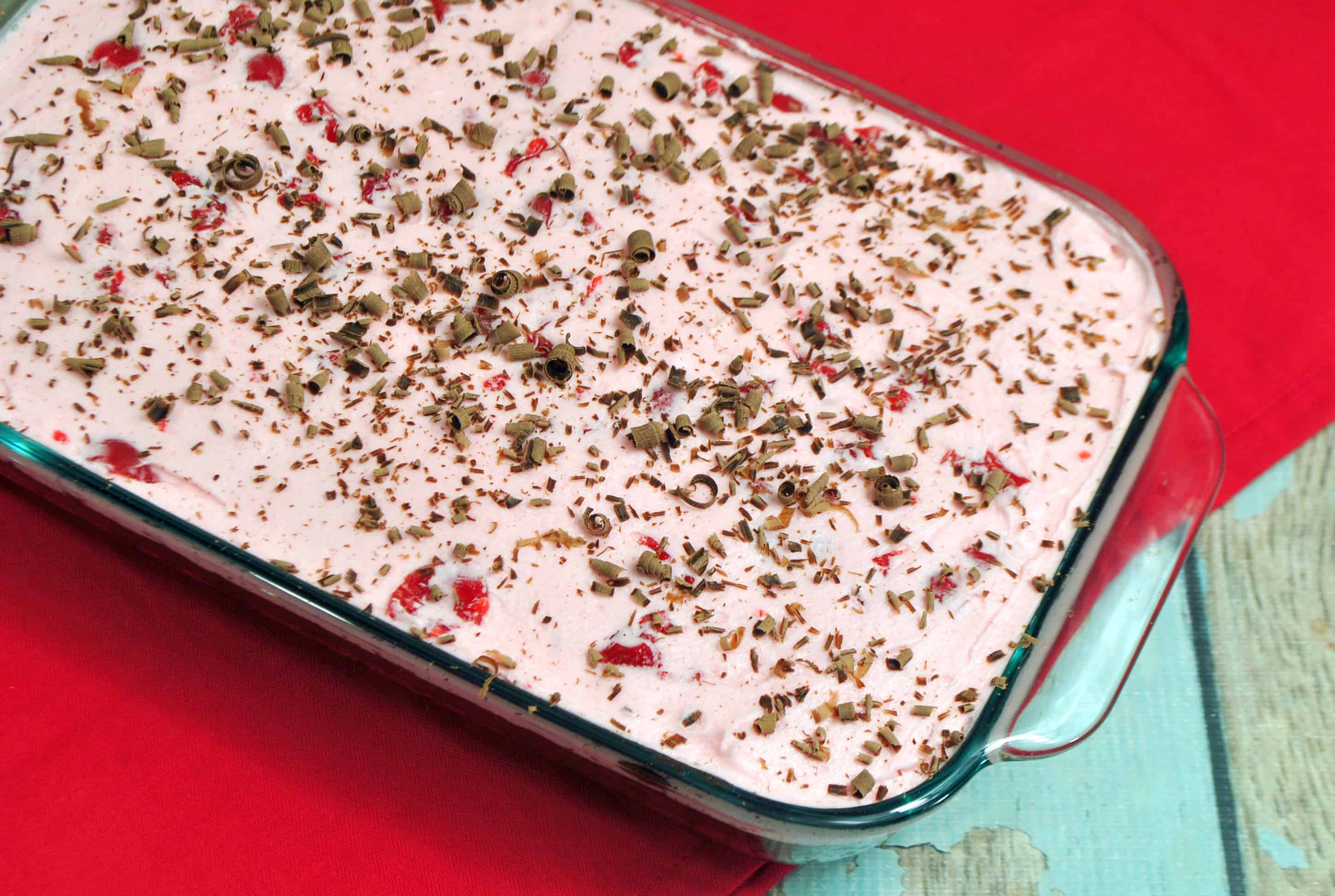 Top with chocolate shavings and dig in!
Dr. Pepper Cherry Chocolate Cake Variations
As always, you can throw in some extra ingredients here and there make the chocolate cherry Dr. Pepper cake a little bit different from time to time. You know me, I love to try new things! Here are some tasty ideas that will leave your mouth watering:
Chocolate Chips – Toss a few milk, dark or white chocolate chips into the batter to enhance the sweetness of the cake. When you pair Dr. Pepper with the cake mix, it's pretty sweet, but chocolate chips add an even more abundant sweetness.
Almond Extract – If you haven't had a cake with a little bit of almond extract before, you have been missing out. It is such a unique flavor, and once you try it, you probably won't want a cake without it. I recommend starting with one teaspoon because it can be a strong flavor.
Pop – While the recipe calls for Dr. Pepper, you can use any type of soda that you love. Coke, Pepsi, Sprite, or even diet varieties would be great in this Dr. Pepper dump cake.
Why Is My Cake Dry?
Hey, we have all been there when you bake this gorgeous cake, and you get so excited to eat it only to figure out that it's dry and unappealing. There are a few culprits that could be at play here. First, make sure you always follow the recipe you are using correctly. If you just toss things in here and there, you may end up with a ratio of dry ingredients vs. wet ingredients that equal a horribly dense cake. Because of the Dr. Pepper, cherries, and prepackaged cake mix, you shouldn't run into this problem, but I figure it's better to address it.
Check your oven temperature from time to time. Once in a while, your oven will run hotter than what the dials says, and this can cause overbaking, which leads to a dense cake as well. Oven thermometers are pretty inexpensive, and you will save yourself some headaches down the road.
Can I Substitute Oil For Butter When Baking A Cake?
Yes, you can substitute oil for butter when you make this chocolate cherry Dr. Pepper cake. Because the chocolate cherry dump cake recipe calls for sweet butter if you replace that with oil it will be okay, but you will be missing some of the flavors. Plus, when you bake a chocolate cherry cake and use butter, it helps it to be nice and fluffy.
This chocolate cherry cake recipe is still going to be delicious with substitutions. So don't hesitate using oil if you are out of butter or have an allergy. Additionally, if you are trying to cut out a few calories, you can also substitute applesauce for butter or oil in almost any cake. The cherry cake would be even moister if you decided to go that route.
Do I Need To Refrigerate Cake After Baking?
No, you do not need to refrigerate this cherry Dr. Pepper cake after baking. I love the texture and feel of a cold cake that comes out of the fridge, so sometimes I will just for a change. Ultimately, it is entirely up to you. You won't hurt anything by leaving it on the counter or cooling it. Typically, if you make any kind of cake that has whipped cream, fresh fruit, or mascarpone, it is a good idea to place it in the fridge.
This chocolate dump cake will last anywhere from 4-5 days sitting on the counter. Wrap the cake in plastic wrap then place in an airtight container to keep it from drying out or spoiling.
How To Tell If Cake Has Gone Bad?
There will be some visible signs that chocolate cherry Dr. Pepper cake has gone bad if it's hard or dried out. Additionally, when cake goes bad it could also become extra watery, and it has a weird smell. If you see mold spores then for sure, don't eat it because you can get really sick.
How To Freeze Cake
If you can't get all of the easy dump cake eaten quick enough, you always have the option to freeze it. For best results, you can place the cake in the freezer on a baking sheet or something solid and flash freeze for 1-2 hours. By flash freezing the frosting will not stick to the storage container or plastic wrap. After it is frozen, you can place it in an airtight container.
As long as the outrageous cherry Dr. Pepper cake is stored correctly, it will last 4-6 months in the freezer. To thaw, place it in the fridge, and it will be ready to eat the next day. You can also set it on the counter for a little bit to speed it up. The texture may be a bit different than what it was when you originally made the cake, but it will still be delicious.
Pin this delish Cherry Dr. Pepper Cake Recipe:

Pin this recipe now to remember it later
Cherry Dr. Pepper Cake
This Cherry Dr. Pepper Cake is a sweet but tart cake with delicious cherry frosting and a splash of Dr. Pepper flavor. It's a hit with kids and adults alike and, bonus, it's so easy to make!
Ingredients
1

box chocolate cake mix

,

(for best results use dry mix)

1 1/2

C

Dr. Pepper Cherry

1

jar maraschino cherries with no stem

,

Remove 24 cherries from the jar and set aside

1

C

unsalted sweet cream butter

,

softened

3

C

powdered sugar

,

plus 2 more cups if needed

1

container of chocolate shavings

,

Found at Hobby Lobby
Want to save this recipe? Enter your email below and we'll send the recipe straight to your inbox!
NOTE: By saving this recipe, you agree to join our weekly recipes newsletter.
Instructions
Preheat oven to 350 degrees.

Spray a 9x13 baking dish with pam baking spray and set aside

Using a standing mixer, mix together the cake mix and soda until combined

Cut the cherrie's in half and mix into the batter

Pour the cake batter into the baking dishBake in the oven for 30 minutes or until a toothpick comes out clean

Allow cake to cool completely before frosting
Cherry Frosting:
Using a standing mixer, cream together the butter, powdered sugar and cherry juice until combined and stiff

If your frosting is thin, add in another cup of powdered sugar

Scoop the frosting onto the cake and and smooth evenly with a angled spatula

Sprinkle the chocolate shavings onto the frosting and add a few cherries

Place into the fridge for an hour to allow the frosting to harden before cutting!

Enjoy!
Nutrition
Serving:
16
g
|
Calories:
311
kcal
|
Carbohydrates:
52
g
|
Protein:
1
g
|
Fat:
11
g
|
Saturated Fat:
7
g
|
Cholesterol:
30
mg
|
Sodium:
157
mg
|
Sugar:
41
g
Follow me on Pinterest for daily delicious recipes!
Even More Dessert Recipes:
White Chocolate Coconut Pecan Cupcakes – you get a whole lot of flavor in one little cupcake wrapper. You've definitely never had cupcakes like these before!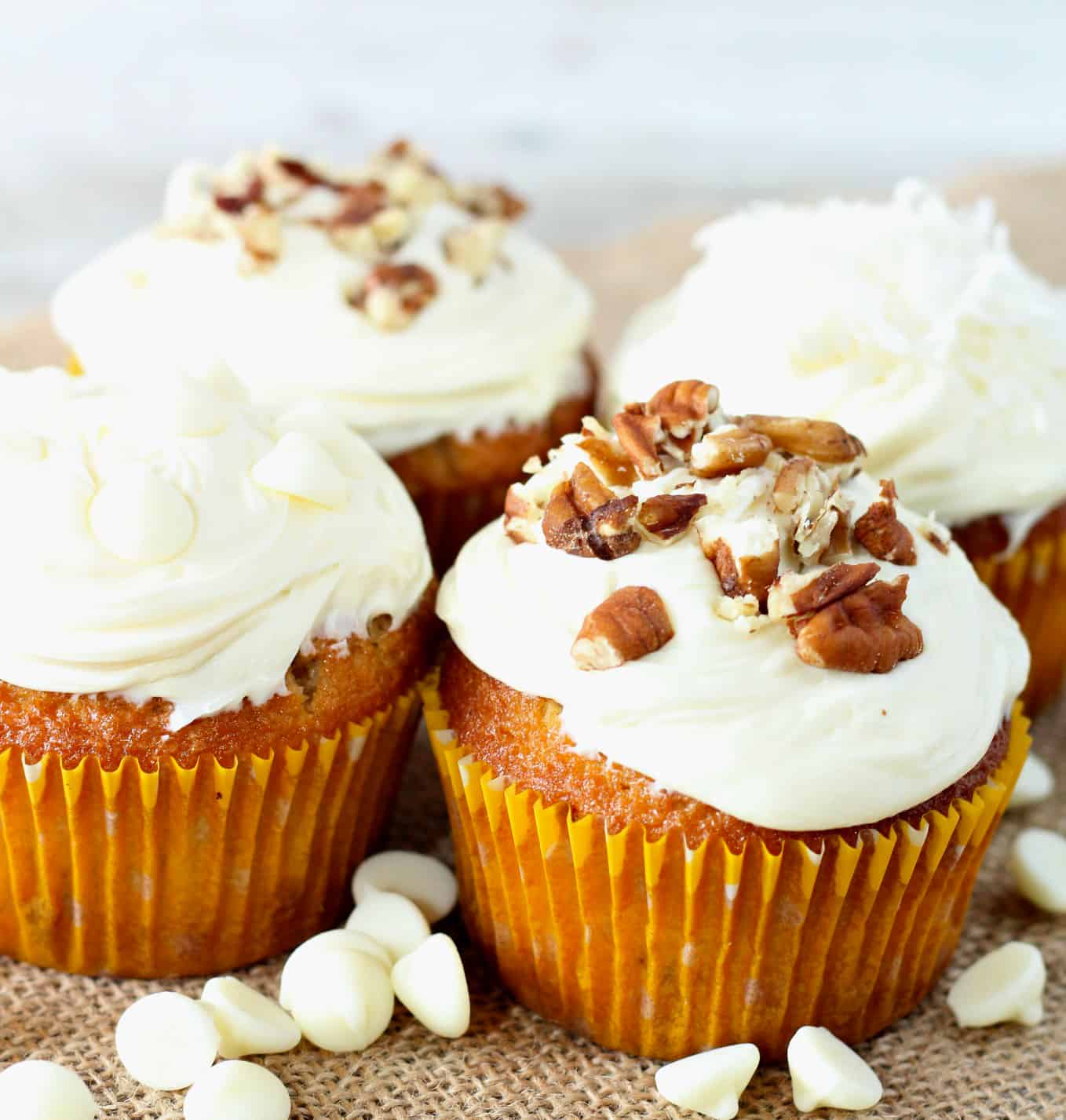 Cherry Almond Bundt Cake – Full of flavor and topped with sweet and tasty cream cheese glaze. A great cake any time of the year, whether served at a summer potluck or holiday party.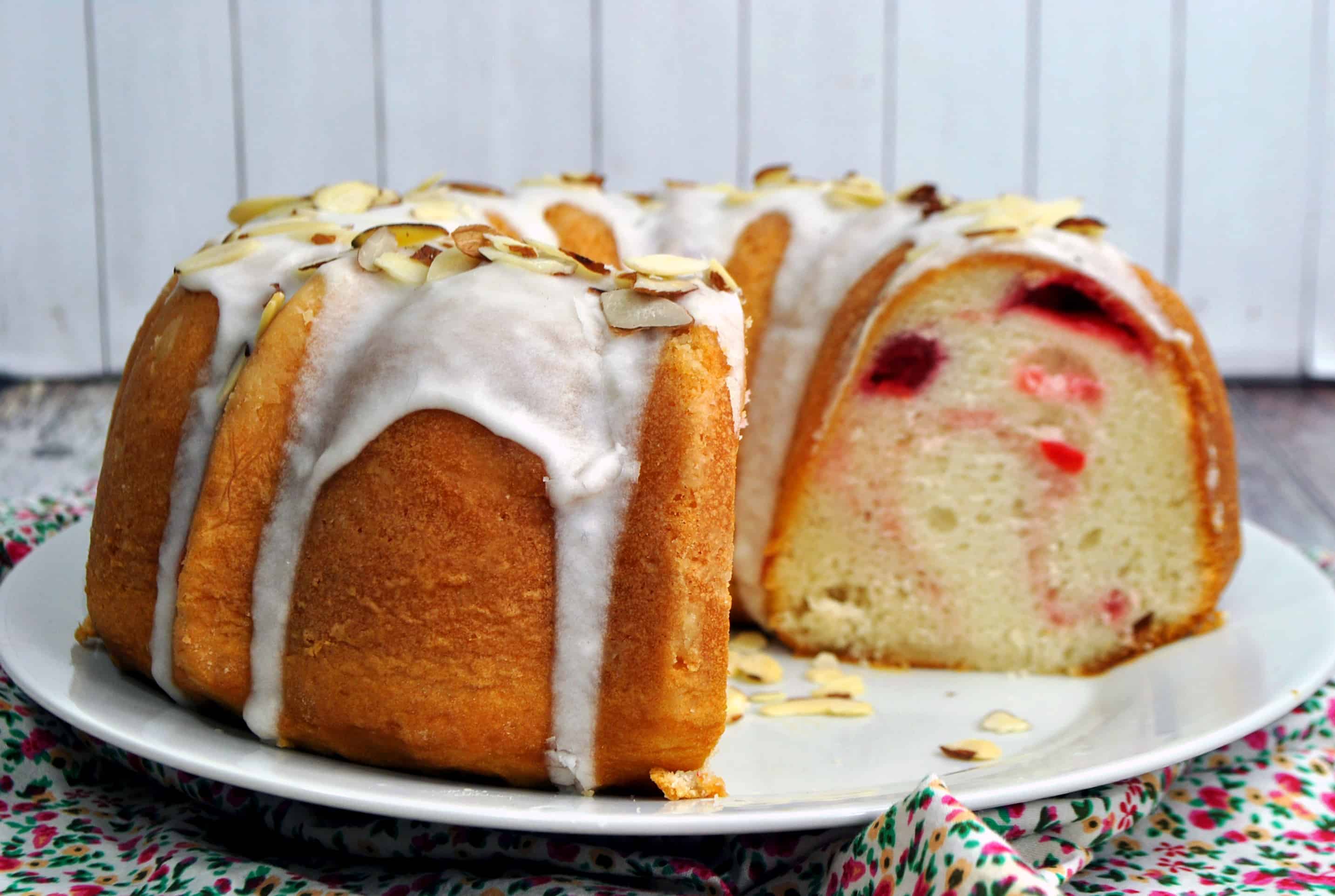 Black Forest Brownies – Rich and indulgent, these delicious Black Forest Brownies from scratch are much easier to make than their delightful flavor would have you assume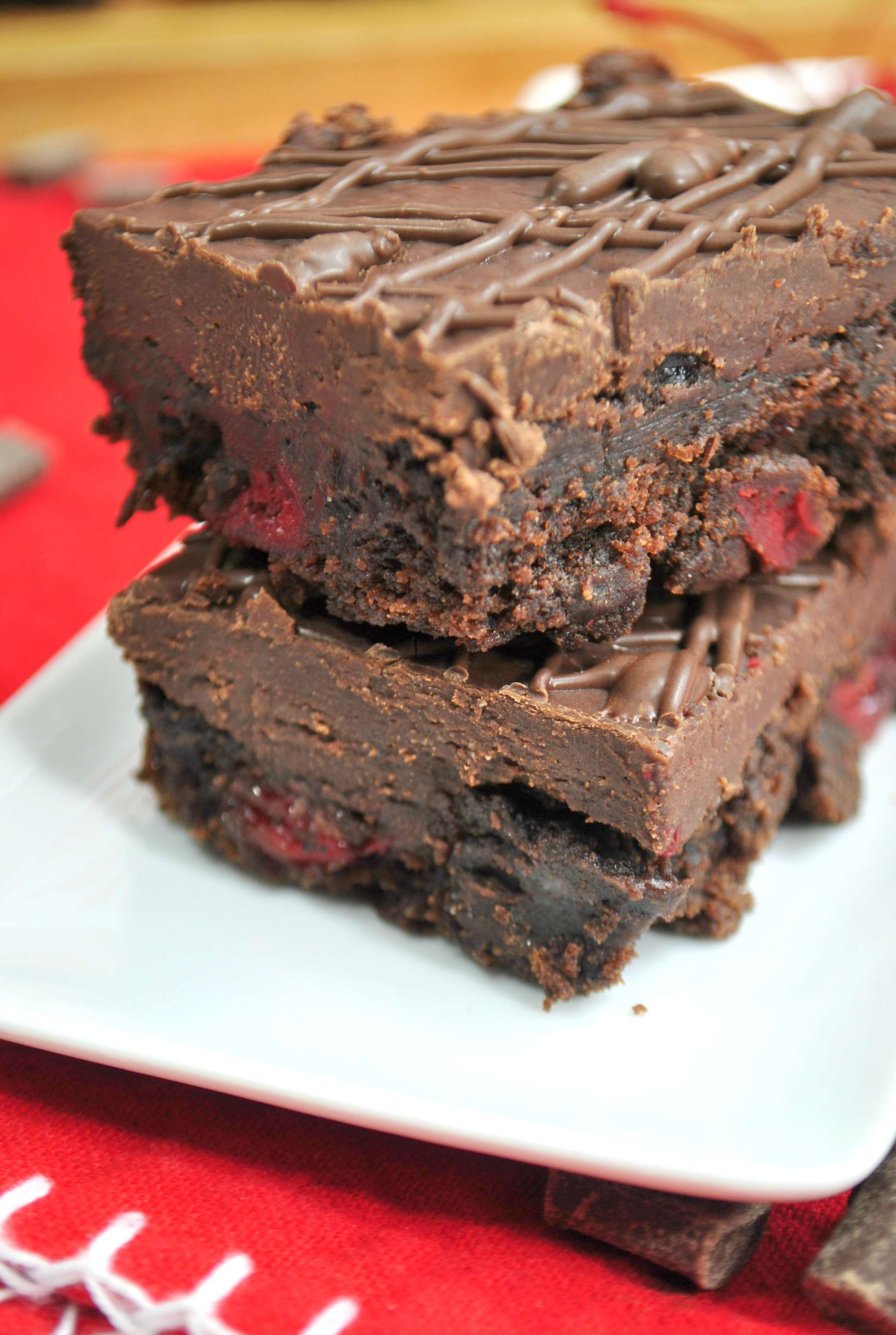 Have you ever had a Cherry Dr. Pepper Cake?
Get new recipes weekly plus our FREE ebook!