Dreams do come true! This Chewy Margarita Cookies Recipe is mindblowing good. Every bite really captures the flavors that are in a margarita, but better! You can carry these beauties with you and have a tangy snack at any time of day. I can't wait for you to taste these chewy cookies because they are insanely good.
Scroll to bottom for printable recipe card.
Chewy Margarita Cookies Recipe
I wanted to make some special cookies to celebrate this upcoming holiday weekend that captured the essence of summer and tasted like one of my favorite summer drinks-a classic margaritas! Whether a margarita reminds you of a warm summer night or a sun-drenched vacation south of the border, these cookies are certain to conjure up some wonderful memories. A soft and fluffy lime-flavored cookie topped with tequila-spiked buttercream frosting. Little specks of lime zest can be seen throughout the whole cookie and frosting, making them irresistible!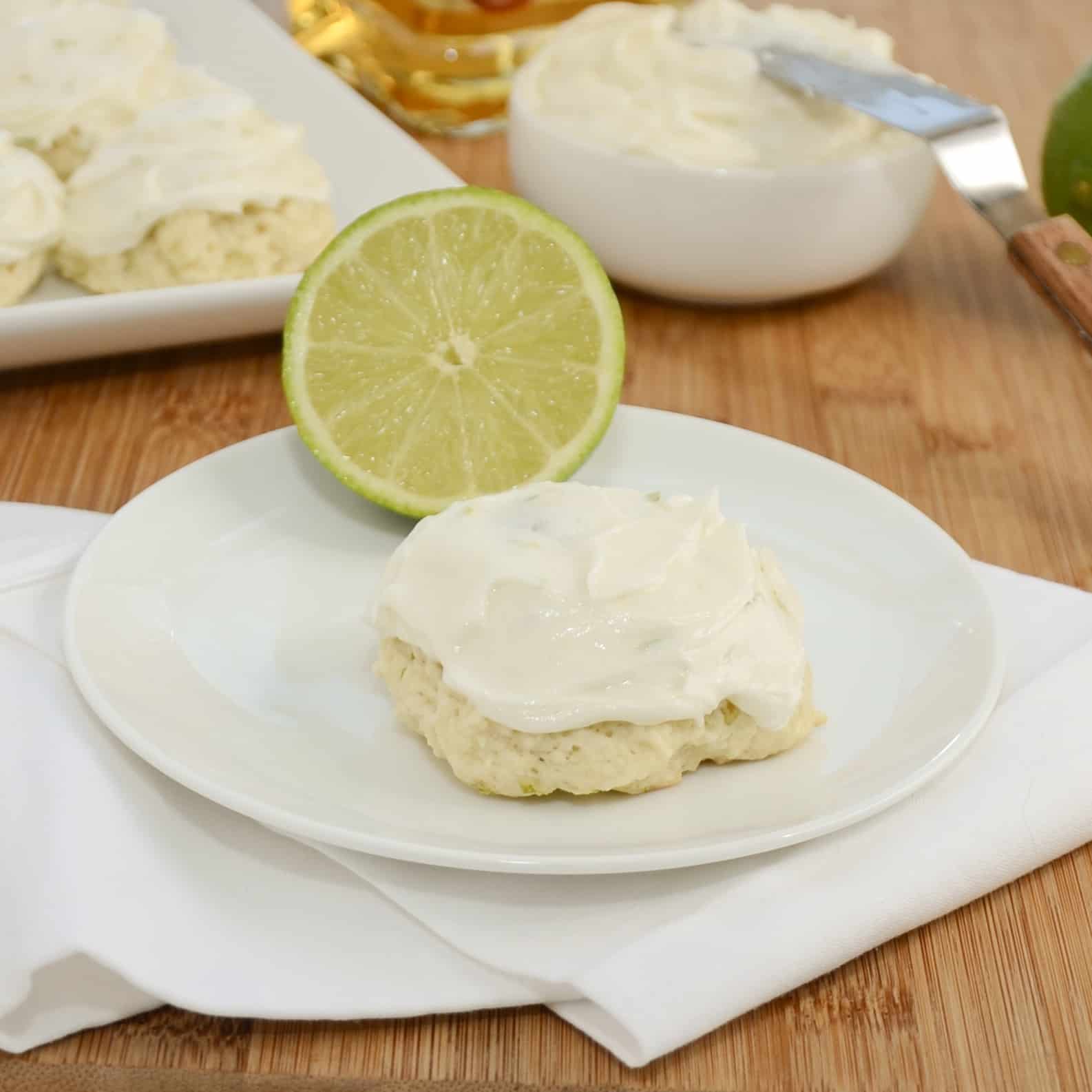 Are These Margarita Cookies Safe for Kids to Eat?
I don't recommend letting children eat these cookies. They have tequila in the frosting, and it's not cooked at all. Plus, there is tequila in the cookies themselves too. So, if you want to make cookies for the kids, leave out the tequila for their batch. I recommend adding some food coloring to their batch of icing, so it's obvious that they are alcohol-free. You never want to accidentally give children alcohol if you can help it. While there isn't a lot of alcohol in the frosting, it's not a good idea to risk it. The kids will love the alcohol free version and will feel special that they have their own batch of cookies to eat.
Do I have to Add the Tequila Icing?
No, you can leave it out if you want. They will still be tangy, zesty, and positively delicious without the tequila. It's completely up to you, and as long as you are happy, I am happy. 🙂 The ingredients in these margarita cookies are so yummy that they stand on their own without the tequila and will still taste like a margarita.
How do You Keep These Cookies Moist and Chewy?
Keeping cookies moist and chewy is easy if you store them properly. They should always be cooled down all the way before you store them. If you get in a hurry and put them away before they are cool, you'll notice liquid forms in the container. This is condensation and will cause the cookies to become mushy and unappealing. The margarita cookies will last around 3-4 days in an airtight container. After that, they may still be edible, but they will not be as good and maybe really dried out.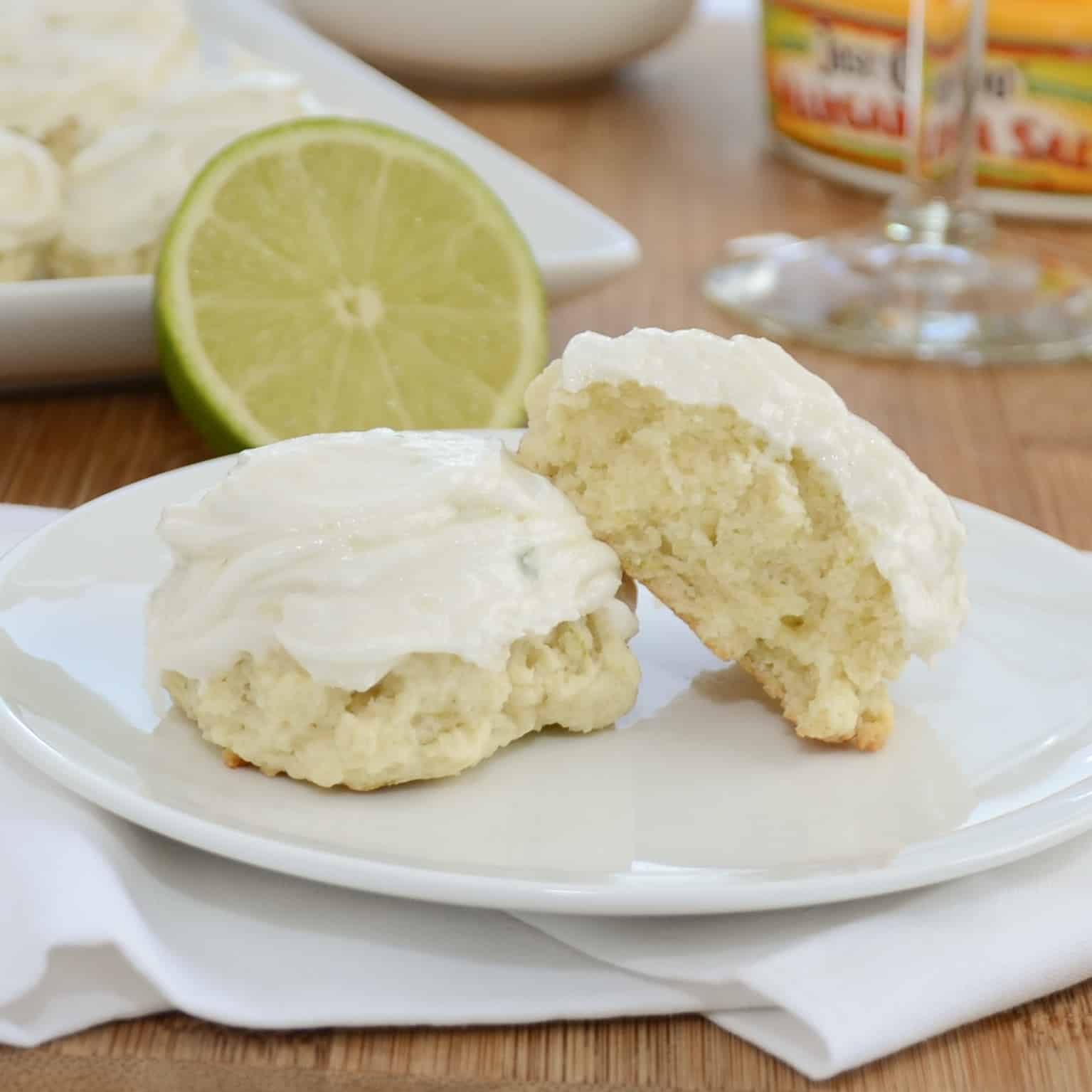 Ingredients
Everything in these margarita cookies is pure perfection. They compliment each other perfectly and are so yummy it's hard not to eat the entire batch. Once you bite into that first delicious cookie, you'll understand.
For the Cookies:
All-purpose flour
Baking powder
Baking soda
Salt
Unsalted butter softened
Sugar
Large egg
Finely grated lime zest
Lime juice
Milk
Tequila
For the Frosting:
Butter softened
Powdered sugar
Zest of 1 lime
Lime juice
Tequila
How to Make Margarita Cookies
There are tons and tons of reasons why I am such a fan of cookies. One of the biggest reasons is because they are seriously so simple to make. Plus, you can make cookies for any occasion imaginable, and people are happy to gobble up every last crumb. Let's get started on these margarita cookies so you can start eating some too! Then you will know what all the fuss is about.
First Step: Look at your oven racks and make sure they are adjusted, so they are on the upper position and the lower-middle position. Then turn on the oven to 350 degrees F. Next, line two cookie sheets with pieces of parchment paper and set aside.
Second Step: Combine the flour, baking powder, baking soda, and salt in large bowl using a whisk.
Third Step: Using a stand mixer with the paddle attachment, add the butter and sugar to the bowl. Then mix at medium speed until the butter and sugar become fluffy and light. As needed, scrape down the sides of the bowl using a rubber spatula. Then mix in the egg, lime juice, lime zest, milk, and tequila. Continue beating at medium speed for 30 seconds or until combined. Next, sprinkle in the dry ingredients and mix on low for an additional 30 seconds or until it's combined. If needed, scrape the sides of the bowl with a spatula again.
Fourth Step: Use a cookie scoop or a rounded tablespoon to make dough balls. Place them on the cookie sheet, so they are 3 inches apart. Bake them for 12 – 15 minutes. The cookies will appear to be somewhat firm. Let the margarita cookies cool on the being sheet for two minutes then place them on a wire rack to finish cooling.
Fifth Step: While you are baking the cookies begin preparing the frosting. Using your stand mixer, beat the butter, two tablespoons of lime juice, lime zest, and powdered sugar together. It will be light and fluffy. If you want, add some more lime juice, so it's the flavor and texture you like. Once the cookies have cooled all the way, then add icing.
Enjoy!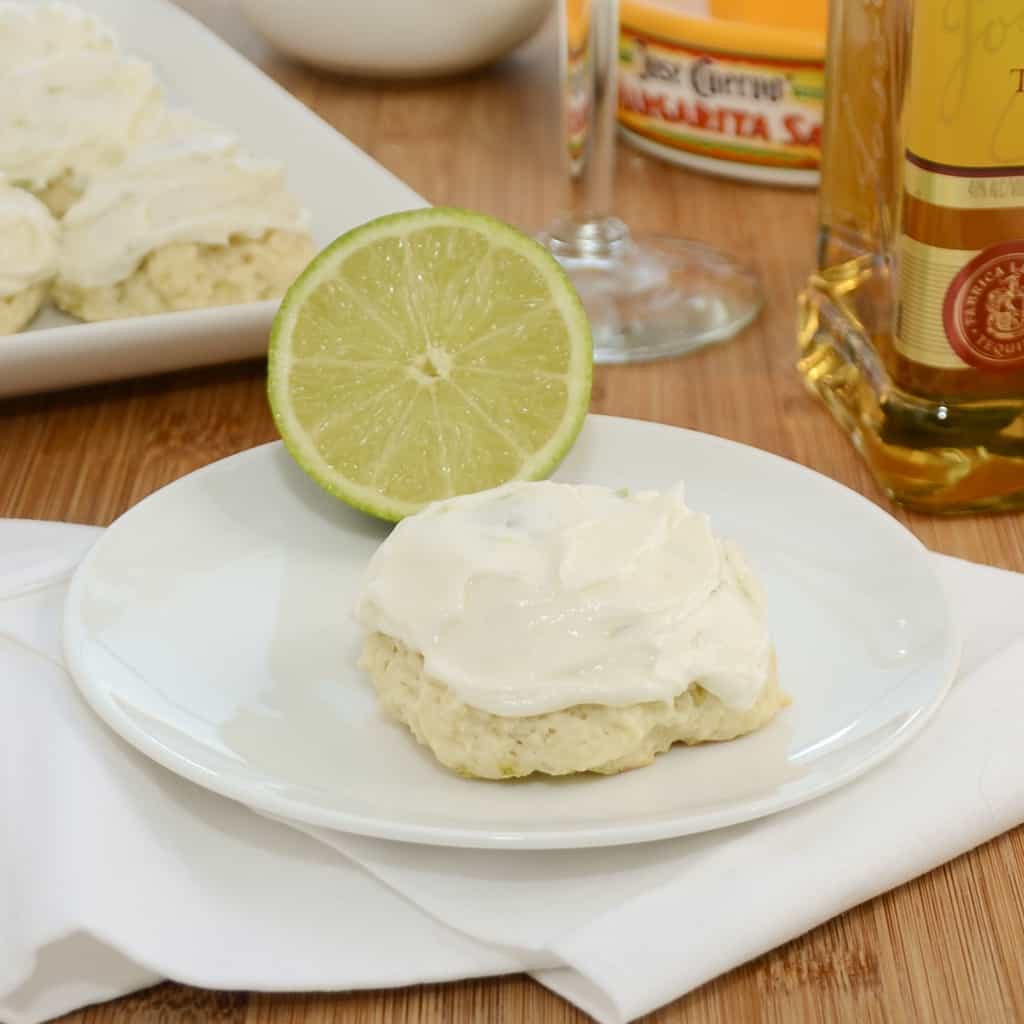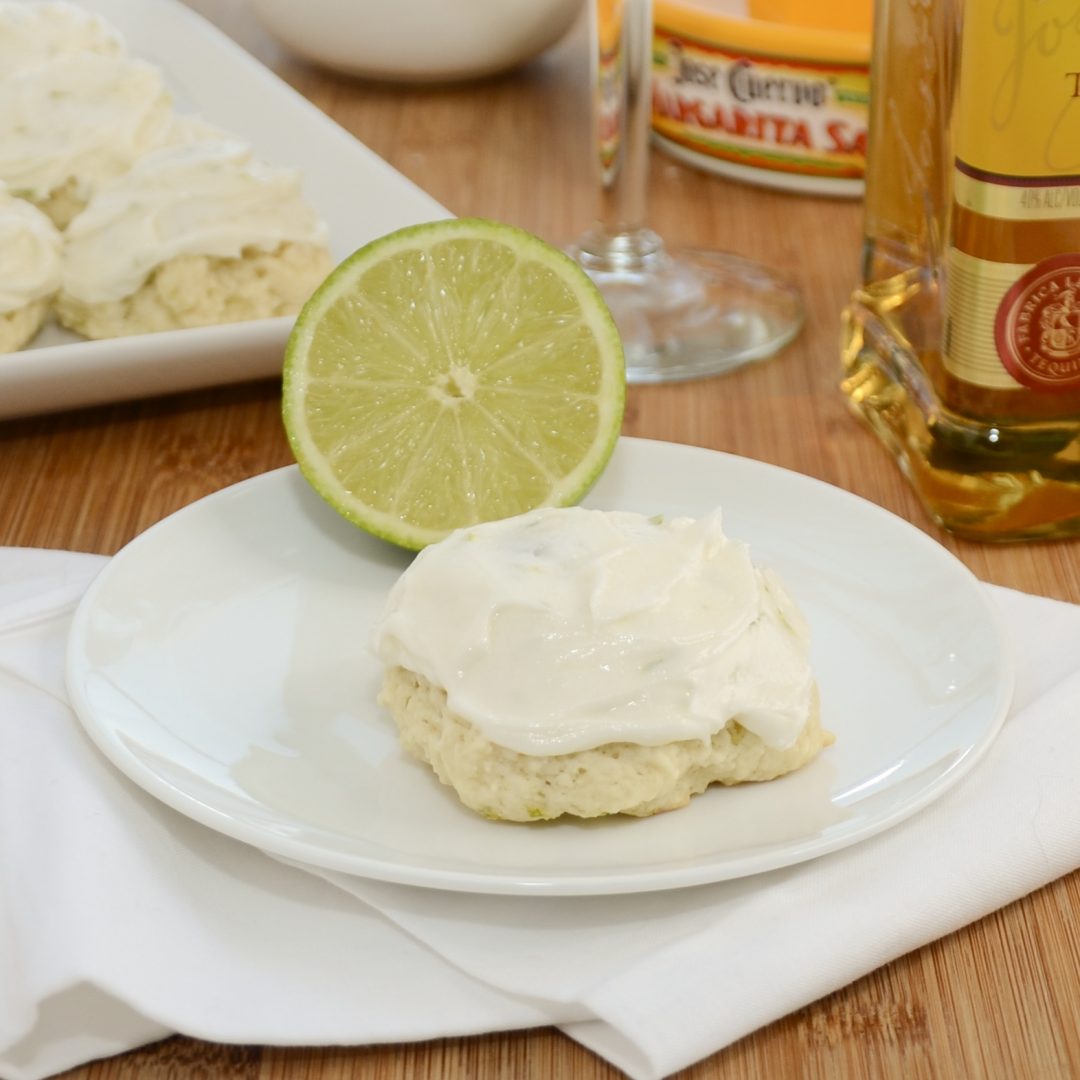 Now, remember to save this recipe on Pinterest for later 🙂

Pin this recipe now to remember it later
Chewy Margarita Cookies Recipe
Servings:
2
dozen cookies
Ingredients
For the Cookies:
1 ¾

cups

all-purpose flour

1/2

cup

1 stick unsalted butter, softened

2

teaspoons

finely grated lime zest
For the Frosting:
1/2

cup

1 stick of butter, softened

2 to 3

cups

powdered sugar

2 to 3

tablespoons

lime juice
Want to save this recipe? Enter your email below and we'll send the recipe straight to your inbox!
NOTE: By saving this recipe, you agree to join our weekly recipes newsletter.
Instructions
Adjust the oven racks to the upper-and lower-middle positions and heat the oven to 350 degrees F. Line two baking sheets with parchment paper; set aside.

In a large bowl, whisk together flour, baking powder, baking soda, and salt; set aside.

In the bowl of a stand mixer fitted with a paddle attachment, cream the butter and sugar at medium speed until light and fluffy, about 2 minutes. Scrape down the sides of the bowl with a rubber spatula as needed. Add the egg, lime zest, lime juice, milk and tequila; beat at medium speed until combined, about 30 seconds. Add the dry ingredients and beat at low speed until just combined, about 30 seconds, scraping down the bowl as needed.

Drop by rounded tablespoons of dough onto the prepared baking sheets, leaving about 3 inches between the cookies. Bake for 12 to 15 minutes, or until cookies are somewhat firm. Allow to cool on the sheets for 2 minutes, then transfer to wire cooling racks to cool completely before frosting.

To make the frosting: in the bowl of a stand mixer fitted with the paddle attachment, beat butter, 2 tablespoons lime juice, lime zest and powdered sugar until light and fluffy. Add more lime juice if needed to reach the desired consistency. After cookies are completely cool, ice them with a small spatula or butter knife.
Follow me on Pinterest for daily delicious recipes!
If you are in the mood for more tasty cookie recipes, then you are in luck. Here are a bunch of terrific cookies for you to try.
Key Lime Cookies – If you love lime, you really need to taste these amazing key lime cookies. They are incredible!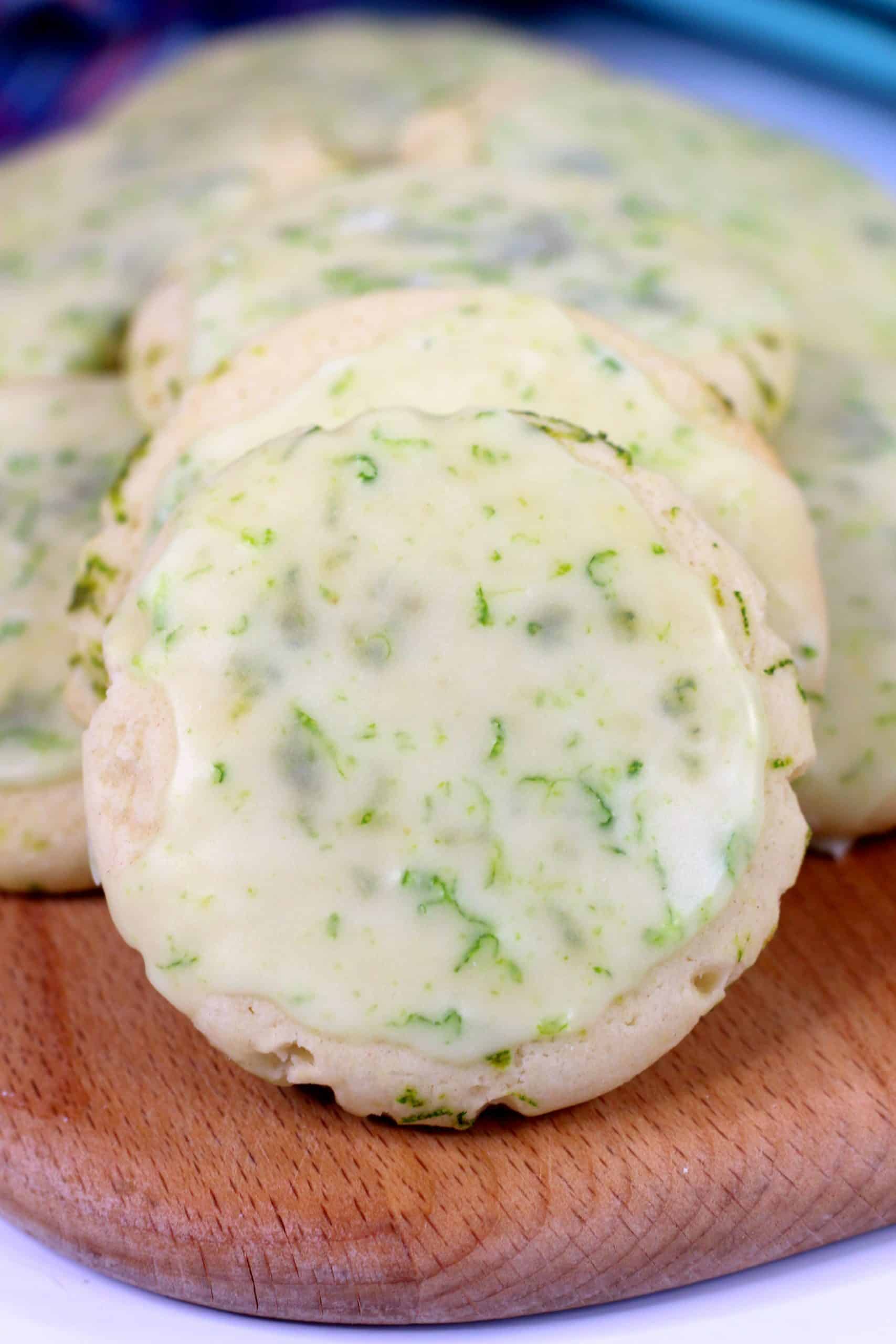 Salted Caramel Chocolate Chip Cookies – Oh, these heavenly cookies have the perfect amount of caramel, chocolate, and cookie! Taste them next time you are in the mood for a yummy treat.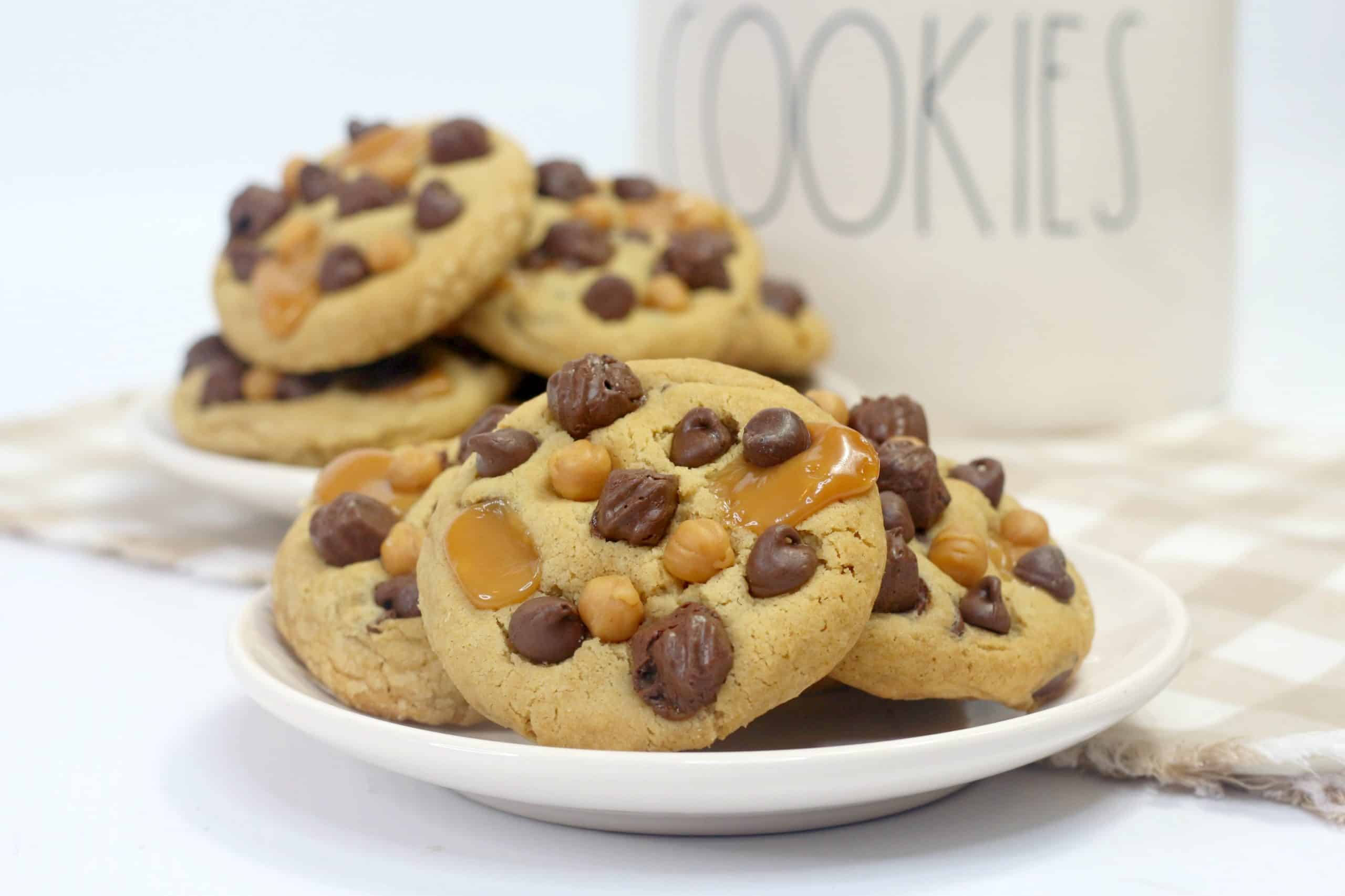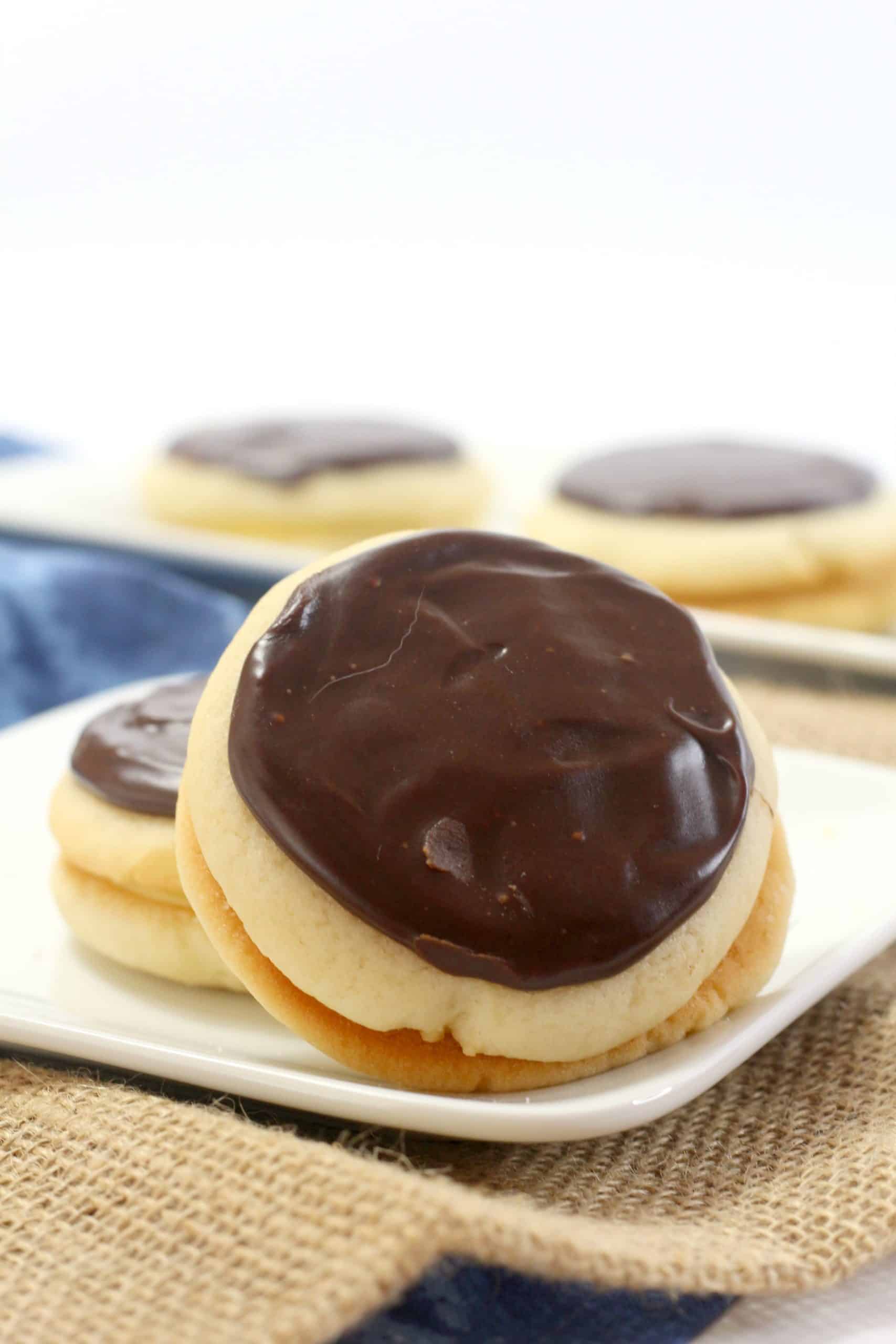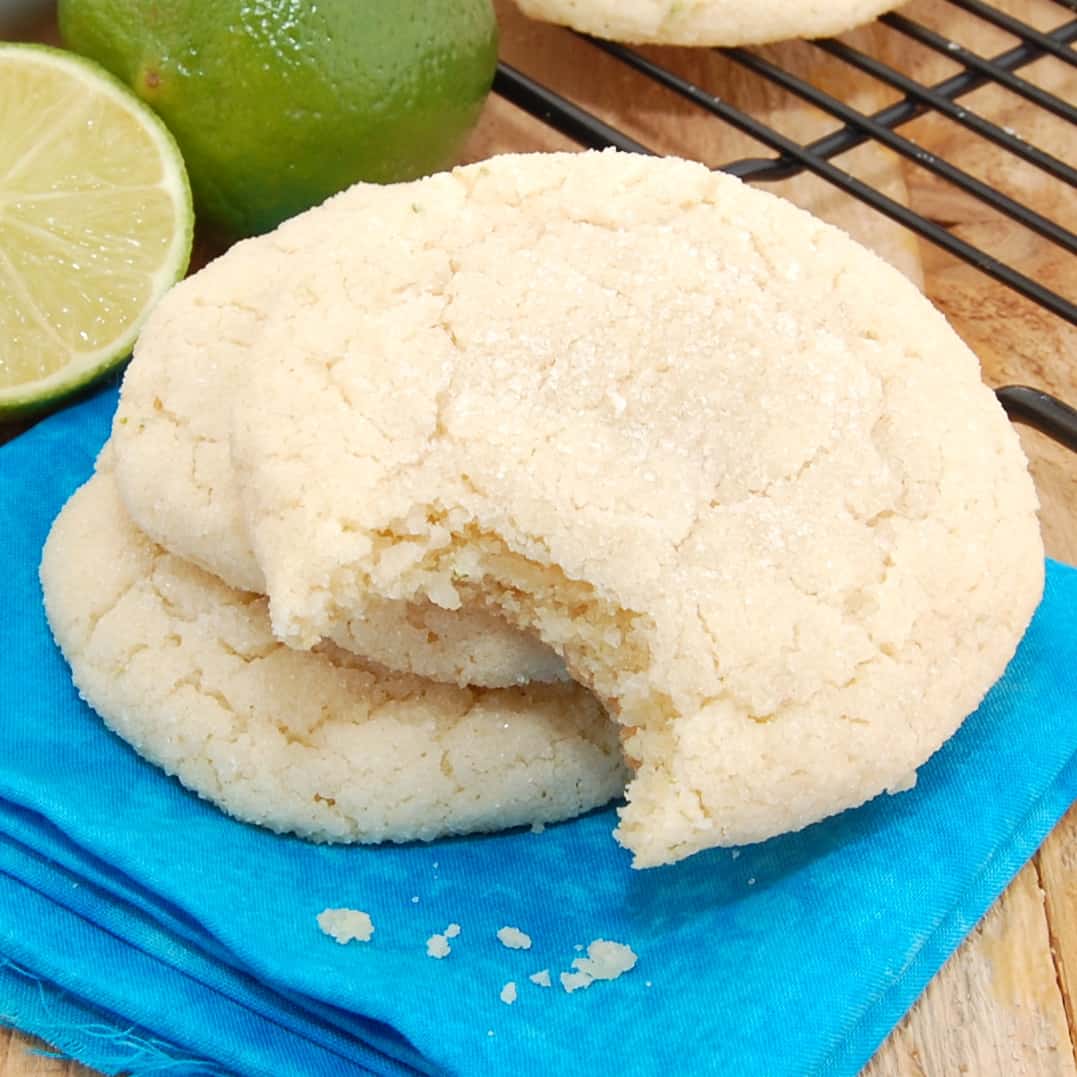 Get new recipes weekly plus our FREE ebook!