Boston Creme Pie Vanilla Sandwich Cookies have light and fluffy cookies sandwiched with elegant vanilla cream filling and decadent chocolate ganache topping. Make these classy cookies for dinner parties, weddings, brunches, and pretty much all occasions. You can never go wrong with making these heavenly treats.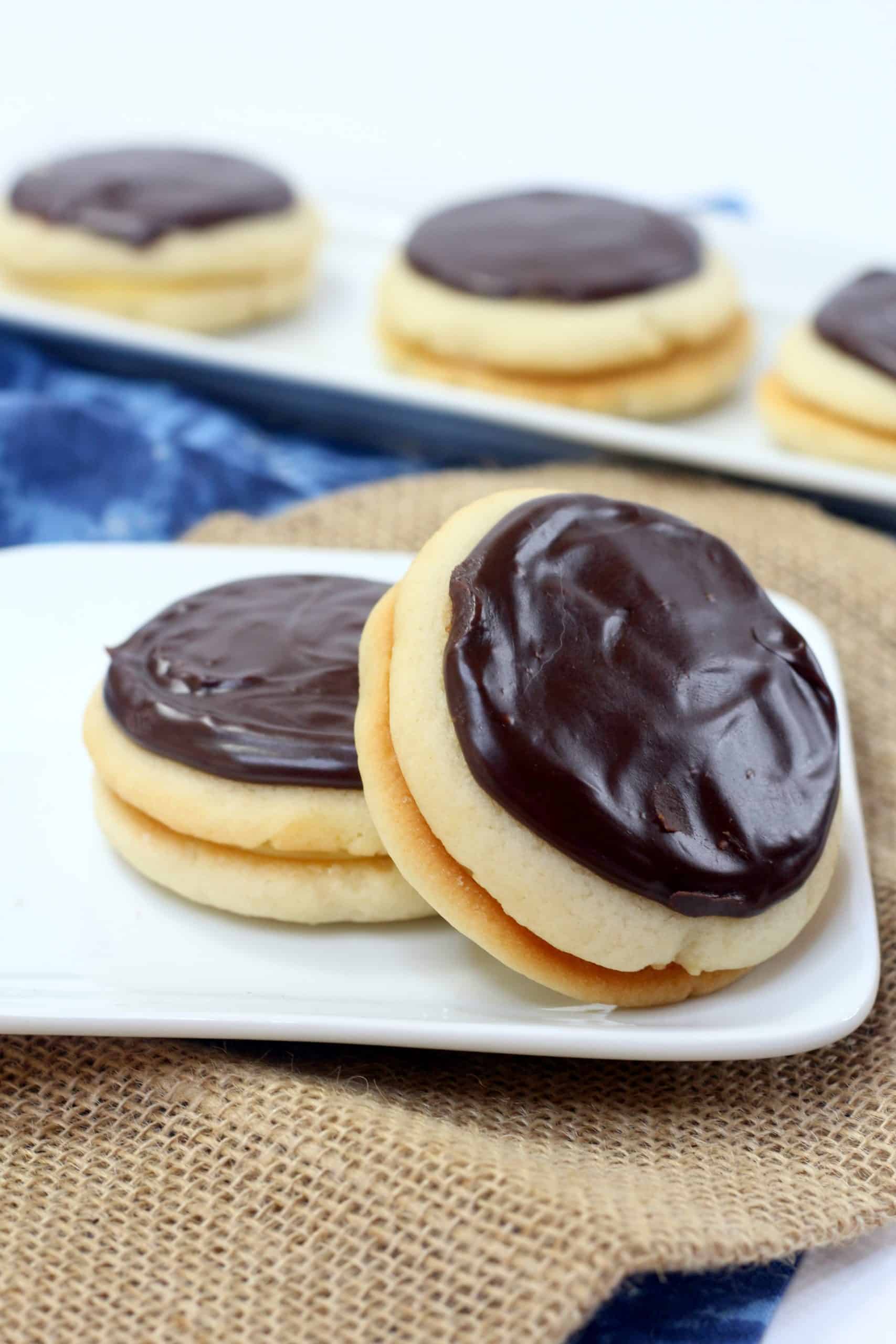 Scroll to bottom for printable recipe card.
Boston Creme Pie Vanilla Sandwich Cookies
These vanilla sandwich cookies aren't just gorgeous and delicious! They are a BLAST to make. If you love creating fun and different foods in the kitchen, then these vanilla cookies are what you have been waiting for. They are reminiscent of a Boston Creme Pie, and it's impossible not to drool when you smell the aroma of the freshly baked cookies. I know I've always been a huge fan of Boston Creme Pie as long as I can remember. I am excited about these sandwich cookies because you can easily take them on the go, unlike actual pie! Eat them in the car, as a snack on your break at work, or after dinner.
I'm sure you've already figured out how much I enjoy making desserts that my friends will be excited to try. These Boston Creme pie vanilla sandwich cookies are just that. I've made them for countless parties and events, and there is rarely any leftover at the end of the night. Because they are so beautiful, it's so hard to resist them. Make a batch or two and try them for yourself and you'll see what I mean.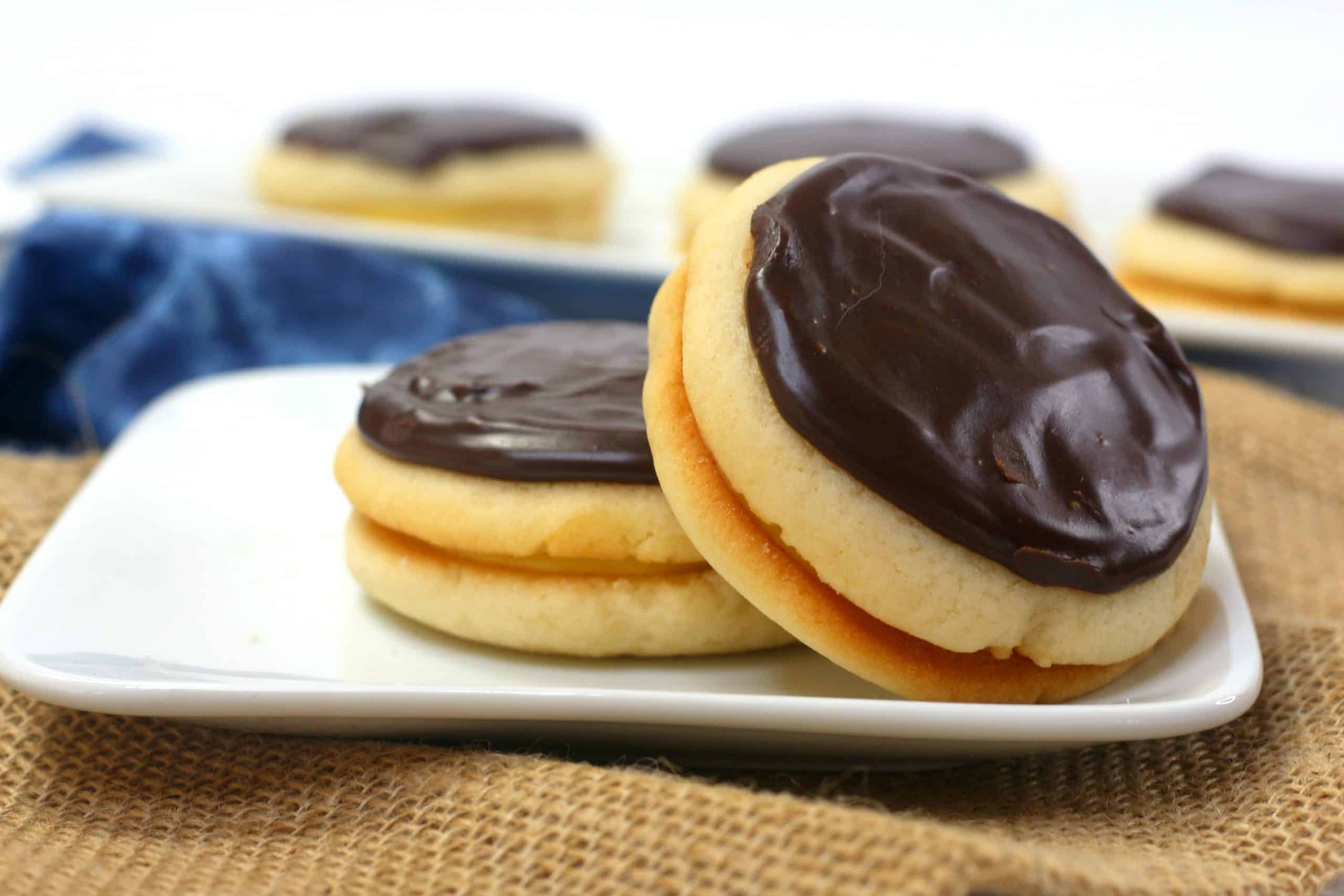 Can I Use Instant Pudding for the Filling?
Yes, if you want to use Instant Pudding for the filling, that is more than fine! There are so many flavors of instant pudding that would taste lovely with these Boston creme pie cookies. Coconut cream, vanilla, chocolate, French vanilla, butterscotch, banana cream, and lemon are just a few of the flavors that would taste amazing inside these cookies.
If you are hosting a large event and want a variety of flavors, using instant pudding is a fast and easy way to do that. You can easily make a variety of flavors, and everyone is sure to love them. The homemade filling is positively delicious and is the perfect match for these cookies, but there is nothing wrong with using pudding instead.
Do These Boston Creme Cookies Have to Be Refrigerated?
Yes, these Boston Creme cookies are best when refrigerated. They can sit out for up to two hours at a time but will last longer when you keep them cold. Plus, they actually taste a lot better when they are chilled too. The filling is made with basic ingredients that don't necessarily need to be cold, but they just seem to spoil faster when kept at room temperature.
It's important that you keep the cookies in an airtight container so that way they stay fresh longer. The vanilla cookies will last for around 3, possibly 4 days as long as they are kept sealed.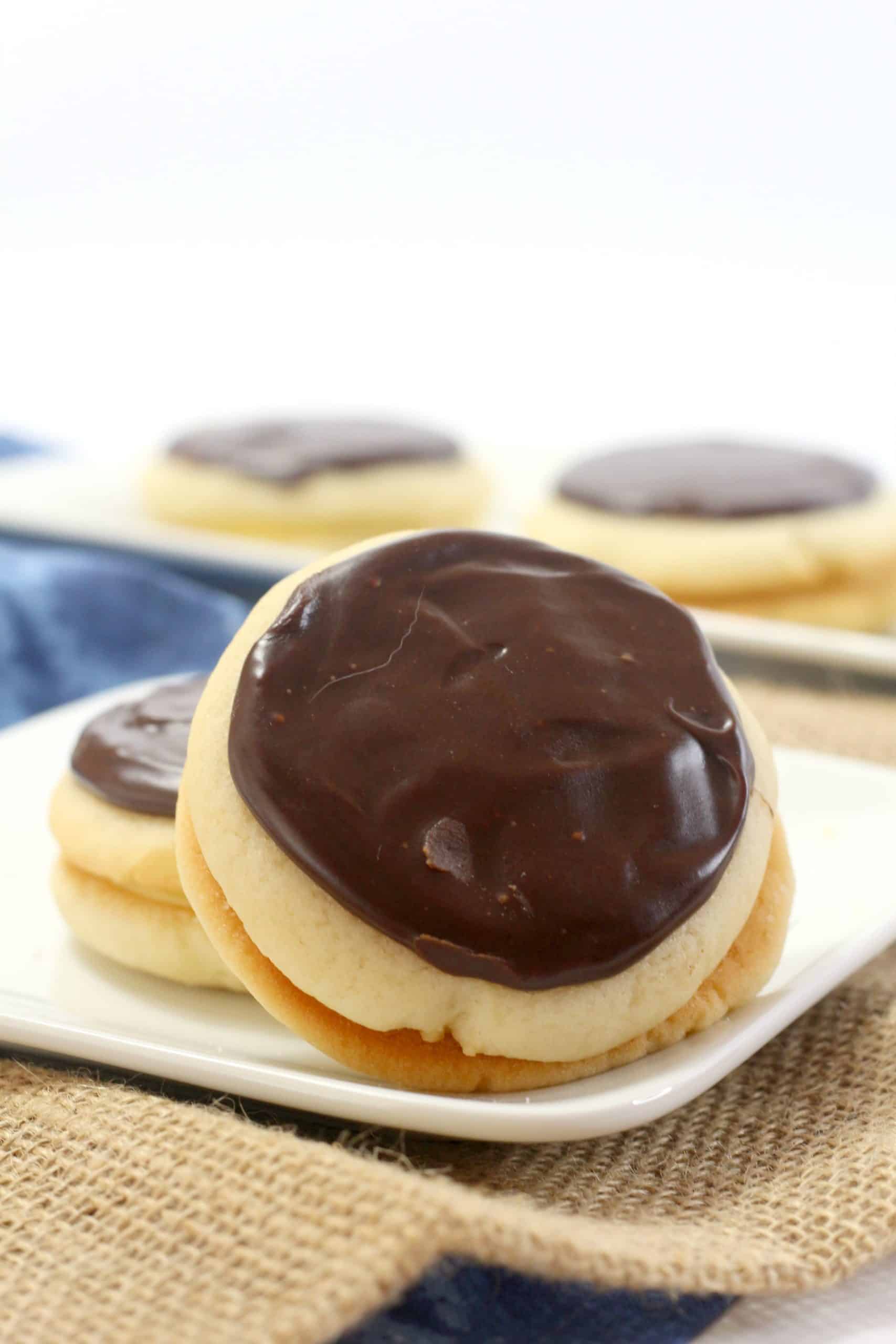 Ingredients
There are ingredients for the cookies themselves, vanilla creme pudding filling, and finger-licking good chocolate ganache. Don't let it scare you because they are all easy ingredients, and you probably have what you need in your kitchen right now.
Vanilla creme pudding Ingredients:
Whole milk – Using whole milk will give the filling an extra creaminess that is so amazing.
Sugar
Kosher salt
Large egg – You just need the yolks.
Cornstarch
Pure vanilla extract
Unsalted butter
Cookie ingredients:
White sugar
Unsalted butter softened
Large eggs
All-Purpose flour
Baking powder
Kosher salt
Whole milk
Pure vanilla extract
Chocolate Ganache:
Semi sweet chocolate chips
Unsalted butter
Clear corn syrup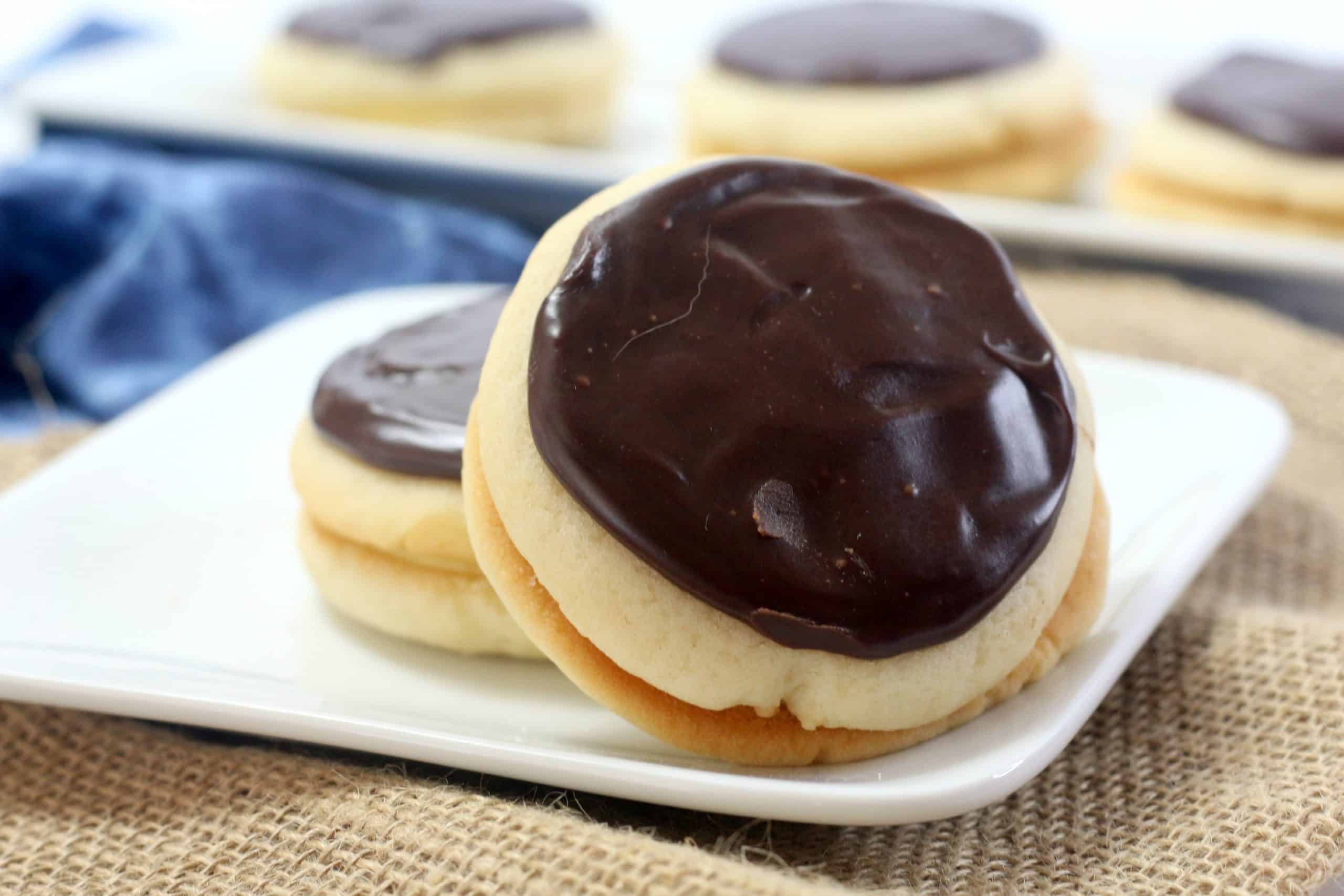 How to Make Boston Creme Pie Vanilla Sandwich Cookies
I'm super excited to tell you how to make these amazing vanilla sandwich cookies. They are one of the best desserts ever, and I know you are going to love them. Take a look at these simple directions.
Vanilla creme pudding directions:
First Step: Mix together the milk, 1/2 cup of sugar, and the salt in a medium pan. Heat until it's warm, but not hot.
Second Step: Put the egg yolks in a small bowl and whisk with the cornstarch and 1/4 cup of sugar until it's combined.
Third Step: Add the warmed milk mixture into the egg mixture while stirring continuously.
Fourth Step: Pour all the liquid into the pan and continue whisking for 2-3 minutes until it thickens using medium heat.
Fifth Step: Pour the mixture into a mesh sleeve in a different bowl.
Sixth Step: Place plastic wrap over the bowl and put it in the refrigerator overnight so it can chill.
Seventh Step: Warm the oven to 350 degrees and add pieces of parchment paper to a baking pan.
Eighth Step: Beat together the butter and sugar in a stand mixer until they are creamy and well combined.
Ninth Step: Add in the eggs and beat until they are combined.
Tenth Step: Place the flour, baking powder, and salt in a medium bowl and mix.
Eleventh Step: Alternate adding the dry ingredients and the milk and vanilla until everything is combined.
Twelfth Step: Use an ice cream scoop and add some cookie dough to the cookie sheet.
Thirteenth Step: Bake the cookies for 13-15 minutes until they are lightly browned and allow to cool completely.
Fourteenth Step: Make matching pairs of cookies.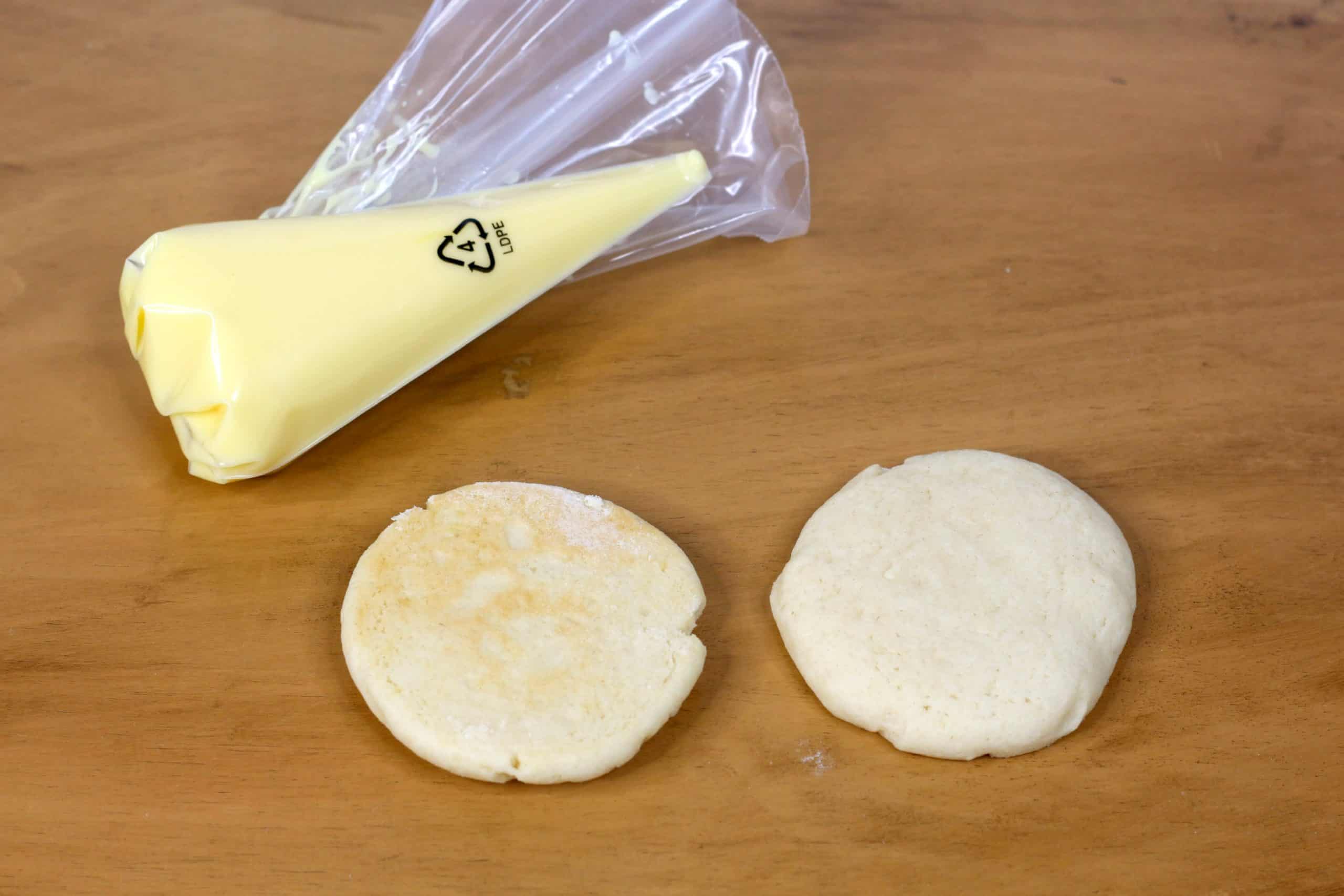 Fifteenth Step: Add the pudding mixture to a disposable piping bag and cut off the tip.
Sixteenth Step: Pipe a dollop of pudding in the middle of one cookie and add the top cookie and slightly push it down to form a sandwich.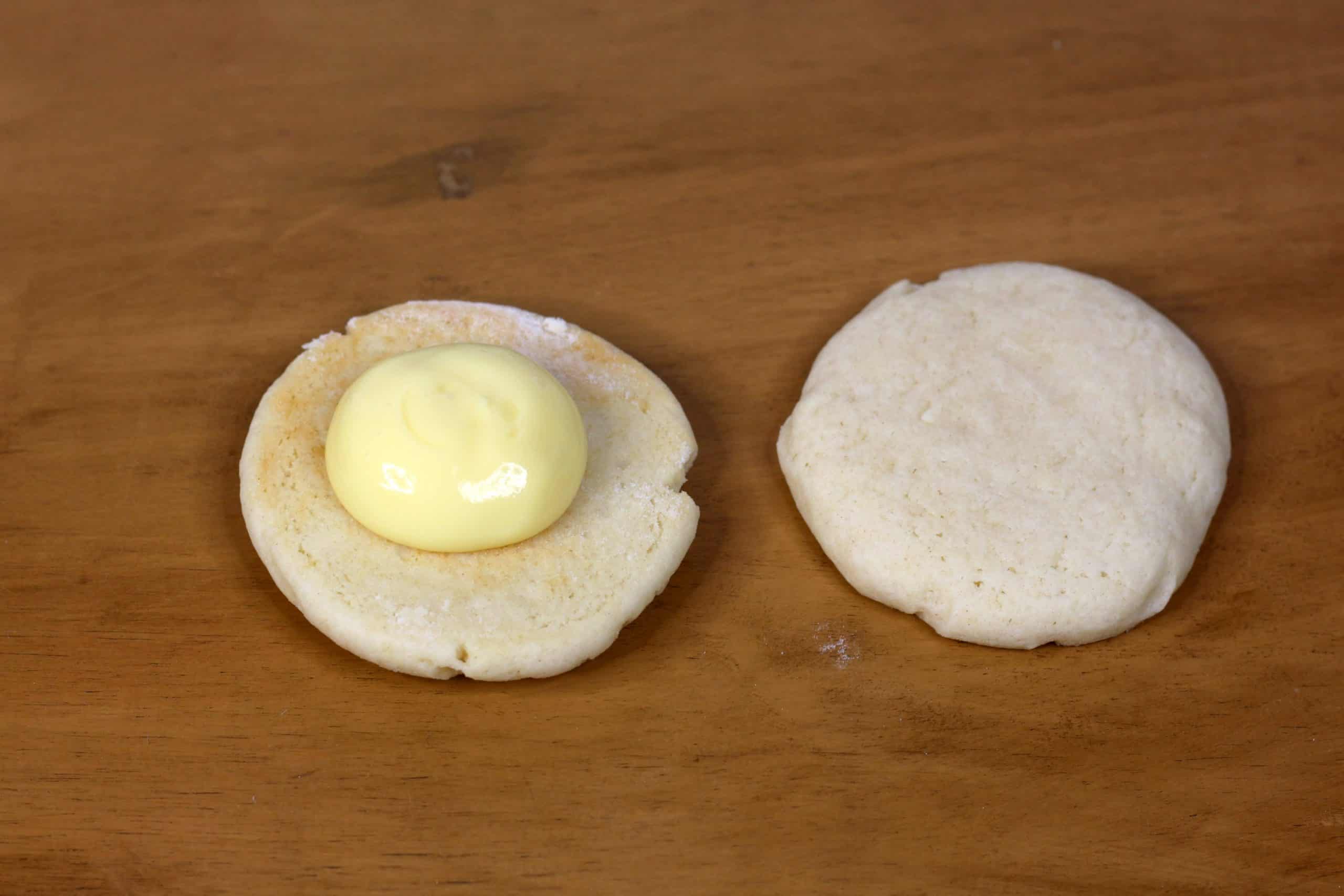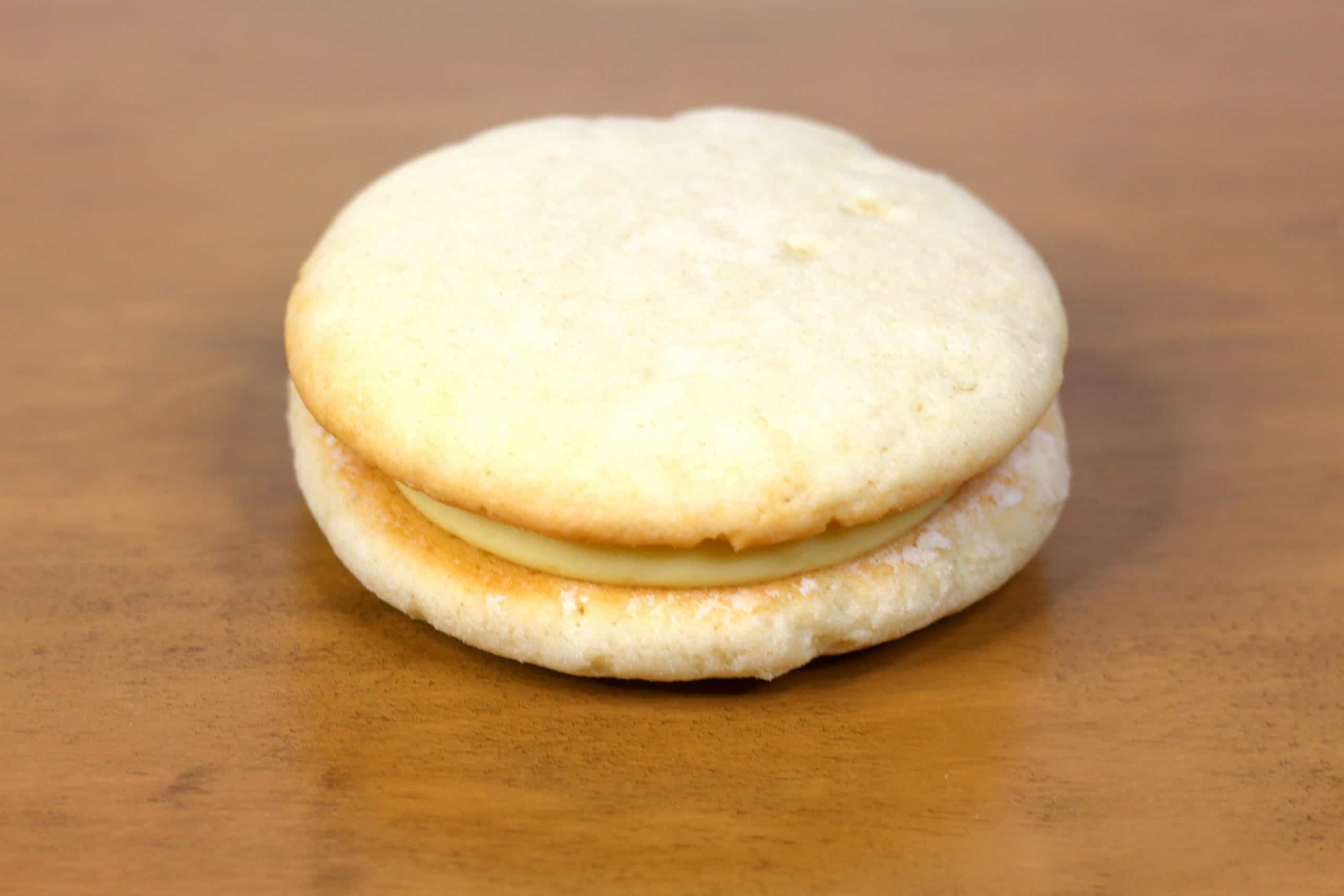 Chocolate Ganache Directions:
First Step: Begin by placing the ingredients into a double boiler and melt.
Second Step: Let the chocolate ganache cool slightly.
Third Step: Add the ganache to the tops of the cookies and serve. Enjoy!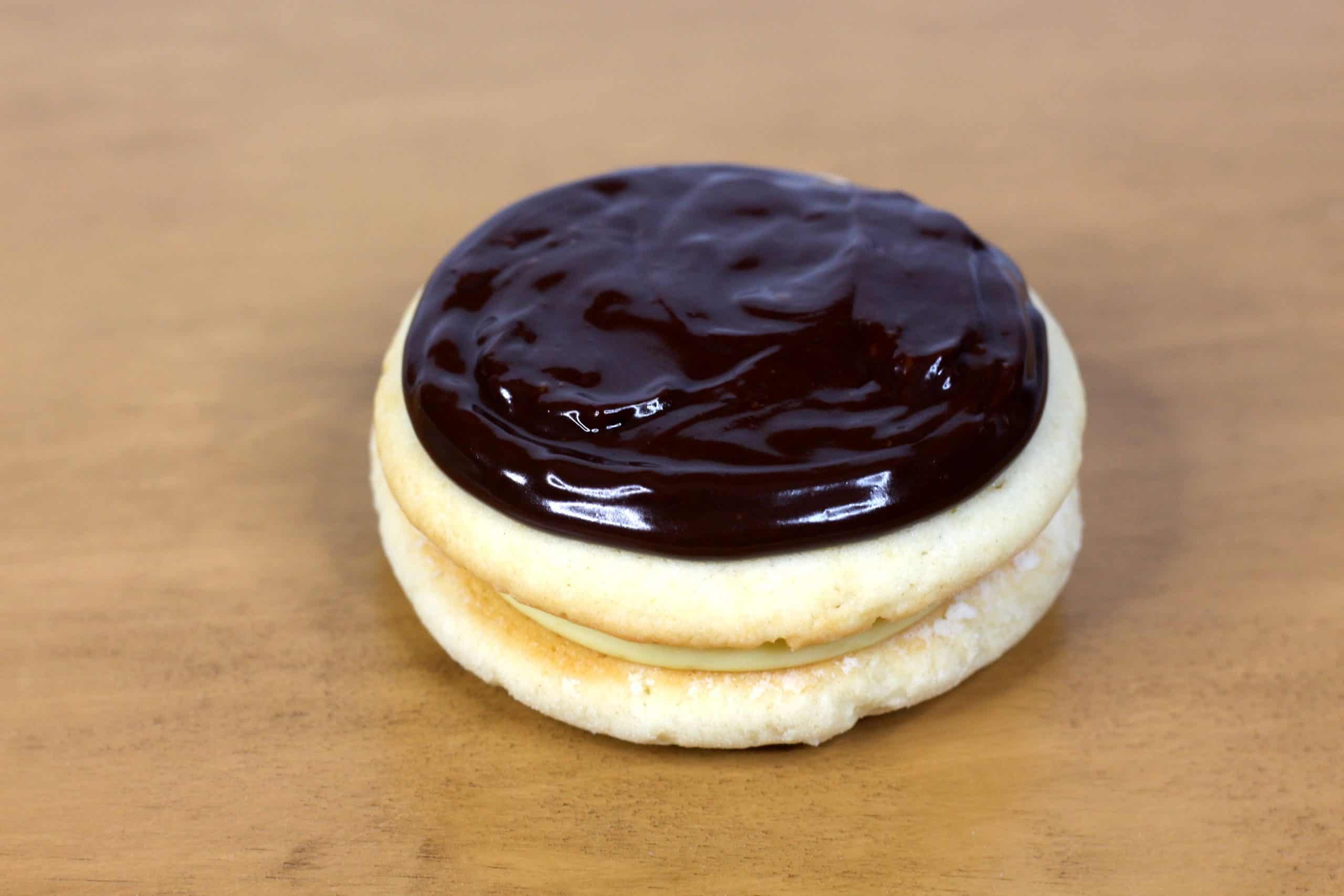 Aren't cookie recipes the best? Here are some more fabulous cookie recipes that will leave you craving more!
Now, remember to save this recipe on Pinterest for later 🙂

Pin this recipe now to remember it later
Boston Creme Pie Vanilla Sandwich Cookies
Boston Creme Pie Vanilla Sandwich Cookies have light and fluffy cookies sandwiched with elegant vanilla cream filling and decadent chocolate ganache topping.
Ingredients
Vanilla creme pudding Ingredients:
2

tsp

pure vanilla extract
Cookie ingredients:
½

C

unsalted butter

,

softened

1

tsp

pure vanilla extract
Chocolate Ganache:
½

C

semi sweet chocolate chips
Want to save this recipe? Enter your email below and we'll send the recipe straight to your inbox!
NOTE: By saving this recipe, you agree to join our weekly recipes newsletter.
Instructions
Vanilla creme pudding directions:
Using a medium pot, heat the milk, ½ C sugar and salt until warm to the touch

In a small bowl, whisk together the yolks, cornstarch and ¼ C sugar until combined

Slowly pour the warm milk into the egg mixture and whisk constantly

Pour the liquid into the pot and whisk some more for about 2-3 minutes over medium heat until thick

Pour into a mesh sleeve into another bowl

Cover with plastic wrap and place in the fridge overnight

Preheat oven to 350 and line a baking sheet with parchment paper

Using a standing mixer, beat the butter and sugar mixture together until combined and creamy

Beat in the eggs until combined

Using a medium bowl, whisk together flour, baking powder, and salt

Gradually mix in the dry ingredients while alternating with the milk and vanilla until combined

Using a medium ice cream scooper, scoop out some dough and place onto the cookie sheet

Bake in the oven for 13-15 minutes or until lightly browned

Allow to cool completely

Match the tops and bottoms of the cookies

Using a disposable piping bag, scoop the pudding into the bag

Cut the tip off

Pipe one hefty dollop of pudding into the middle of the bottom cookie

Place the top cookie on top and lightly push down
Chocolate Ganache directions:
Place ingredients in a double boiler and heat until melted

Allow to cool slightly

Spoon on the ganache on to the top of the cookies

Serve immediately and enjoy!
Follow me on Pinterest for daily delicious recipes!
Want more delicious recipe?
Apple Butter Apple Cinnamon Bread – Do you love apple cinnamon bread? This is the best apple cinnamon bread recipe.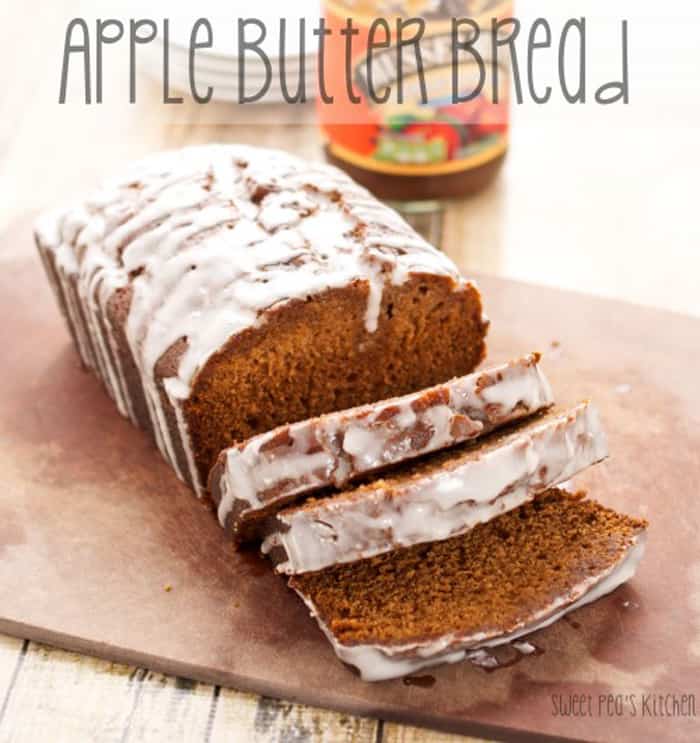 Cinnamon Sugar Donut Sweet Bread – You have to try Cinnamon Sugar Donut Sweet Bread to believe it.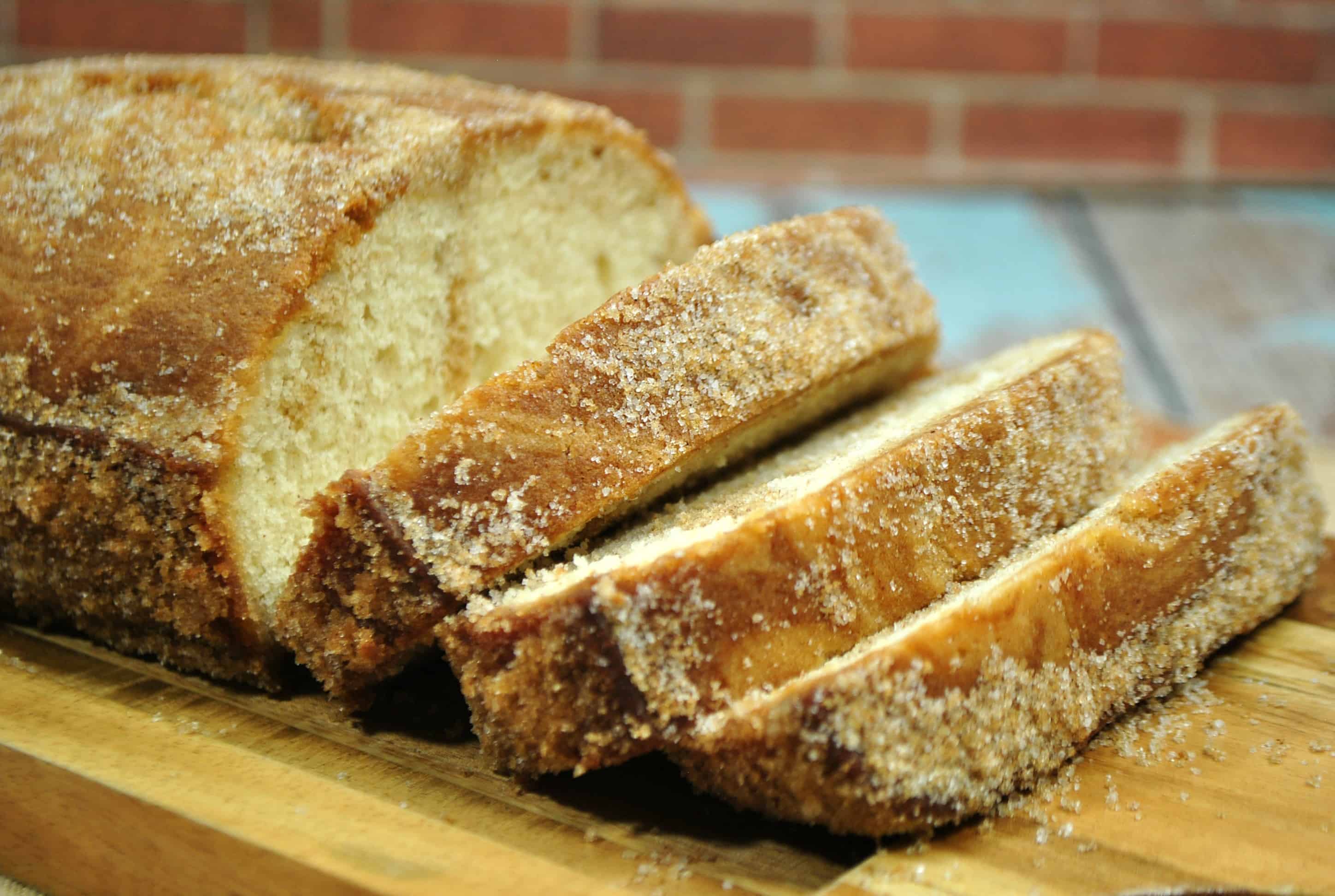 Chocolate Chip Pumpkin Bread Recipe – Looking for a simple chocolate chip pumpkin bread recipe? you will love this recipe.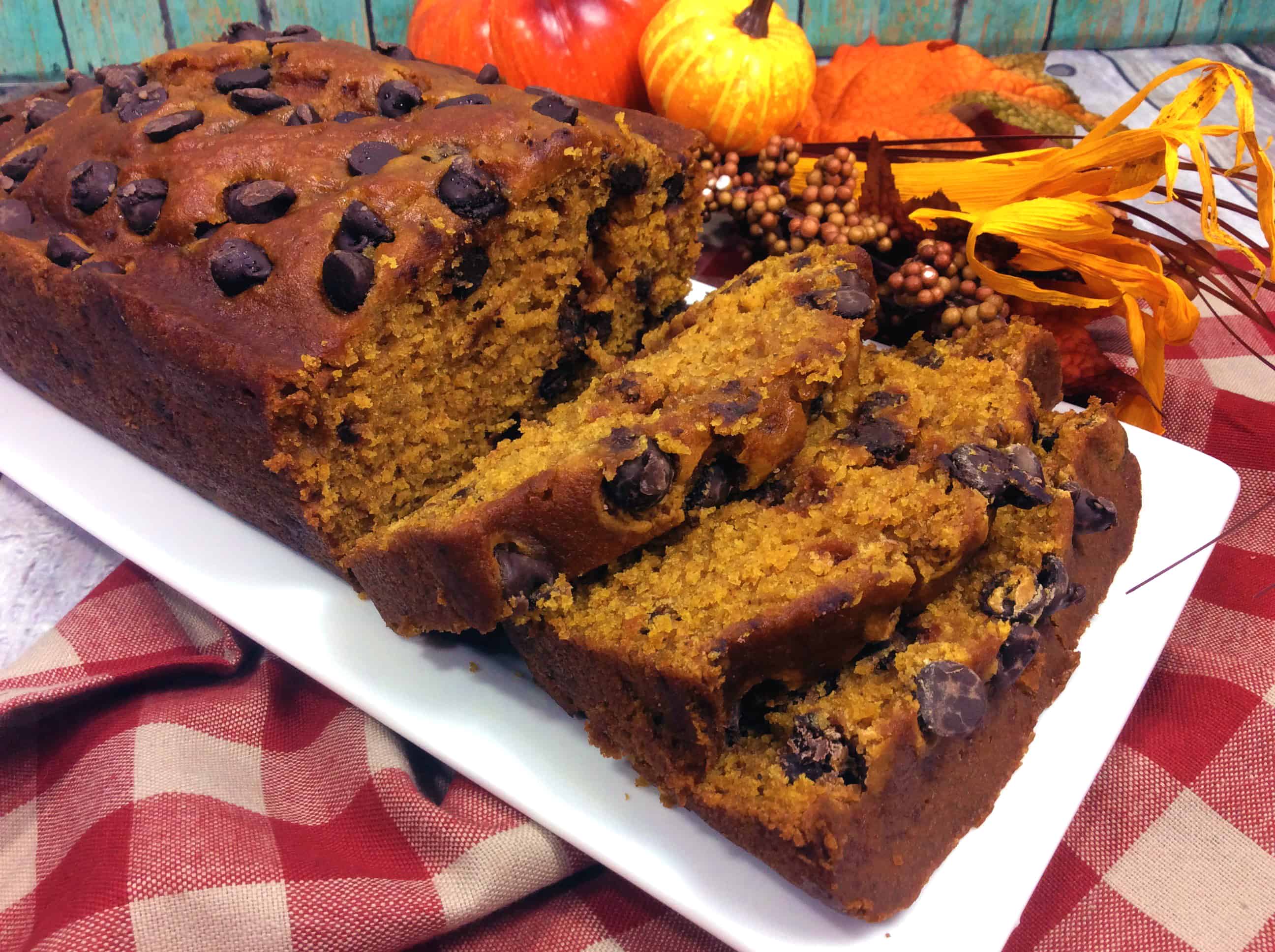 Pumpkin Bread with maple icing – This pumpkin bread recipe is an easy pumpkin bread that's great for sharing!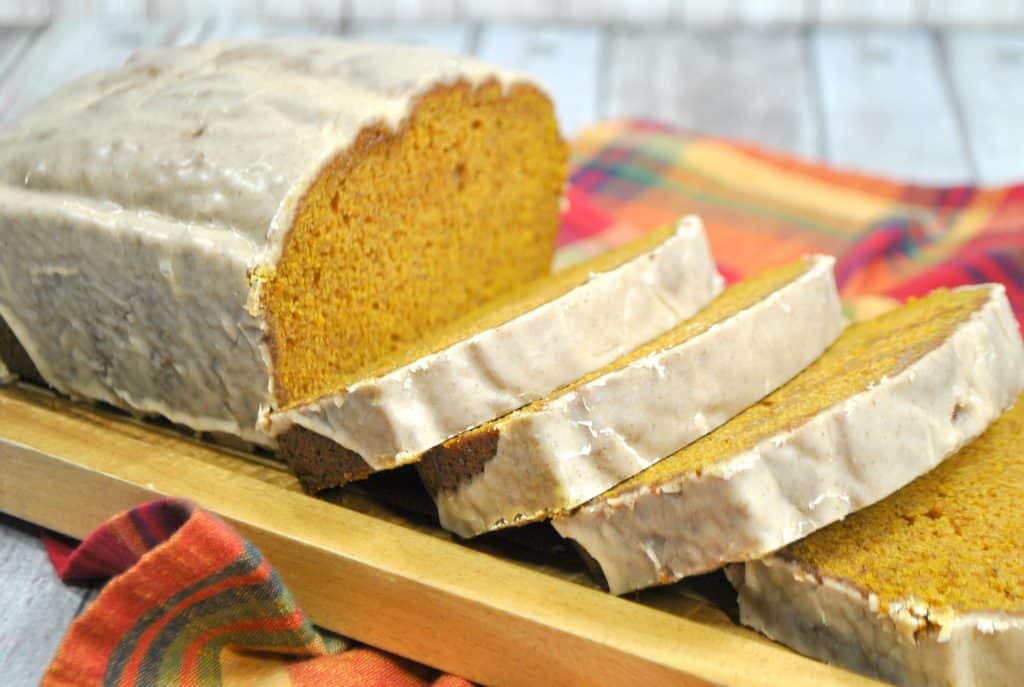 Starbucks Gingerbread Loaf – Gingerbread loaf is a great fall and winter dessert to serve your family or friends.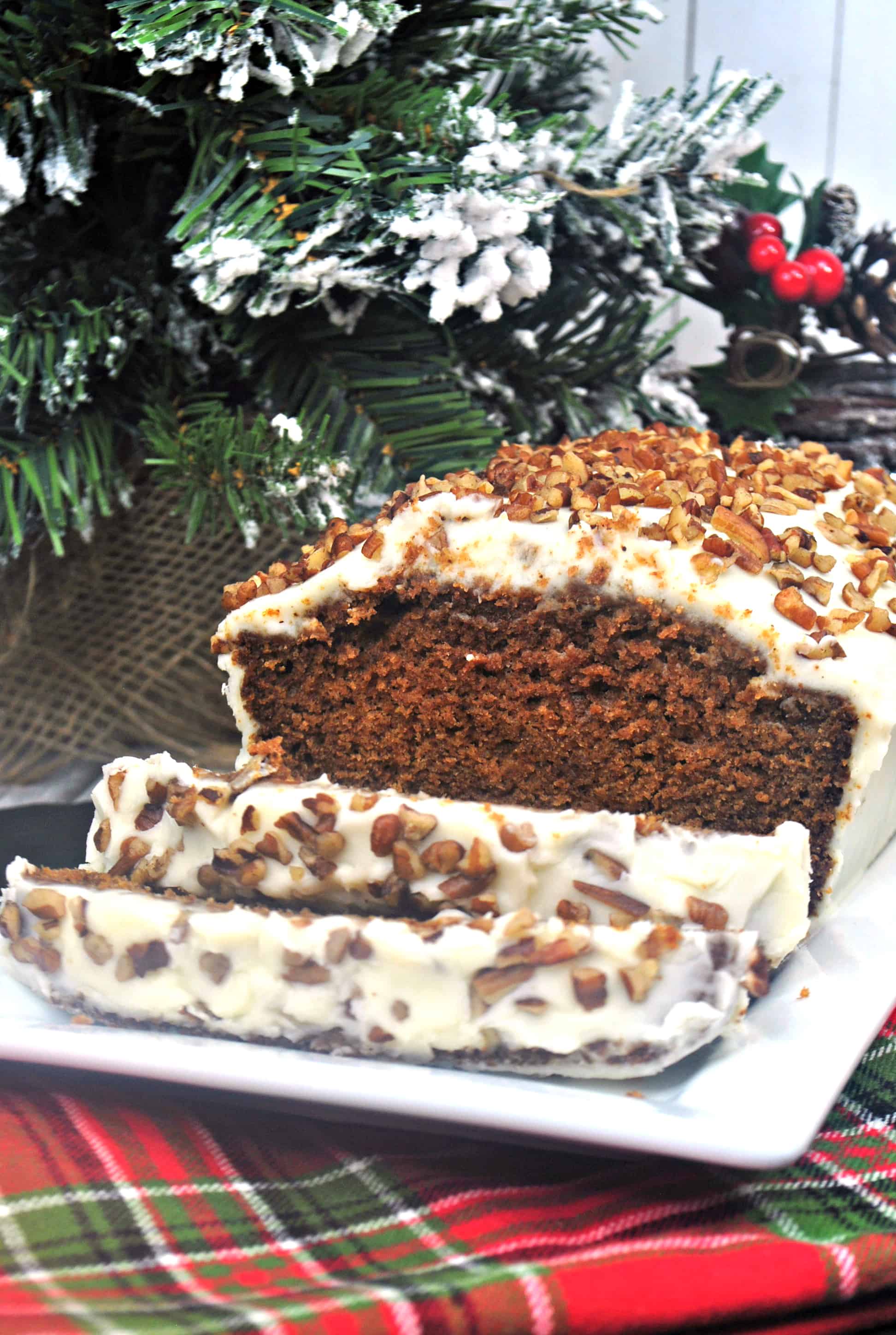 Easy Lemon Blueberry Bread Loaf – This is the perfect recipe for breakfast, a snack or dessert.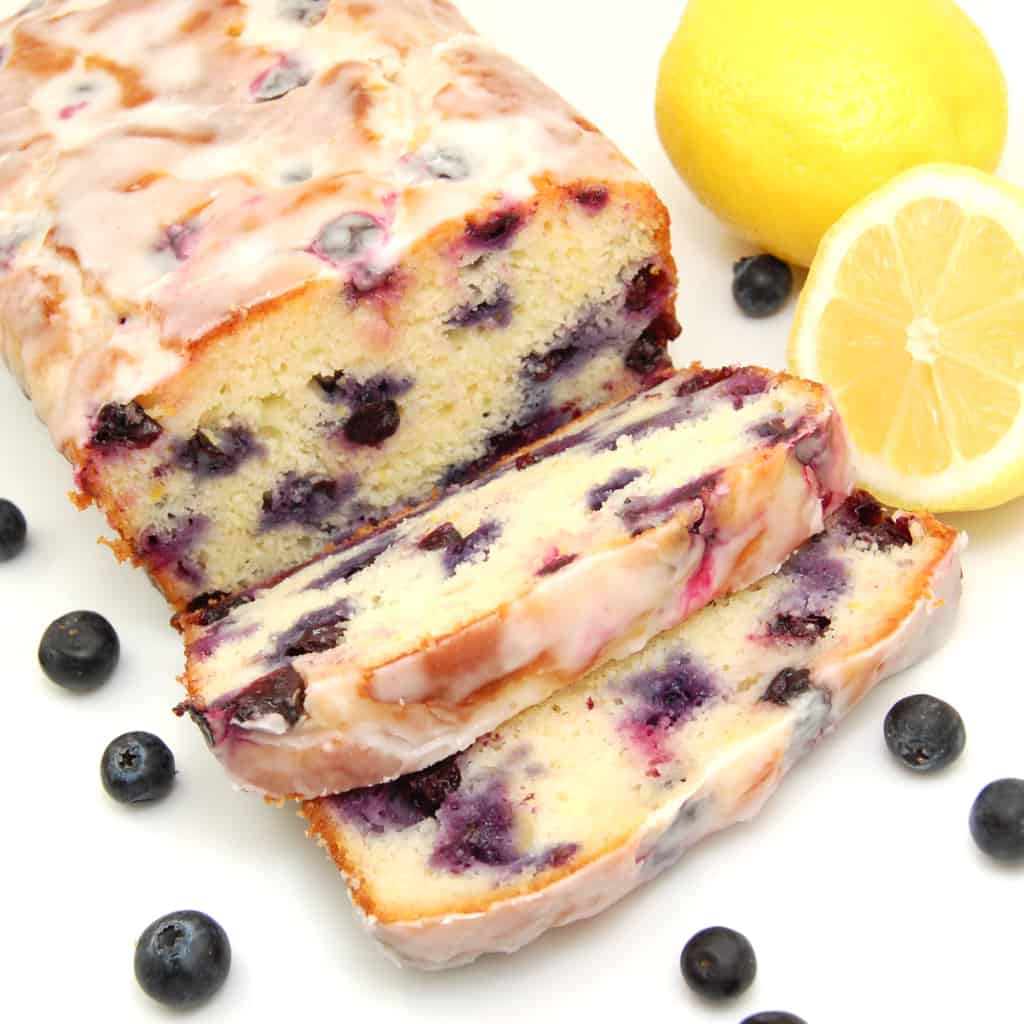 Get new recipes weekly plus our FREE ebook!