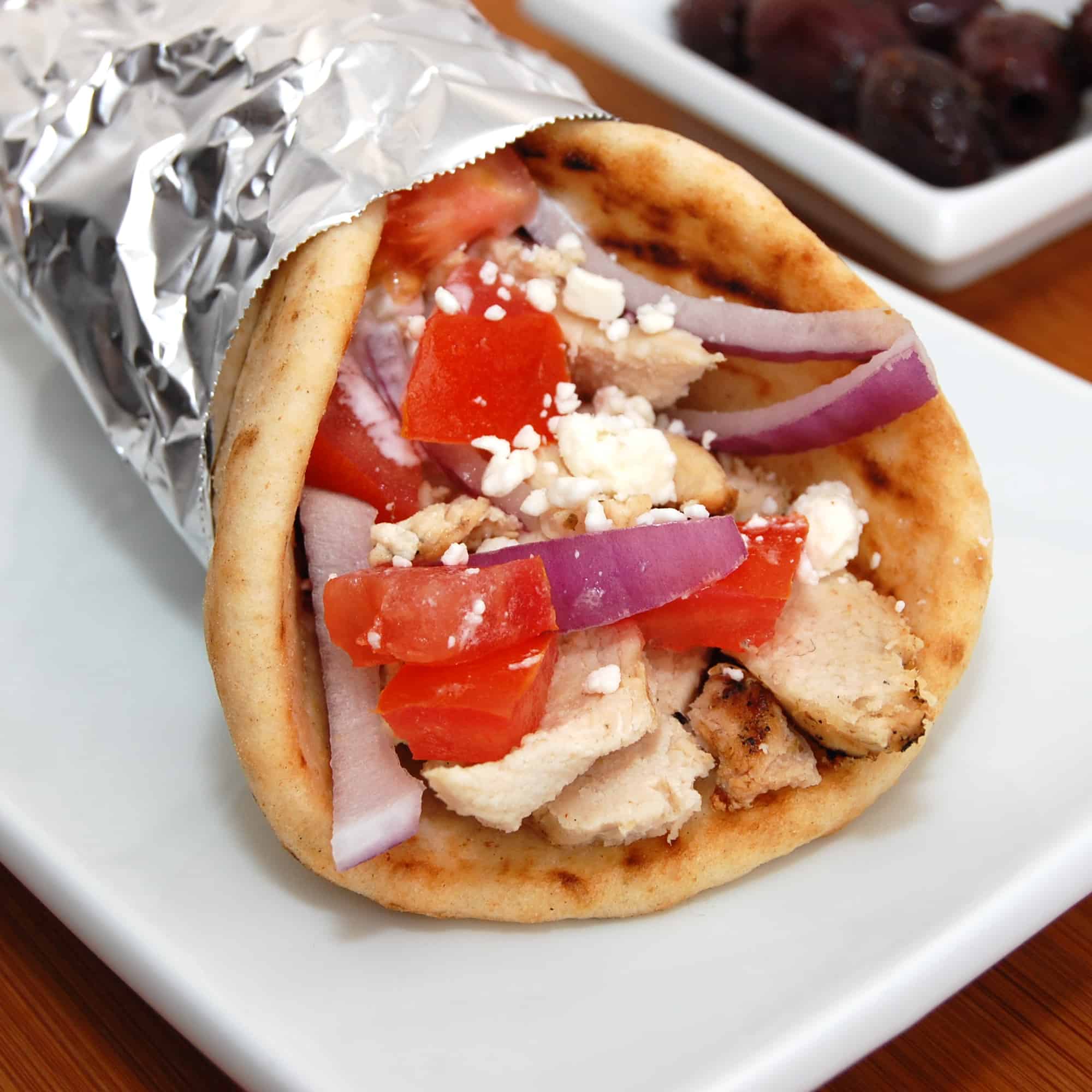 Juicy, tender, marinated chicken piled high on a warm pita and topped with red onions, tomatoes, feta cheese, and homemade tzatziki sauce. This recipe is an easy and delicious way to recreate your favorite Greek chicken gyros at home. I love Greek food, it ranks right up there as my favorite ethic food. One of my favorite restaurants in Indianapolis is Santorini Greek Kitchen.
It is incredible! Last October the restaurant suffered extensive damage after an electrical fire and many were afraid that it would be closed forever, however, after only two months it was back open and just as delicious as ever! If live in Indy or travel here make sure to stop by this incredible restaurant. In the meantime, give these delicious chicken gyros a try in your own kitchen.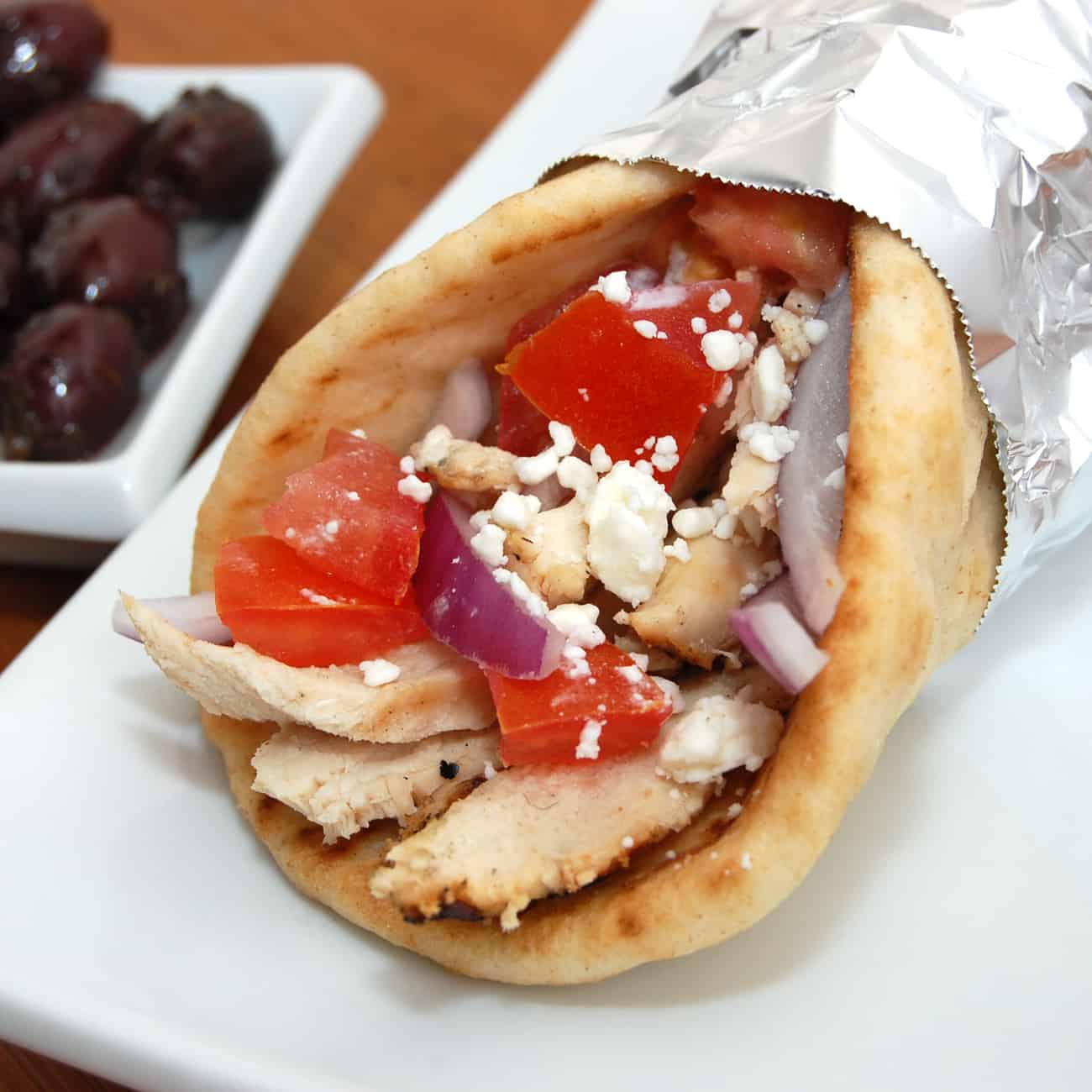 Serve with lemon roasted potatoes and a Greek salad for a dinner that is sure to become a favorite at your house.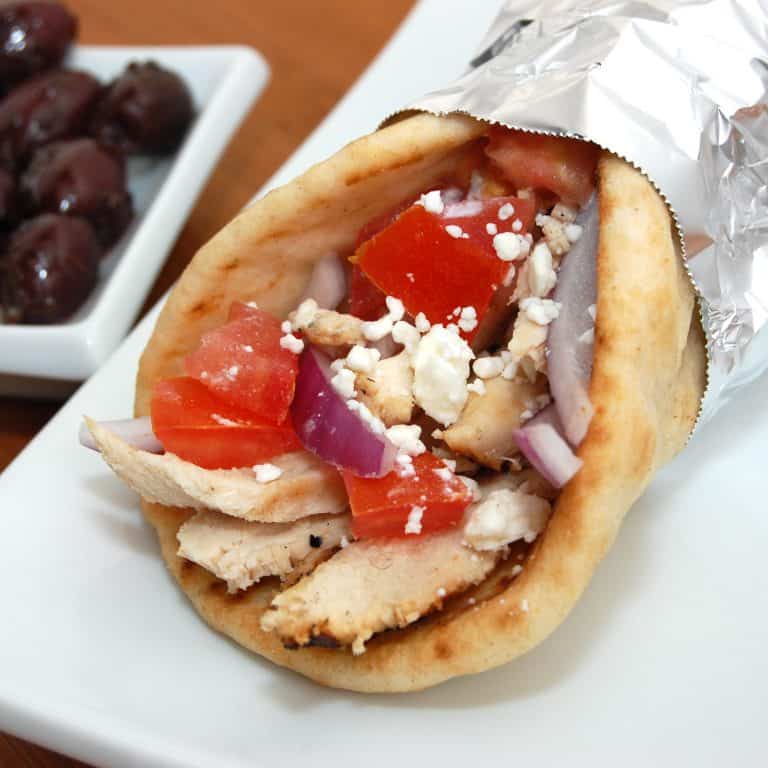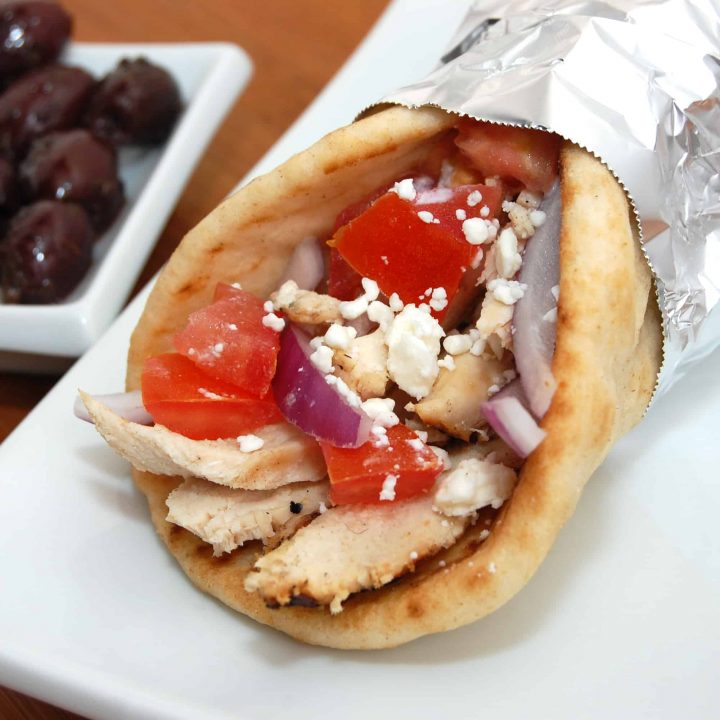 Chicken Gyros
Ingredients
1 1/4 pounds boneless, skinless chicken breast
4 cloves garlic, smashed
Juice of 1 lemon
2 teaspoons red wine vinegar
2 tablespoons extra virgin olive oil
2 heaping tablespoons plain yogurt
1 tablespoons dried oregano
salt and pepper to taste
1/2 recipe of tzatziki
1 large tomato, chopped
1 red onion, sliced thin
1/2 cup crumbled feta cheese
4 pitas
Instructions
In a medium bowl, whisk together the garlic, lemon juice, vinegar, oil, yogurt, and oregano. Transfer mixture to a large resealable bag and add the chicken. Refrigerate for about an hour, turning occasionally.
Preheat grill on medium-high heat. Remove chicken from marinade. Grill chicken until just cooked through, about 5 minutes per side, or until meat thermometer inserted into the chicken read 160 degrees F. Allow the chicken to rest for a few minutes before slicing into strips.
Wrap pitas in aluminium foil and place directly on oven rack and heat for 6-8 minutes.
Divide chicken strips evenly among pitas; top each gyro with 1/4 cup tzatziki sauce, tomato slices, red onion slices, and 2 tablespoons feta. Wrap aluminium foil around gyro and serve immediately.
Source: adapted from Beantown Baker, originally from Elly Says Opa