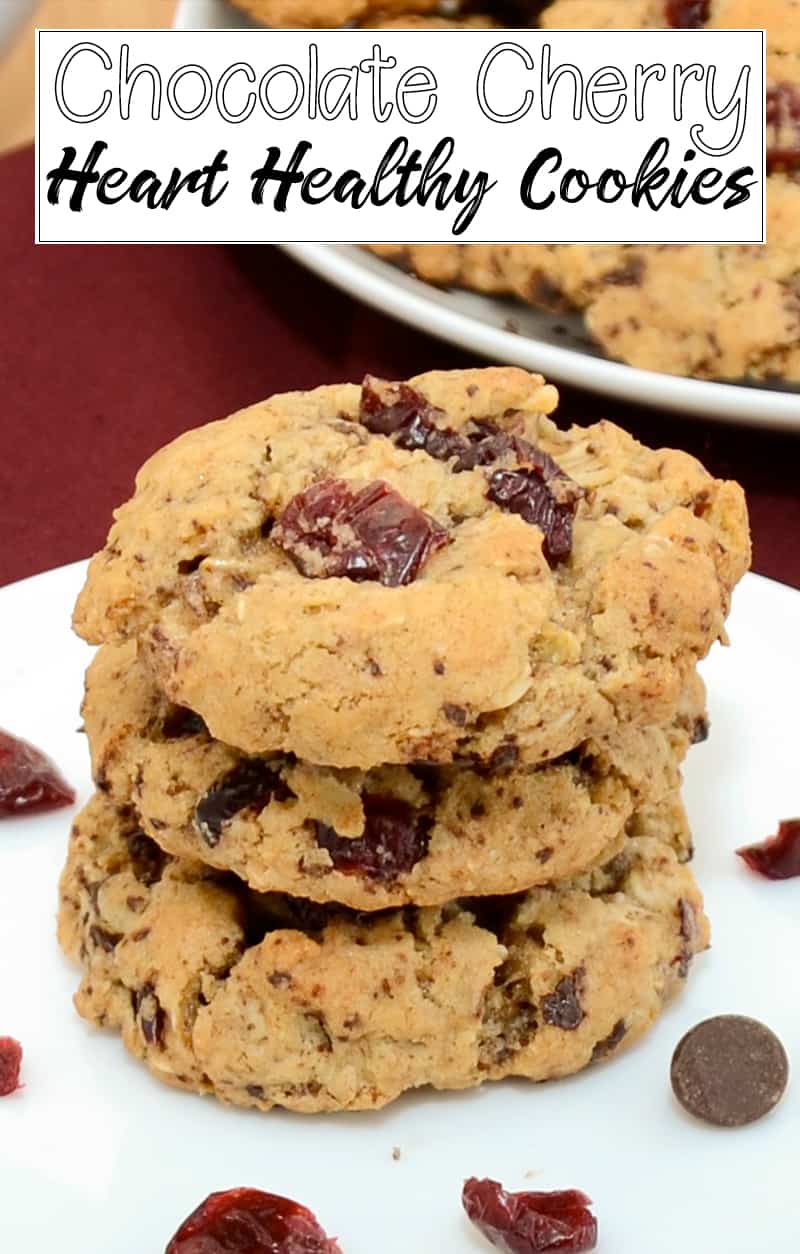 Chocolate Cherry Heart Healthy Cookies are a decadent treat that also happens to be good for your heart. Loaded with cherries, bittersweet chocolate, old-fashioned oats, cinnamon, and more, they provide an explosion of flavors. Perfect for an easy on-the-go snack idea or to give to a friend that's feeling under the weather.
Chocolate Cherry Heart Healthy Cookies
Chewy, fudgy oatmeal cookies studded with chocolate chunks and plump cherries. Oatmeal cookies are one of my favorites this time of year. They are so fat, chewy, and comforting. For this recipe, I added a splash of cherry flavoring to the dough to intensify the cherry flavor. These low-calorie cookies are a great Valentine's Day treat for your health-conscious sweetie. If you love that chocolate and cherry combination (and seriously who doesn't?), then you will like these cookies. 😀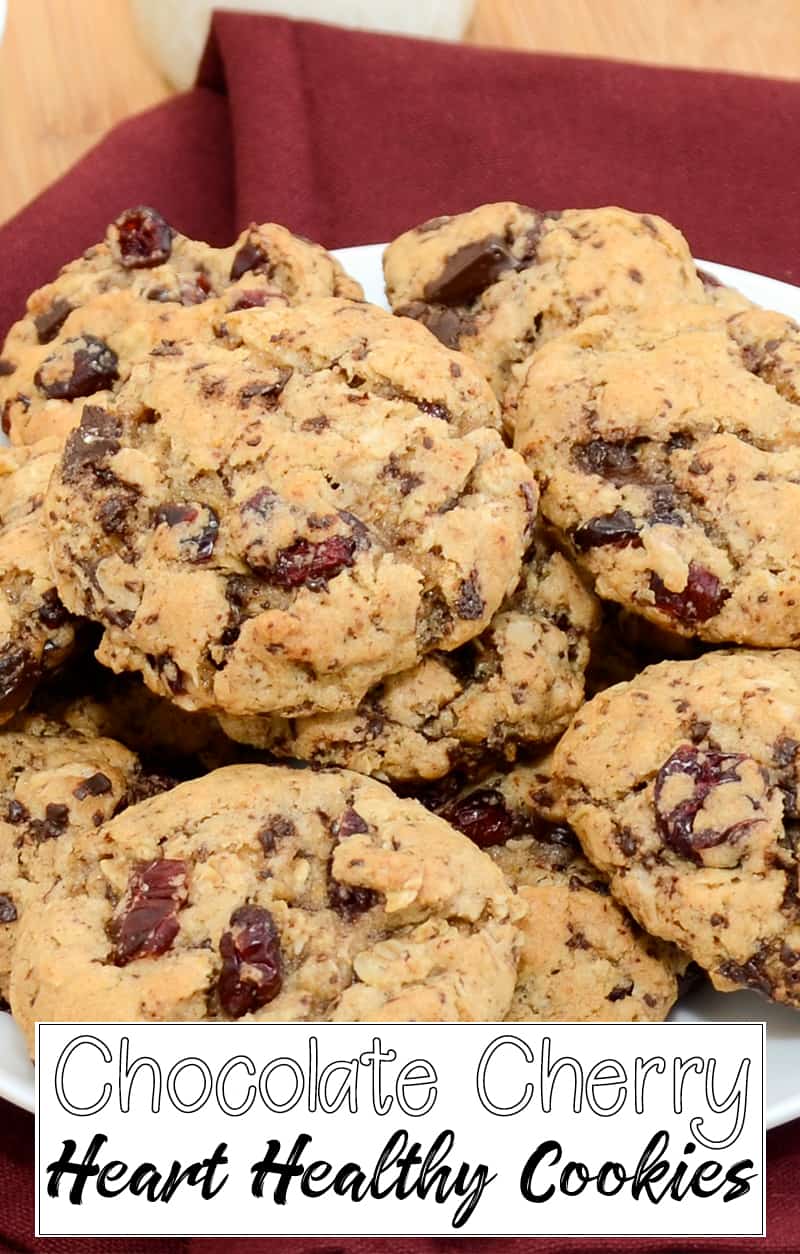 Not only do these chocolate cherry cookies taste incredible, but they are also genuinely gorgeous too. We don't have any problems getting the kids to eat them, and I don't think you will either. If you are taking part in a holiday cookie exchange, these are a real winner. Everyone who loves cherries and chocolate together is bound to gobble up every last crumb.
In addition, you will find that the recipe is very versatile too. You can exchange the all-purpose flour for whole wheat flour, trade the cherries for cranberries, or swap the vanilla for almond extract. No matter what adjustments you make, you will still end up with a cookie that is unforgettable and delicious.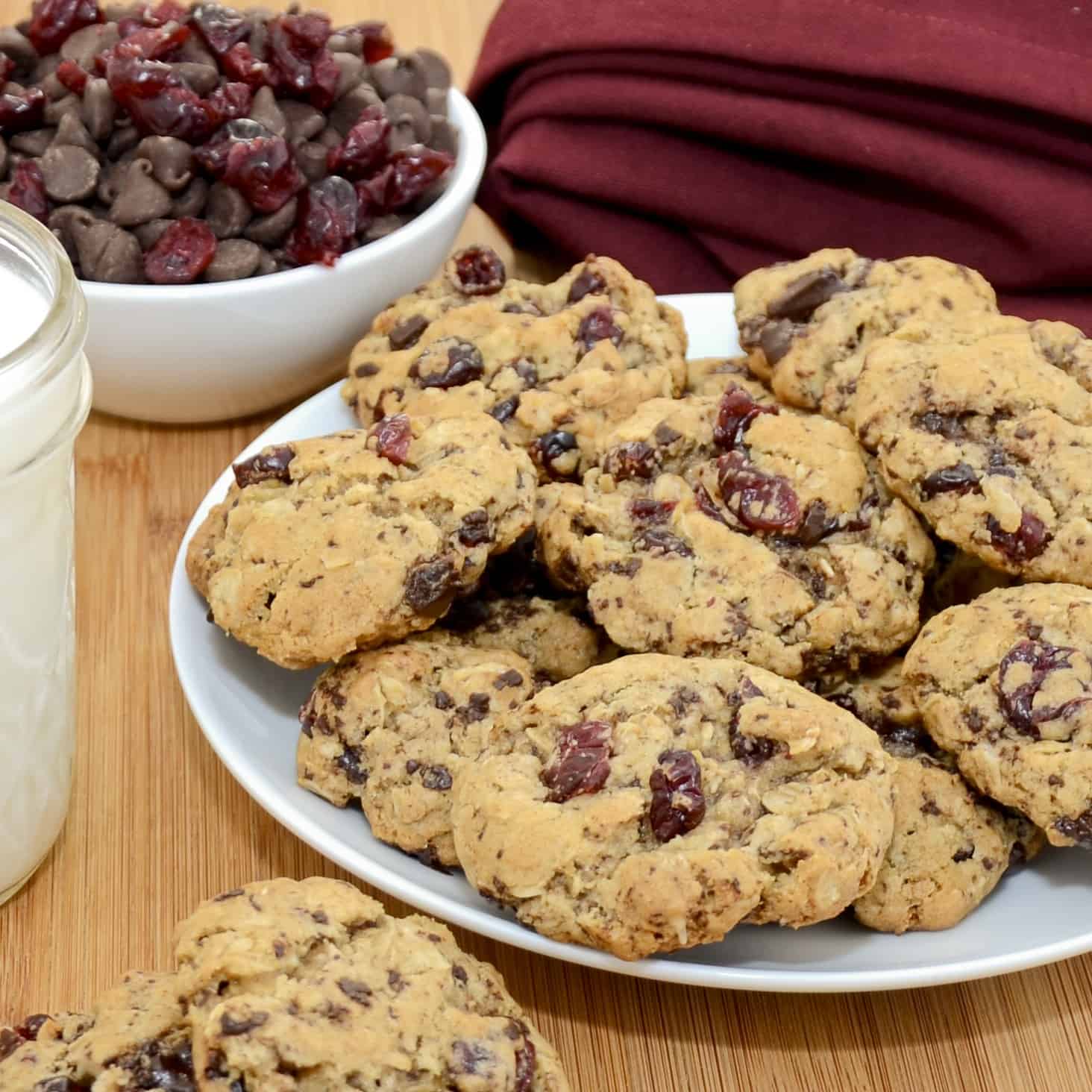 What Makes These Heart-Healthy Cookies?
The combination of the bittersweet chocolate, old-fashioned oatmeal, and the cherries gives you a ton of heart-healthy nutrients. You will be getting antioxidants too. So, if there was ever a cookie, you can feel great about eating, this is the one. There is sugar in these cookies, and if you don't feel comfortable adding it, that's fine. You can switch the brown sugar with coconut sugar or something else that you enjoy. Either way, they are delicious cookies that you aren't going to want to go without.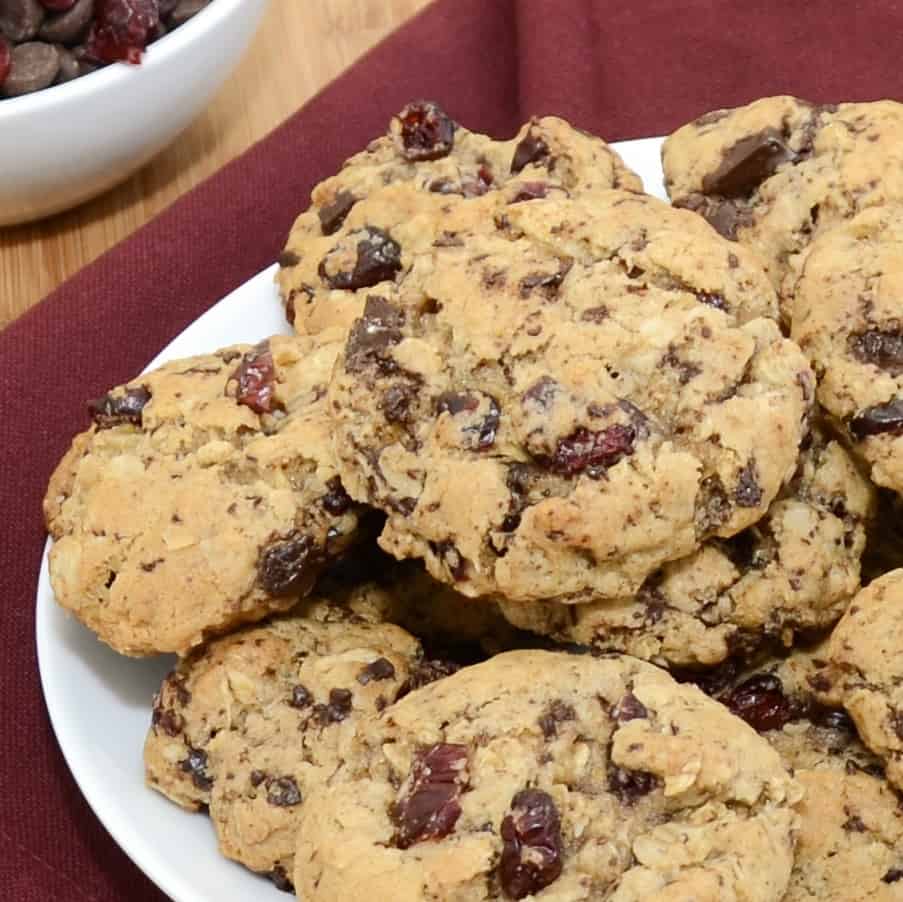 Can I Add Cranberries Instead of Cherries?
Yes, adding cranberries instead of cherries is a delightful way to adjust the flavors. Cranberries are a little bit more tart than cherries but taste terrific. I do want to point out that cranberries offer a lot of nutrients too. They are also packed with antioxidants and are known to be a heart-healthy food as well. So, even if you aren't a fan of cherries, you can still enjoy the benefits by switching to cranberries. Just don't' use ones that are loaded with refined sugar.
Can I Make These Chocolate Cherry Cookies to Freeze?
Yep! These chocolate cherry heart healthy cookies are fabulous to freeze. I find that I have the best luck when I lay them on a baking sheet, so they aren't touching. Then I freeze the pan for 2-3 hours or until the cookies are reasonably solid. Once frozen, they can be removed from the pan and placed into a container that's airtight. This will allow the cookies to not stick together when they are stored. So, you can quickly and easily grab a cookie or two as you want. The chocolate cherry cookies will last around 3 months in the freezer.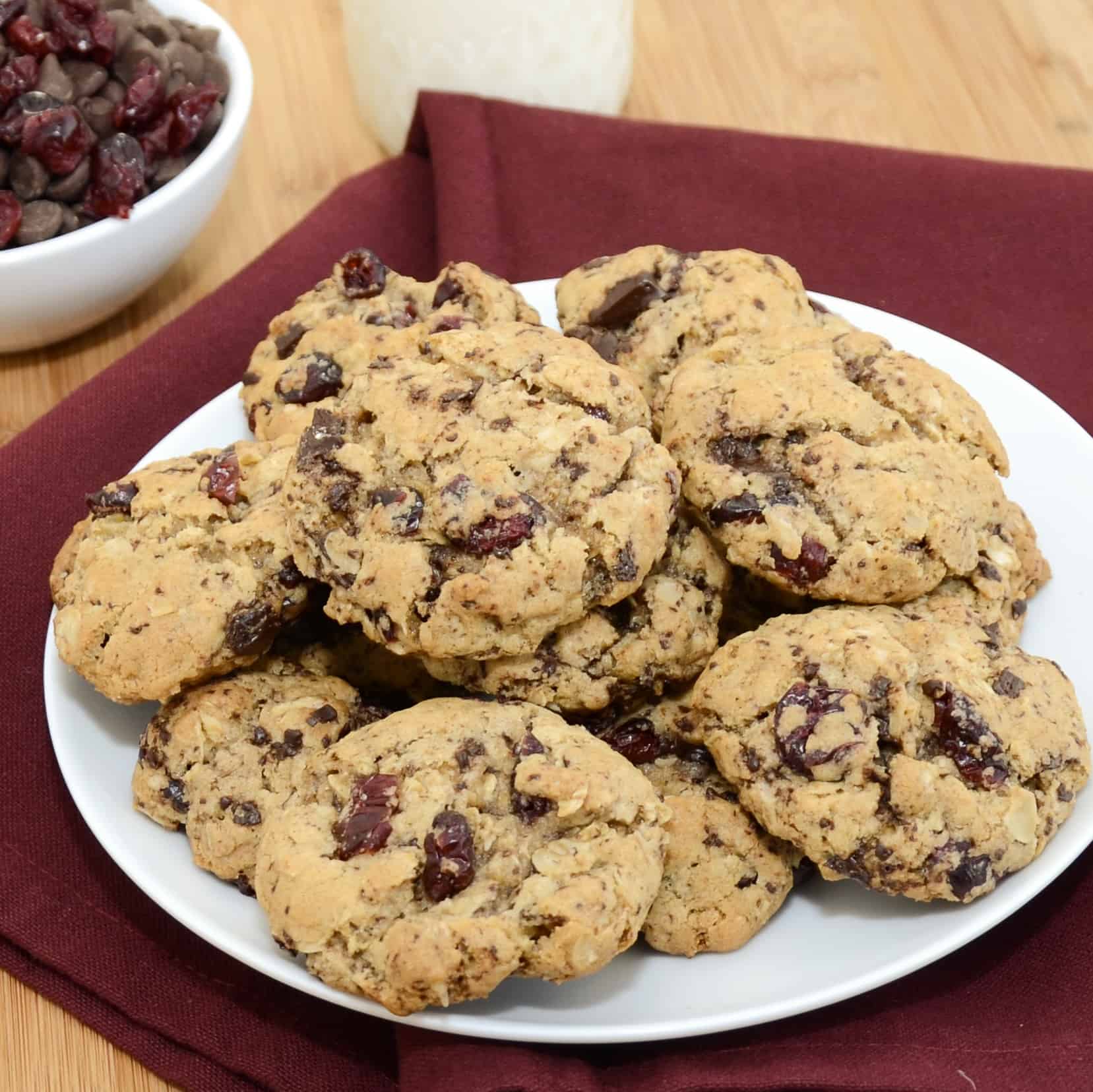 Ingredients
Using dried cherries is fantastic because then you can find them year-round. Where we live, it can be so difficult to find fresh cherries. Using dried saves me the headache of going out hunting for them at all the stores.
All-purpose flour
Whole-wheat flour
Old-fashioned rolled oats
Baking soda
Cinnamon
Salt
Unsalted butter, melted
Packed light brown sugar
Dried cherries
Cherry flavoring
Pure vanilla extract
Large egg, lightly beaten
Bittersweet chocolate, coarsely chopped
How to Make Chocolate Cherry Heart Healthy Cookies
As you will see shortly, there are only four steps to preparing and baking these cookies. They are so incredibly easy and taste awesome; you are going to want to have the recipe around all the time. You never know when a craving is going to strike!
First Step: Start out by preheating the oven to 350°. Then use parchment paper to line two baking sheets and set aside.
Second Step: Whisk together the all-purpose flour and whole wheat flour, oats, baking soda, cinnamon, and salt in a medium bowl.
Third Step: Using a stand mixer that has the paddle attachment, start beating the butter and brown sugar together until they are combined well and smooth. Slowly pour in the flour mixture and blend until combined. Next, pour in the cherries, cherry flavoring, vanilla, and egg. Beat until well combined. Then fold in the chocolate pieces.
Fourth Step: Place the dough by tablespoonfuls on the baking sheet. Leave 2 inches between each cookie to allow for spreading. Bake the cherry cholate cookies for 10-12 minutes. Once done, let them cool on the baking sheet 3 minutes or until almost firm. Take the cookies off of the baking sheet and let them cool completely on wire racks.
Enjoy!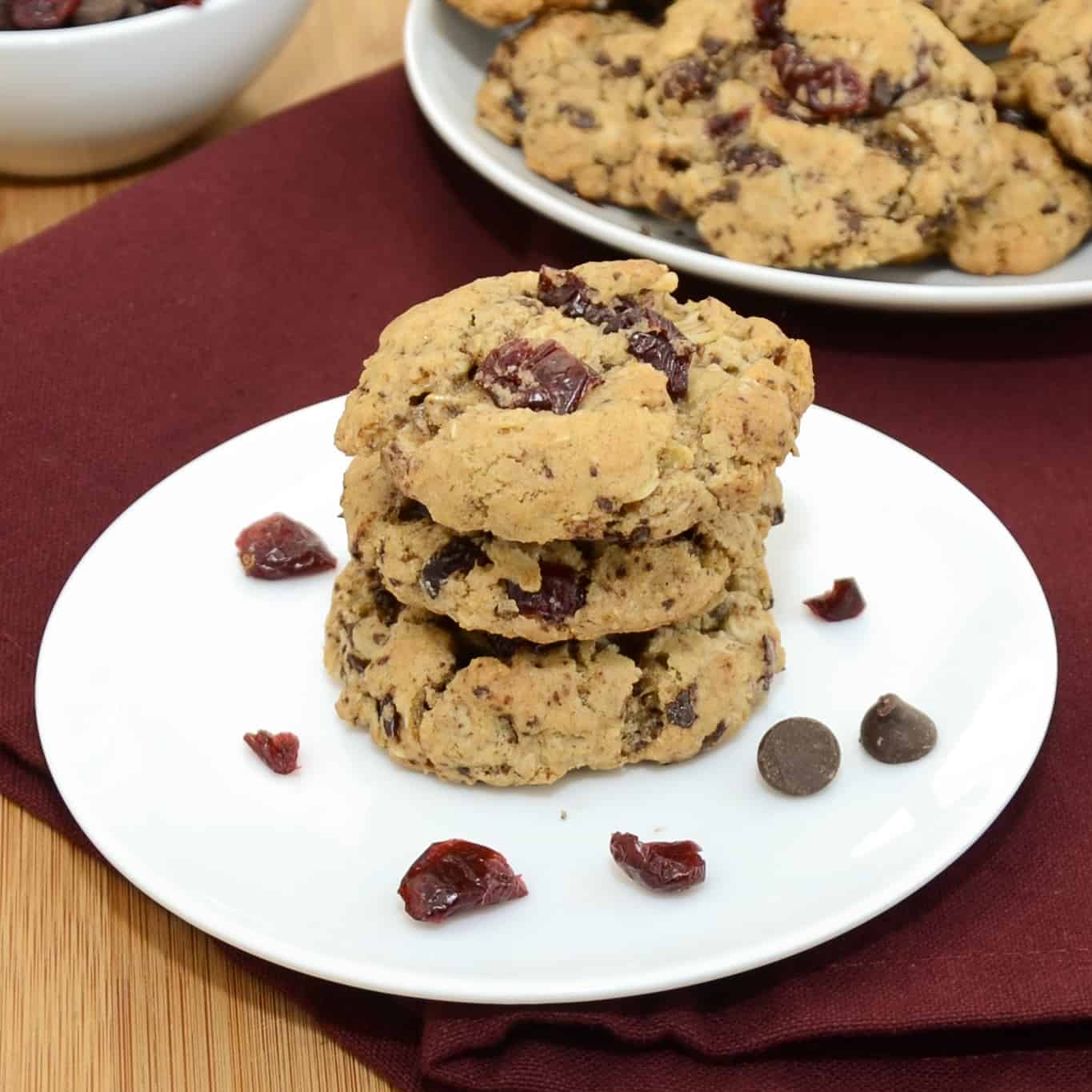 Now, remember to save this recipe on Pinterest for later 🙂

Pin this recipe now to remember it later
Chocolate-Cherry Heart Smart Cookies
Servings:
2
dozen cookies
Chocolate Cherry Heart Healthy Cookies are a decadent treat that also happens to be good for your heart. Loaded with cherries, bittersweet chocolate, old-fashioned oats, cinnamon, and more, they provide an explosion of flavors.
Ingredients
1/3

cup

all-purpose flour

1/3

cup

whole-wheat flour

1 1/2

cups

old-fashioned rolled oats

6

tablespoons

unsalted butter

,

melted

3/4

cup

packed light brown sugar

1/2

teaspoon

cherry flavoring

1

teaspoon

vanilla extract

1

large egg

,

lightly beaten

3

ounces

bittersweet chocolate

,

coarsely chopped
Instructions
Preheat oven to 350°. Line two baking sheets with parchment paper.

In a medium bowl, whisk together flours, oats, baking soda, cinnamon and salt.

In the bowl of a stand mixer fitted with the paddle attachment, beat butter and brown sugar until smooth. Add flour mixture and beat until blended. Add cherries, cherry flavoring, vanilla, and egg; beat until combined. Fold in chocolate.

Drop dough by tablespoonfuls 2 inches apart onto prepared baking sheets. Bake 10-12 minutes. Cool on baking sheet 3 minutes or until almost firm. Remove cookies from baking sheet and cool completely on wire racks.
Follow me on Pinterest for daily delicious recipes!
If you love these chocolate cherry heart-smart cookies as much as I think you are going to, you are going to want to see some more cherry recipes. Cherries are so yummy, and I can never get enough of their excellent flavor. Here are some of the best cherry recipes ever.
Get new recipes weekly plus our FREE ebook!