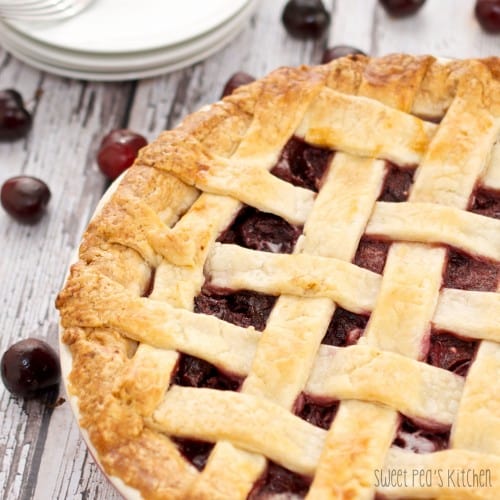 Every bite of this sweet cherry pie is filled with plump, juicy cherries, and a flaky vodka pie crust. This easy cherry pie is pure heaven as soon as the sweetness hits your tongue. I've always been a fan of pies, and it's one of my favorite things to bake too.
Scroll to bottom for printable recipe card.
The Best Homemade Sweet Cherry Pie Recipe
Whenever you make the best cherry pie recipe, you'll find that it goes really fast. So if you want to have leftovers or feed a crowd, I recommend making multiple pies because it will get gobbled up…fast! I prefer to use fresh cherries, and it makes the texture and pie filling out of this world. Make this fresh cherry pie for picnics, pool parties, or even holidays! Homemade cherry pie also makes a lovely gift for friends, neighbors, and co-workers.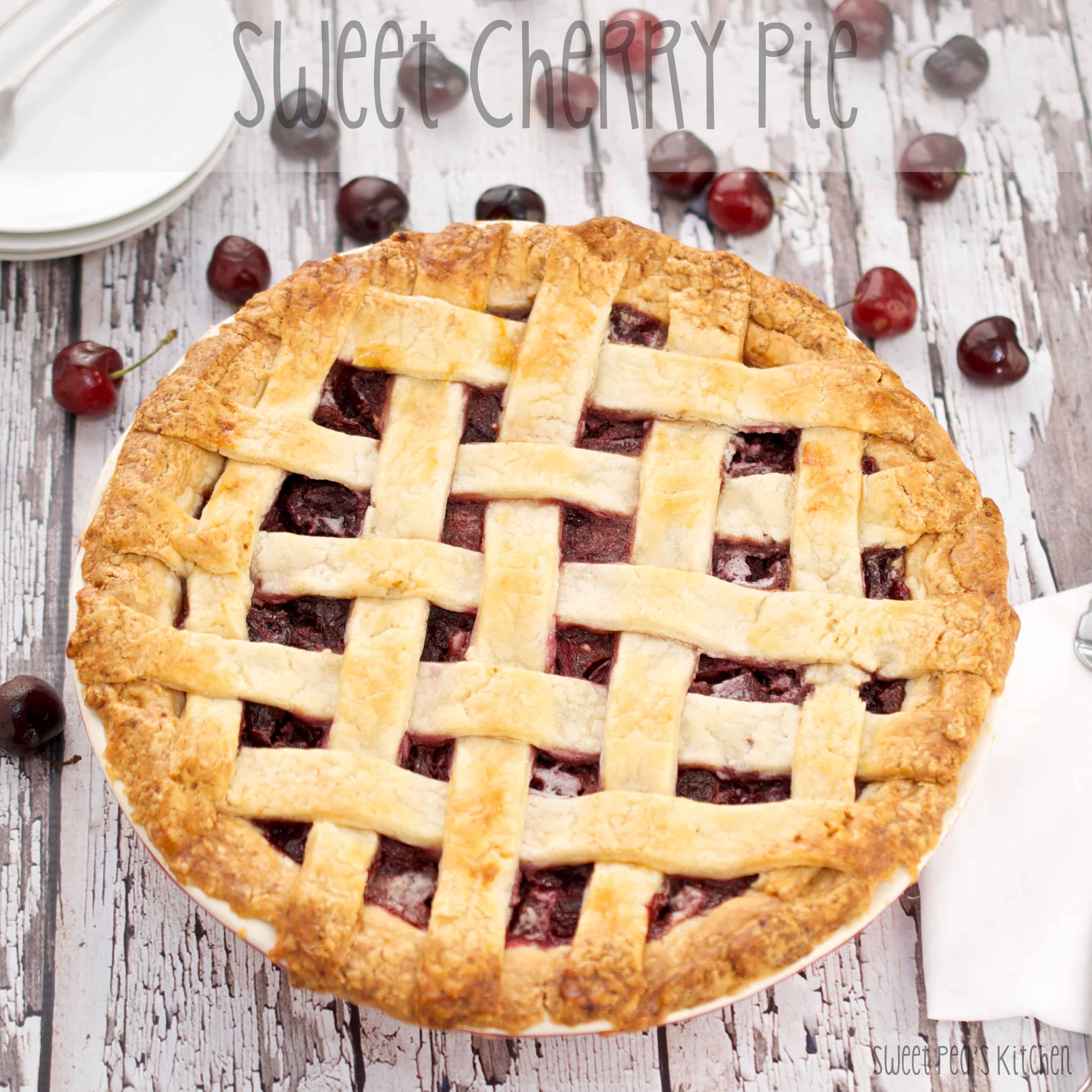 Sweet Cherry Pie Ingredients
The best thing about this easy cherry pie is that you can use fresh or frozen cherries. I almost always use fresh, but frozen is an excellent option if they aren't in season. Take a peek at these ingredients for this fresh cherry pie.
For the Pie Crust
All-purpose flour – You'll need the flour for the pie crust and a little bit for dusting the counter to roll it out on.
Salt – Salt is always an essential ingredient when baking. You don't need a ton, just a little bit.
Sugar – Give the crust a sweetness with some sugar. This is the best cherry pie recipe because of all the small details that come together.
Unsalted butter – Always use cold butter when making pie crust. It makes a huge difference in how this fresh cherry pie will turn out.
Vegetable shortening -To allow the pie to cook properly and the crust to be flaky and delicious shortening is an asset.
Vodka – Use really chilled vodka for this yummy homemade cherry pie. Trust me; this is a beautiful addition to the crust.
Water – Adding some water will give the crust that texture we all crave when eating a piece of the pie.
For the Cherry Filling
Red plums – You may not realize it, but adding red plums to this sweet cherry pie is amazing. It adds another sweetness factor, and it's so scrumptious.
Sweet cherries – It's okay to use fresh or frozen cherries. Entirely up to you, and it will turn out drool-worthy no matter which way you go.
Sugar – Give your homemade cherry pie filling a little more sugary sweetness. Yum!
Salt – A dash of salt helps bring out the flavors of the cherries and plums.
Lemon – Whenever possible, use freshly squeezed lemon juice. It's a lovely asset to this best cherry pie recipe.
Bourbon – Enjoy a slice or two of this boozy cherry pie, and you'll be so glad you made it!
Instant tapioca – Make sure that the tapioca is ground up really well.
Ground cinnamon – You can never go wrong with adding a little cinnamon to a homemade pie.
Unsalted butter – If you end up using salted butter, just make sure not to put the salt in the filling.
Egg – The egg wash gives the pie that gorgeous golden brown color we all love.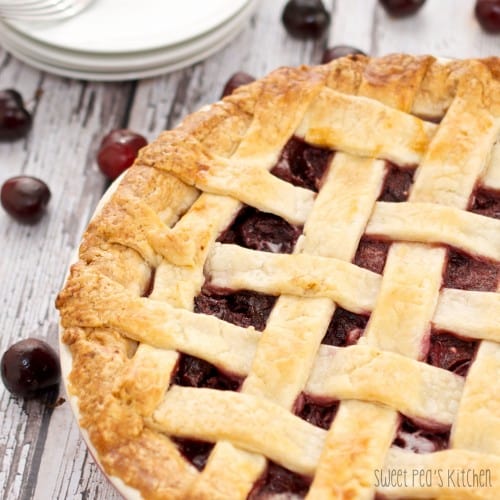 How To Make Cherry Pie
I'm so excited to share with you how to make a flavorful cherry pie from scratch. This fresh cherry pie is unlike anything I've tried before. Get ready to start baking the best cherry pie recipe ever.
First Step: Using a food processor with a metal blade, add 1 1/2 cups of flour, salt, and sugar until it's combined. Use 1-second pulses until mixed. Put the butter and shortening in the food processor and work until the dough clumps. This usually takes about 15 seconds and should closely resemble cottage cheese curds, and none of the flour should be uncoated. Scrape the bowl as needed. Mix in the remaining flour and pulse. Place the dough mixture in a medium-sized bowl.
Second Step: Next, you'll need to drizzle the vodka and water over the pie dough mixture. Using a rubber spatula, mix in a folding motion and press down until the dough is tacky and sticks together.
NOTE: Using vodka is important to give the crust the perfect texture. Don't skip this step, or the crust won't turn out correctly. You can use any 80 proof liquor if you don't have vodka on hand.
Third Step: Divide the pie dough into two dough balls and flatten them into 4-inch disks. Use plastic wrap to wrap each of the dough balls and refrigerate for 45 minutes or all the way up to 2 days.
Fourth Step: Take the first disk out of the fridge and roll it out onto a floured surface. Roll until its a 12-inch circle and around 1/8 inch thick. Pick the dough up with the rolling pin by lightly rolling it around the rolling pin. Unroll the dough onto the pie plate and leave around 1-inch overhang. Press the dough gently into the pie pan and refrigerate for around 40 minutes.
Fifth Step: Place the oven rack to the bottom position and place a baking sheet on the oven rack — Preheat the oven to 400 degrees.
Sixth Step: Using a food processor, add the plums and 1 cup of cherries and mix until smooth. Scrape down the sides as needed. Strain the cherry puree through a fine-mesh strainer and place it in a large bowl. Try to get all the liquid out of any solid pieces then discard them. In the bowl, add the remaining cherries, sugar, salt, lemon juice, bourbon, tapioca, and cinnamon to the cherry puree mixture and let stand for 15 minutes.
Note: If you are using frozen fruit, it's important to measure it frozen, but let it thaw before making the filling. Otherwise, you may have partially cooked fruit, and the tapioca won't be dissolved properly.
Seventh Step: Pour the cherry mixture into the pan with the pie dough. Add pieces of butter all over the fruit. Then roll out the second pie crust dough ball onto the floured surface until it's 12-inches in diameter and 1/8 inch thick. Using a pastry wheel, cut the dough into 12 strips that are each 3/4 inch wide. Place 6 of the strips horizontally across the pie. Weave in the other six vertical strips. Trim the edges of the overhang pie crust and flute them with your thumb and forefinger. You can also use a fork to seal the edges. Use the egg wash on the edges and top of the pie then freeze for 20 minutes.
Eighth Step: Add the pie to the preheated baking sheet and bake for 30 minutes. After 30 minutes, lower the temperature to 350 degrees and continue baking until the juices are bubbling. The crust should be a golden brown, which usually takes around 30-40 more minutes.
Ninth Step: Place the pie to a wire rack and let it cool for 2-3 hours until the juice is thick. Cut into pieces and serve. Enjoy!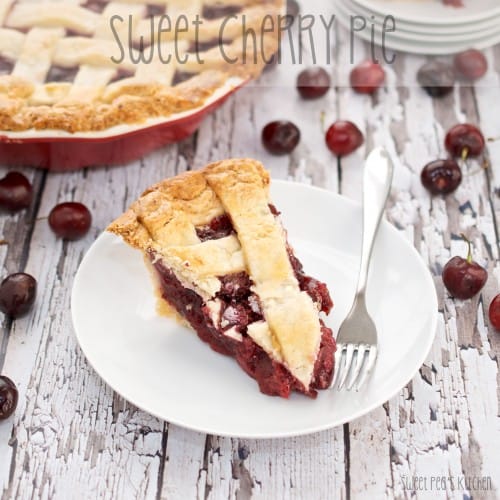 How Do You Store This Sweet Cherry Pie?
It's best to store the sweet cherry pie in the refrigerator after it's cooled down long enough. It would last 1-2 days on the counter but will last 3-4 days in the fridge. Plus, this homemade cherry pie tastes amazing when it's cold too! You can also toss it in the microwave to warm it up if you prefer it hot.
Just make sure that the fresh cherry pie is wrapped tightly in plastic wrap or aluminum foil and kept in an airtight storage container. Never set it next to strong-smelling food in the fridge, or it may take on those flavors.
Can You Freeze This Homemade Cherry Pie?
Yes, you can freeze this sweet cherry pie. Just wrap it up and place it in the freezer for 1-2 months, and you can enjoy the best cherry pie recipe at a later time! It's perfect for meal planning or doubling the recipe to have some later too.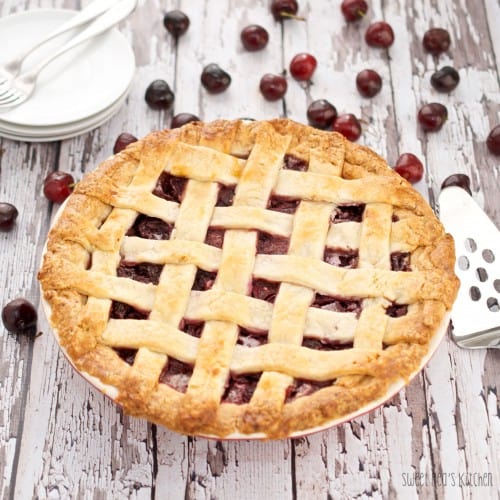 Can't get enough of this yummy homemade cherry pie? You should sink your teeth into some of my other pie inspired recipes:
Now, remember to save this recipe on Pinterest for later 🙂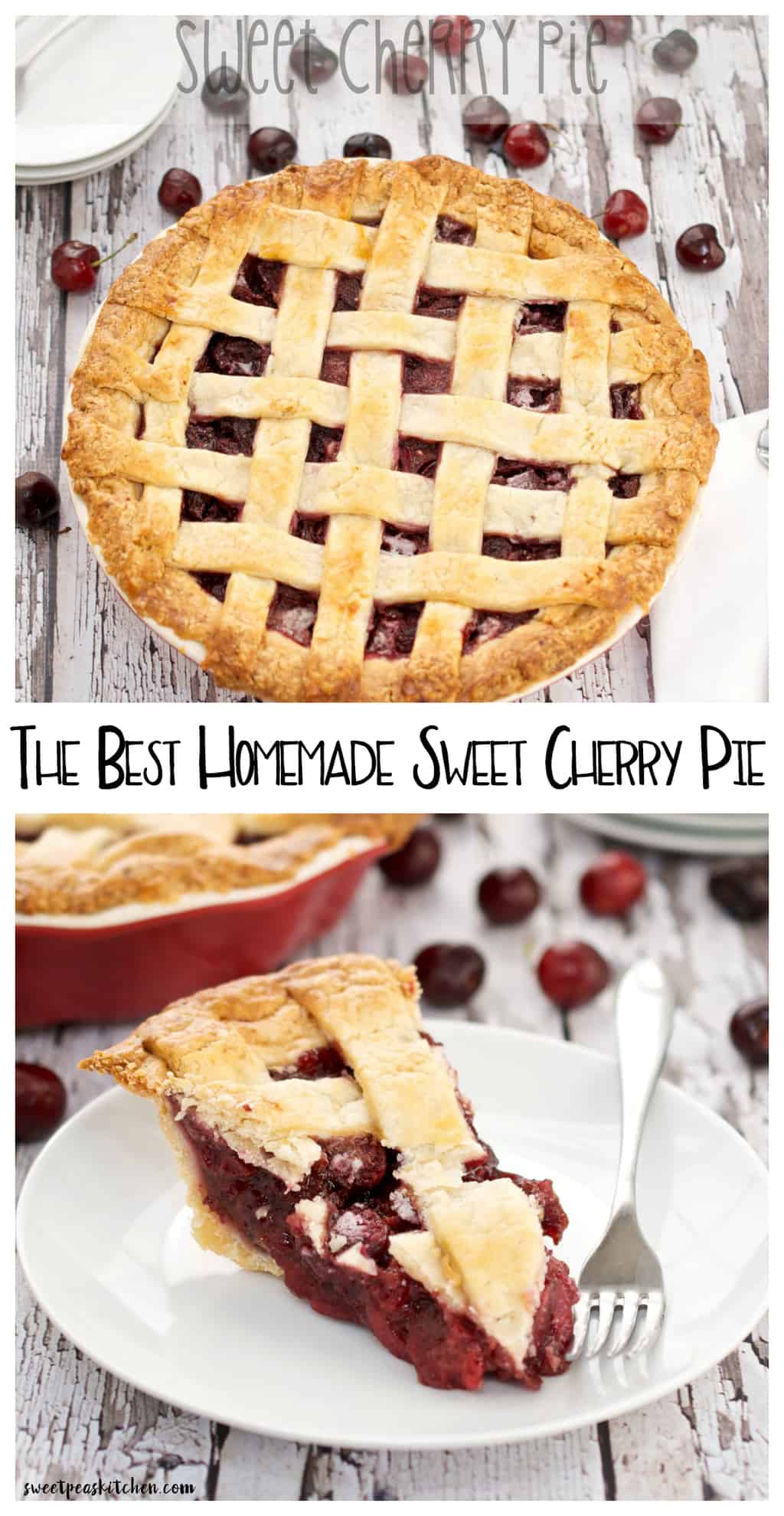 Pin this recipe now to remember it later
The Best Homemade Sweet Cherry Pie Recipe
This juicy sweet cherry pie is made with a secret ingredient! You'll find this is the best cherry pie recipe ever and it's so delicious!
Ingredients
For the Pie Dough:
2 1/2

cups

12 1/2 ounces unbleached all-purpose flour, plus more for work surface

12

tablespoons

1 1/2 sticks cold unsalted butter, cut into 1/4-inch pieces

1/2

cup

cold vegetable shortening

,

cut into 4 pieces
For the Cherry Filling:
2

red plums

,

halved and pitted

6

cups

about 2 pounds pitted sweet cherries or 6 cups pitted frozen cherries, halved

1/2

cup

sugar

,

3 1/2 ounces

1

tablespoon

juice from 1 lemon

2

tablespoons

instant tapioca

,

ground

1/8

teaspoon

ground cinnamon

2

tablespoons

unsalted butter

,

cut into 1/4-inch pieces

1

large egg

,

lightly beaten with 1 teaspoon water
Want to save this recipe? Enter your email below and we'll send the recipe straight to your inbox!
NOTE: By saving this recipe, you agree to join our weekly recipes newsletter.
Instructions
For The Pie Dough: In the bowl of a food processor fitted with the metal blade, process 1 1/2 cups flour, salt, and sugar until combined, about two 1-second pulses. Add butter and shortening and process until dough just starts to collect in uneven clumps, about 15 seconds; dough will resemble cottage cheese curds and there should be no uncoated flour. Scrape bowl with rubber spatula and redistribute dough evenly around processor blade. Add remaining cup flour and pulse until mixture is evenly distributed around bowl and mass of dough has been broken up, 4 to 6 pulses. Transfer mixture into medium bowl.

Sprinkle vodka and water over mixture. Using a folding motion, use a rubber spatula to mix, pressing down on dough until dough is slightly tacky and sticks together. Divide dough into 2 even balls and flatten each into 4-inch disk. Wrap each in plastic wrap and refrigerate at least 45 minutes or up to 2 days.

Remove 1 disk of dough from refrigerator and roll out on floured work surface to 12-inch circle, about 1/8 inch thick. Roll dough loosely around rolling pin and unroll into pie plate, leaving at least 1-inch overhang. Ease dough into plate by gently lifting edge of dough with 1 hand while pressing into plate bottom with other hand. Refrigerate until dough is firm, about 40 minutes.

Adjust oven rack to lowest position, place baking sheet on oven rack, and heat oven to 400 degrees. In the bowl of a food processor fitted with the metal blade, process the plums and 1 cup halved cherries in food processor until smooth, about 1 minute, scraping down sides of bowl as necessary. Strain puree through fine-mesh strainer into large bowl, pressing on solids to extract liquid; discard solids. Stir remaining halved cherries, sugar, salt, lemon juice, bourbon, tapioca, and cinnamon into puree; let stand for 15 minutes.

Transfer cherry mixture, including all juices, to dough-lined plate. Scatter butter pieces over fruit. Roll second disk of dough on generously floured work surface (up to ¼ cup) to 12-inch circle about 1/8 inch thick. With pastry wheel, cut the dough into 12 strips 3/4 inch wide. Place 6 strips horizontally across the top of the pie at 1 inch intervals. Weave in 6 vertical strips. Fold dough under itself so that edge of fold is flush with outer rim of pie plate. Flute edges using thumb and forefinger or press with tines of fork to seal. Brush top and edges with egg mixture. Freeze pie 20 minutes.

Place pie on preheated baking sheet and bake 30 minutes. Reduce oven temperature to 350 degrees and continue to bake until juices bubble around the edges and crust is deep golden brown, 30 to 40 minutes longer.

Transfer pie to wire rack; let cool to room temperature so juices have time to thicken, 2 to 3 hours. Cut into wedges and serve.
Notes
Vodka is essential to the texture of the crust and imparts no flavor—do not substitute extra water. The alcohol is key to our recipe; if you don't have vodka on hand, you can use another 80 proof liquor.
The tapioca should be measured first, then ground in a coffee grinder or food processor for 30 seconds.
If you are using frozen fruit, measure it frozen, but let it thaw before making the filling; if you don't, you run the risk of partially cooked fruit and undissolved tapioca.
Follow me on Pinterest for daily delicious recipes!
Make sure you check my best recipes below:
Truffle Peanut Butter Brownies – This 3 layer brownie has peanut butter filling and then it is topped with chocolate ganache. Rich, creamy and delicious, you have to try these ones of a kind brownies.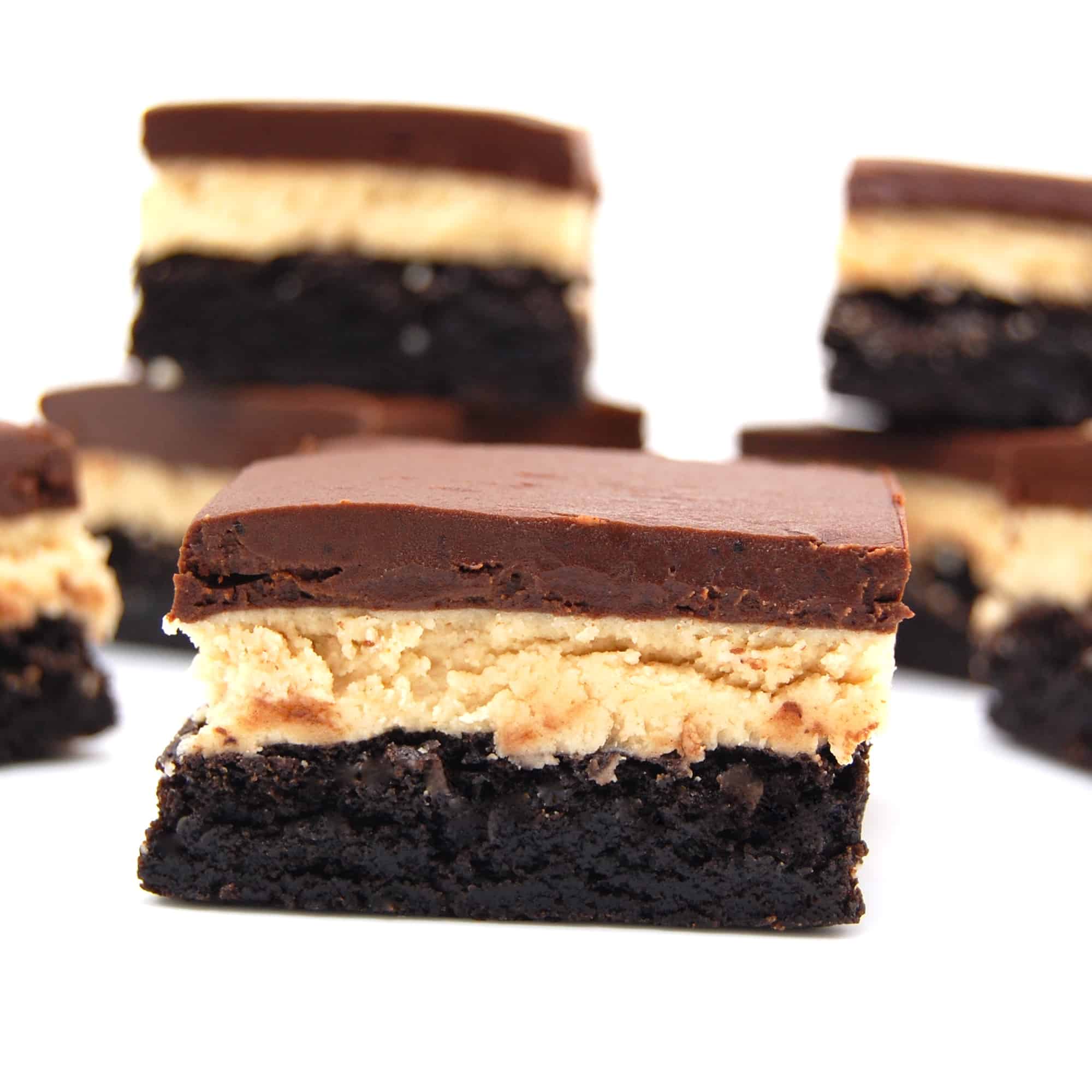 Crown Royal Cherry Brownies Balls – Do you love chocolate covered cherries? Looking for a recipe for cherry brownies? This is the best chocolate truffles that you will ever taste.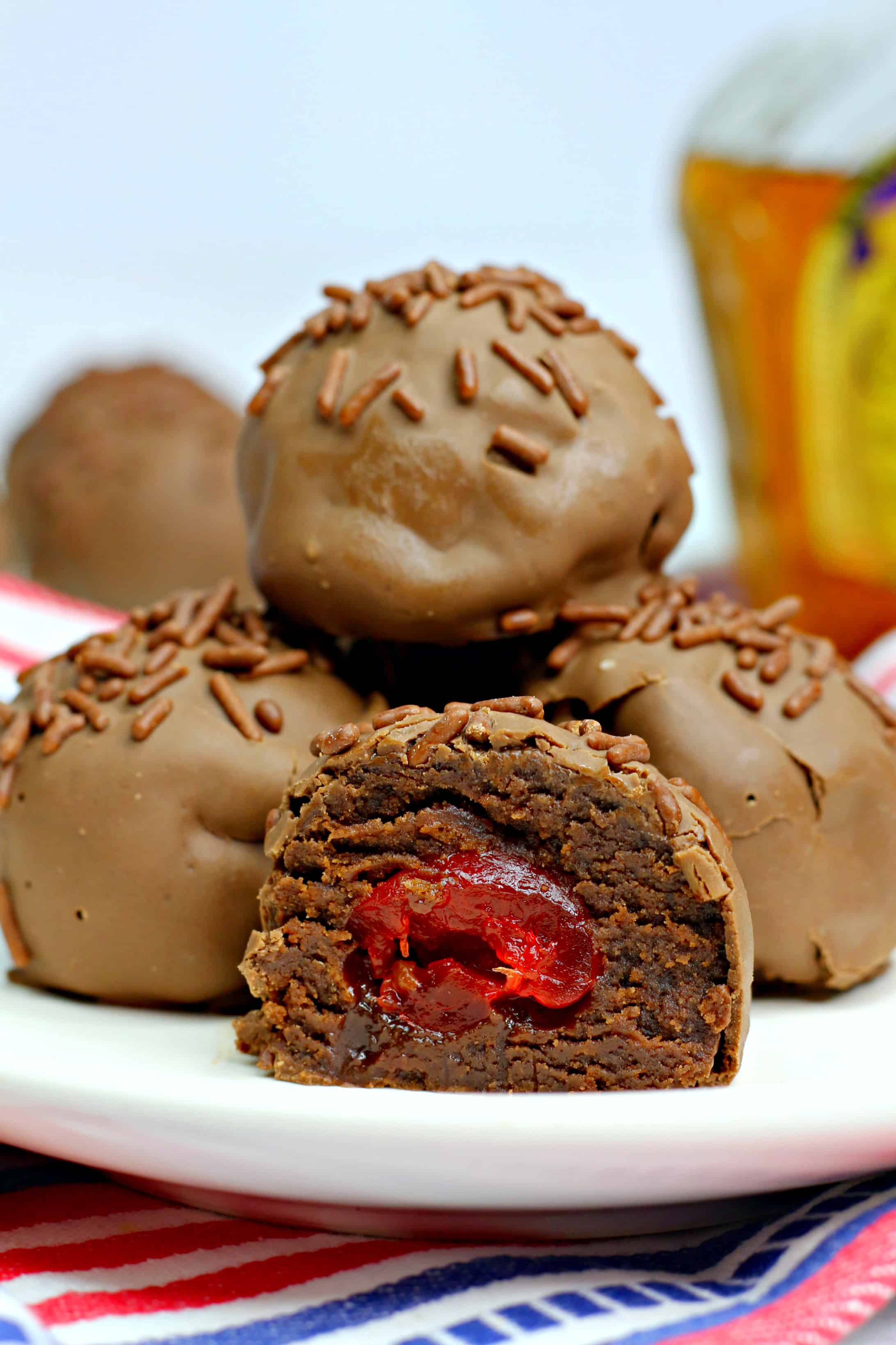 Black Forest Brownies Recipe – These black forest brownies will knock the socks off of any chocolate lover! Rich and decadent, these delicious cherry brownies from scratch are much easier to make than their delightful flavor would have you assume!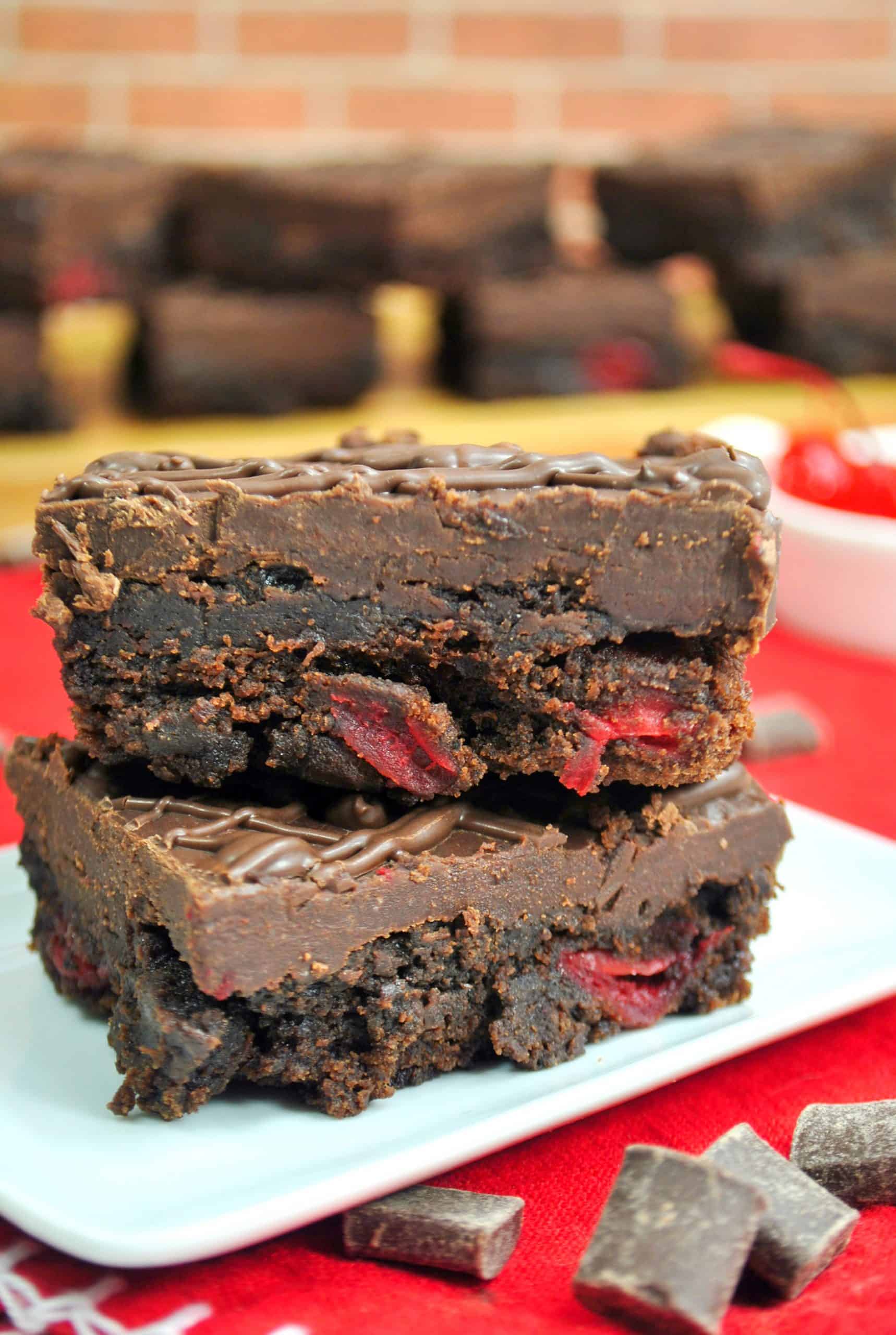 Cherry Cheesecake Brownies – What's a better dessert – cheesecake or brownies? With these easy Cherry Cheesecake Brownies, you don't have to choose! Cherry brownies are a tasty twist on a classic brownie.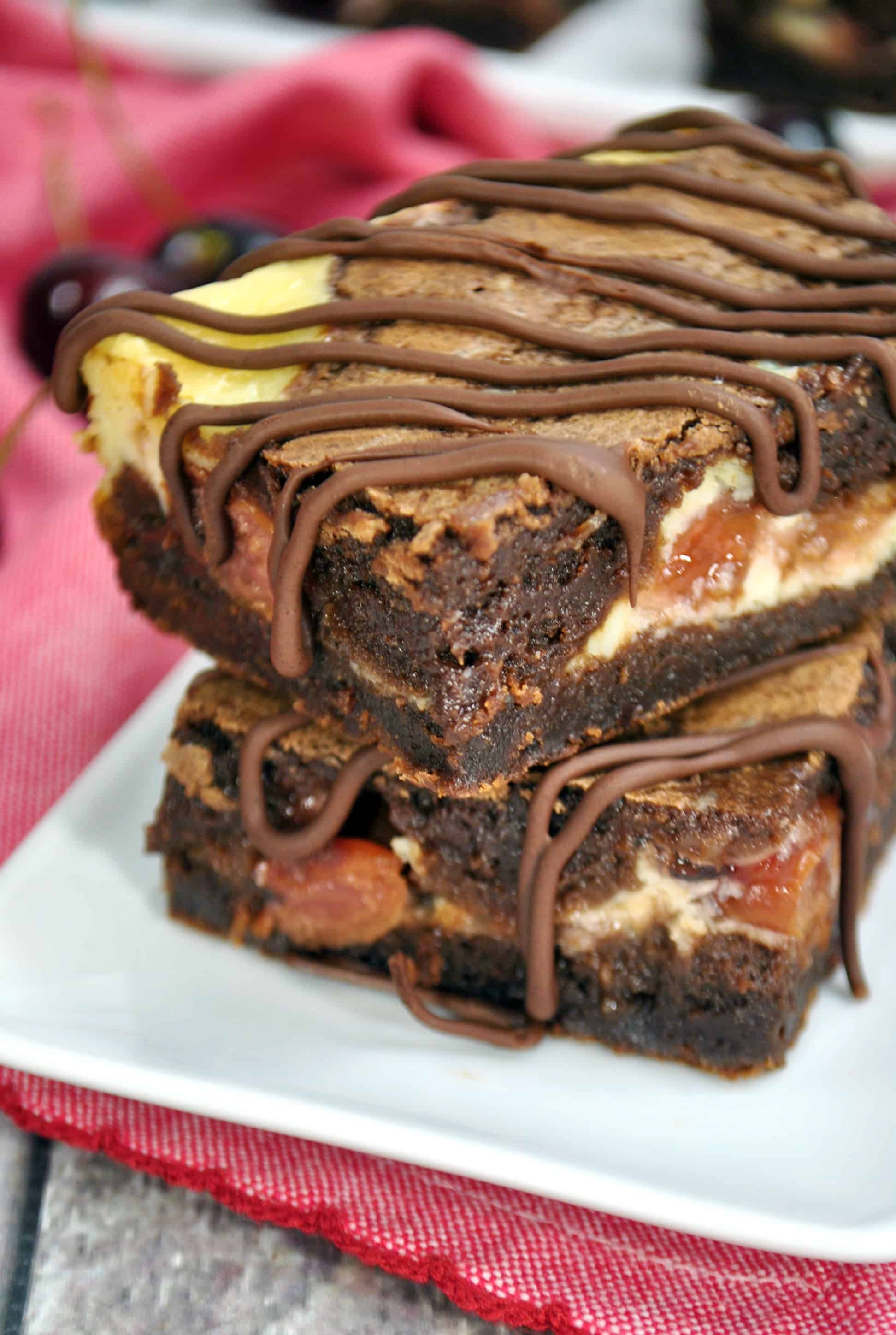 Red Velvet Brownies with White Chocolate Buttercream Frosting – Make these homemade red velvet brownies with delicious white chocolate buttercream frosting. Rich, chewy chocolate fudge brownies with an amazing taste.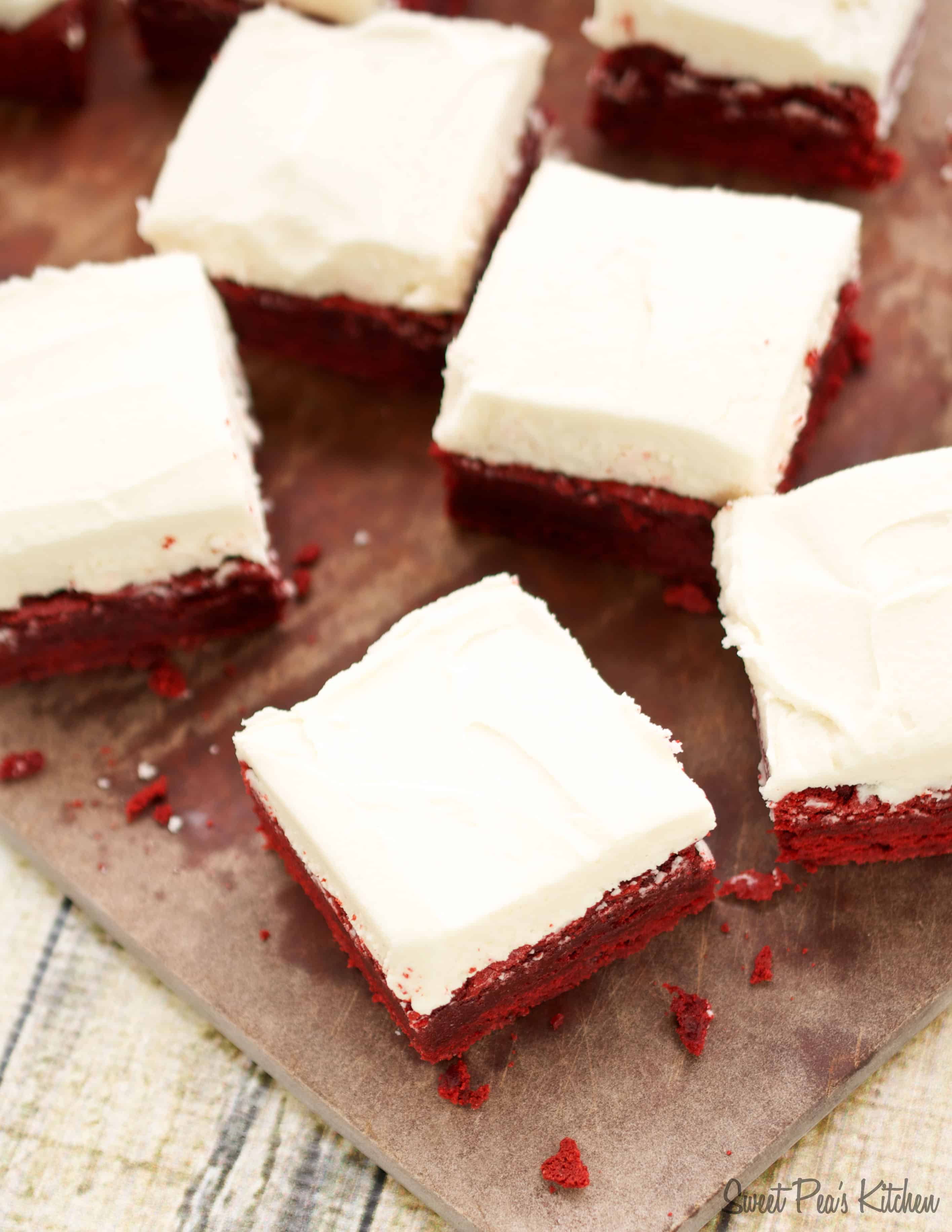 Get new recipes weekly plus our FREE ebook!