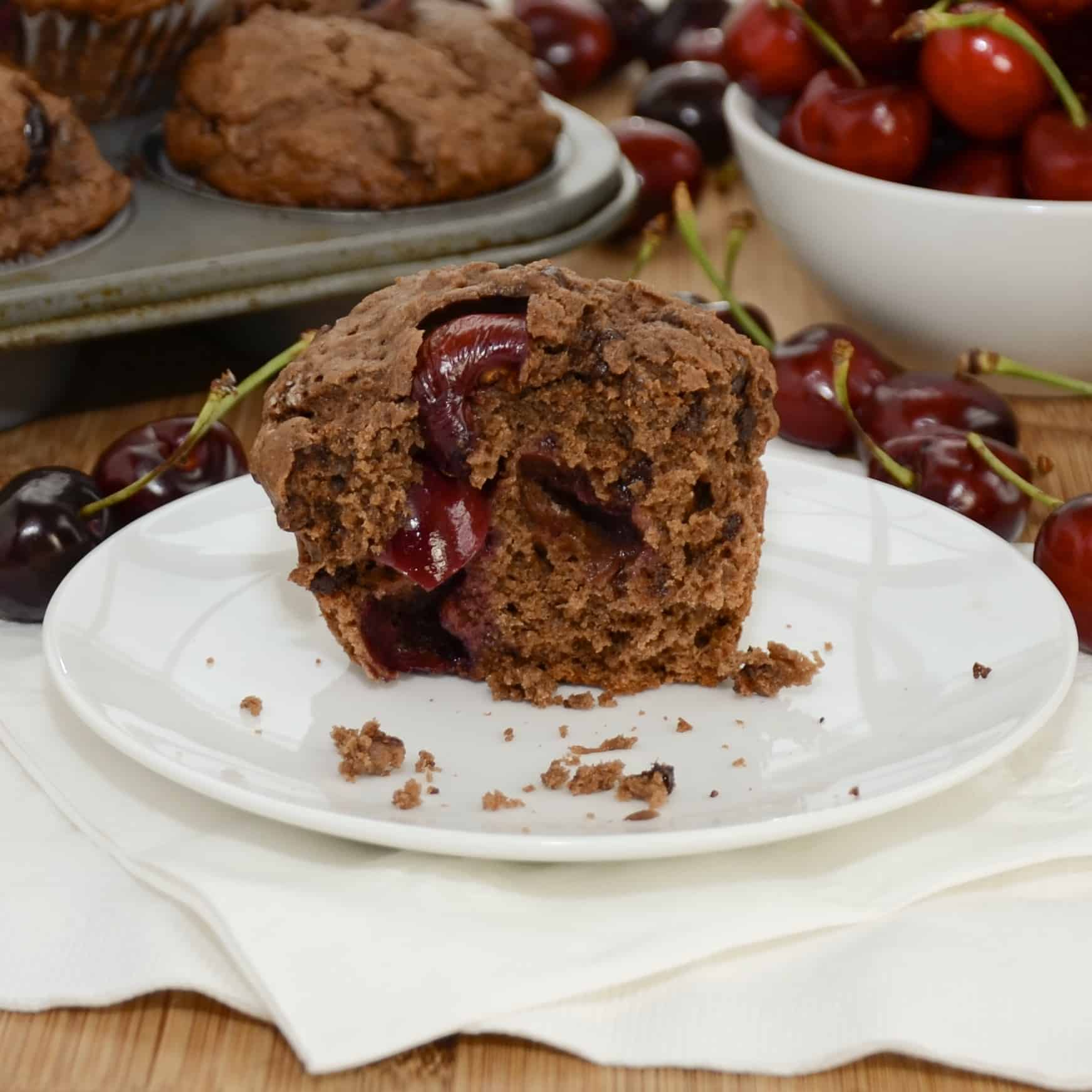 Decadent Double Chocolate Cherry Muffins are heavenly. Each bite has the best rich dark chocolate and the right amount of sweet cherries. These muffins can be put together in a snap, and once you taste them, you will be a fan for life. This recipe is simple enough for a beginner, so get off the computer and into the kitchen to make some, you won't regret it.
Scroll to bottom for printable recipe card.
Double Chocolate Cherry Muffins
Some days you really need something rich and chocolatey for breakfast! Oh, wait? What did you say? Usually, rich and chocolatey foods are eaten at dessert? Nonsense! I have learned that anything goes these past couple weeks. Blueberry pie at eight in the morning? Heck, yeah! A loaded hotdog at one a.m.? No problem! Oh yeah, and I can't forget that midnight runs to steak and shake for that ridiculously large oreo shake! Whoops! 😉 So the other morning, when I was staring at a bag of fresh cherries in my fridge (and contemplating what I wanted to with them besides dunking them into melted chocolate!), I remembered this recipe that I had bookmarked for chocolate cherry muffins. Luckily I had all the ingredients in my pantry to whip up a batch of these babies. I threw in some chocolate chips (just to make them even more indulgent!), and a splash of cherry flavoring, and the results were incredible. Rich, tender, and bursting with plump fresh cherries and melty chocolate chips!
I will eat these muffins any time of year because the combination of rich chocolate and cherries is something I think about often. It just reminds me of chocolate-covered cherries and being a kid, I guess. Besides, you can never go wrong with mixing fruit and chocolate together! They are a match like no other.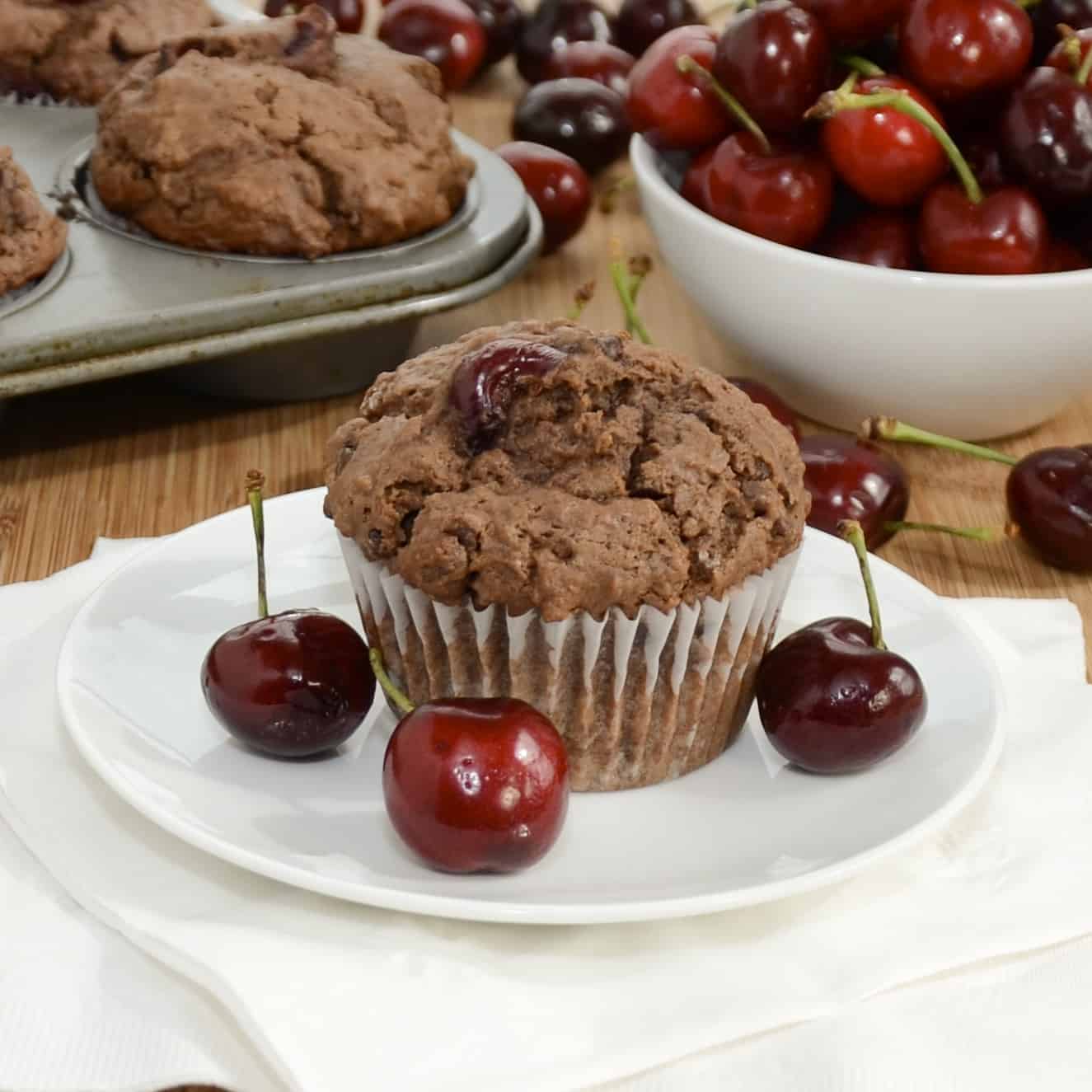 Can I Use Frozen Cherries in These Muffins?
Yes, you can make these double chocolate muffins using frozen cherries if you want. There are many times of the year when it's next to impossible to buy cherries that are in season. But don't worry! That doesn't mean you have to wait to make them. Simply replace the fresh cherries for frozen, and the results will be similar. They may have a slightly different texture, but if you don't eat them all the time, you wouldn't even notice.
Can You Make These Chocolate Muffins with Cherry Pie Filling?
Yes, if you would rather use cherry pie filling, that is more than fine. Keep in mind that cherry pie filling is pretty sweet, so it will add a lot of sweetness to the cookies. You will need to drain off the liquid from the pie filling and just use the cherries. Otherwise, the texture of the cookies will not be right.
Can I Add Chocolate Chunks Instead of Mini Chocolate Chips?
Yes, you can easily swap chocolate chunks in place of the mini chocolate chips for these double chocolate cherry muffins. That is one thing that I love about this muffin recipe. It's super versatile, and you can easily adjust what you add-in based on what you like or what you have on hand. If you want to go really wild, replace the mini chocolate chips with white chocolate instead. It adds another element of flavor to the muffins and is incredible.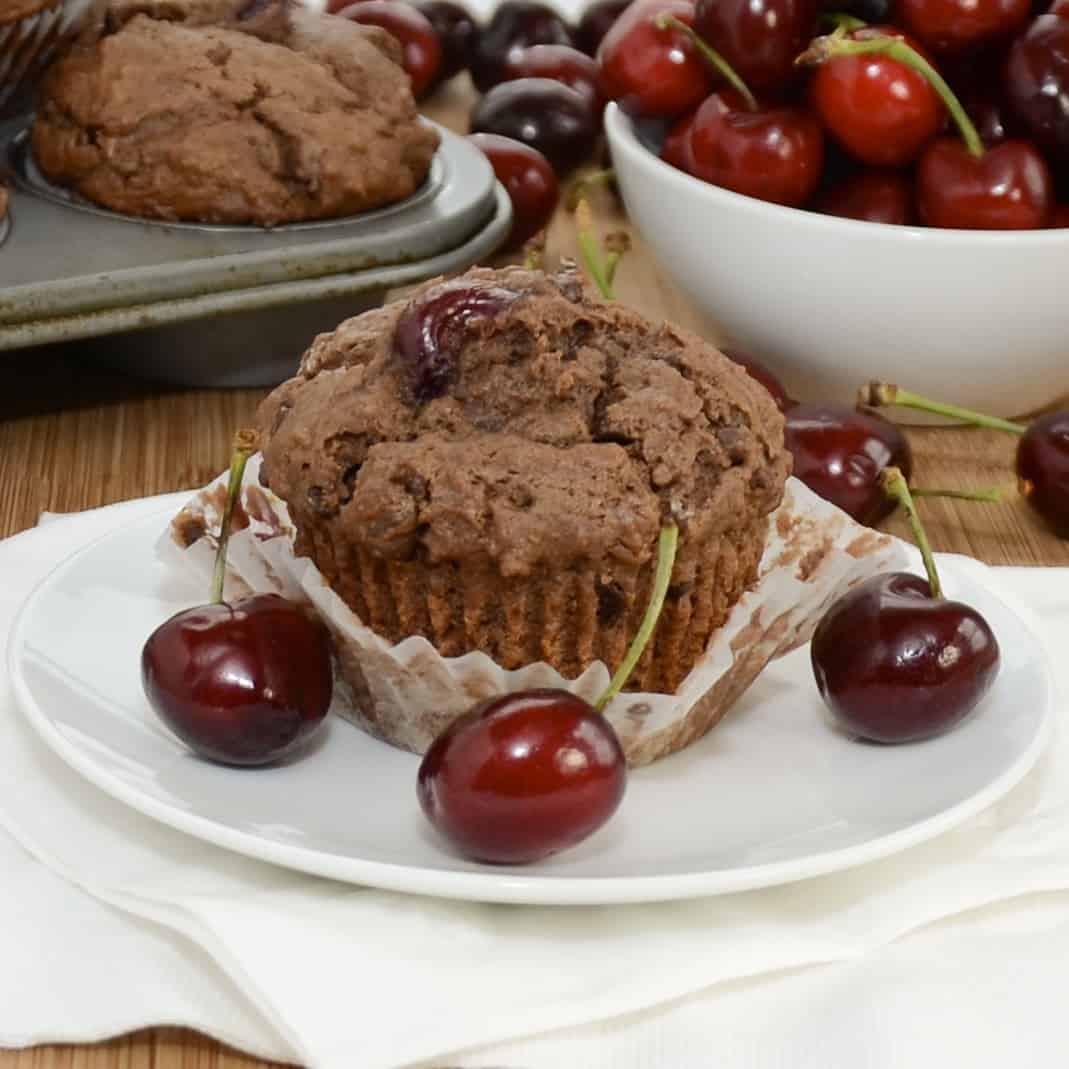 Ingredients
Most of the ingredients for these double chocolate cherry muffins you probably have on hand. The cherry flavoring is such an important part, so don't skip it. Using almond extract instead of the traditional vanilla enhances the flavor even more.
All-purpose flour
Baking powder
Salt
Unsweetened cocoa
Butter at room temperature
Sugar
Large eggs, beaten
Almond extract
Cherry flavoring
Milk
Pitted cherries, halved
Mini chocolate chips
How to Make Chocolate Cherry Muffins
Typically muffins are made and eaten for breakfast or brunch, but I find that these are so good I will eat one for dessert! They are that sweet and delicious. When making them for a dessert, sometimes I will drizzle melted chocolate on top to add even more chocolate flavor to them. It doesn't' matter when you decide to eat them because they are irresistible either way.
First Step: Warm up the oven to 400 degrees F. Then, line your muffin pan with muffin liners or give them a spray with non-stick cooking spray.
Second Step: Combine the flour, baking powder, salt, and cocoa in a large bowl then set aside.
Third Step: Mix together the sugar and butter in a stand mixer. Beat for around two minutes or until it is light and fluffy. Then add in the egg, almond extract, and cherry flavoring. Beat until combined.
Fourth Step: Slowly add in the flour and milk while on low speed. Alternate between the flour and milk until it's all mixed in. Gently add in the cherries and chocolate chips by folding them in with a spatula.
Fifth Step: Allow the muffin batter to sit and rest for 10 minutes. Then add the batter to the muffin tin. Bake them for 20-25 minutes. You should be able to insert a toothpick, and it comes out clean when they are one. Let the muffins cool in the muffin pan for five minutes. Then take them out of the pan and allow them to finish cooling on a wire rack then serve.
Enjoy!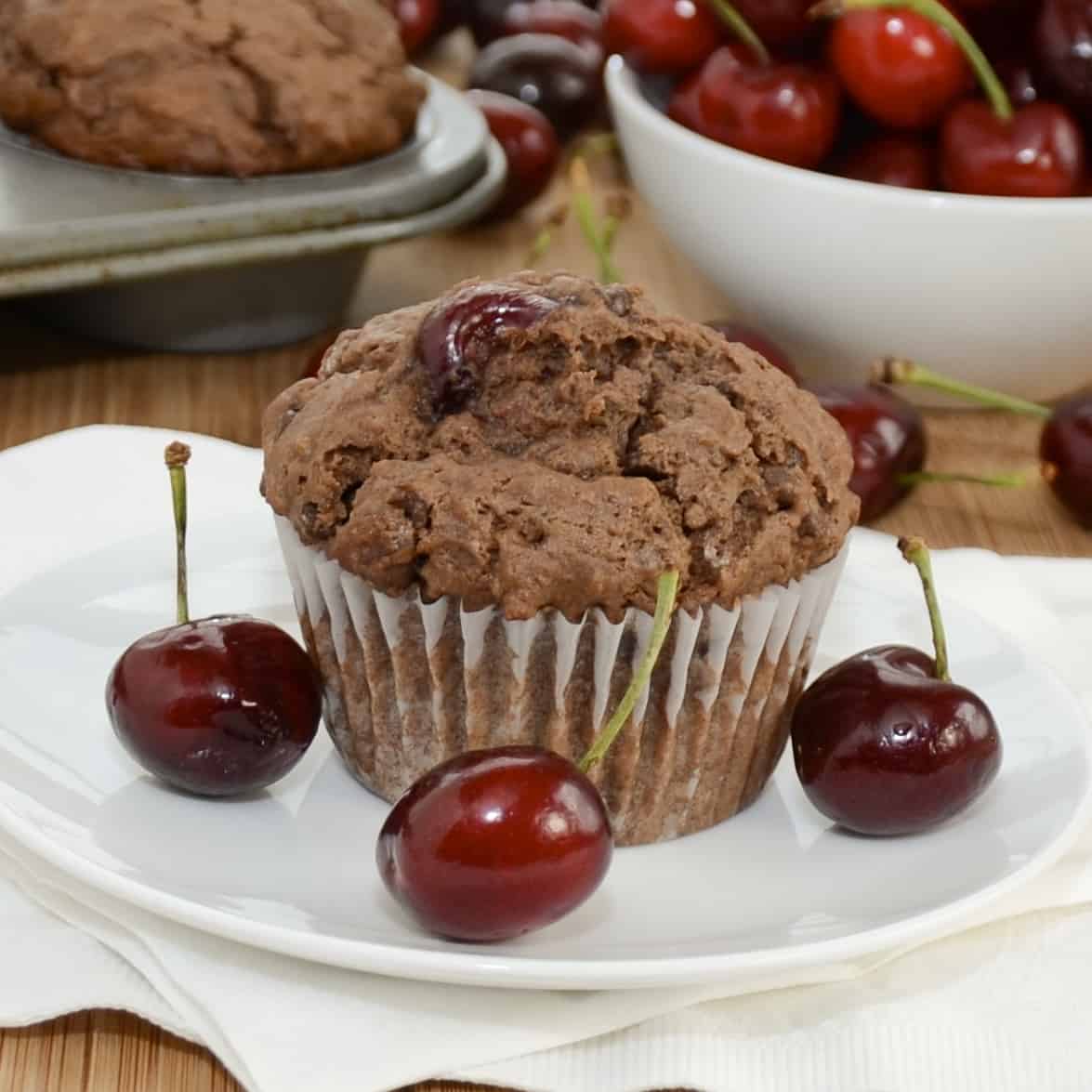 Now, remember to save this recipe on Pinterest for later 🙂

Pin this recipe now to remember it later
Double Chocolate Cherry Muffins
Decadent Double Chocolate Cherry Muffins are heavenly. Each bite has the best rich dark chocolate and the right amount of sweet cherries. These muffins can be put together in a snap, and once you taste them, you will be a fan for life.
Ingredients
2

teaspoons

baking powder

1/3

cup

unsweetened cocoa

16

tablespoons

2 sticks butter at room temperature

1/2

teaspoon

almond extract

1 ⅓

cups

pitted cherries

,

halved

1

cup

mini chocolate chips
Want to save this recipe? Enter your email below and we'll send the recipe straight to your inbox!
NOTE: By saving this recipe, you agree to join our weekly recipes newsletter.
Instructions
Preheat the oven to 400 degrees F. Line muffin cups with muffin liners or spray with nonstick cooking spray.

In a large bowl, whisk together the flour, baking powder, salt, and cocoa; set aside.

In the bowl of a stand mixer, cream together the butter and sugar until light and fluffy, about two minutes. Beat in egg, almond extract, and cherry flavoring until combined.

With mixer on low speed, add the flour mixture and milk, beginning and ending with flour mixture. Mix until just combined. Fold in cherries and chocolate chips.

Let mixture rest for 10 minutes, then fill muffin cups to the brim with the batter. Bake the muffins for 20 to 25 minutes, until a toothpick inserted into the middle of one of the center muffins comes out clean. Cool muffins in muffin tin for 5 minutes, then transfer to wire rack and cool 5 minutes before serving.
Follow me on Pinterest for daily delicious recipes!
Muffins help make the world go round…Okay, maybe not, but they are very satisfying and fulfilling. Here are some of my favorite muffin and coffee cake recipes ever.
Glazed Donut Muffins – If you love sweet food for breakfast, these glazed donut muffins are just what you need. They have the right amount of sweetness and taste so much like a donut without all the fuss.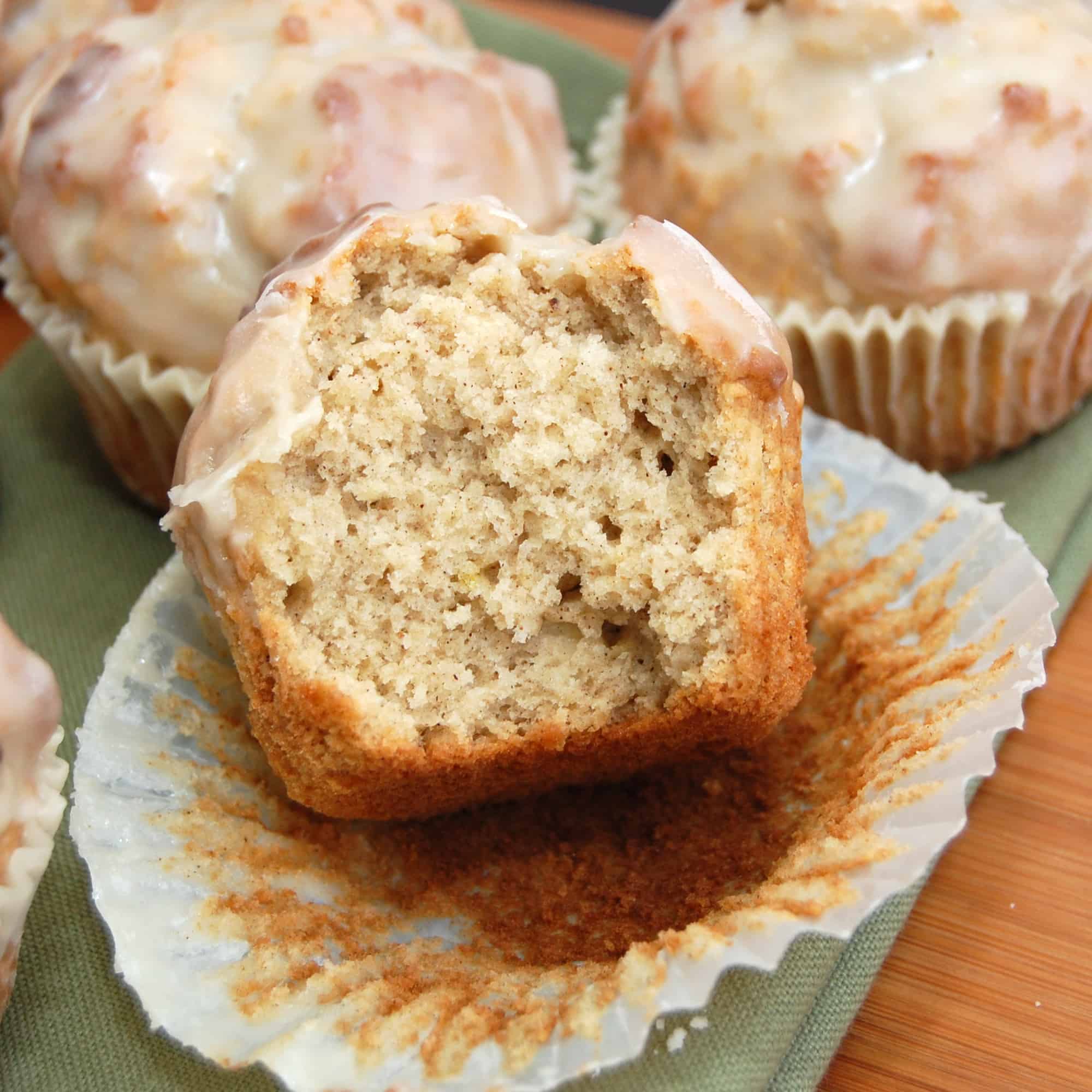 Easy Pumpkin Muffins With Crumb Topping – My tastebuds do a little dance when I think of making these tasty muffins. They are simple to make and taste like they were made in a gourmet donut shop.
Jumbo Lemon Poppy Seed Muffins – These muffins will give you the best lemon experience ever. When you bite into them, you will think you are in food heaven.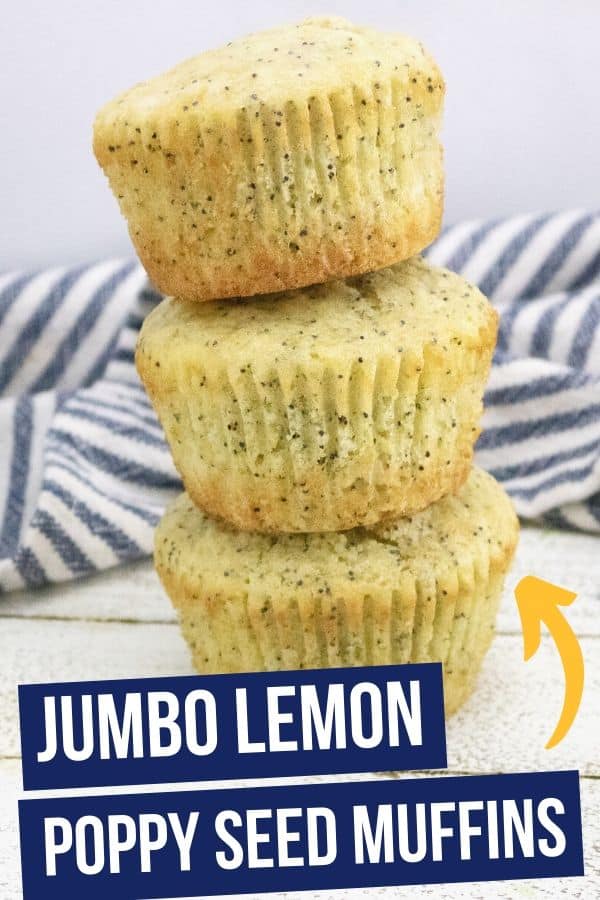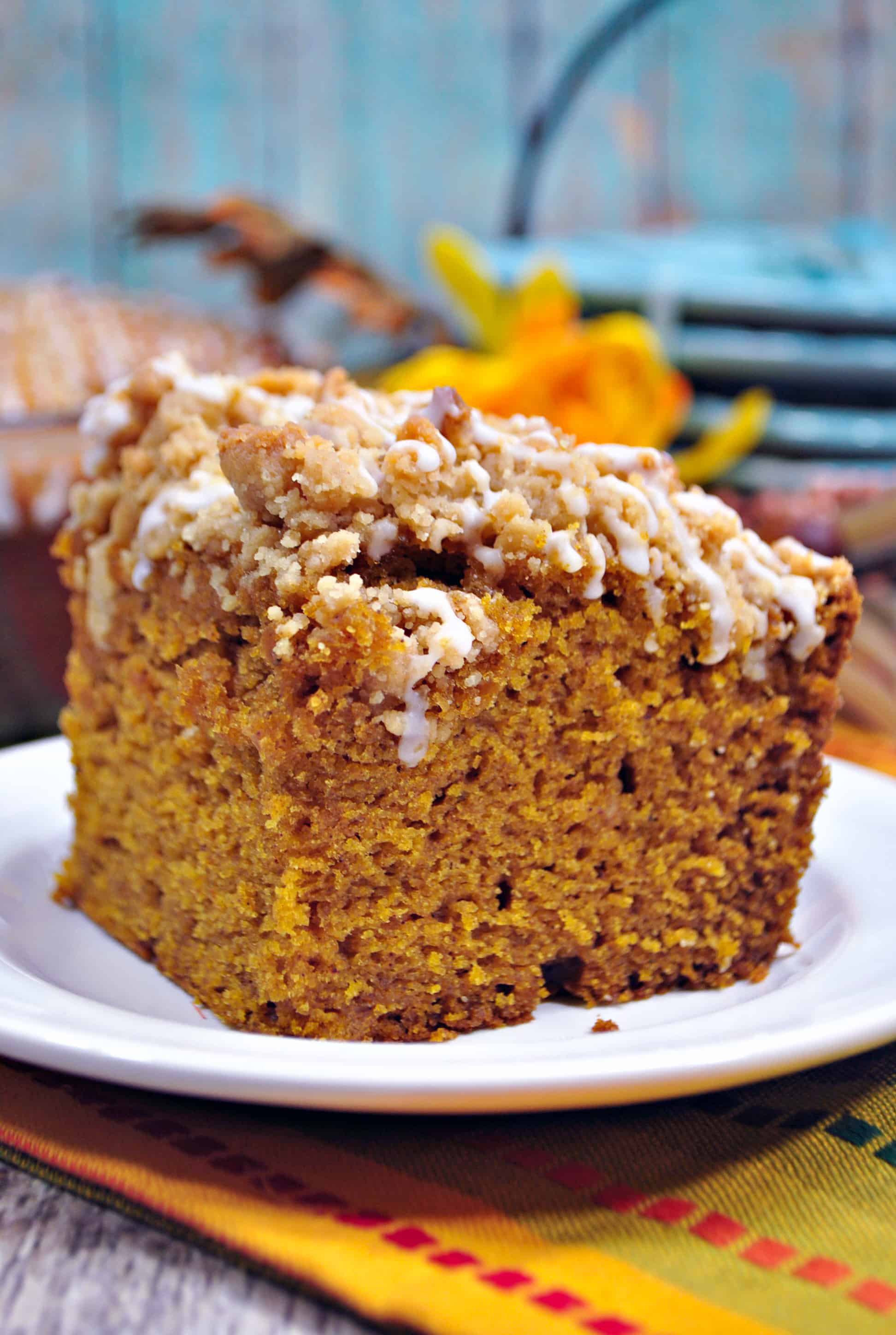 Get new recipes weekly plus our FREE ebook!