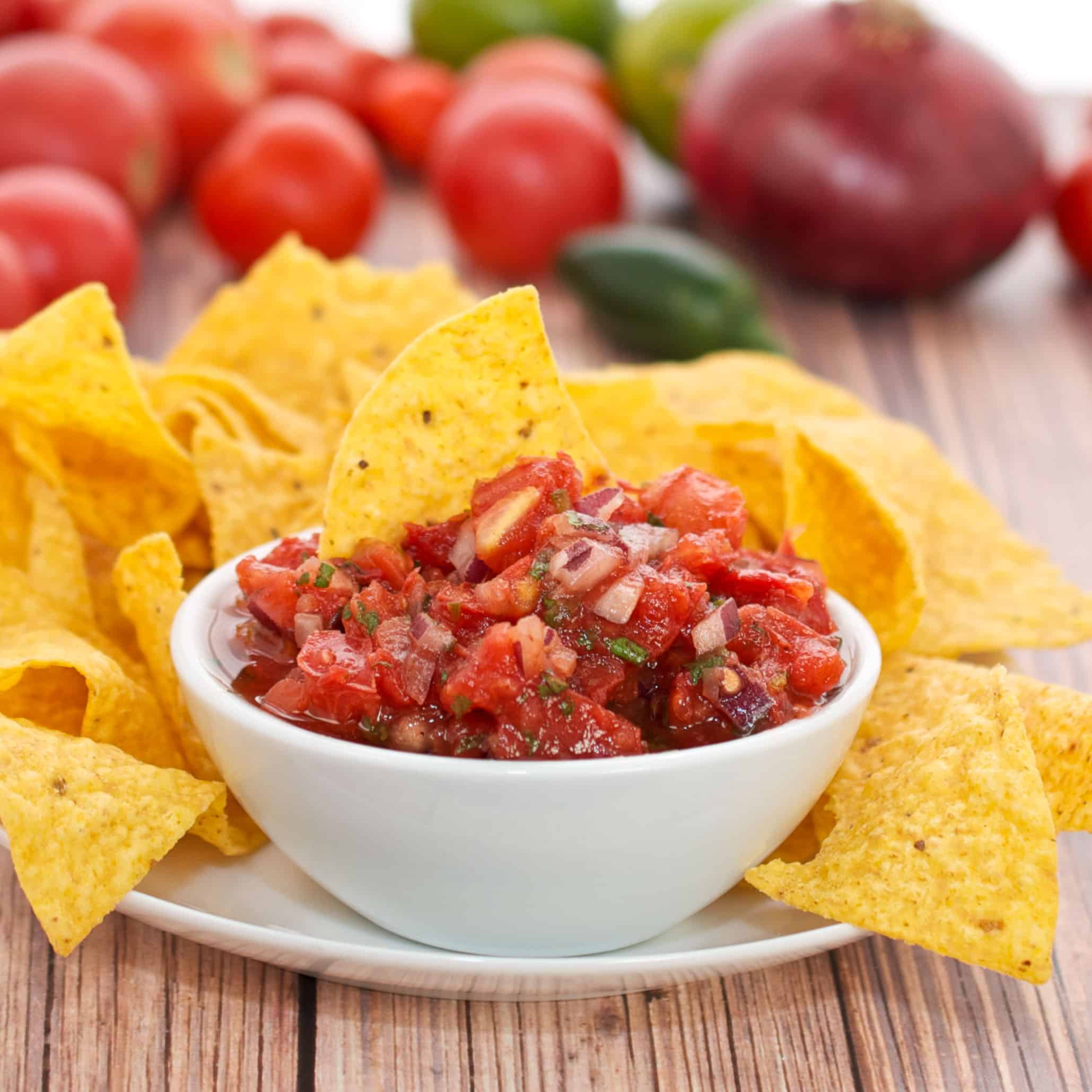 Serve this Thick and Chunky Salsa recipe at all your events and parties. When you make this fresh vegetable salsa, it will practically disappear before your eyes because it's so good. Made with fresh tomatoes, red onions, jalapenos, cilantro, chili powder, and lime, you are sure to fall in love with this homemade salsa.
Scroll to bottom for printable recipe card.
Thick and Chunky Salsa
We continue enjoying many games of College Football, which means more delicious Football bites! Today's recipe is a tailgating staple at our house-Thick and Chunky Salsa. I can't even begin to tell you how much salsa we go through from September until the end of November…it's ridiculous! 🙂 This time of year, I make salsa at least twice (sometimes three times) a week with our homegrown tomatoes. I love how versatile homemade salsa can be. Add in another onion here…more jalapeños here…a dash of chili powder there. It's totally up to you!
Store-bought salsas are always loaded with tons of sodium and contain preservatives, so making your own salsa recipe is not only a good idea, but it always tastes so much better! I promise once you try making salsa at home, you won't be purchasing store-bought jars of salsa ever again.
Storing Leftover Salsa
If you end up with leftover salsa, you can store it in an airtight container. It's best to use glass, but plastic will work as well. It will last up to two-five days in the fridge. Be sure to check it over if it's been in there much longer than that. Keep in mind it's not filled with preservatives, so it's not going to last as long as store-bought salsa lasts.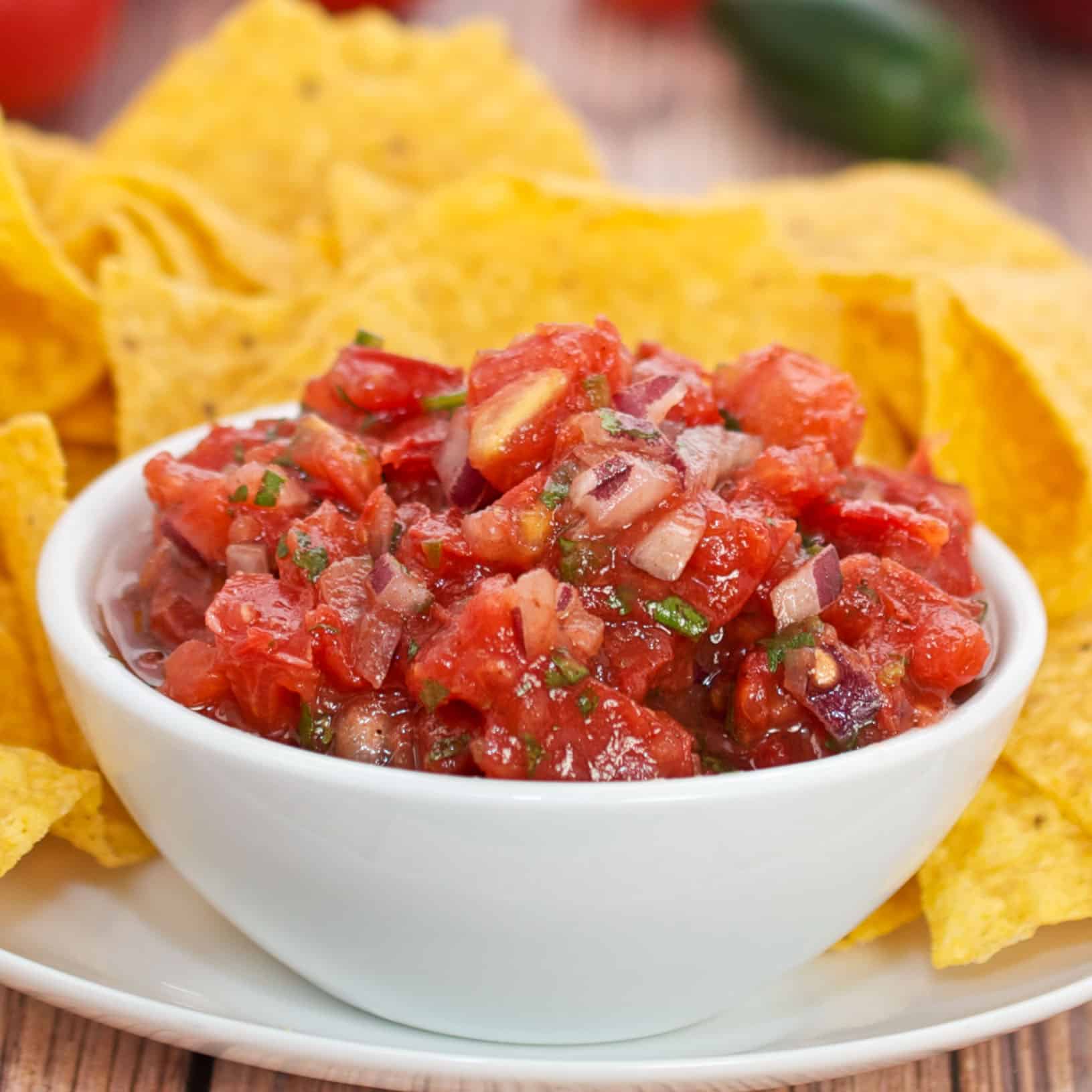 How to Make A Chunky Salsa
The most important step to making a chunky salsa is to not over-process the ingredients. If you mix them for too long, they will turn into a liquid instead of being chunky. So, keep that in mind when you are mixing it.
Variations to Recipe
As usual, there are several options when it comes to variations for this thick and chunky salsa recipe. Try out some of these lovely ideas:
Garlic – Add 1-4 cloves of minced garlic to the salsa. It enhances the flavor even more and goes wonderful with the other ingredients.
Canned Tomatoes – If you don't have fresh tomatoes that are in season, you can swap them for canned if you'd rather. They are super flavorful and a lovely option.
Green Onions – Slice up some green onions and mix them into the homemade salsa. Just add as much as you want.
Sugar – If you want to add a bit of sweetness, sprinkle in a teaspoon or so of sugar. It's a tasty option that will balance the acid in the tomatoes.
Green Chiles – Use a can of your favorite green chiles. They can be as spicy as you want.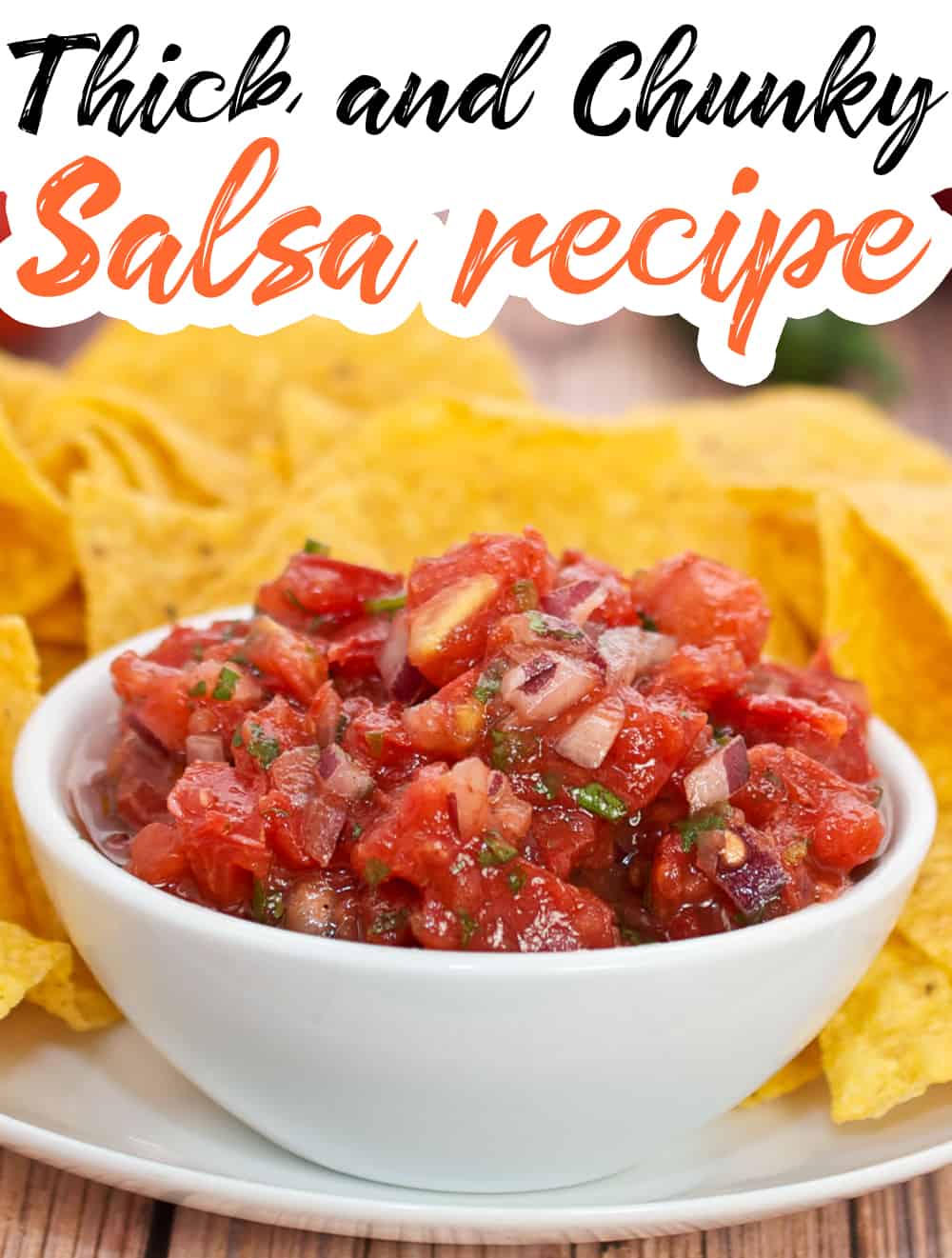 How to Serve Up This Salsa
You can serve this salsa in a bunch of different ways. Here are a few ideas that I think you will enjoy:
Chips – The most obvious way to serve homemade salsa is by including chips with it. They can be regular store-bought tortilla chips or homemade.
Steak – One of my favorite way to use salsa is to add it on top of a big, fat, juicy steak. It's a tasty dinner that is elegant and fancy.
Baked Potatoes – One amazing meal idea is to serve a large baked potato with some fresh salsa on top. So delectable!
Taco Salad – If you love to eat taco salads, why not add some of your new thick and chunky salsa on top. It tastes so awesome and adds some color to your meal as well.
Can You Can Chunky Salsa
Yep, of course! Canning homemade chunky salsa is a great way to extend the life of it. It will last 1 – 1 1/2 years when you can it. You will need to make sure you have the proper equipment to can it, but it's well worth researching.
Ingredients
There are only seven ingredients for this thick and chunky salsa. They are all healthy, flavorful, and will make you feel so good about eating it. Let's get started because I am sure you are going to want to make this soon.
Ripe tomatoes, cored, seeded, and chopped
Salt
Small red onion, chopped fine
Jalapeño chile, seeded and minced
Chopped fresh cilantro leaves
Chili powder
Lime juice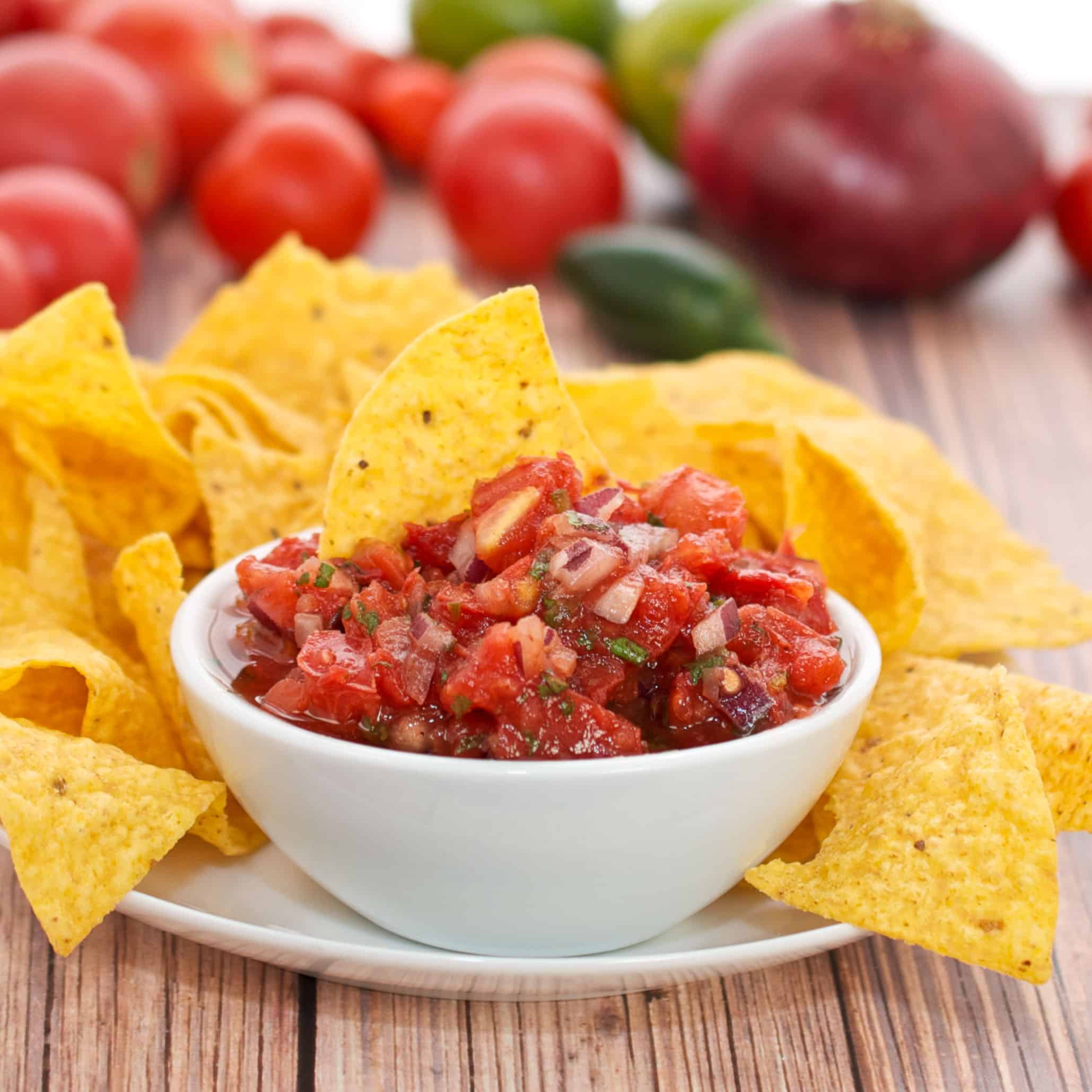 How to Make Thick and Chunky Salsa
Even if you've never made homemade salsa before, you shouldn't have any trouble with this recipe. It's seriously so easy, and even a beginner can throw together this recipe. I am so excited to be FINALLY sharing it with you. Here are the easy directions to follow:
First Step: Begin by putting the tomatoes in a mesh strainer over a bowl. Then add the salt. Allow the tomatoes to sit for 30 minutes so the liquid will come out of the tomatoes. Toss the liquid that comes out.
Second Step: Mix together the chopped red onions, minced jalapenos, fresh cilantro, lime juice, and chili powder. Use a medium bowl and mix well.
Third Step: Then place 1/3 of the drained tomatoes in the food processor. Puree the tomatoes and add them to the bowl with the other ingredients. Toss well and let the salsa rest for 1 hour so the seasonings can really form the flavors properly.
Now, remember to save this recipe on Pinterest for later 🙂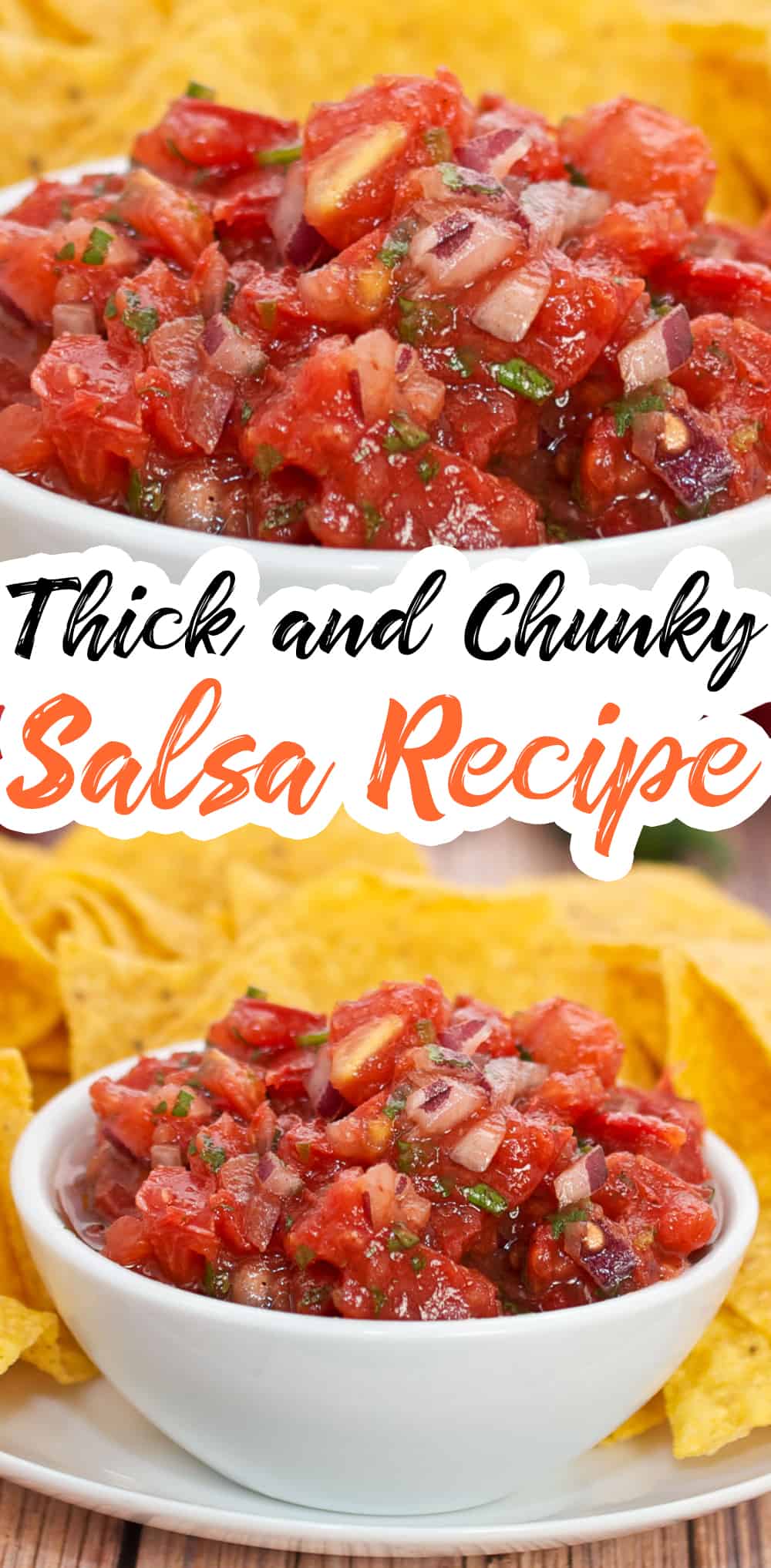 Pin this recipe now to remember it later
Thick and Chunky Salsa
Made with fresh tomatoes, red onions, jalapenos, cilantro, chili powder, and lime, you are sure to fall in love with this homemade salsa.
Ingredients
2

pounds

ripe tomatoes

,

cored, seeded, and chopped

1/2

small red onion

,

chopped fine

1

jalapeño chile

,

seeded and minced

1/4

cup

chopped fresh cilantro leaves

3/4

teaspoon

chili powder
Want to save this recipe? Enter your email below and we'll send the recipe straight to your inbox!
NOTE: By saving this recipe, you agree to join our weekly recipes newsletter.
Instructions
Place tomatoes in fine mesh strainer set over a large bowl and sprinkle with salt; let drain 30 minutes. Discard liquid. Meanwhile, combine remaining ingredients in medium bowl.

In the bowl of a food processor fitted with the metal blade, process one-third of drained tomatoes until smooth. Transfer puree to bowl with onion mixture and add remaining drained tomatoes to bowl. Toss to combine. Allow salsa to sit at room temperature for 1 hour to develop flavors before serving. (Salsa can be refrigerated in airtight container for 2 days.)
Follow me on Pinterest for daily delicious recipes!
I have several other yummy recipes with your name on them. Whether you are throwing a game night or just want something delicious, these are what you need:
Pico de Gallo Salsa with Sweet Potatoes – This is a fun and unique salsa recipe that I have a feeling you aren't going to be able to get enough of. Be sure to dig into a batch!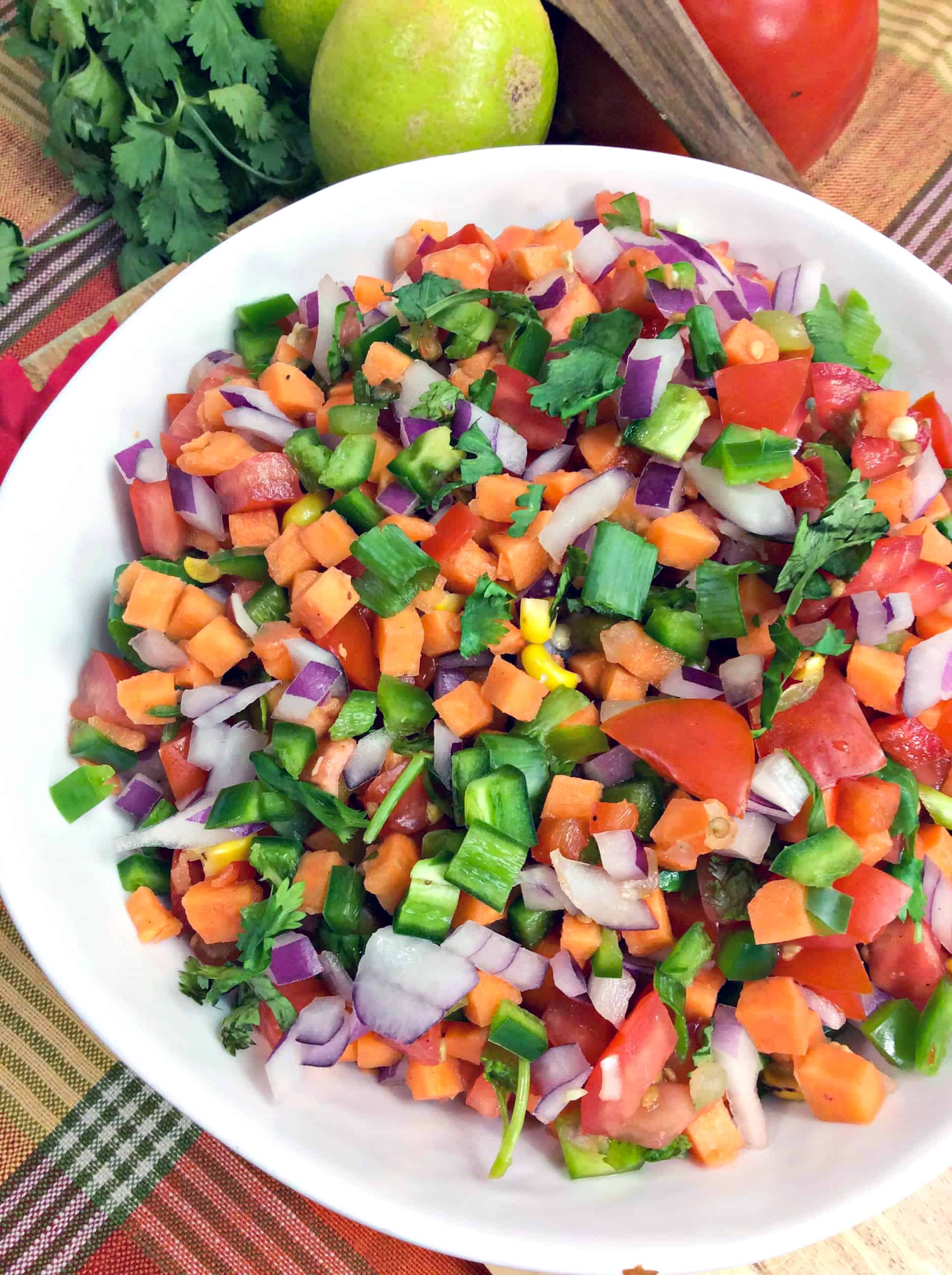 How To Make Zesty Fresh Cucumber Salsa – If you are looking for something incredible, try this fresh salsa. It's a real game-changer!
Instant Pot Salsa Chicken Taquitos – I have a feeling you are going to go wild for these taquitos. They are delicious and easy to make too.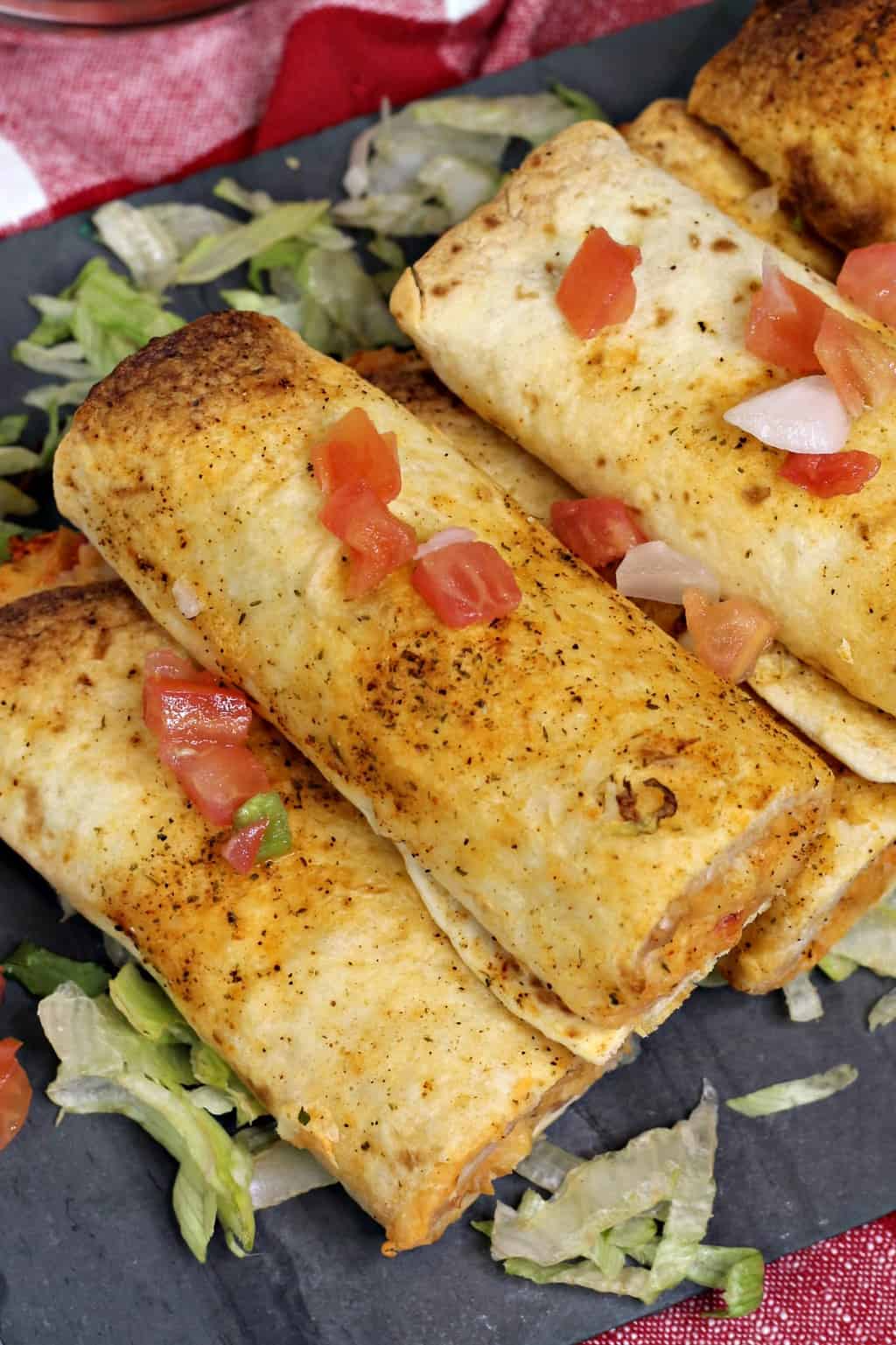 Greek Chicken and Feta Tomato Salsa – I can't help but drool when I think about this brightly colored salsa recipe. So darn good!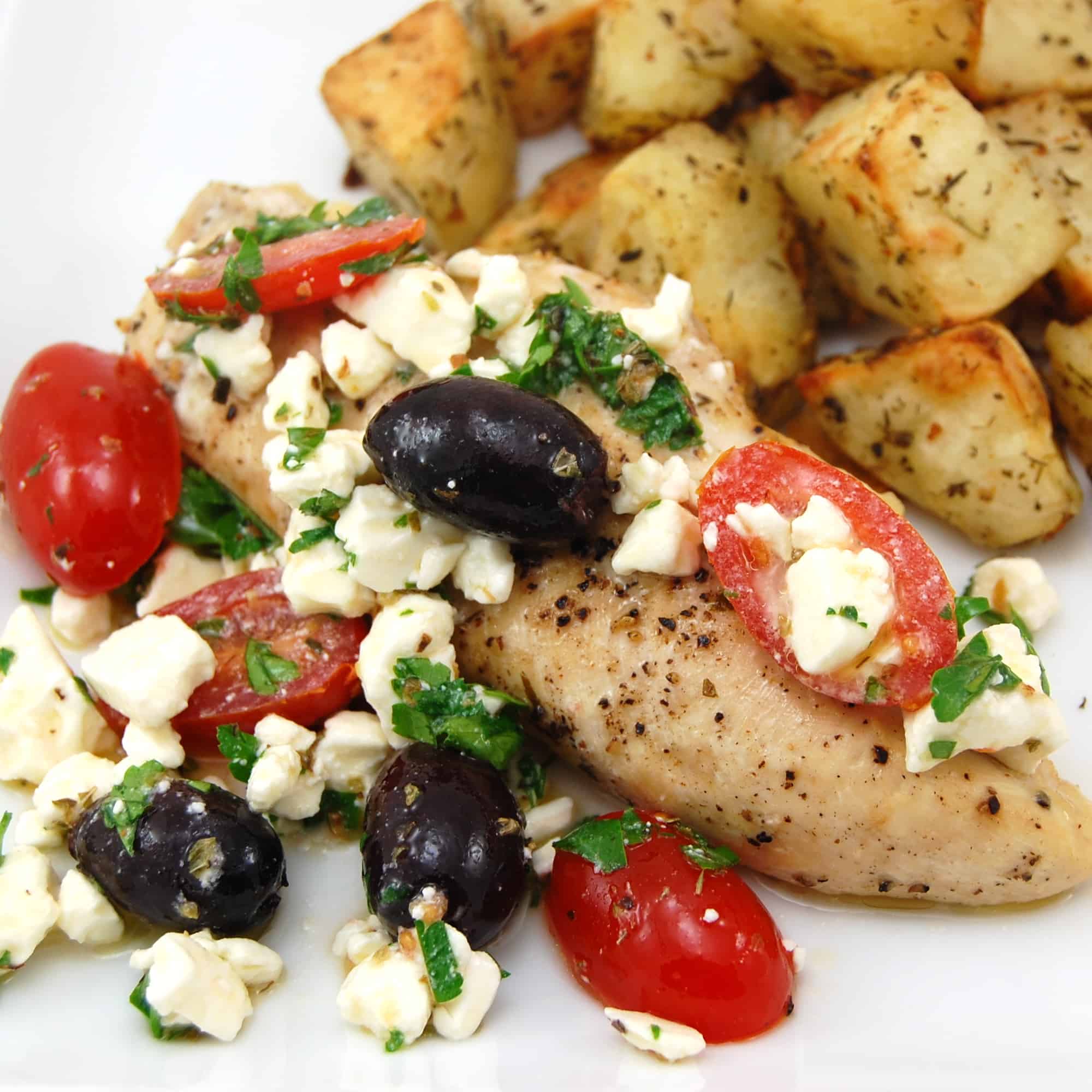 Get new recipes weekly plus our FREE ebook!