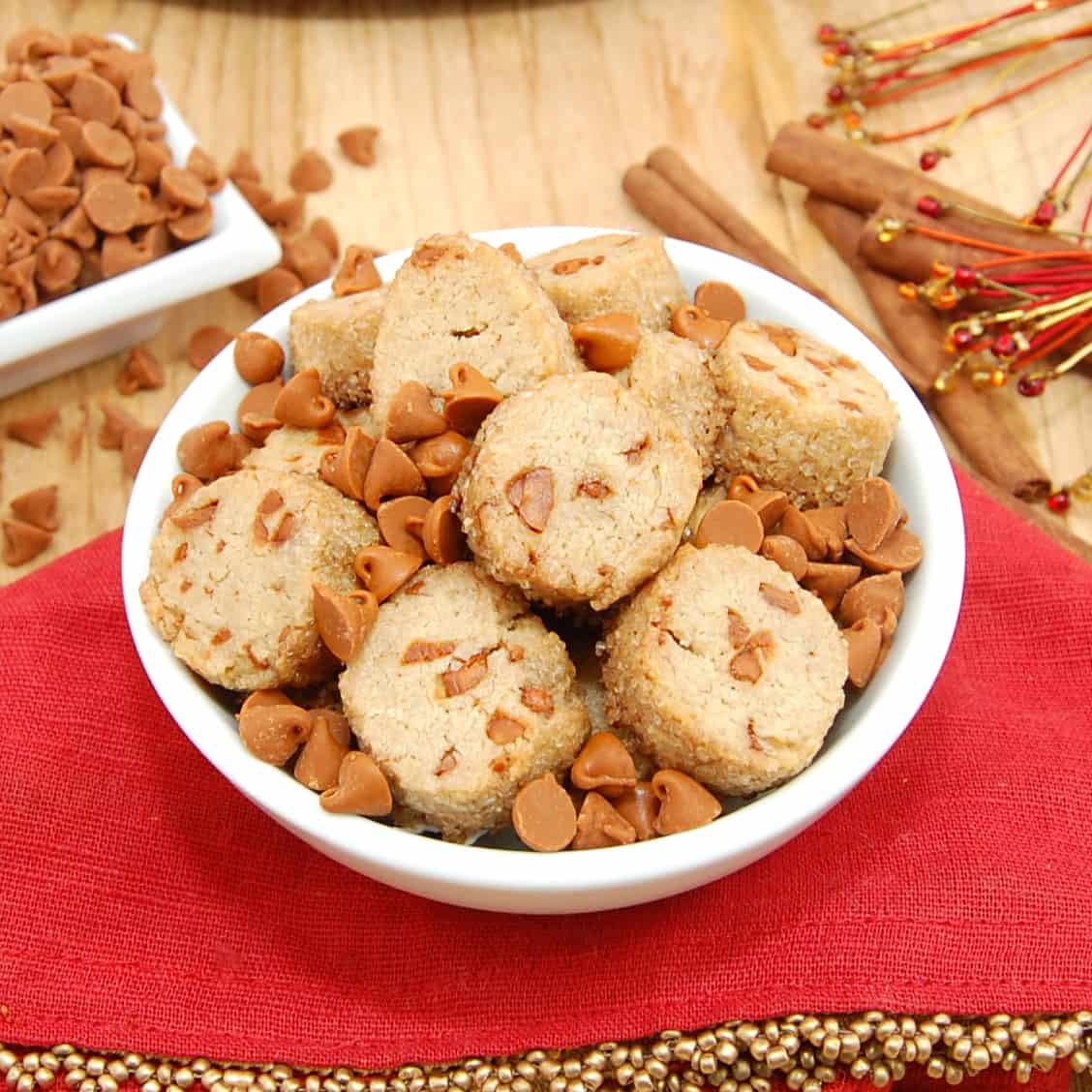 Crispy Cinnamon Cookies are crunchy, spicy, and absolutely delicious. Every bite of these cinnamon chip coin cookies will leave you wanting the next cookie. They are easy to make and great for any occasion.
Scroll to bottom for printable recipe card.
Crispy Cinnamon Cookie Recipe
If you love the taste of cinnamon, then you are going to love these slice-and-bake icebox cookies. Packed with cinnamon chips, these snappy, spicy cookies are so small you'll be tempted to eat them by the handful! I was so excited to find cinnamon chips at the grocery store over the weekend. I have had several recipes bookmarked that called for cinnamon chips, but I couldn't find them anywhere.
As I was walking down the baking aisle at my local Schnucks, I spotted them! I picked up a few bags, so excited thinking about all the different recipes I could add them to cookies, cakes, muffins, and bread. If you have never baked with cinnamon chips before, they bake just like chocolate chips- they are melty when warm, then firm up as they cool. Use them anywhere you'd use chocolate chips for delicious cinnamon flavor.
In this recipe, the cinnamon chips are chopped so that when you slice the cookies, they won't drag through the dough, causing them to crumble. These icebox cookies, also known as refrigerator cookies, are great for unexpected holiday guests and for holiday parties. Baking cookies doesn't get much easier than this- just mix, roll, and chill. Store in the refrigerator until the craving hits, then just slice and bake. The chilled dough can be sliced off, just one or two cookies at time-perfect portion control! 😉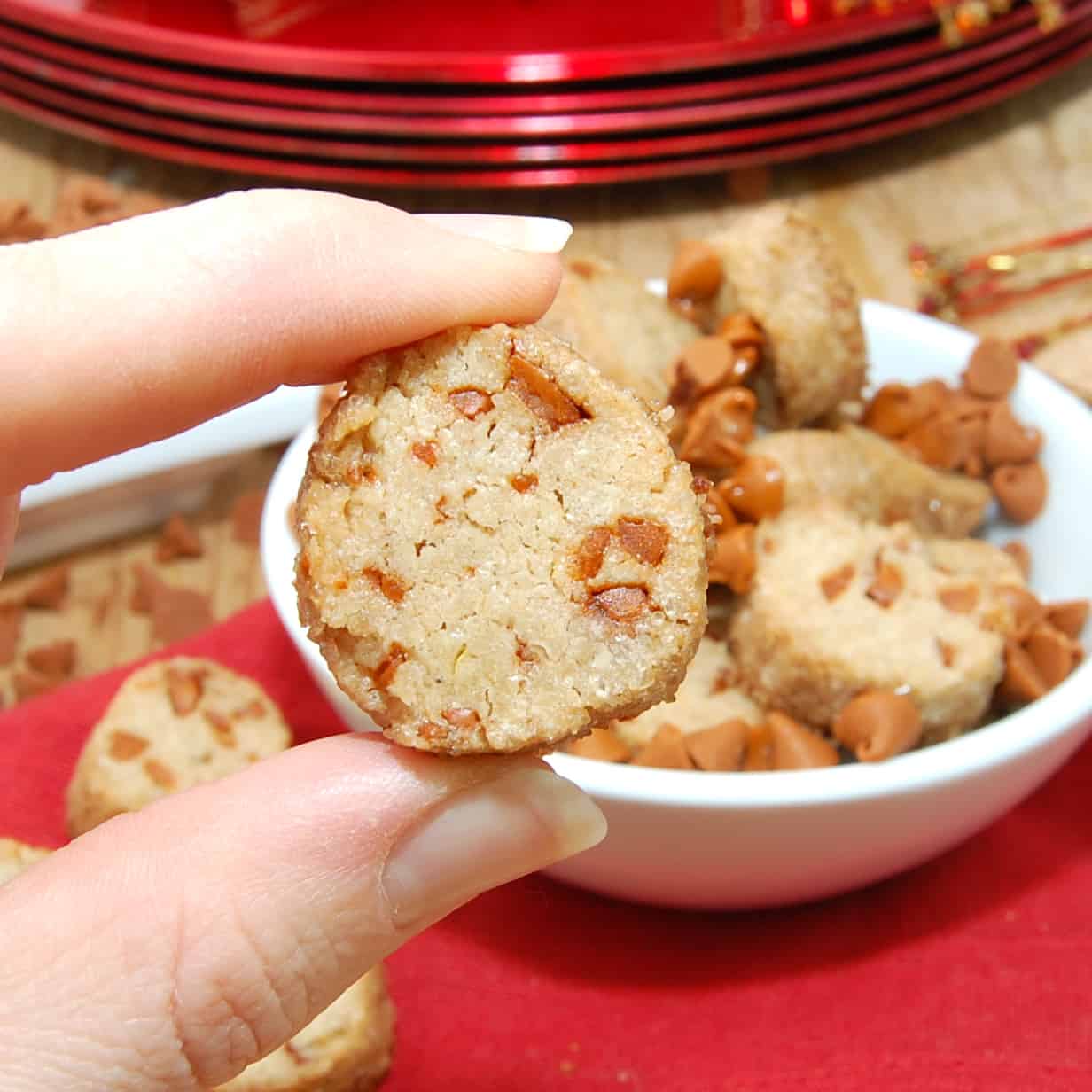 Why Do You Refrigerate Dough
Refrigerating the easy homemade cinnamon chip cookies dough is an important step that shouldn't be skipped. Chilling the dough keeps the cookies the perfect texture every time. If you skip chilling the dough, the cookies will spread a lot, and you will have flat, lackluster cinnamon cookies.
How to Know Cookies Are Done
The cookies are done when they have a golden-brown color and are slightly crispy. They should be set up in the centers and not raw. The edges should be firm too. You can lightly touch the top of the cookies, and if you don't leave an indention, then they are finished baking and can be removed from the oven.
How to Store Cinnamon Cookies
After the easy homemade cinnamon chip cookies are finished baking, let them cool down to room temperature. If you don't cool the cookies before storing, you will have condensation that builds up, and they will be wet and mushy. No one likes cookies like that! Place the cooled cookies inside of a food storage container. They will last at room temperature for 3-4 days.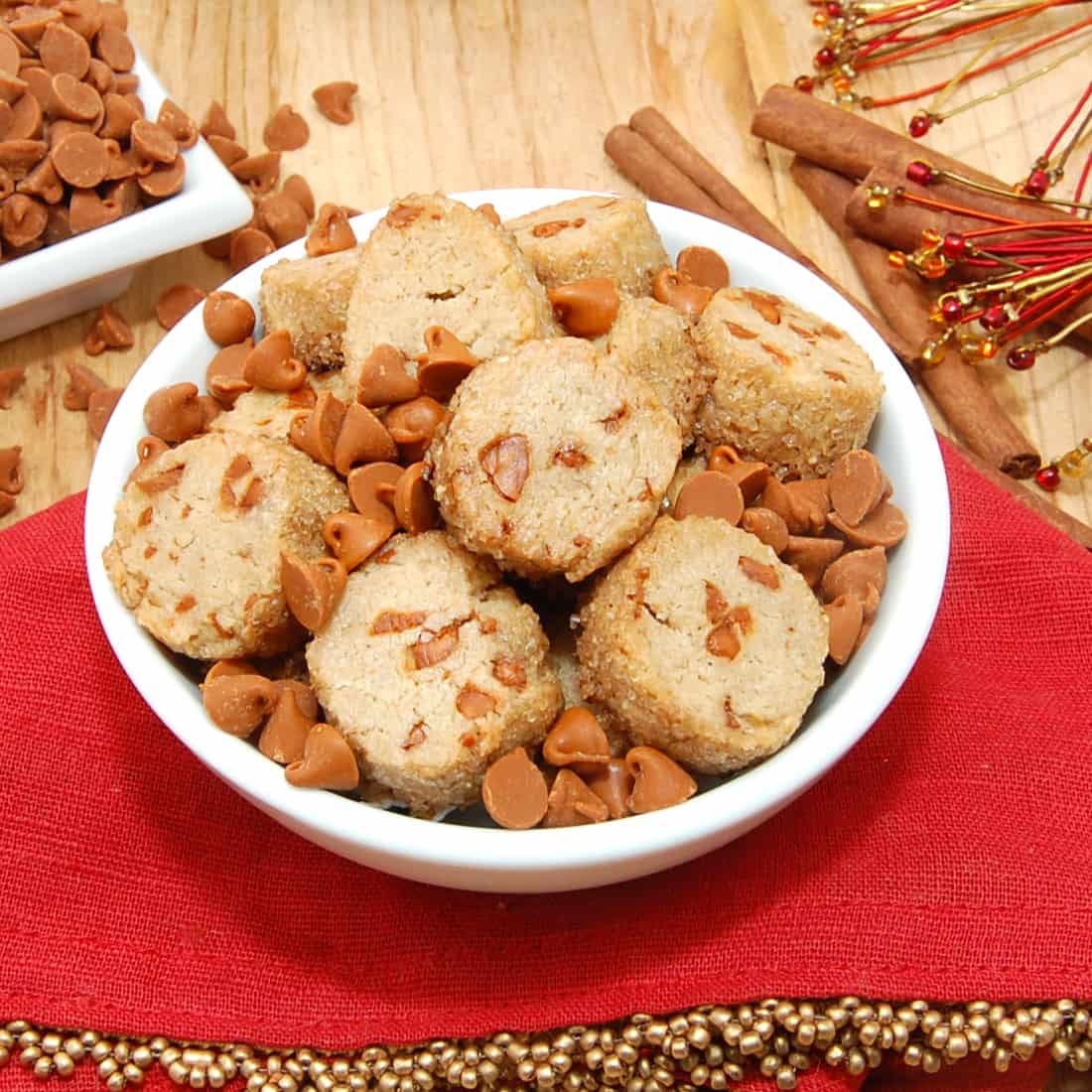 Can You Freeze Raw Cookie Dough For Baking Later
Yep! Freezing raw cookie dough is a great way to have it on hand whenever you need it. You can roll the dough into a log and cut off slices of dough when you are ready to bake. Or another option (and my favorite) you can roll the cookie dough into balls. Then put them on a baking sheet and flash freeze them for 1-2 hours. Once frozen, take them off of the pan and put them into a freezer bag. Then you can simply grab out the cookie dough balls that you want to make. The crispy cinnamon cookie dough will last in the freezer for up to three months. When baking the cookies, you will need to bake them for 1-2 hours longer. There is no need to thaw the cookie dough.
Can You Freeze Cooked Cookies
Absolutely! When you bake the cookies and let them cool, you can put them in a freezer bag or another freezer safe food container. The cookies typically last in the freezer for 2-3 months. Thaw and enjoy whenever you are in the mood for a super sweet and yummy treat.
Ingredients
You only need 10 ingredients to make these crispy cinnamon cookies. They are so simple to make.
Unsalted butter softened
White granulated sugar
Egg
Cinnamon
Salt
Vanilla extract
Lemon zest
All-purpose flour
Cinnamon chips, coarsely chopped
Turbinado sugar, for rolling
How to Make Cinnamon Cookies
First Step: Begin by adding the paddle attachment to your stand mixer. Then take the butter and beat it in the mixer until it becomes super creamy. Then add in the granulated sugar and continue to beat until it's fluffy and light. This typically takes around 3 minutes. Then beat in the egg. Sprinkle in the cinnamon and salt. Mix in the vanilla and lemon zest. Slowly add the flour mixture until it's combined. Then gently fold in the cinnamon chips and divide the cookie dough in half.
Second Step: Take the turbinado sugar and sprinkle it on your work surface. Shape the dough into a rope that is around 18-20 inches long, then roll it into the dough. You may need to add more sugar if the dough is too sticky. Wrap the cookie dough in a piece of plastic wrap and chill for 1 hour or even overnight until the dough is firm. The longer the dough is in the fridge, the easier it is to slice.
Third Step: Heat up the oven to 350 degrees and line the baking sheets with parchment paper. Take the dough out of the fridge and remove the plastic wrap. Slice it into 1/2 inch slices and put them one since apart on a cookie sheet. Continue the process until the cookies are added to the baking sheet. Bake the cinnamon cookies for 15 minutes. They will be crispy and golden when they are done. Let the cookies sit on the baking sheet for 5 minutes, then remove them and put them on a cooling rack.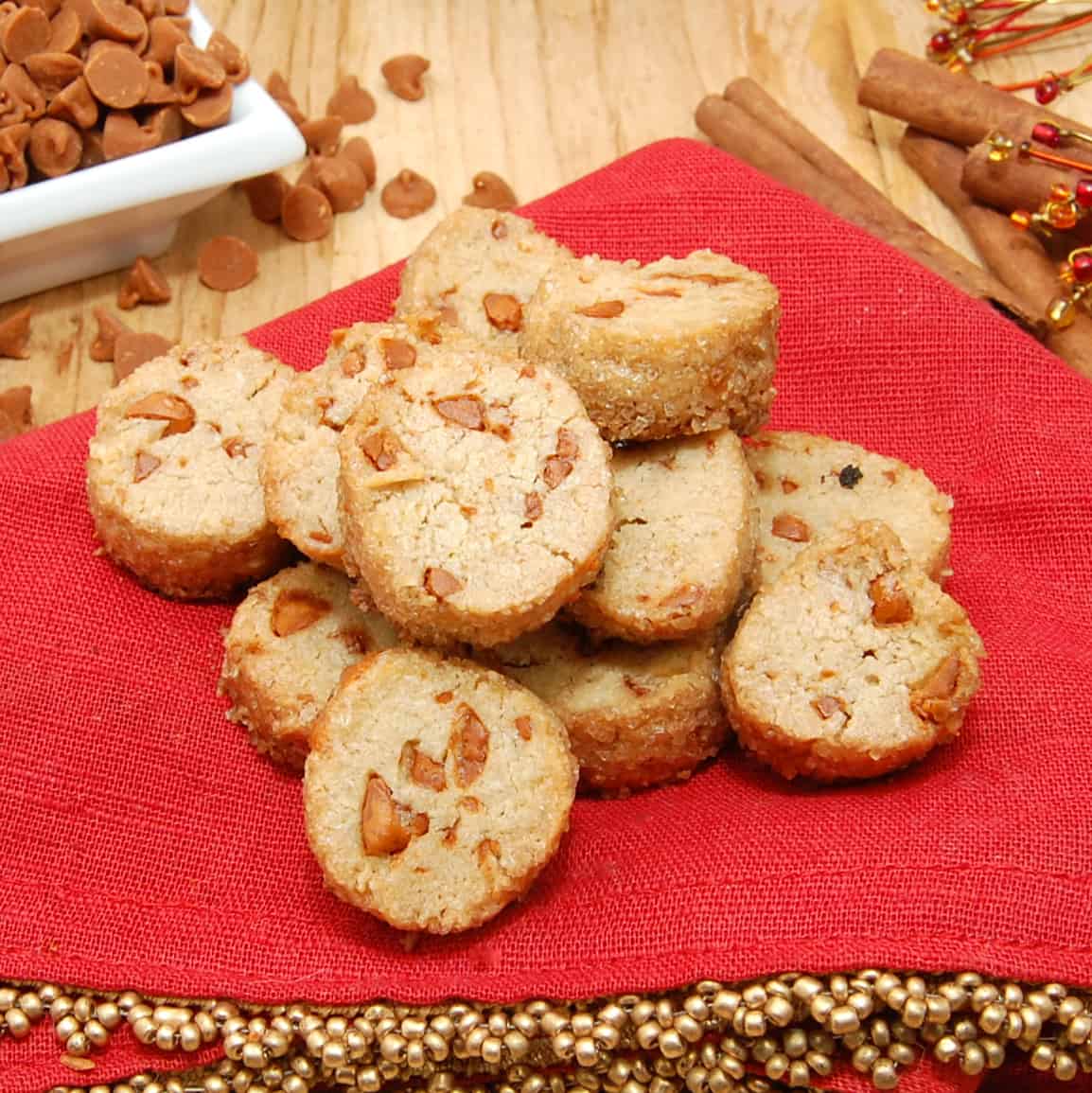 Now, remember to save this recipe on Pinterest for later 🙂
Pin this recipe now to remember it later
Crispy Cinnamon Coins
Servings:
80
(1-inch) cookies
Crispy Cinnamon Cookies are crunchy, spicy, and absolutely delicious. Every bite of these cinnamon chip coin cookies will leave you wanting the next cookie. They are easy to make and great for any occasion.
Ingredients
1

sticks

,

8 tablespoons unsalted butter, softened

1/4

teaspoon

vanilla extract

Minced zest of 1/2 a lemon

1 1/4

cups

all-purpose flour

Turbinado sugar

,

for rolling
Want to save this recipe? Enter your email below and we'll send the recipe straight to your inbox!
NOTE: By saving this recipe, you agree to join our weekly recipes newsletter.
Instructions
In the bowl of a stand mixer fitted with the paddle attachment, beat the butter until creamy. Add the granulated sugar and beat until light and fluffy, about 3 minutes. Beat in the egg, cinnamon, salt, vanilla and zest. Add flour and mix until just combined. Fold in cinnamon chips. Divide the dough in half

Generously sprinkle a work surface with turbindo sugar. Shape each half of dough into an 18-to 20-inch long rope and roll in the sugar, adding more sugar as needed to prevent sticking. Wrap each piece in a large sheet of plastic wrap and chill until firm, at least 1 hour or overnight. (The colder the dough the easier it will be to slice).

Preheat the oven to 350°. Line 2 baking sheets with parchment paper. Unwrap 1 piece of dough. and slice into 1/2-inch-thick slices, spacing 1 inch apart on prepared baking sheet. Repeat with the remaining piece of cookie dough. Bake the cookies for about 15 minutes, or until crisp and golden. Let cool on the baking sheets 5 minutes before transferring to a cooling rack to cool completely.
Nutrition
Serving:
1
g
|
Calories:
12
kcal
|
Carbohydrates:
2
g
|
Cholesterol:
3
mg
|
Sodium:
5
mg
|
Sugar:
1
g
Follow me on Pinterest for daily delicious recipes!
I have tons of awesome cookies with your name on it! Check these out for inspiration.
Almond Joy Cookies – These are so tasty and easy to make. Try them to see how much you love them.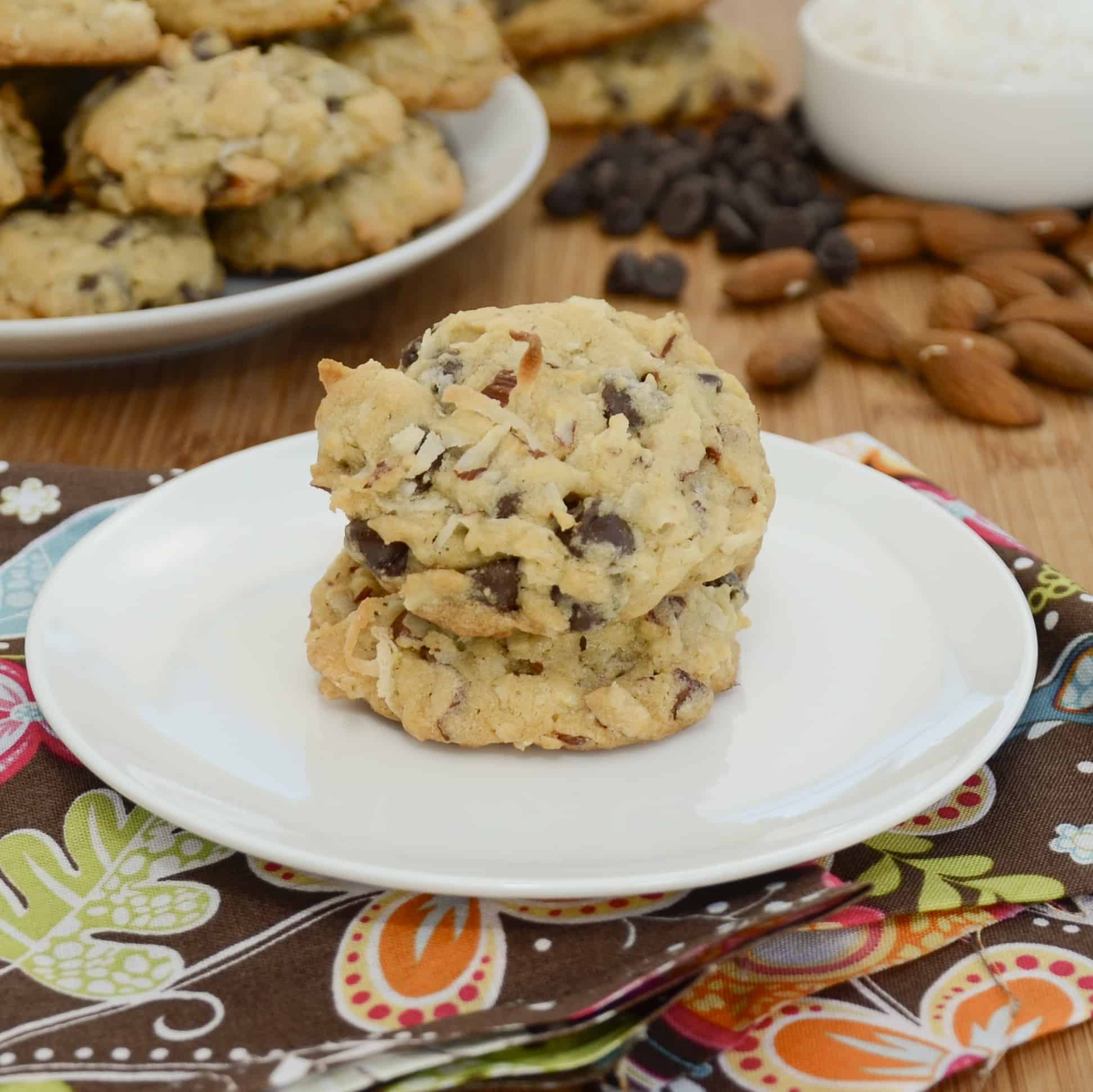 Toffee Brownie Cookies – When you want something that is a little bit extra, consider these toffee brownie cookies. They are awesome.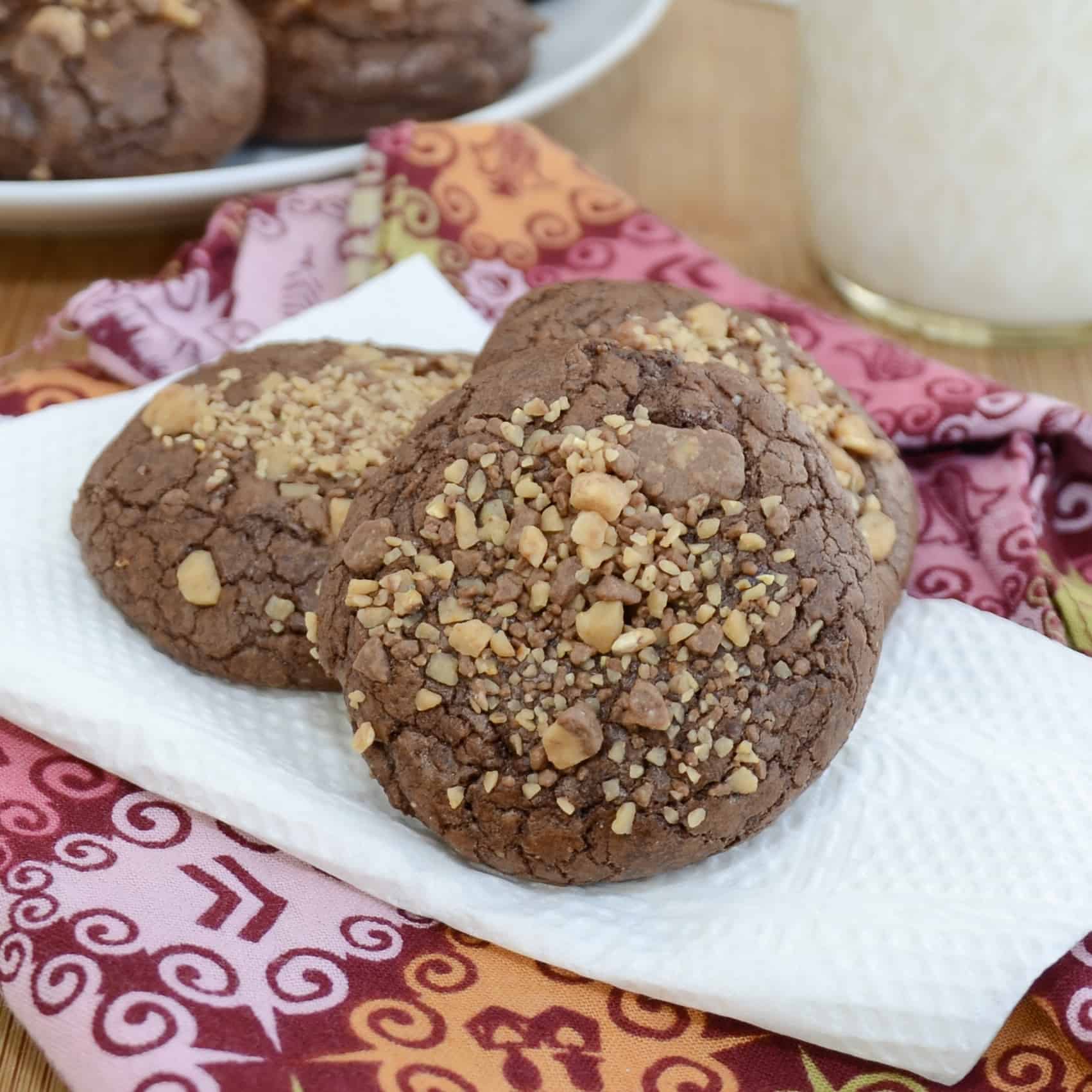 Key Lime Cookies – I love to make these when I am in the mood for something zesty. They are a lovely green color too.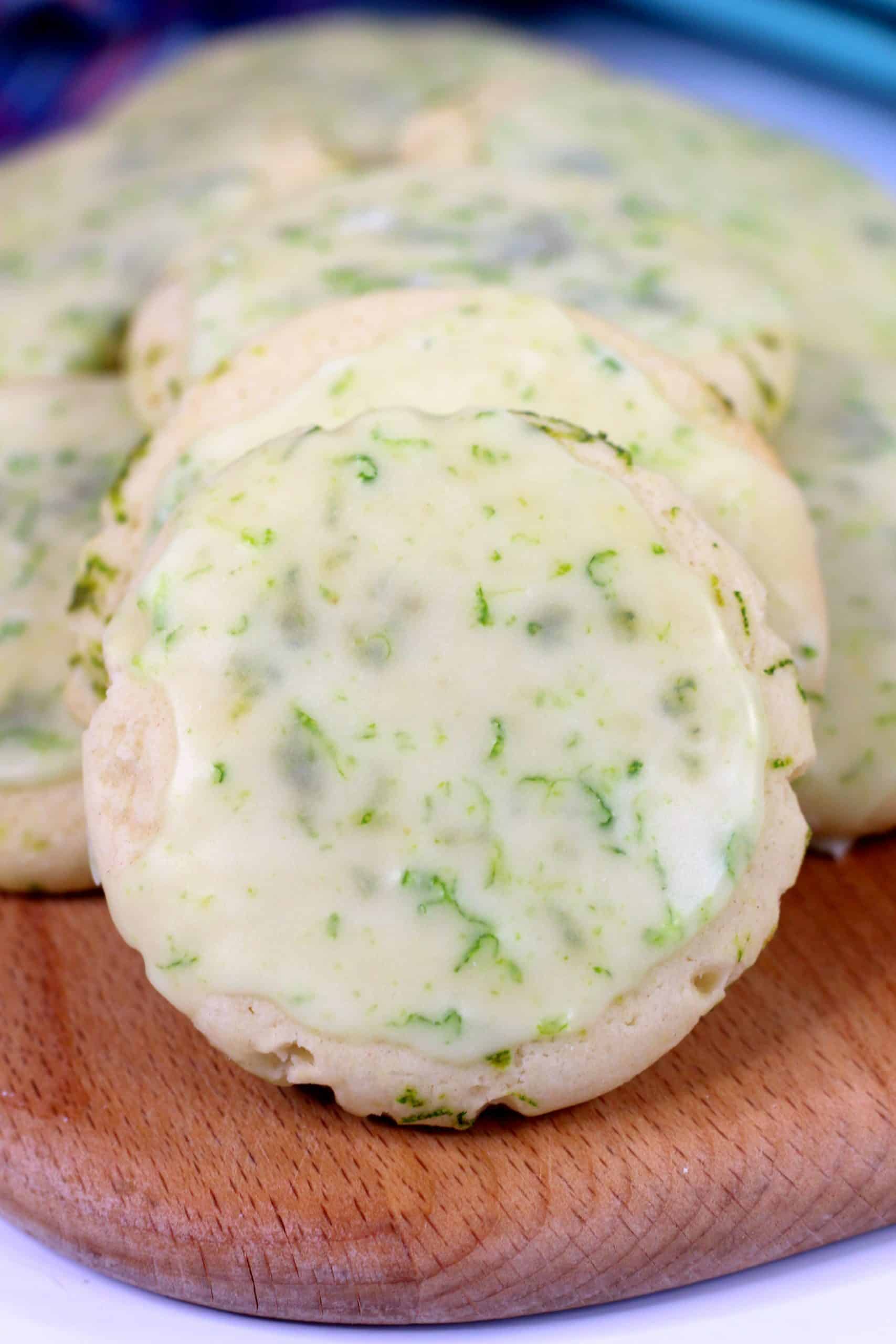 Oatmeal Chocolate Chip Cookies – The combination of chocolate and oatmeal is so tasty. Give these yummy cookies a chance, and you will fall in love.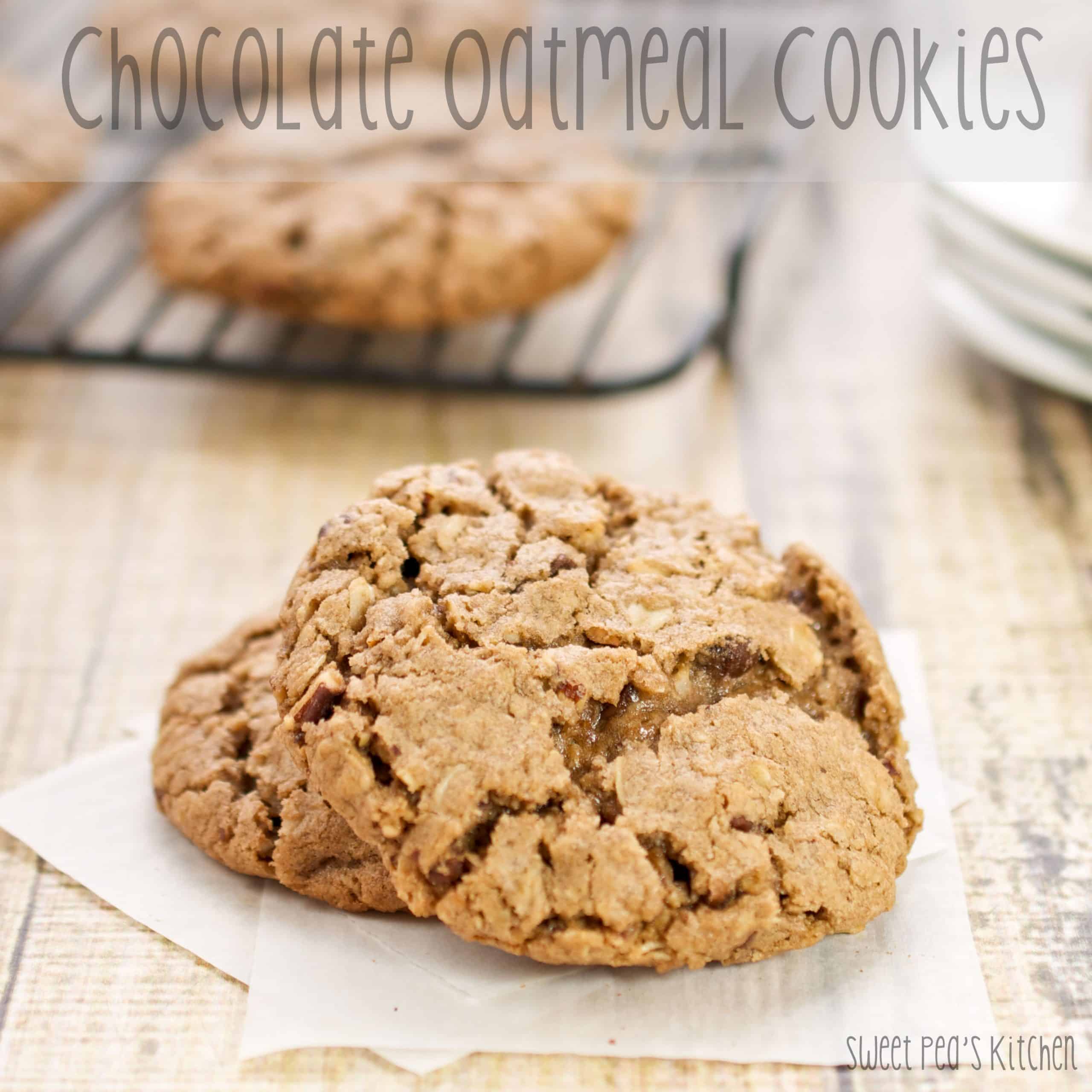 Get new recipes weekly plus our FREE ebook!