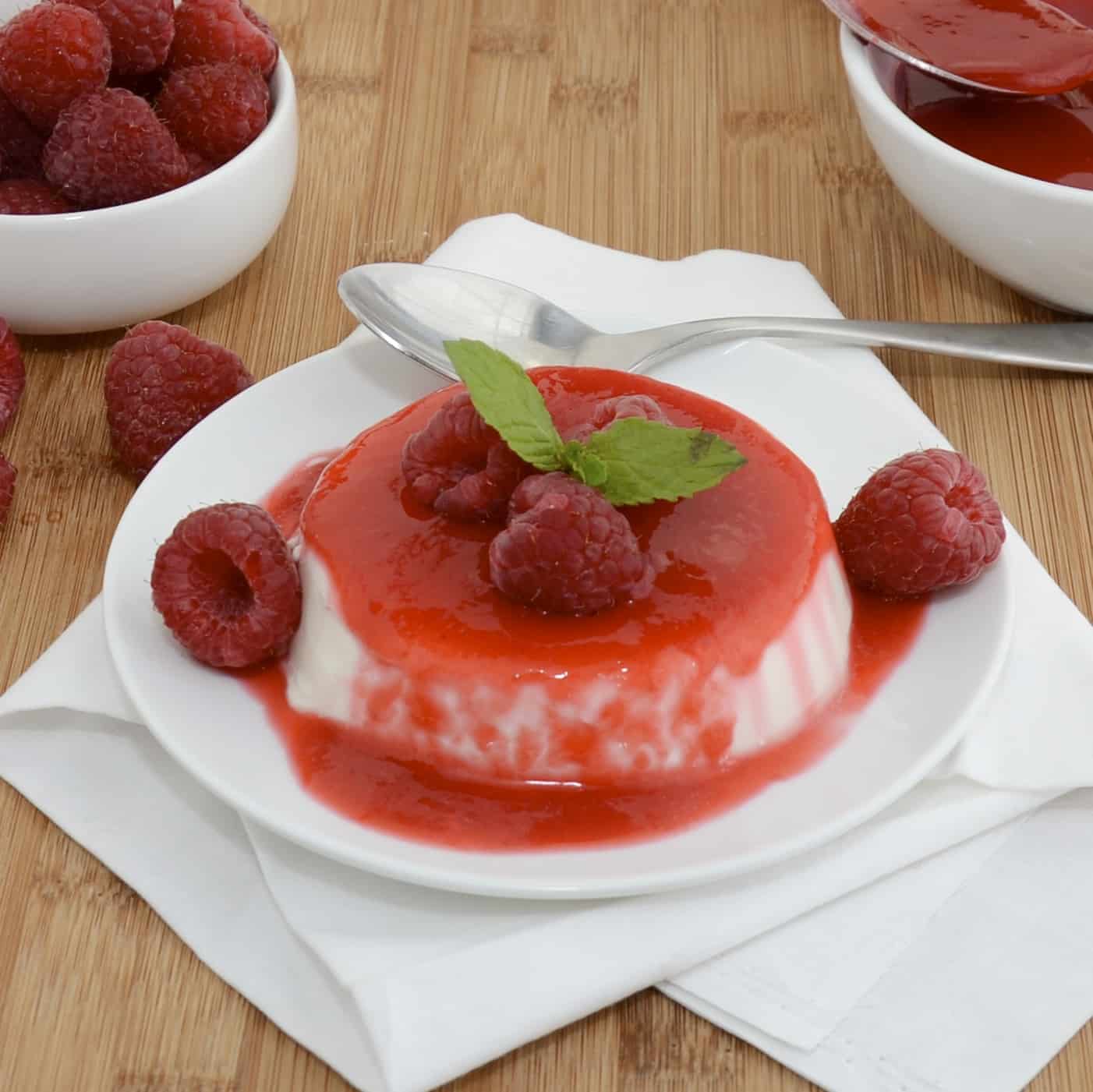 Up until a few days ago, I had never tried Panna Cotta, in fact I really don't ever remember seeing it on a dessert menu. Now I am sure that I have seen it on a menu before, but it was always overshadowed by a New York Style Cheesecake or Bread Pudding. 🙂
A few days ago Andrew and I had some friends over for an Italian inspired dinner party. I knew I wanted to serve a traditional Italian dessert but couldn't decide which one I wanted to make. I eventually decided on this Panna Cotta more out of curiosity than anything else. The result was incredible and nothing like I thought it was going to taste like. In case you are new to Panna Cotta like I was, it is a classic Italian custard dessert that is made from a lightly sweetened cream mixture that's set with a small amount of gelatin.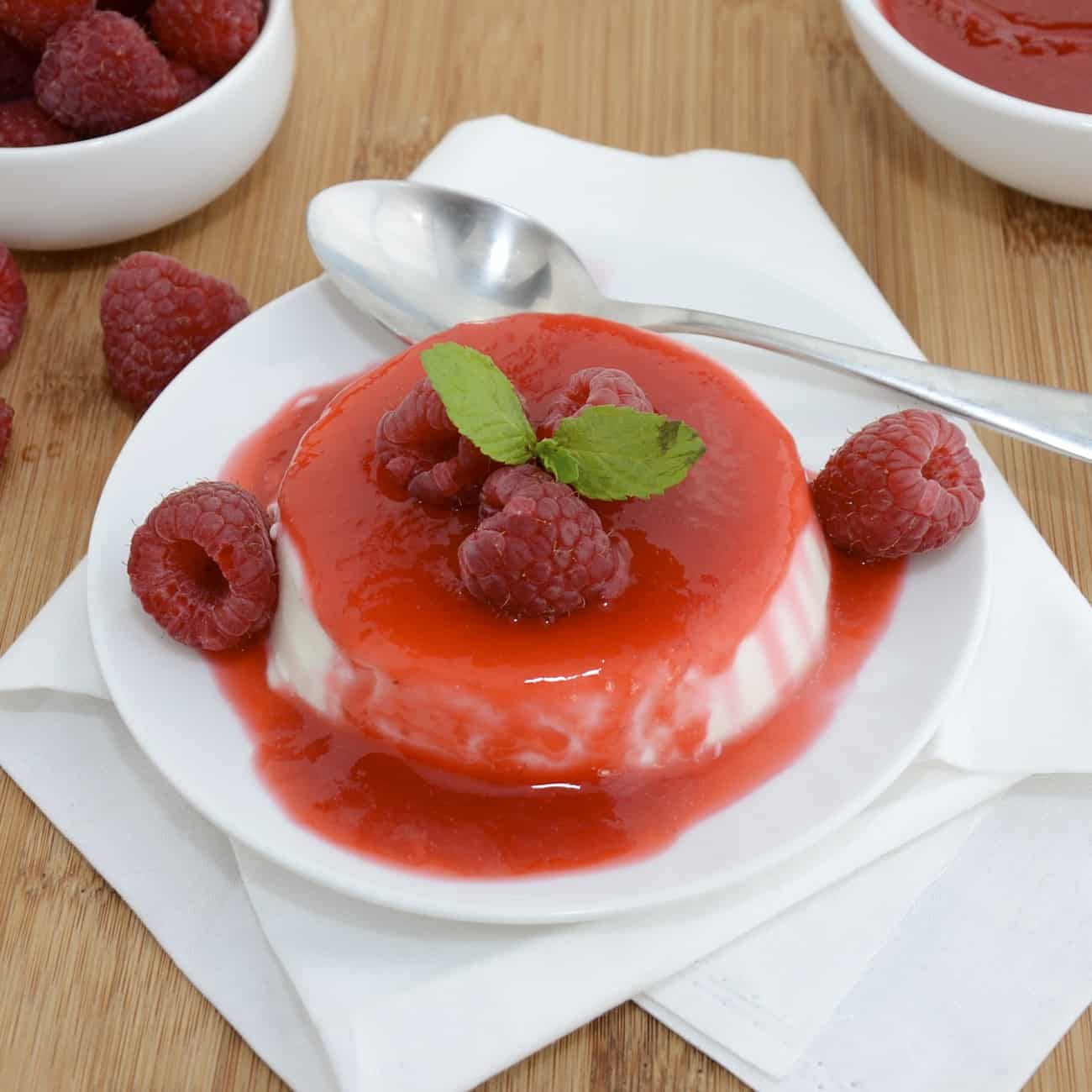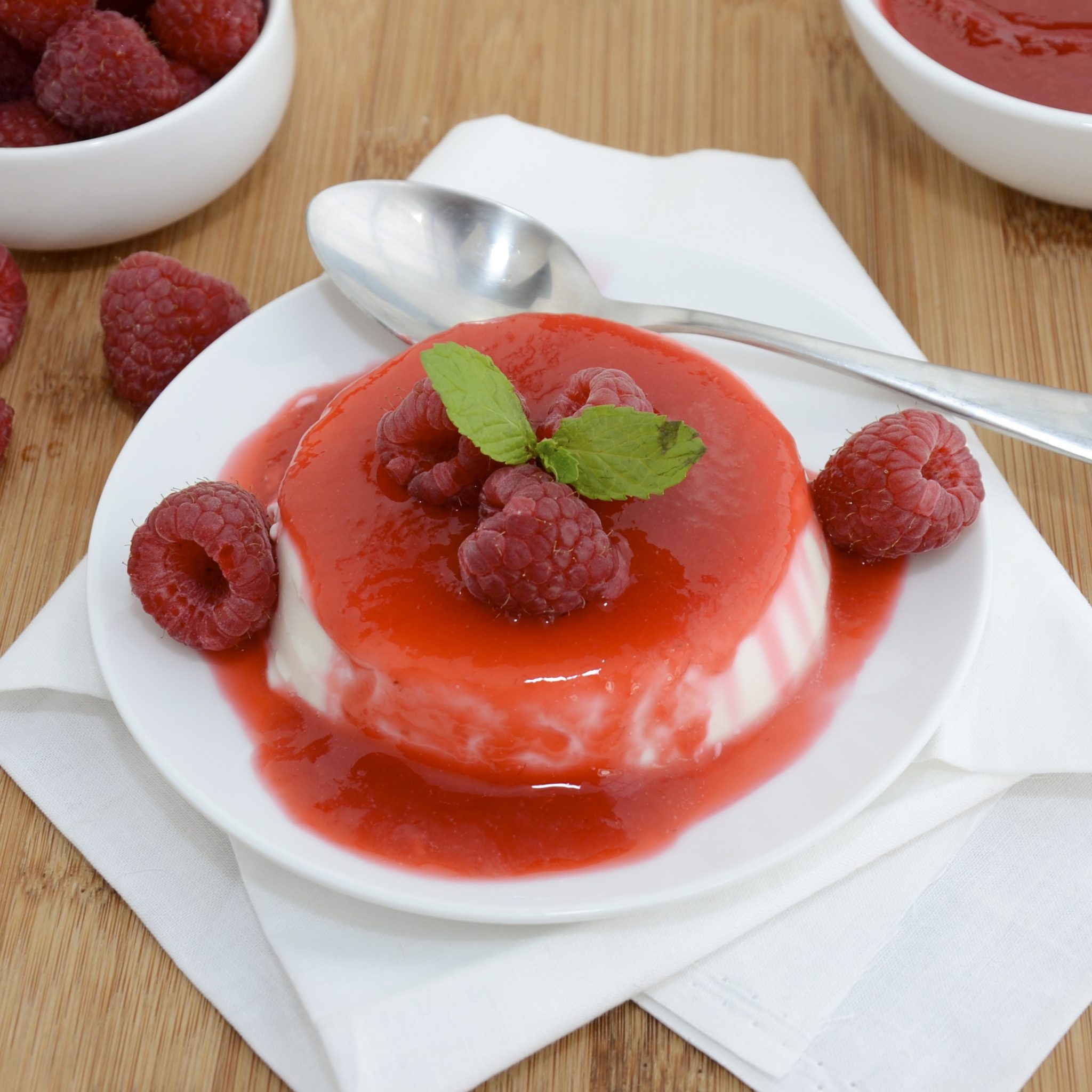 Unlike most custards that use eggs or starch to thicken the dessert, this recipe only uses gelatin. The result is a custard that has an unbelievably light and silky mouthfeel. Panna Cotta only takes minutes to prepare and can be made a day ahead of time, making it a wonderful choice for a dinner party dessert. Serve with Berry Coulis and fresh berries or a rich chocolate or caramel sauce.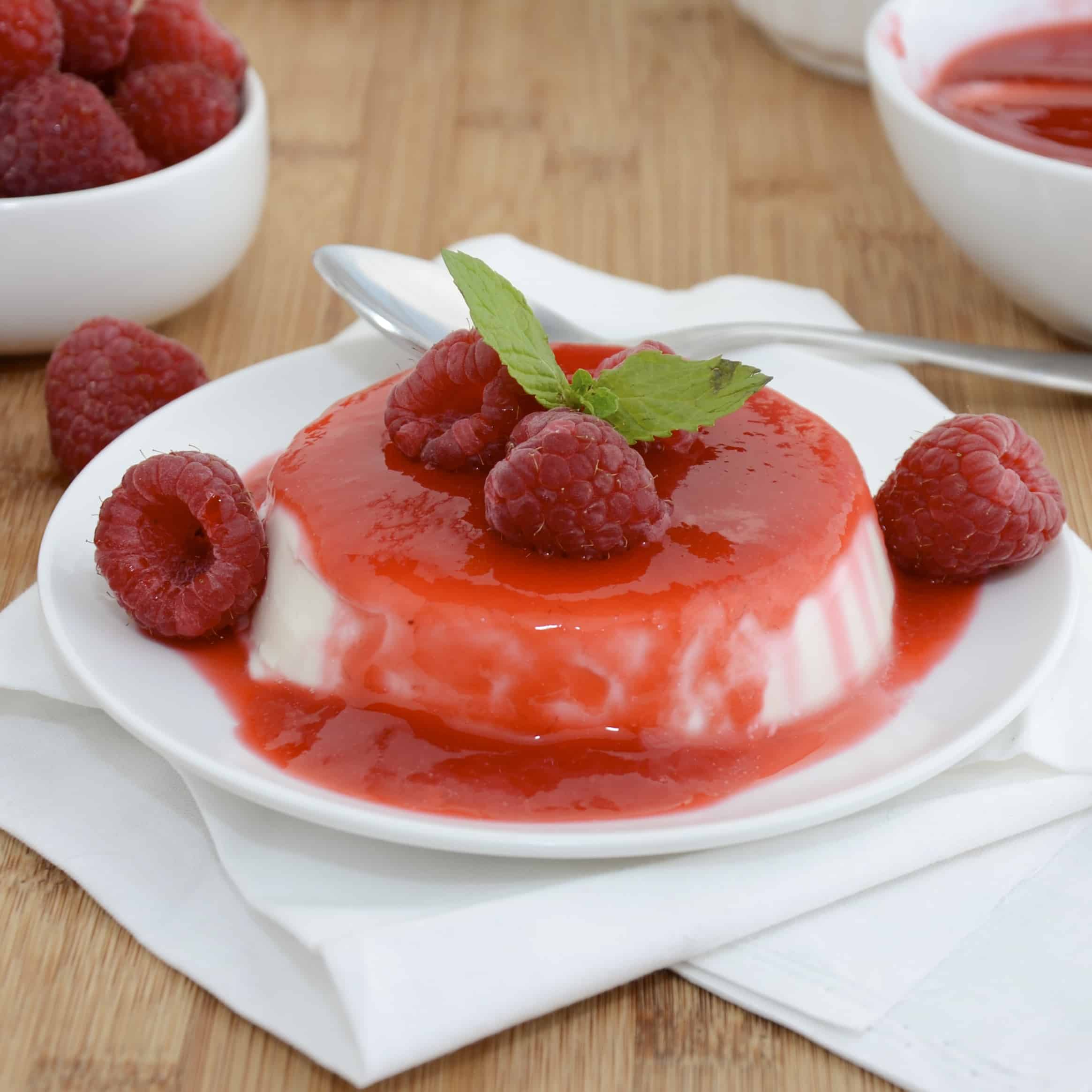 Pin this recipe now to remember it later
Ingredients
Ingredients:
2

inch

piece vanilla bean

,

slit lengthwise with paring knife (or substitute 2 teaspoons extract)

6

tablespoons

granulated sugar
Want to save this recipe? Enter your email below and we'll send the recipe straight to your inbox!
NOTE: By saving this recipe, you agree to join our weekly recipes newsletter.
Instructions
Pour milk into medium saucepan; sprinkle surface evenly with gelatin and let stand 10 minutes to hydrate gelatin.

Meanwhile, turn contents of two ice cube trays (about 32 cubes) into large bowl and add 4 cups cold water.

Measure heavy cream into a large measuring cup. With paring knife, scrape vanilla seeds into cream and place the pod in cream along with seeds; set aside.

Set eight 4-ounce ramekins on baking sheet; set aside.

Heat milk and gelatin mixture over high heat, stirring constantly, until gelatin is dissolved and mixture registers 135 degrees on instant-read thermometer, about 1½ minutes. Turn off heat, add sugar and salt; stir until dissolved, about 1 minute.

Stirring constantly, slowly pour cream with vanilla into saucepan containing milk, then transfer mixture to medium metal bowl and set the bowl over the ice water bath. Stir frequently until thickened to the consistency of eggnog and mixture registers 50 degrees on an instant-read thermometer, about 10 minutes. Strain mixture into large measuring cup and distribute evenly among ramekins. Cover baking sheet with plastic wrap; refrigerate until just set (mixture should wobble when shaken gently), 4 hours.

To unmold panna cotta, pour 1 cup of boiling water into a small bowl, dip one remekin at a time into the water, count to three, and lift the ramekin out of the water.

With a moistened finger, press lightly around the periphery of the cream to loosen the edges. Dip the ramekin back into the water for another three-count.

Invert the ramekin over your palm and loosen the cream by cupping your fingers between the cream and the edges of the ramekin.

Gently lower the cream onto the plate, drizzle with

berry coulis

and serve.
Follow me on Pinterest for daily delicious recipes!
Source: Cook's Illustrated, July 2000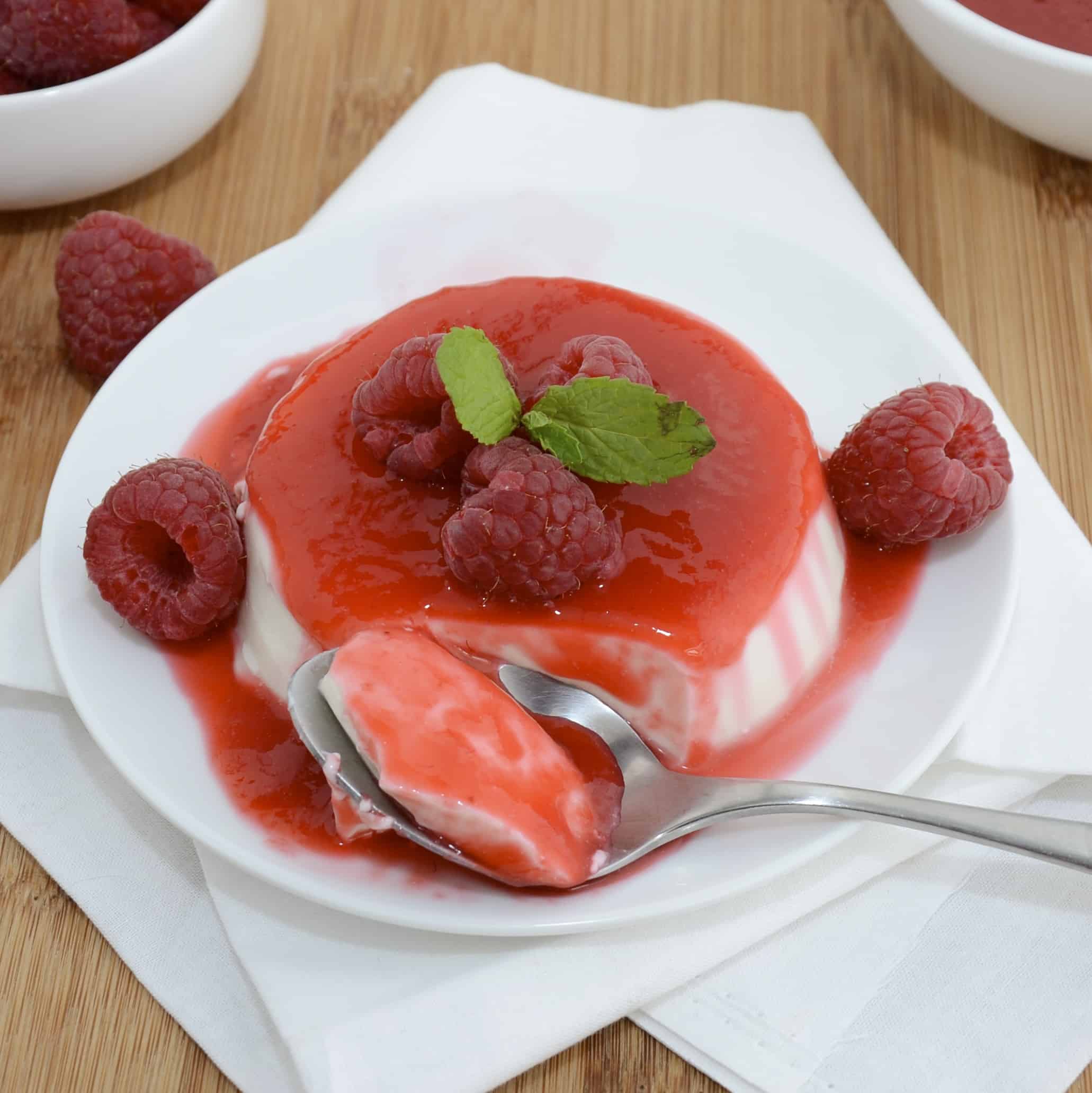 Get new recipes weekly plus our FREE ebook!