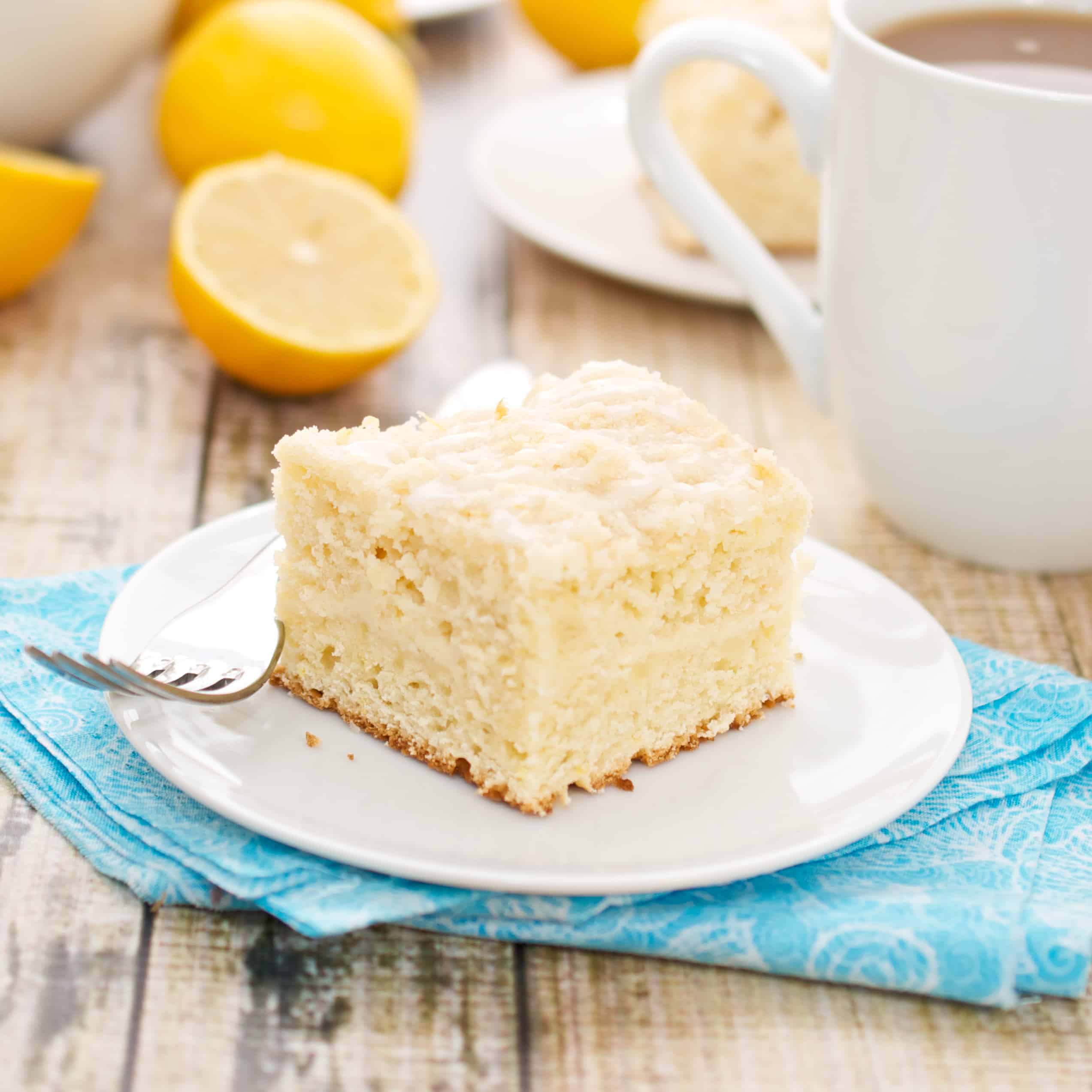 Cream Cheese Coffee Cake is the treat you have been waiting for. Soft, fluffy streusel coffee cake with a cream cheese filling and topped with a lemon drizzle. Each bite of this easy coffee cake with cream cheese is mind-blowing delicious.
Scroll to bottom for printable recipe card.
Cream Cheese Coffee Cake
Have you planned your Easter menu yet? Well, even if you have, you need to add this Cream Cheese Coffee Cake to the list! Trust me on this one! Moist and tender coffee cake with a tangy swirl of cream cheese filling running through the center. The cake is sprinkled with a lemony sugar topping before baking, giving it a nice crunchy top. I love this coffee cake because it's unbelievably delicious and a cinch to make. In fact, you probably have all of the ingredients in your kitchen already. 😀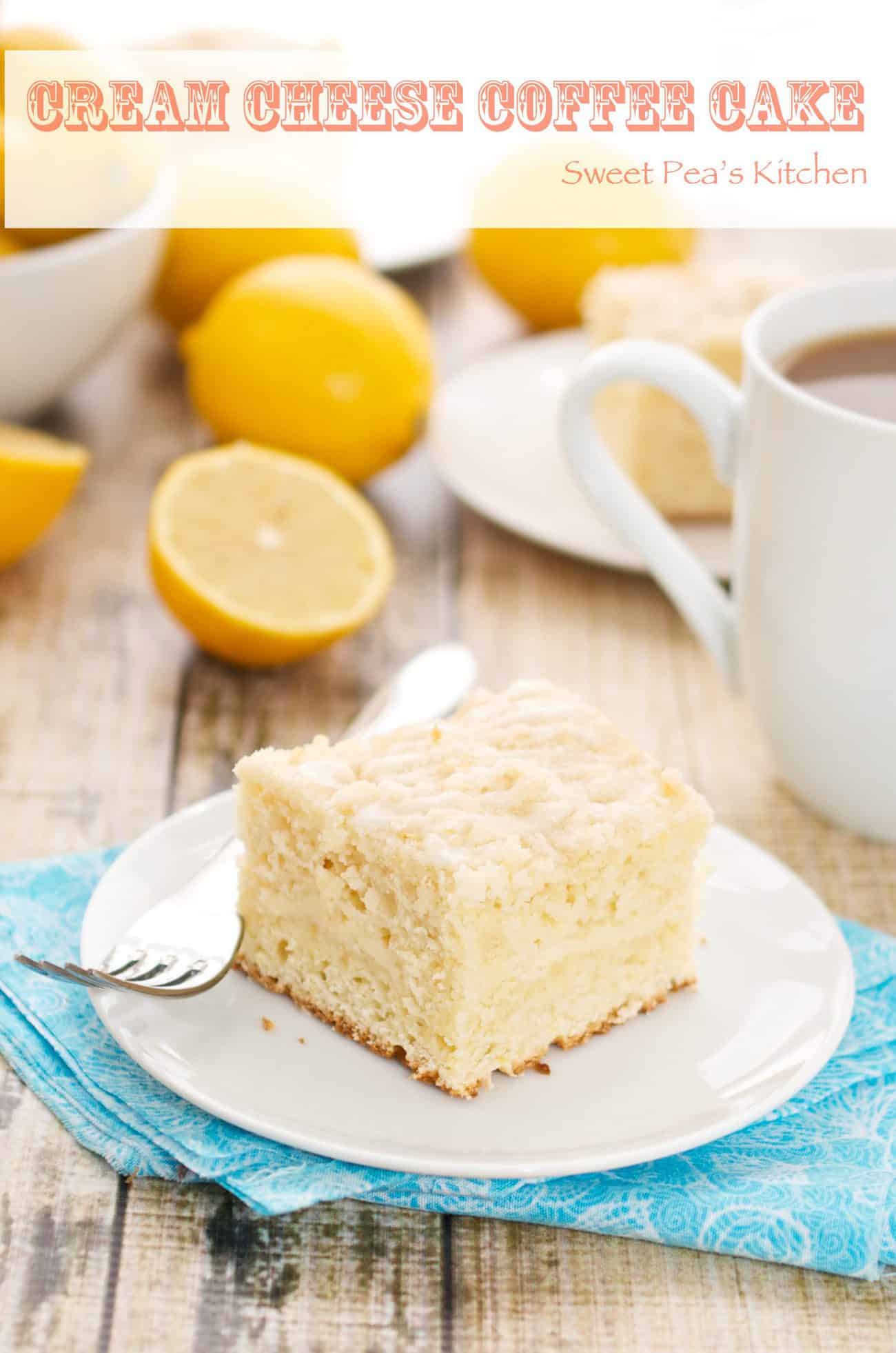 Honestly, we don't just eat this cream cheese coffee cake for Easter! We actually enjoy preparing it for a Christmas brunch too. It's filling and delicious enough to enjoy any time of year, but it's ALWAYS a tradition to make it for Easter at hour house.
Does Cream Cheese Need to Be Softened
Yes, pretty much any time you are baking with cream cheese or turning it into a glaze, it needs to be softened. If you don't soften it, then you will find it doesn't blend smoothly. There will be lumps, and it's just not as appetizing as it would be if it's smooth and creamy.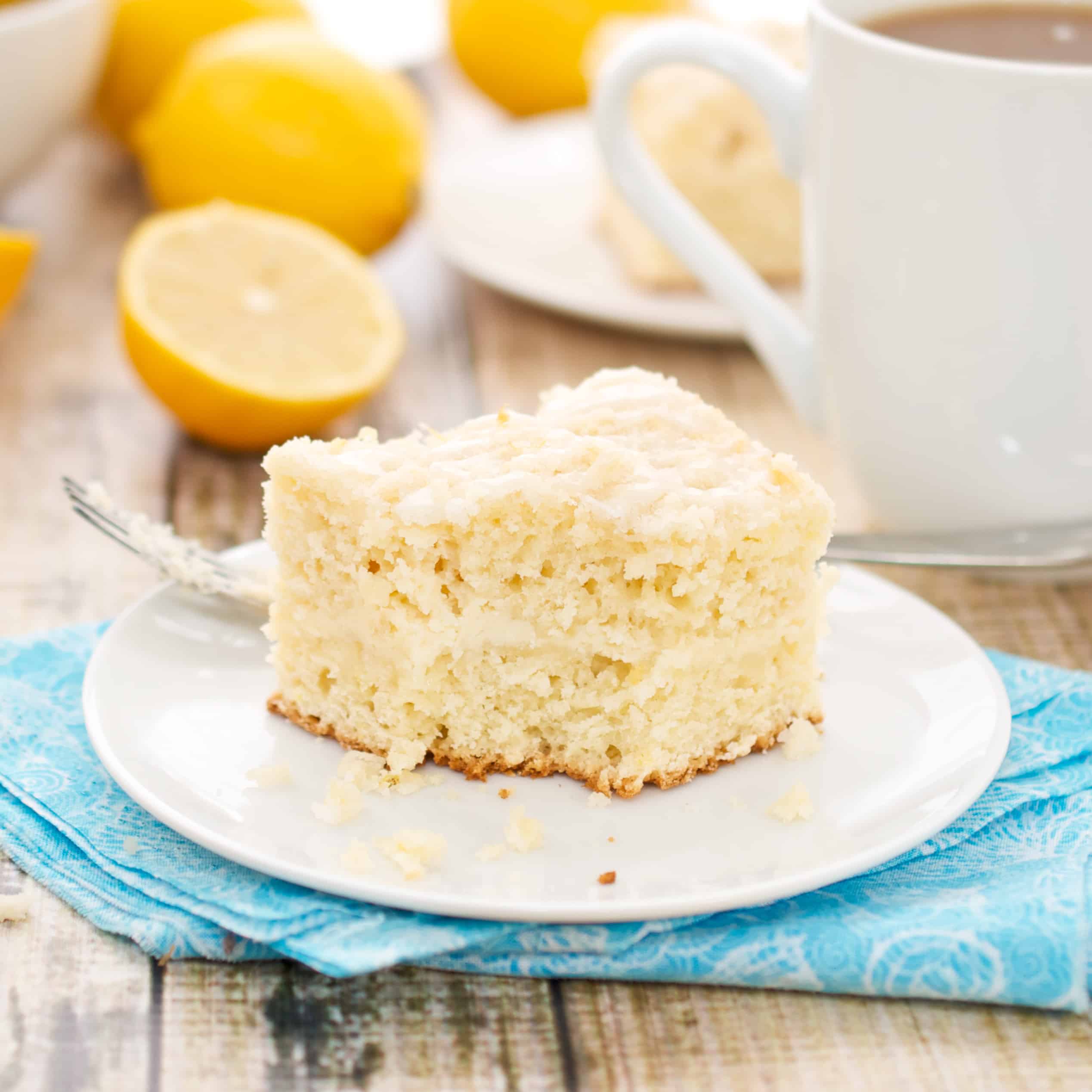 Storing Cream Cheese Coffee Cake
Due to the cream cheese content, you should store any leftovers in the refrigerator. After it's cooled down, go ahead and place it in a container and keep it in the fridge for up to 5 days. You can warm it in the microwave for 15 – 20 seconds if you prefer it warm. We like it cold because I think it tastes a lot better, but you can also let it come to room temperature before serving.
Does This Coffee Cake Freeze Well
Of course! Freeze the streusel coffee cake in a food container after it's cooled. It will last up to three months in the freezer. For best results, you can thaw it in the fridge the night before you want to serve it.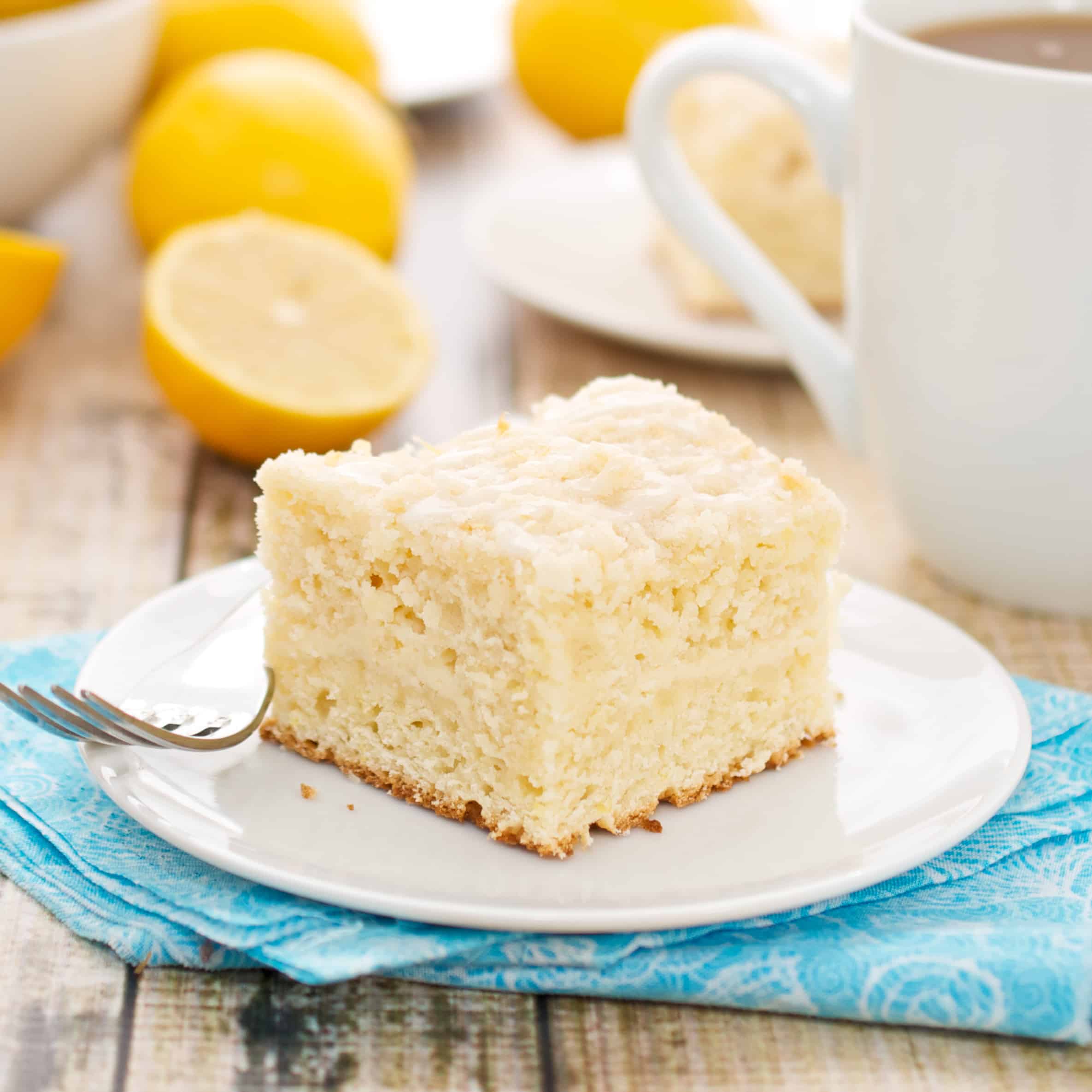 Ingredients
For Streusel Topping:
Sugar
All-purpose flour
Unsalted butter, chilled and cubed
Grated lemon zest
For Cake:
All-purpose flour
Baking powder
Baking soda
Salt
Unsalted butter
Sugar
Grated zest from 1 to 2 lemons
Large eggs
Vanilla extract
Sour cream
For Filling:
Softened cream cheese
Sugar
Juice from 1 to 2 lemons
Vanilla extract
Large egg
For the Lemon Drizzle:
Confectioner's sugar
Fresh lemon juice
How to Make Cream Cheese Coffee Cake
I'm pretty excited to be sharing this recipe with you today. Let's take a look so you can head into the kitchen and whip up one of these beauties!
First Step: Begin by preparing the streusel topping. Combine the flour, butter, sugar, and lemon zest together in a small bowl. Use a fork or a pastry blender to combine it and form it into what looks similar to coarse cornmeal. Make sure the butter pieces aren't any larger than peas. Place the streusel in the fridge until you are ready to use it.
Second Step: Put the oven rack, so it's in the middle position. Turn on the oven to 350 degrees. Prepare a baking sheet by adding nonstick spray to a 9×13″ baking pan.
Third Step: Prepare the cake by mixing together the flour, baking soda, baking powder, and salt in a medium bowl. Set aside.
Fourth Step: Mix together the butter, sugar, and lemon zest in a stand mixer bowl. Mix with medium speed for around 3 minutes. If needed, scrape the sides of the bowl, then add in the eggs one at a time. Drizzle in the vanilla and combine.
Fifth Step: Add in the flour a little bit at a time and mix. Continue until all the flour has been incorporated.
Sixth Step: Spoon half of the cheese coffee cake batter into the pan and set the rest aside for later.
Seventh Step: Prepare the cream cheese filling by combining the cream cheese, sugar, vanilla, egg, and lemon juice together in a mixer.
Eighth Step: Place 1/4 cup of the leftover batter into the cream cheese mixture. Take spoonfuls of the cream cheese filling and add it to the top of the batter in the pan. Add the remaining batter on top and spread smooth. You will need to use a knife to gently swirl the batter using a figure 8 shape. Tape the pan two or three times to remove any bubbles. Add the streusel on top.
Ninth Step: Bake the coffee cake for 35 – 40 minutes or until it's done. Cool it on a wire rack once removed from the oven. Let it sit for 1 1/2 hours to cool down properly.
How to Make Lemon Drizzle
Combine the sugar and lemon juice in a small bowl. After it's mixed, you may need to add up to 1/2 tablespoon of lemon juice if the drizzle seems too thick. Add the glaze over the top of the homemade coffee cake and let it set up for 10 minutes.
Serve and enjoy!
Now, remember to save this recipe on Pinterest for later 🙂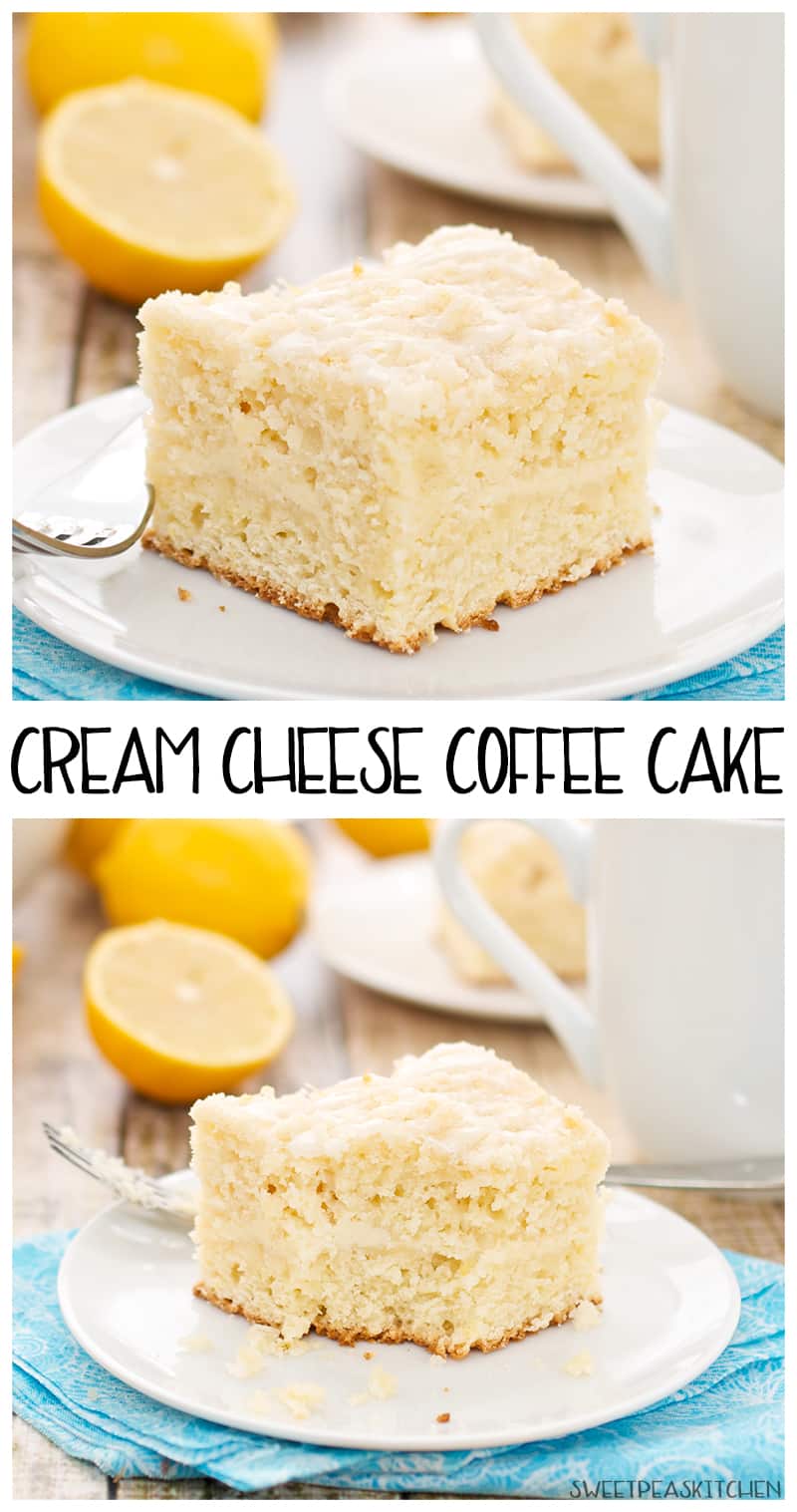 Pin this recipe now to remember it later
Cream Cheese Coffee Cake
Moist and tender coffee cake with a tangy swirl of cream cheese filling running through the center.
Ingredients
For Streusel Topping:
3

tablespoons

unsalted butter

,

chilled and cubed

1 1/2

teaspoons

finely grated zest from 1 lemon
For Cake:
½

cup

1 stick unsalted butter, softened

1

tablespoon

finely grated zest from 1 to 2 lemons

1

teaspoon

vanilla extract
For Filling:
2

8 ounce packages cream cheese, softened

4

teaspoons

juice from 1 to 2 lemons

½

teaspoon

vanilla extract
For the Lemon Drizzle:
1/4

cup

confectioner's sugar

,

sifted

1/2 to 1

tablespoon

fresh lemon juice
Want to save this recipe? Enter your email below and we'll send the recipe straight to your inbox!
NOTE: By saving this recipe, you agree to join our weekly recipes newsletter.
Instructions
For Streusel Topping: Add sugar, flour, butter and lemon zest in a small bowl and stir using a fork or pastry blender until the texture resembles coarse cornmeal, with the butter pieces no larger than small peas. Transfer mixture to the refrigerator until ready to use.

Adjust oven rack to middle position and heat oven to 350 degrees.

Spray a 9" x 13" cake pan with nonstick cooking spray.

For the Cake: Whisk flour, baking powder, baking soda, and salt together in medium bowl; set aside.

In stand mixer fitted with paddle attachment, beat butter, sugar, and lemon zest at medium speed until light and fluffy, about 3 minutes, scraping down sides and bottom of bowl with rubber spatula. Add eggs 1 at a time, beating well after each addition, about 20 seconds, and scraping down beater and sides of bowl as necessary. Add vanilla and mix to combine. Reduce speed to low and add one-third flour mixture, followed by half of sour cream, mixing until incorporated after each addition, 5 to 10 seconds. Repeat, using half of remaining flour mixture and all of remaining sour cream. Scrape bowl and add remaining flour mixture; mix at low speed until batter is thoroughly combined, about 10 seconds. Remove bowl from mixer and fold batter once or twice with rubber spatula to incorporate any remaining flour.

Reserve half of the batter and set aside. Spoon remaining batter into prepared pan and smooth top.

To make the Filling: Return now-empty bowl to mixer and beat cream cheese, sugar, lemon juice, vanilla and egg on medium speed until smooth, about 1 minute. Add ¼ cup reserved batter and mix until incorporated. Spoon cheese filling mixture evenly over batter and smooth the top. Spread remaining reserved batter over filling and smooth top. With butter knife or offset spatula, gently swirl filling into batter using figure-8 motion. Firmly tap pan on counter 2 or 3 times to dislodge any bubbles. Sprinkle streusel topping evenly over batter.

Bake until just firm and skewer inserted into cake comes out clean (skewer will be wet if inserted into cheese filling), 35 to 40 minutes. Cool cake in pan on wire rack 1 hour. Gently remove from cake pan and place on wire rack to cool to room temperature, about 1½ hours.

To make the lemon drizzle, in a small bowl, whisk together the confectioners' sugar and ½ tablespoon of the lemon juice. The mixture should be thick but pourable. Add up to another ½ tablespoon of lemon juice if the mixture is too stiff. Drizzle over the top the coffee cake. Let harden, about 10 minutes, before serving.
Notes
Recipe Note: Leftovers should be stored in the refrigerator, covered tightly with plastic wrap. For optimal texture, allow the cake to return to room temperature before serving.
Follow me on Pinterest for daily delicious recipes!
I have been eating coffee cake for years and years. So, naturally, I have many of them here at the Sweet Peas Kitchen! I think you are going to love them as much as we do. Take a look at these:
Coffee Lover's Chocolate Chip Coffee Cake – If you are in the mood for something rich, decadent, and delicious, consider this incredible coffee cake. This is another great recipe for any holiday or event.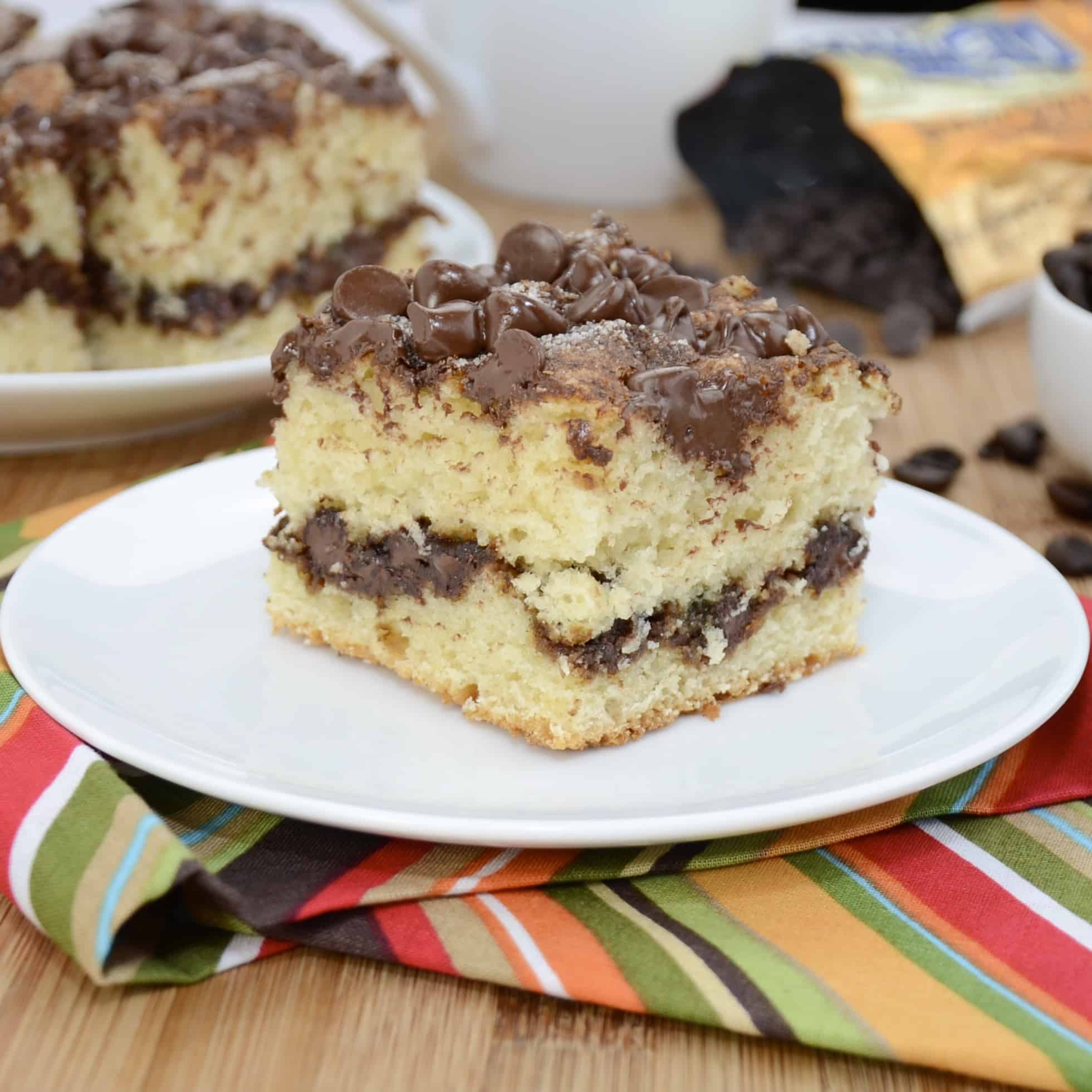 Berry Cornbread Coffee Cake – Another fun option is this homemade berry cornbread coffee cake. It's unique and fun too.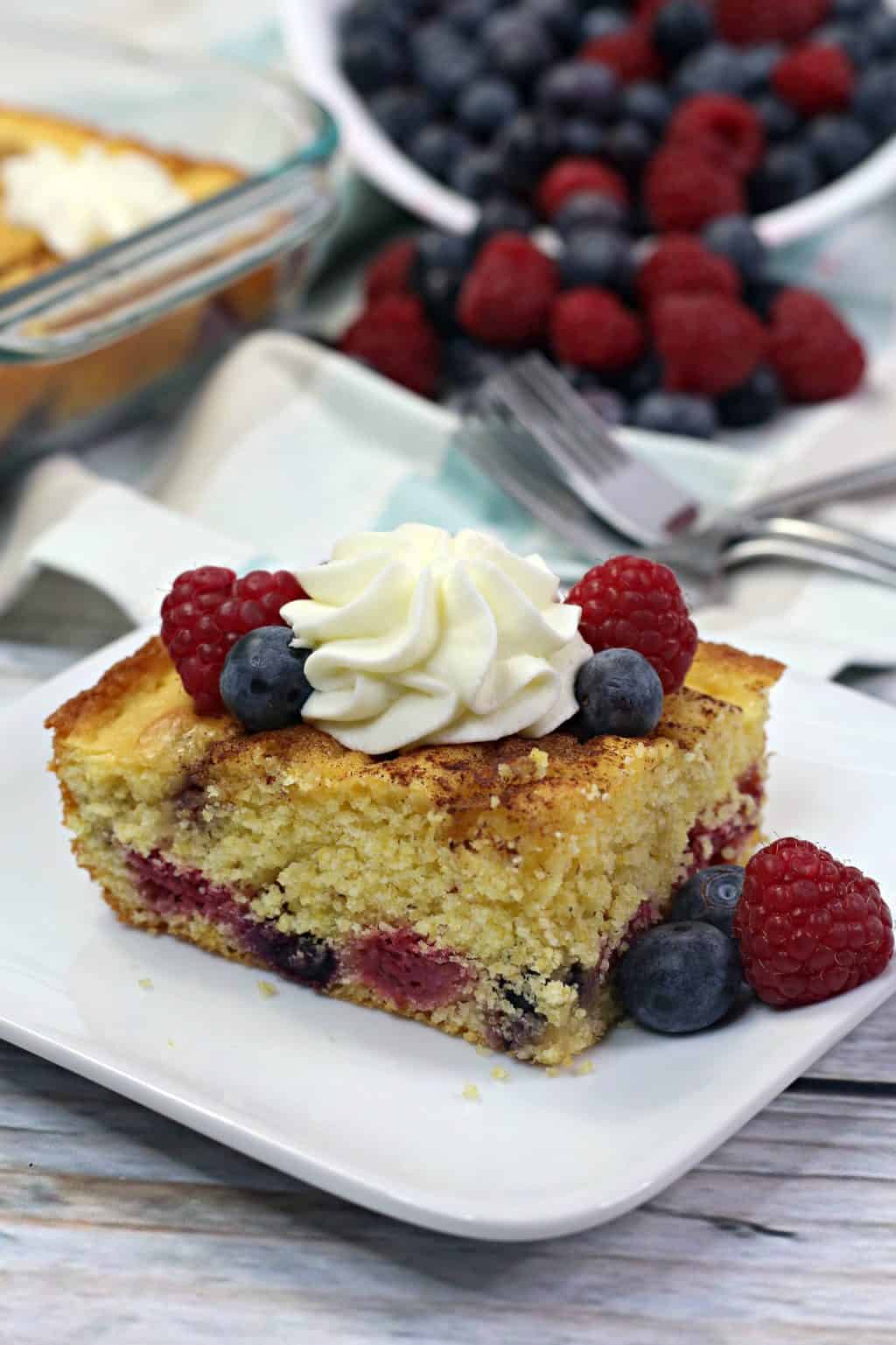 Pumpkin Spiece Coffee Cake – The flavors of the spices and pumpkin together in this homemade coffee cake is seriously going to blow your mind. We love to eat it on the morning of Thanksgiving. YUMMY!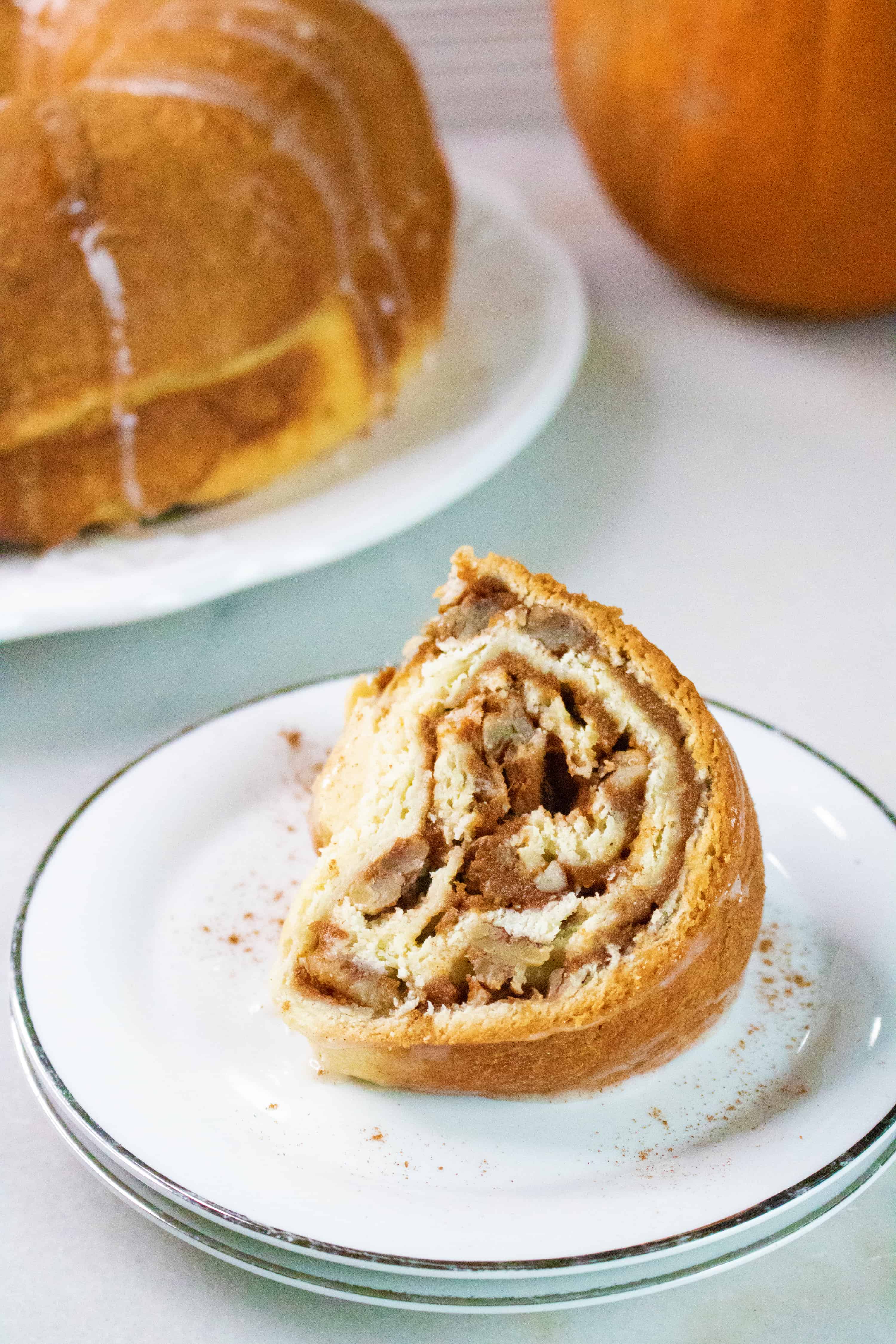 Blueberry Sour Cream Coffee Cake – This is a brilliant coffee cake recipe, and I am certain you are bound to enjoy it. The sour cream makes it so moist and flavorful.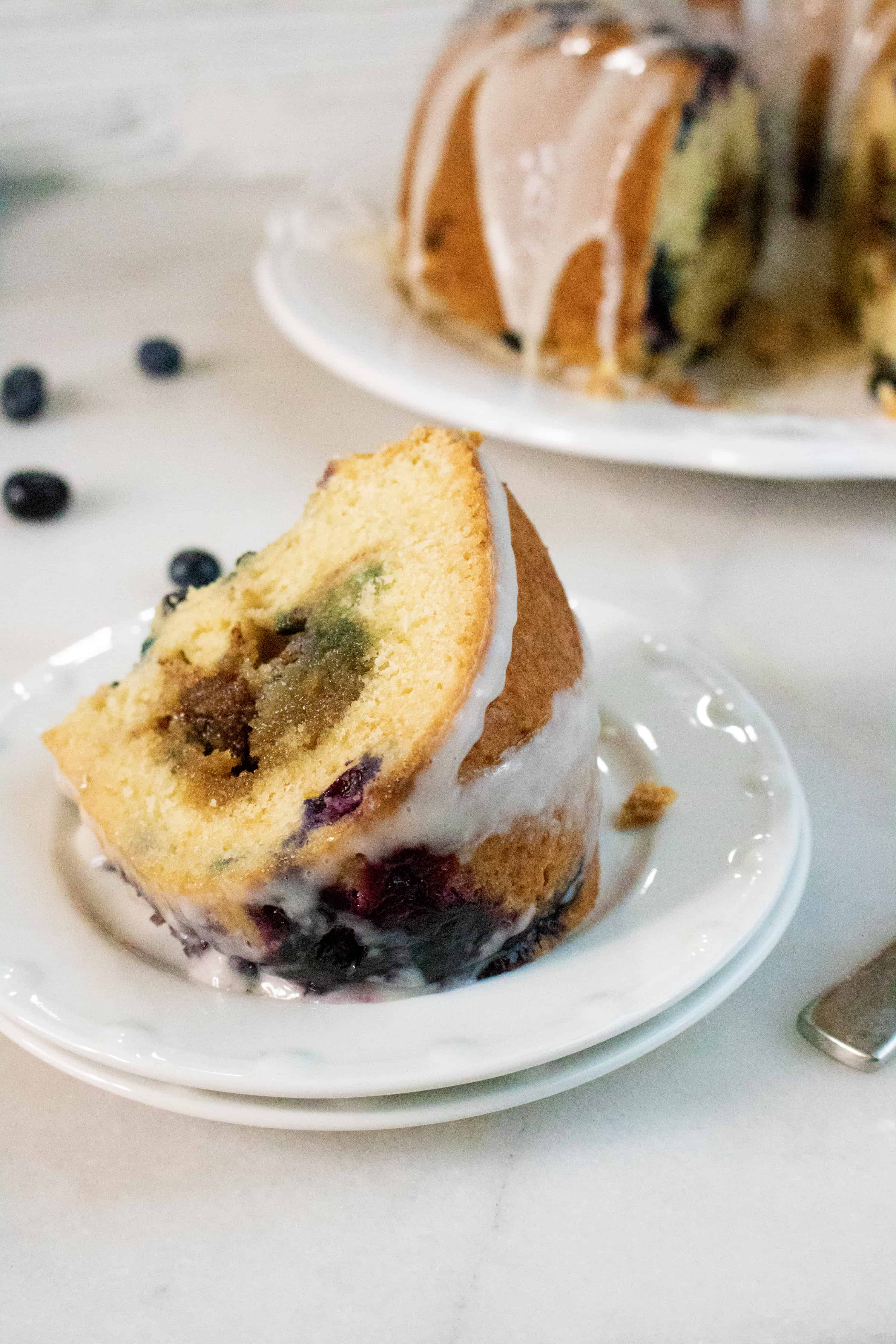 Get new recipes weekly plus our FREE ebook!