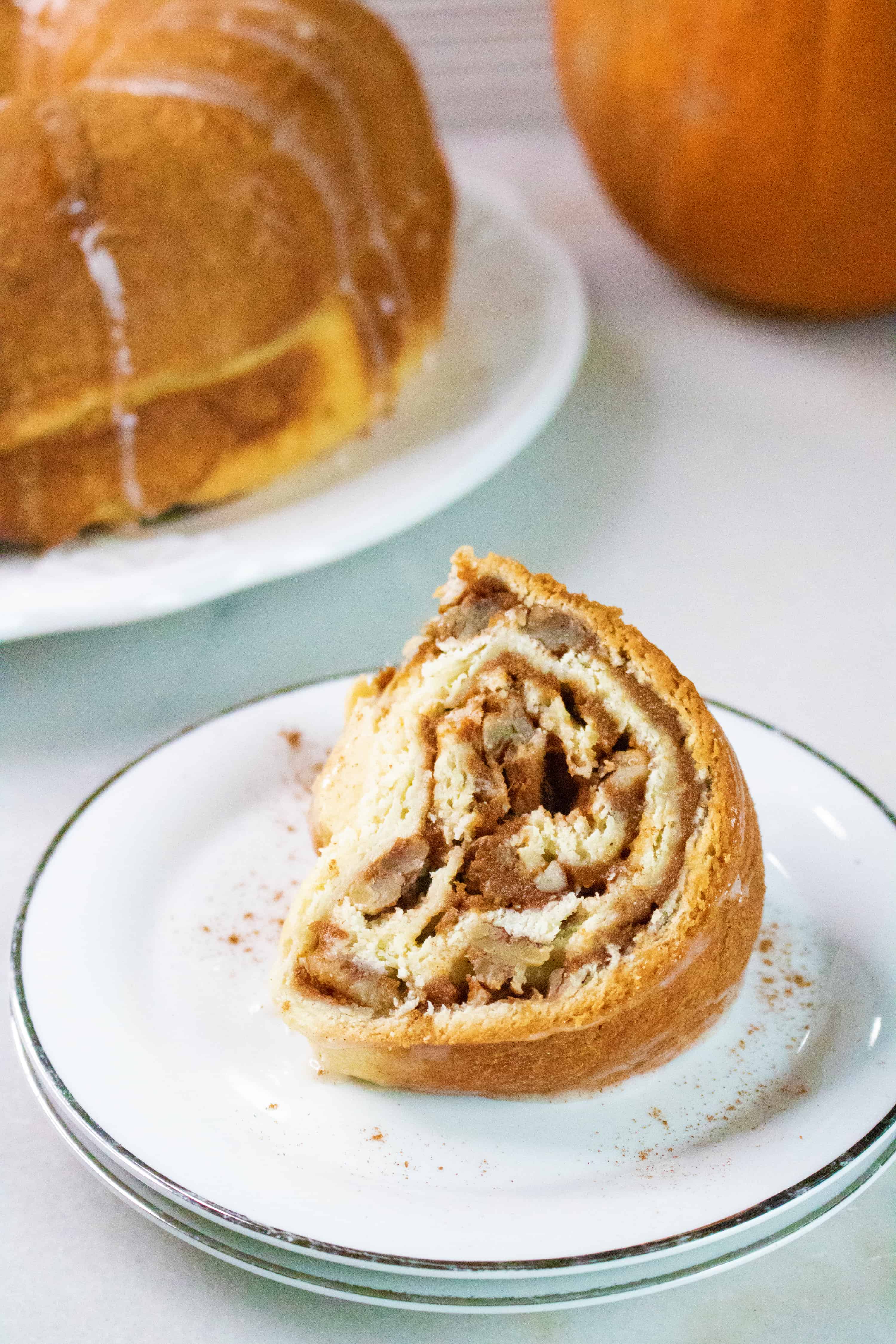 This flavorful pumpkin spice coffee cake is a yummy treat just in time for all the fall weather that's coming.
Once you taste this pumpkin coffee cake, you will feel like you are living in food heaven. Every bite has an intense pumpkin flavor that is seriously out of this world.
I am a huge coffee cake person, and it's one of my favorite desserts or sweet treats. I think it is just that moist cake that tastes so good with a cup of hot coffee. It just warms you up and gives you comfort. Then when I decided to step it up a notch and add in pumpkin, things got even better!
You will understand how amazing this pumpkin spice coffee cake recipe is as soon as it touches your tongue.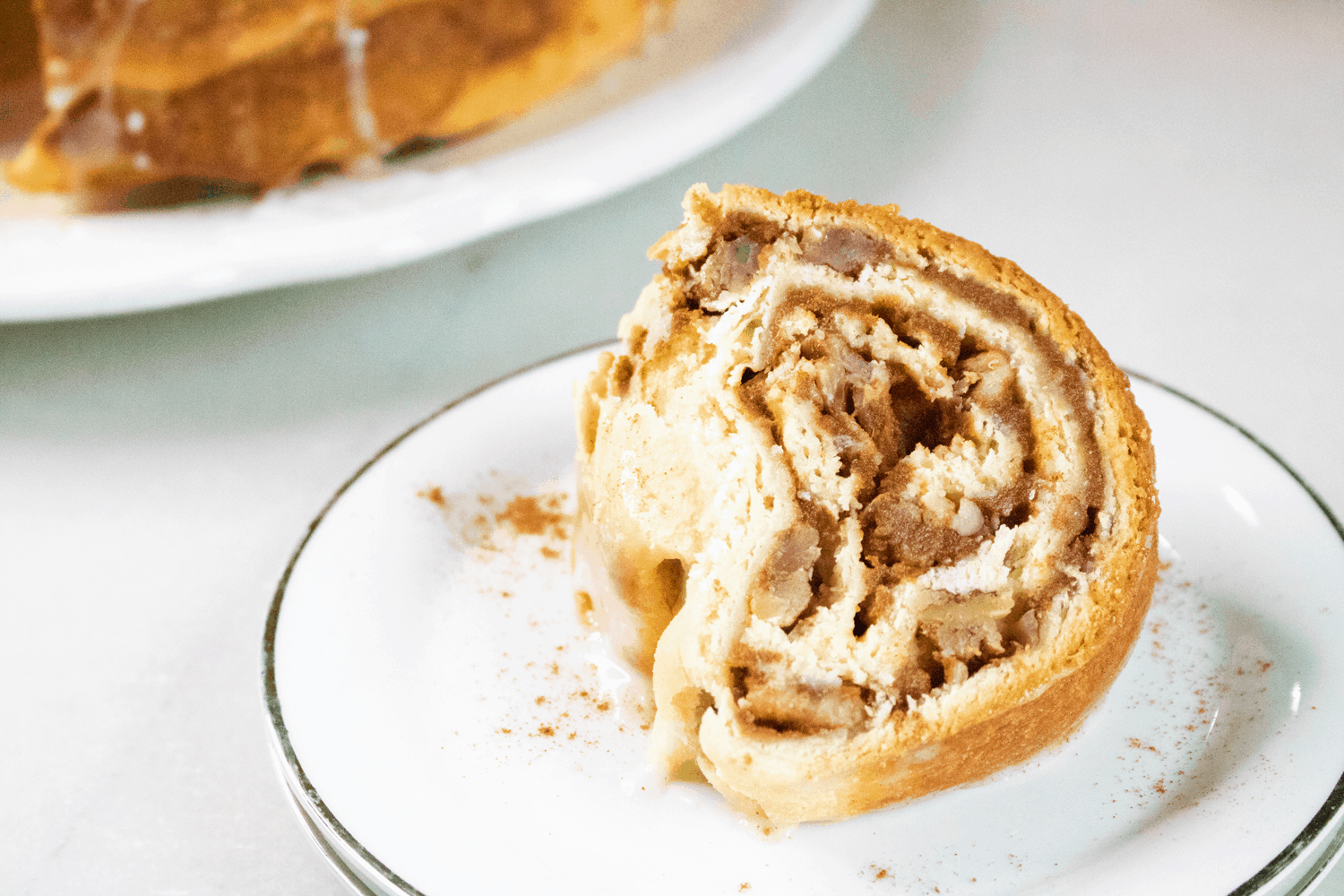 Scroll to bottom for printable recipe card.
How To Make This Pumpkin Spice Coffee Cake Recipe
I am beyond excited to share with you how to make this pumpkin coffee cake. I am sure it's going to become one of your favorite go-to dishes! Take it to potlucks, barbecues, brunches or other events and your friends are going gobble it up! Okay, let's get started with these easy-to-follow directions:
First Step: Begin by heating the butter and milk with low heat in a saucepan on the stove. Stir until butter has melted. Allow it to cool until it's lukewarm temperature.
Second Step: Dissolve the yeast with warm water in a large bowl. Then beat in the egg yolk. Slowly blend with the cooled milk and butter mixture.
Third Step: Add in the flour by sifting it in the bowl. Sprinkle in the salt and beat until the mix is creamy and smooth.
Fourth Step: Cover the bowl with a lid or plastic wrap and place in the fridge overnight.
The Next Day:
Fifth Step: Add the pumpkin, sugar, and spices to a small saucepan. Heat over medium-low heat and continue to stir until thickened. Remove from heat and allow to cool.
Sixth Step: Split the dough in half, making sure the pieces are equal in size. Lightly dust each piece with flour. Roll out the first dough ball and use a rolling pin to make an 18-inch piece. Add half of the pumpkin filling onto the dough and spread it around evenly. Sprinkle with 1/2 of the pecans and roll it like a jelly-roll.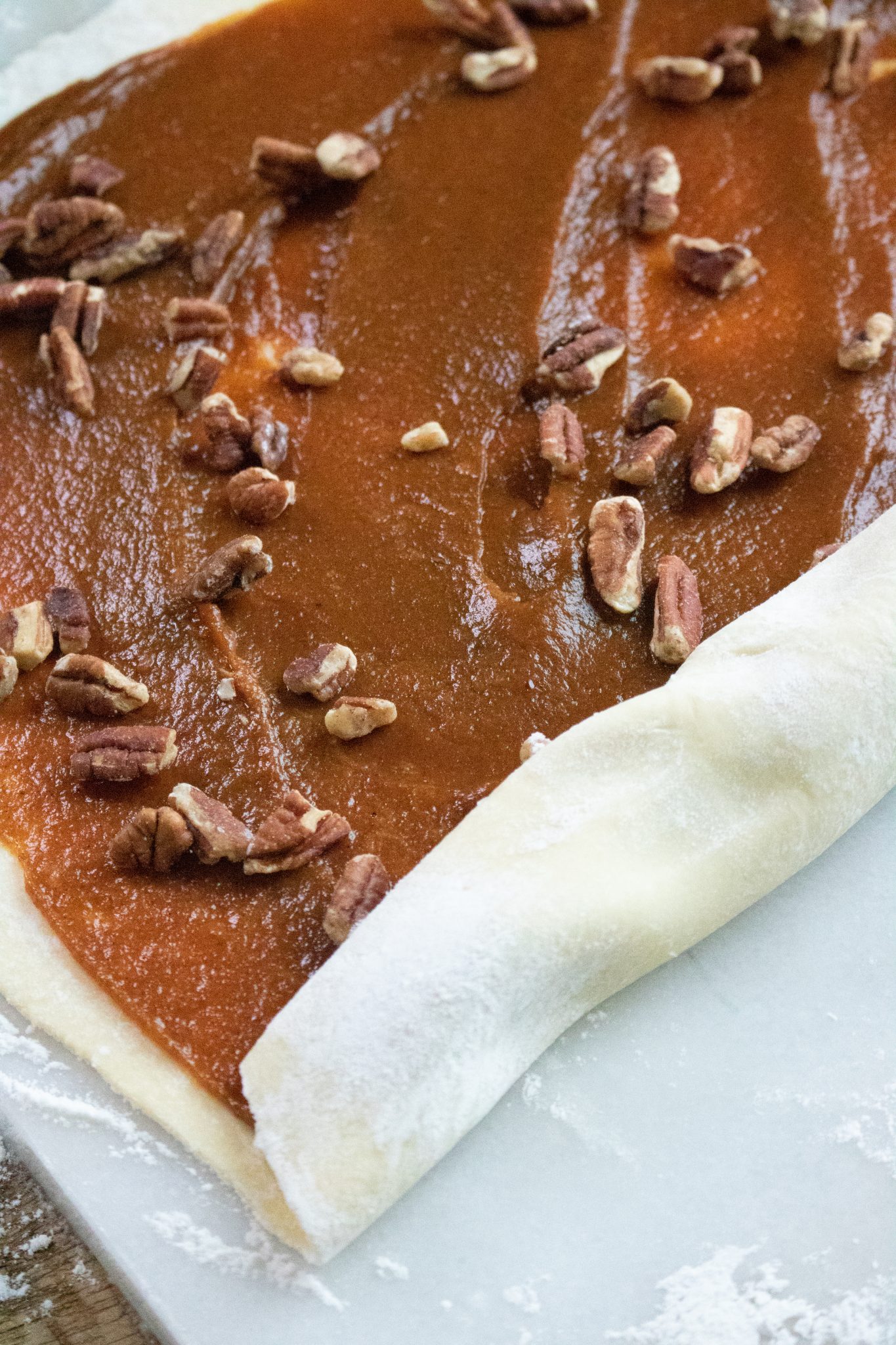 Seventh Step: Add that dough ball to a bundt pan that has been coated with non-stick cooking spray.
Eighth Step: Do the same steps for the second dough ball and place it in the bundt pan too. It completely normal that the second dough roll will overlap a little bit on the first roll.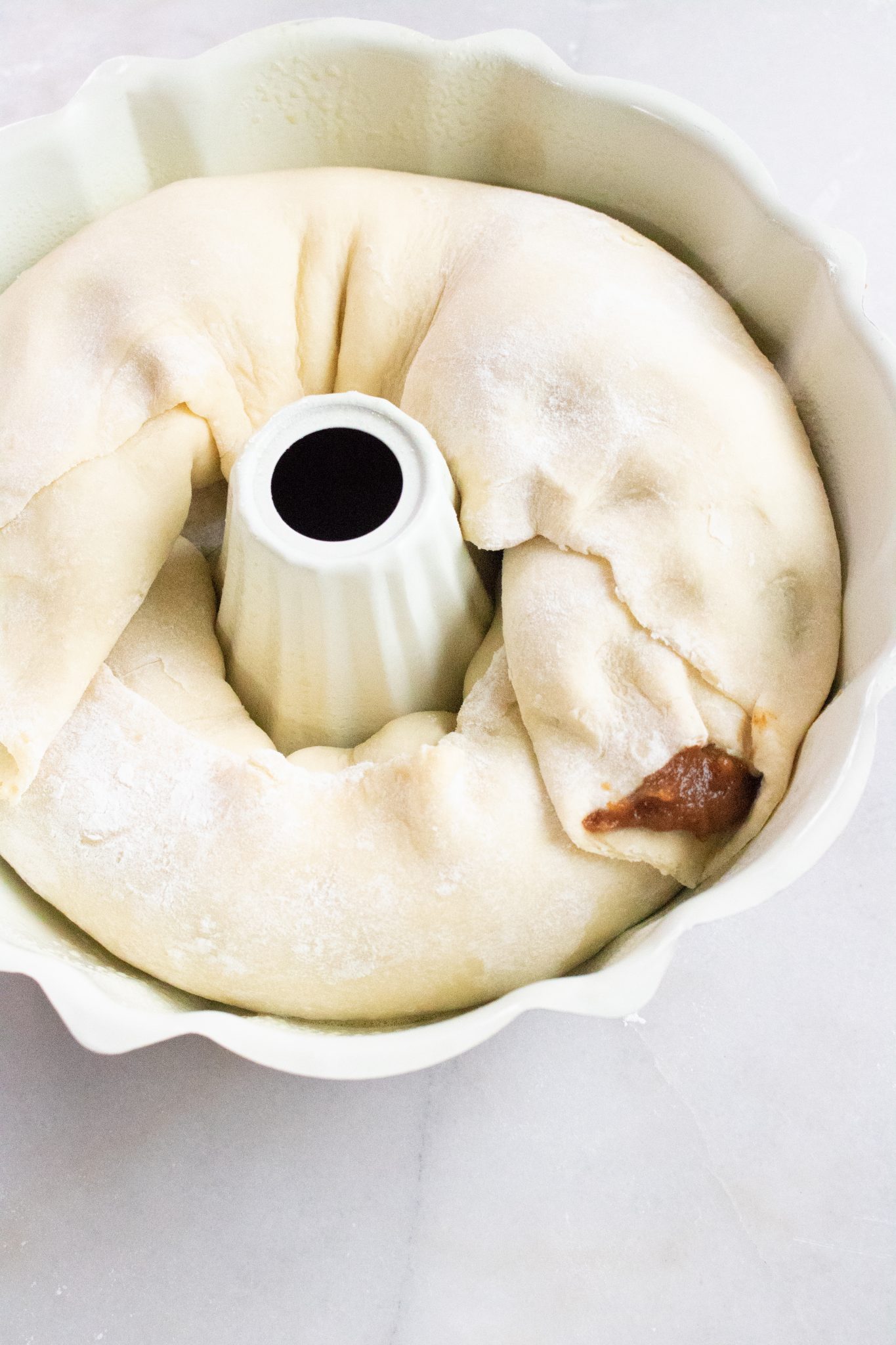 Ninth Step: Let the dough rise for 30 minutes on your stovetop — Preheat the oven to 350 degrees F.
Tenth Step: Bake for 45 minutes or until golden brown.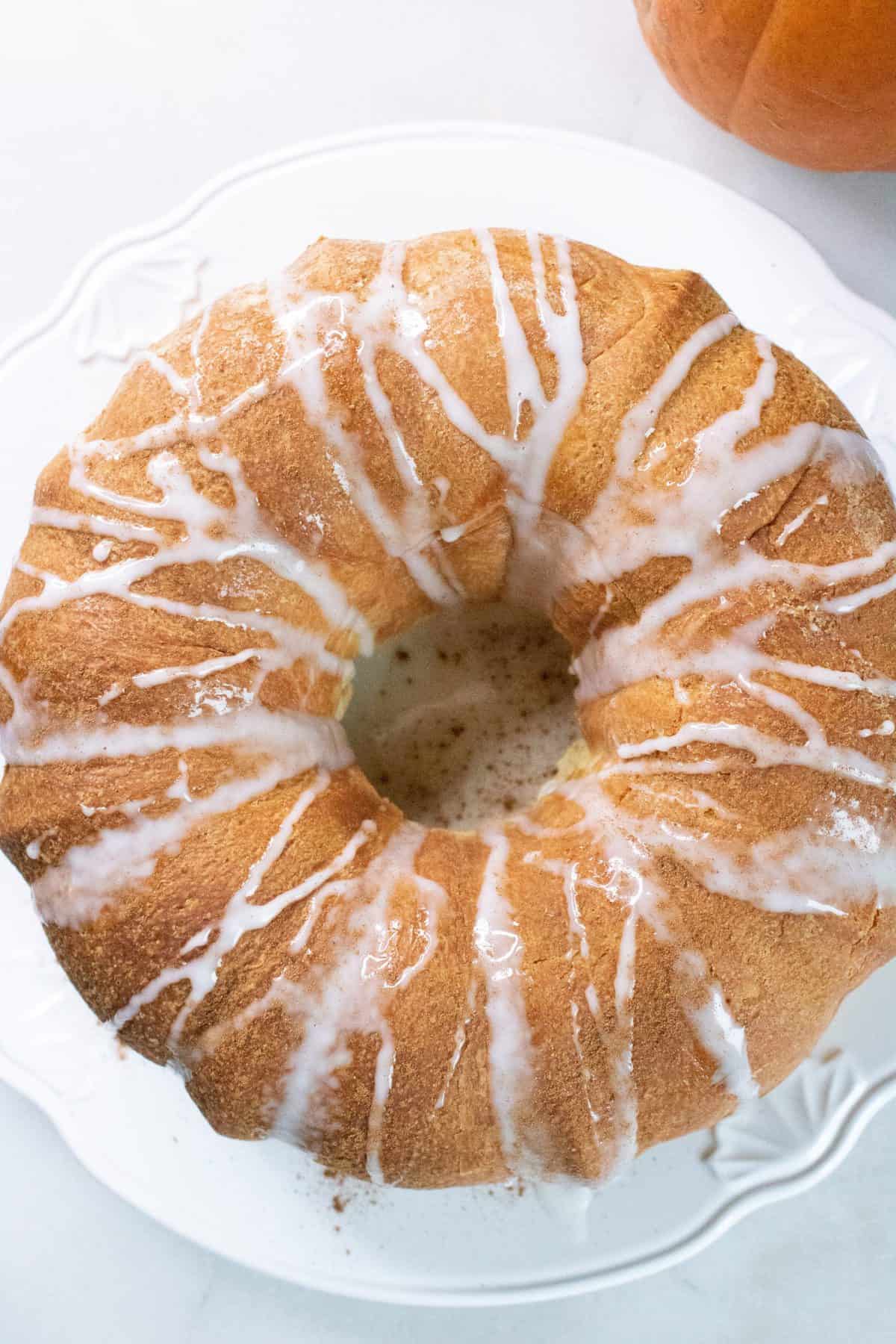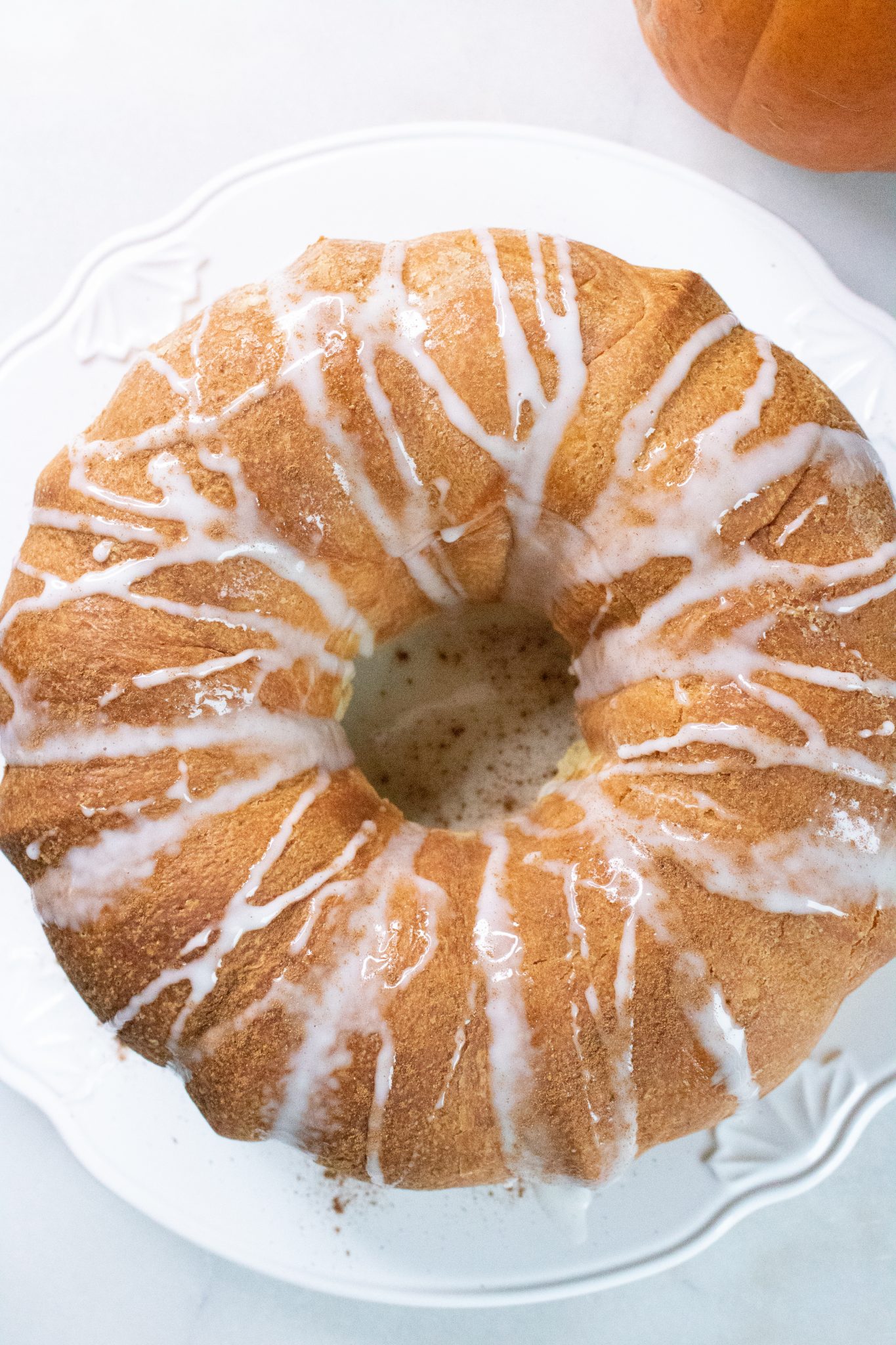 Eleventh Step: Allow the coffee cake to cool for 15 minutes in the pan. Then flip it upside down and take the cake out and place it on a cake pan or serving plate. Drizzle with your favorite cream cheese or vanilla glaze.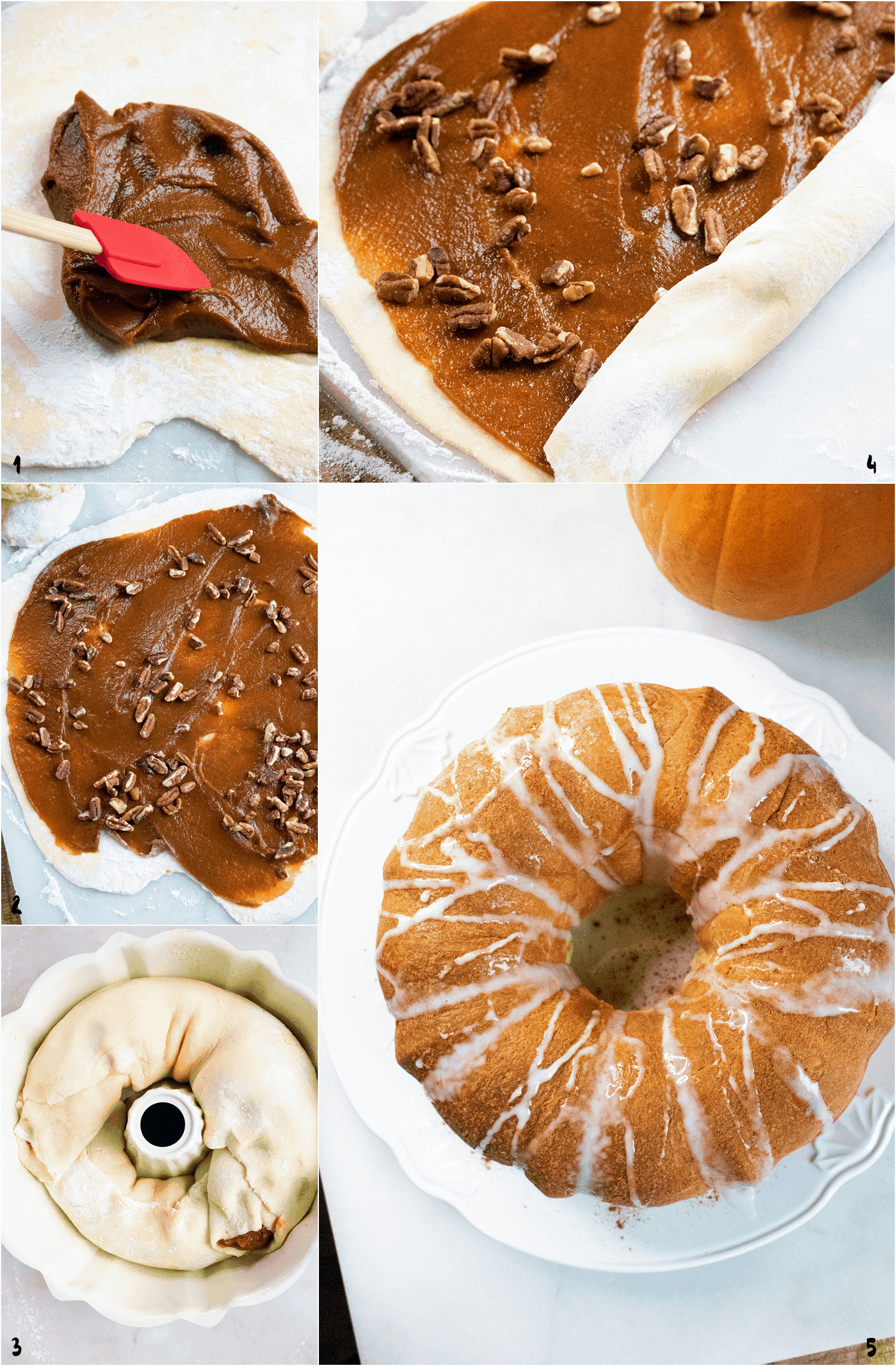 Pumpkin Spice Coffee Cake Recipe Variations:
I think you have figured out by now that this pumpkin coffee cake makes my heart go pitter-patter. Sometimes I leave it just the way I have it written in this recipe, and sometimes I feel a little wild, and I like to add in a few things here and there. If you want to try out some ideas, here are a few to get you started:
Caramel – Drizzle warm caramel on top of the easy coffee cake right before serving. Oh my gosh, it's so good!
Whipped Cream – You know…the good old canned stuff! Give a squeeze or two on the trigger for a creamy and refreshing surprise.
Chocolate Chips – We all know how much I love chocolate! Why not sprinkle a few into the pumpkin filling. I prefer the semi-sweet mini chocolate chips, but anything you like will do.
Candied Pecans – The recipe calls for regular pecans, but why not take it to the next level. You can easily candy them by placing them in a skillet with some 2 tablespoons of water, 1/4 teaspoon of ground cinnamon and 1/2 cup of brown sugar. Stir it around until they are coated. Let them sit and cool before adding to the recipe.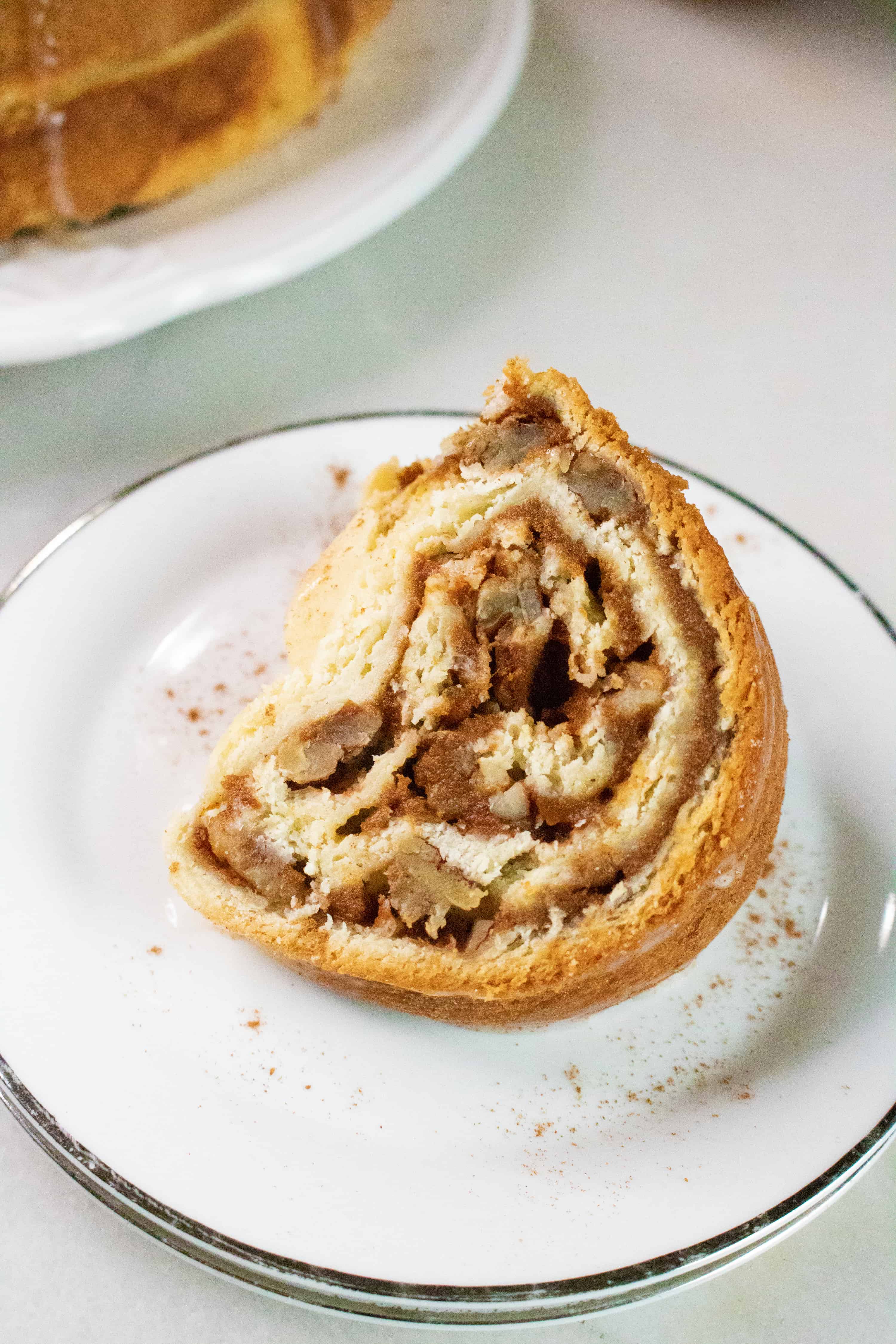 How To Tell When This Pumpkin Spice Coffee Cake Recipe Is Done
The easiest way to tell if the coffee cake has cooked the entire way is by inserting a toothpick. The toothpick should come out clean without any wet batter on it. When you look at the cake, you will notice that the sides will begin pulling away from sides of the bundt pan.
I also tap the top of the coffee cake with my bare finger to see if it springs up or indents. An indent means that it needs to bake a little bit longer and if it pops right back up then it's done.
How Do You Store Pumpkin Coffee Cake?
You should always store the coffee cake in an airtight container to keep it fresh. It doesn't have to go in the refrigerator and will do great sitting on the counter. If you do prefer the flavor or texture when it's cold, it will work to refrigerate it as well. On average, this coffee cake will last around 1 week.
Keep in mind; if you do put a cream cheese-based icing on top, it will need to be refrigerated, so it doesn't spoil. There are mixed reviews on whether cream cheese icing needs to be kept cold, but I say it's not worth the risk.
Can You Freeze This Simple Coffee Cake?
Yes, you can absolutely freeze this simple coffee cake. Just cut it into single-sized servings and wrap it tightly with plastic wrap. Then take all the pieces and place them in a large freezer-safe bag. Whenever you are craving a piece of that delicious pumpkin dessert, you can just grab it and go. To thaw it, then place it on the counter or toss it in the microwave for a few seconds.
Now, remember to save this recipe on Pinterest for later 🙂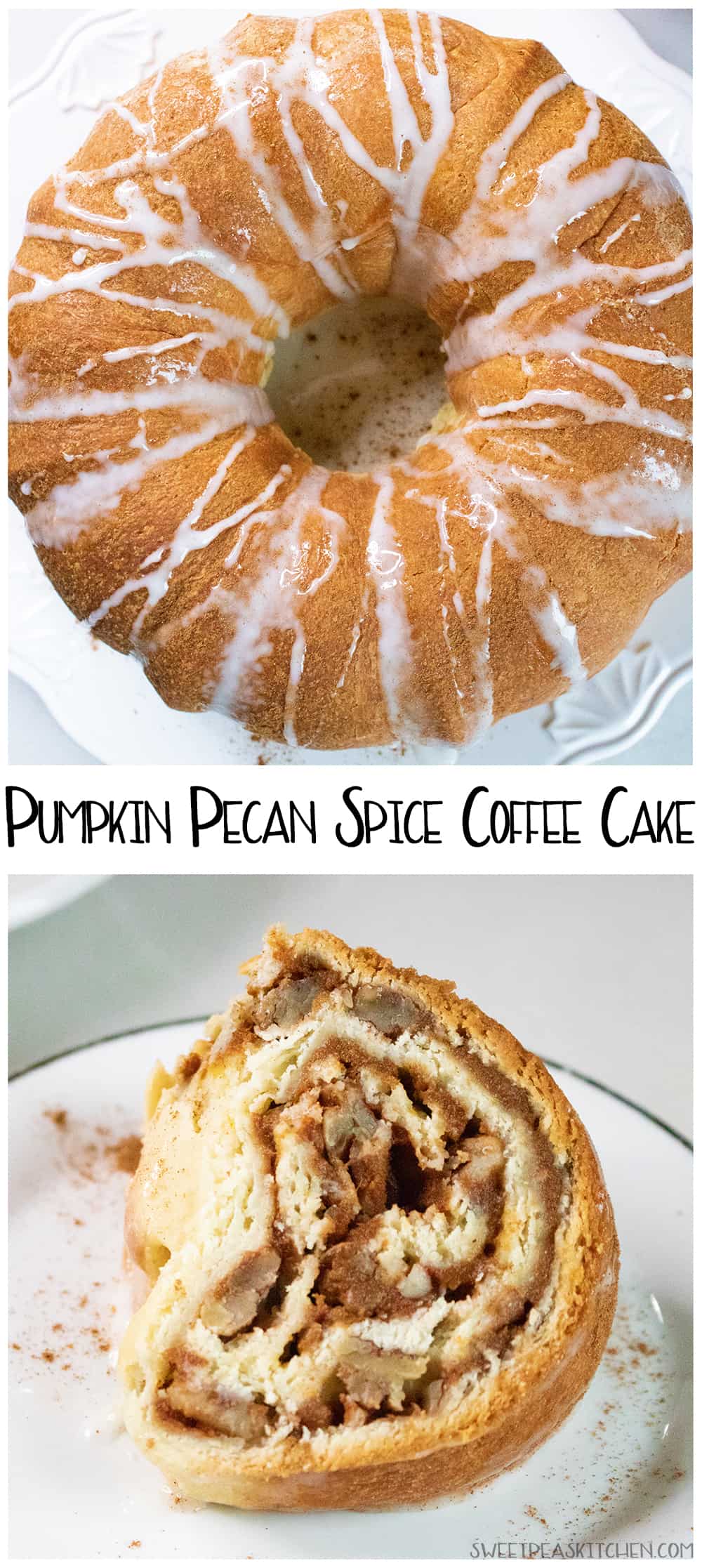 Pin this recipe now to remember it later
Pumpkin Spice Coffee Cake
Pumpkin Spice Coffee Cake is a tasty way to kickstart your morning. Layers of pumpkin spice, pecans and more topped with a sweet glaze. Serve up this pumpkin coffee cake today.
Ingredients
3

eggs

,

separated, reserve the egg whites
Want to save this recipe? Enter your email below and we'll send the recipe straight to your inbox!
NOTE: By saving this recipe, you agree to join our weekly recipes newsletter.
Instructions
Heat butter and milk over low on stovetop until butter has melted. Cool to lukewarm.

In a large bowl, dissolve the yeast in the warm water and beat in the egg yolk. Blend in the cooled milk mixture.

Sift in the flour, salt and Beat until the mixture is smooth and creamy.

Cover bowl and refrigerate overnight.

The next day, blend together pumpkin, sugar and seasonings in a small sauce pan over medium low heat. Stir on stove top until thickened. Remove from heat and cool.

Divide dough into two equal pieces and dust each with flour. Roll out (one at a time) to make an 18-inch Pour half of the pumpkin filling onto the dough and spread out over the dough. Top with ½ the pecans and roll up jelly-roll fashion.

Carefully place into a bundt pan that has been sprayed with non-stick cooking spray.

Repeat with the second half and carefully place that half on the other side of the pan, overlapping the first half.

Place on stovetop and let rise for 30 minutes while preheating the oven to 350 degrees.

Bake for 45 minutes.

Cool in pan for 15 minutes and then invert to a cake plate. Drizzle with a cream cheese or vanilla glaze.
Notes
Serve fresh for best results or reheat slices in microwave for 30 seconds prior to serving to retain moistness.
Follow me on Pinterest for daily delicious recipes!
Check Out These Pumpkin Lovers Recipes:
Pumpkin Spice Doughnuts – Pumpkin donuts are easy to make for breakfast!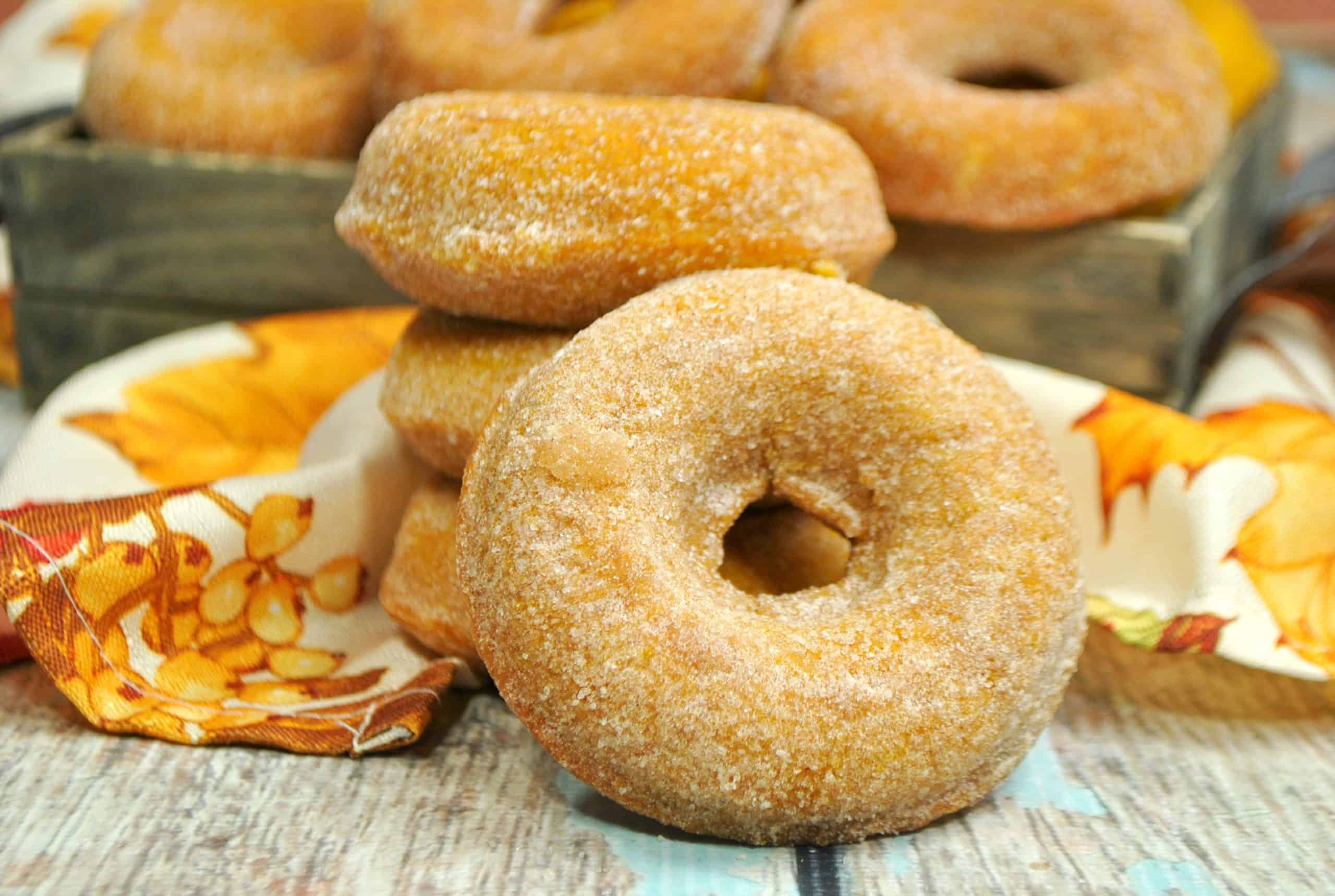 Easy Pumpkin Breakfast Casserole – This pumpkin breakfast recipe is sure to be a crowd-pleaser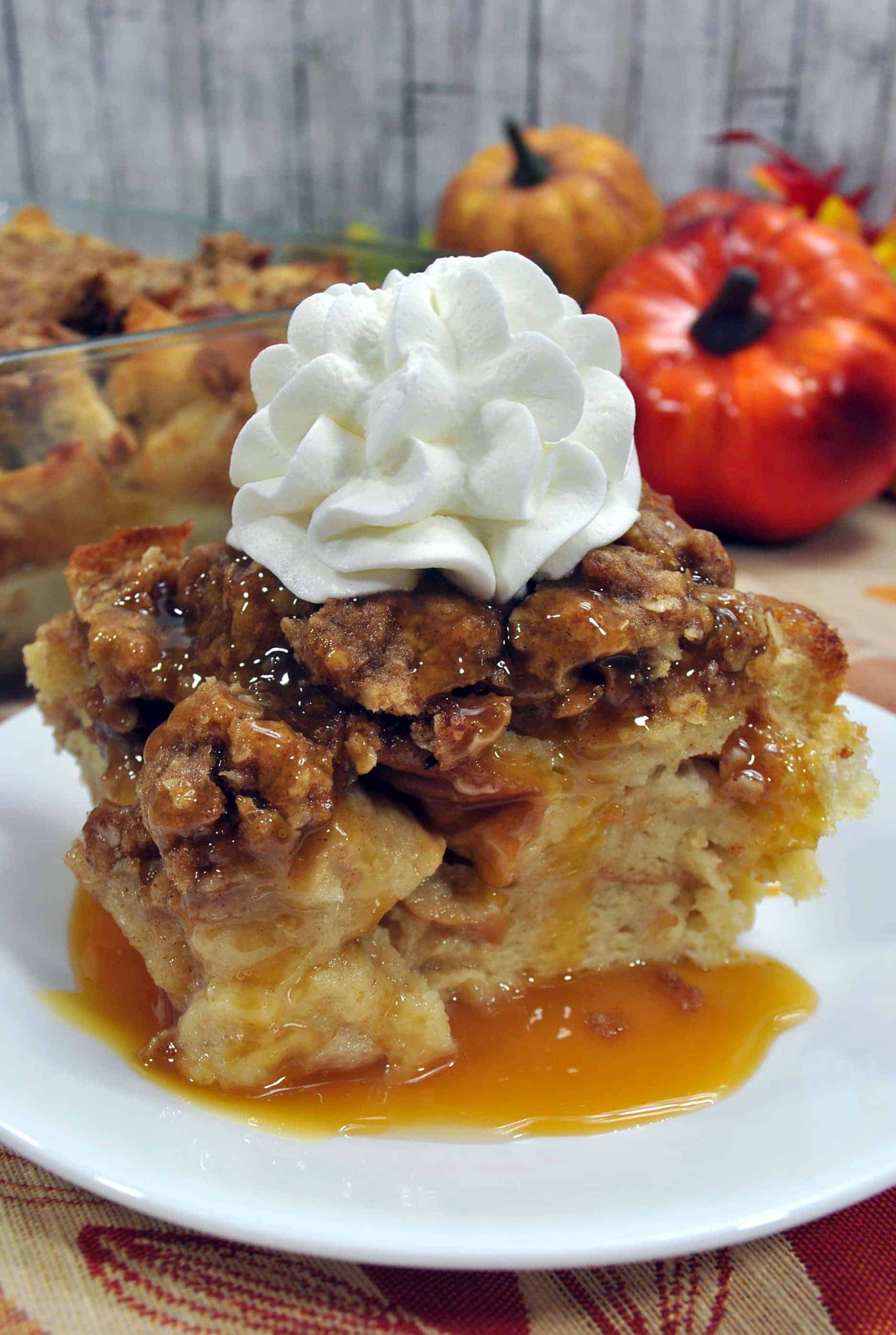 Pumpkin Caramel Latte Cupcake – There is nothing better on a chilly day than enjoying some pumpkin cupcakes.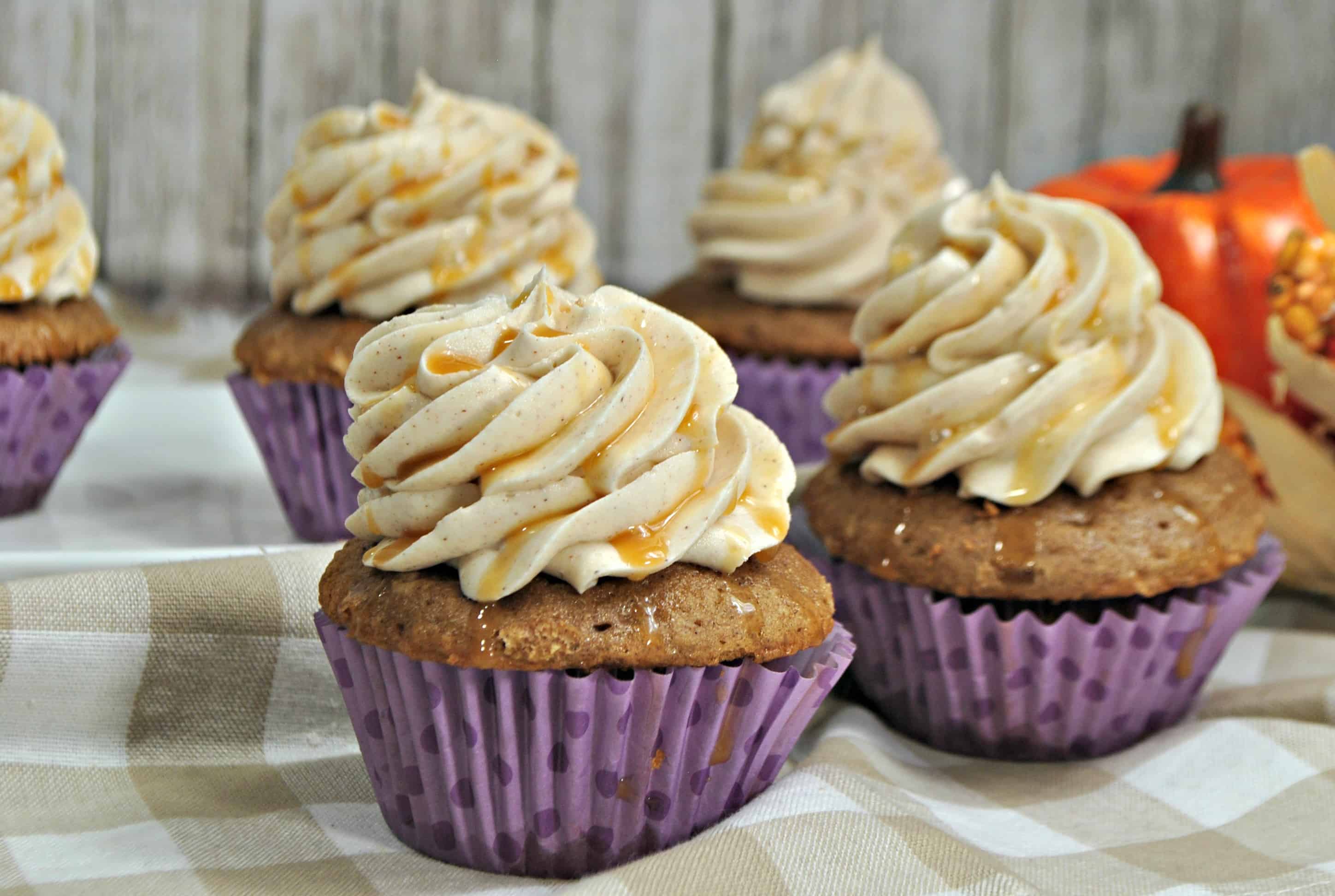 Easy Pumpkin Bread – This is the best bread ever!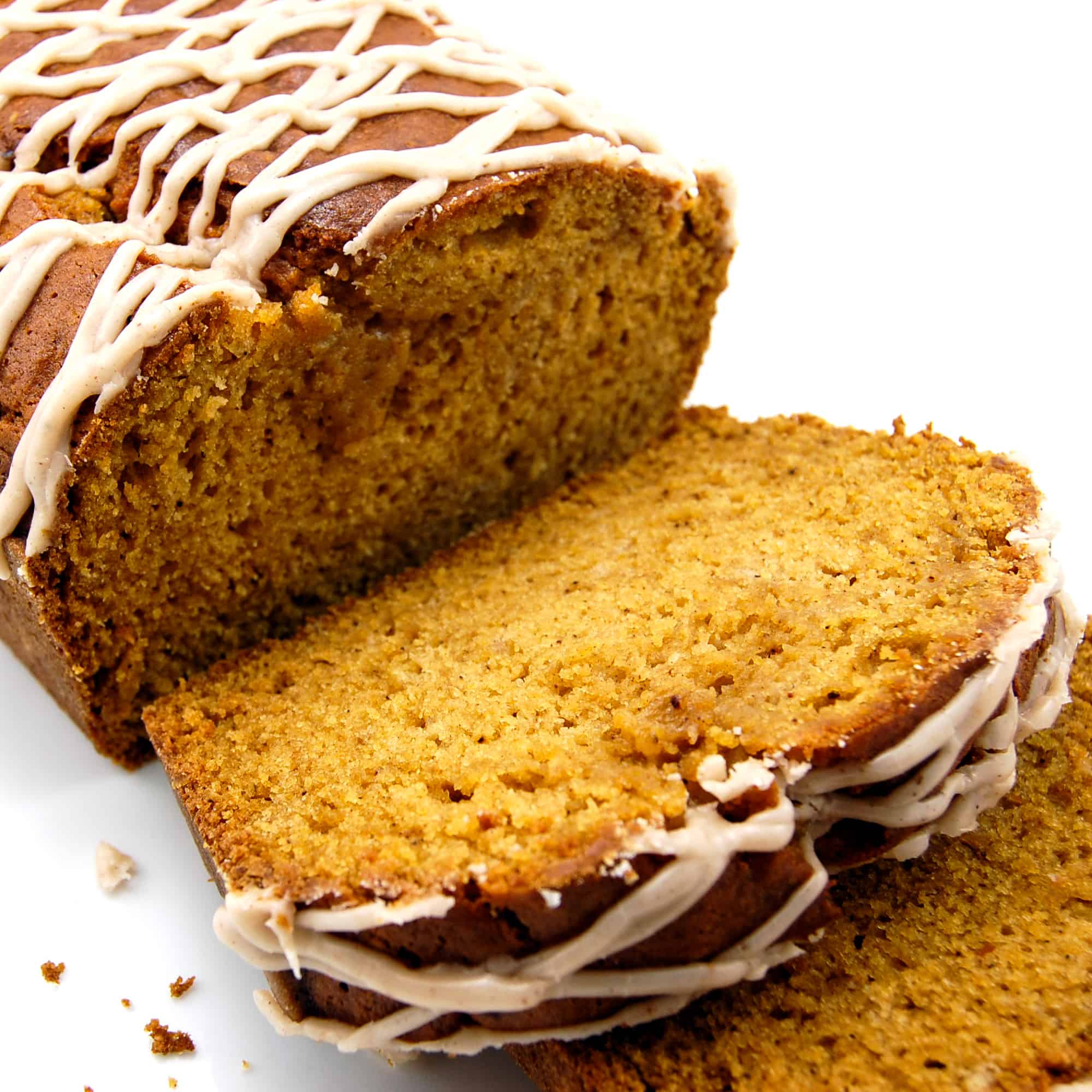 Pumpkin Apple Instant Pot Cake Recipe – Made in the Instant Pot for a fast and easy dessert.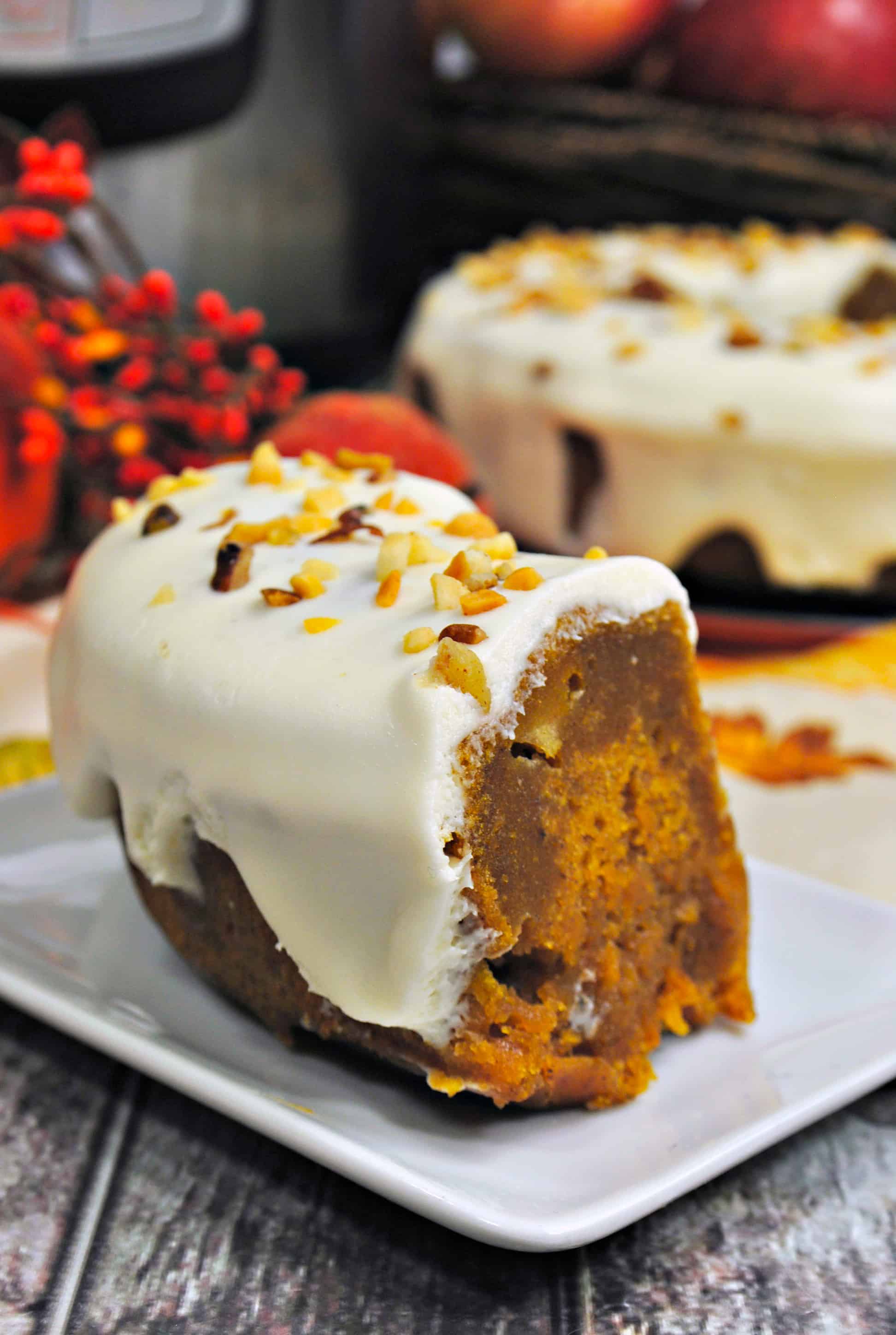 Get new recipes weekly plus our FREE ebook!